We recently welcomed a new puppy to the Worthey family, a beautiful chocolate labradoodle named Chance. Here's his story…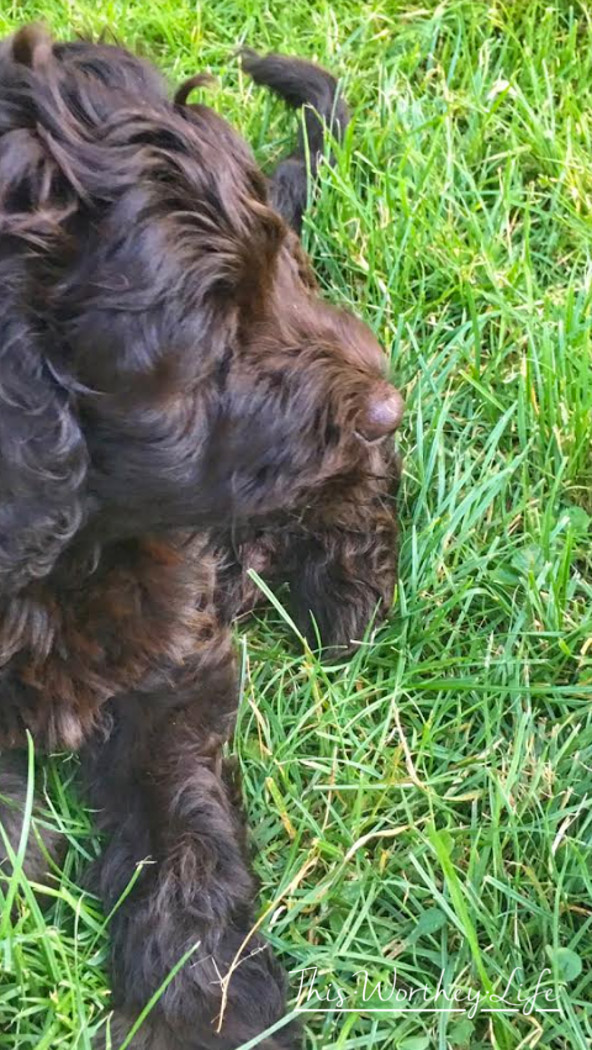 Welcome Chance, Our Chocolate Labradoodle
It's been a few weeks now, and we're all getting adjusted to having a new puppy in the Worthey house. For the past few years, we've wanted to add a new dog to our family but knew we wanted a chocolate Labradoodle which are very hard to find.
Last year, we tried a rescue Pit-Mix, named Andre. Andre was a great dog and he immediately hit it off with everyone in the family. But becuase he was a rescue dog, little information was given or available about his background. During the first we, we were settling the dogs down for the night. Andre and Goku (our Boston Terrier) were hanging out in Zayd'n's room, everything was going great. Then all of a sudden we heard intense growling, loud barking, and a scared yelp! My husband and I ran into Zayd'n's room to discover Andre had bit Goku and left a nasty gash. Thankfully, after taking him to the vet, he didn't need stitches and it healed nicely.
We didn't know what to do. We knew taking a rescue dog, meant the possibility of adopting a dog that may have been abused in the past. Because we had a smaller dog (Goku's a runt), and the boys were upset by what happened (and they love Goku more than anything), we decided to give Andre back. We called the the rescue (Gone To The Dogs) and explained what had happened (that is a story we'll be posting soon). But apparently Andre had food aggression issues we knew nothing about. And day or so later the rescue came and collected him. Several months later we found out a vetenarian had to put Andre down because he bit ostaff memebr while he was being seen at their facility. Even as I write this, it makes me sad. I hate when people abuse dogs, or train them to be mean. Pits get a bad rap, but I will say this, after owning a mixed pit-breed, they are lovable, adorable, and big ole' babies.
After Andre, my heart was still set on a labradoodle (after Saying Goodbye To Jeffers). I would often find myself searching for chocolate Labradoodles in Michigan, to see what I could find in my area. After months and months of looking, I came across a Laradoodle kennel about 45 minutes from our hometown, they had three chocolate male labradoodle left. I took one look at the photos, and fell in love!
I showed Derrick the three photos, and he picked Chance because of the way he stood upright, confidently in his photo.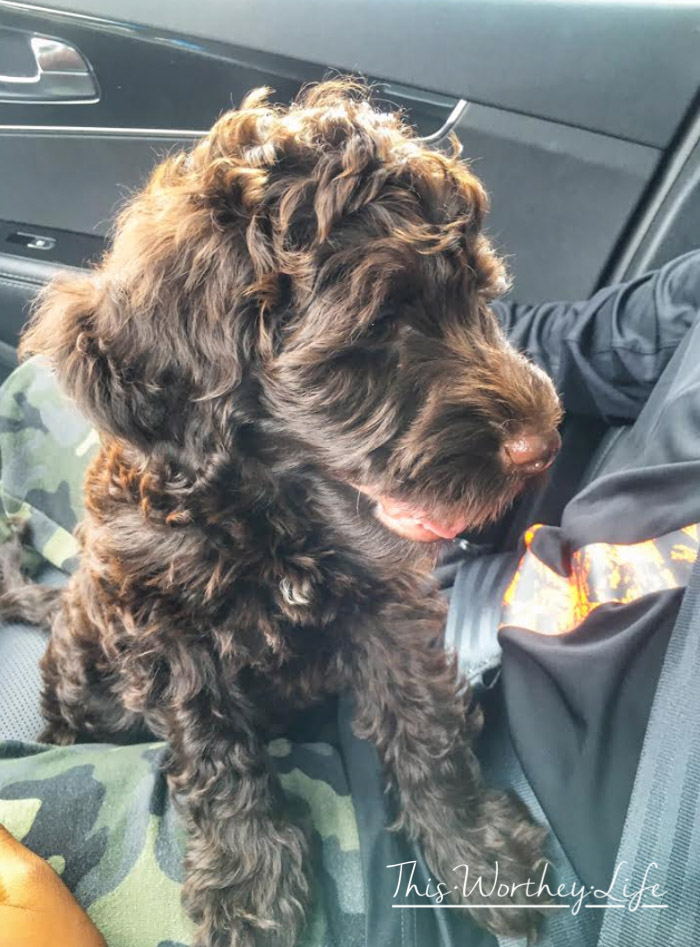 After talking to the breeder, Zayd'n and I made the trip to go pick him up. When we got there, Zayd'n and I went back and forth about which one to get. Zayd'n initially wanted another labradoodle ( a little smaller with a white stripe under his neck). However, the breeder mentioned that particular puppy was more timid and shy, and may not do well with another dog. I told her my husband really liked Chance, and she stated he would be a good match for our family. He was also the biggest one out of the litter, and already showing signs that he would run things.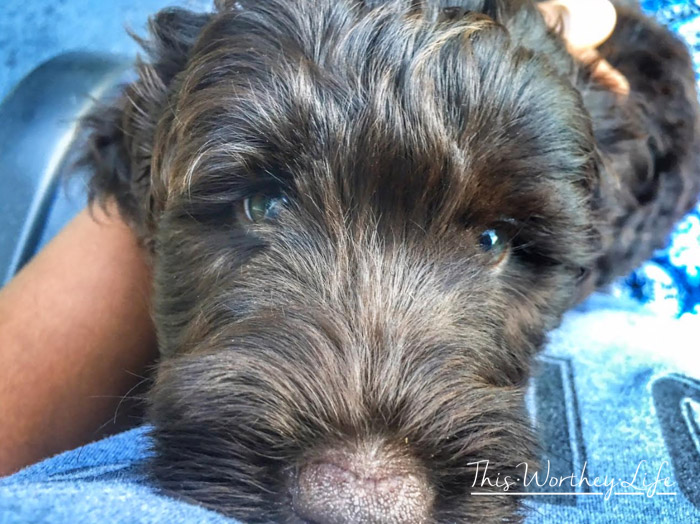 It was Zayd'n's turn to name this dog. All the boys have had a chance to name a dog, so he was super excited. After a few choices, he narrowed it down to Chance, the dogger (like Chance the Rapper).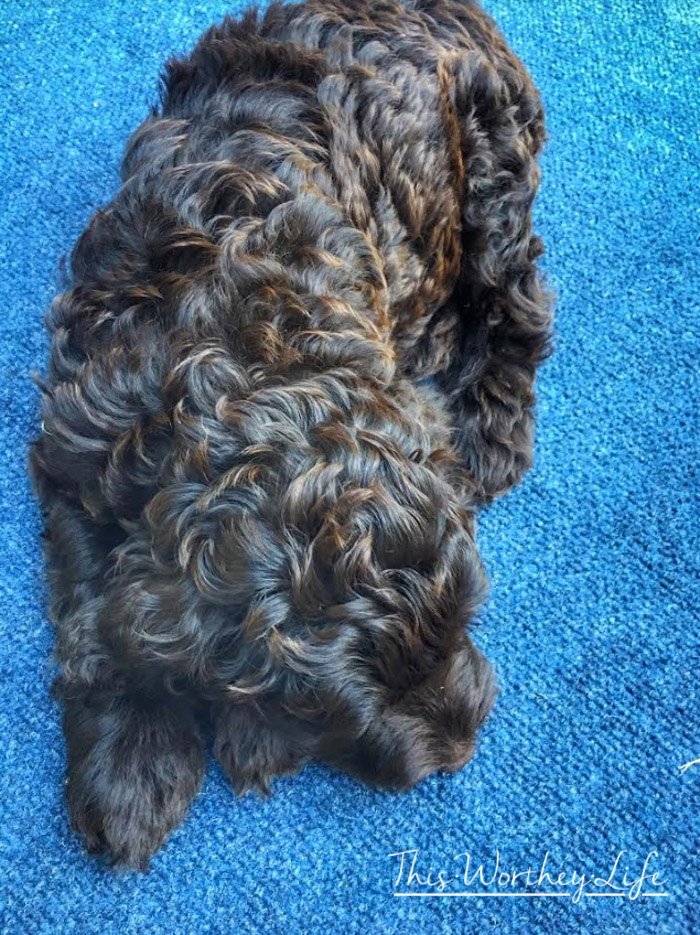 We loaded Chance and his belongings into our Kia Sorento and headed home. Chance immediately adapted to his new home and even Goku.The first night he whined quite a bit before settling down (which we knew to expect). Zayd'n slept right by his crate, and that seemed to help.
Having a puppy is comparative to raising a baby. You have to constantly watch them, feed them, and potty train them. So far, he is doing well with potty training.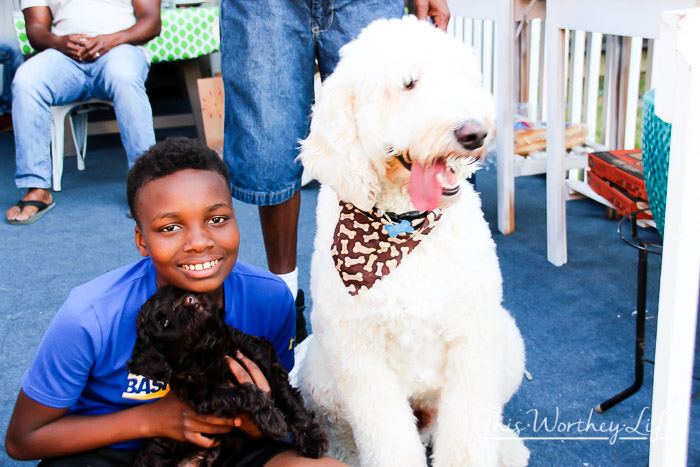 Chance has been settling into his new home, and we love him. He attended his first birthday party (Zayd'n turned 12), got to meet his new cousin Max (Goldendoodle), and is enjoying running around the yard playing with the boys.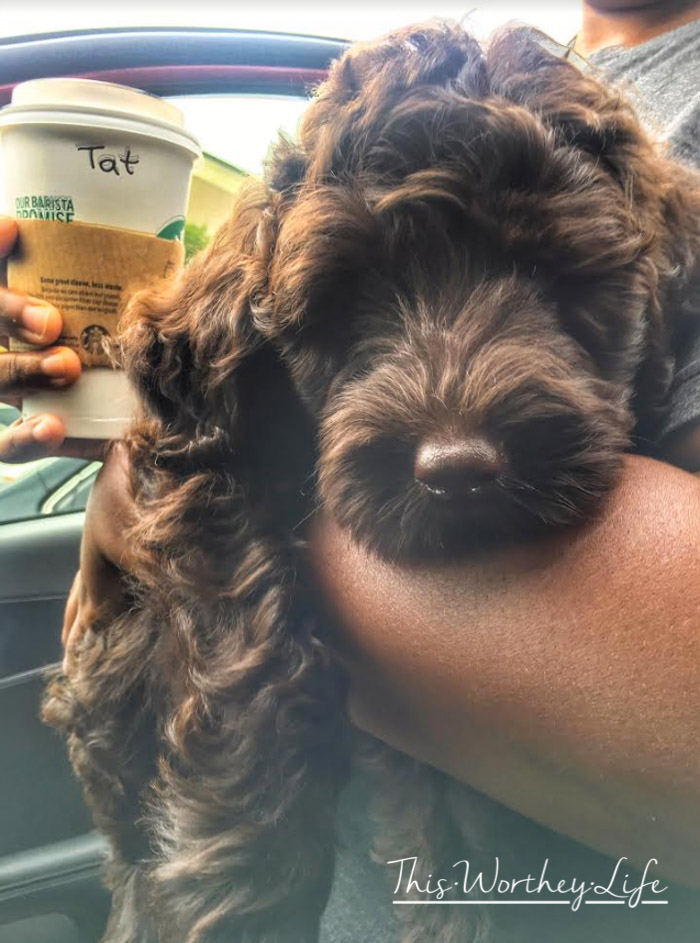 He even went to Starbucks for the first time.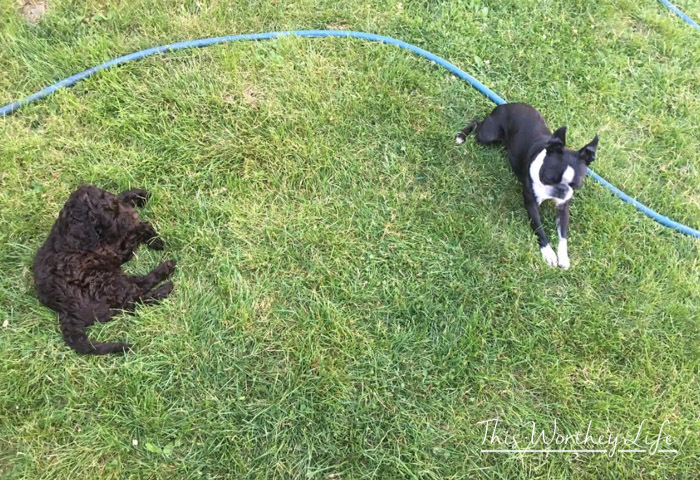 Having a dog is a lot of responsibility. The boys learned that the hard way with Jeffers. However, when we welcomed Goku to our family four years ago, they stepped up their game on taking care of a dog.
We are loving Chance and all of his rambunctious behavior, and we can't wait to create more memories together as a family of 7.
Follow him on IG: @chance_labradoodle