Disney's Pixar "Coco" is now available on DVD with bonus features and deleted scenes. Check out my Coco movie review, and my takeaways of the messages I picked up in "Coco". Coco Movie Takeaways + Now Available on DVD with Bonus Features
Whenever Disney and Pixar get together and make a movie, it's a beautiful thing. Their latest work, Coco comes out today on DVD and Blu-Ray, February 27th (and it's also on Digital).
If you haven't had a chance to watch Disney's Coco, here's a little about it:
Despite his family's baffling generations-old ban on music, Miguel (voice of Anthony Gonzalez) dreams of becoming an accomplished musician like his idol, Ernesto de la Cruz (voice of Benjamin Bratt). Desperate to prove his talent, Miguel finds himself in the stunning and colorful Land of the Dead following a mysterious chain of events. Along the way, he meets charming trickster Héctor (voice of Gael García Bernal), and together, they set off on an extraordinary journey to unlock the real story behind Miguel's family history.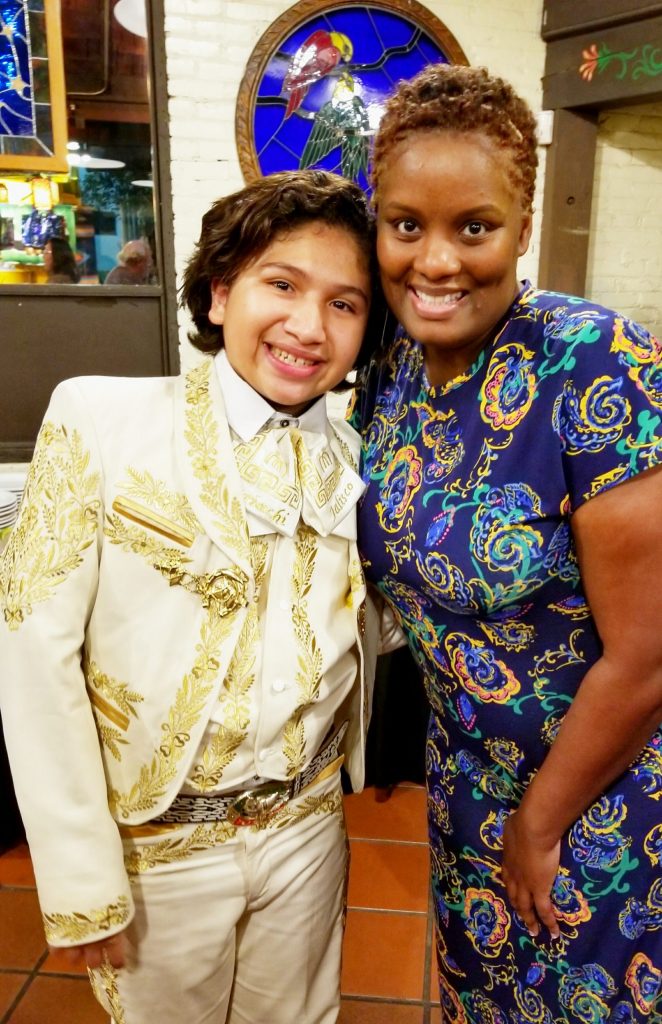 We got a chance to meet and interview Anthony Gonzalez a few weeks ago during the Black Panther press junket. He is such an amazing young man, with a bright young future. Not only does he has a fantastic voice, but he has the same dreams as Miguel, to sing and become an actor.
Set in Mexico, "Coco" features two distinct worlds: the Land of the Living and the Land of the Dead. Miguel and his family hail from Santa Cecilia, a charming town with a bustling central plaza where residents congregate. The look and feel of Santa Cecilia is inspired by villages visited by the filmmakers during research trips—but those trips did so much more. "The story of 'Coco' is inspired by Mexico's people, cultures, and traditions," says Unkrich. "The people of Mexico made us think about our own families, our own histories and how that makes us who we are today. We are grateful for the opportunities afforded to us, and we can honestly say we are different people as a result of our experiences."
Coco is a beautiful movie with so many amazing messages for kids and their whole family. Here are some of my takeaways from the Golden Globe winner (best-animated feature) and two Academy Award Nominee, Coco.
Family is important
In this movie, Miguel wants to go against his family's wishes and pursue his dream to be a singer. Throughout the movie, he goes back and forth on wanting to push forward with the opportunities of getting on stage and singing his heart out, but the love and loyalty of his family stop him from going all the way. In the end, he receives his family's blessing to pursue his dream of singing. However, I wonder, if his family would have said no- would he have gone forward with his plan?
Celebrating Culture is essential to a child's growth
Each race has their own traditions and cultures. In Coco, Miguel and his family are celebrating the Day of the Dead. Mamá is voiced by Sofía Espinosa. "For me, the Day of the Dead (Día de Los Muertos), is the most beautiful and significant celebration in Mexico. I grew up making ofrendas and going to the graveyard with my grandparents to visit the family that is already gone. There we put flowers and candles on their graves, and it was a celebration, it wasn't something sad, but the contrary—the place was full of music, and we heard all kinds of stories of the past. I really think that keeping this tradition is a very important thing for Mexicans, and sharing it with the rest of the world makes people understand dead in a different way, by honoring and remembering those who are not with us anymore."
Celebrating traditions and culture is something that's important to my family as well. I want my boys to understand where heritage, who their ancestors are, and the values and traditions that are important to my family.
Pursue your dream
Throughout Coco, Miguel wants to pursue his dream to become a singer. He goes through a lot of challenges, including disobeying his family. Miguel is loyal to his family, but the dream of being on stage singing pulls at his heartstrings. The message that stuck out to me is, no matter who tells you no- if you feel it in your heart, go for it. This is the same thing I want for my children. I can see their potential, and I may have a path I want them to take, but at the end of the day, I want them to pursue a dream that makes them happy.
Coco is a beautifully designed movie that will inspire the whole family. It shows us that we should celebrate our culture, and traditions are meant to be kept. Coco also tells us that regardless of who says no, we should always follow our dreams and go after what makes us happy.
Coco is now out on DVD and Blu-ray, including the bonus features.
Deleted Scenes with Introductions – Director Lee Unkrich and co-director Adrian Molina talk about the deleted scenes and the part they played in the development of "Coco."
Día de los Muertos – In this musical extravaganza, the colors and excitement of Día de los Muertos come to life as we meet superstar Ernesto de la Cruz.
The Way of the Riveras – A musical number in which Abuelita and Miguel prepare their Día de los Muertos celebration while she teaches him Rivera family history and traditions.
Celebrity Tour – Héctor, a Land of the Dead tour bus guide, agrees to help Miguel, revealed to be a living boy, on his quest to find de la Cruz.
The Bus Escape – The Rivera family catches up to Miguel and Héctor and attempts to halt their mission to find de la Cruz.
Alebrije Attack – Miguel and Héctor are interrupted on their journey to find de la Cruz by a fierce alebrije.
The Family Fix – After de la Cruz reveals his true colors, the Rivera family puts their dismay aside and comes together to repair the smashed guitar needed to send Miguel home.
To the Bridge – As the Land of the Dead counts down to the end of Día de los Muertos, Miguel and de la Cruz come head-to-head on the marigold bridge.
Filmmaker Commentary – Presented by Lee Unkrich (director), Adrian Molina (co-director) and Darla K. Anderson (producer).
The Music of "Coco" – Collaborating with musicians of Mexico and some unique instrumentation, this documentary explores the beautiful fusion of music essential to the story of "Coco."
Paths to Pixar: "Coco" – Explore how the film crew's personal stories resonate with the themes of the movie itself.
Welcome to the Fiesta – A musical exploration of the skeletons that make the Land of the Dead in "Coco" so wondrous and intriguing.
How to Draw a Skeleton – Pixar artist Daniel Arriaga gives a lesson on the quick and easy way to draw skeletons using simple shapes.
A Thousand Pictures a Day – Join the "Coco" crew on an immersive travelogue through Mexico, visiting families, artisans, cemeteries, and small villages during the Día de los Muertos holiday.
Mi Familia – Developing the Riveras was a labor of love that took the cast and crew on a deep dive into the meaning of family.
Land of Our Ancestors – Watch Pixar artists lovingly construct layer upon layer of architecture from many eras of Mexican history, bringing the Land of the Dead to life.
Fashion Through the Ages – The cast of characters in "Coco" are from many different eras, making for some magnificent costuming opportunities.
The Real Guitar – The majestic guitar that spurs Miguel on his journey through the Land of the Dead is a unique creation. Watch as it is initially designed by a Pixar artist and ultimately realized as a real instrument by a master luthier in this poetic ode to craftsmanship.
Dante – How the crew fell in love with the uniquely Mexican breed of Xoloitzcuintli (or "Xolo") dogs that inspired Dante.
How to Make Papel Picado – Join Pixar artist Ana Ramírez González as we learn how papel picado is made traditionally, and then try your own approach to this beautiful art form.
Un Poco "Coco" – A montage of original animated pieces used to promote "Coco."
"Coco Trailers" – Trailers include "Feeling," "Dante's Lunch," "Destiny," "Journey" and "Belong."
I'll be tuning in to see Coco take home an Oscar this weekend (crossing my fingers for them!) *Stay tuned for a Taco cups inspired by Coco!
Check out the official trailer for Coco down below, and order your copy of the DVD with bonus features today!