Our Cod and Tomato Stew is 100% comfort food.
There's the last tomatoes of the season.
Along with garlic and thai curry paste.
Plus, a few other savory ingredients.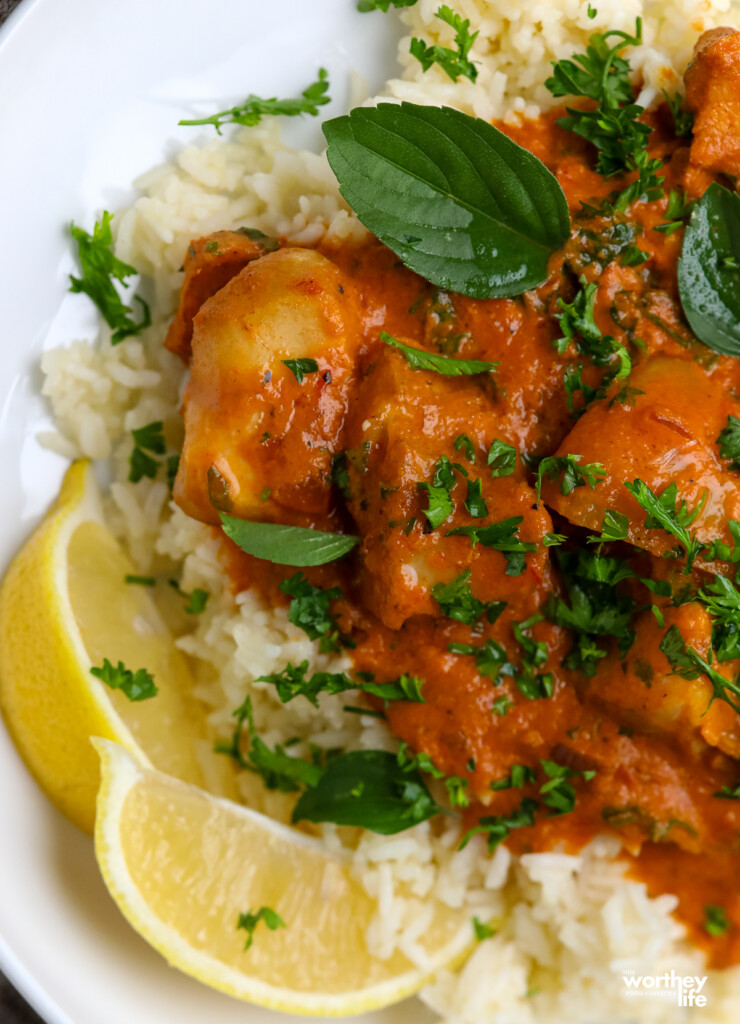 Tomato Stew Recipe Made with Cod
This recipe is based on Spanish Fish Stew.
But I tweaked it and freaked it.
If you're a fan of summer tomatoes.
Flaky cod and a bit of savory spice.
Then, chances are you'll love this recipe.

Here's What You Need
Cod. This recipe is based on the traditional of Portugal and Spanish fish stew recipes. Cod is also an ideal fish for stews because of its firm texture; I also love cod for its mild, sweet flavor, and when cooked correctly, it is flaky and delicate.
Crushed Tomatoes, Cherry Tomatoes, Red Onion, Garlic & Mini Gold Potatoes. The tomatoes and gold potatoes lend heartiness to this fish stew, and red onions and garlic add texture and taste.
Seafood Broth, Fish Sauce & Unsweetened Coconut Milk. There are so many layers of flavor infused in our fish stew. The seafood broth and fish sauce amplify the mild-flavored cod—and the unsweetened coconut milk adds creaminess.
Extra Virgin Olive Oil. Good olive oil goes a long way regarding its taste and how it can be the perfect accompaniment to soups and stews. TVOO is also a nod to fish stews of Portuguese and Spanish origins.
Thai Red Curry Paste and Tomato Paste. I will go ahead and say it: Thai Red curry is low-key the MVP of this recipe! All those earthy, warm spices, but not overly s0—the tomato paste builds upon the multidimensional umami flavor of red curry paste.
Smoked Paprika and Red Pepper Flakes. Here, the smoked paprika is a natural fit, and it continues to further the warm richness of this recipe. The same goes for the red pepper flake because our fish stew is about its subtle heat.
Kosher Salt and freshly Cracked Black Peppercorns. While you can use kosher salt in this recipe, I recommend serving this satisfying comfort food with a finishing salt like Maldon Sea Salt; the smoky version of this sea salt is next level. And it is worth adding freshly cracked black peppercorns to your recipes.

Ingredients for Cod & Tomato Stew
Serves 4-5
12 ounces of cod, cut into chunks
4 tbsps extra virgin olive oil
2 tbsp thai red curry paste
2 tbsp tomato paste
1 tbsp fish sauce
1 medium red onion cut in half and sliced
4 large cloves of garlic
1 tbsp smoked paprika
1/4 tsp red pepper flakes
1 cup fish or seafood broth, vegetable broth if you don't have fish or seafood broth or stock
1 15-ounce can of crushed tomatoes
1 pound cherry tomatoes
1 can unsweetened coconut milk
4 medium gold potatoes cut into quarters
1 tsp sea salt or kosher salt or to taste
1/4 tsp freshly cracked black peppercorns or to taste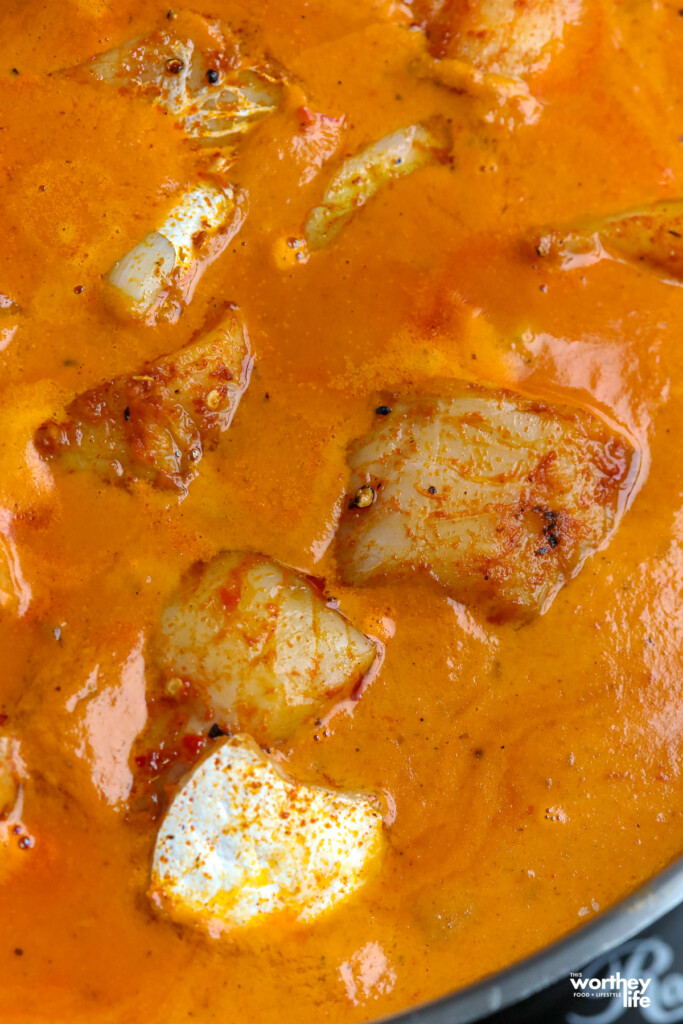 Directions for Cod & Tomato Stew
Cut the cod into 1-inch chunks and place it in a bowl; add kosher or sea salt, plus freshly cracked peppercorns. Set aside.
Place a large skillet over medium-high heat and add olive oil. When the oil is hot, add thai red curry paste and tomato paste, and stir for about one minute.
Add the fish sauce, add the onions, and cook, stirring constantly, for two to three minutes.
Add the garlic and continue to stir until the garlic is fragrant, for one minute.
Next, add the fish stock, canned crushed tomatoes, cherry tomatoes, unsweetened coconut milk, and quartered gold potatoes.
Stir in the smoked paprika, red pepper flakes, kosher or sea salt, and freshly cracked black peppercorns.
Reduce the heat to medium-low and cover the skillet with a lid.
Simmer until the potatoes are tender and easily pierced with a fork.
Add the fish, then cover with the lid and cook until the cod is opaque and cooked through in four to five minutes.
Serve

How Will I Know When The Cod Is Done?
Here are a few tips on how to know when the cod is cooked.
Check for Flakiness: Insert a fork into the thickest part of the fillet. If it flakes easily and turns opaque, it's done.
Use a Food Thermometer: Ensure the internal temperature reaches 145°F (63°C) for safety.
Watch for Color Change: Look for a pearly white color.
Check Texture: It should be firm yet moist. Avoid overcooking to prevent dryness.
Use a Timer as a guide: Typically, cook for 10-15 minutes per inch of thickness at 400°F (200°C).
Remember that cod will continue to cook slightly after you remove it from the heat source due to residual heat. It's a good idea to remove it from the heat just before it reaches the desired doneness and let it rest for a minute or two.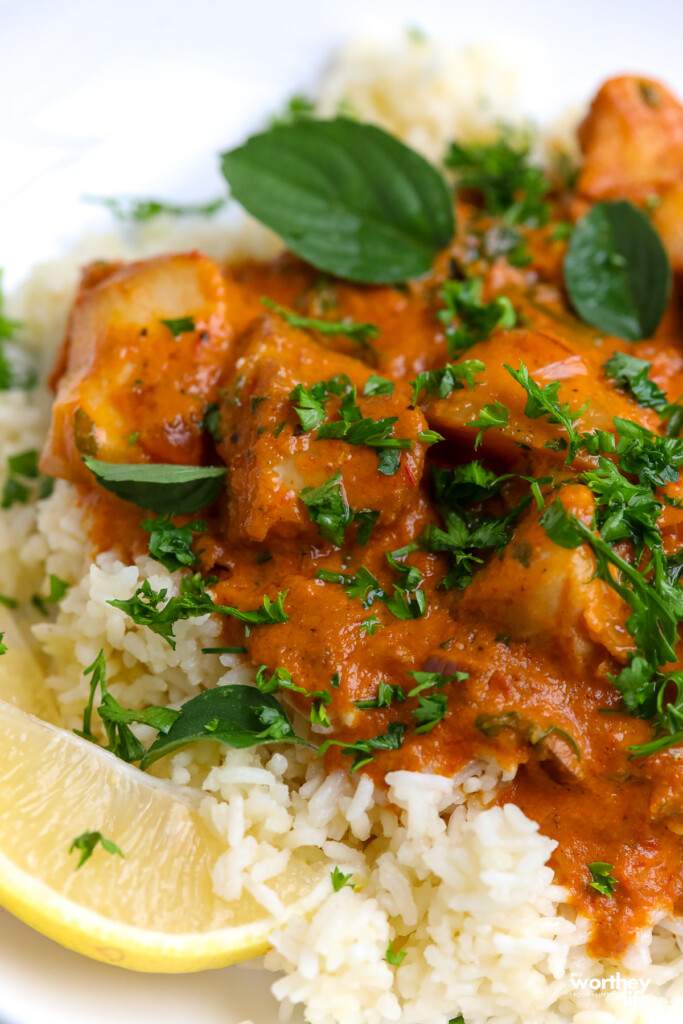 Can fish stew be made a day ahead?
Yes, honestly, this dish is best served the next after the flavors have melded.
How long will fish stew keep in the fridge?
Allow any uneaten fish stew to cool to room temperature and spoon it into an airtight container; the fish stew will last up to two days.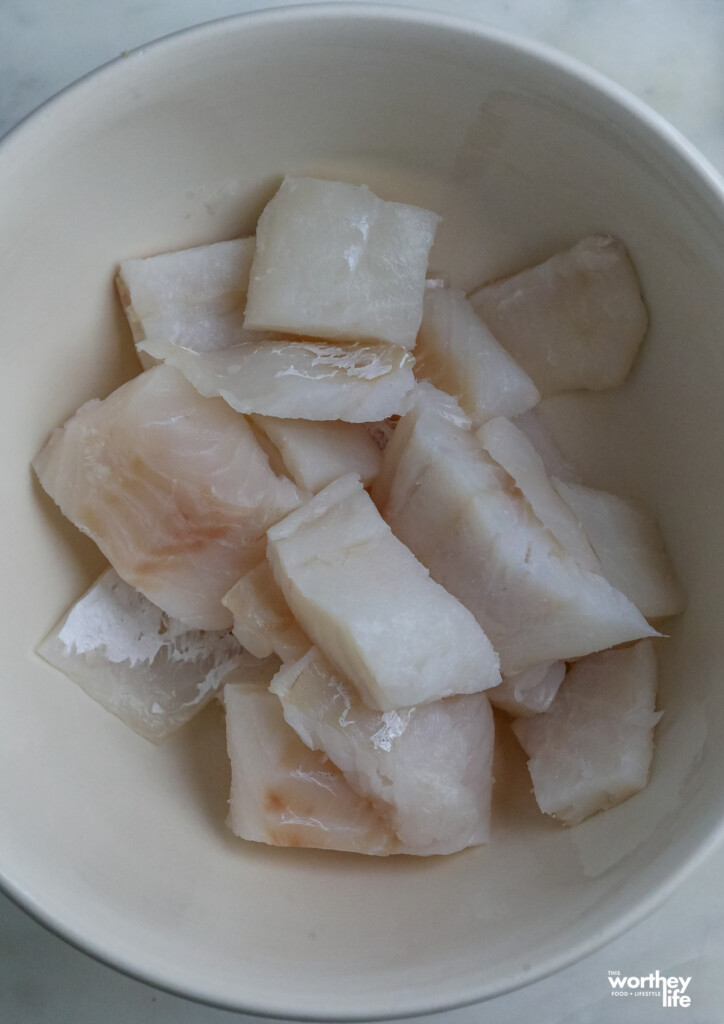 Can I add additional seafood to this fish stew?
Of course, you can add shrimp, mahi mahi, grouper, scallops, lobster, crab meat, and mussels.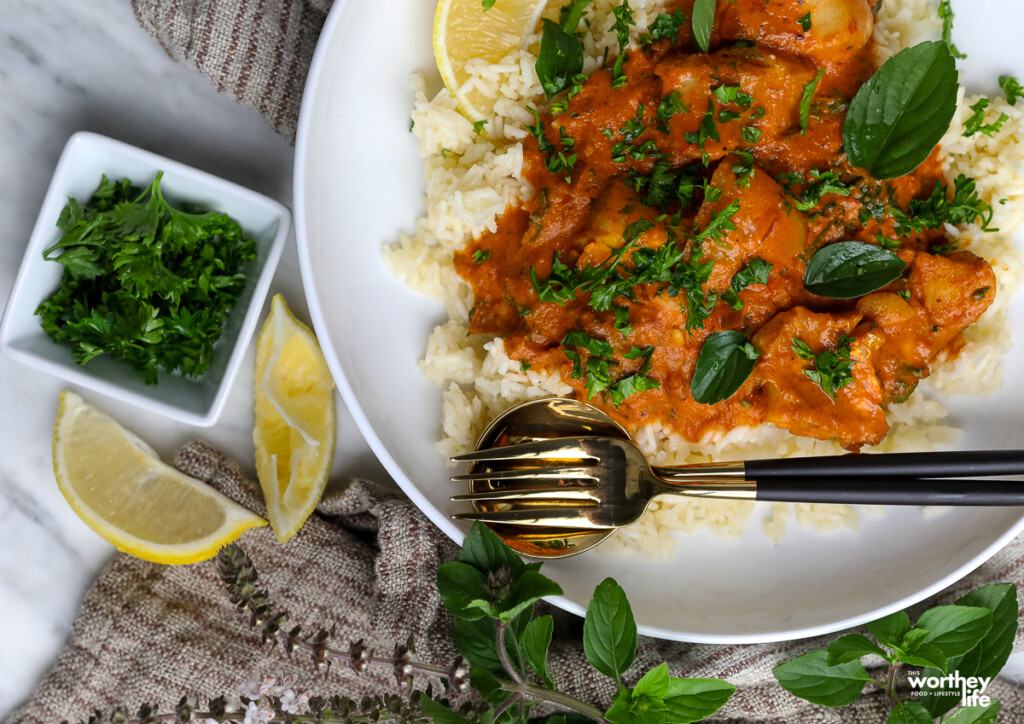 How can I make this recipe vegan?
Omit the fish and replace the seafood broth or stock with vegetable broth or stock.
What pairs well with Tomato Stew?
Here are some of our favorite sides to pair with Cod and Tomato Stew.
Rice. Steamed white or brown rice makes a great side dish to soak up the tomato sauce and add some heartiness.
Pasta. Choose a short pasta like penne or rigatoni to serve alongside the stew. Toss it in some olive oil and fresh herbs before serving.
Steamed Vegetables. Serve the stew with steamed or roasted vegetables such as broccoli, asparagus, or green beans for a healthier option.
Crusty Bread. Serve the tomato stew with a crusty baguette, garlic bread, or a rustic artisanal loaf. It's perfect for dipping into the flavorful tomato broth.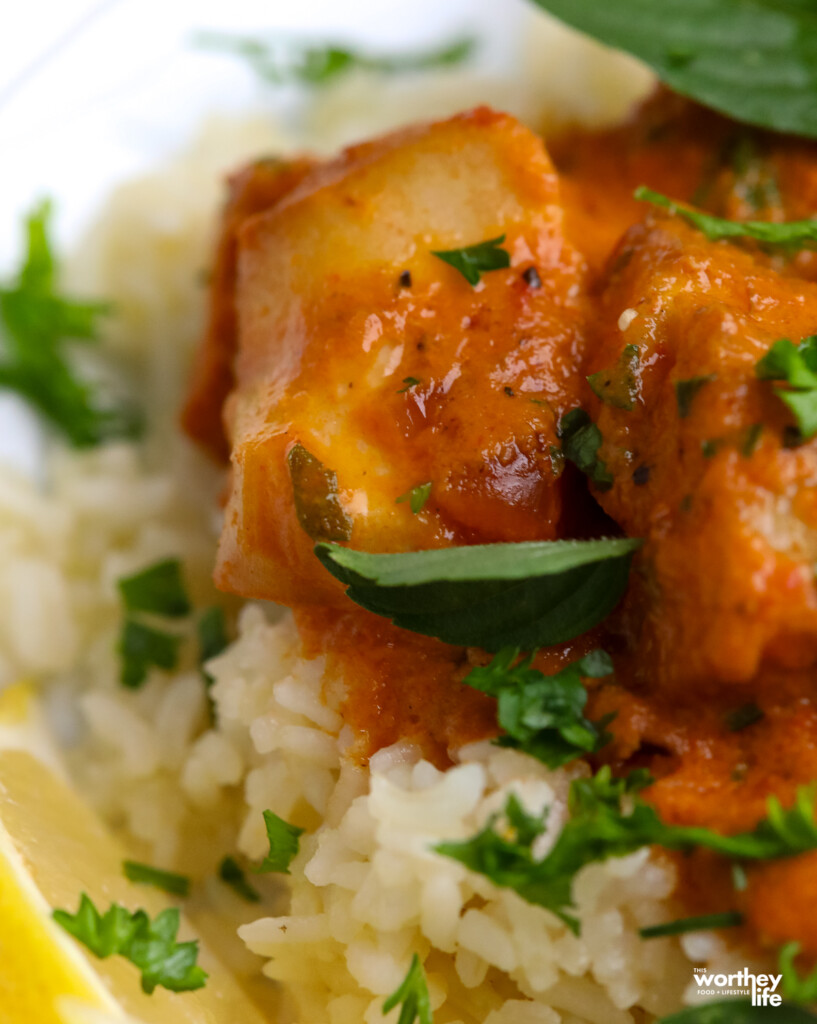 Our Cod and Tomato Stew is hearty comfort food.
So, grab the ingredients and enjoy making this delicious stew.
And if you have any questions or want to say hello, drop us a comment below.
Find More Comfort Food Recipes
Sweet Potato and Black-Eyed Peas Stew
Curry Meatballs + Spinach Rice
Easy Salmon Recipe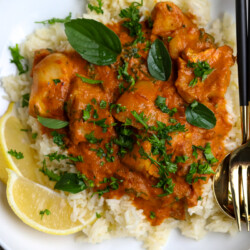 Tomato Stew with Cod Recipe
Our Cod & ToTato Stew is delicious comfort food! Made with delicate cod, tomatoes and hearty potatoes. You'll want a bowl of this one!
Print
Pin
Rate
Ingredients
* 12 ounces of cod

cut into chunks

* 4 tbsps extra virgin olive oil

* 2 tbsp Thai red curry paste

* 2 tbsp tomato paste

* 1 tbsp fish sauce

* 1 medium red onion cut in half and sliced

* 4 large cloves of garlic

* 1 tbsp smoked paprika

* 1/4 tsp red pepper flakes

* 1 cup fish or seafood broth

vegetable broth if you don't have fish or seafood broth or stock

* 1 15-ounce can of crushed tomatoes

* 1 pound cherry tomatoes

* 1 can unsweetened coconut milk

* 4 medium gold potatoes cut into quarters

* 1 tsp sea salt or kosher salt or to taste

* 1/4 tsp freshly cracked black peppercorns or to taste
Instructions
Cut the cod into 1-inch chunks and place it in a bowl; add kosher or sea salt, plus freshly cracked peppercorns. Set aside.

Place a large skillet over medium-high heat and add olive oil. When the oil is hot, add Thai red curry paste and tomato paste, and stir for about one minute.

Add the fish sauce, add the onions, and cook, stirring constantly, for two to three minutes.

Add the garlic and continue to stir until the garlic is fragrant, for one minute.

Next, add the fish stock, canned crushed tomatoes, cherry tomatoes, unsweetened coconut milk, and quartered gold potatoes.

Stir in the smoked paprika, red pepper flakes, kosher or sea salt, and freshly cracked black peppercorns.

Reduce the heat to medium-low and cover the skillet with a lid.

Simmer until the potatoes are tender and easily pierced with a fork.

Add the fish, then cover with the lid and cook until the cod is opaque and cooked through in four to five minutes.

Serve
Nutrition