Save on that cup of coffee or frap from Starbucks by checking out this recipe- Copycat Starbucks Caramel Frappuccino.
Easy to make right at home! A frozen caramel coffee drink that will curb your caffeine and sweet cravings with each sip.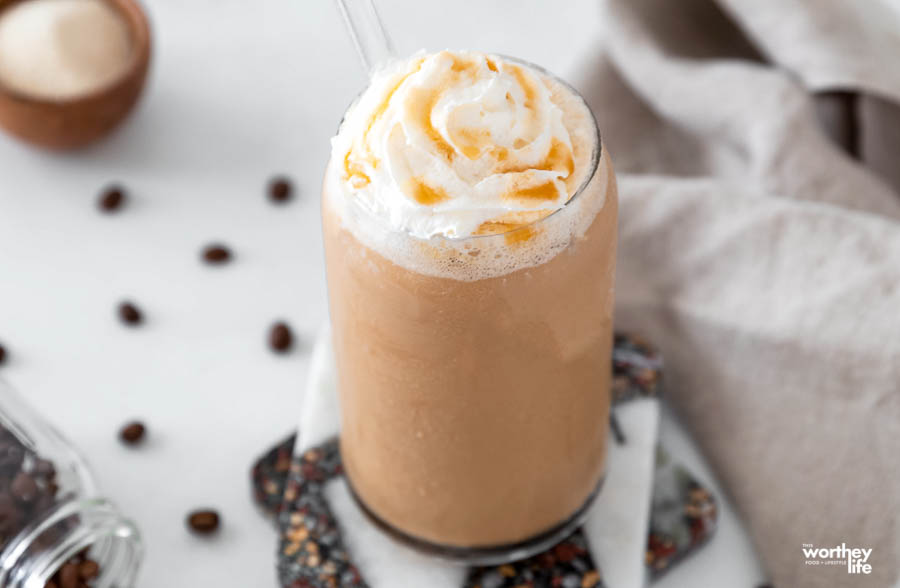 Copycat Starbucks Caramel Frappuccino
I have a confession to make. I LOVE Starbucks!
However, sometimes my coffee budget can get wiped out quickly by going through the drive-thru a few times per week!
While it's easy to zip through the drive-thru or stop by your local Starbucks to grab your favorite beverage, that $5 per day can add up quickly.
So, what about making your own Starbucks Caramel Frappuccino with this copycat recipe instead of doing that daily?
This recipe is seriously SUPER easy! (You guys know I'm all about easy recipes!) And with just a few ingredients, you can also pull this one off.
So here's the recipe. Be sure to pin it HERE (just in case you need to come back and revisit the recipe), and check out my tips on how you can save on that daily cup of coffee!!

Ingredients needed for this frappuccino recipe
Double Strength Coffee. The key is a really strong coffee or espresso. This will give you rich coffee flavor and sweet caramel notes.
Milk. Whole milk is great, but if you need a dairy alternative, plant-based milk works as well.
Sugar. Granulated sugar, or if you are looking for a sugar-free option, sweeten your frappe with any of your favorite sweeteners.
Xanthan Gum. I know this might seem like a weird ingredient, but it binds the ice, coffee, and milk for that craveable coffee shop-style drink.
Ice. Whipped Cream.
Caramel Sauce. Quality caramel sauce is important as it will give you a rich caramel flavor that stands out.
Does Instant Coffee Work for This Recipe
Yes, you can use an instant coffee if you would like.
The key is strong coffee, so mix it up with a stronger flavor.
Otherwise, the other ingredients overpower the coffee.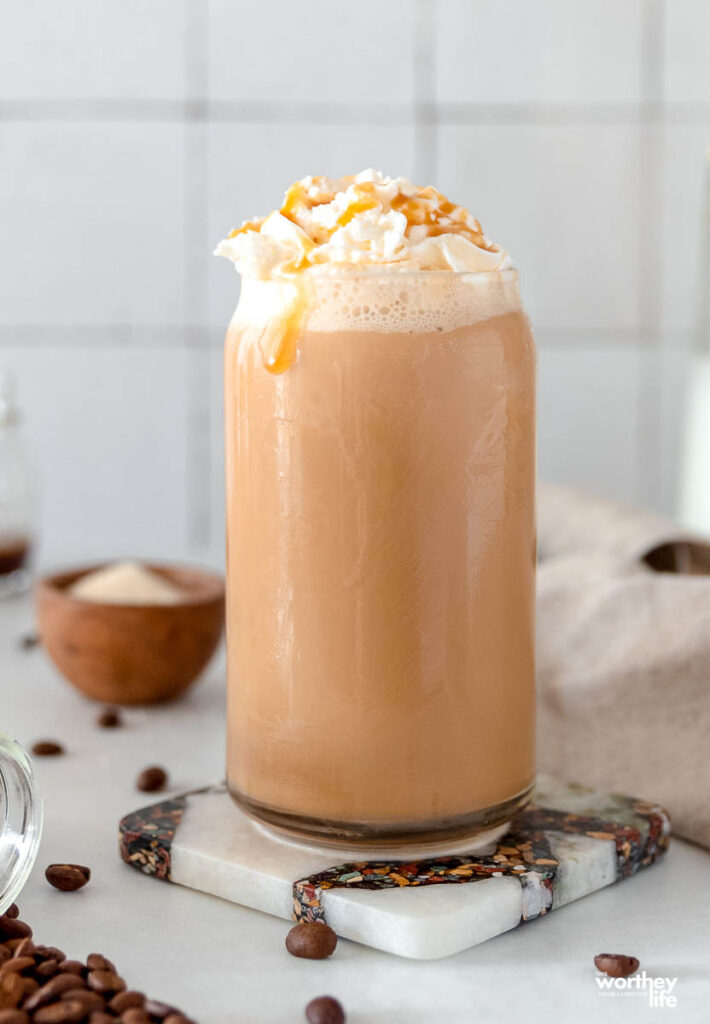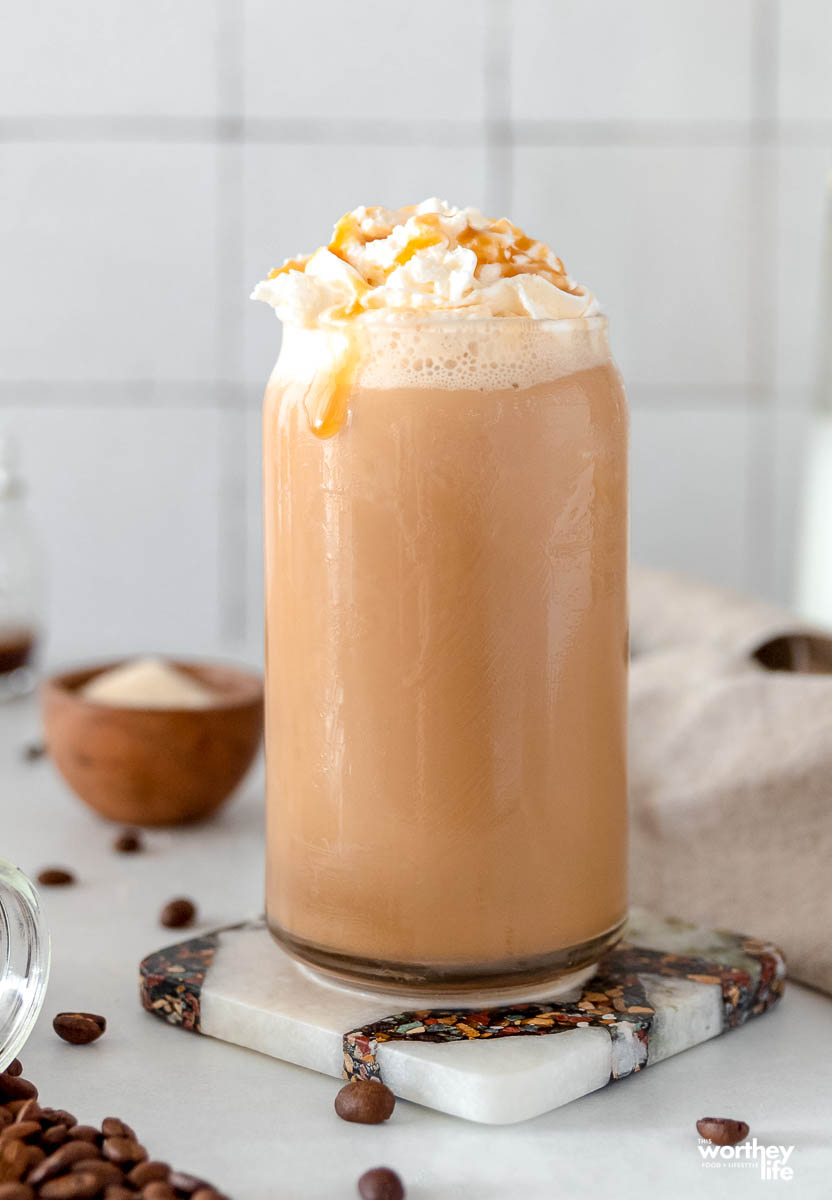 Ingredients for Copycat Starbucks Caramel Frappuccino
Directions:
Put cold coffee, milk, sugar, ice, a squirt of caramel, and xanthan gum in a blender and blend until smooth.
Pour into a cup, top with whipped cream, and drizzle with caramel.
Easy, right?!!
What is your favorite beverage from Starbucks??
What if I don't own a blender?
You can use a food processor if you don't own a blender.
Or crush the ice with a mallet or an iced caramel drink instead of crushed ice. It will taste just as good without crushed ice.
Do I have to add in Xanthan gum?
As crazy as it sounds, the xanthan gum gives the drink a really smooth and creamy texture.
It binds the ingredients, so if you opt to go without.
It will give you a clumpy drink. Which is fine if you don't mind that texture.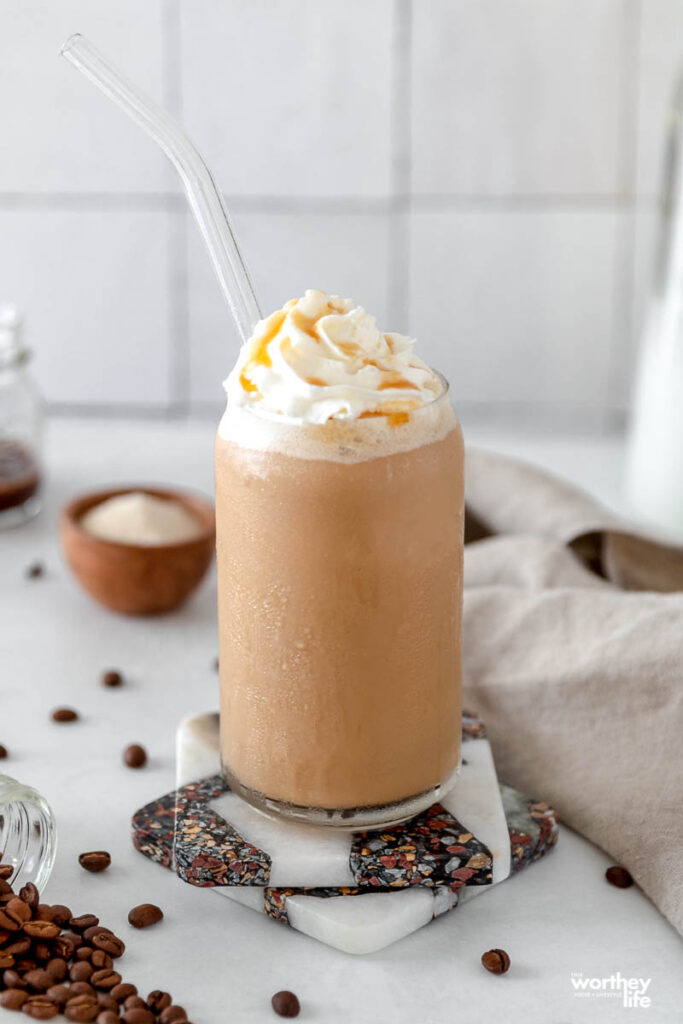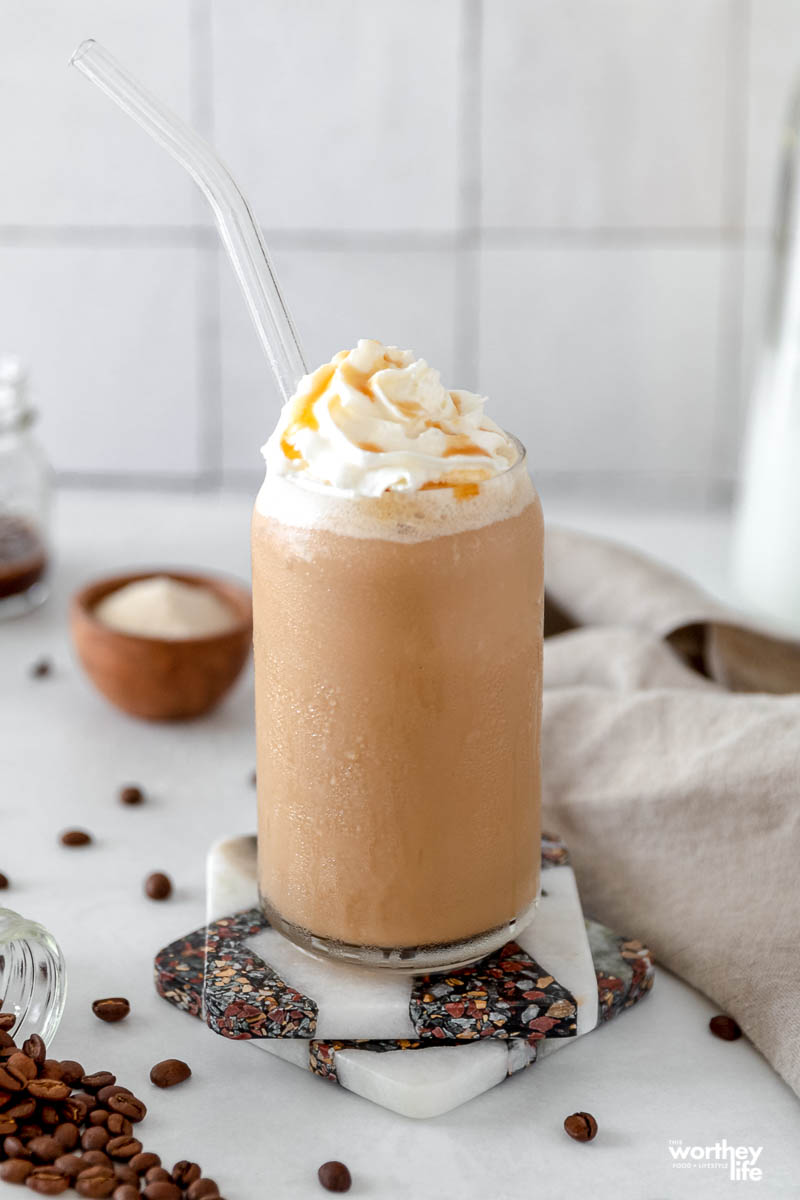 Can I make this frappuccino in advance?
You will want only to make this drink right before you serve it.
Otherwise, the ice will begin to melt and water down the coffee drink.
I recommend only making it right before you are ready to enjoy it.
Store any leftovers in the fridge.
It can store for a few hours and then become pretty watered down.
Can I use decaf coffee?
If you want a coffee drink without caffeine, reach for decaf.
Just brew up the coffee and allow it to cool down. Then mix up the same way!
Does this Starbucks frappuccino work with day-old coffee?
Yes, you are welcome to save leftover coffee for the frappuccino.
Place it in a container in the refrigerator, and then grab and use it.
This is a wonderful way to save back coffee and put it to good use.
Be sure to check out my other coffee + Starbucks related recipes:
Cotton Candy Frappuccino | Copycat Starbucks Recipe
Copycat Starbucks Peppermint Mocha ­Recipe
Dark Chocolate Sea Salt Caramel Hot Chocolate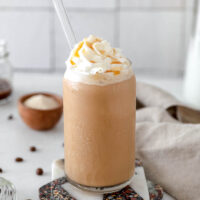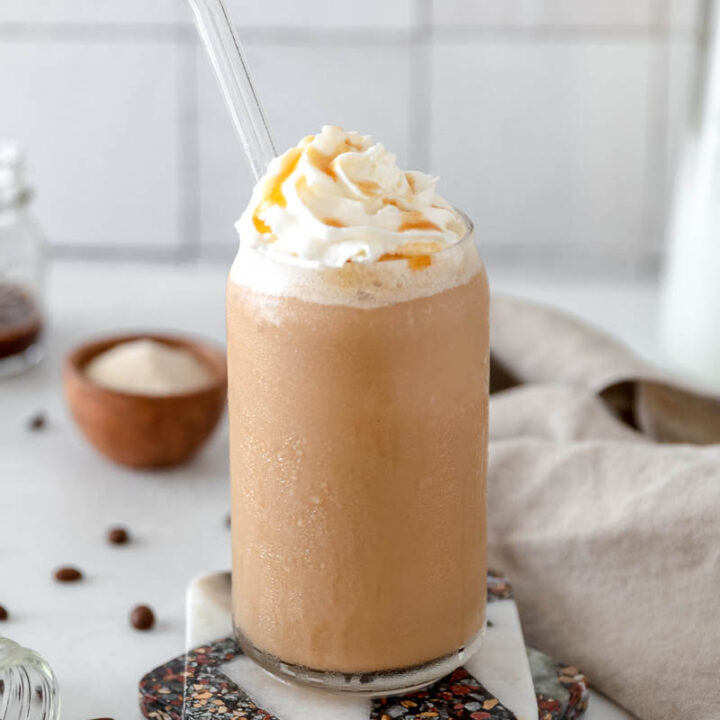 Ingredients
1

cup

double-strength Starbucks Coffee

cold

3/4

cup

Milk

3

tbsp

Sugar

2

cup

Ice

1/8

tsp

Xanthan Gum

A squirt of Whipped Cream

Drizzle Torani Carmel Sauce
Instructions
Put cold coffee, milk, sugar, ice, a squirt of caramel, and xanthan gum in a blender and blend until smooth.

Pour into cup and top with whipped cream and drizzle with caramel.
Created 9/2104 | 8/2023