DIY Outdoor Dining Table From Wood Pallets- Under $100

For the past two summers,I have wanted to replace my outdoor dining table. I wanted something grand and beautiful. I dream BIG! But unfortunately, I didn't want to drop $500-$1000 for the table of my dreams. And so I decided on a DIY Outdoor Dining Table.
My budget was about $200. And I want what I want. So what did I do? The next best thing? Build one.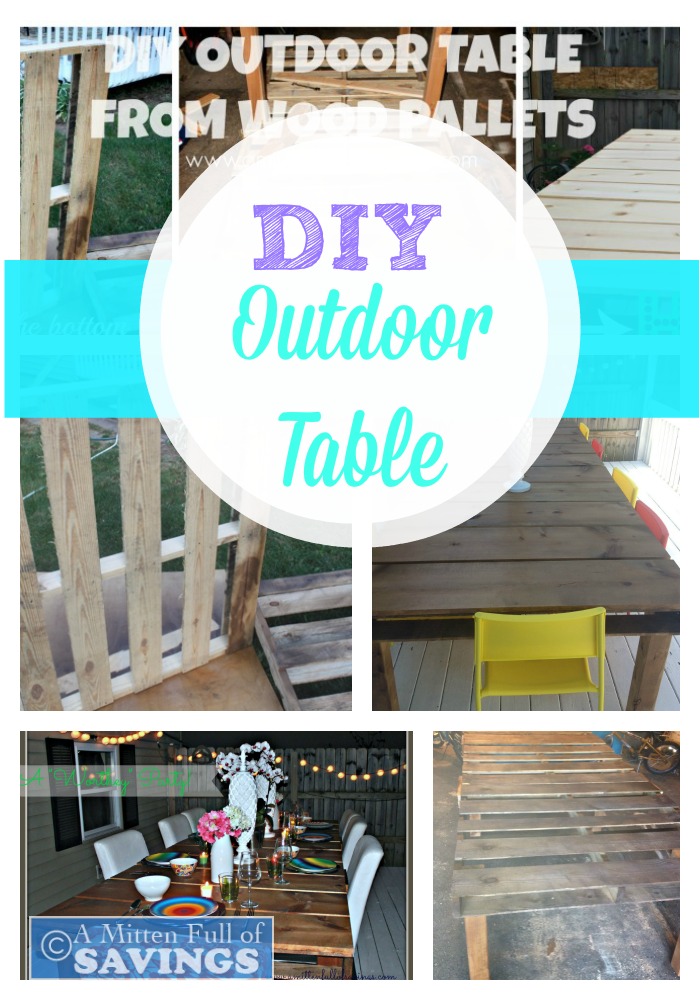 If you didn't know..wood pallets are IN right now! Super HOT! You can find creative wood pallet ideas that I have on my Wood Pallets Pinterest Board!
I found this Farmhouse Table that gave me some inspiration, but I wanted a little nicer finish than a rough farmhouse table!
We used:
3- Wood Pallets
8 32" 4×4 Posts
10 1"x 12" Planks
Box of Finishing Nails
Minwax Wood Stain- Early American 230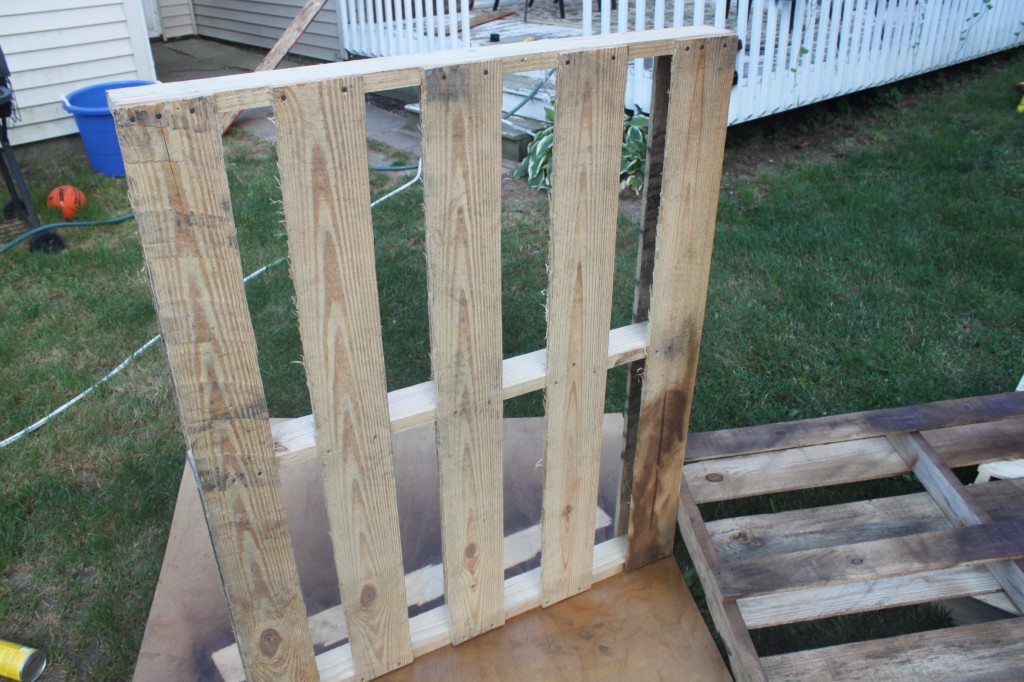 I picked up 3 wood pallets for free from a local hardware store. They had over 20 to choose from and were happy to donate them to my "worthy" cause. I started to realize that my DIY Outdoor Dining Table could possibly become a reality. Then we went to Home Depot, where I picked up the posts, nails and Wood Stain (I brought the stain in the can and also picked up 4 bottles of Spray Can wood stain).
Side note– did you guys know that wood stain comes in a Spray Paint option? A little more $$ but saves SO much time 🙂
With the spray cans, nails, posts, and wood stain I spent a little over $65.00 Using the $10 off coupon, knocked it down to $55.00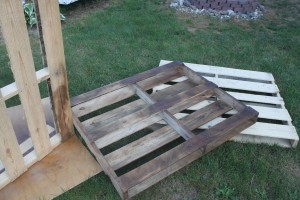 After putting on a few coats of stain, we were ready to assemble.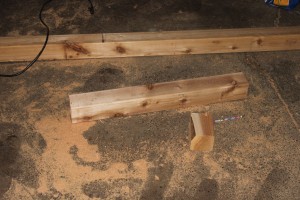 Home Depot cut the pieces of posts for us.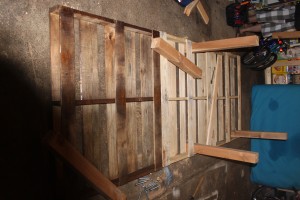 With all the rain we had this year we had to take this project indoors and work on it over a period of a week (although this can be done in a weekend). My husband and a family friend bolted the 3 wood pallets together. Then they applied the leg posts with finishing nails.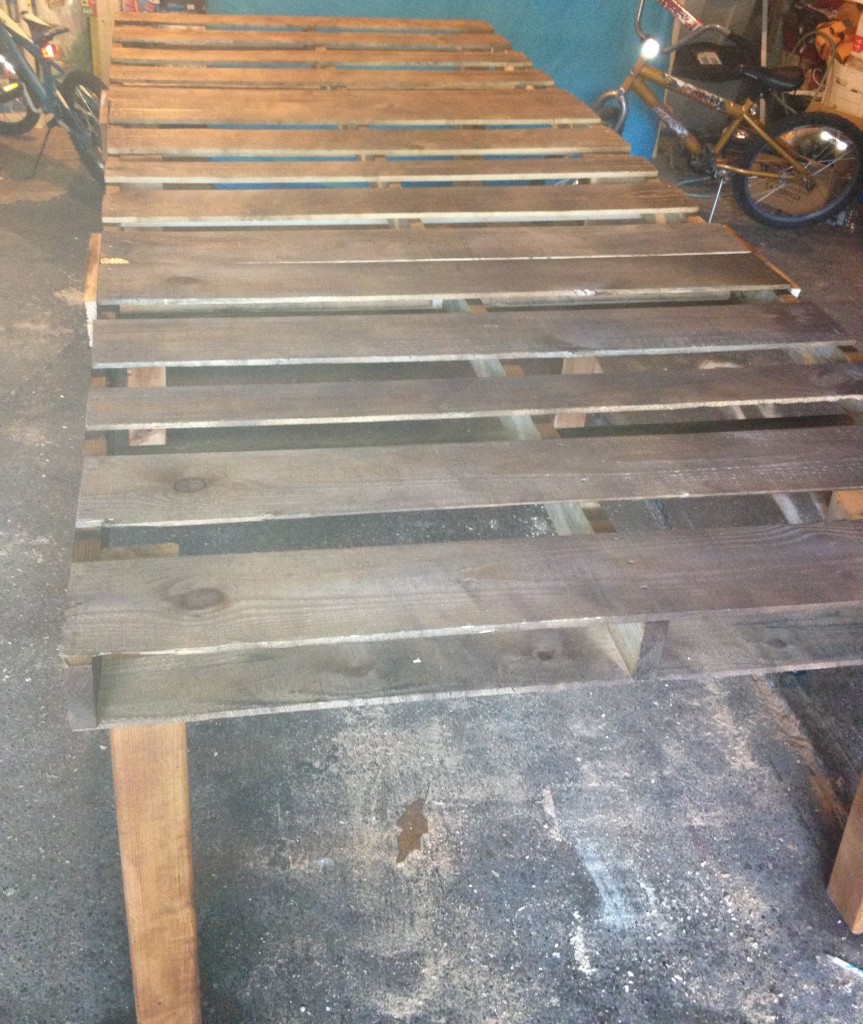 And then we were done (well with the final step of applying another coat of stain) The initial plan was to take a piece of glass and lay it over the wood table. However we started pricing the cost of a 10 ft piece of glass that would work on an outdoor table and I nixed that idea pretty quickly.
So next idea– we put the table outside and contemplated our next move. My husband decided to make a trip to Lowes to see if an idea that he had would work out. He purchased 10 1"x 12" Planks. He then came home and nailed them in (with finishing nails). A few more coats of stain completed our new outdoor dining table! 10 planks cost $40.00 (*note to save a little more $$ we could have went back to pick up more wood pallets and filled the gaps with those, but he wanted to go a different route!)
Steps to remember:

Bolt Wood Pallets together with lag bolts
Attached the 8 4×4 posts
Top with 10 1"x 12" Planks
Stain.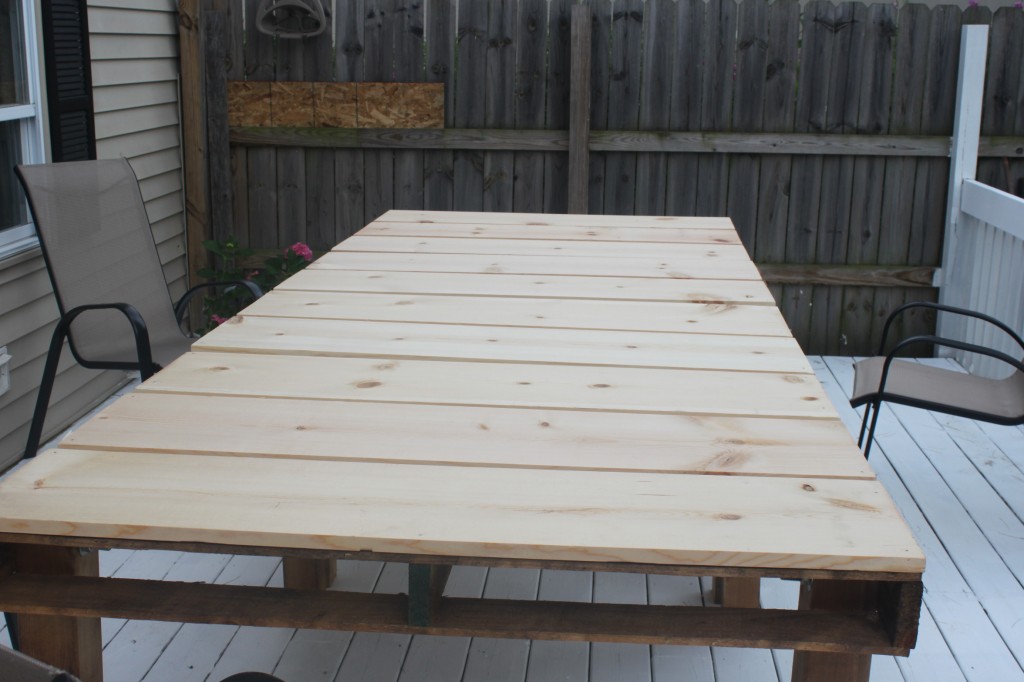 And another side view: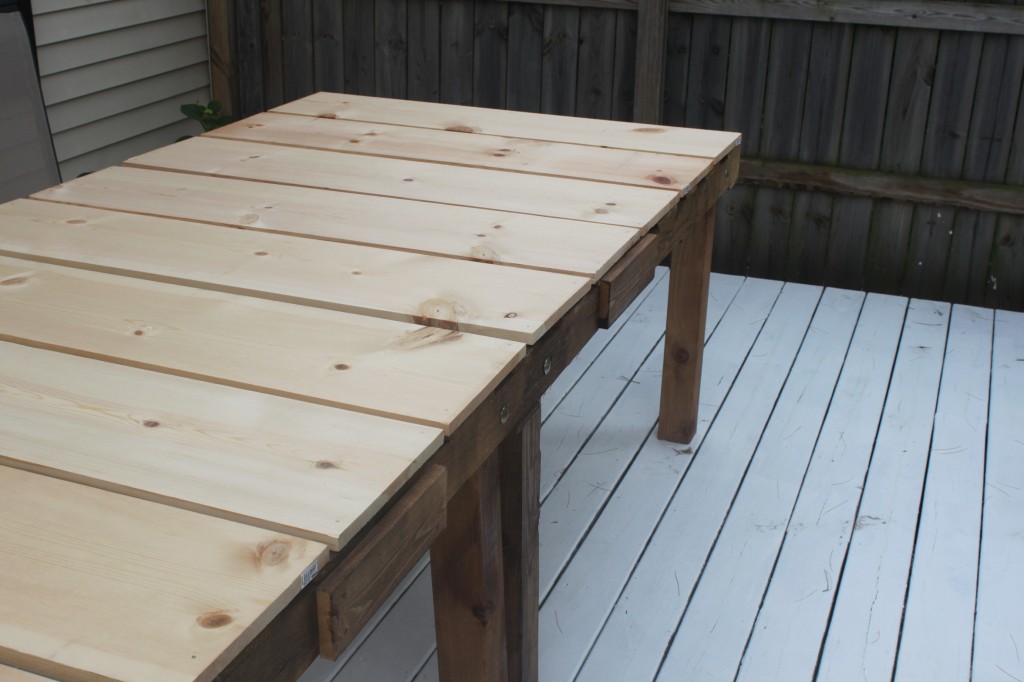 Can you see the bolts? the little square piece covers up the connection of the wood pallets

So then the next step was finding chairs. I wanted something cool and modern. And course I could not find nothing that was affordable (well in my spending budget). The ones I found on Amazon I placed them in my cart and was ready to order- Adams Manufacturing Quik-Fold® Chair for $23.11 a piece. I was ready to order 8 of them (total of $184)
Then while driving home the other week I happened to stop by Art Van. I was there just a few weeks ago and scooped up these awesome white vases (org $129 a piece) for just $5 bucks each! Great steal!
I spotted red and yellow chairs in the corner. I wanted some fun and vibrant colors. Once I walked over to that area and saw they were only $4 bucks a piece I was sold! Granted they are plastic chairs, but they will do for now. Plus I can cover them with white chair coverings when I want to create a formal and elegant setting. So $4 bucks each I grabbed all of them- 8 total. Perfect, right? $32.00 bucks plus tax! A big savings from the $184 I was about to spend!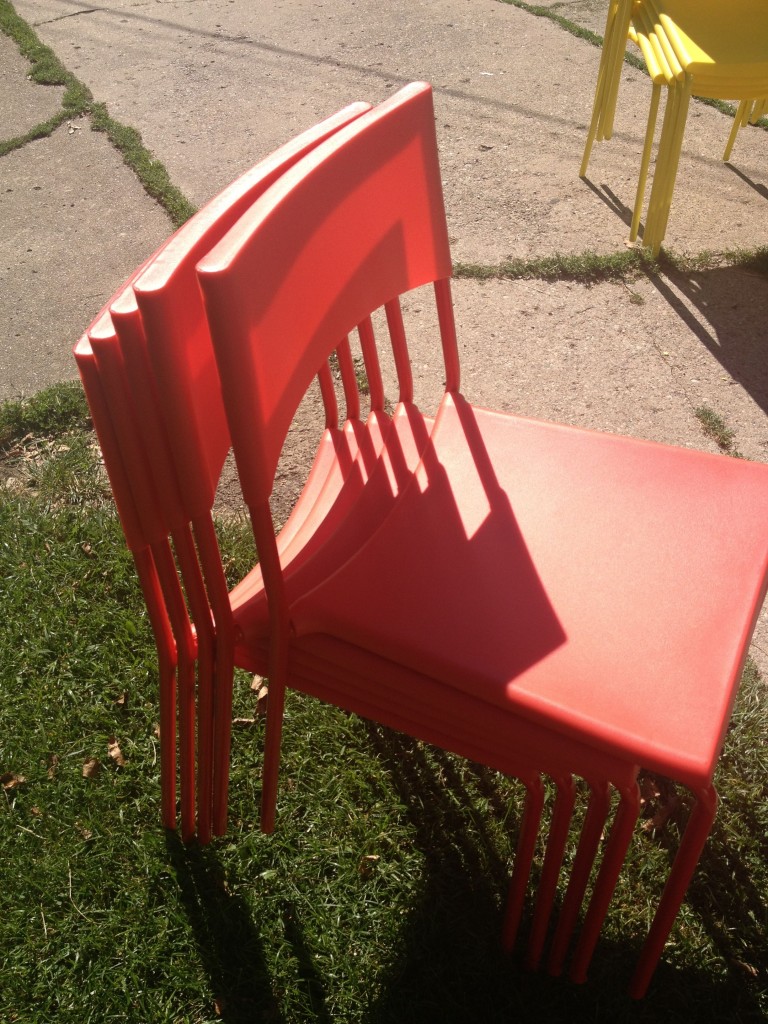 And here's how it all looks on the new outdoor Wood pallet dining room table!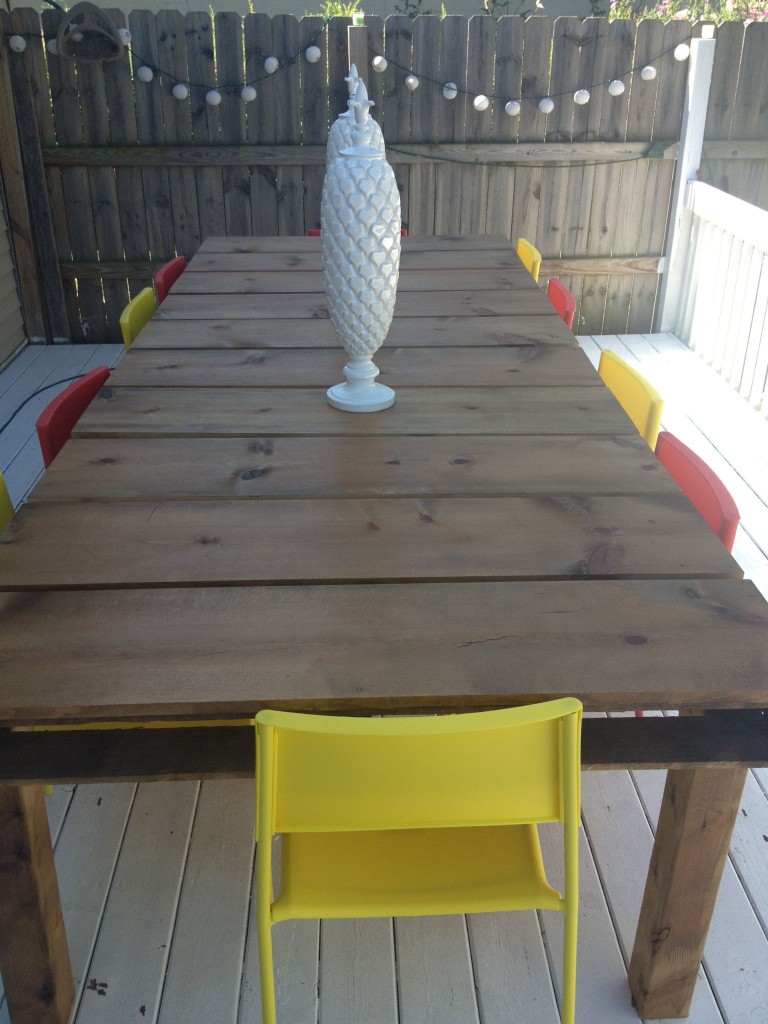 We decide to have a little fun and dressed the table up and had a BBQ- here's how it went down: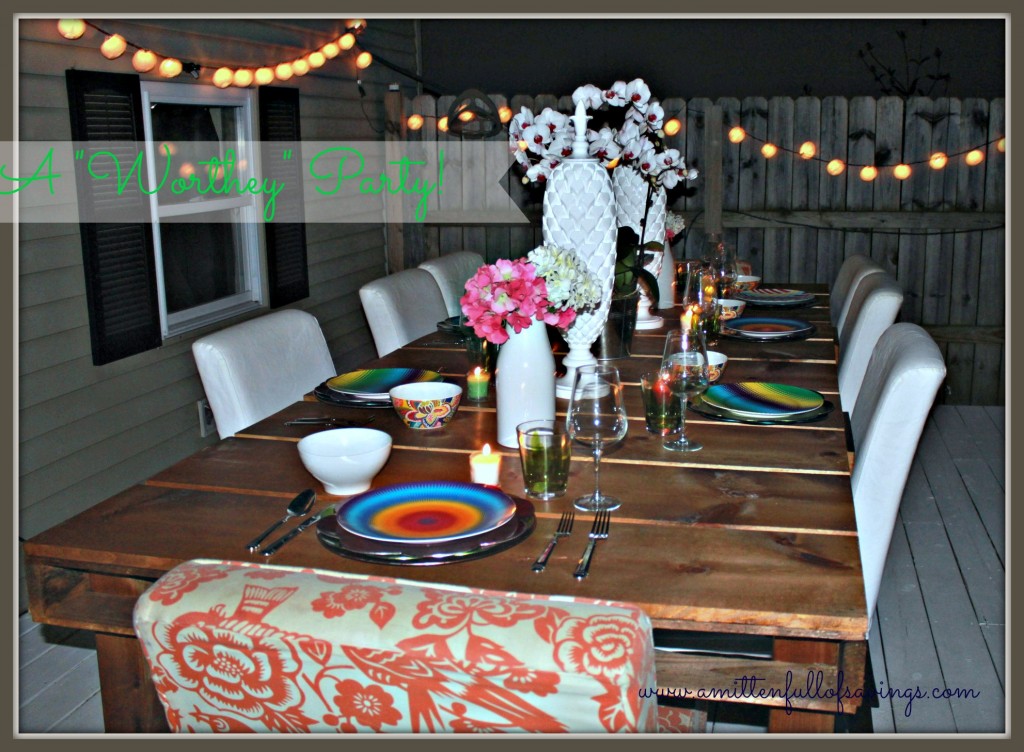 Far cry from that little wood pallet!!?
I picked up the plates, glasses, and bowls from Kohls. They were on summer clearance, plus stacked a 20% off coupon and $5 off coupon and was able to walk away paying nearly pennies. Total retail was $166.03 and I paid $16.98 OOP after my sales, coupons, and discounts! I also picked up some of these plates at Target on a 70% clearance.
*note- the chairs pictured here are ones from my house. When we had this little party I did not have the red/yellow chairs yet!
*this was the night my husband tried a new recipe- porchetta-style-pork-chop-recipe
For a total of $95, I was able to get a new Dining Table that I LOVE! Better than what I initially expected! So a savings of $700 dollars
I was able to get fun and colorful chairs for just under $32.00 bucks ( I plan to find chairs for the head of the table)- and saved $152
I added some fun table decorations for just $10 (savings of $248)
Finally, these the fun, skadelic mix of tableware for just $16.98 (saving $149)
So the total price of this colorful design: $153.98
I stayed within my $200 budget- YAY!
With a savings of $1249.00 WOW!
Have you created any DIY projects? Feel free to share!
Love this? Repin it to your board!!
Other wood pallets projects I've completed:
DIY Patio Bar Out of Wood Pallets for under $20 bucks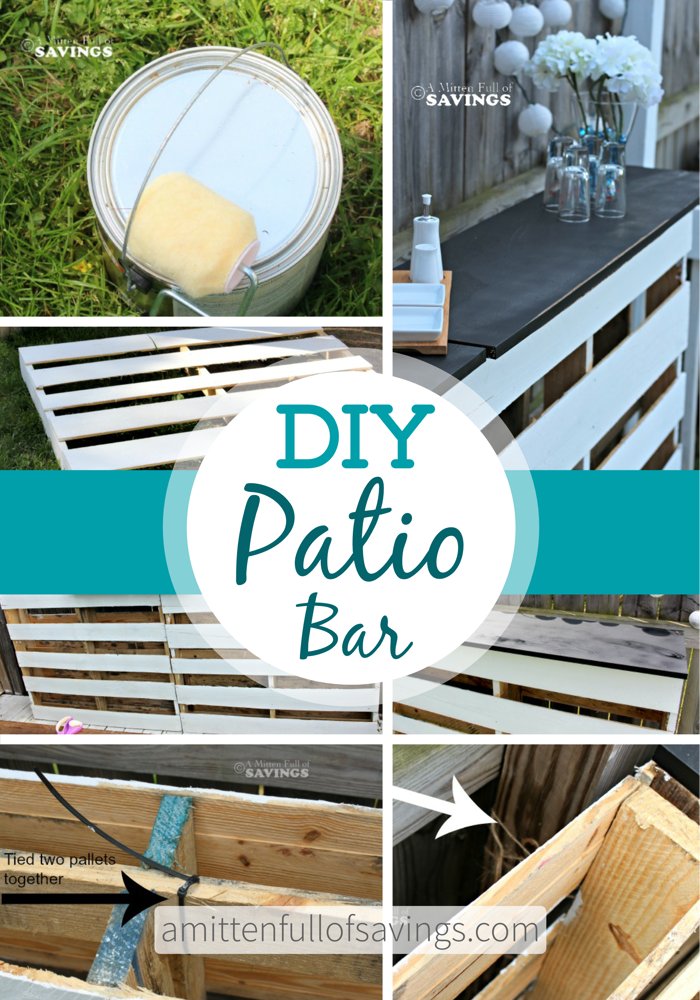 Find more creative ways to use wood pallets in our post on 27 Creative Ways to Use Wood Pallets