Tis the season to celebrate everything we are thankful for, including our friends. This is a super easy Friendsgiving Party Idea you can put together in under 20 minutes.
You can also use this orange + gold theme for a Thanksgiving tablescape!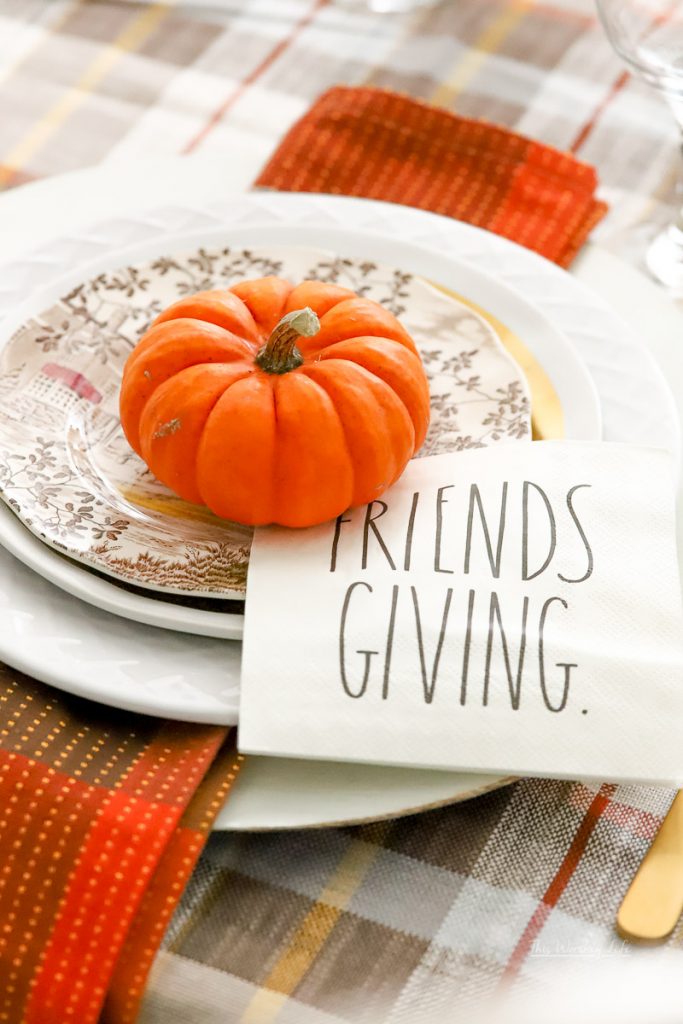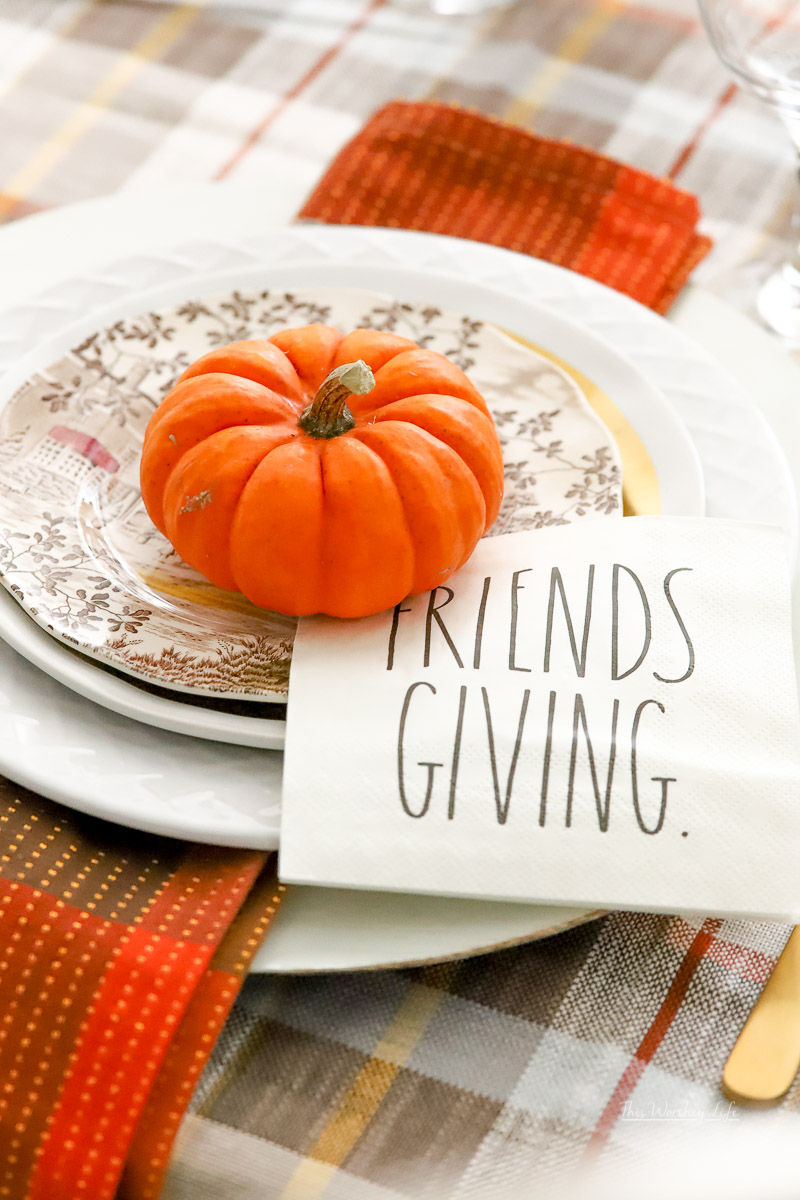 Friendsgiving Party Idea
As we approach Thanksgiving, I'm taking a moment to stop and express gratitude for everything I have, even the things I don't have.
I am thankful for all of you who show up daily and read what we have to share.
It's easy to point out everything going wrong, but we should always stop and take time to count our many blessings.
Today's tablescape is all about Friendsgiving.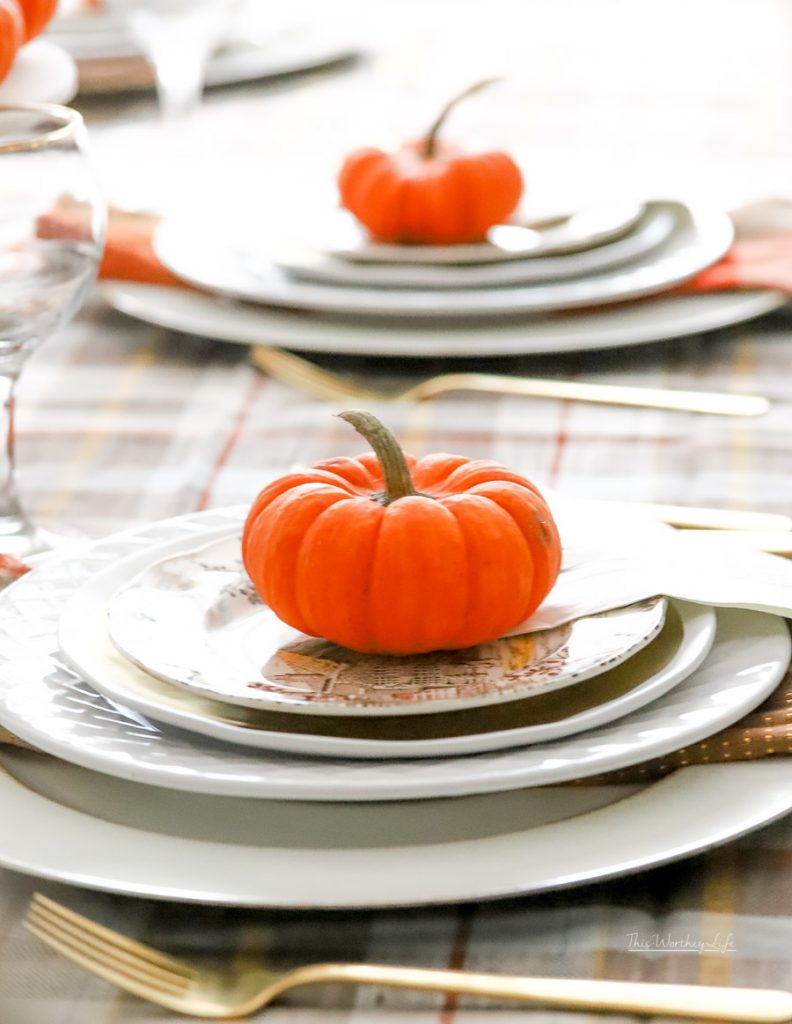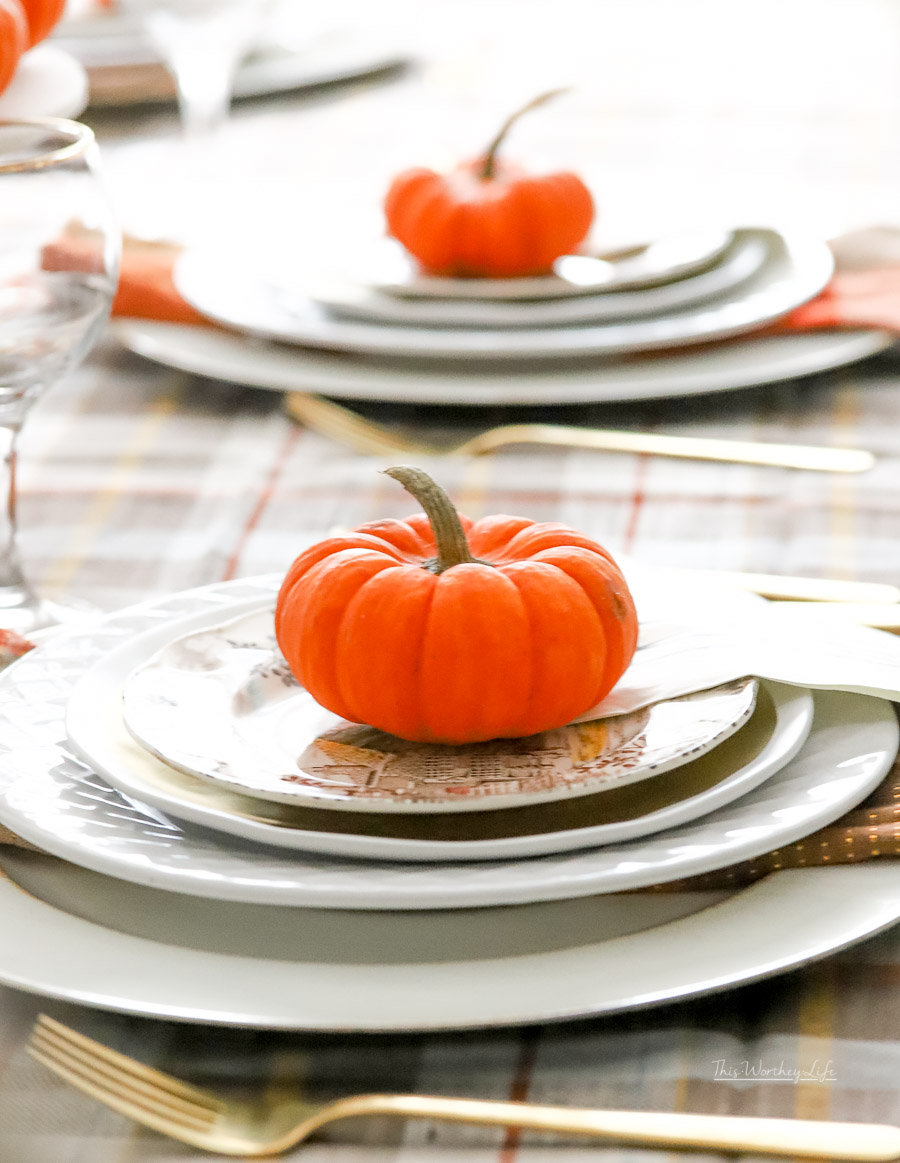 We started having a Friendsgiving dinner a few years ago.
It started on a whim, but I loved it.
Seeing your friends during the holidays can be challenging since many of them will spend it with their respective families.
So, if you're considering doing a Friendsgiving before or after Thanksgiving, here's a super easy way to decorate your table.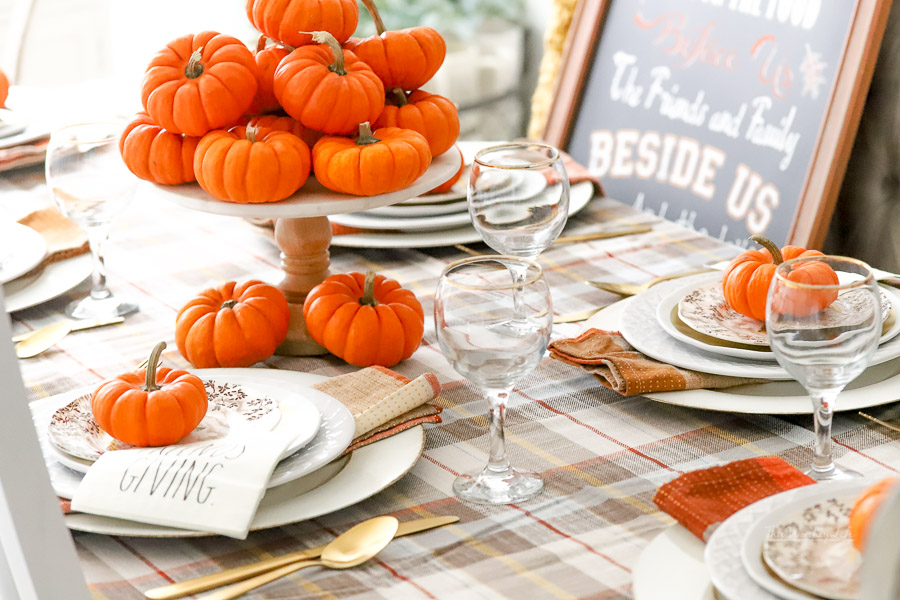 Sometimes I like to go above and beyond on tablescapes (like my Rae Dunn Halloween theme this year), but less is more.
This Friendsgiving tablescape is very simple, bringing in pops of orange and gold.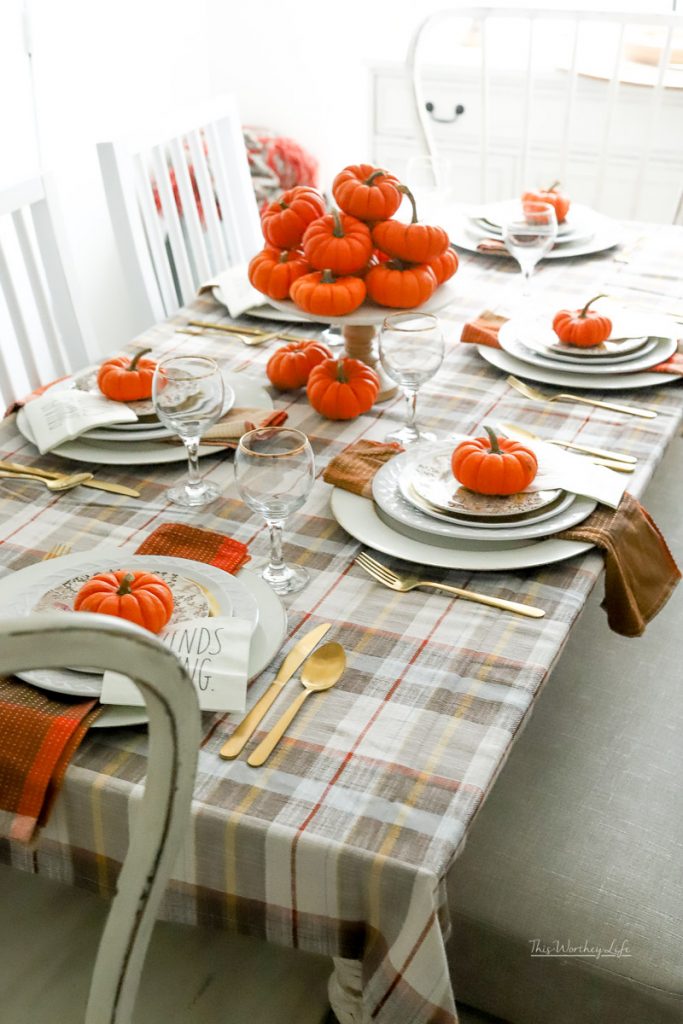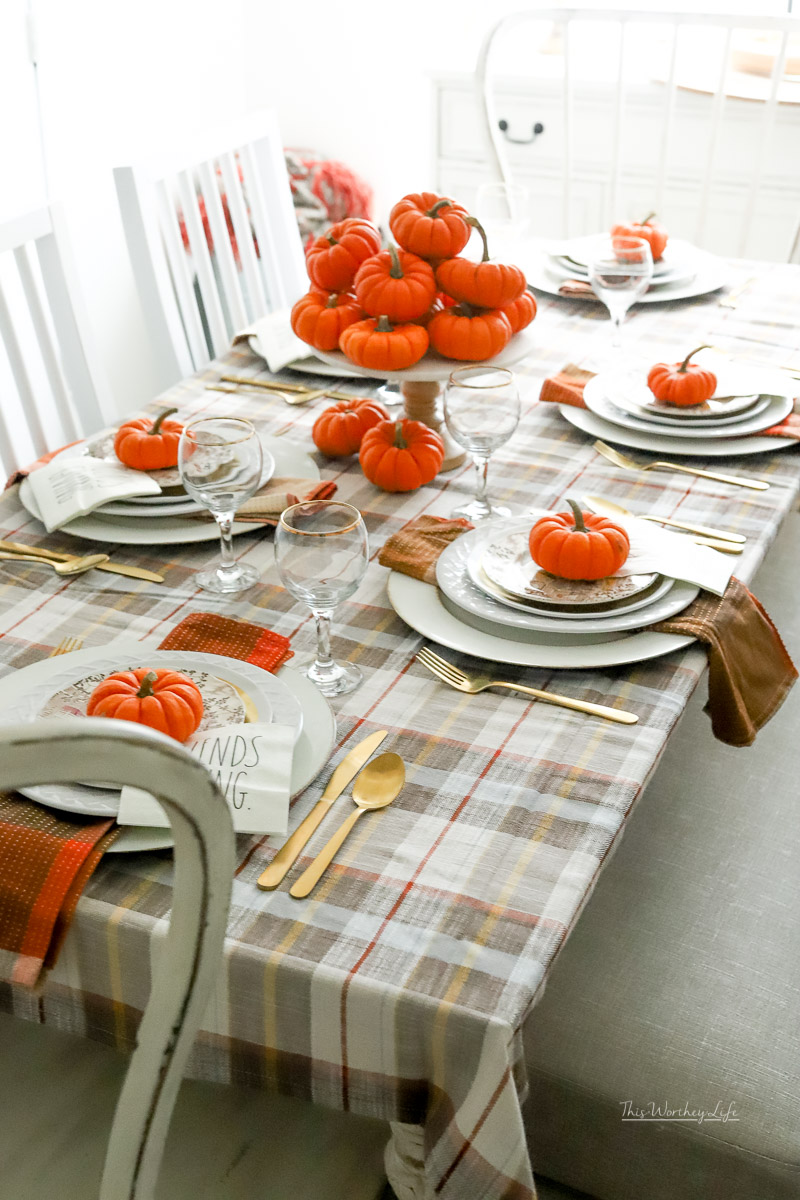 Team tablecloth or not?
I am not a fan of tablecloths.
So, it's rare to find me using one.
However, when I spotted this one at Target, I immediately thought it would work with my idea. And it did.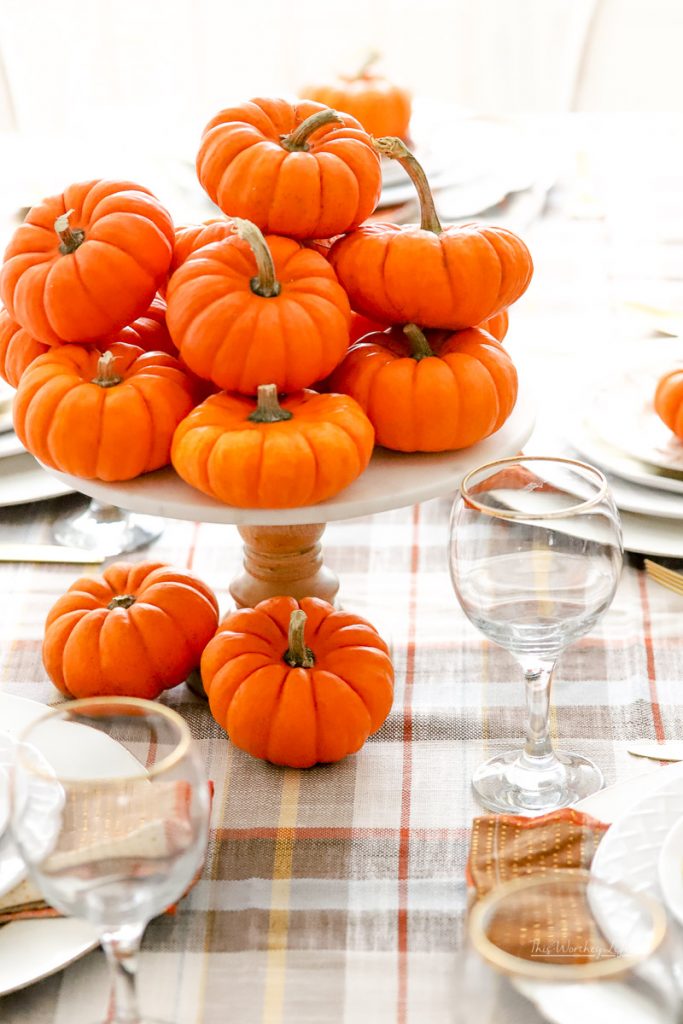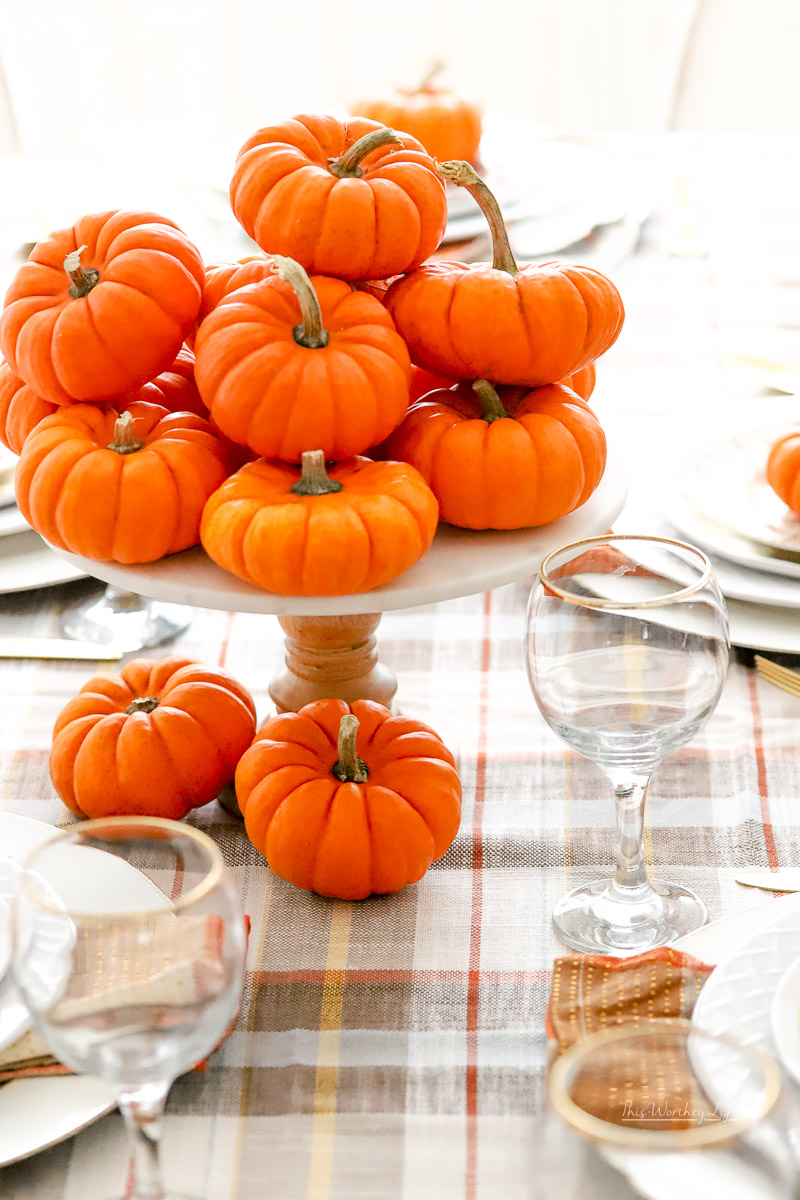 Simple centerpiece
For my centerpiece, I kept it simple.
I used a cake stand and piled a ton of mini pumpkins on top of it.
That's it. I loved the simplicity of this centerpiece, plus it provided a ton of great color!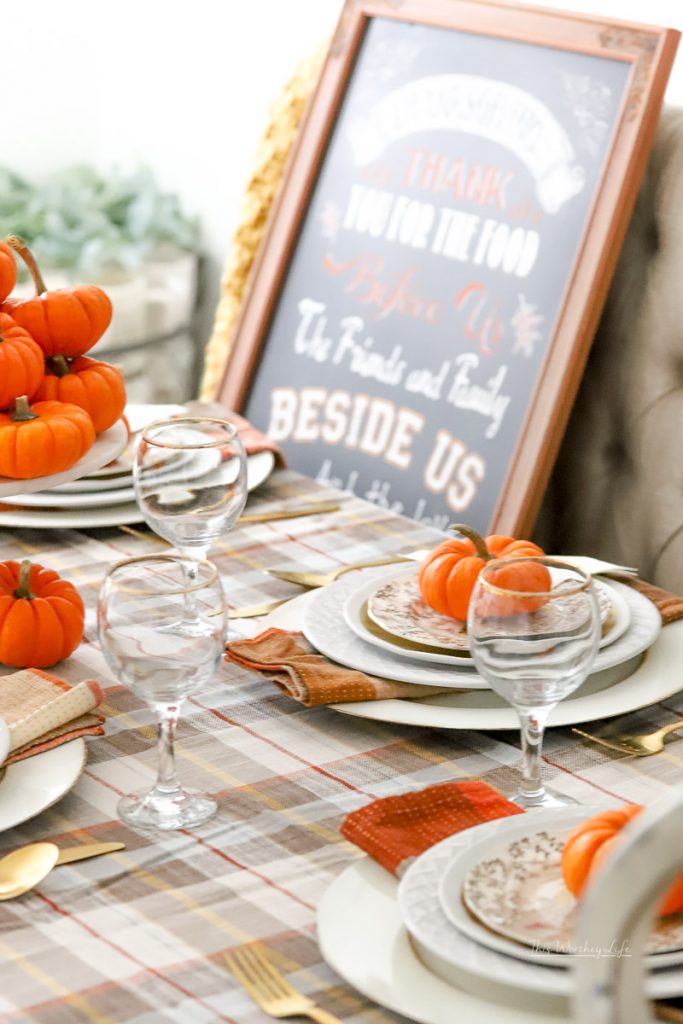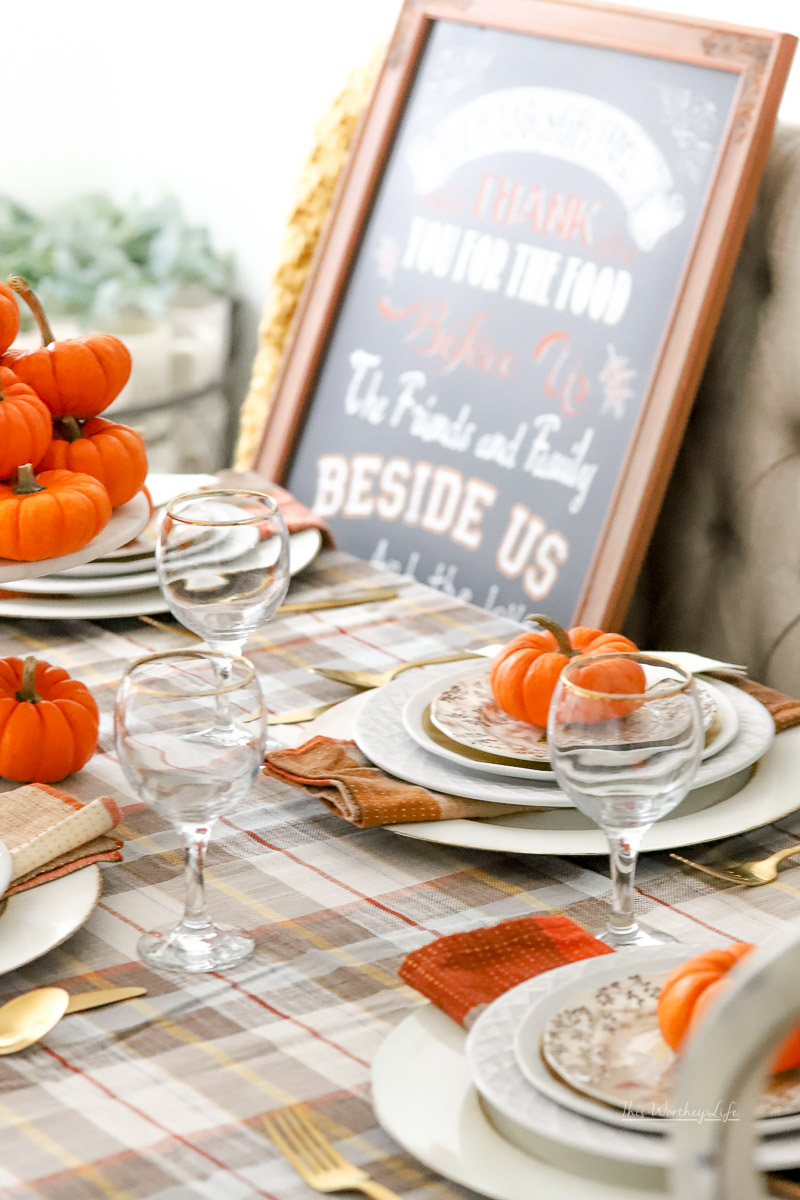 Friendsgiving table setup
Gold Silverware (Target)
White Chargers (Hobby Lobby)
Gold + Orange Cloth Napkin (Pier 1)
White Dinner Plates (JCPenney's)
Gold with white trim salad plates (Home Goods)
Brown patterned dessert plate (Thrift Store)
Mini pumpkin for accessory
Glassware with gold trim (here's a similar one)
I also picked up a pack of Rae Dunn's Friendsgiving napkins at TJ Maxx.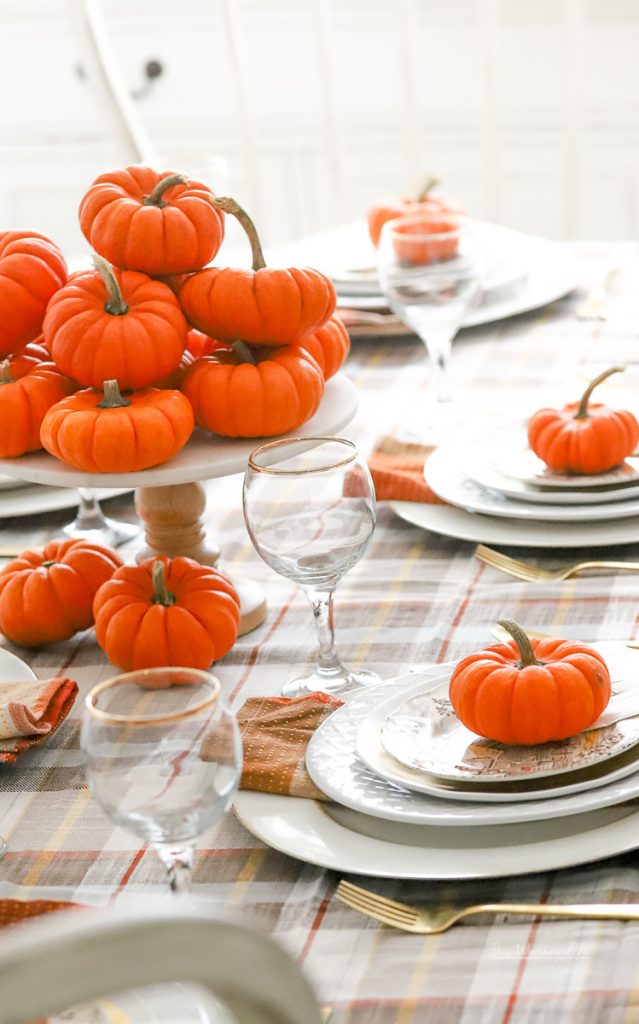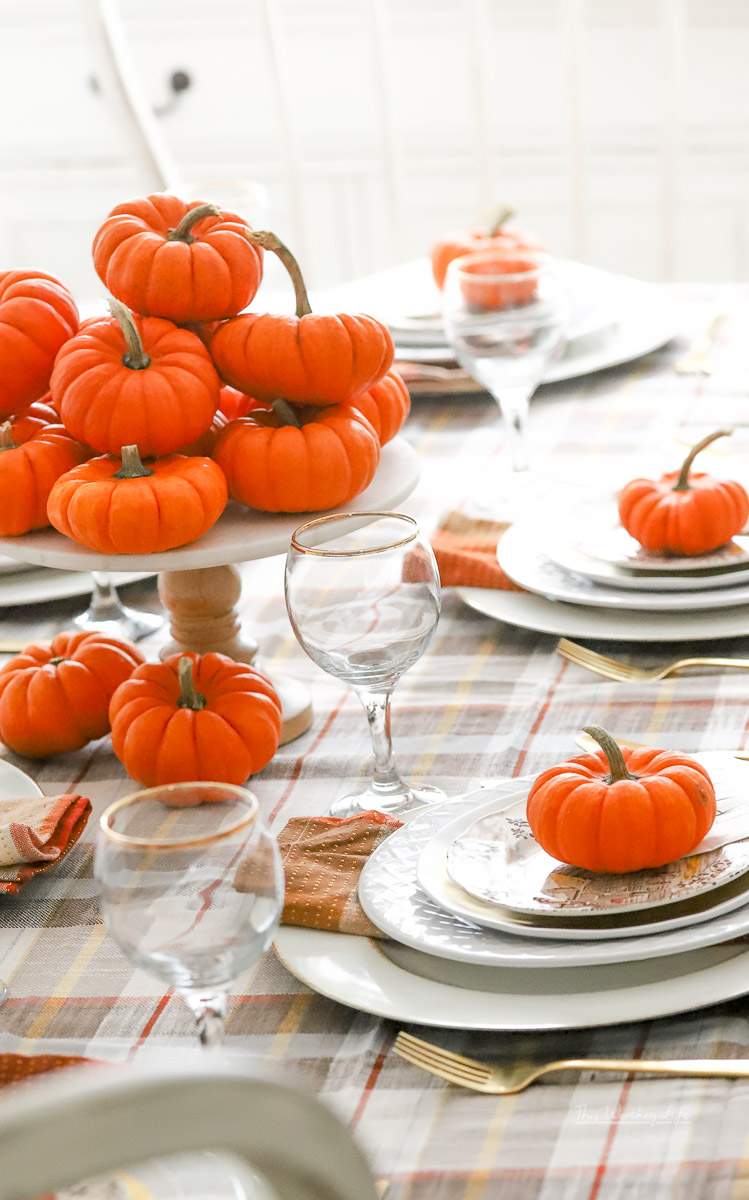 Now, all you need is the food and your friends!
When it comes to hosting a party, don't overthink it.
You can create a tablescape like this in about 20 minutes or less.
Besides buying the Friendsgiving napkins, pumpkins, and tablecloths, I pulled everything else from my cabinets and played around with the arrangements until it all came together.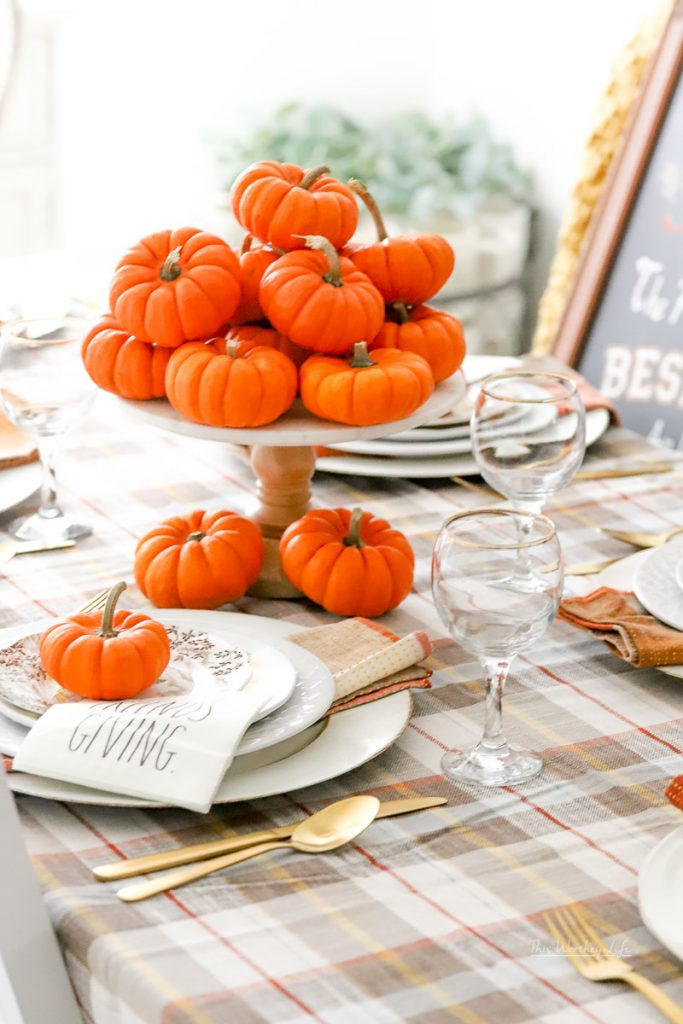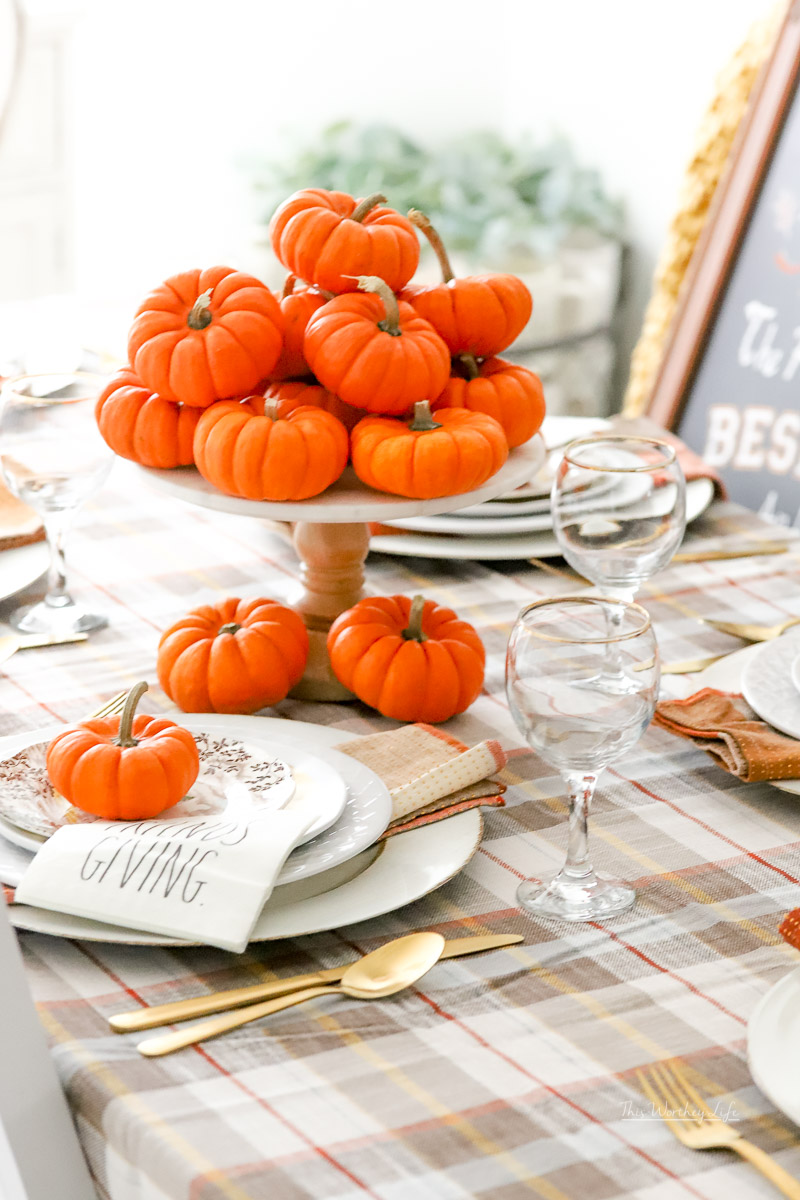 You can also use this idea to decorate your table for Thanksgiving this year.
Again, keep it simple; pick colors that are warm and will compliment each other.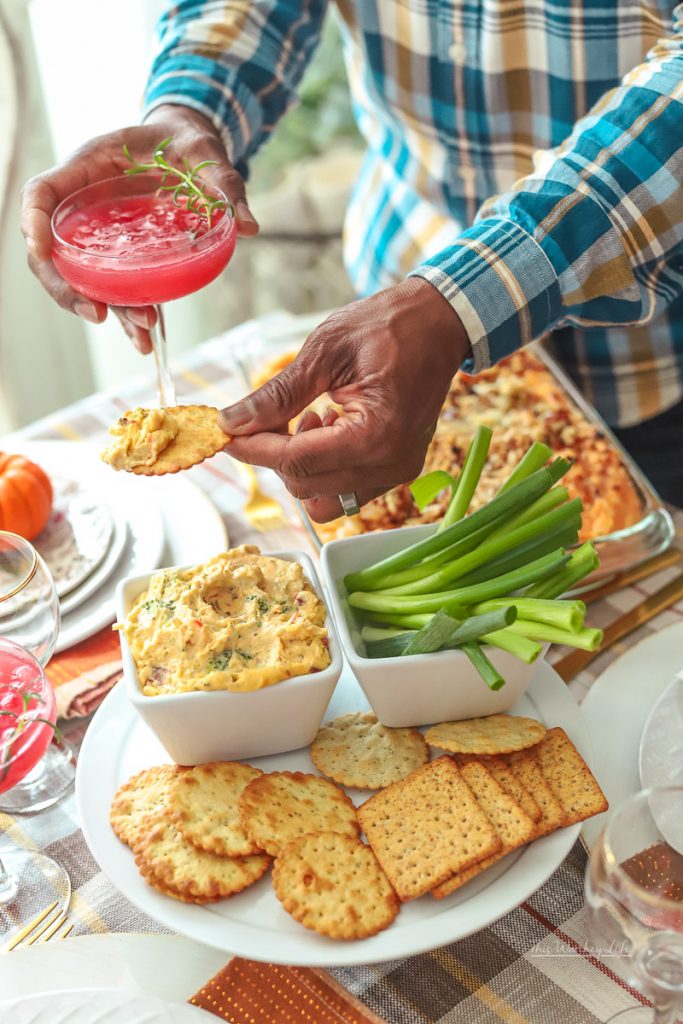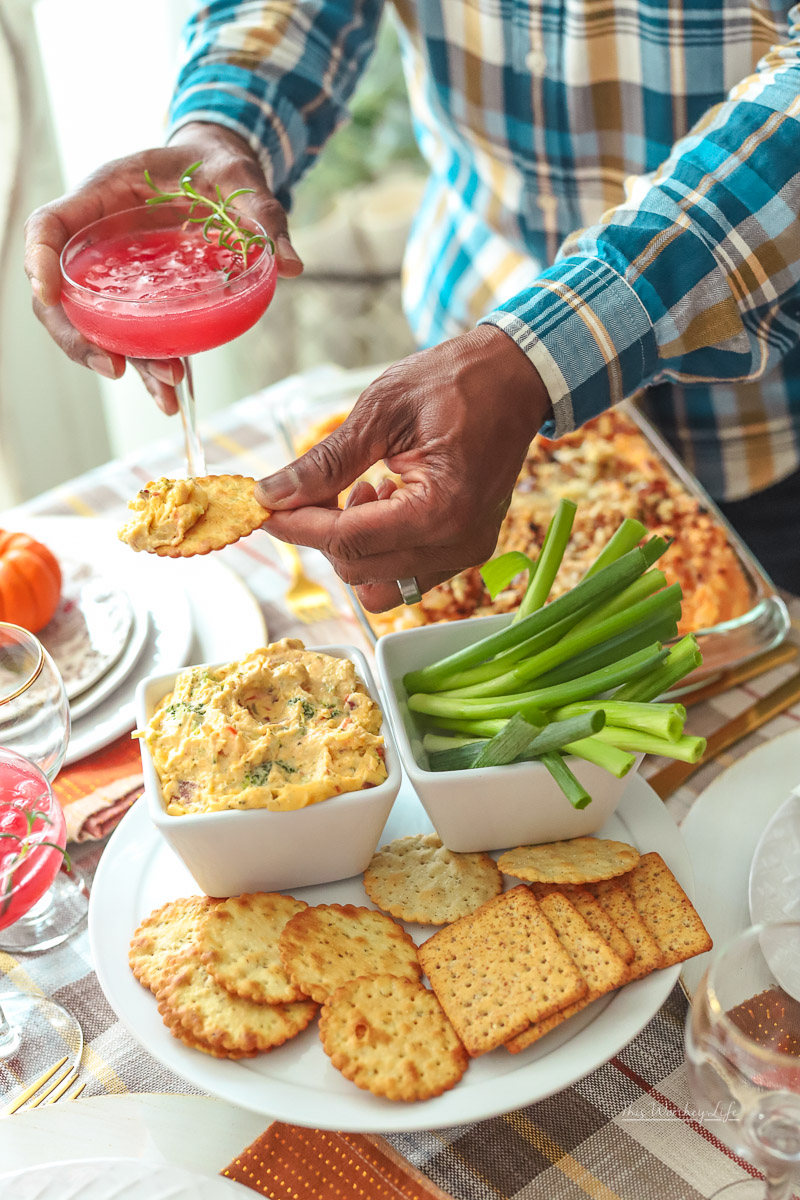 Over on our Instagram page, we partnered with Panera to showcase their Hot Broccoli Cheddar-Bacon Dip.
Using Panera's at Home Soup, Broccoli Cheese, this is a super easy dip recipe, and it's so good! You can find the recipe here.
⠀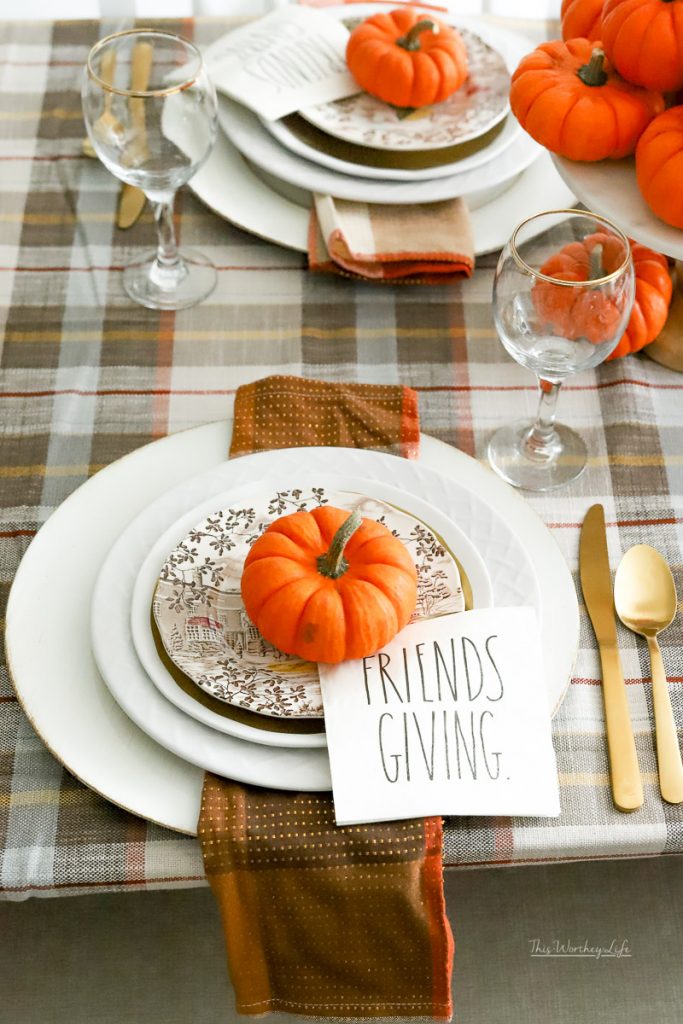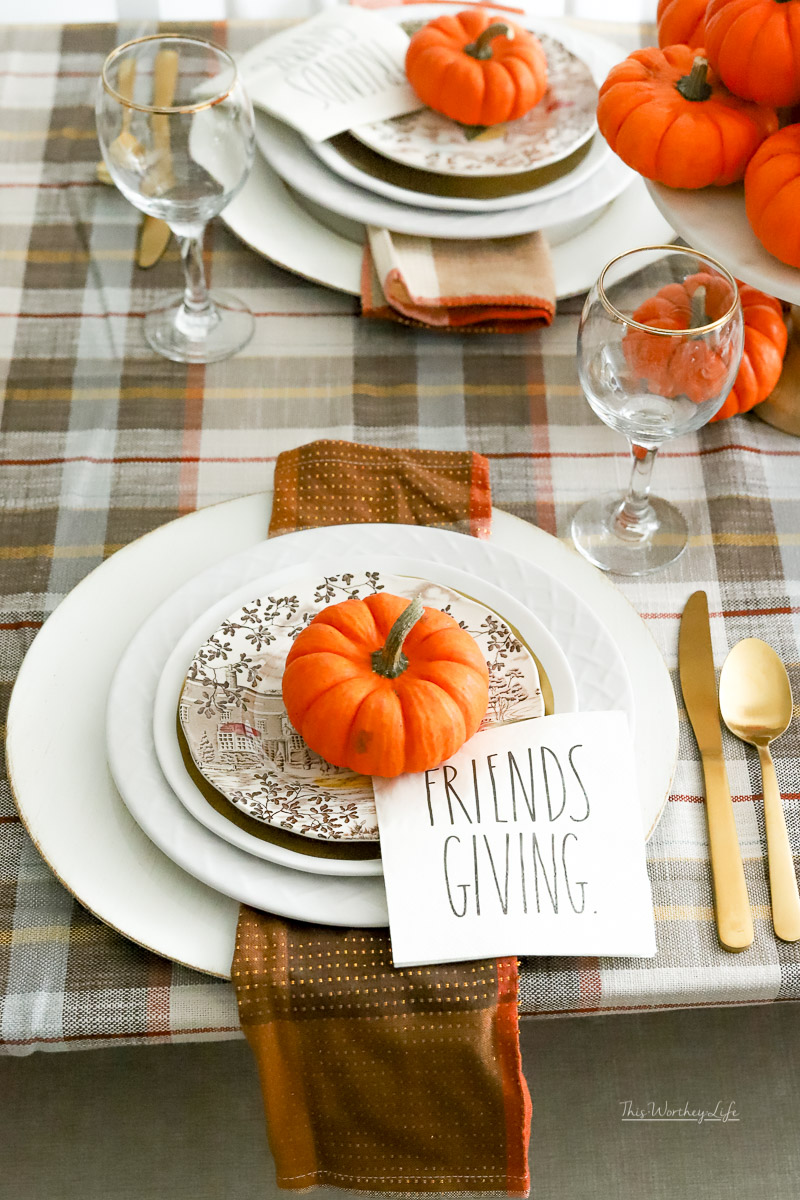 Happy Friendsgiving!
Find more inspiration below:
Fall Tablescape With A Pumpkin Centerpiece
Fall Decor | Decorating Your Table With Shades Of Orange
Gold & Orange Thanksgiving Tablescape Idea
Thanksgiving Table Decor – Simple + Elegant
This post may contain affiliate links, which means I may receive a commission if you make a purchase using these links.
As an Amazon Associate, I earn from qualifying purchases.