Don't miss our Gold & Orange Thanksgiving Tablescape Idea! If you're looking for an idea of setting up your Thanksgiving table, let this idea and these beautiful colors inspire you.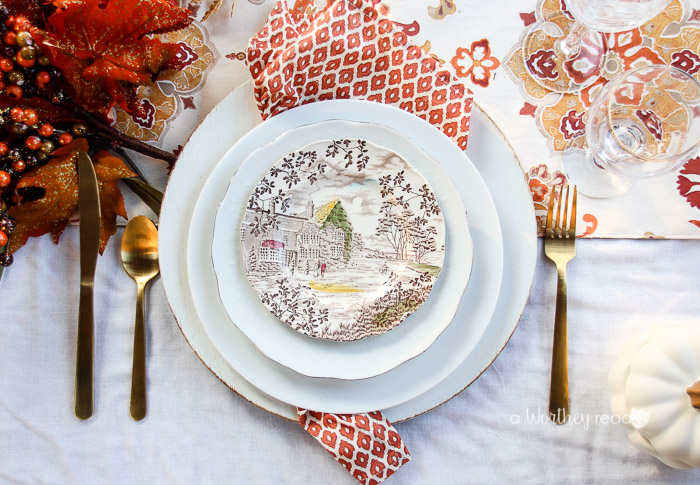 Gold & Orange Thanksgiving Tablescape Idea
Seriously, WHERE did this year go?! I can't believe I'm sitting here talking about a Thanksgiving tablescape idea when it was just spring, and we were enjoying our annual trip to Southern California.
It's no secret the holiday season is my favorite time of the year (besides summer and not seeing snow for a few months). However, the holidays are bittersweet now. With both of my parents gone (Dad died earlier this year, and my Mom passed in 2014), it's been challenging. Thanksgiving was my Mom's favorite holiday. My Mom didn't cook the full Thanksgiving spread, like greens, green beans, mashed potatoes, Mac-n-Cheese, roasted turkey, etc. Here's how she would do it; she would usually do a few of those dishes, get my older sister to make the turkey, and some good friends prepare a few side dishes. My Mom knew her kitchen skills were not up to par, so she took full advantage of using others to help her out.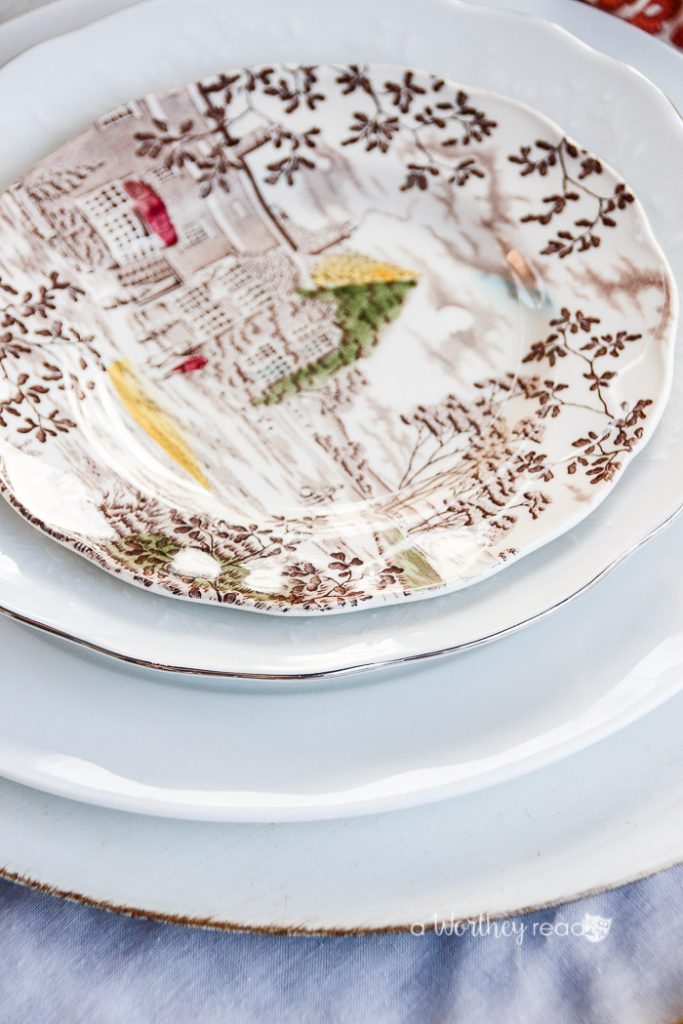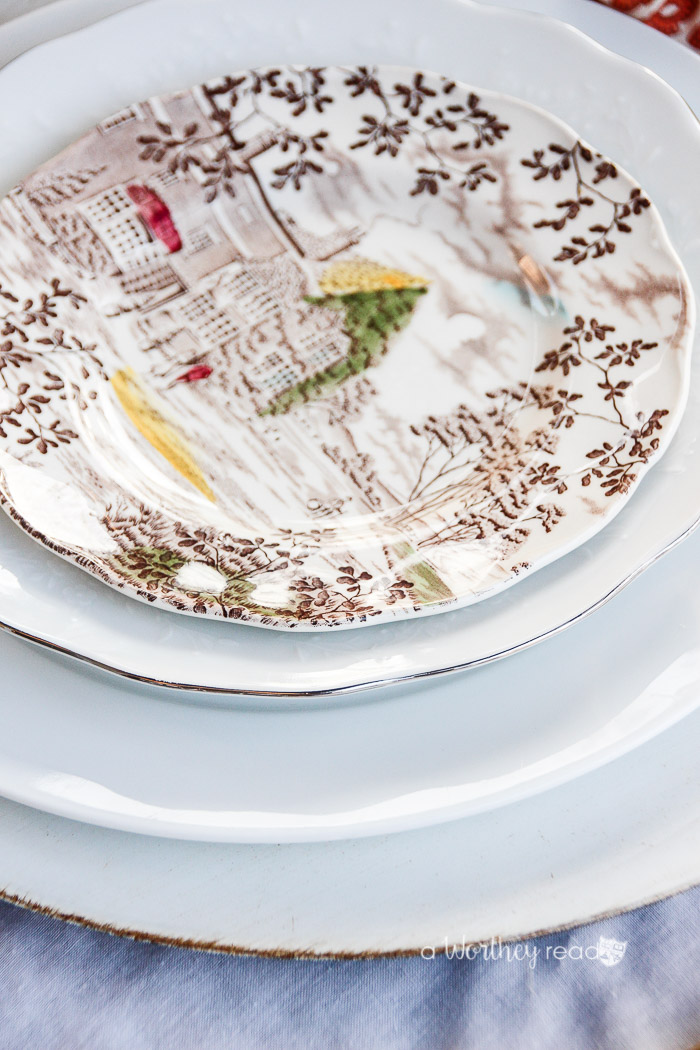 Remembering family in this Gold & Orange Thanksgiving Tablescape Idea
My Grandma could throw down in the kitchen. However, growing up, my Mom wasn't concerned about learning how to cook. She focused more on her education and involving herself in her community. I think this is where I get my-I-don't-cook-skills. Hey, I can do a little something, but don't ask me to stay in the kitchen for hours and hours preparing a Thanksgiving feast.
It ain't happening. If it were up to me, we would probably all starve! LOL! Thankfully, my husband is excellent in this area! He loves to whip up creative dishes, try new recipes, and pull out the whole kitchen sink for a meal if need be. You can find many of his recipes on the blog, including some of his favorite Thanksgiving dishes: Easy Cornbread Dressing Recipe, Creamy Collard Greens with Bacon, Creamy Potato Recipe With Alfredo Sauce.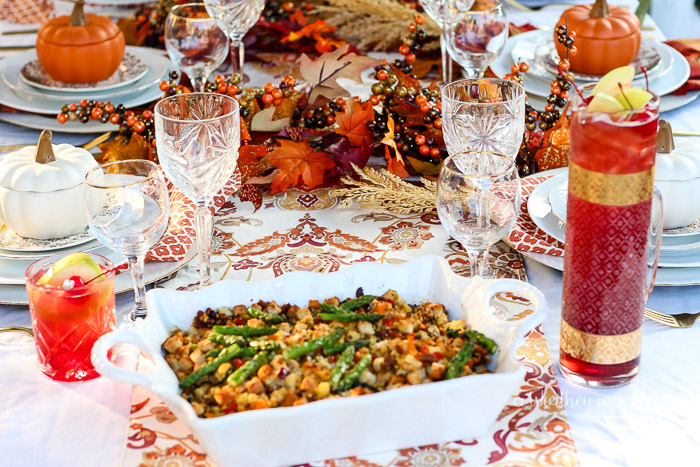 While I may not enjoy spending a ton of time in the kitchen, I loved to create tablescapes!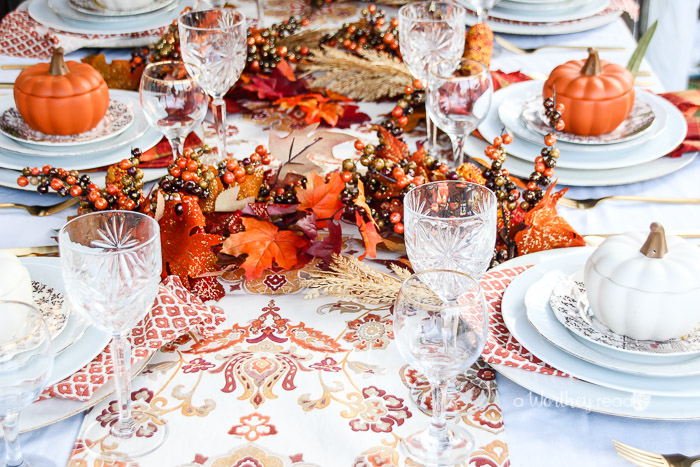 We love to entertain, and I LOVE home decor stuff. But, not just like. I LOVE IT! Several years ago, I got into doing tablescapes ideas. I've gone to a tablescape competition in Colorado. Did you know this was a thing? It started with just a few decorations on the table for each holiday meal. Then it turned into something bigger. I have a few of my past tablescapes on the blog; you can find them here, here, and here.
This year, I'm into gold. It's a hot color right now, and it works for Thanksgiving and Christmas. You can take many of the same gold decorations and use them in a Christmas theme too.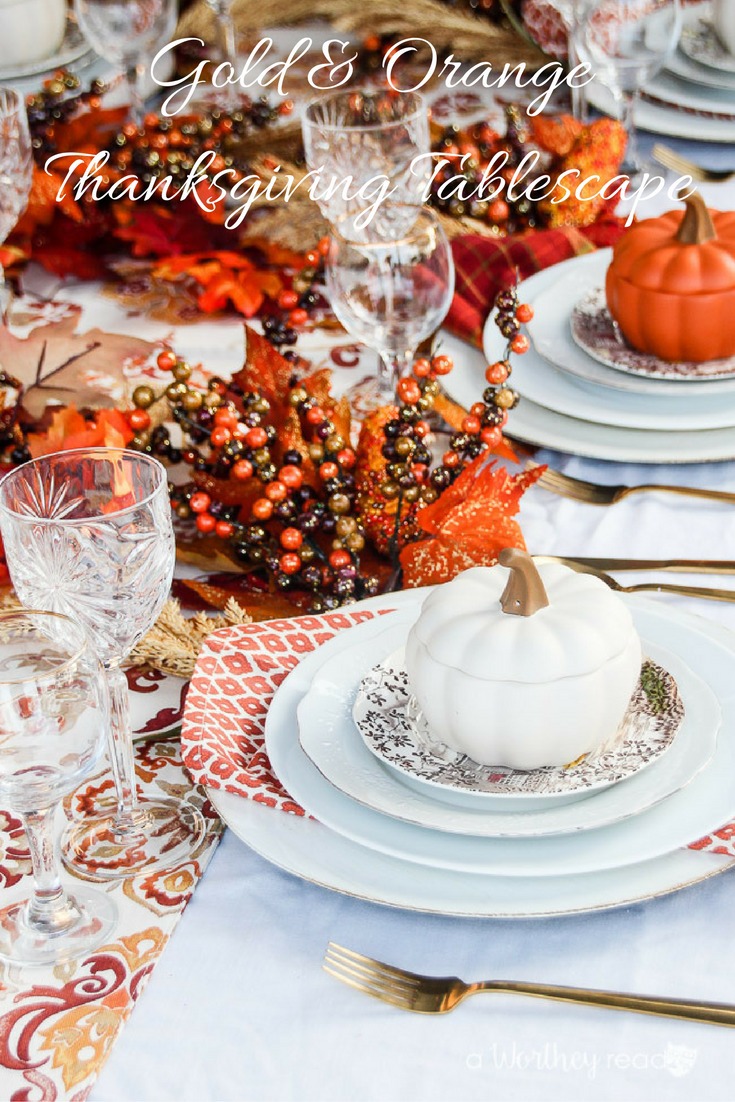 Here's how I put together this Gold & Orange Thanksgiving Tablescape
First, we start with a white tablecloth. This is just a basic cloth, nothing fancy or pricey. I learned a long time ago not to use expensive tablecloths when you have little people and guests who are likely to make a mess. Spend less, no stress!
Next, lay the runner down the middle of the table. I picked up this fall-themed table runner from Home Goods. Usually, what would come next is a centerpiece. For this idea, I decided not to do a centerpiece.
Why? Because we're saving the center for the food.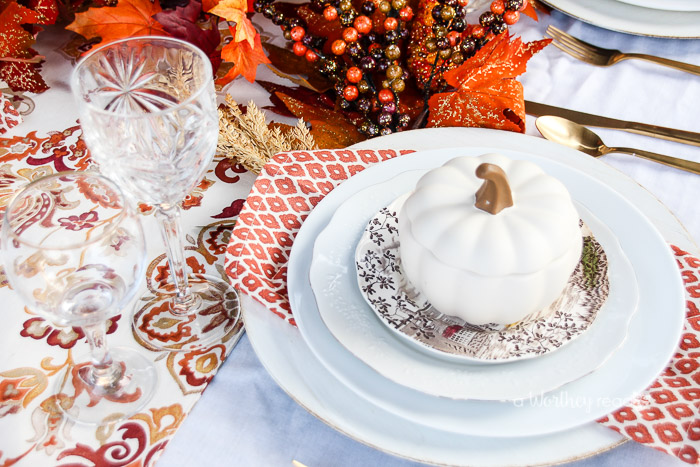 Now, let's set the table. Here's the order:
Lay a white charger at each place setting.
Add a fall-themed cloth napkin. Do not do paper napkins. Let's get fancy; it's the holidays!
Add a simple white dinner plate.
Add a white salad plate. I picked up these plates from IKEA. I love the raised motif design!
Next, use a graphic and colorful vintage mini-plate on top of the salad plate. This mini-plate has a purpose; it adds a pop of color and breaks up all of the white. And, it draws the eyes to the place setting.
Set a pumpkin bowl (also called a ceramic pumpkin baker set) on top.
Arrange two sets of glassware to the left of the place setting. One is for water; the other is for wine, mocktails, or your choice of drink.
Place the flatware. I picked up gold flatware at Target for $2 each. I also have my eye on getting a vintage set of gold flatware soon. But for now, aren't these perfectly fine! (Note: the fork should be to the left of the plate and the knife + spoon on the right.)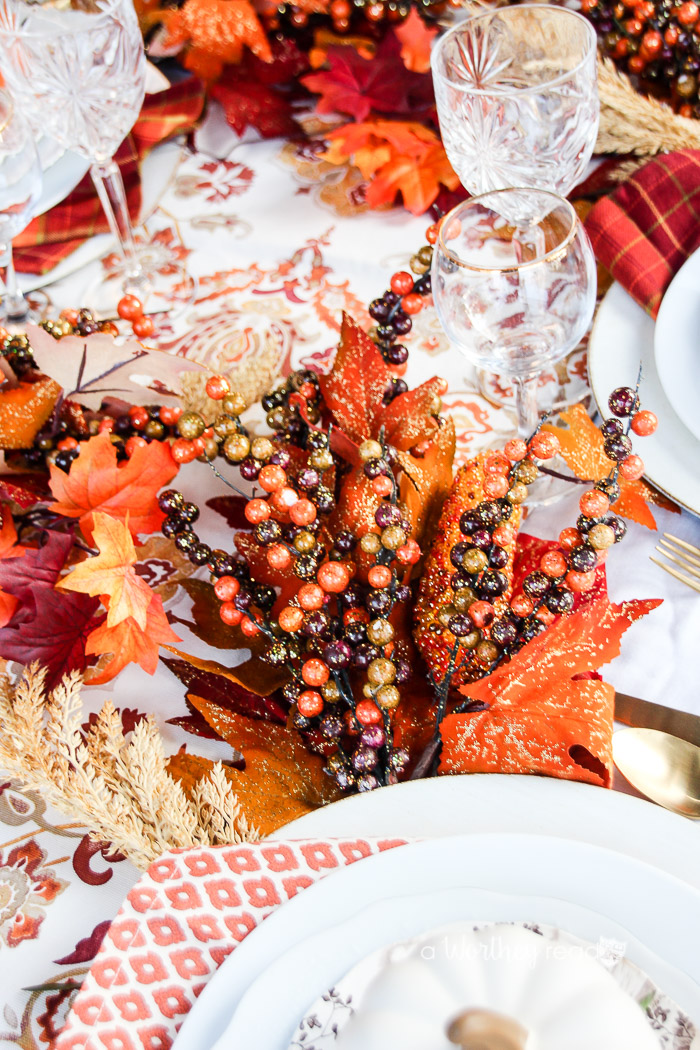 I placed a colorful swath of fall leaves and decorations to the right of each place setting. I added additional orange and gold-colored leaves to make each arrangement look fuller. This spilled out to the center of the table, making it look like I have a centerpiece.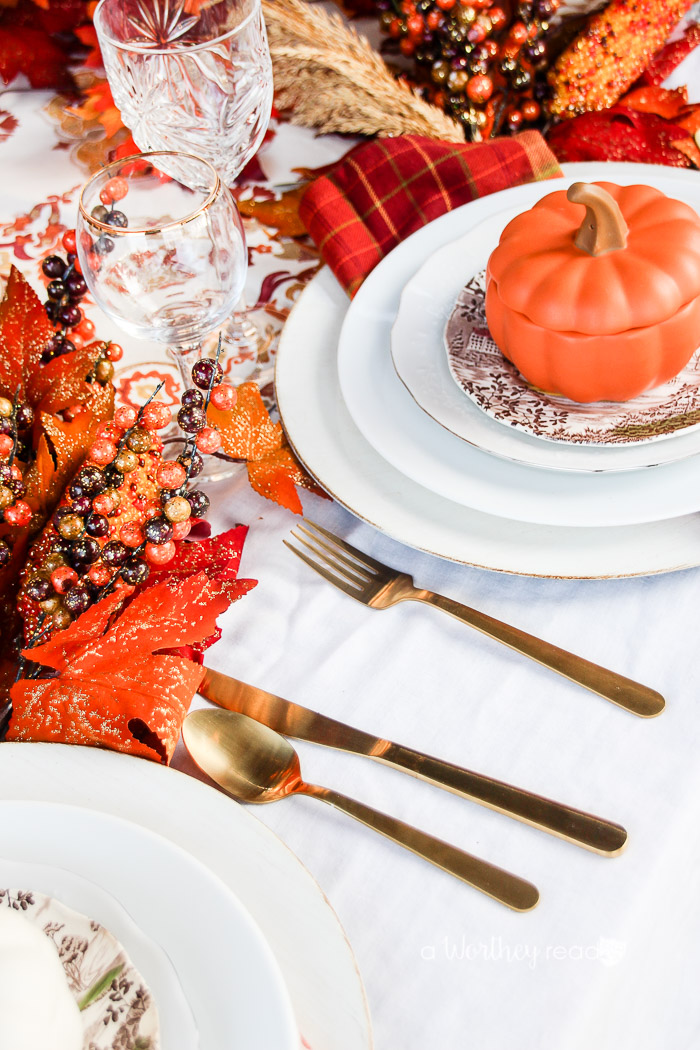 Can we go back and talk about the little vintage plates? I was recently perusing inside an antique shop here in town. I was putting an idea together to do a vintage Christmas tablescape, but then I came across these little plates and had to have them! They were the perfect addition to this tablescape idea.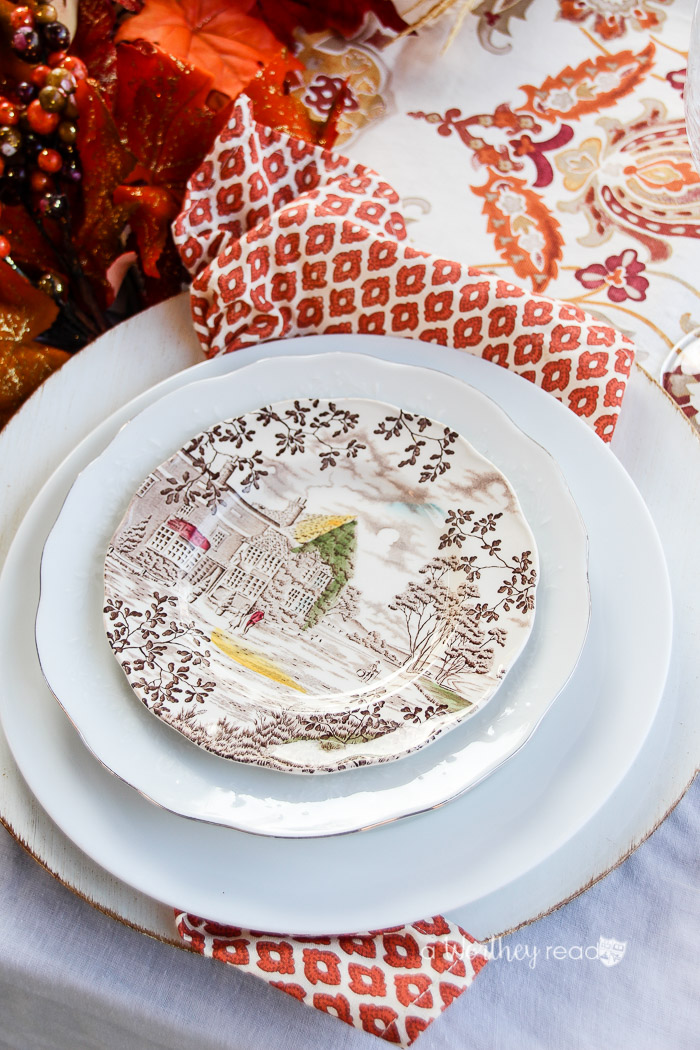 Towards the end of the table, I added a few ceramic gold & cream harvest pumpkins. I added a few more fall decor accessories to finish this late fall and a very festive look!
Here's a full view of this gold + orange tablescape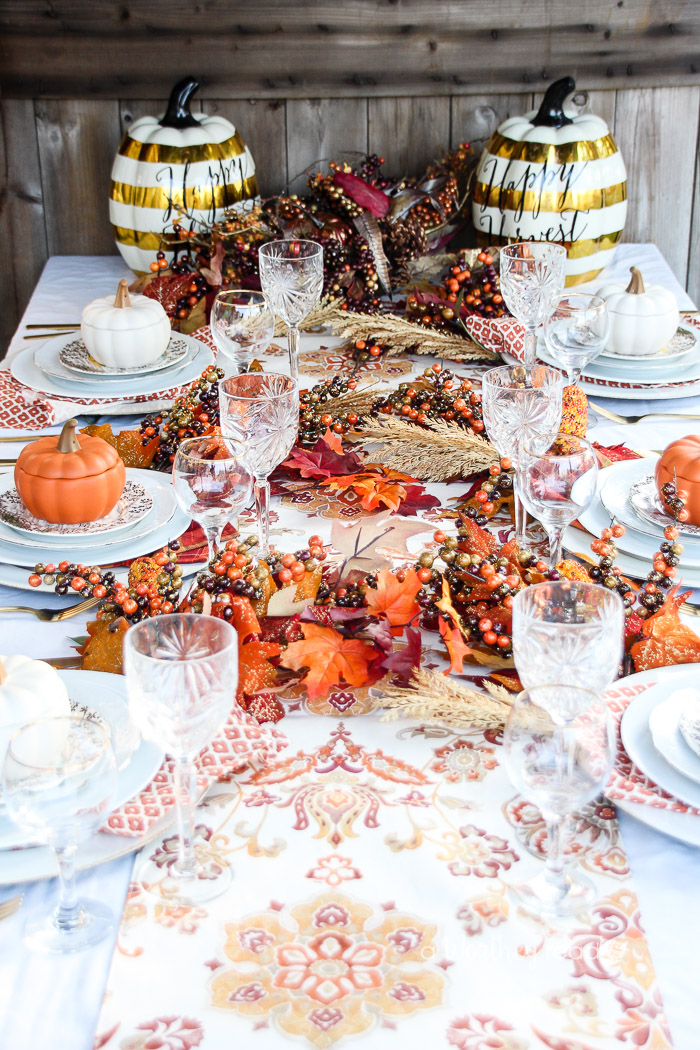 I remember back over the last several Thanksgiving dinners. My Mom would always compliment me and ask about how I decorated the table. Those were good times, and I miss her. SIGH! I'd say she would be proud of this year's Thanksgiving Tablescape Idea. Too bad, she is not here to enjoy it.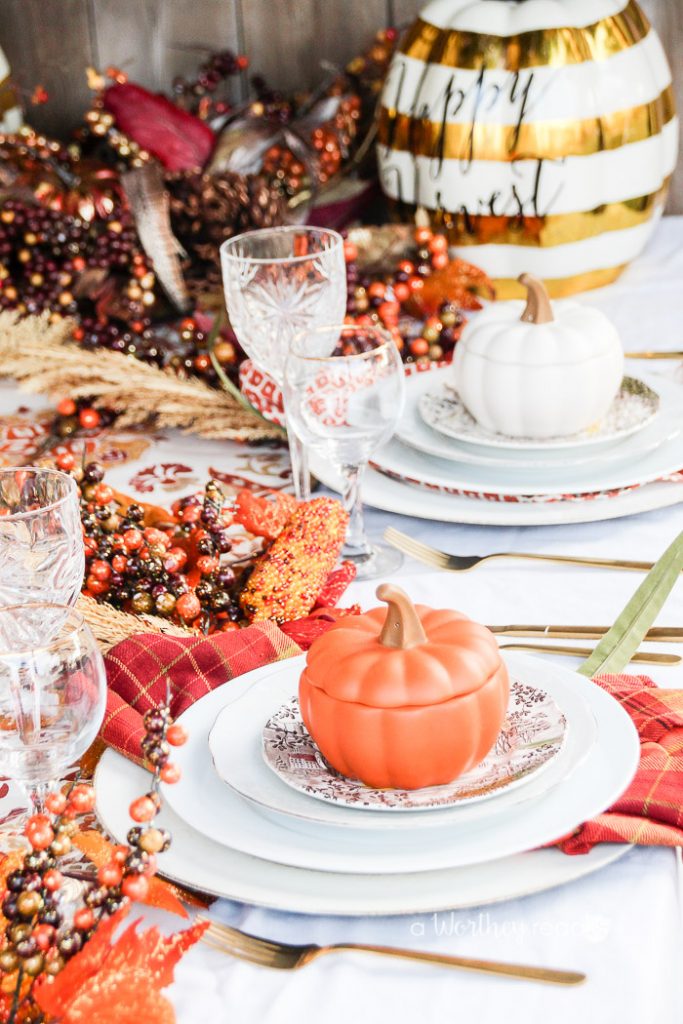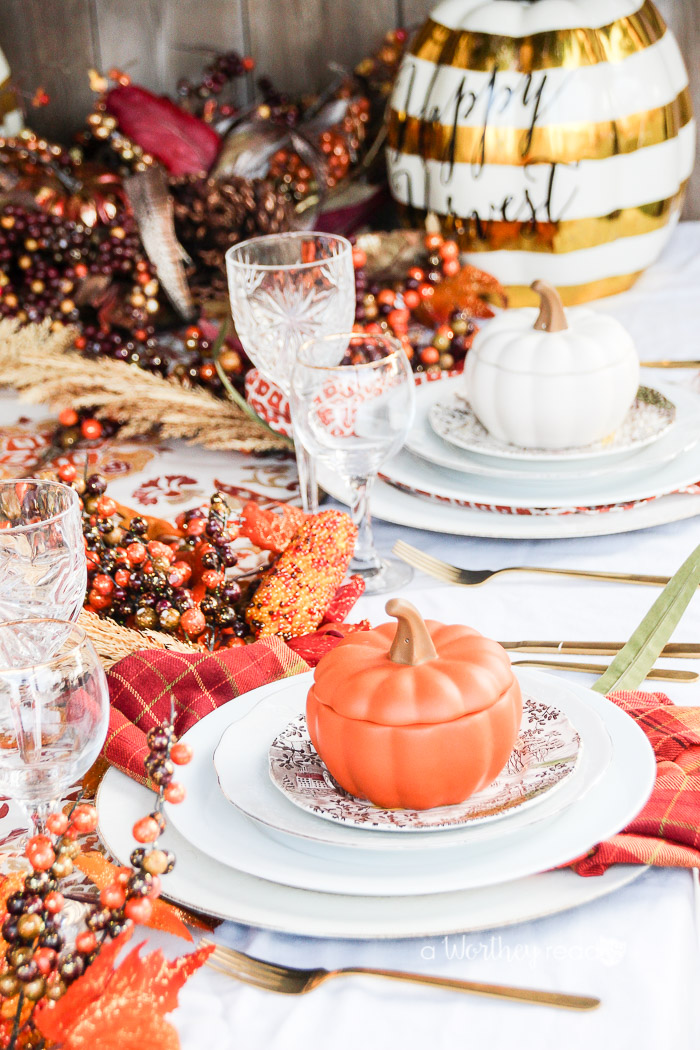 How do you decorate your table for Thanksgiving? Hopefully, my idea has inspired you to go out and create something beautiful!
Shop the look:
(6) ceramic pumpkin baker set of 4 in the white, plus two orange ones from World Market
(6) White Chargers
(6) set of gold Threshold silverware from Target
(6) Vintage Mini Plates
(6) Crystal Goblets
Fall Themed Table Runner from Home Goods. Here's a similar one.
Fall Themed Cloth Napkins from Home Goods. Here's a similar one.
Gold & Cream Ceramic Harvest Pumpkins from Hobby Lobby
Fall Leaves, decor items from Hobby Lobby, or any craft store will work! Check here for some ideas.
And be sure to get our recipe for a Hard Cherry Cider Cocktail (including a mocktail version)! It will add a little pop to your party! Cheers!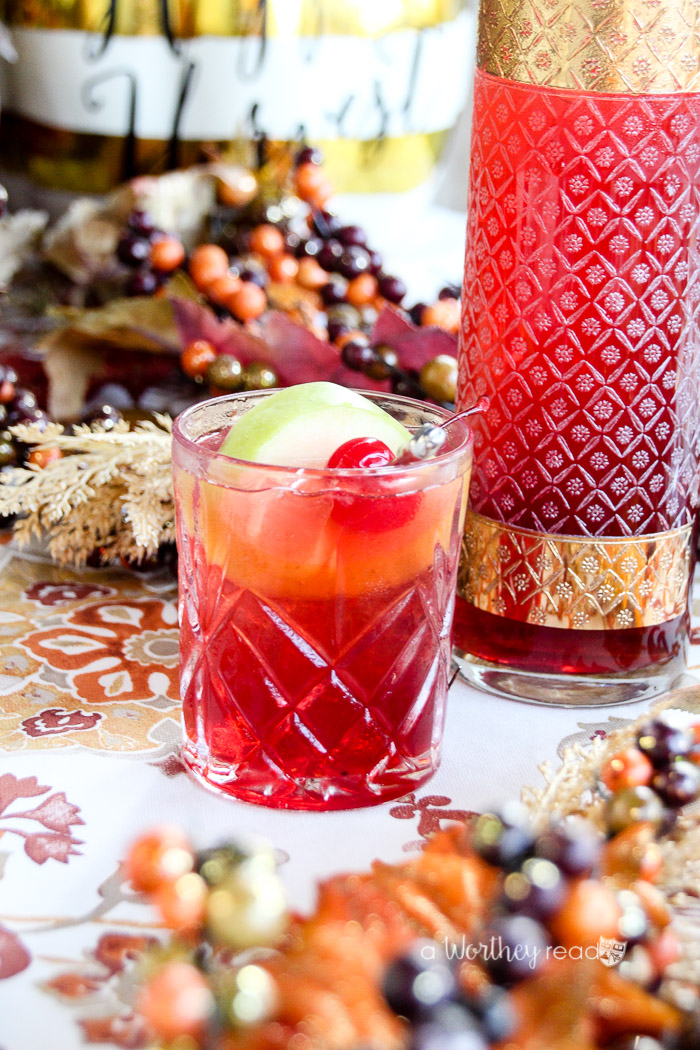 More Thanksgiving Tablescapes to check out:
Thanksgiving Table Decor & Simple + Elegant
Fall Tablescape With A Pumpkin Centerpiece