Set your table for fall using real pumpkins. This owl fall tablescape with a pumpkin centerpiece gives it a ton of color, plus the real pumpkins as a centerpiece provides this tablescape with a pop of color.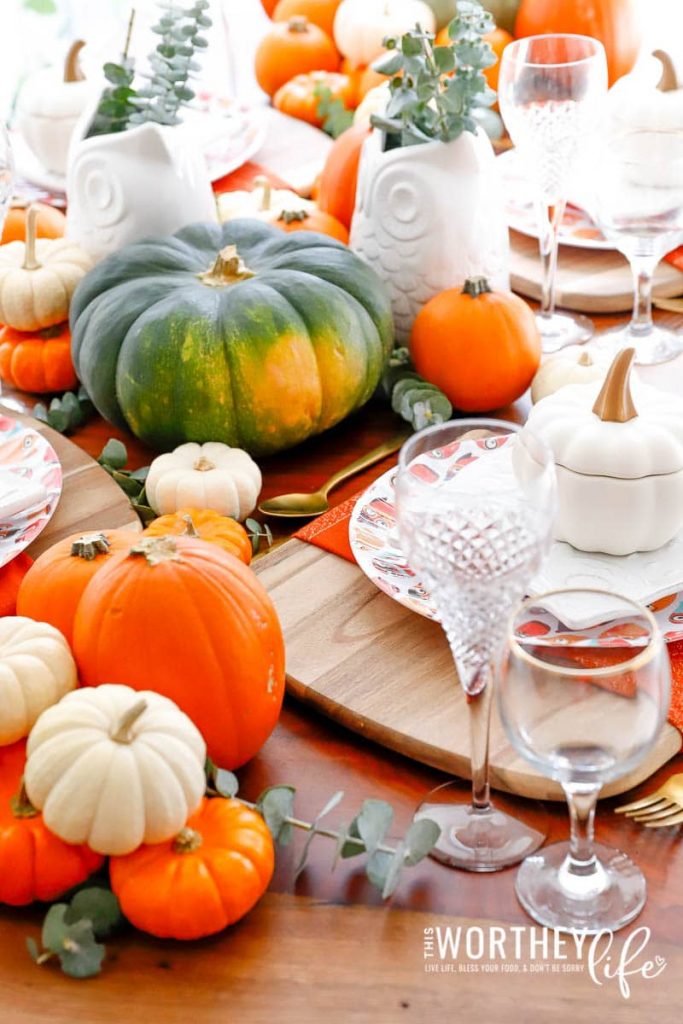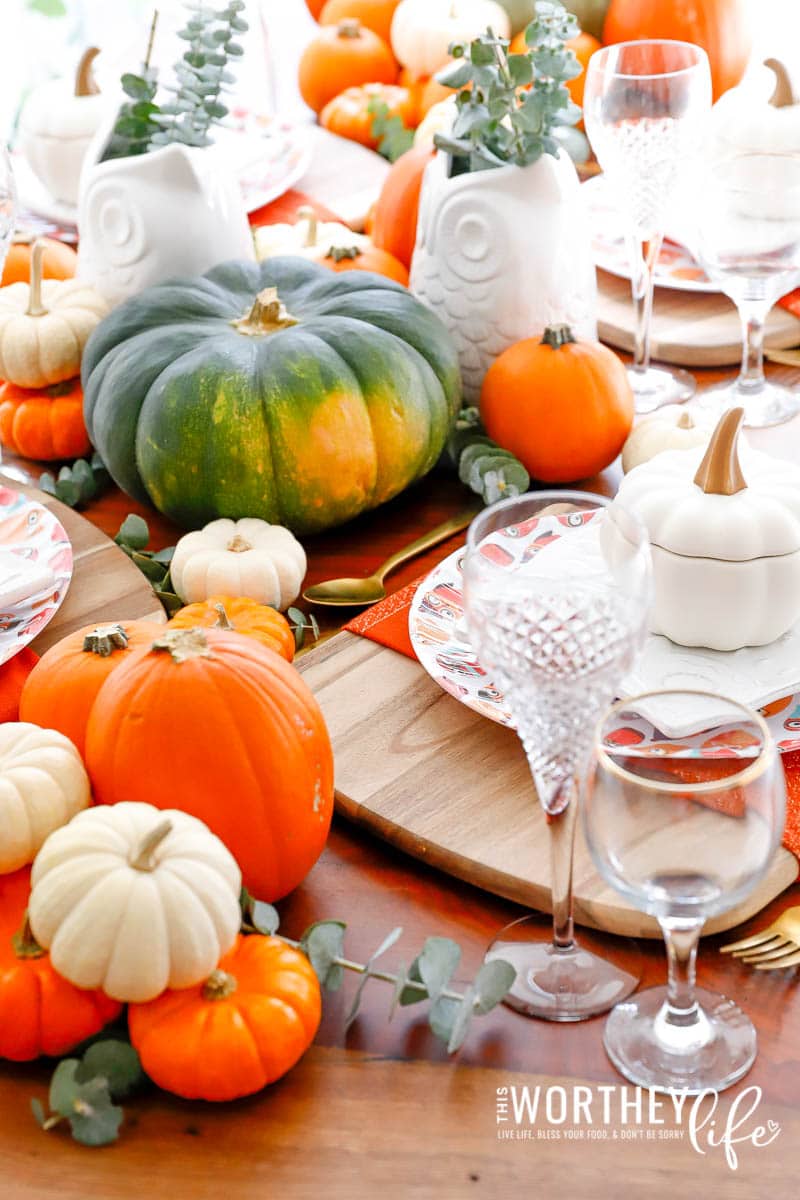 Fall Tablescape With A Pumpkin Centerpiece
Fall is FINALLY here. I've been waiting for fall since the end of August. But instead of having chilly days during September, we were left with 80-degree days or rain and more rain. But, we're into October, and we finally have fall weather.
Fall is beautiful here in Michigan, with all the changing of the leaves. Going up north to Traverse City or Petoskey is one of our favorite fall bucket list ideas. The foliage is breathtaking, and no pictures do it justice. If you're looking for a scenic drive, I highly recommend visiting the Midwest, particularly Michigan, and enjoying everything our state has to offer.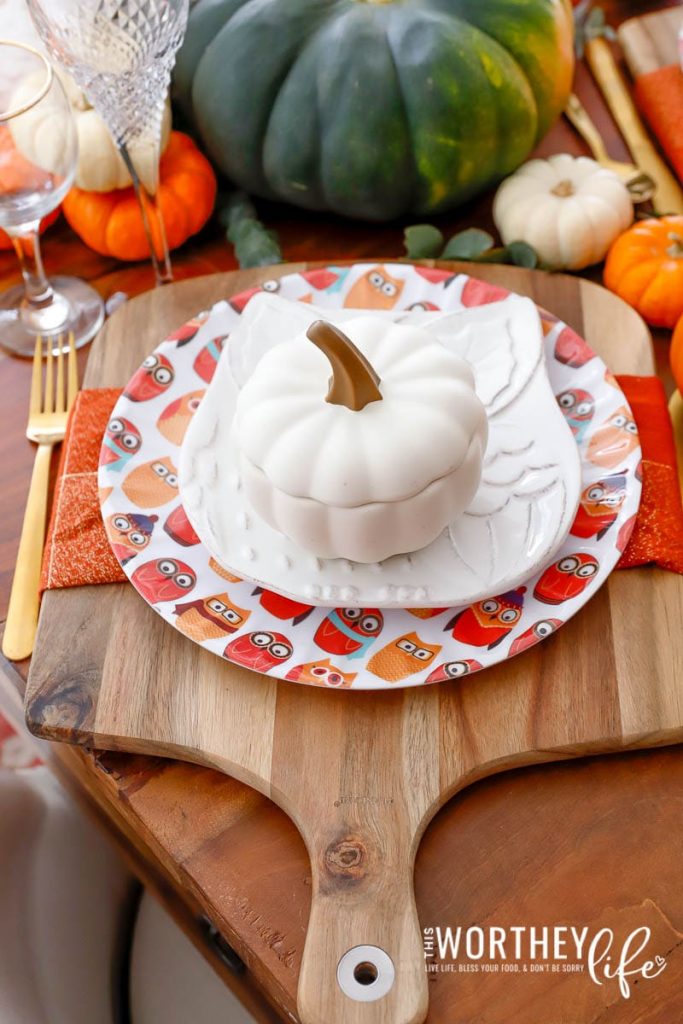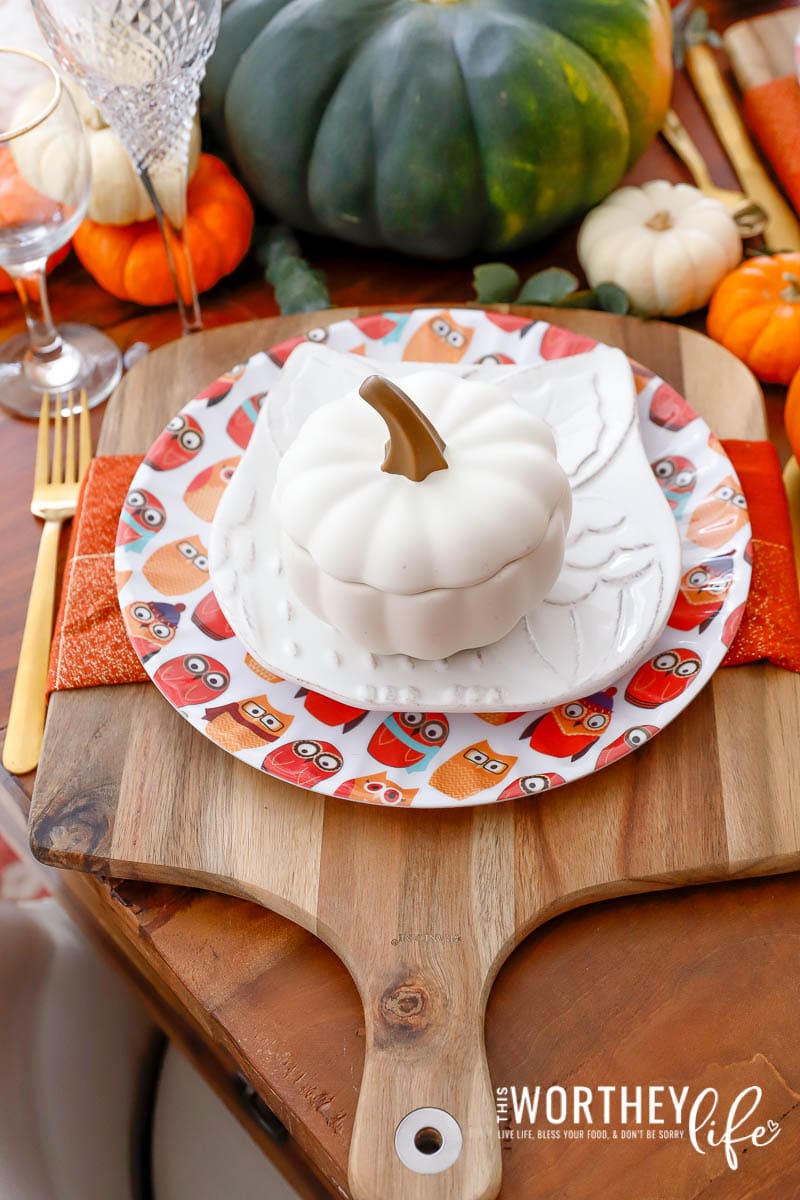 Inspiration for this tablescape
Today I'm sharing a tablescape that was inspired by the owl plates. While browsing through T.J.Maxx during my weekly visit, I came across these melamine owl plates. Immediately I thought about other owl related decor I had at home, and then this idea expanded into reality.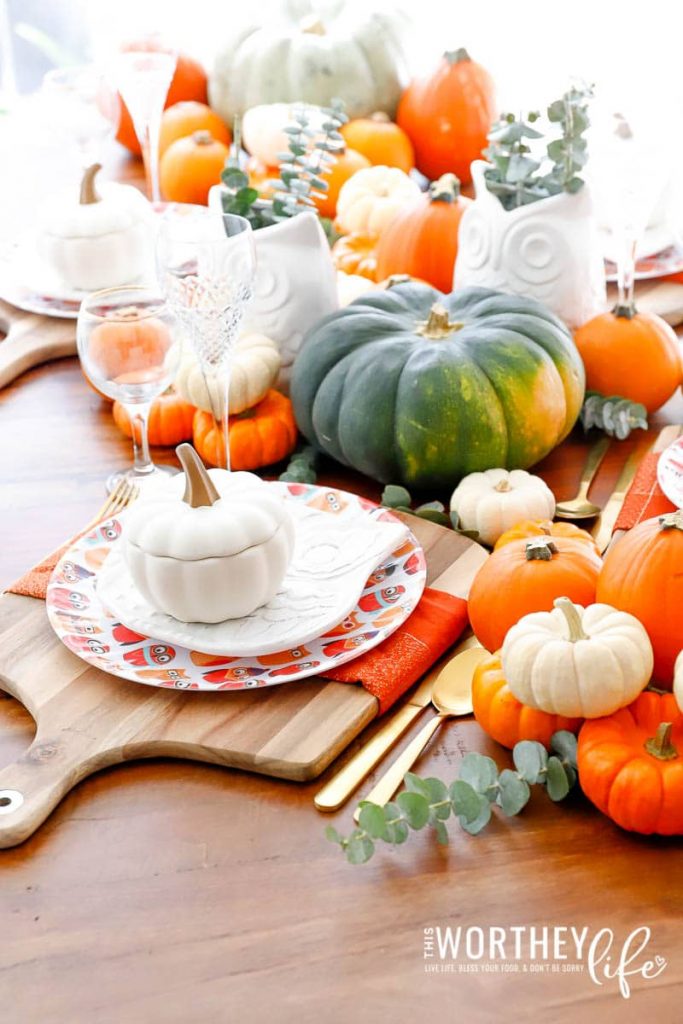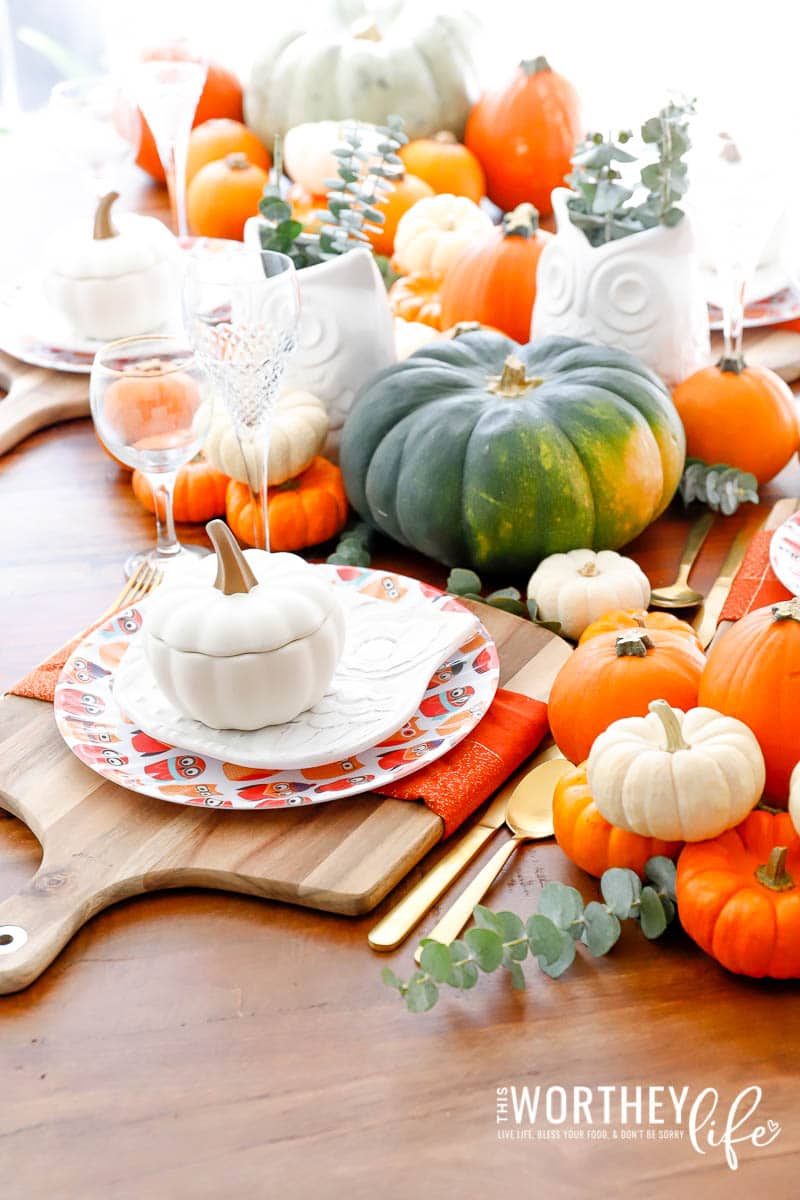 It started with fresh pumpkins.
So let's talk about how I put this tablescape together. I've done something using real pumpkins before in a Friendsgiving idea, but I wanted to add on to that idea this year. I picked up fresh pumpkins from my local Farmer's Market, Horrock's.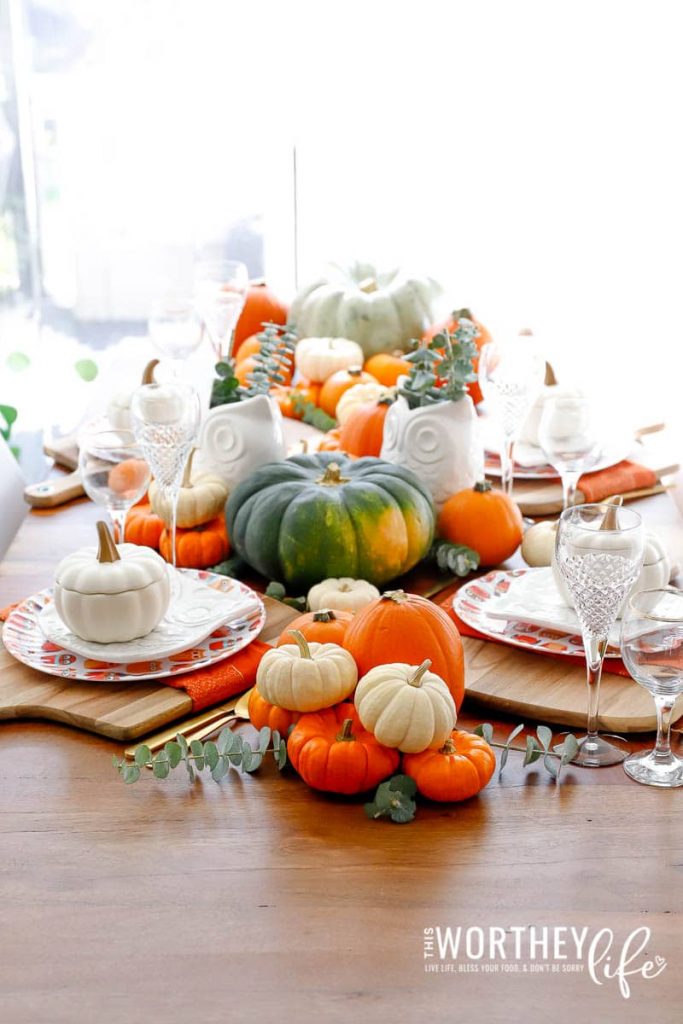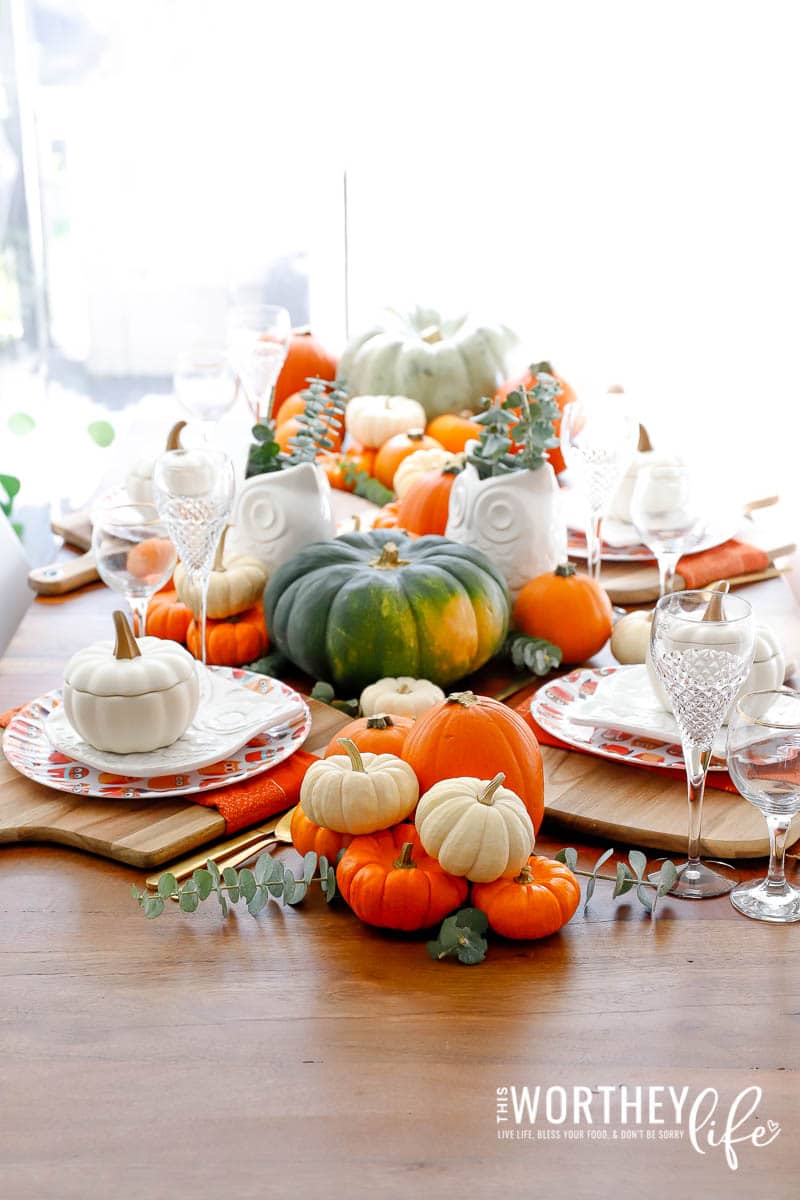 Setting the table and skipping the centerpiece.
For this idea, I set the table first, saving the centerpiece with real pumpkins for last. While I was at T.J.Maxx picking up the Owl plates made by Real Simple, I spotted a stack of cutting boards and decided to grab a few for this idea.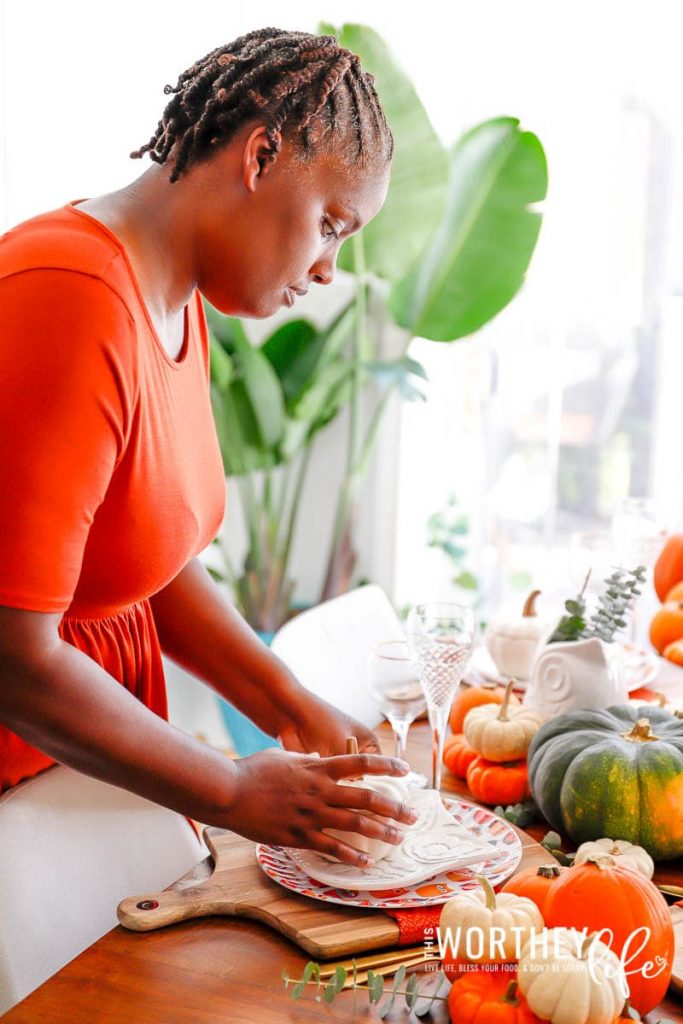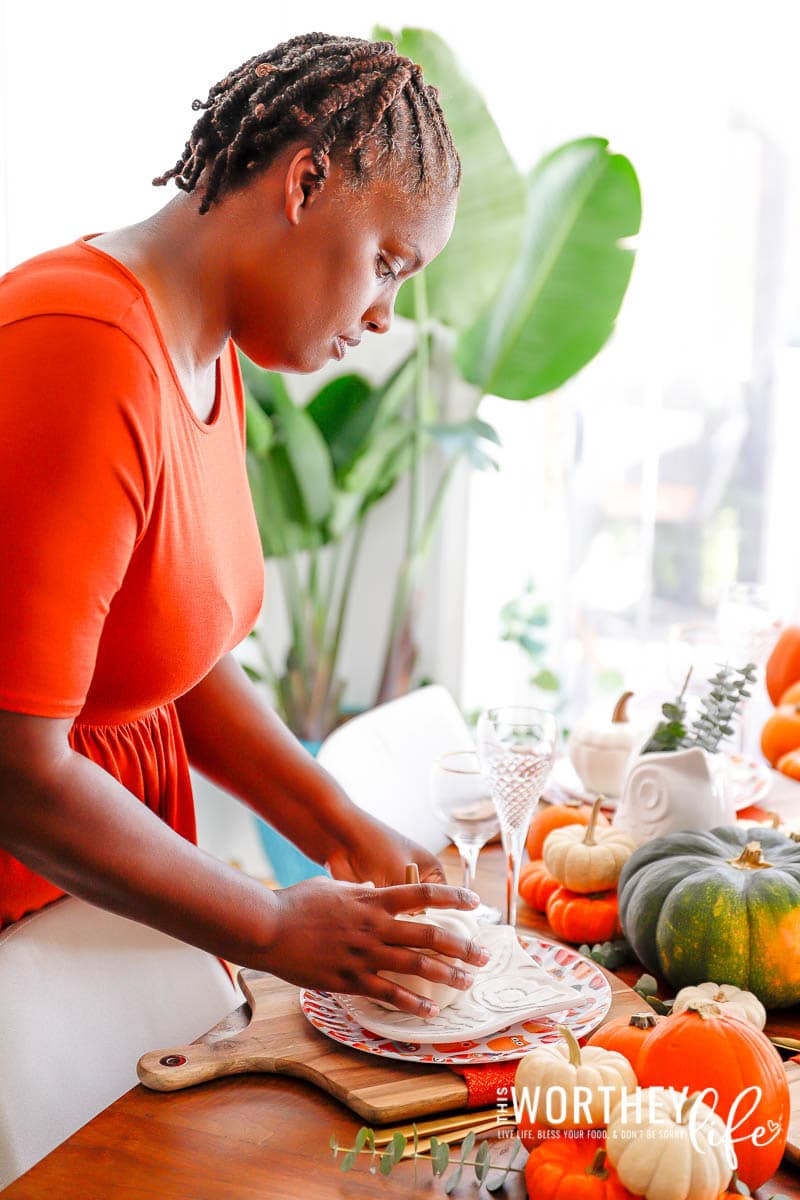 Use cutting boards instead of chargers.
Instead of using my regular chargers, I'm switching it up using cutting boards as my chargers.
Taking an orange cloth napkin, wrap it around the cutting board, making sure it is centered.
Next, add an owl melamine plate, topped with a ceramic owl plate (Pier 1). You may have seen this owl plate shown in my Fall Harvest Party Idea.
Place a white Pumpkin Ramekin on top of the owl, add gold silverware and glassware to finish the table setting. Repeat this process across the table.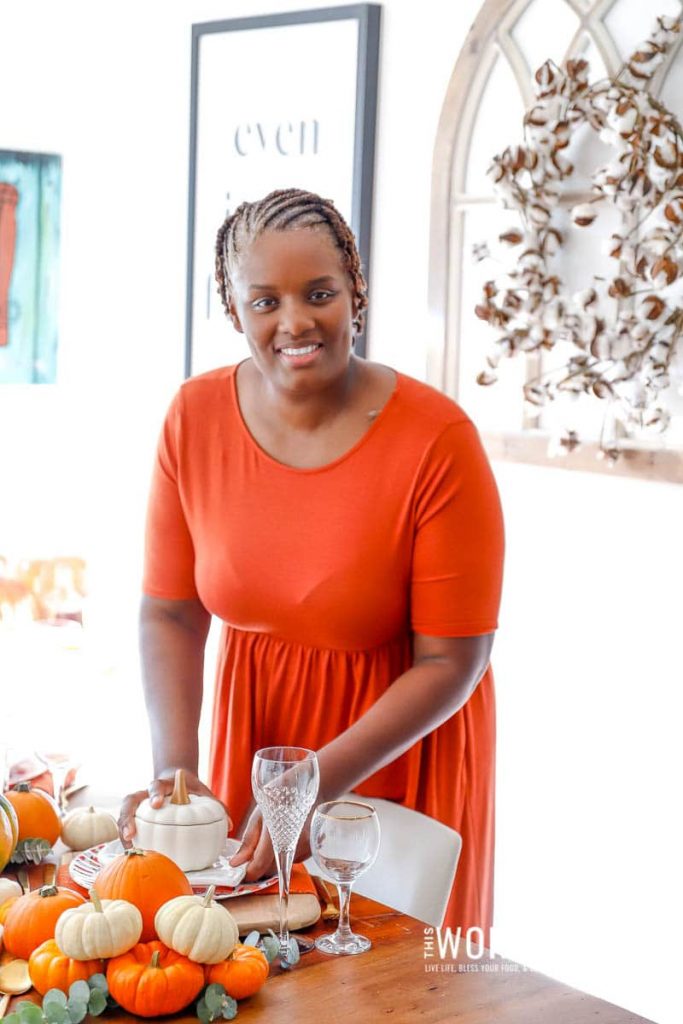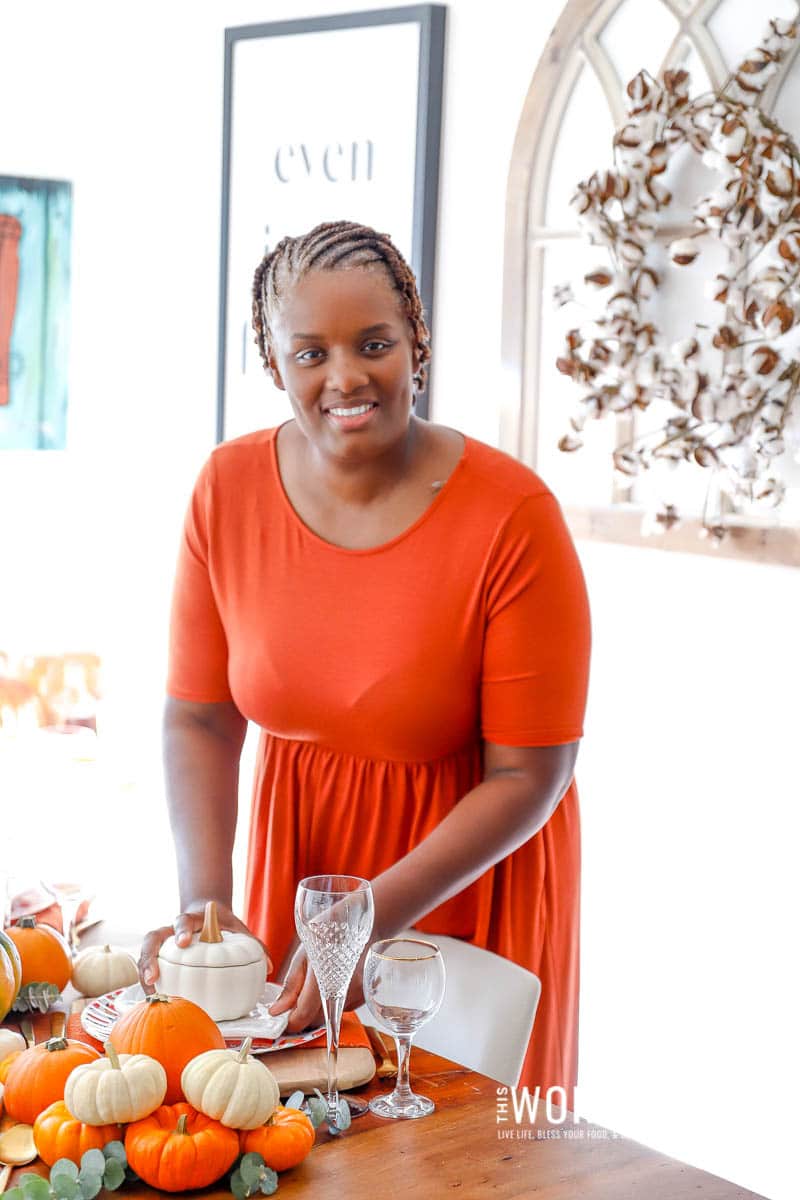 Pumpkin Centerpiece
I decided to turn each cutting board at an angle to give it a different look, and now it's time to add the pumpkins. I added two owl vases in the middle of the table, along with a green gourd. Next, I placed the smaller white and orange pumpkins throughout the table. I fiddled with the placement of each one until I was satisfied with the final look.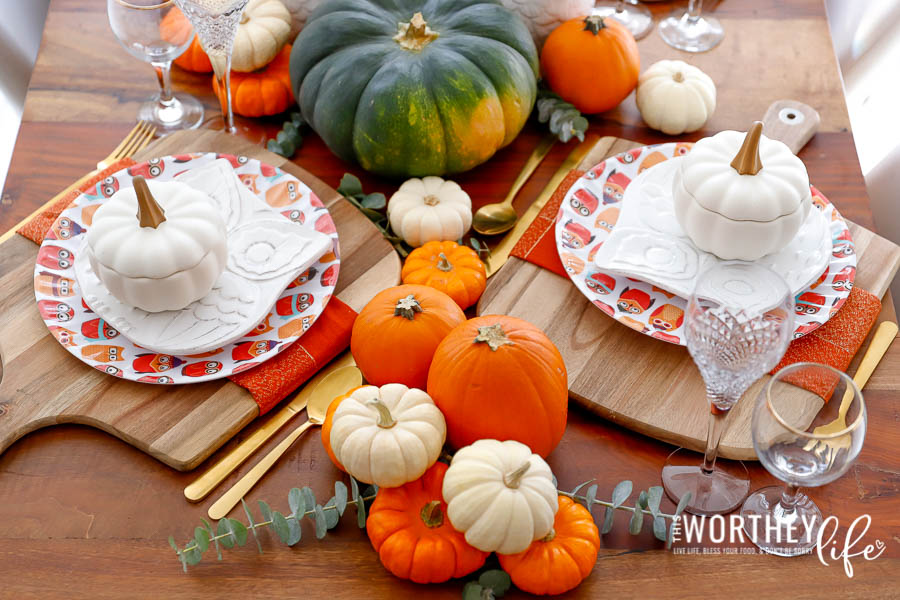 To finish this tablescape, I added fresh eucalyptus stems in each owl vase and stick additional stems throughout the pumpkin centerpiece.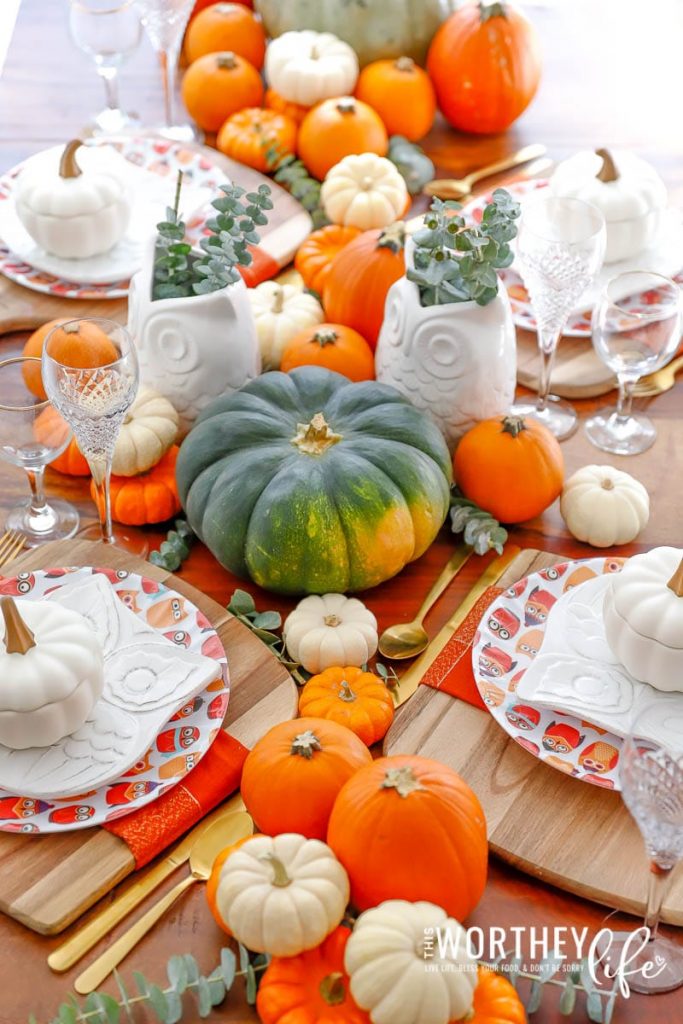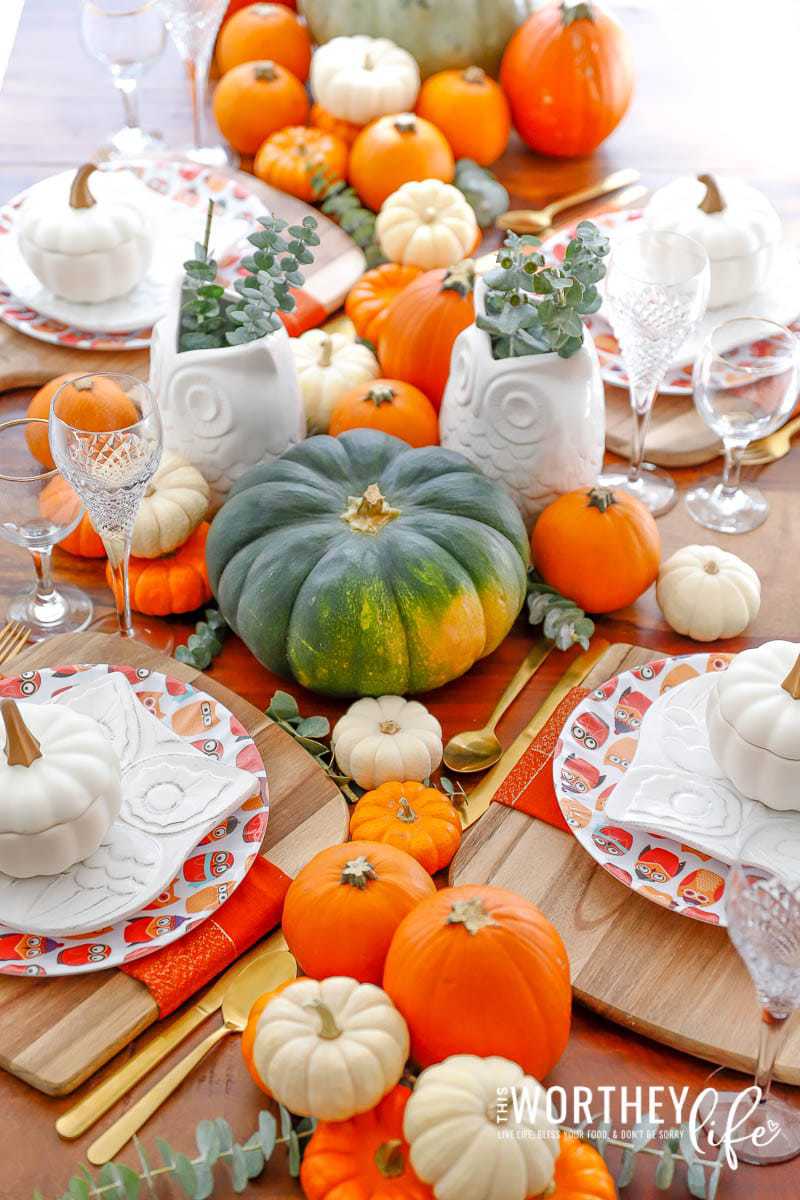 Setting a fall tablescape for a fall harvest party, Thanksgiving, or a Friendsgiving idea doesn't have to be intimidating. If you have an idea, or you see a set of plates that inspire you, buy them and go for it. Pick one thing to be the focal point of your theme. For this idea, the owl plates focused on this theme—everything else aligned with the colors and design.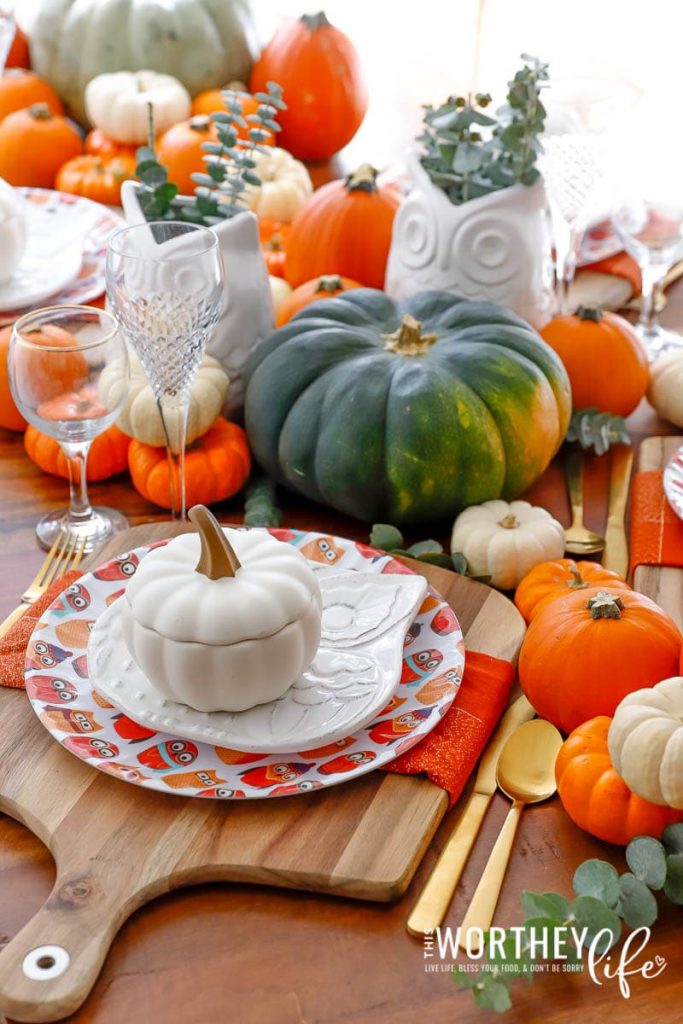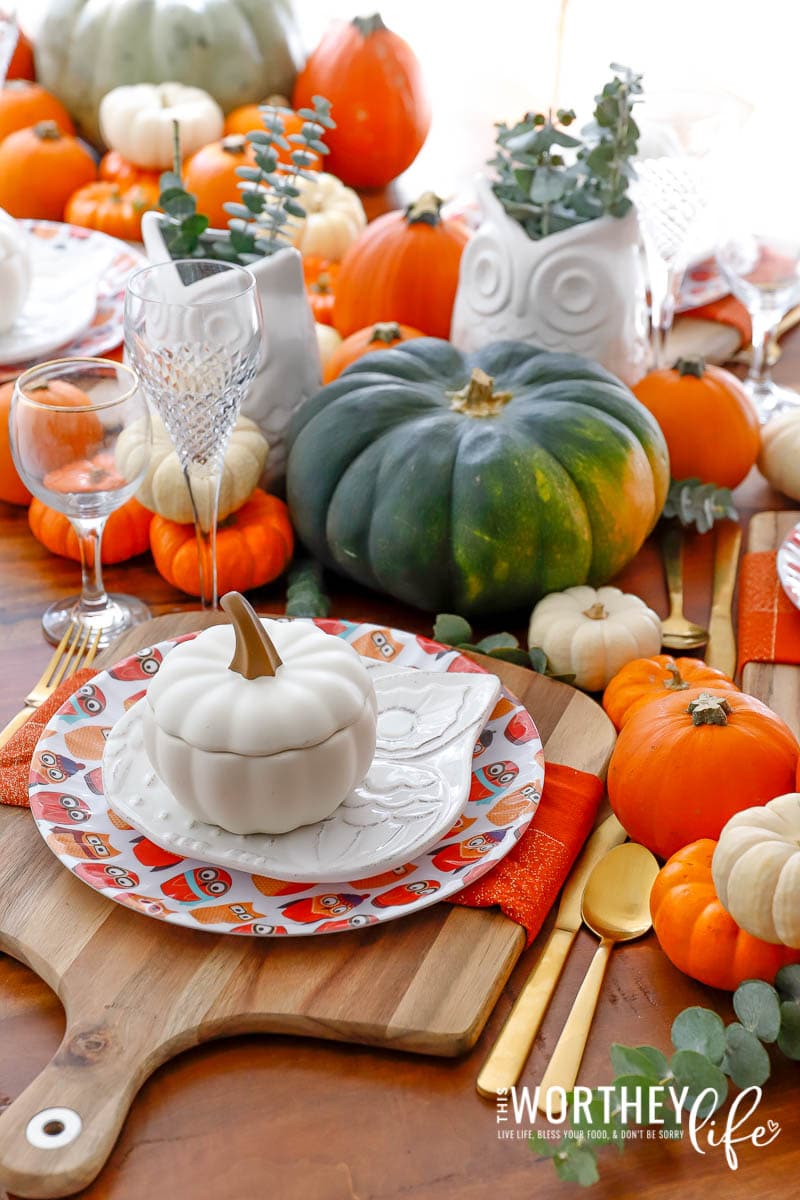 Have you ever been inspired by something you've seen at a store? If so, tell me about it!
More tablescapes to check out:
Red + Green Christmas Table Setting
Noel Red & White Christmas Tablescape
Fall Tablescape | Fall Harvest Party Idea
Grey & White Skeleton Graveyard Tablescape