Fall Table Decor Idea
Fall is here. Can you feel? It's definitely showing signs of fall here in Michigan. The weather is turning. Leaves are falling. Jeans. Sweats. And College Football. These are all signs of fall here in Michigan. With Fall comes the time to change out your decor to those burnt oranges, reds, leaves and more. Recently I hosted a Mom's Night Out party on my deck. It was called Chili Under the Oaks.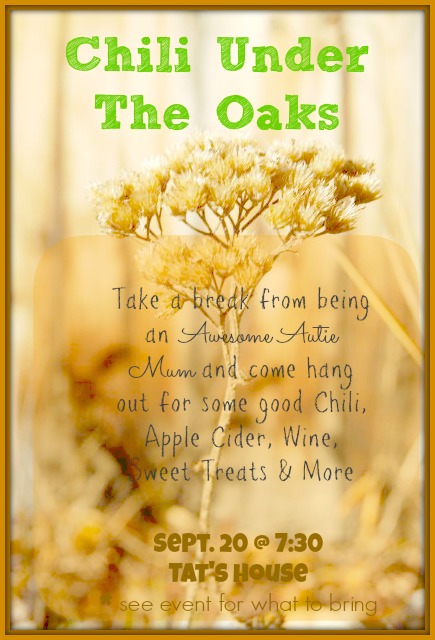 I felt inspired to come up with a Fall table decor theme that would look great on my recently built DIY table out of pallets. So here's what I came up with– and you know what? I had everything at home, with the exception of the burlap (which I used a 40% off coupon and picked that up for $7 bucks) Two nights before the party I set everything up to get a feel of the look:
I started working with the centerpiece of the table. To me, this is always important because it can make or break the table.I started with two white milk style jugs to break up all of the burnt orange, red, green and brown colors. The plates and accessories add to the elegance of the theme, but the centerpiece is what MAKES the table. Most of these items were purchased at Hobby Lobby at the end of the season the prior year at 80% off. I just looked in my ever-growing stockpile of decor to pull out what I needed. I took a large wreath that was purchased at Hobby Lobby and extended to help bring the "pop" to the center of the table.
For the centerpiece, I took what I already had around the house and used it to make a usual piece for a centerpiece which included fresh fruit. You can read more about the making of this fall centerpiece here!
The plates I've had for a few years. I scored those at Kohls ( I LOVE shopping there for great deals to add to my growing pile of decor items! Especially when I stack a coupon or two on top of their prices.)
I picked up those cute little owls- which are napkin holders AND placeholders at Hobby Lobby for 80% off. The best time to grab deals like this is after the seasonal period.
Hobby Lobby will mark down all the way to 90%. So it's just timing.
After the season is over if there is an item that is still there, I would constantly check every week to keep track of the markdown for that particular item. You can score a good deal by doing this!
The day of the party I set up the table again and was able to grab a few shots of how everything looks during the daylight hours:
We have our wine and ready to go!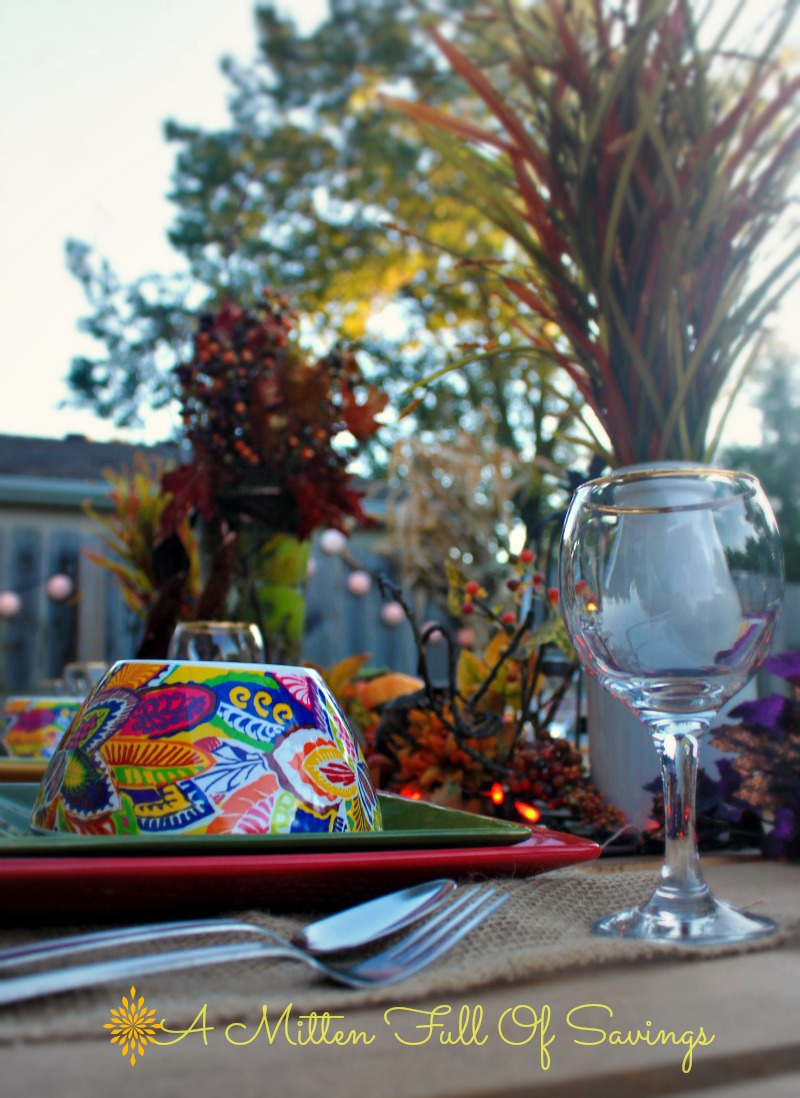 While my fall table decor idea was taken outside, this same look can be created inside as well. Paying attention to the smallest detail can help give your table that extra look. It doesn't have to be perfect, and you don't have to spend tons of money to have that perfect look!
This look could work for your next Fall dinner party or to give you an idea for Thanksgiving, which is right around the corner. Always look for deals and coupons. As I mentioned, I shopped the after seasonal sales to get all of my fall decor.
I picked up all of my dinnerware from Kohls. Stacking their terrific sales with coupons you can achieve the same deals.
So what's your favorite part about this fall table decor ensemble! Be sure to leave a comment and let me know! I'll be adding a few more fall table decor ideas over the next few weeks. In the meantime, you can check out a few ideas to help you set up for fall: