These fall harvest food ideas are simple recipe ideas to make in under 30 minutes.
Grab the recipes for our Cheesy Pumpkin & White Bean Dip and Bacon Brussels Sprouts & Pasta.
Fall Harvest Food Ideas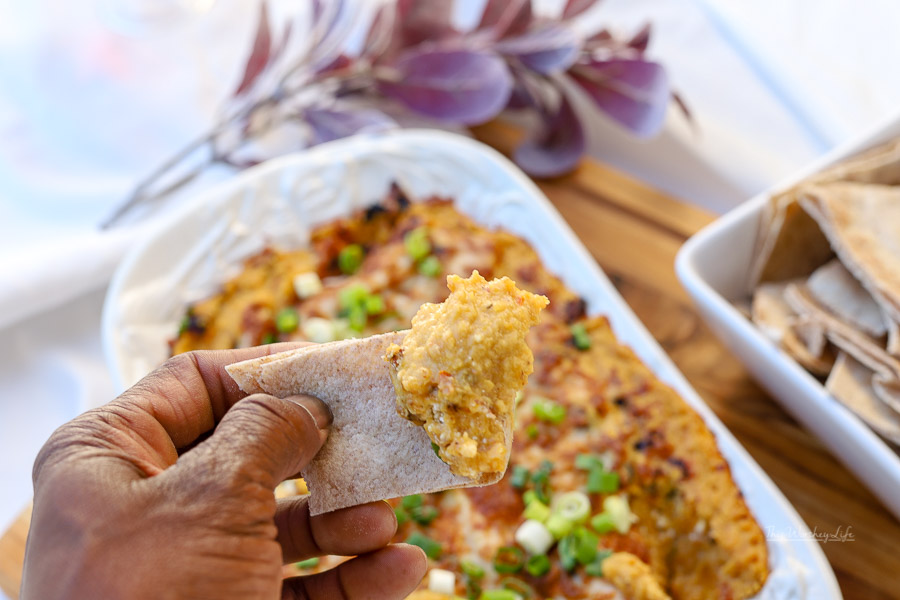 Cheesy Pumpkin & White Bean Dip
Are you looking for something delicious to prepare for the girl's night or a game night get-together?
Well, look no further because we got the most perfectly yummy dip this side of autumn.
Try our Cheesy Pumpkin & White Bean Dip!
It will make your mouth sing songs and please the throng of guests.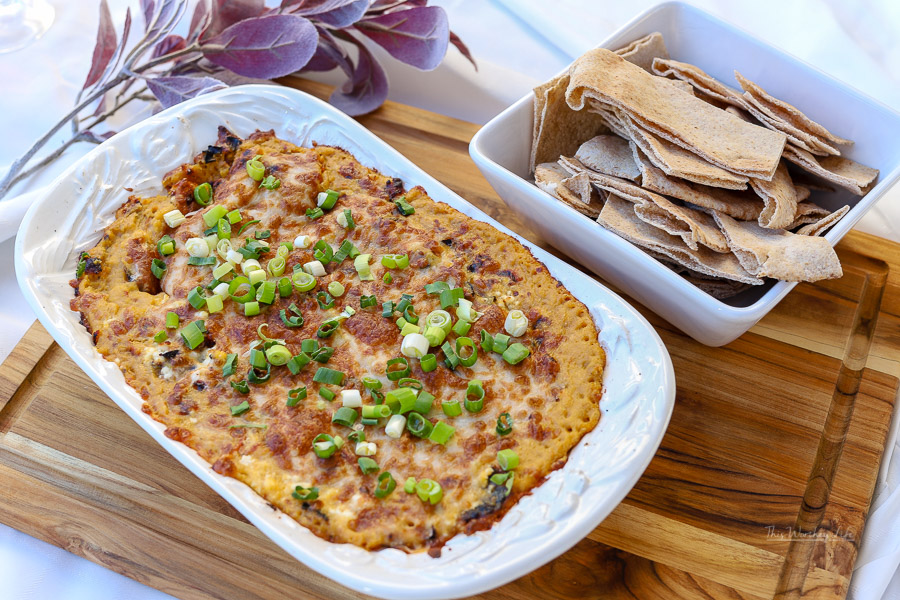 Cheesy Pumpkin & White Bean Dip
Ingredients:
1 cup roasted pumpkin
2 cups white beans
1/2 cup mozzarella shredded cheese
1/2 cup sharp white cheddar
2 cloves garlic, minced
1 tablespoon red pepper flake
1/2 cup chopped green onion
1/4 teaspoon sea salt
1/8 teaspoon freshly cracked black peppercorns
extra virgin olive oil
Directions on making pumpkin dip
Prep: Preheat the oven to 350 degrees
Cut the small sugar pumpkin into four pieces. Remove the seeds and veins, and brush the pumpkin with extra virgin olive oil. Add sea salt and freshly cracked black peppercorns.
Place the pumpkin on a cookie sheet and bake for 20 minutes or until the flesh of the pumpkin is soft. Remove the pumpkin from the oven and allow it to cool until it is safe enough to handle.
Add roasted pumpkin, white beans, minced garlic, and red pepper flake into a food processor. Secure the lid and pulse. Begin adding extra virgin olive oil until the mixture is smooth.
Remove the lid and spoon the mixture into a baking dish, fold in the shredded cheese, then bake in a preheated 350-degree oven for 20 minutes.
Remove from the oven and drizzle on more extra virgin olive oil. Top with green onion.
Serve with toasted pita chips.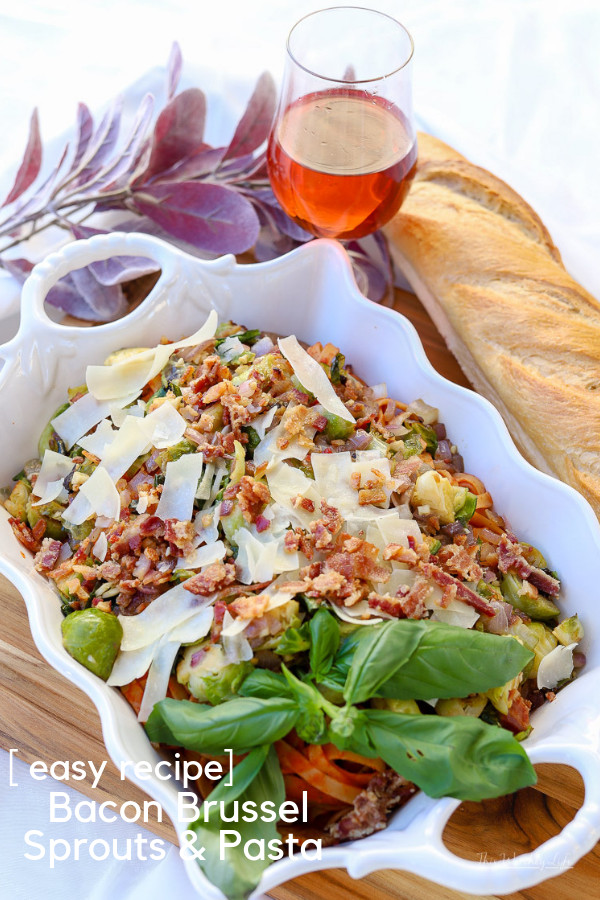 Bacon Brussels Sprouts & Pasta
Fall cooking is, by its namesake, perfectly suited for fall ingredients, and cooking with Brussels sprouts is one of my favorites.
I have always loved Brussels sprouts because they remind me of cabbages in shape and taste.
My mom had a way of making cabbage taste like magic!
Maybe it was the salt pork she used, perhaps even the red pepper flake.
Whatever her secret was, a bit steamy plate of cabbage served with a monstrous slab of fresh-out-of-the-oven buttery cornbread was a signal that fall was going to be a good and belly-bursting season to enjoy.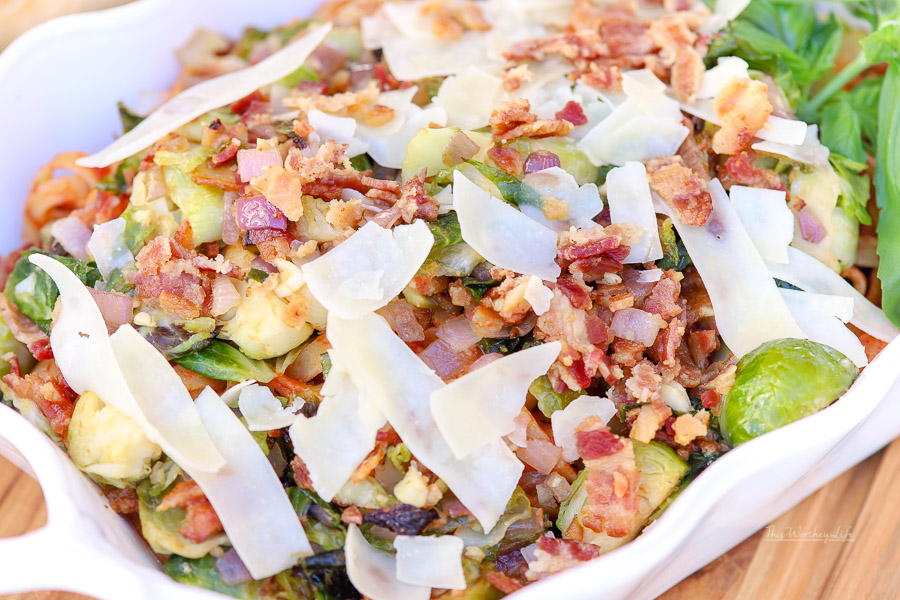 Ingredients for a 30-minute pasta recipe
3 1/2 – 4 cups Brussels sprouts
1/2 teaspoon sea salt
1 teaspoon extra virgin olive oil
2 large garlic cloves
sea salt to taste
freshly cracked black peppercorns to taste
2 tablespoons pure maple syrup
2 tablespoons Balsamic vinegar
3/4 cup chicken stock
1/4 cup lemon juice
3 strips of thick-cut bacon
1 pound pasta such as linguine, fettuccine, or thick spaghetti
1 cup freshly grated Parmesan cheese
2 cups pasta sauce (tomato-based or a creamy white sauce)
1/2 cup chopped basil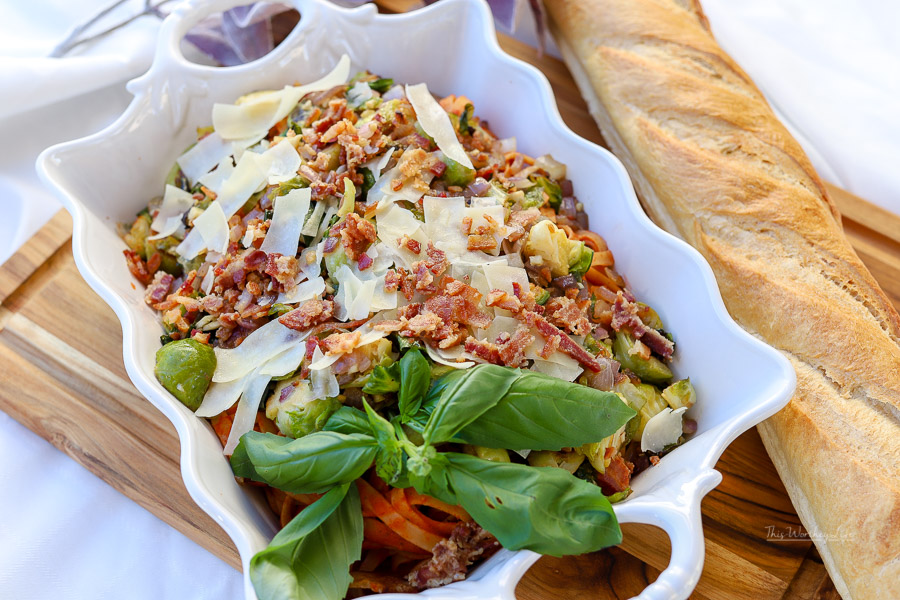 Directions on pasta recipe with bacon
Prep ahead: Rinse and cut the Brussels sprouts in half, remove the tough outer leaves, and set them aside. Measure out all of your ingredients. This will move things along rapidly and reduce preparation and cooking time.
Place a large skillet over medium heat and add thick-cut bacon. Cook bacon until crispy and brown. Remove the bacon from the skillet and set them onto a plate lined with a paper towel to absorb any excess fat.
Add the cut Brussels sprouts to the bacon drippings, and cook until the Brussels sprouts are caramelized in spots and softened. This should take no longer than 6-8 minutes.
Pour chicken stock and lemon juice and increase the heat. Continue to cook until the water has evaporated.
Remove from the stovetop and add the maple syrup and crumbled thick-cut bacon.
Serve over al dente pasta tossed with tomato-based pasta sauce or a white sauce like Alfredo, Béchamel, or a butter sauce.
Topped with freshly grated Parmesan cheese and more crumbly thick-cut bacon.
Finish with a drizzle of good extra virgin olive oil and handfuls of fresh basil.
Serve.
You can see how these fall harvest recipes came together in our fall harvest tablescape.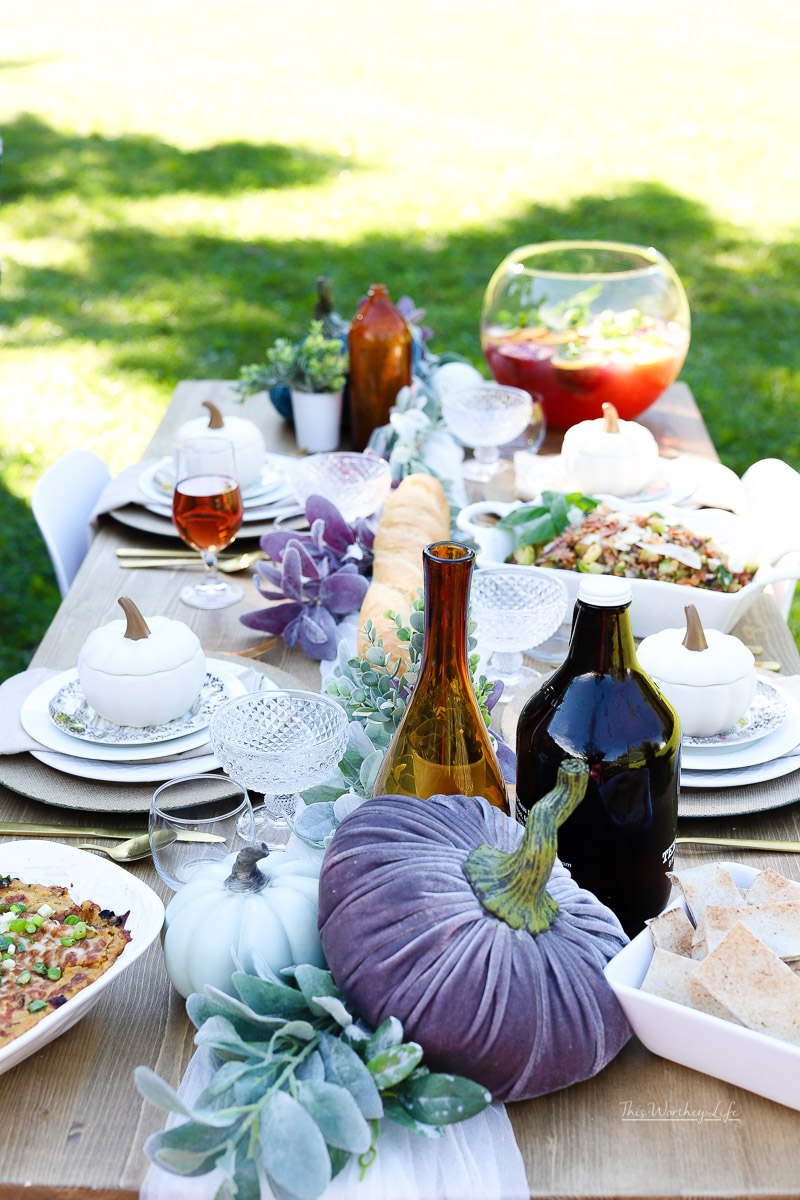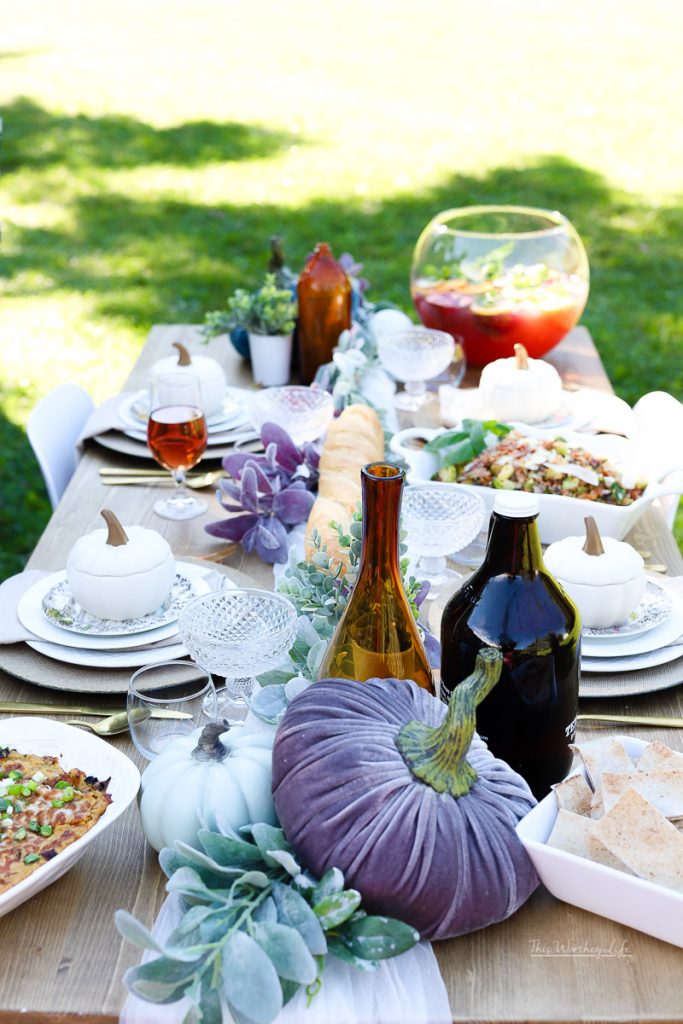 Find more Fall Harvest Party ideas below:
Bacon Wrapped Brussels Sprouts with Balsamic Vinegar + White Cheddar
Herb Marinated Salmon & Savory Rice