Impress your guests with our Garlic Walnut Encrusted Rack of Lamb. This Herb Crusted Lamb Rack recipe is savory and delicious. Perfect for a holiday dinner or a Sunday family dinner idea. Regardless of when you serve it, you'll be able to use this recipe to make a delicious garlic walnut herb crust for your rack of lamb. This post was sponsored by True Aussie Beef and Lamb.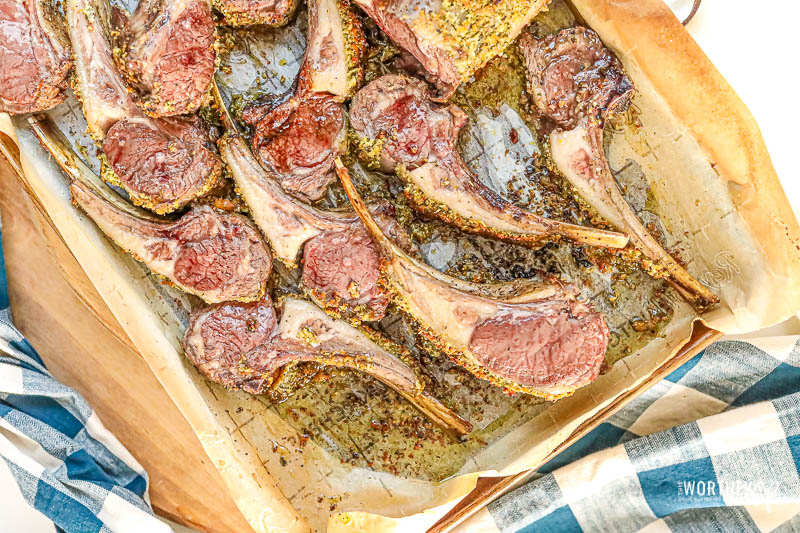 Garlic Parmesan-Herb Crusted Lamb Rack
There's nothing like making good food that's going to put a smile on your face, and lamb is one of those foods. I like to think that lamb isn't just for special occasions, although lamb makes a great celebratory meal, and we like to have it for a regular dinner night. And still, there are many folks who are either unfamiliar with eating and preparing lamb at home as they are people in the know who sing lamb's praises. But no matter which camp you find yourself in, one thing is certain, you are a lover of good food and easy to prepare recipes.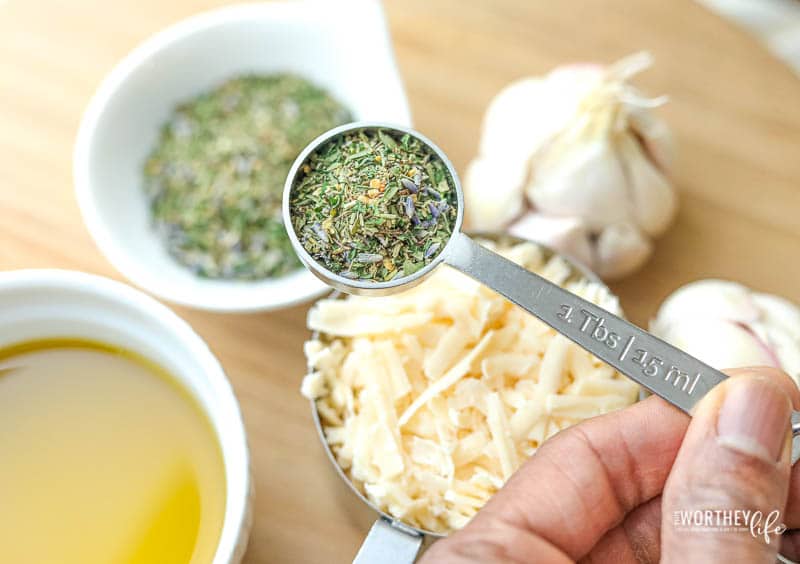 This recipe is delicious and easy, doesn't matter if you are a novice in the kitchen or an experienced hand this recipe's simplicity will win you over. Here are the kitchen equipment basics you will need to get started:
Sheet Pan. We are working with a large piece of meat, and the sheet pan is ideal because the rack of lamb will have lots of room, a sheet pan will catch any drippings created from the cooking, you probably already have a sheet pan hanging around the already.
Food Processor. Having a food processor is probably the most useful kitchen item you never knew you needed until you get one. You'll find it particularly useful for making the recipe you'll be using to encrust the rack of lamb.
Instant Read Thermometer. There's no need to guestimate about whether or not the meat is done with an instant-read thermometer, just insert the pointed end into the thickest part of the flesh and away from the bone, that's if the cut of meat you are cooking has bones and your good to go.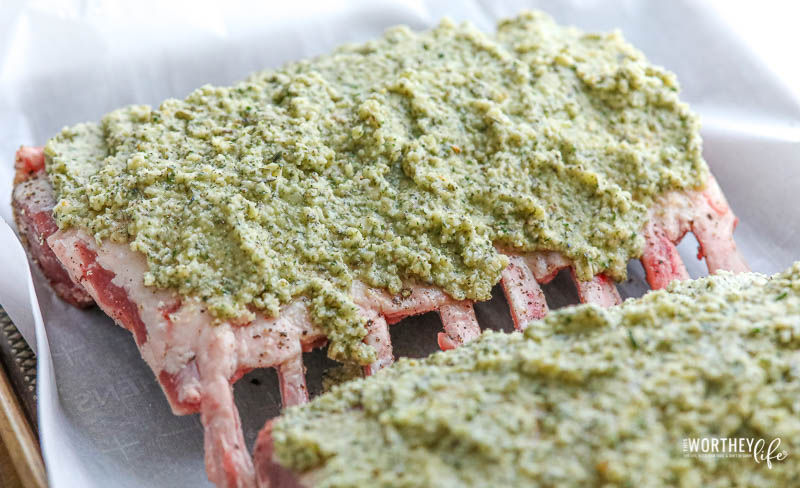 The Ingredients You'll Need To Make Recipe:
Rack of Lamb. I picked up two racks of lamb at a local butcher that carries Aussie lamb. You can use this store locator to find a store that sells Australian beef and lamb near you. Did you know Australia produces some of the best lamb you can find anywhere? When it comes to grass-fed lamb, Australian meat products are recognized for their quality and flavor.
Garlic. There's something incredibly delicious about garlic, and in this recipe, you are going to use quite a bit of it, twenty large cloves of garlic, to be exact. So if you're a lover of garlic, this is a recipe you are going to love.
Herbs de Florence. What's in this stuff? Typically, herbs de Provence includes rosemary, garlic, lavender, thyme, parsley, tarragon, marjoram, basil, savory, sage, and chervil. Together, this combination of herbs pairs exceptionally well with lamb.
Parmesan. The salt and savory of good Parmesan compliment the unique flavor of lamb. If you're feeling yourself, use Parmigiano-Reggiano.
Extra Virgin Olive Oil. For this recipe, you only need suitable olive oil, the oil imparts some flavor, but it mostly serves as a means of tying all of the ingredients together.
Sea Salt. Freshly Cracked Black Peppercorns. After the rack of lamb is rinsed with cool water and patted dry, liberally rub sea salt and freshly cracked black peppercorns into the lamb and allow it to rest and room temperature for 15-20 minutes.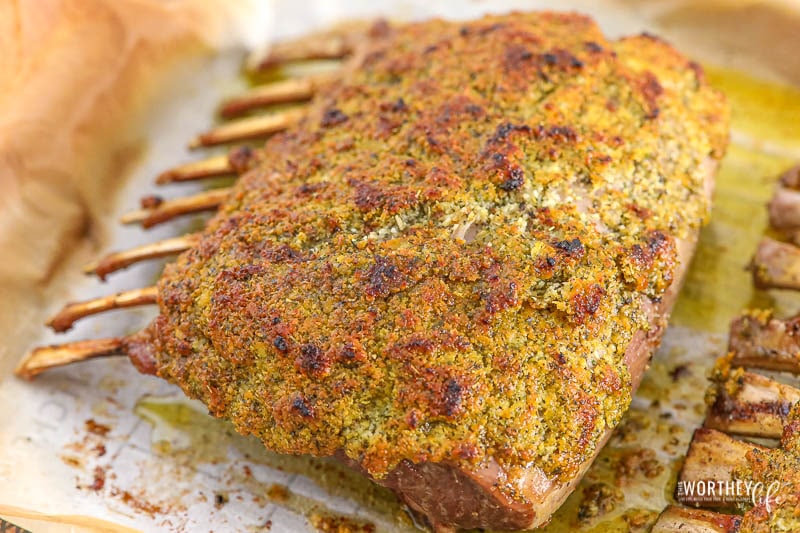 You Will Love This Rack Of Lamb Recipe Because It's:
Easy
Savory
Impressive
Perfect For Casual or Formal Dinners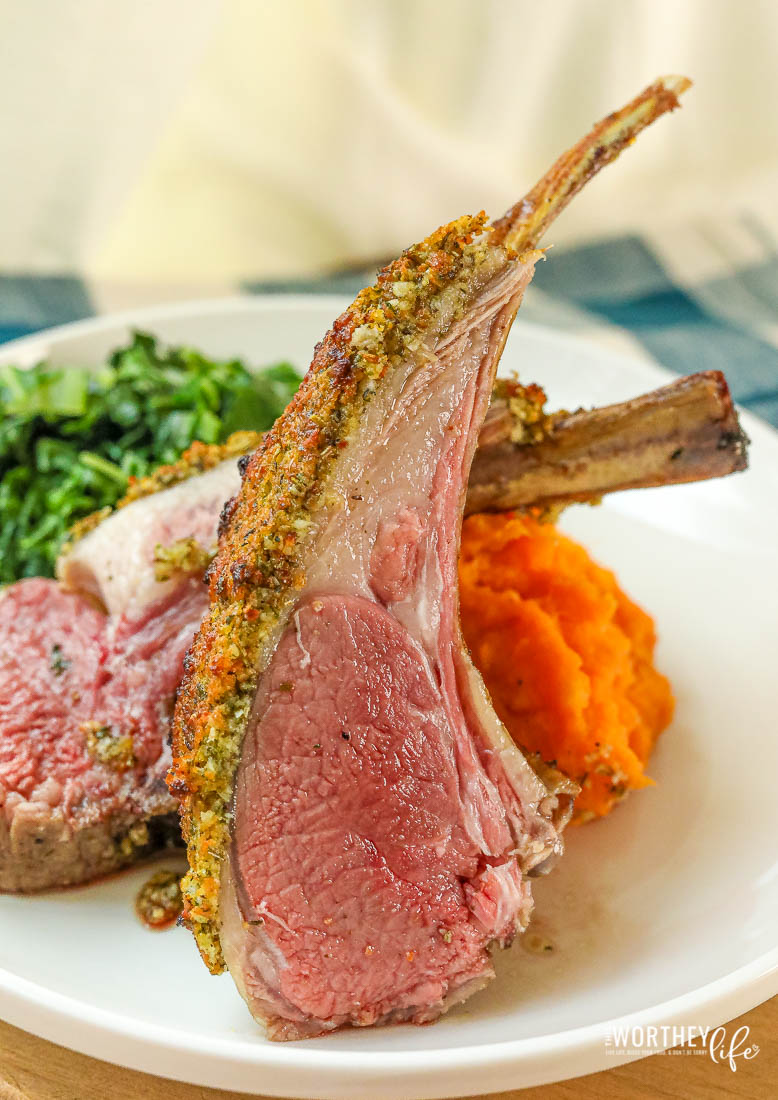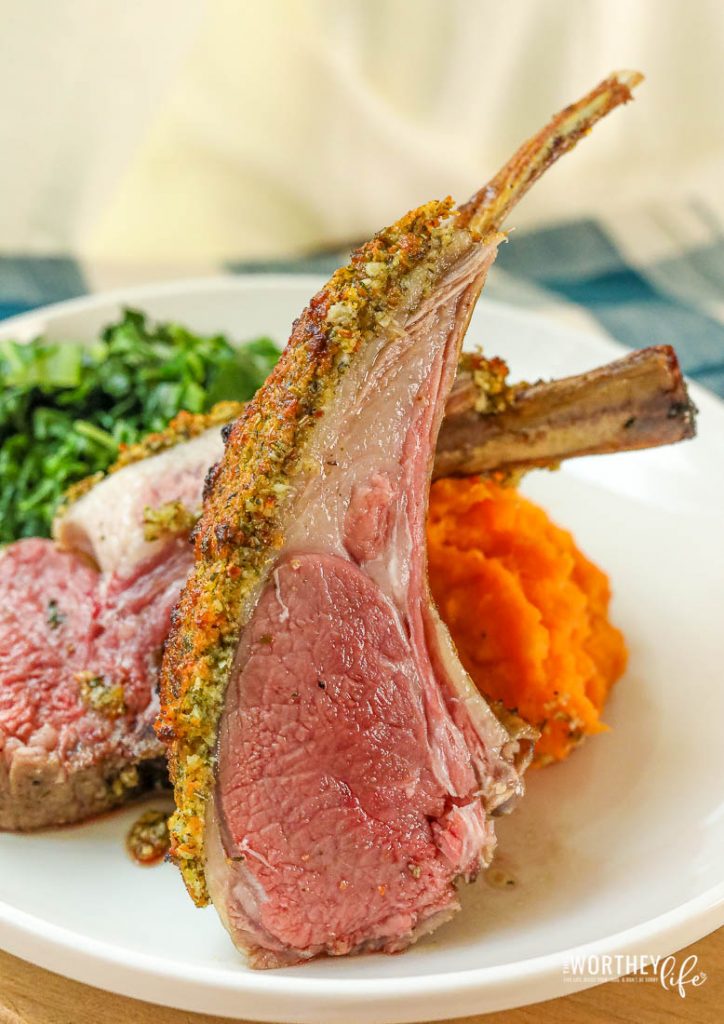 One of the things I enjoy about lamb is its versatility; lamb pairs well with so many side dishes like wild rice, potatoes, mushrooms, many types of greens like spinach, bok choy, kale, collard greens. As far as wine pairings go, a lovely big juicy red Rioja Reserva. Generally, the acidity of fruity younger wines works well to counter the fat associated with a well-marbled rack of lamb.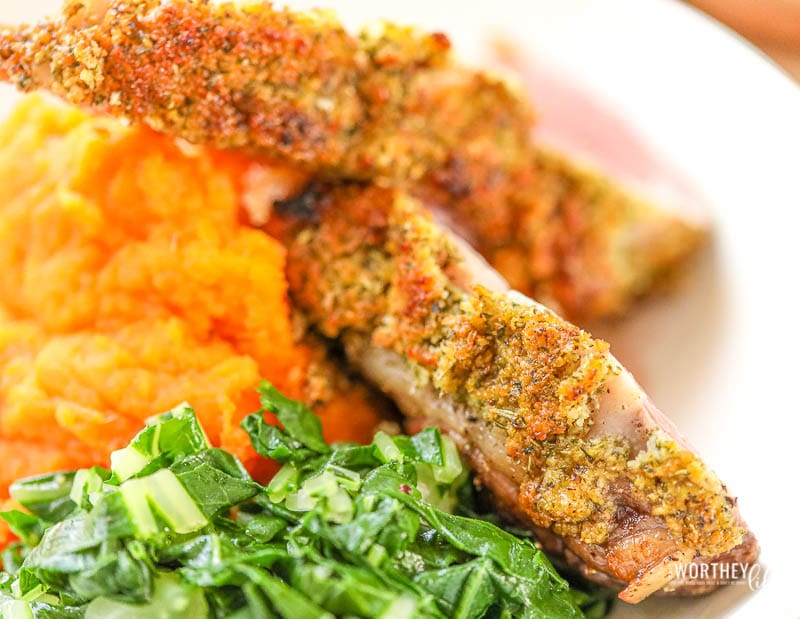 Dinner Menu
Garlic Parmesan Encrusted Rack of Lamb
Steamed Boy Choy
Savory Mashed Sweet Potatoes
Okay, you have the recipe now. It's time to get in the kitchen and let's get cooking. And as always, if you have any questions, drop me a line. Make Aussie Beef & Lamb a part of your favorite food memories because the best of times deserves the best cuts of meat for friends and family. Bon appetit!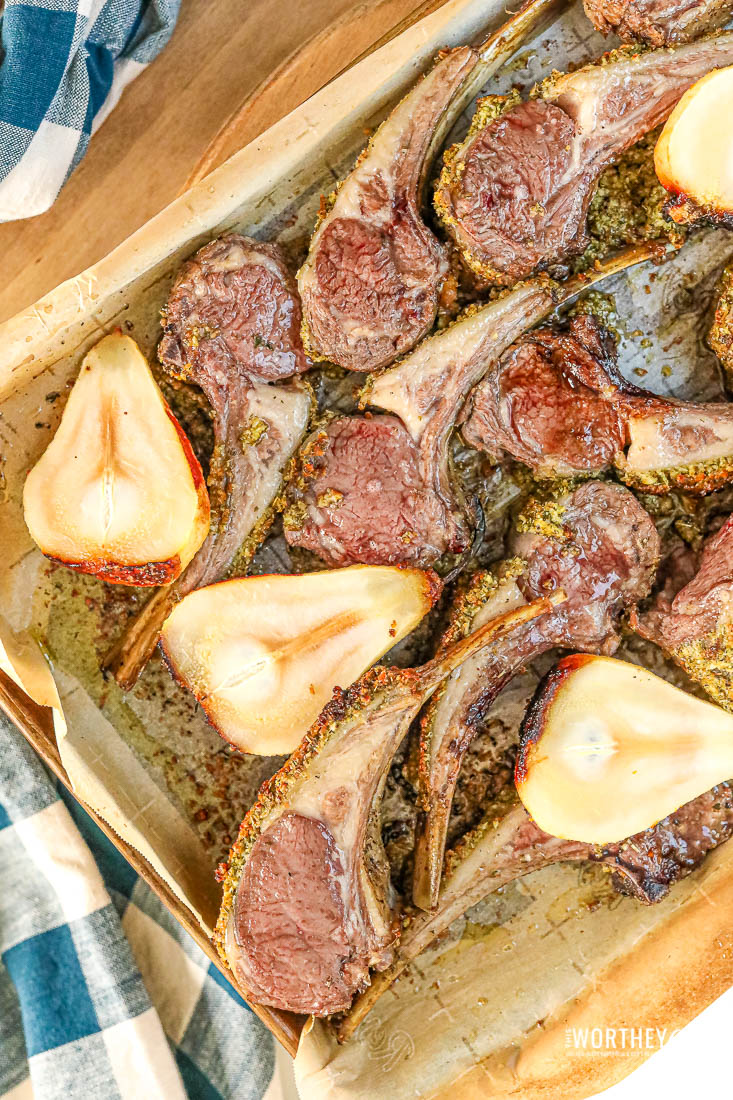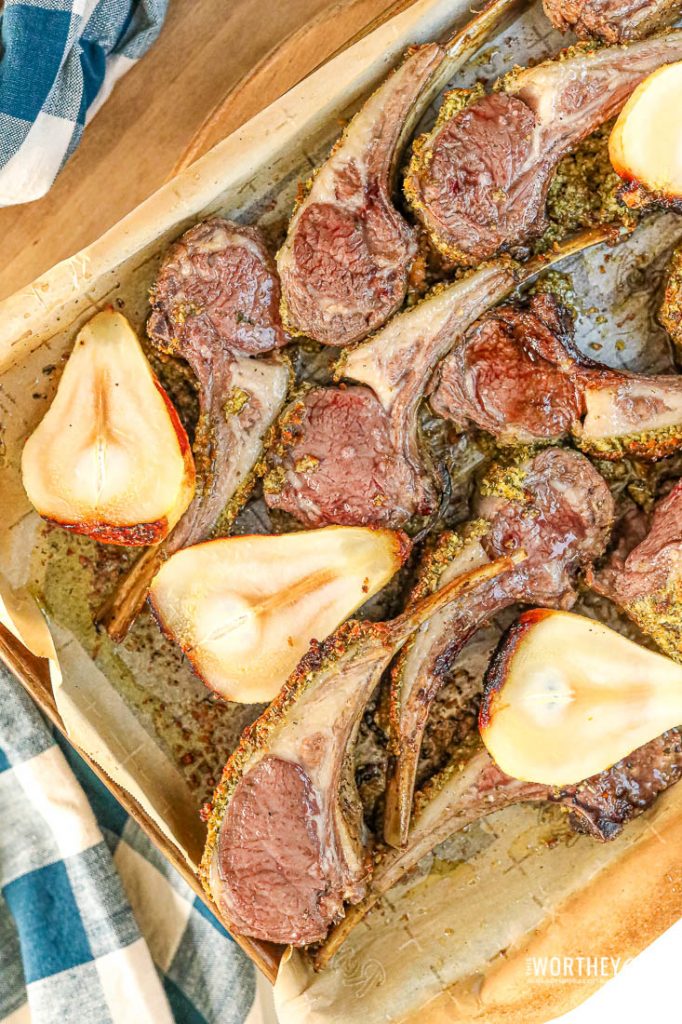 Herb Crusted Lamb Rack Recipe
Ingredients:
2 racks of lamb
20 large garlic cloves
4 teaspoons herbs de Florence
1 cup grated Parmesan
1/2 cup extra virgin olive oil + 2 tablespoons
sea salt
freshly cracked black peppercorns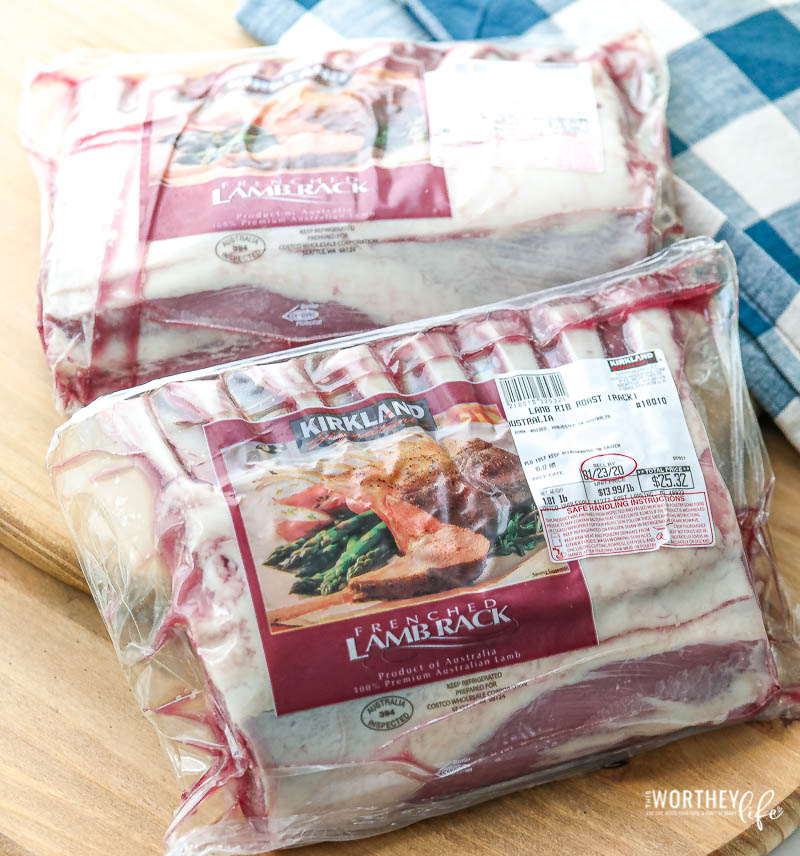 Directions:
Preheat the oven to 425ºF.
Rinse and pat dry the rack of lamb. Place the lamb on a sheet pan. Massage 1 tablespoon of extra virgin olive oil into each rack of lamb, then seasoning generously with sea salt and freshly cracked black peppercorns
Into a food processor, add walnuts, garlic, ground thyme, rosemary leaves, grated Parmesan, and extra virgin olive oil, sea salt.
Pulse the mixture until the ingredients are well combined but still slightly mealy.
Using a spoon spread the walnut and garlic mixture all over the rack of lamb, really work the mixture into the meat, turn the lamb over and repeat.
Use your fingers to press the mixture into the rack of lamb on both sides.
Place the racks of lamb side by side on the baking sheet and place the lamb on the center rack of the oven.
Cook the lamb until an instant-read thermometer registers 135ºF. (medium rare)
Serve.