Have ground beef on hand? Get the instant pot out and try one of these easy + delicious recipes. We're sharing 20 Instant Pot Ground Beef recipes you can try; add a few to your meal plan. Find the recipes down below.

20 Instant Pot Ground Beef Recipes
I can't tell you how many times I've pulled ground beef out of the freezer with no plan of what to make. I've researched the top 20 Instant Pot Ground Beef recipes out there. You will never again have to worry about what to make for dinner with that ground beef because I have a ton of recipes to share with you. The big question is what are you going to make first? So many ground beef recipes and not enough time. These Instant Pot ground beef recipes will literally make dinner so much easier for you. I think my favorite part is the fact that all of these can be made in the Instant Pot. If you don't have an Instant Pot, it may be time to consider getting one. It's hands down one of the best kitchen gadgets that I own. Stay tuned because these ground beef recipes will rock your cooking world!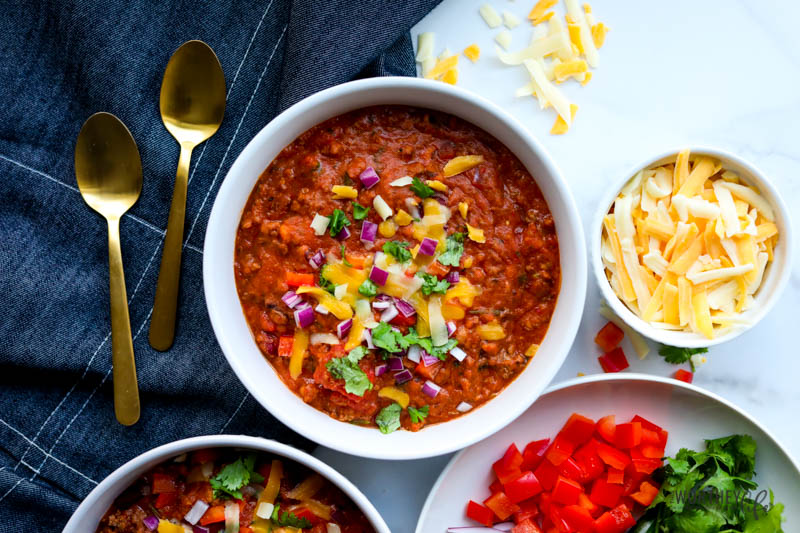 If you're a chili fan, try this loaded chili made in the Instant Pot.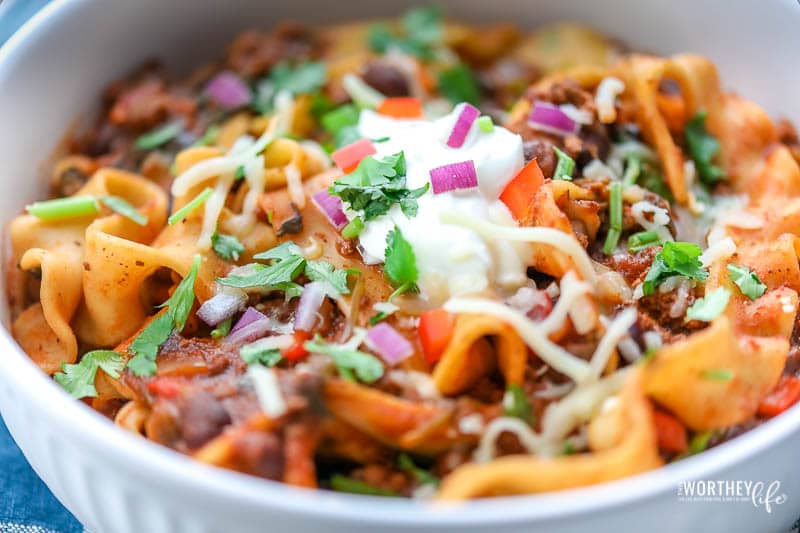 Lasagna is a favorite here at The Worthey house. If you have some lasagna noodles on hand, along with some beef, this 30-minute lasagna recipe made in the Instant Pot is just what you need!
Find more Instant Pot Beef Recipes below:
You cannot say you've made a yummy ground beef recipe without making this Instant Pot Stuffed Pepper Soup by Salt And Lavender. You will love the flavor this recipe creates.
Want to make something super yummy for dinner tonight? Make this Pressure Cooker Spaghetti by Julie's Eats And Treats. You'll love that the whole family enjoys it.
Are you looking for something easy to make for dinner? Without a doubt, making this Easy Instant Pot Stroganoff by Taste Better From Scratch is a good move.
It's time to get out that Instant Pot and make this Instant Pot Egg Roll In A Bowl by Awe Filled Homemaker. I can't get over how easy this dish is to make.
When my family wants comfort food, I make this Instant Pot Meatloaf And Mashed Potatoes by I Wash You Dry. This is pure comfort food.
I've always a good Mexican inspired dish. If you can't have Taco Tuesday, then you might as well have Instant Pot Taco Pie by Simply Happy Foodie.
I'm loving this Instant Pot Swedish Meatballs by Jessica Gavin. If you have never made your family Swedish Meatballs, then now is the time to do so.
You may be amazed as to what you can do with that Instant Pot of yours. Go ahead and make this Instant Pot Beef Lettuce Wraps With Pickled Cucumbers by Mad About Food. You won't regret it.
There is nothing that I love more in this world than cheese. You'll want to make this Instant Pot Cheesy Ground Beef And Rice Casserole by Oh Sweet Basil, it's so good.
One of my favorite dishes has always been Goulash. Now I can use this Instant Pot Goulash by Soulfully Made recipe for my family. They love it.
I can't get over how easy this Instant Pot Cheeseburger Soup by Sweet And Savory Meals is to make. The flavor is right on! Plus, I love cheese and get to have it with this soup.
Get that Instant Pot out for this Instant Pot Meat Lasagna by One Happy Housewife. Your entire family will want you to make the lasagna like this from now on.
When you want to save money, but also make a delicious meal, then it's time to make this Instant Pot Ground Beef Stew Recipe by Eating On A Dime. If your family doesn't usually like soup, they will love this dish!
Taco Soup is the perfect meal when you don't want something too heavy for dinner. Did you know your Instant Pot is capable of making this Instant Pot Taco Soup by Spicy Southern Kitchen?
Have you ever made Korean Ground Beef? If not, you need to check out this Instant Pot Korean Ground Beef by Meatloaf And Melodrama. It's one of the best recipes for using up that ground beef.
Sometimes I wake up and I'm just craving meatballs. You can't go wrong making these Instant Pot Meatballs by A Calculated Whisk. They are literally the perfect meatballs.
Have you ever had cabbage in your fridge and you weren't sure what to do with it? You need to make this Instant Pot Stuffed Cabbage Casserole by Temecula Blogs. It's so tasty!
Sloppy joes are called sloppy for a reason. This Instant Pot Sloppy Joes by Pip And Ebby recipe is one of the best sloppy joe recipes out there. It's delicious!
Pressure Cooker Shepherd's Pie by Simply Recipes is great for a Sunday dinner or whenever you want to feed a crowd. You'll love being able to make Shepherds Pie in your own kitchen. It's way better than anything you could ever buy frozen.
Every family on this planet needs to have a chili recipe that they like. This Instant Pot Chili by A Mindful Mom is our favorite chili recipe and I think you'll like it too.
The next time you want to use your Instant Pot to use up ground beef, you can check out any of these 20 recipes. Instant Pot ground beef recipes are the best and so easy!
Which of these recipes if your favorite?
Find more Instant Pot recipes below:
30+ Easy Instant Pot Taco Recipes for Dinner
30+ Easy Dump Dinners to Make in Your Crock-Pot or Instant Pot
Instant Pot Chicken Tikka Masala
Instant Pot Minestrone Soup with Ham