We love to use our Instant Pot, creating easy recipe ideas. We cooked a whole chicken in the Instant Pot and made Instant Pot Shredded Chicken Street Tacos. It's a budget-friendly recipe, made in 30 minutes, and one that the whole family will love!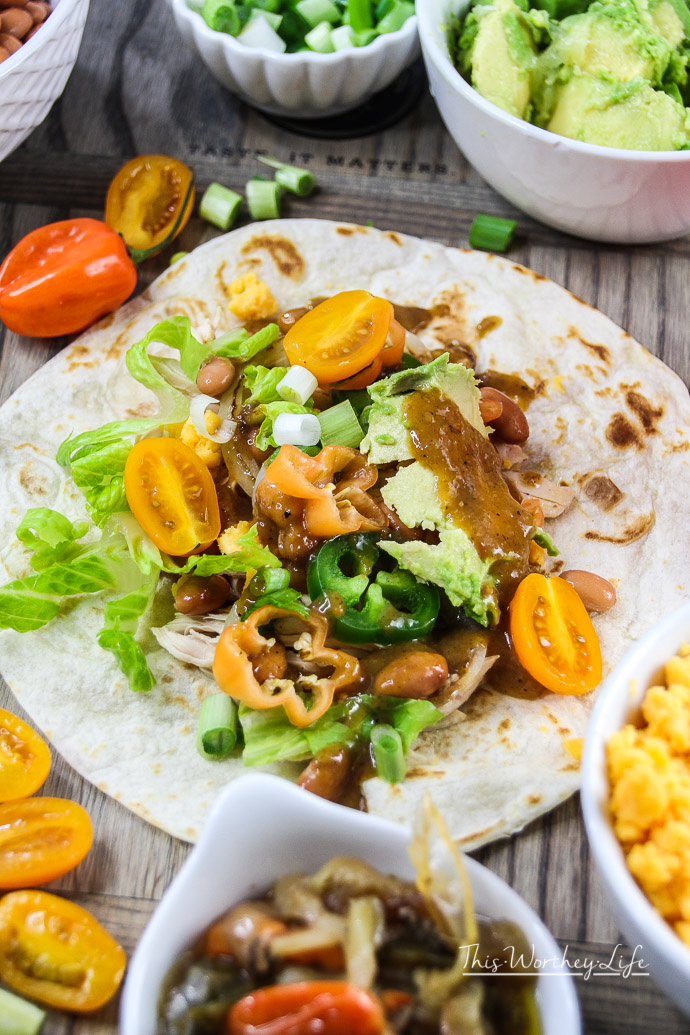 Instant Pot Shredded Chicken Street Tacos
I'll admit, I will probably never get tired of talking about how dope my Instant Pot is simply because it is So DOPE! I mean, it can cook just about anything, and typically is much less time, than convention stovetop or oven methods. For instance, I recently cooked a whole chicken in 25-minutes! YES! That's start to finish and done! This was another one of those 'I got to get something on the table super quick, fast, and in a hurry' nights. And like so many times before with the help of my Instant Pot I was able to pull it off in fine fashion. Tat purchased a whole chicken the day before. That's the chicken down below, and we got it for under $4 bucks with the coupon!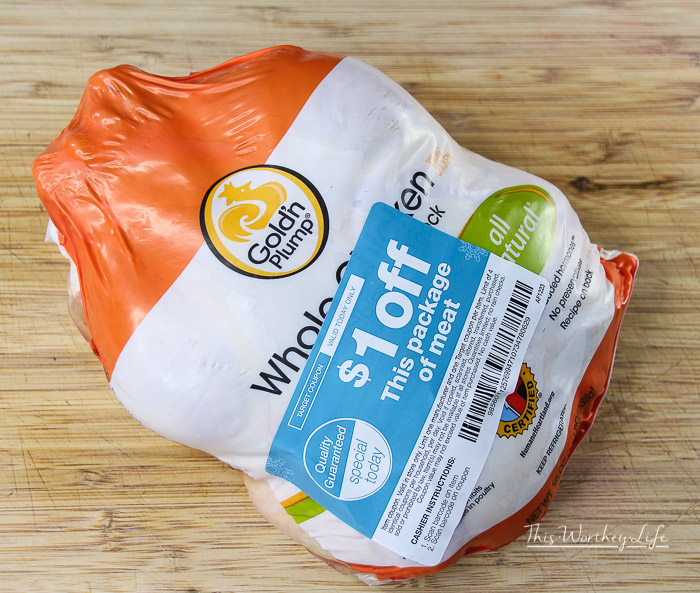 That's the culprit. You have seen this guy before and may have wondered what do with a whole chicken. Don't worry, my Instant Pot and I got you covered!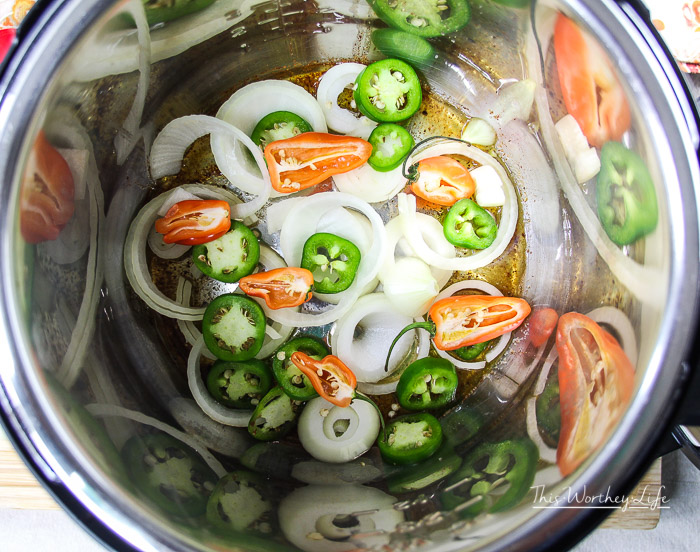 Ingredients You Need For Shredded Chicken Tacos
Chicken – So for this I opted to use a whole chicken. It worked out great and you will find cooking with boned meat is going to help offer a juicy and flavorful end results.
Seasoning Mixture – So if you look at the recipe you will find I give you two versions. A spicy version and a more mild version so you can pick which version you choose to do to seasoning of your choice.
Toppings – The toppings for your street tacos are literally endless. I pile ours high with fixings but you can honestly go simple or big. Shredded cheese, sauce, tomatoes, onions, peppers, avocados, etc.
Can I use chicken pieces instead of a whole chicken?
Yes, if you have chicken quarters, legs, thighs, etc. Go ahead and season and add in to cook instead of a whole chicken. You will find you will need to stack your chicken on top of each other possibly. Just make sure to season the chicken as you put it in so you get an even flavor.
Can I bake chicken in the oven instead of pressure cooking?
Go right ahead and prepare the chicken the same way, just place in a roaster or Dutch oven. Cover the chicken tightly with foil or a lid and bake in the oven until the chicken reads 165 degrees internally.
Once the chicken is fully cooked, allow to cool a bit and then debone the chicken.
How to store leftover street taco chicken?
Refrigerate – Place the leftover chicken in the fridge for around 3 days. Make sure it is in a sealed container to prevent it from spoiling too fast.
Freezer – You are welcome to freeze any chicken you don't plan to eat right away. Just place in a freezer bag, vacuum sealed container, or sealed plastic container. Freeze for 2-3 months.
Warming Up – You can warm the chicken up in the microwave, stovetop or warm in the oven. If you heat the chicken up in the oven, cover tightly with foil to prevent the chicken from drying out.
Here's our Instant Pot Shredded Chicken Street Tacos recipe
1 1/2 tablespoons extra virgin olive oil
1/2 tablespoon Mexican-style chili powder
1 medium yellow onion
1 one large jalapeño pepper, sliced
2 or 3 habanero peppers, sliced
However, if you can't do the spicey thing then omit the jalapeño and habanero peppers and substitute in:
1/2 tablespoons extra virgin olive oil
1/2 tablespoon Mexican-style chili powder
1 medium yellow onion
1 large green bell pepper, sliced
1 large sweet red bell peppers, sliced
Next, remove the chicken from the package and remove the giblets from inside the chicken, rinse and pat dry the chicken. At this point, you can also add extra veggies into the cavity of the chicken from either of the lists above. Rub a tablespoon of extra virgin olive oil over the surface of the chicken, add a mixture of:
2 tablespoons Mexican-Style chile powder
2 tablespoons, garlic powder
1 tablespoon freshly ground black peppercorns
Protip: a package of taco seasoning also works well
Then, place the chicken on top of the onion and peppers mixture, like this…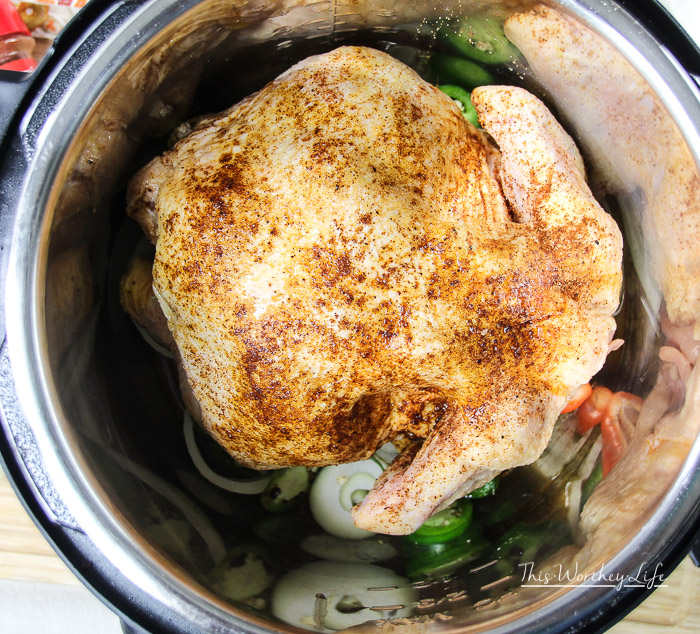 Make sure you thoroughly season the chicken all over, top to bottom, inside and out, between the chicken wings and drumsticks.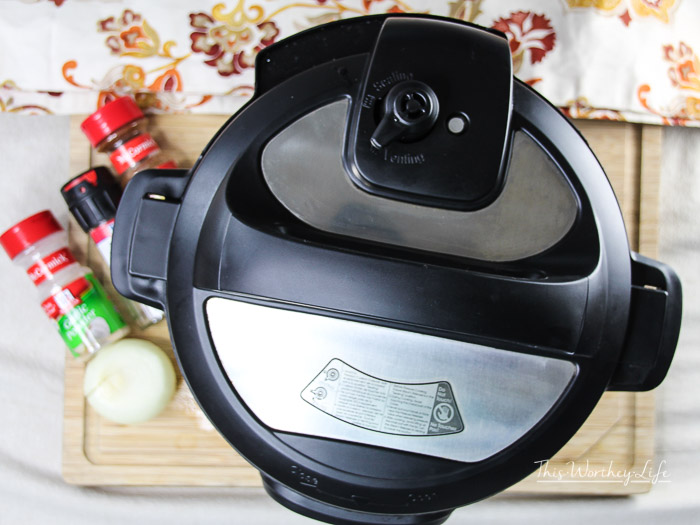 Place the lid on the slot and twist to lock the lid into place, swivel the vent nozzle into the closed position and select the Meat/Stew option and adjust the timer to 25-minutes.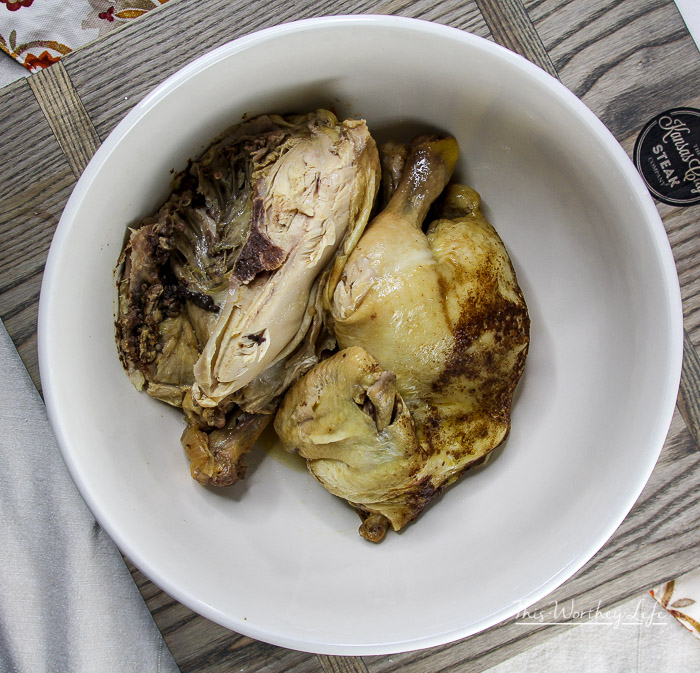 While the chicken is doing its thing in the Instant Pot let's prep all of the taco toppings, pretty much the usual suspects are included:
1 large red onion, diced or sliced
1 large head romaine lettuce, rinsed and shredded
1 14.5 ounce pinto beans, rinsed
1 1/2 cups sharp cheddar cheese, crumbled
1 cup tomatoes, small variety cut in half
4-5 green onion, sliced
2 limes, cut into wedges
2-3 jalapeño peppers, sliced
2-3 habanero peppers, sliced
1 large green bell pepper, sliced, diced or julienne
1 large red sweet red pepper, sliced, diced or julienne
10 soft flour or corn tortillas, browned in a pan
After the time has expired, unlock and safely vent the Instant Pot and remove the lid, using a large knife cut the whole chicken in half. Remove and discard the chicken skin. Using two forks, shred the chicken meat. At this time you can also add taco seasoning to the meat or salt and pepper to taste, your choice. I added the juice of half of a lime to the chicken meat. But do you boo!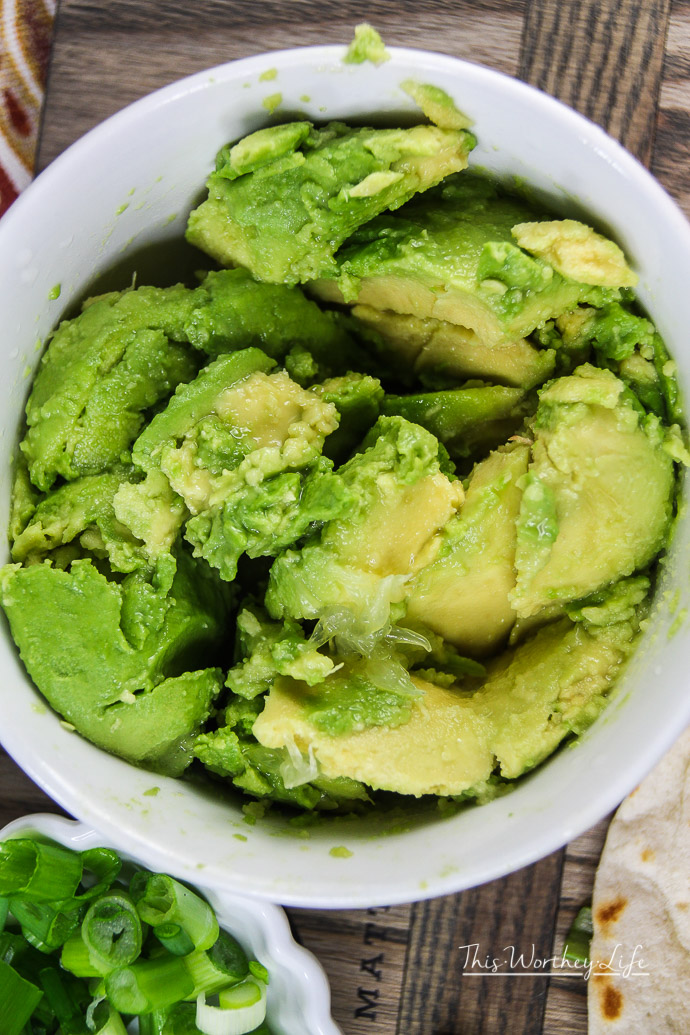 In the Worthey house adding avocado is kinda a big deal, Tat loves the unadorned I prefer them with a squeeze of lime juice, a bit of sea salt and freshly cracked black peppercorns.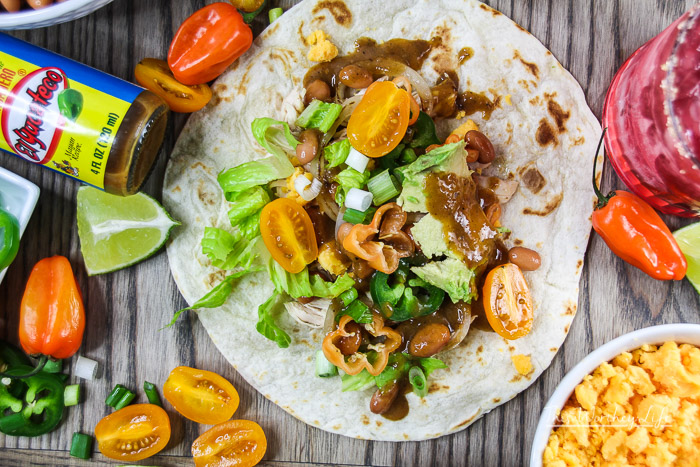 With these on the table, you really can't do wrong, and I am guessing you'll be a hero for the night. Pretty much!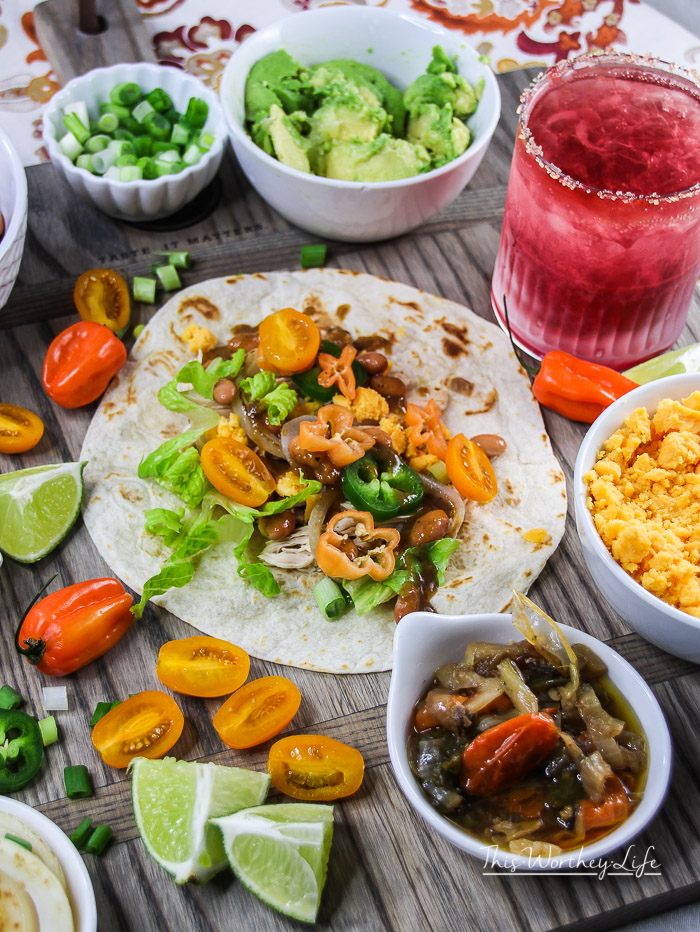 Additional toppings:
salsa
picante sauce
refried beans
taco sauce
chicken mole
fried egg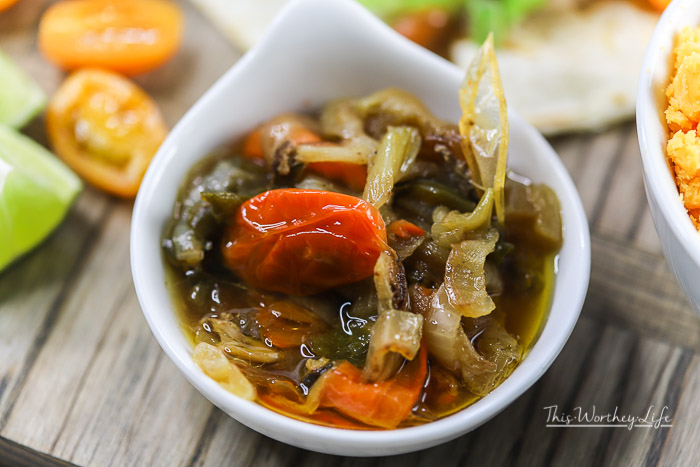 Remember, the onions, peppers, and seasoning you placed in the bottom of the Instant Pot? Well, this is what you get when it's all over, and it is muy delicioso! If you used the spicey version, be careful because while it is good, it may be a bit much for the kiddos or those not cool with fiery flavored foods. But, if you like it hot and intensely flavorful then this little spicy bonus is for you!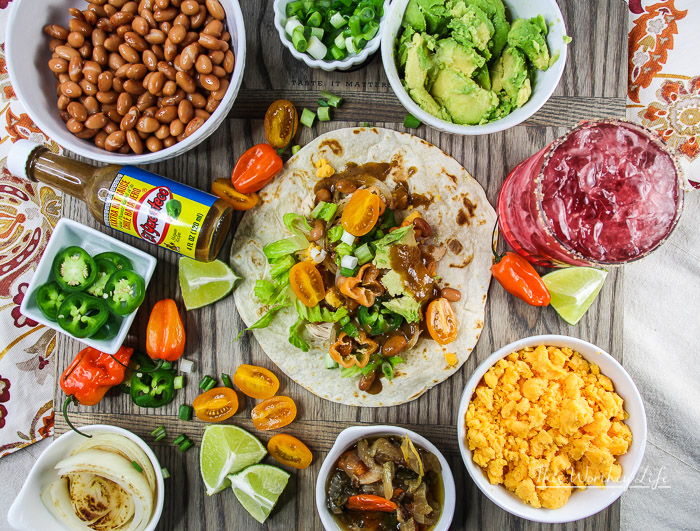 Find more taco recipes below:
Cinco de Mayo Soft Breakfast Tacos
Taquitos & Mini Tacos Grazing Board
Breakfast Tacos Using Beef Barbacoa
Salmon Tacos + Watermelon Slaw