This is a sponsored post written by me on behalf of EasyHomeMeals.com, a food and lifestyle blog sponsored by the National Frozen and Refrigerated Foods Association (NFRA). All opinions are 100% mine.
The frozen food scene has so much to offer in terms of variety, quality, and flavor. See how we're using taquitos frozen food to put together this spread. Check out the frozen food aisle of your local grocery, and you will find a diverse assortment of traditional offerings as well as frozen foods representing an array of international cuisines too.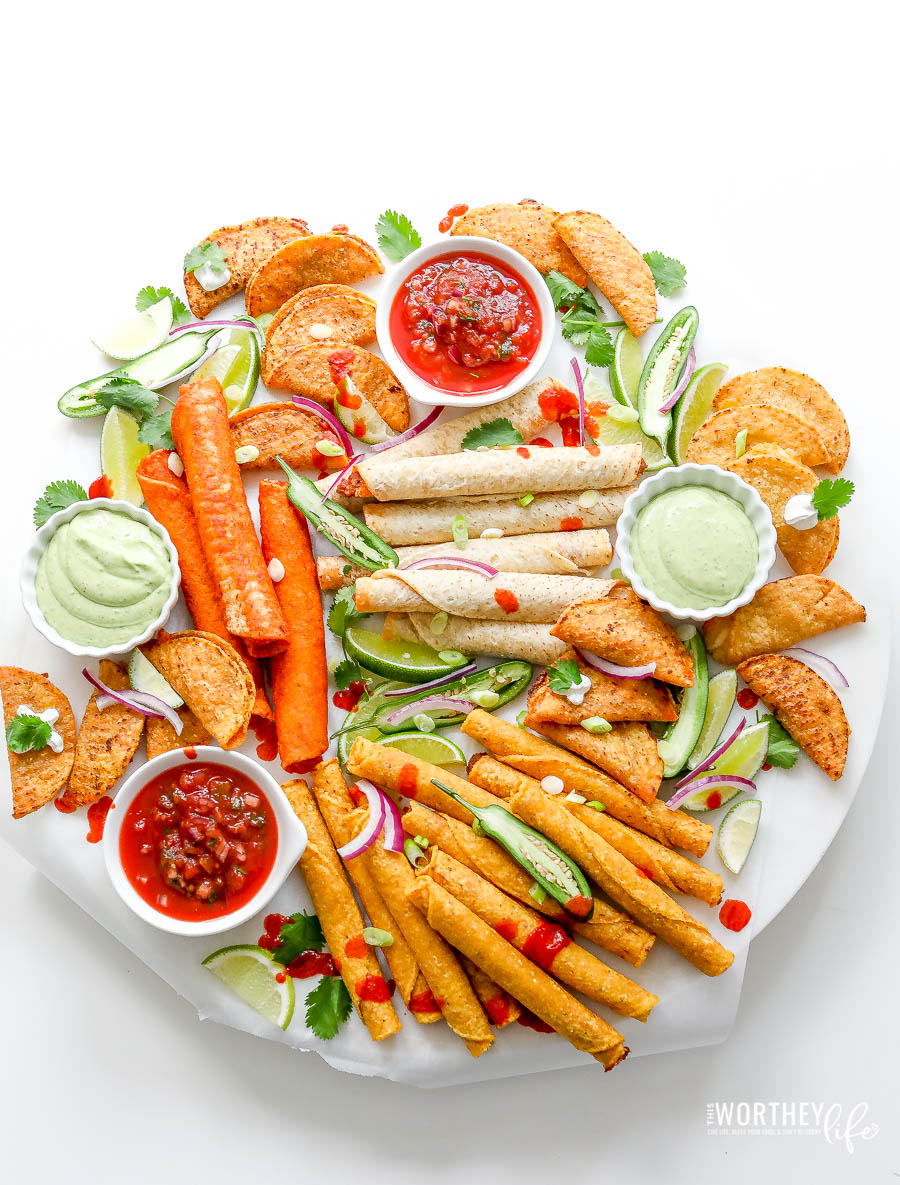 Taquitos & Mini Tacos Grazing Board
Let's get this party started! With families all over the country spending more time at home, wouldn't it be fun to have your own party? And even better, add some mini tacos and taquitos to the mix, thanks to José Olé! When's the last time you picked up frozen food with dinner in mind? Almost every week, we're using a frozen food option from the freezer to help get dinner on the table and boy, what a time saver! Learn more by going to EasyHomeMeals.com! Another benefit, going the frozen food route gives you endless chances to try new and unfamiliar flavors and sample different cuisines without commitment; translation, you won't need to invest in purchasing spices and other ingredients to make it yourself. In a nutshell, frozen foods offer you the freedom to explore a world of flavors and eat your way across the globe, one delicious entrée or appetizer at a time. Some people may think frozen food isn't real food and is packed with artificial ingredients. However, I want to toss that misconception aside, because it's all about picking frozen meals made with quality ingredients. José Olé has been making delicious Mexican frozen foods since 2000, and if you love Mexican food, I am pretty sure you'll love José Olé too. José Olé is made with the finest ingredients, like tender cuts of meat, real cheese, authentic seasonings, and spices, with oven-baked tortillas. So, when it comes to picking frozen foods with standards that are good for the whole family, José Olé is at the top of the list. Once we put this platter of taquitos and mini tacos together, our family enjoyed every single bite. José Olé has convenient, mouth-watering and easy to prepare options for breakfast, lunch, and dinner. Oh, and they're perfect for snacking too! We like the variety of frozen food products they offer, from rolled tacos to corn taquitos. What You'll Need to Create Our Taquito & Mini Taco Grazing Board:
Frozen Taquitos, Mini Tacos & Rolled Tacos. For our grazing board, we used a variety of José Olé taquitos, mini tacos, and rolled tacos. Click on the store finder to locate the nearest José Olé products near you. Salsa. Grab your favorite store-bought salsa or make your favorite salsa recipe. Here's a salsa hack: use your favorite salsa and add fresh chopped cilantro, diced red onion, and jalapeños!
Sour Cream Avocado Crema. Our sour cream avocado crema is so easy to make, and it pairs perfectly with our grazing board. Grab the recipe down below.
Fresh Cilantro, Serrano or Jalapeño Peppers, Limes, Green Onion, and Red Onions. There's nothing like making a grazing board pop with lots of fresh ingredients, and is it a mistake that all of these add-ons go so well with tacos and taquitos? No, not really. Our no-fuss sour crema avocado cream is perfect for dipping.
You Will Like Our Frozen Taquitos Grazing Board Because It's:
Fun
Scrumptious
Easy to Make
A Show Stopper
Perfect for a large crowd
Takes frozen food to a different level Sour Cream Avocado Crema
Ingredients:
2 avocados
1/2 cup sour cream
3 tablespoons extra virgin olive oil
4 tablespoons chopped cilantro
1/2 lime freshly squeezed juice
1/2 teaspoon chili lime seasoning
sea salt and freshly cracked black peppercorns to taste Directions:
Into a food processor, add avocados, sour cream, EVO, chopped cilantro, freshly squeezed lime juice, chili lime seasoning, and sea salt + freshly cracked black peppercorns to taste.
Blend on high until the mixture is smooth.
Serve. We've given you the blueprint to make a pretty good family or party spread. Whether it's a staycation, game night, or looking for ways to make easy meals for your family, grab a few José Olé products the next time you are down the frozen food aisle. Or better yet, use curbside or home delivery services to save you time. Find more meal ideas by visiting EasyHomeMeals.com.
National Frozen and Refrigerated Foods Association (NFRA)