Disney's Lady and the Tramp DVD is now available in Digital and Blu-ray format. We're celebrating the release of this Signature Collection with a fun. kid-friendly Lady and the Tramp drink. Serve this as you watch this iconic movie with a bowl of pasta and meatballs!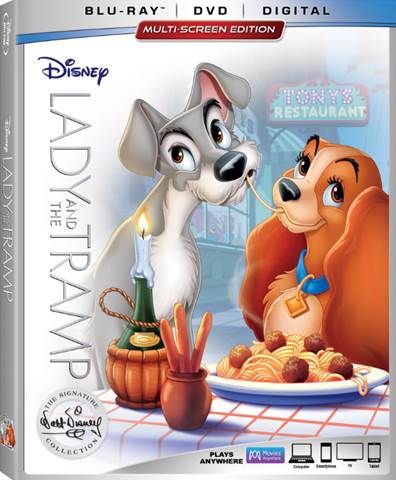 Lady and The Tramp Kid-Friendly Drink + Release of Disney Signature Collection
We all know that it's a BIG deal when the Disney vault door opens and you can reminisce about those childhood memories with your favorite Disney characters. Just recently fresh from the vault is, Lady and the Tramp! It's now available on Digital and Blu-Ray. It's the Disney Signature Collection, which means you get three versions of the film, plus classic bonus material, and three all-new features! You can watch the film the original theatrical version, sing-along mode, or Walt's story meetings. Also included in this multi-screen edition is the Blu-ray, DVD, and a Digital copy. Since this option has been available, it's the only way I will buy DVDs for the kids. This way, we can have one for the house, one for the car, and one downloaded to an iPad to use on airplane rides.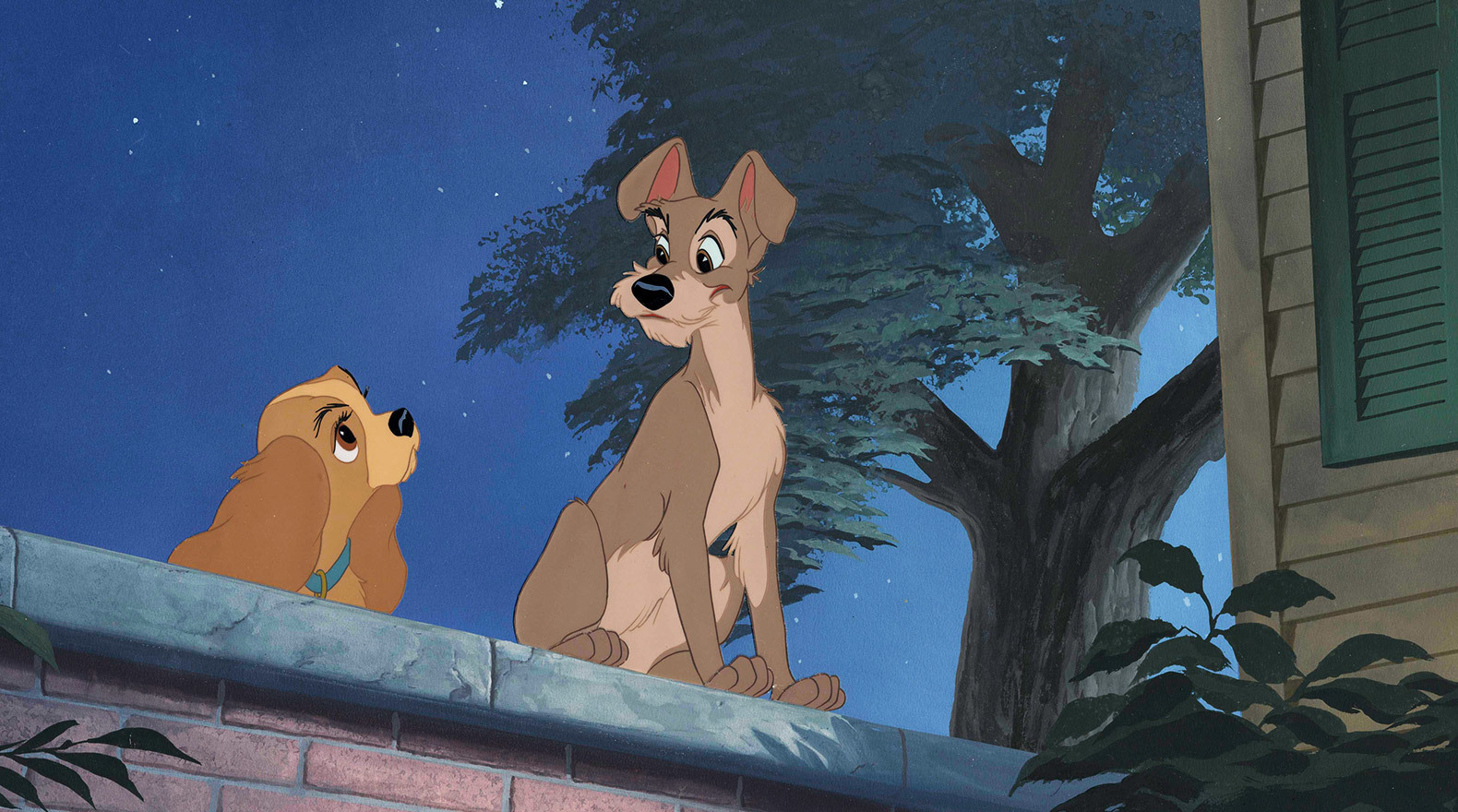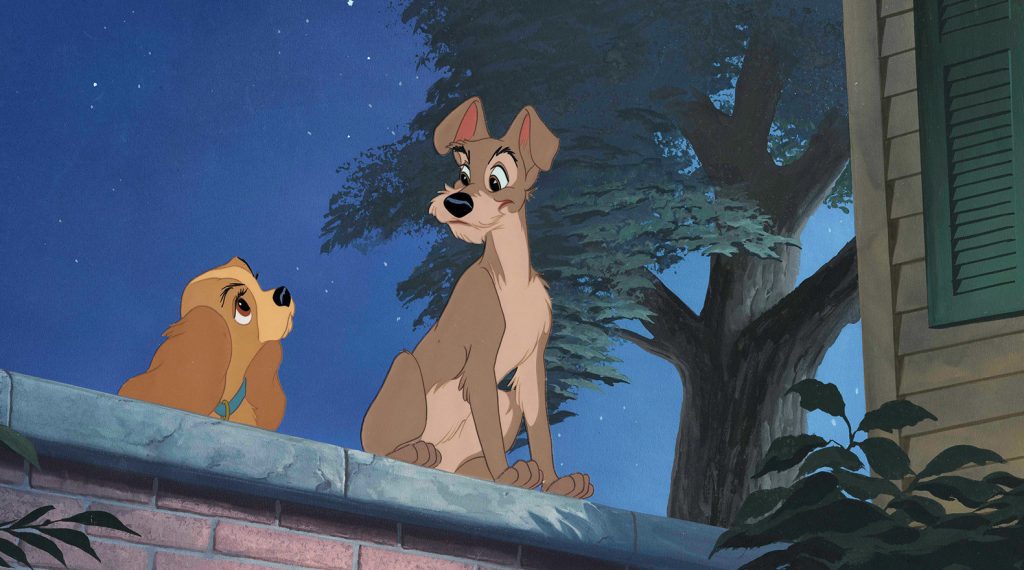 Lady and the Tramp is a beautiful romance between two dogs. And I'm a huge fan of adorable dogs, (I mean, hello, our adorable Labradoodle named Chance!). There are a few great takeaways from this movie.
Never judge a book by its cover. You never know who you may fall in love. Including the boy or girl (or in this case, a dog) across the track.
Love is love. Don't let anyone stop you from trusting your gut and loving someone that may not be your family and friend's cup of tea.
Don't live a life that's close-minded and surrounded by a fence. Tramp teaches Lady how to live a care-free life, and how the world is much bigger than her house and a fence that's stopping her to venture out to explore.
Serve pasta, and it will instantly bring the romance and magic. (lol) Okay, I'm not sure if that's always true, but tell me this. When you go to an Italian restaurant all dressed up with your boo, doesn't it feel magical? Yeah, that's what I thought.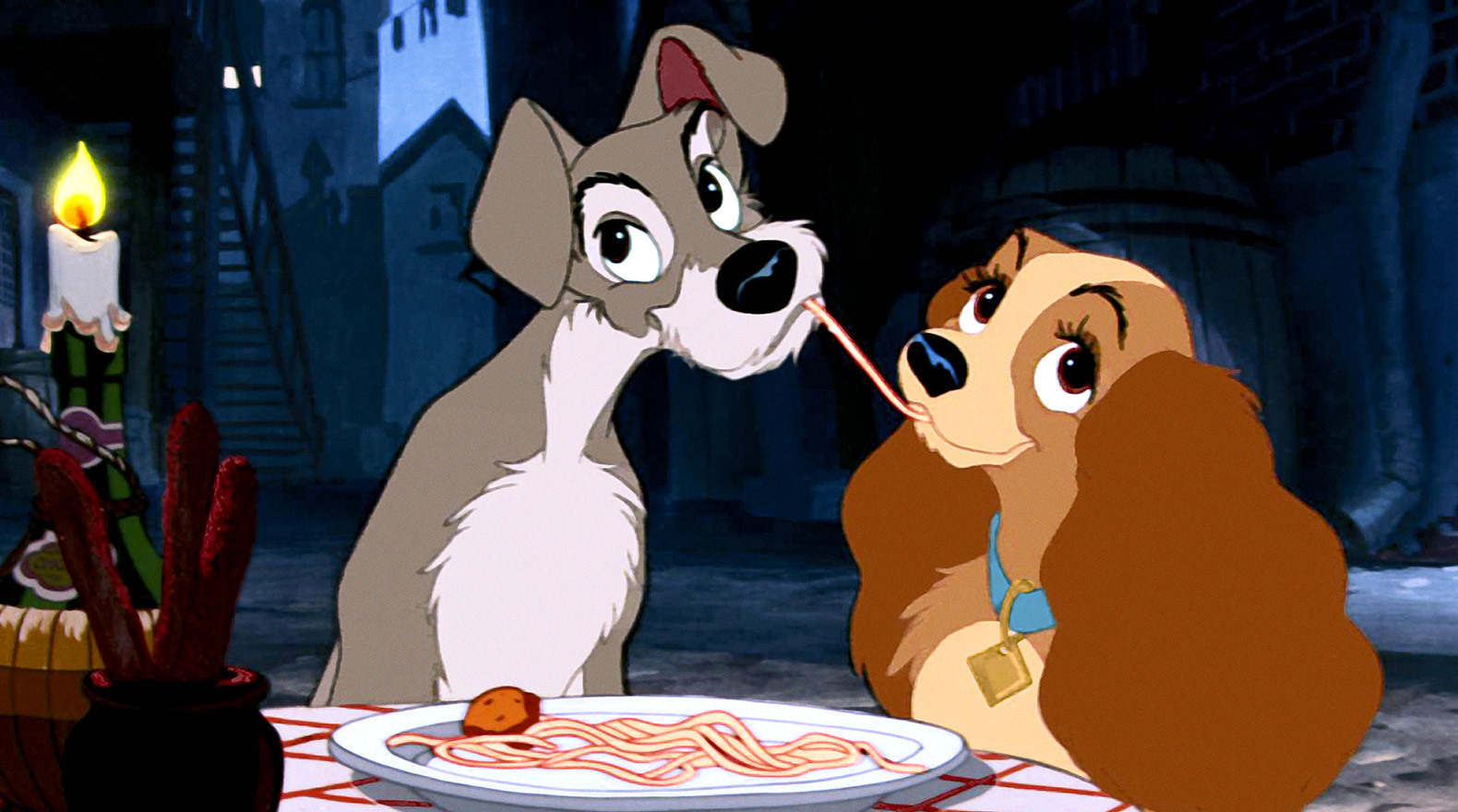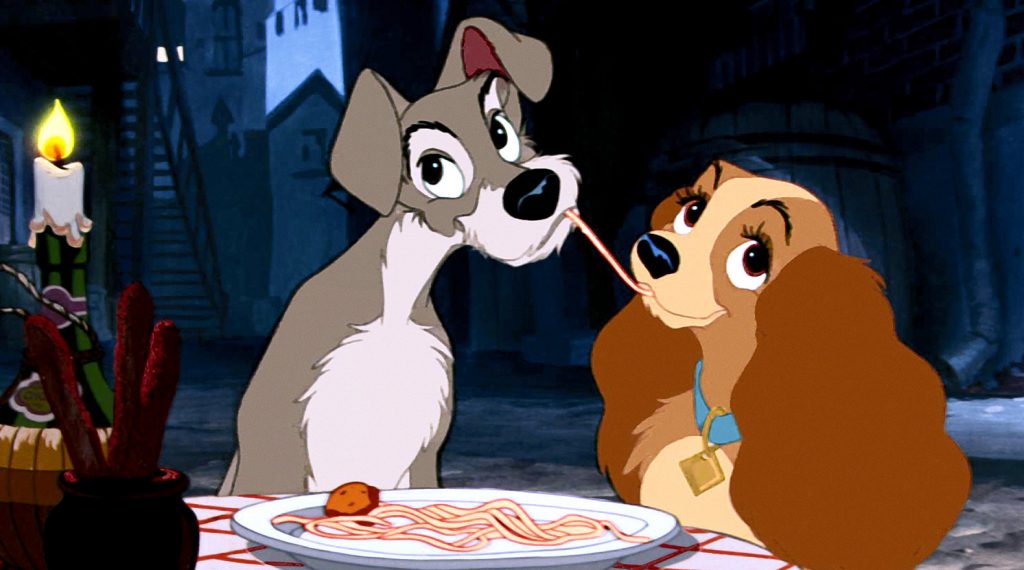 What is Lady and the Tramp about?
And if you have no clue on what Lady and the Tramp is about let me share it with you. This is a love story between Lady, a lovingly pampered cocker spaniel, and Tramp, a freewheeling mutt with a heart of gold. Because Tramp is not the breed of Lady, and her family doesn't approve of him (at first), they must meet in secret. This is where we are given the iconic scene in which Lady and Tramp share a place of spaghetti and an accidental kiss.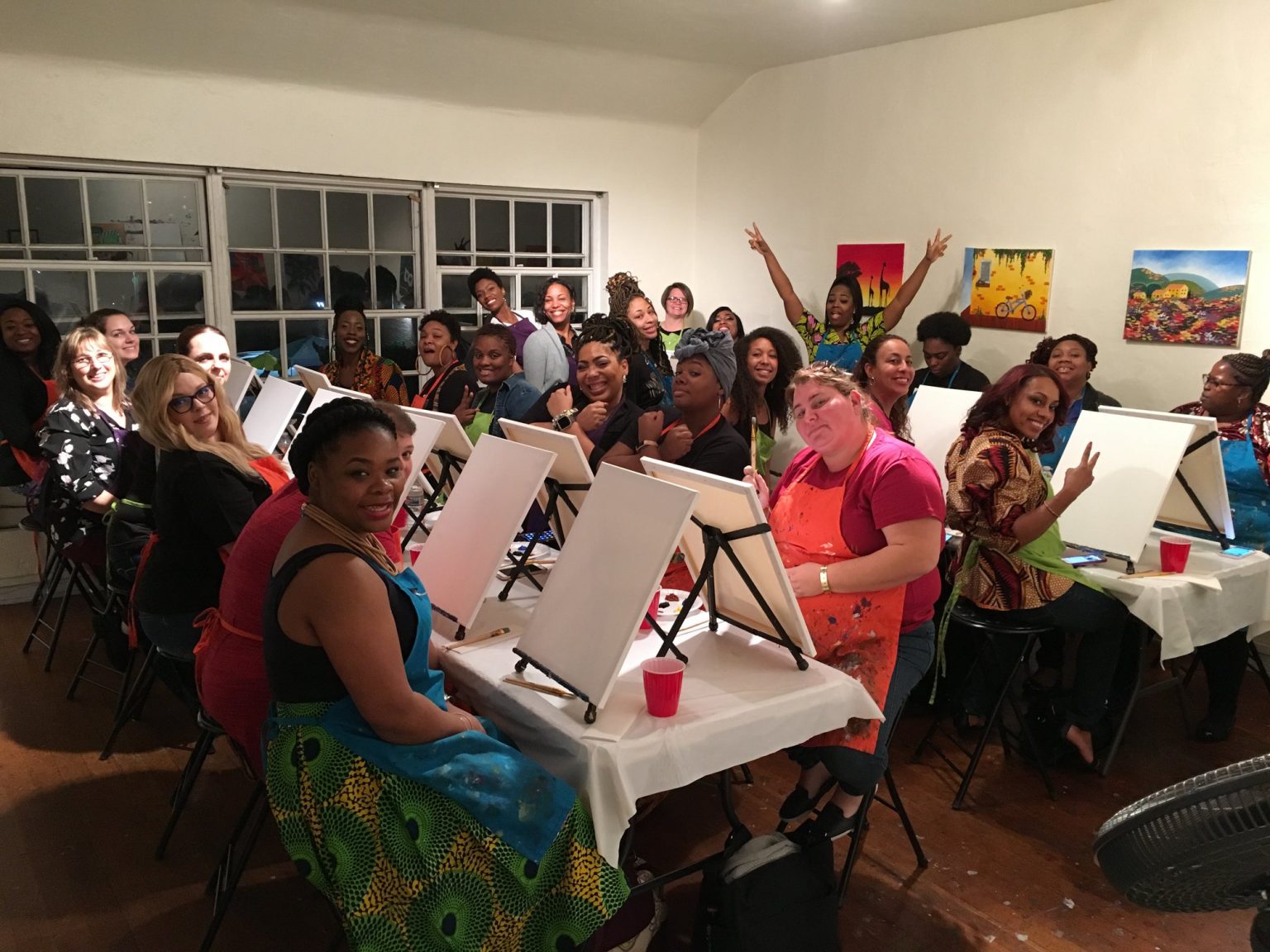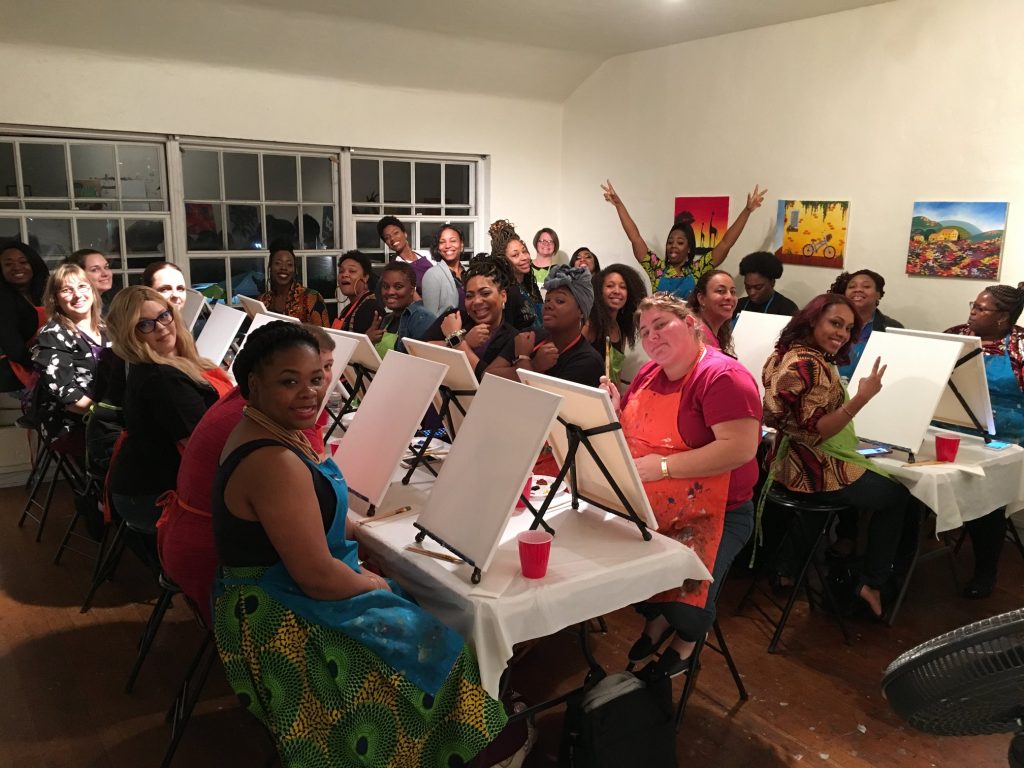 Celebrating Lady and the Tramp
While I was attending the Black Panther press junket, we celebrated the release of Lady and the Tramp with dinner at Maggiano's Little Italy, followed by a painting session at Paint & Sip Studio LA.During our painting session, we followed along with our instructor, to create a portrait of a classic pasta dinner at an Italian restaurant. Let's just say; some paintings turned out better than others. (lol) We had a lot of fun, singing, sipping, and clowning while we tried to follow along with our instructor. She did a great job of keeping us going!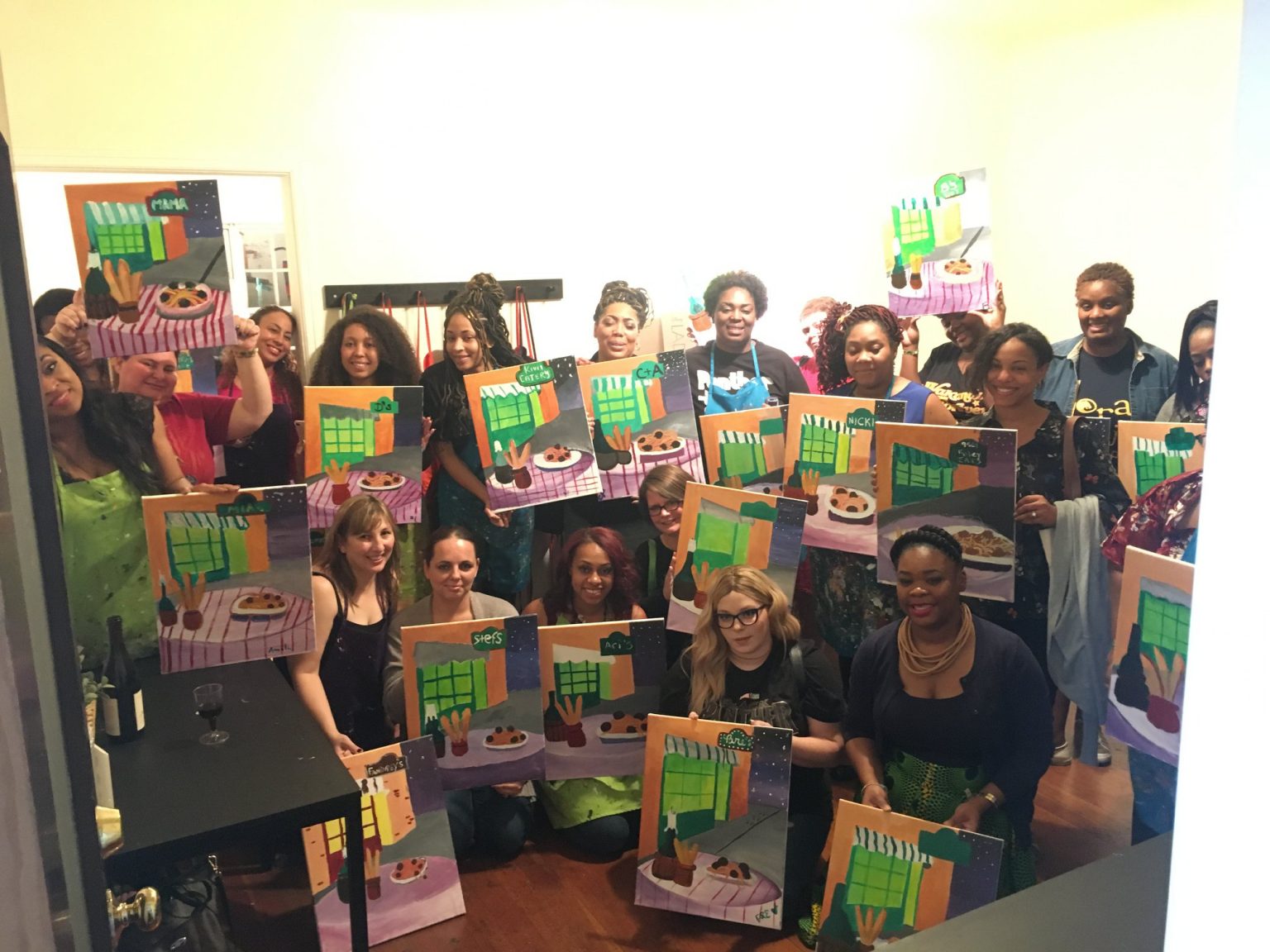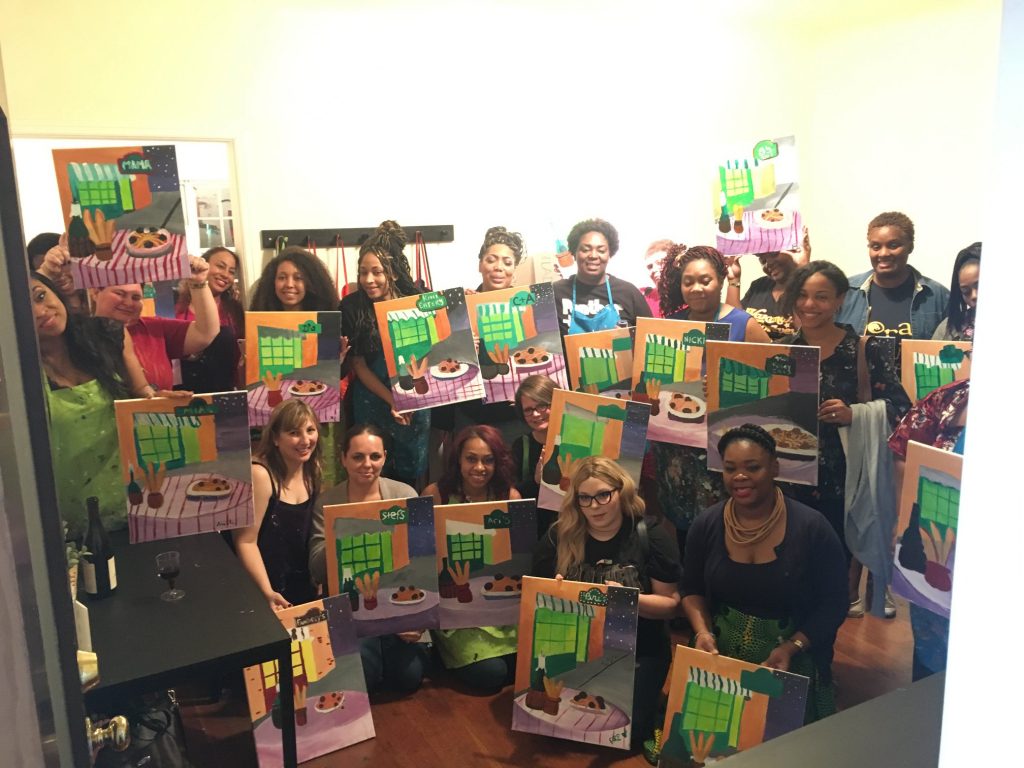 Another way I'm celebrating the release of this classic Disney movie is with a kid-friendly Lady and the Tramp drink!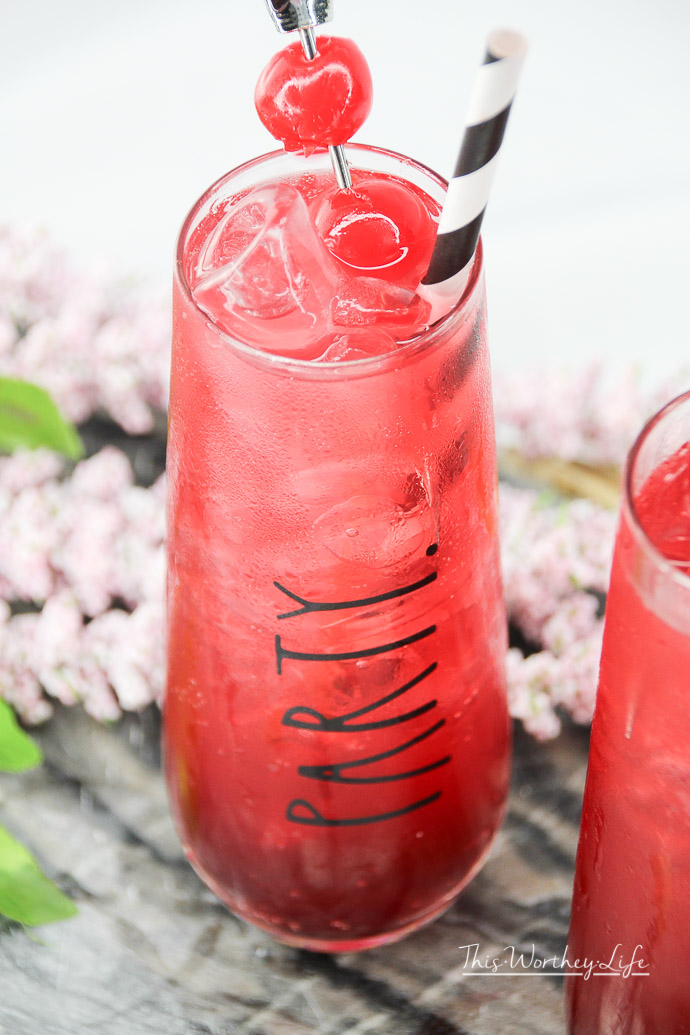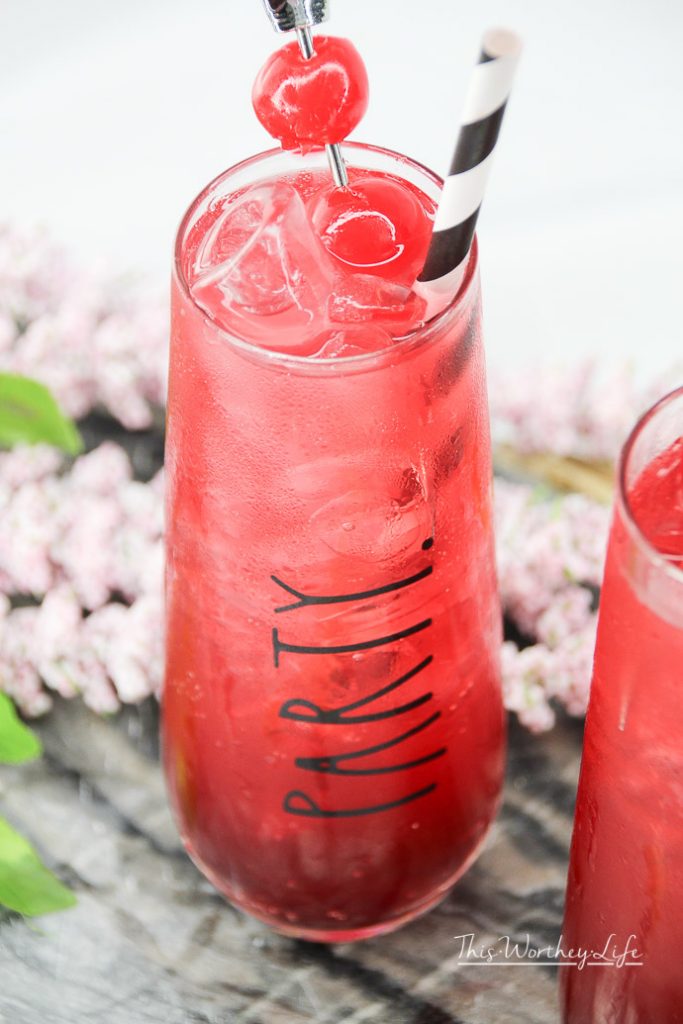 Here's how to make a Lady and the Tramp drink for kids:
Instructions:
2 oz of Guava
2 oz of Lime Mint Elderflower Italian Sparkling Mineral Water (picked up from Whole Foods)
10 ml of Red Grenadine
10 ml Blackcurrant Syrup
Ice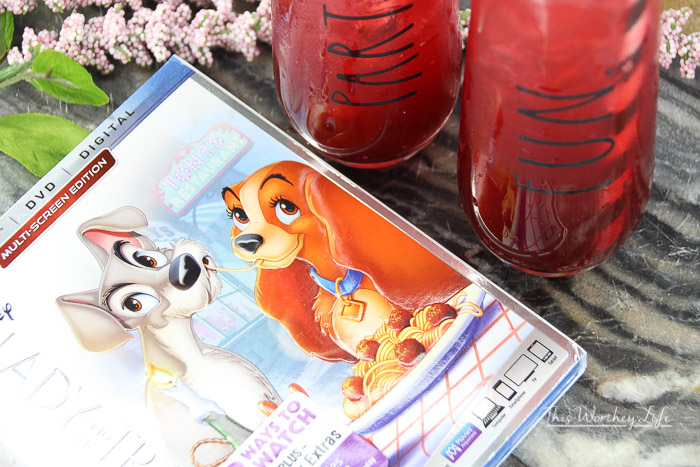 Directions:
In a tall glass, fill with ice.
Pour in Red Grenadine.
Next, add the 2 oz of Guava, followed by the Lime Mint Elderflower Italian Sparkling Mineral Water.
Top with the Blackcurrant syrup.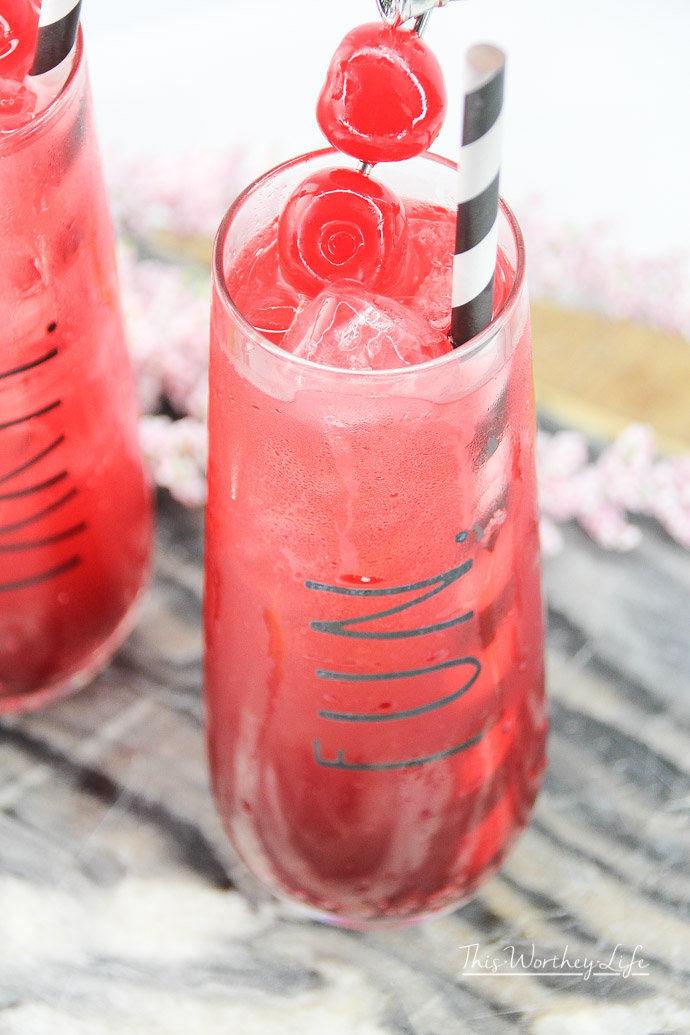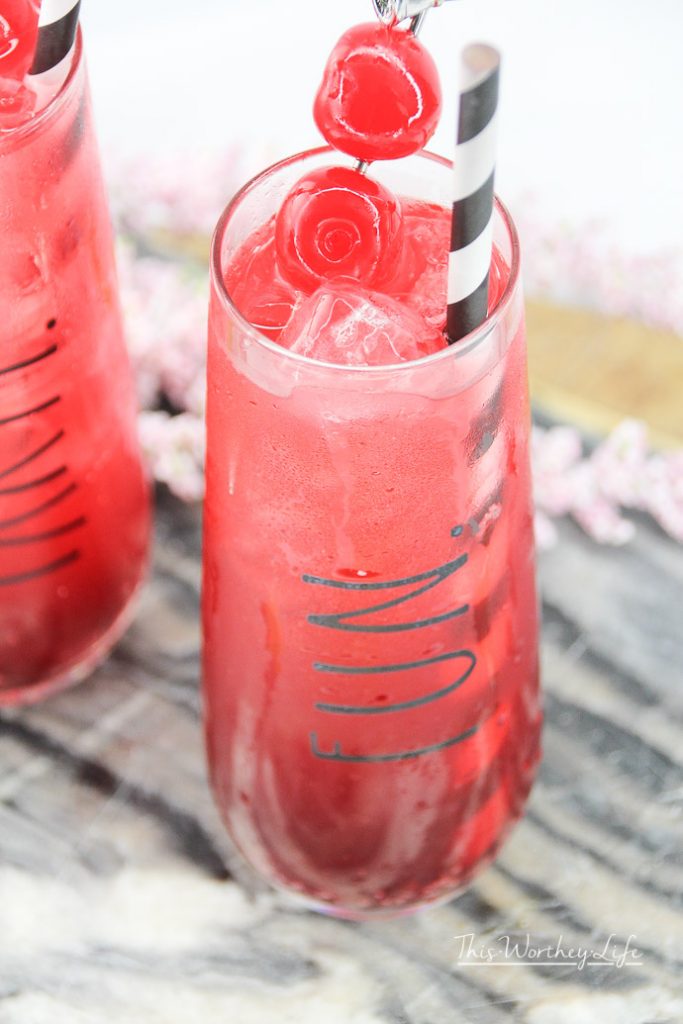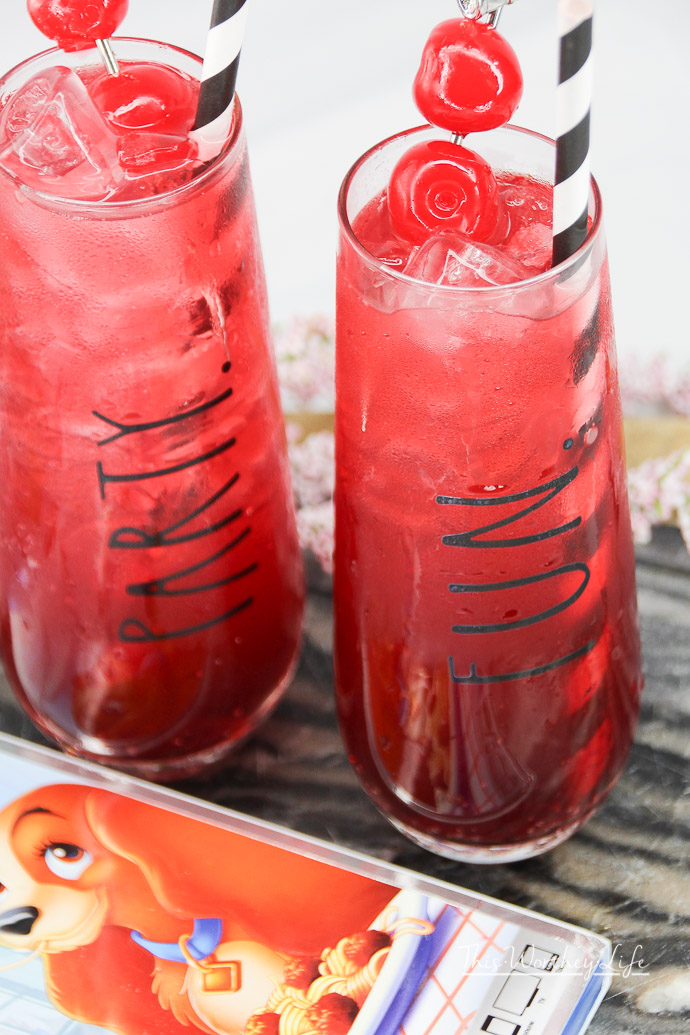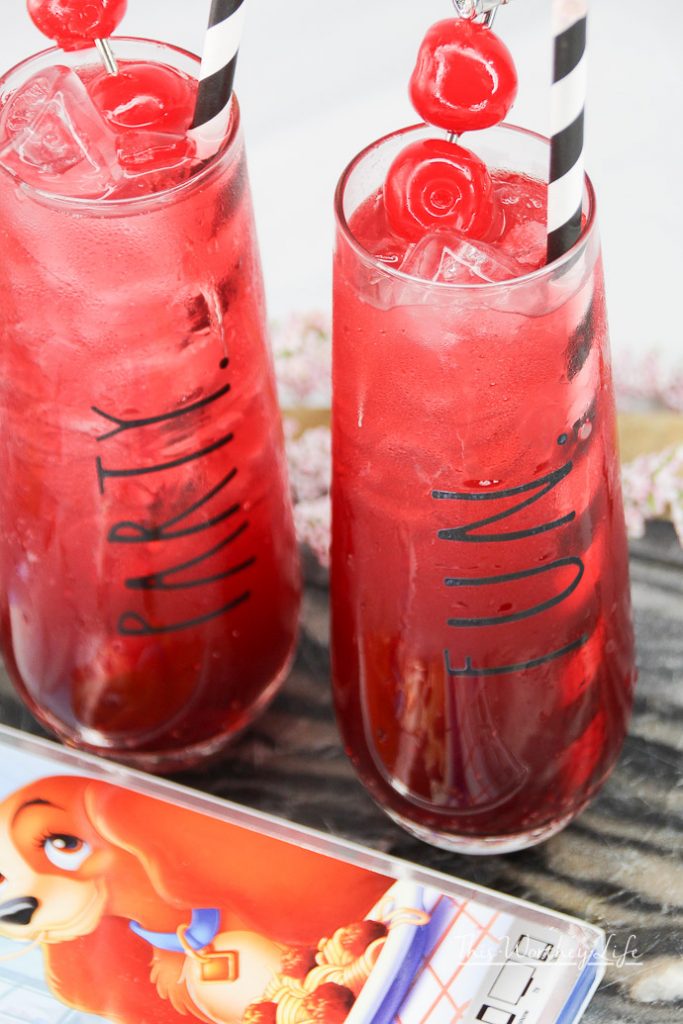 Order your copy of Lady and the Tramp while it's available!
You will also get these additional features when you order the Signature Collection copy:
Film Versions
Original Theatrical Edition — Enjoy this cherished Disney classic that captivates audiences of all ages.
Sing-Along Mode — Sing along with all your favorite songs as you watch the movie.
Inside Walt's Story Meetings — As you view the film, hear reenactments of Walt's story sessions with animators and see how their ideas were realized on-screen.
New Signature Bonus
Walt & His Dogs — Through archival recordings and photos, hear the tales of the dogs Walt Disney owned and loved over his lifetime.
Stories from Walt's Office — Take a tour of Walt's office suite on the Studio lot, carefully re-created to look just as it did when he occupied it.
How to Make a Meatball and Other Fun Facts About "Lady and The Tramp" — Watch a delicious lesson on how to make perfect meatballs with teen chef Amber Kelley and Oh My Disney Show Host Alexys Gabrielle.
Songs
"Peace on Earth"
"What Is a Baby/La La Lu"
"The Siamese Cat Song"
"Bella Notte"
"He's a Tramp"
Classic Bonus Features
Diane Disney Miller: Remembering Dad — Walt's daughter shares memories of her father and Disneyland's early days, as well as a look at his apartment above the firehouse.
Never-Recorded Song – "I'm Free as the Breeze" — Take a listen to a song originally meant to be sung by Tramp.
Deleted Scenes
Introduction of Boris — Tramp wasn't always meant to be Lady's only suitor. Meet Boris the aristocrat and Homer, the peasant in this deleted scene.
Waiting for Baby — Lady watches as Jim Dear plans out his new son's future in this early storyboard.
Dog Show — See the storyboards for this deleted scene in which Lady and Tramp unexpectedly find themselves in the middle of a dog show.
Classic Bonus Features on Digital Only (May Vary by Retailer)
Lady's Pedigree: The Making of "Lady and the Tramp" — A behind-the-scenes look at the making of Walt Disney's first feature-length animated film based on an original story.
Finding Lady: The Art of the Storyboard — Explore the origins of the storyboard and how they're used by filmmakers today.
Original 1943 Storyboard Version of the Film — View a unique presentation of the original 1943 storyboards for "Lady and the Tramp."
PuppyPedia: Going to the Dogs — Wild and wacky comedian Fred Willard takes us on an outing to the dog park to learn all about dogs and their owners.
Deleted Scenes
Turning the Tables — In this story-reel presentation, Tramp dreams of a world where dogs run the show and humans are on the other end of the leash.
The Arrival of Baby — In this alternate scene re-created from original storyboards and with original voice talent, Lady makes way for a new arrival.
Baby Arrives — Lady is baffled by the strange goings-on in the house—the arrival of a squealing bundle only deepens the mystery.
Lady's Sweater — Lady gets a new sweater for her birthday and must figure out an ingenious way to lose it for good.
Trailers
1955 Original Theatrical Trailer — More than just a trailer, this preview features several minutes of footage from the film and introduces each major character.
1972 Theatrical Re-Issue Trailer — This trailer from the 1972 rerelease heralds Disney's "happiest motion picture."
1986 Theatrical Re-Issue Trailer — Released theatrically for the 1986 holiday season, this trailer highlights the love story between Lady and the handsome Tramp.
{info from Disney Press release}
You can also check out a trailer for Lady and the Tramp below: