We're sharing lunch ideas for kids + teens, lunches they can make at home or take to school.
Florida Orange Juice is cheering and supporting families and students' health and wellness every step of the way. This post is sponsored by The Florida Department of Citrus.
All opinions are my own. #TheOriginalWellnessDrink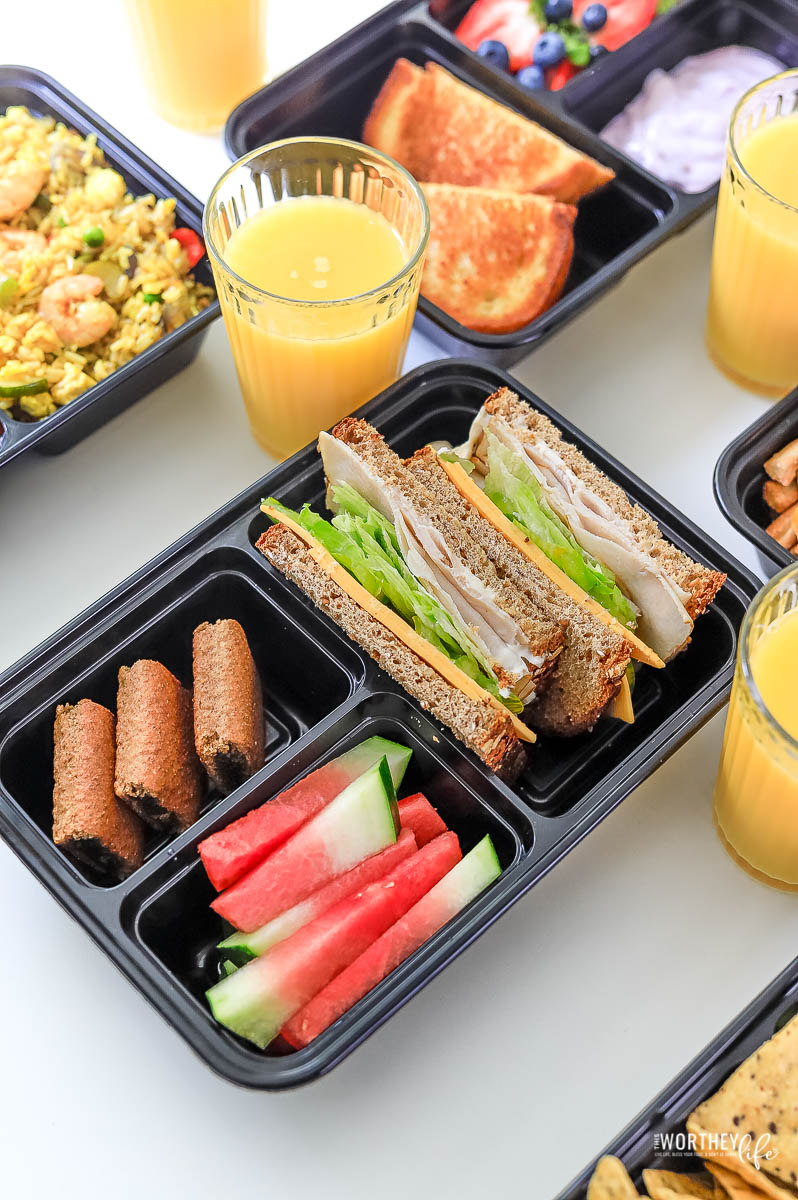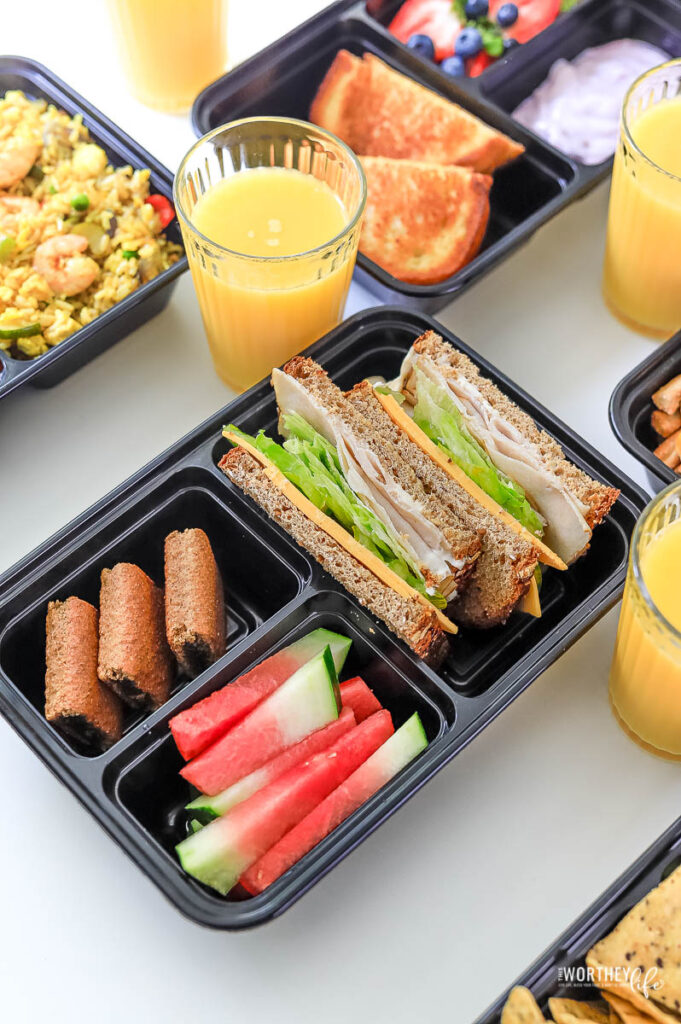 School Lunch Ideas For Kids + Teens [Lunch Ideas at Home]
The new school year is about to start for our three teenage boys, and we're working on getting ready.
Like many parents, we're all scrambling to turn dining rooms into classrooms and figuring out how to make sure each child has a designated work area.
We're still waiting to hear from the school about how this year will look, but we are starting the school year off at home.
New lunch post to check out: 25+ lunch ideas for kids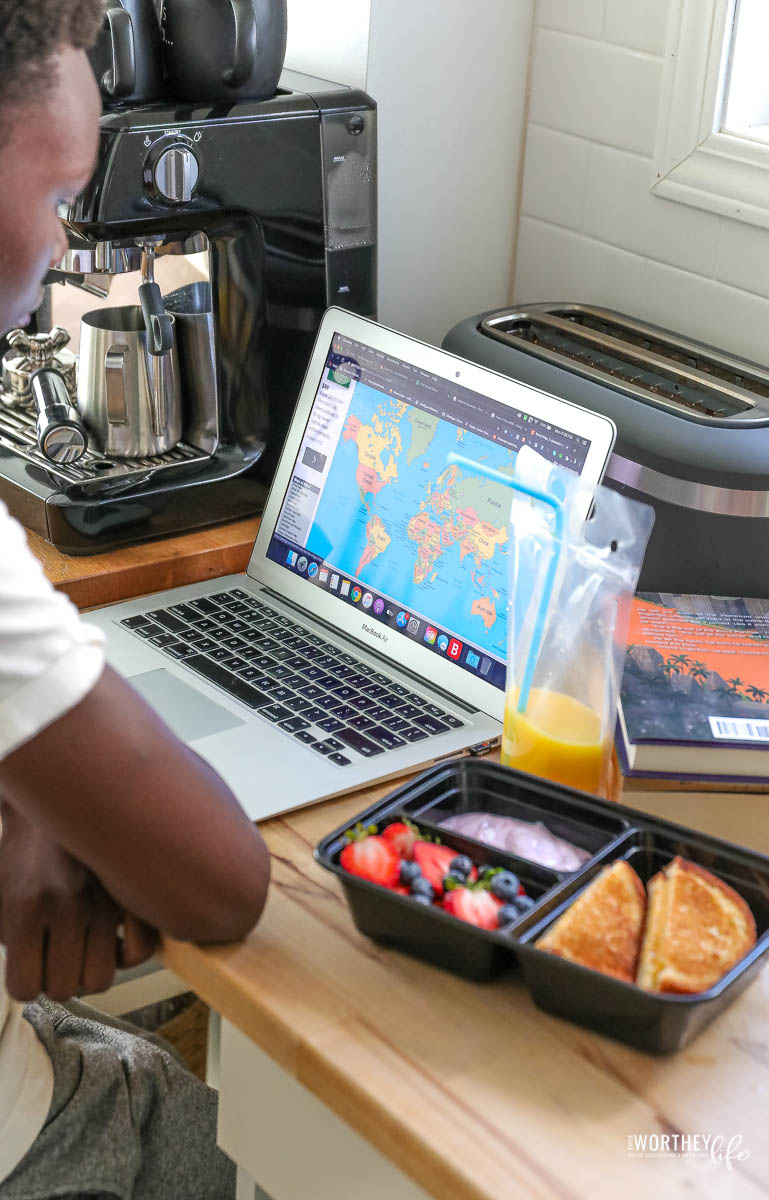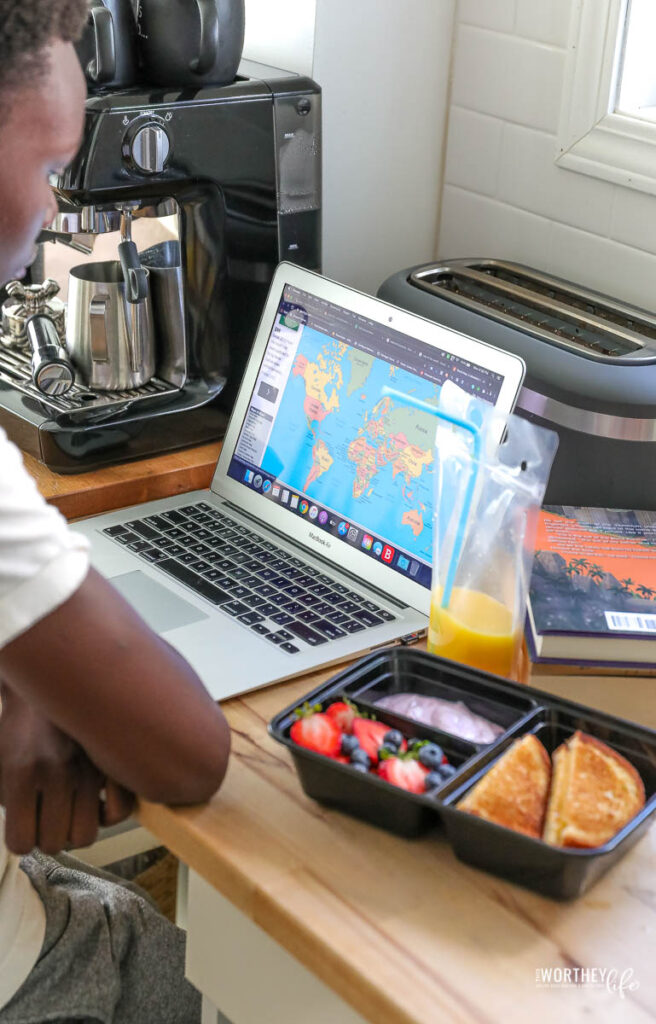 As we pivot and set up for virtual learning, the end goal is for our boys to have a successful and healthy school year.
Our new reality means we've had to set up individual school workstations, which include a separate desk, laptop, and a list of school supplies for each of our teenage boys.
It's going to be an adjustment, but we're going to make the best of it.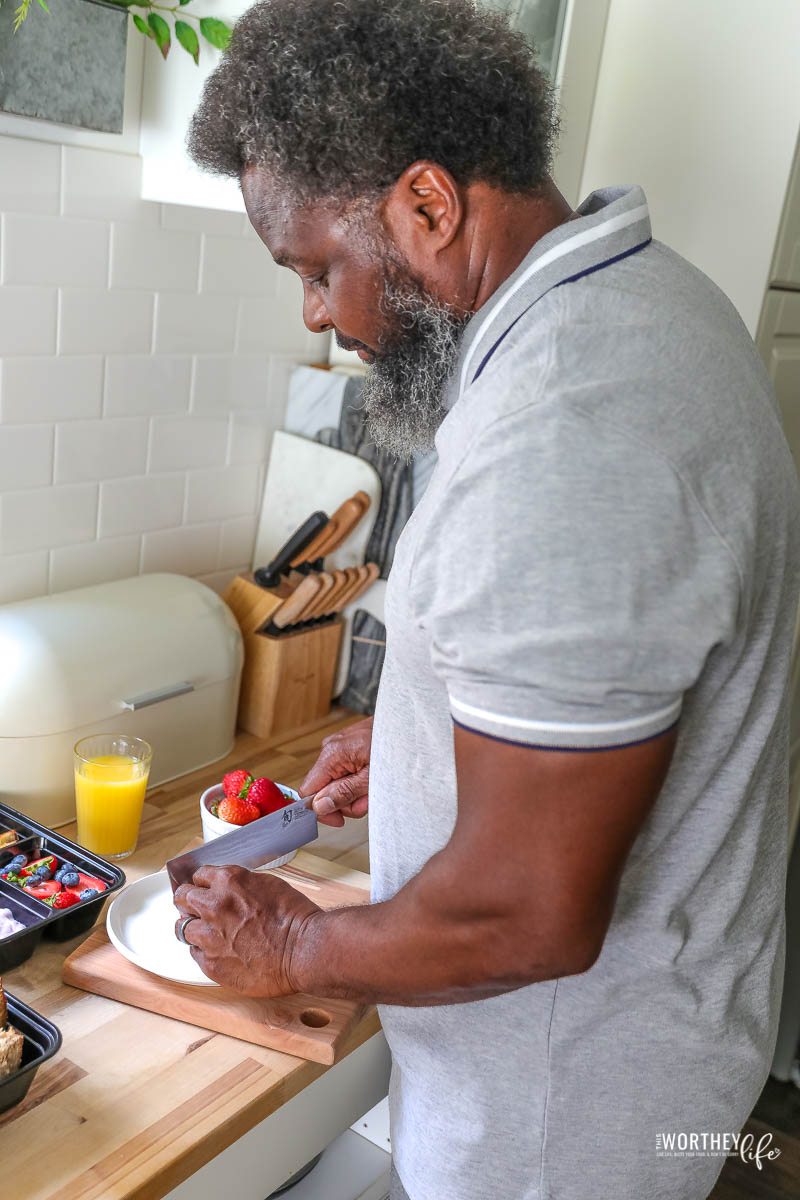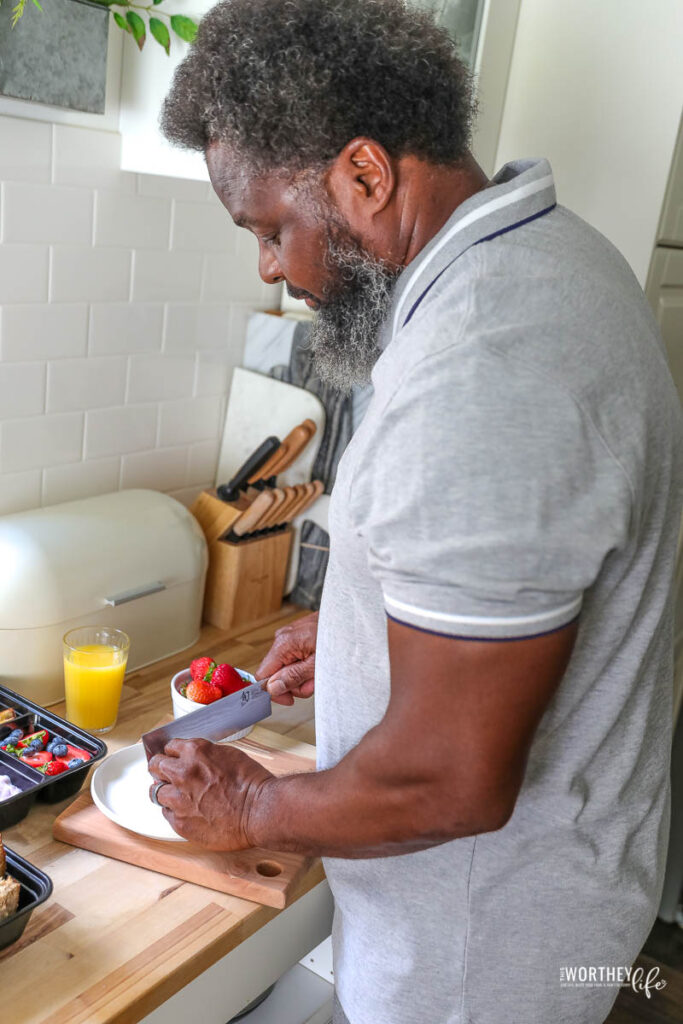 Lunch is still on the menu!
We'll still need to make lunches regardless of where school takes place.
As parents, we wear many hats: teacher, gym teacher, art teacher, and even the lunch lady (or guy)!
I'll say this, 2020 has required us all to dig a little deeper, and along the way, we surprised ourselves.
Who knew we could successfully wear so many freaking hats and keep all the balls in the air?!
It's exhausting, so remember, as we take care of our families, let's make sure we take good care of ourselves too! Take breaks.
Don't be too hard on yourself. And most importantly, ask for help when you need it.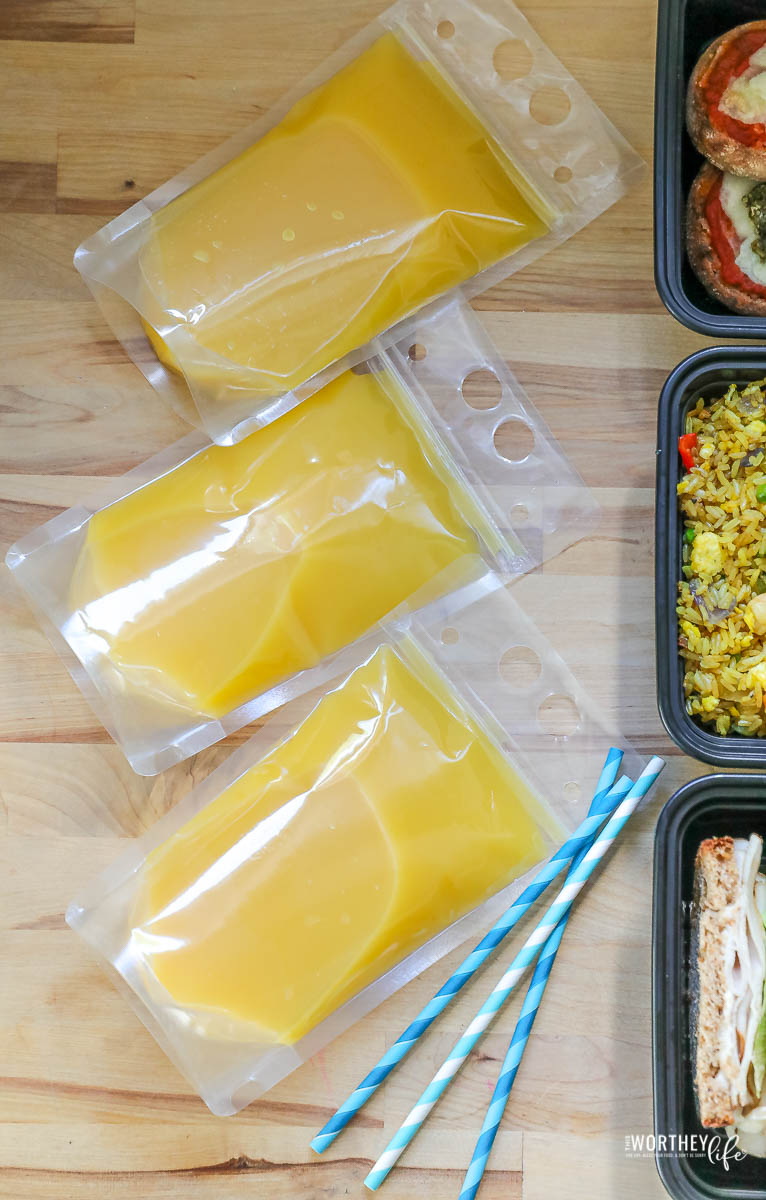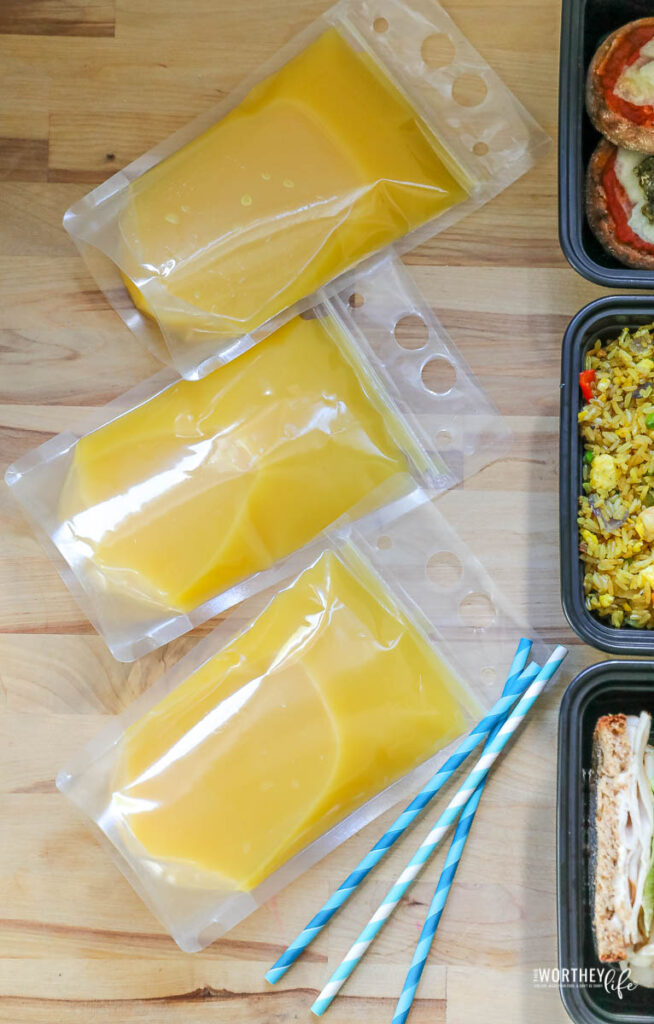 As we put together lunch menus for our boys, we're making sure they get their daily 8-ounce serving of Florida Orange Juice.
Florida OJ has benefits like nutrients for immune system support, hydration, iron absorption, weight management, and more.
All the good things we need to give our bodies a chance and help keep us healthy.
Visit their webpage to learn more about the health benefits of Florida Orange Juice.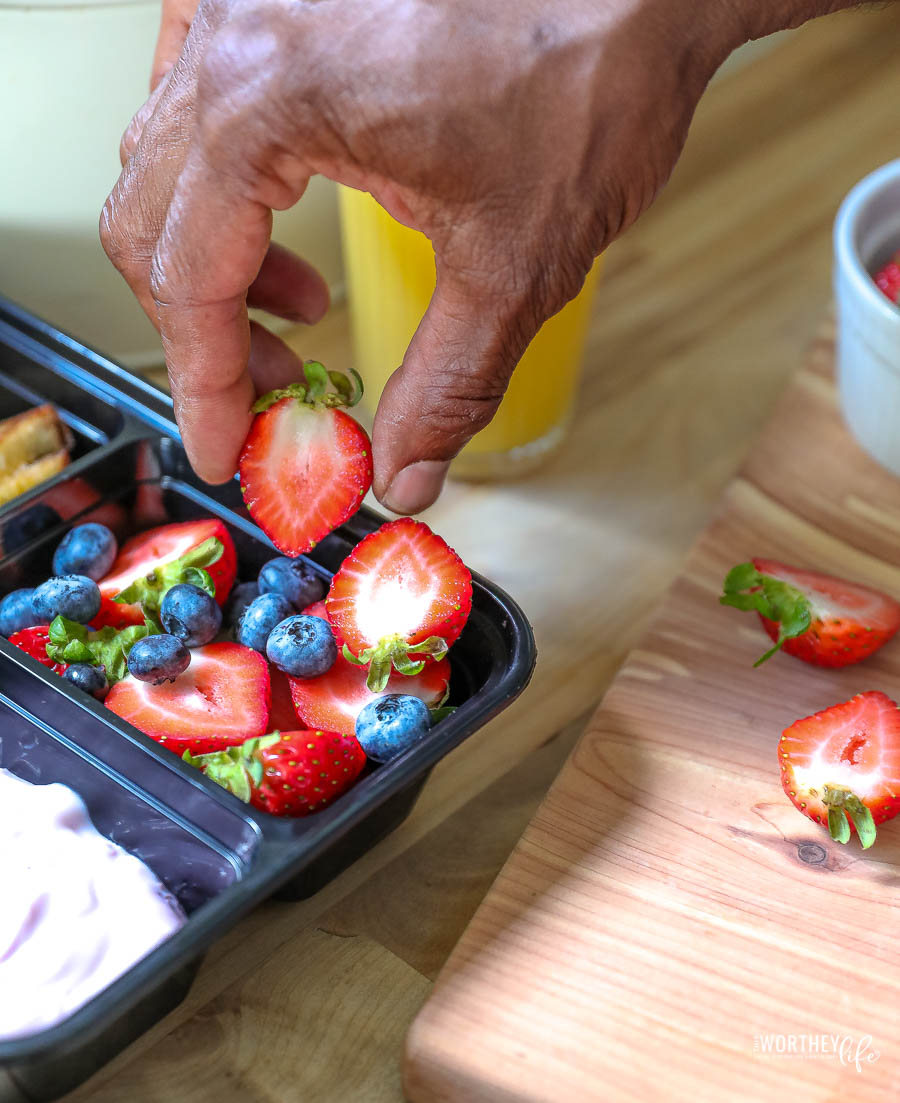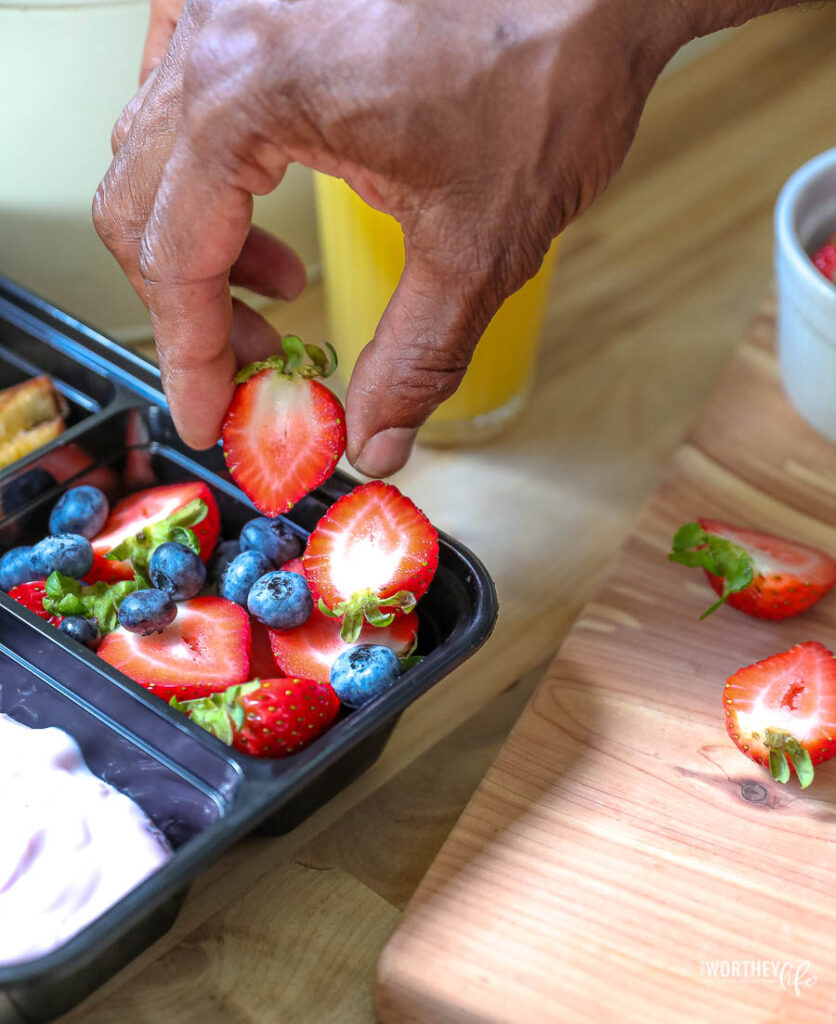 Our boys are 17, 17, and 15, which means they benefit from an 8-ounce serving per day.
When they're drinking Florida Orange Juice, they're getting plenty of nutrients like vitamin C (more than 100% of the Daily Value!), potassium, folate, and more.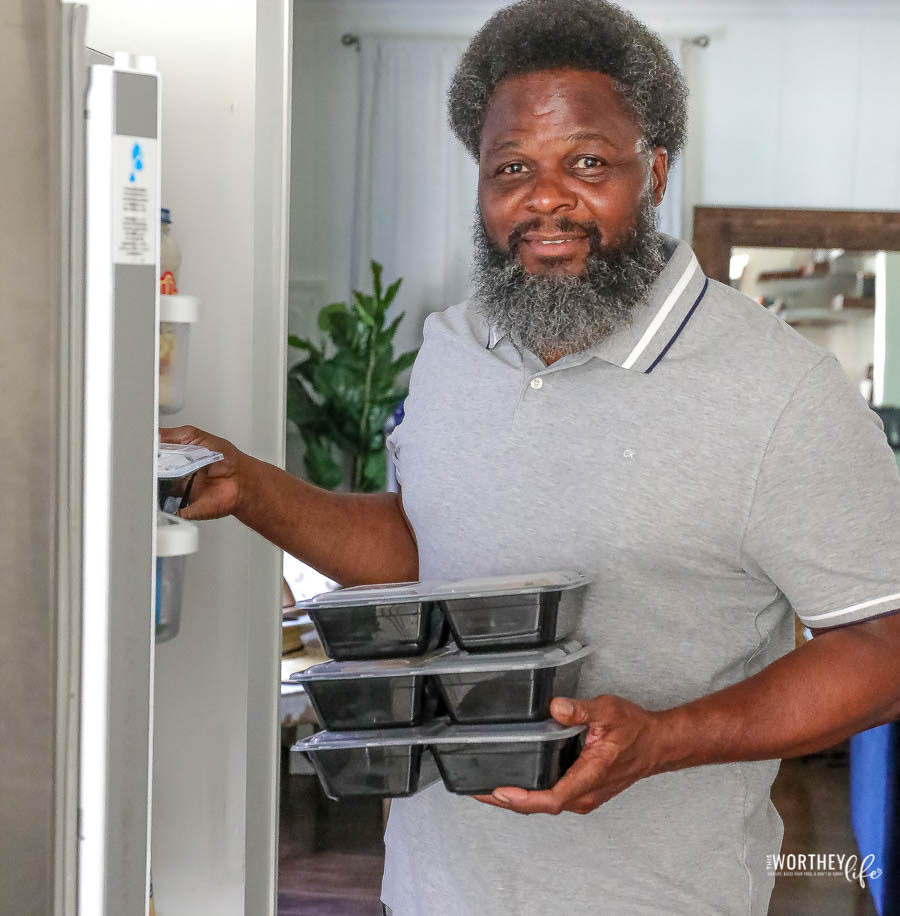 Preparing School Lunches for five days, here are a few recommendations:
Florida Orange Juice. No lunch is complete without an 8 oz serving of 100% orange juice (kids 7+ and up). Kids ages 1-6 will need a 4-6 oz serving size.
Leftovers. Creating school lunches at home is an easy way to use up leftovers.
Fresh Fruit & Vegetables. Adding fresh fruits, 100% fruit juices, and vegetables to school lunches is a great way to add additional nutrition and lots of healthy fiber.
Grain, Nuts & Seeds. Take your pick or use all three! Grains are another tremendous nutritional source, and some of our favorites include quinoa, brown rice, wild rice, buckwheat, amaranth, and millet. We also love to include an assortment of nuts like almonds, cashews, pistachios, walnuts, and macadamia. And when it comes to seeds, sunflower, chia, pumpkin, hemp, and flax seeds are at the top of our list.
Yogurt, Applesauce & Smoothies. Our boys love yogurt, applesauce, and smoothies! Adding these foodie favorites to their school lunches is another great way to ensure they'll get lots of good stuff to keep them powered up and focused throughout the school day. Another reason to have 100% orange juice stocked in the fridge is it makes a great base for smoothies, giving your body the nutrients it needs.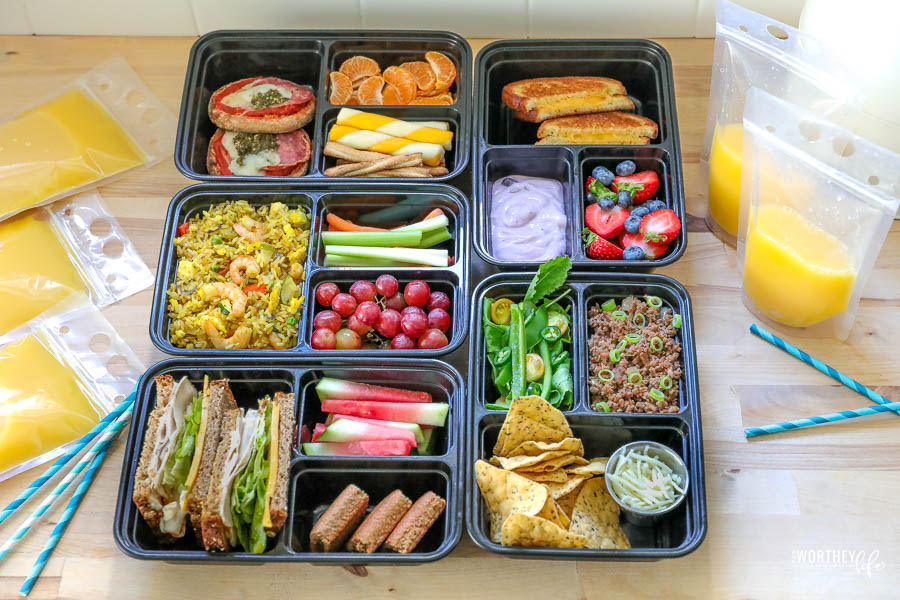 School Lunch Ideas for Kids + Teens
We put together a week's worth of school lunch ideas shared below. You can make them the night before or at the beginning of the week to help save time.
As we prep and make a plan for virtual learning, creating lunches the kids can make on their own or ahead of time is essential.
With a limited amount of time to eat, we want our boys to be able to pull their lunch out of the fridge, warm it up (if needed), and enjoy it before digging back into their books.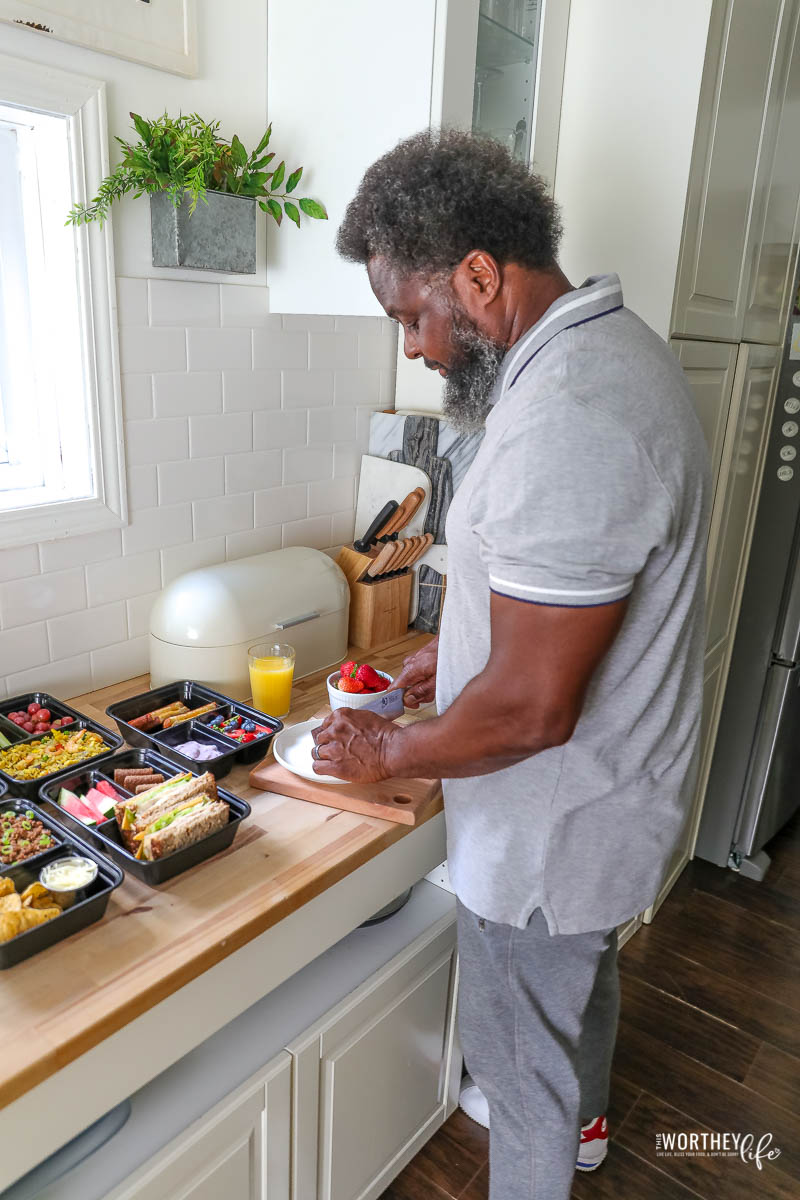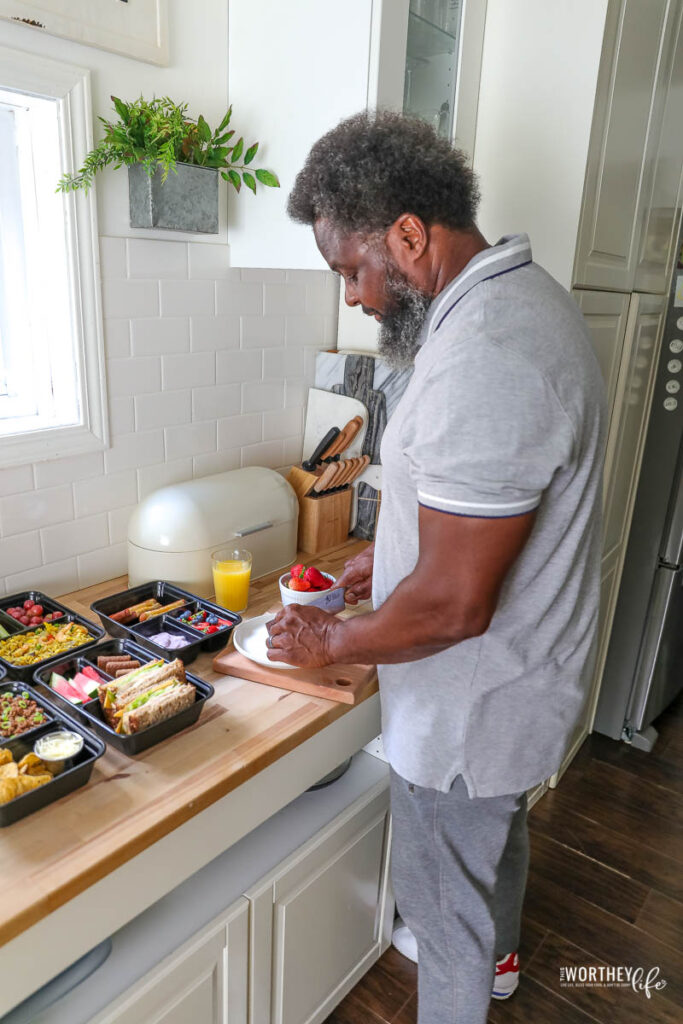 Since our kids are older, we put together a menu of lunch ideas filled with their favorite foods.
Pairing these ideas with Florida Orange Juice, we know we're getting all the nutritional benefits to help them power through the afternoon slump.
This is another reason we always choose 100% orange juice; it contains no added sugar.
We all know the afternoons are harder, and having the proper lunch paired with Florida OJ is the best recipe for success.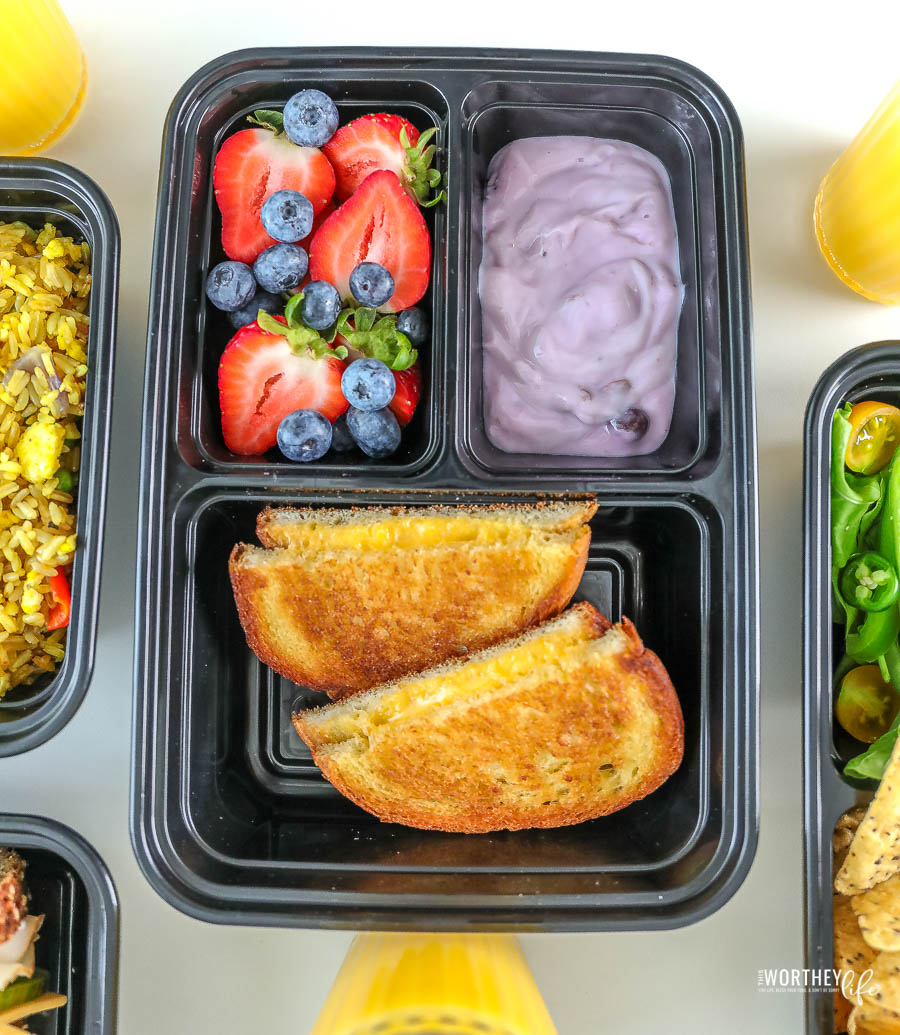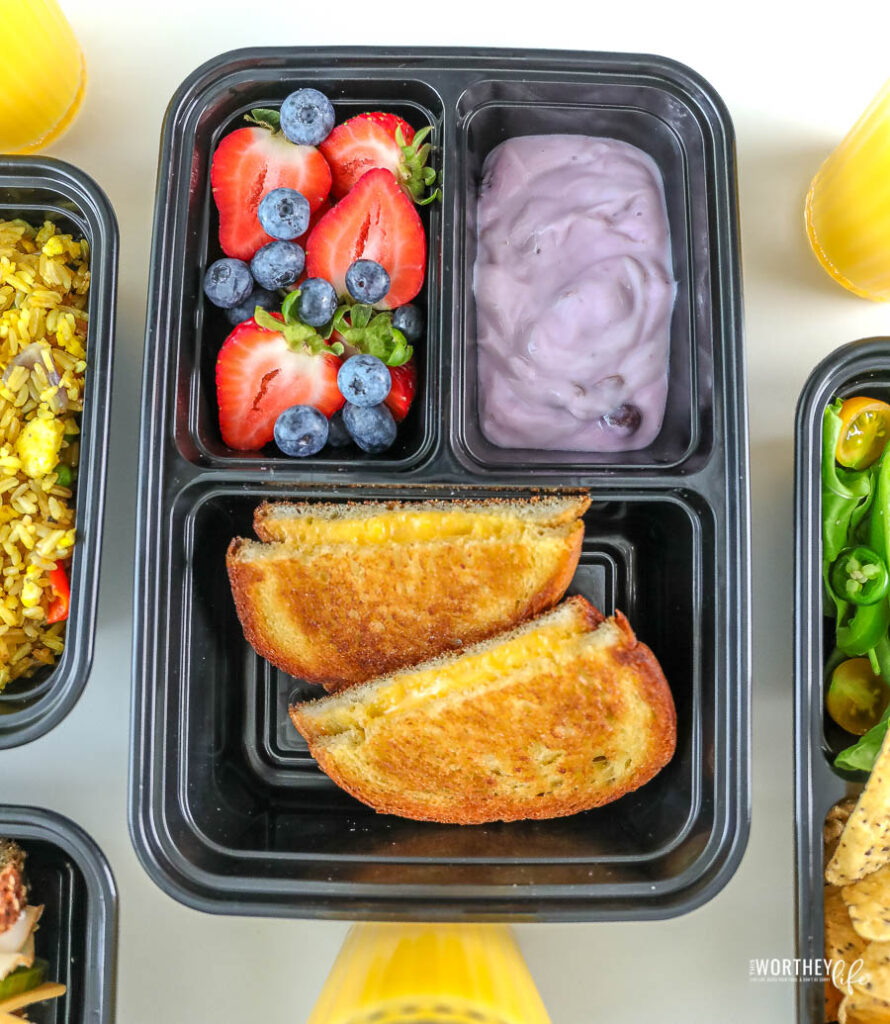 Monday:
Florida Orange Juice

Grilled Cheese

Strawberry & Blueberries

Yogurt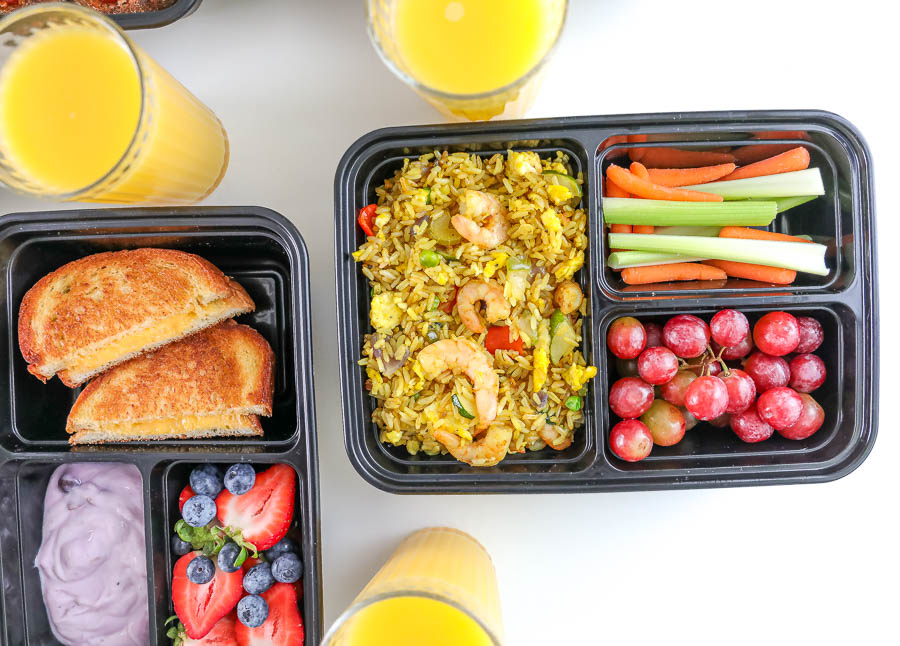 Tuesday:
Florida Orange Juice
Shrimp Stir-Fry Rice
Celery & Carrots
Grapes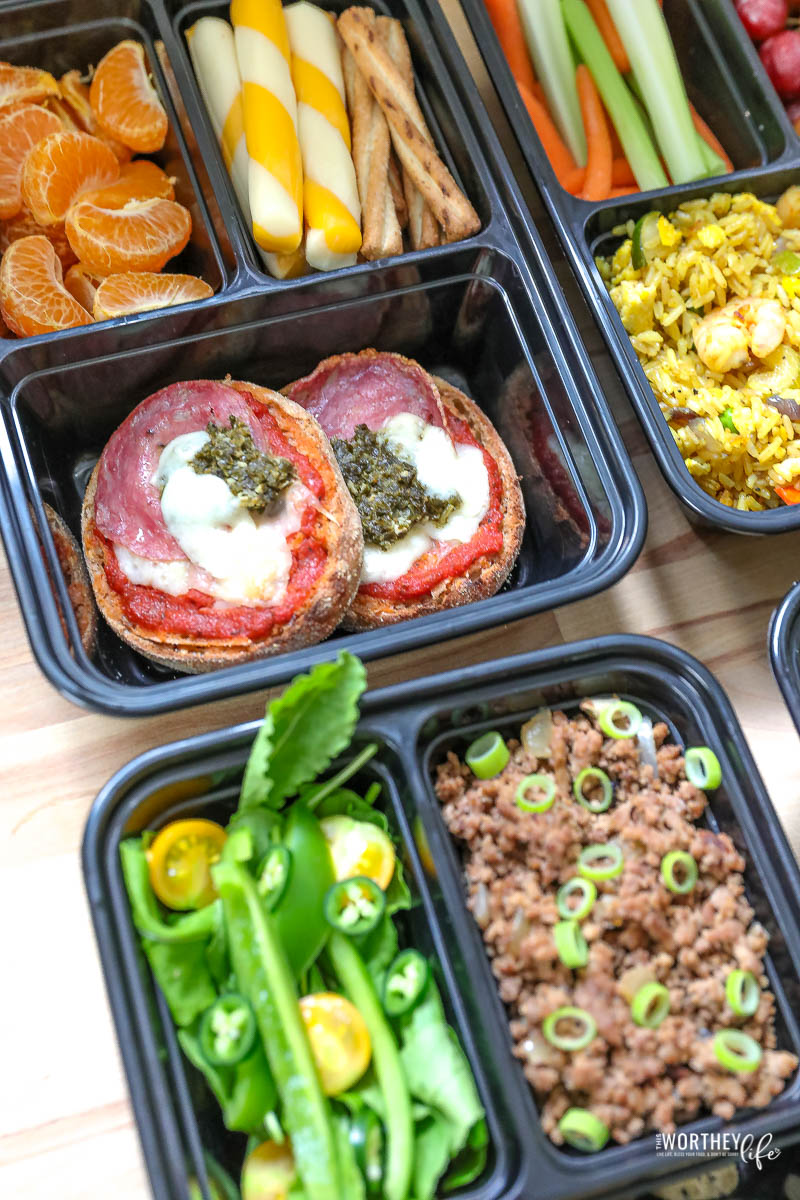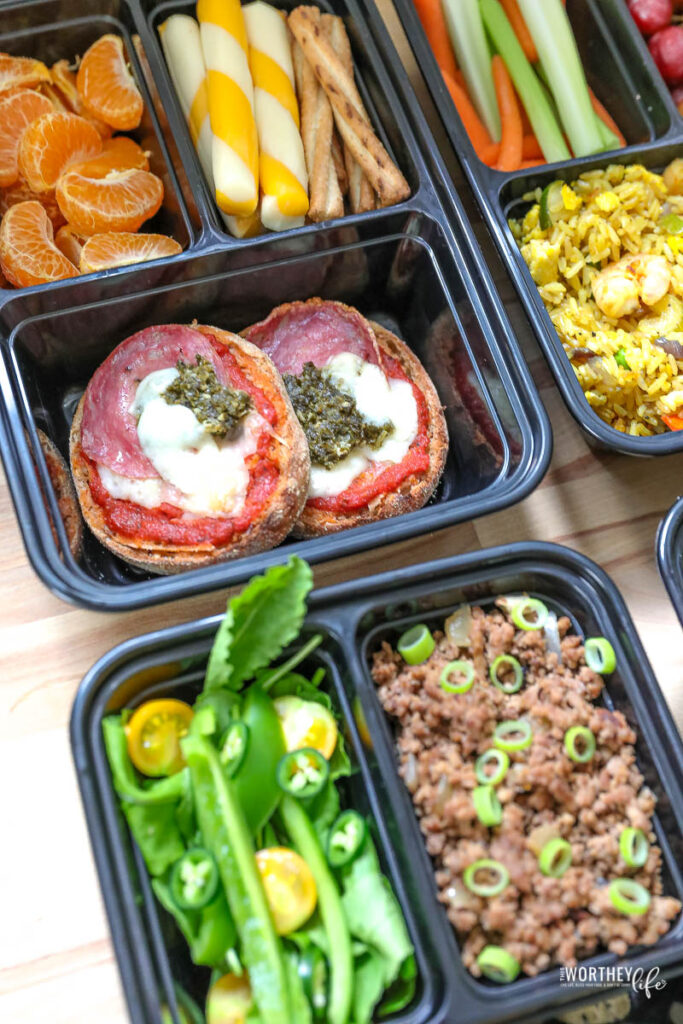 Wednesday:
Florida Orange Juice
English Muffin Pizzas
Slices of Apple
Cheese & Pretzel Sticks
Do your kids love pizza? Check out this pizza kabob recipe that's perfect for lunches!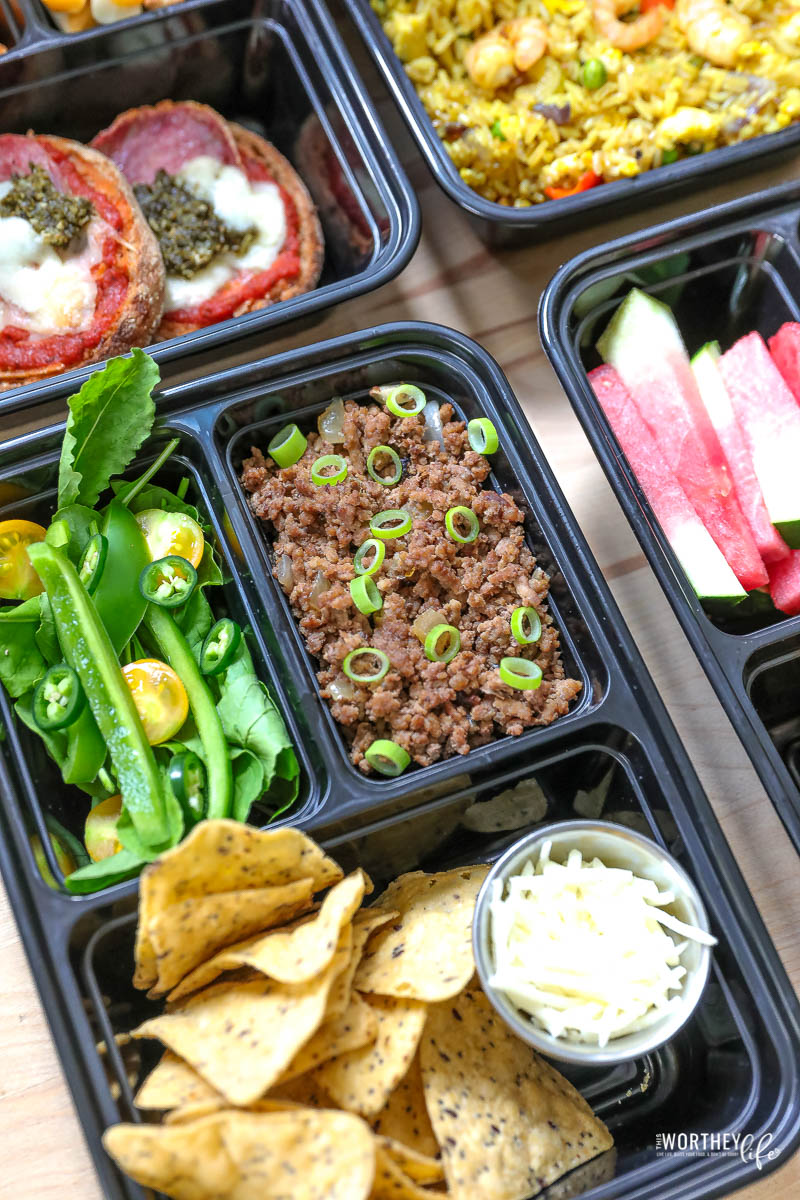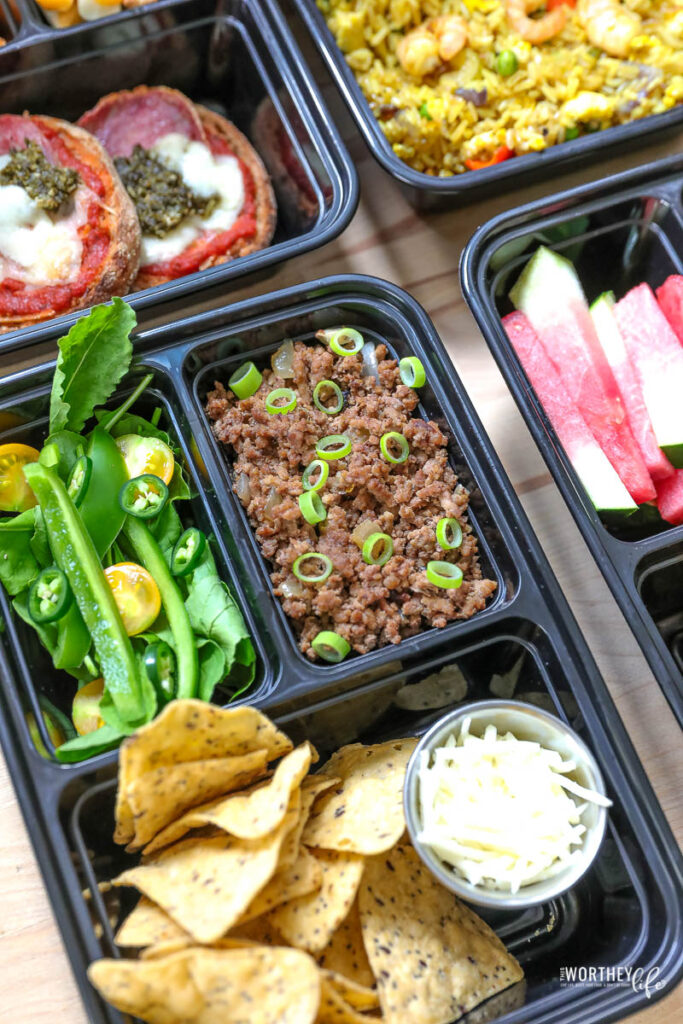 Thursday:
Florida Orange Juice

Nacho Chips, Cheese, and Ground Beef

Vegetables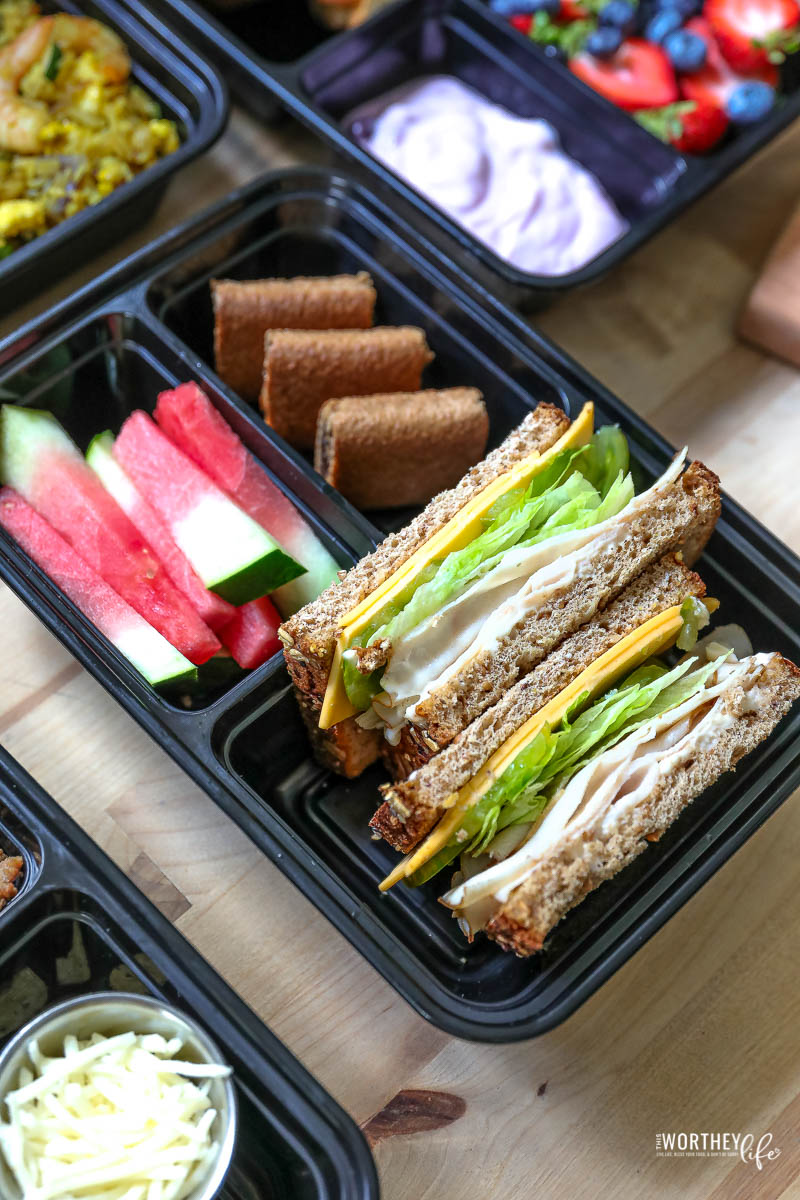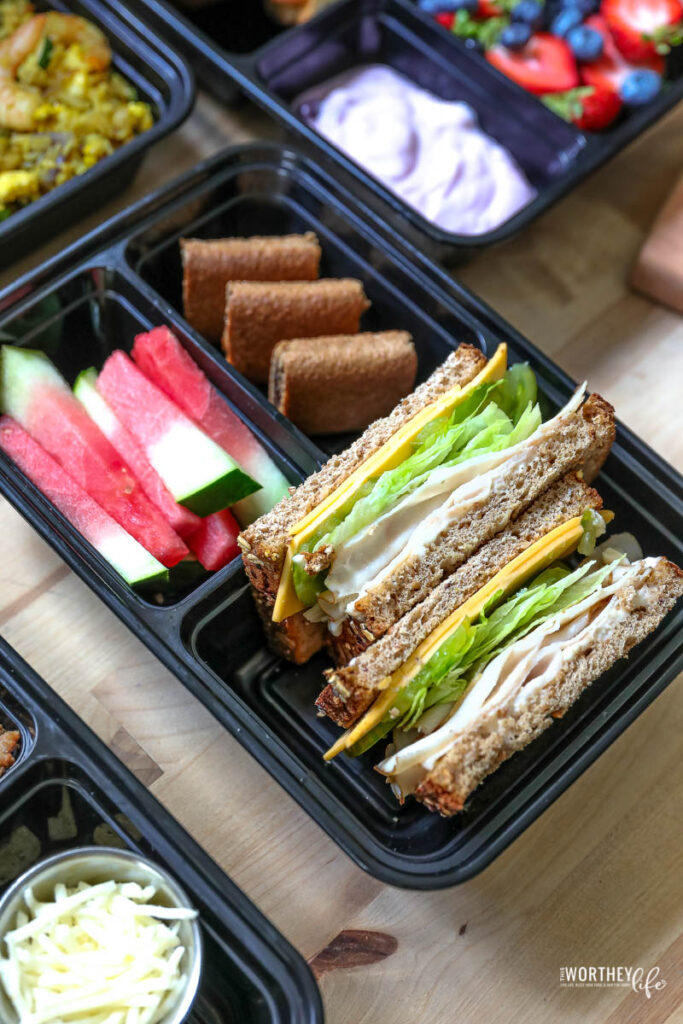 Friday:
Florida Orange Juice

Turkey Sandwich on Whole Wheat Bread

Fig Bars

Watermelon Slices
We used reusable lunch prep containers, as well as juice pouches.
Savings tip: It's cheaper to buy bottles or cartons of 100% orange juice and fill the pouches with the appropriate serving size versus buying small juice boxes.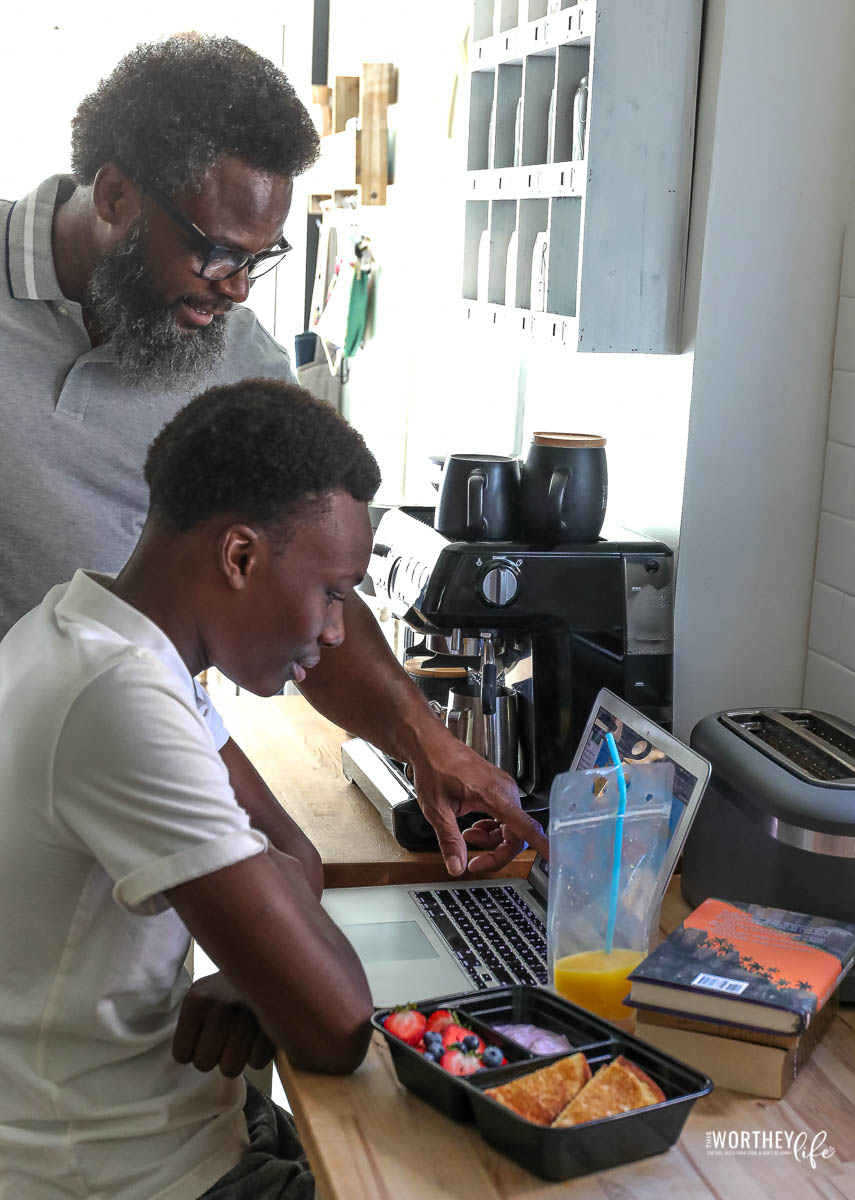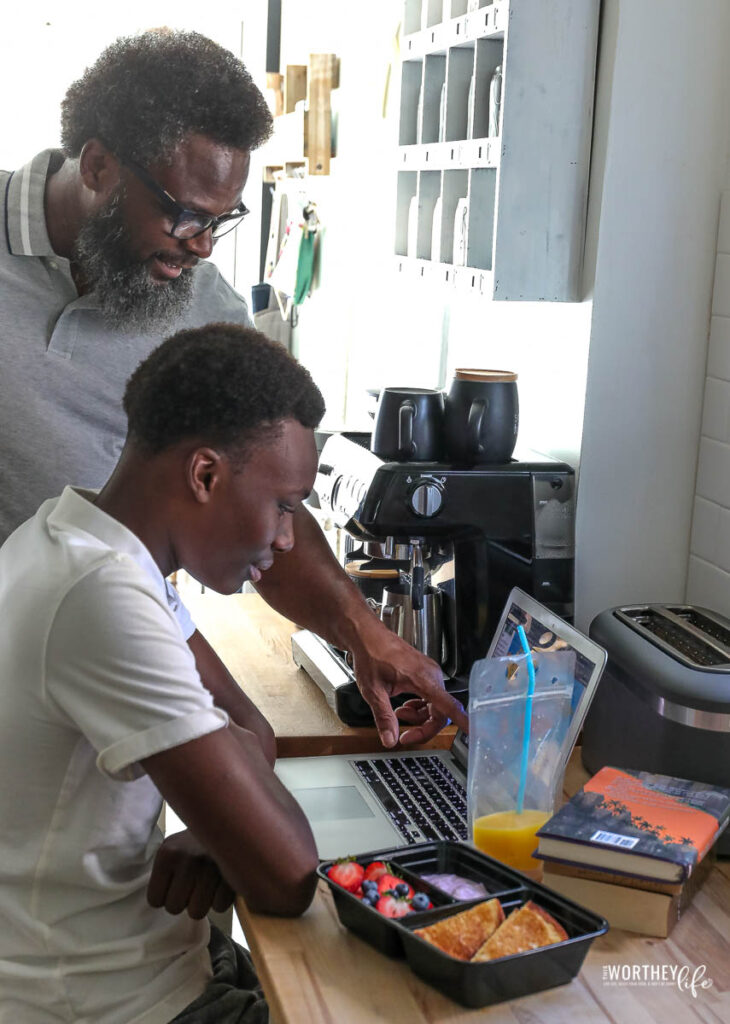 Proper Planning Prevents Poor Performance
Before the school year starts, sit down with your kids and make a plan.
Some kids may be on a different lunch schedule, you may be working from home, your child may need help with assignments, computer crashes, and the list can go on and on. Proper planning goes a long way, and it helps to get the kids involved in that planning process.
Studies show that when kids lend a helping hand to create their lunches, there's a greater chance they'll eat their lunches.
This means less food waste, and that's a win-win for everyone.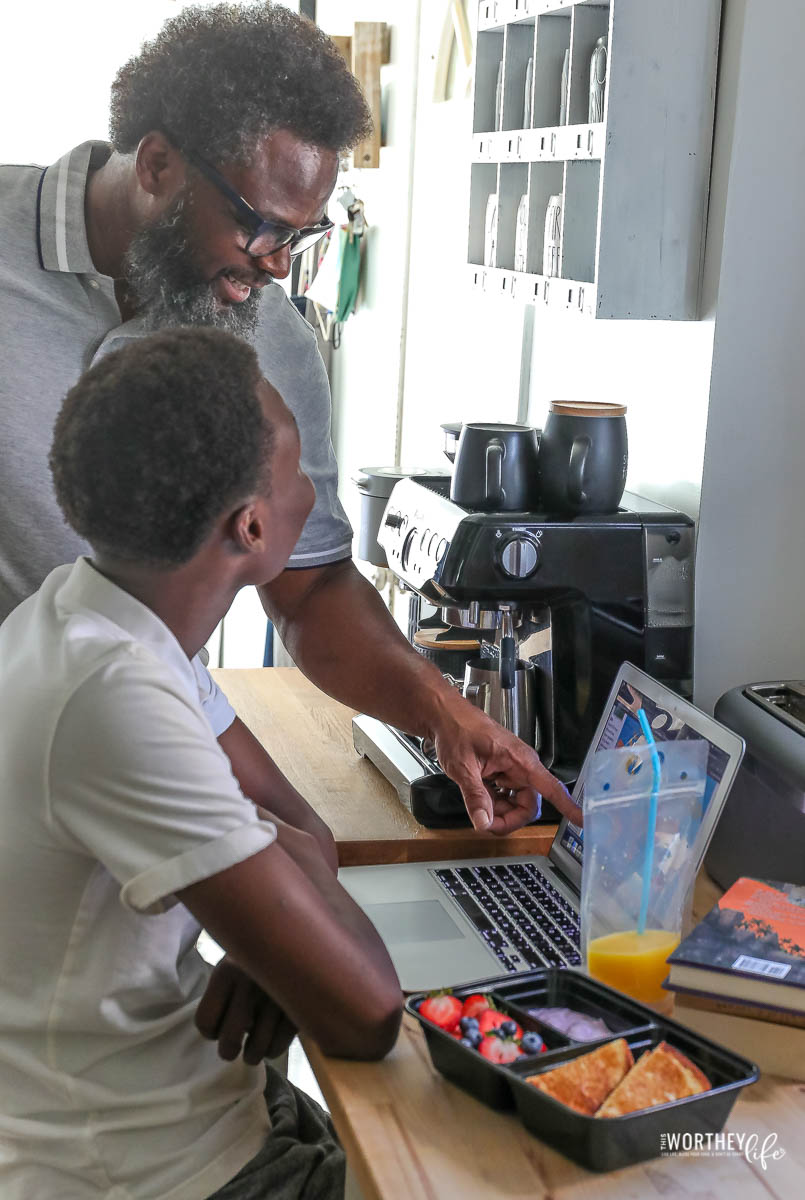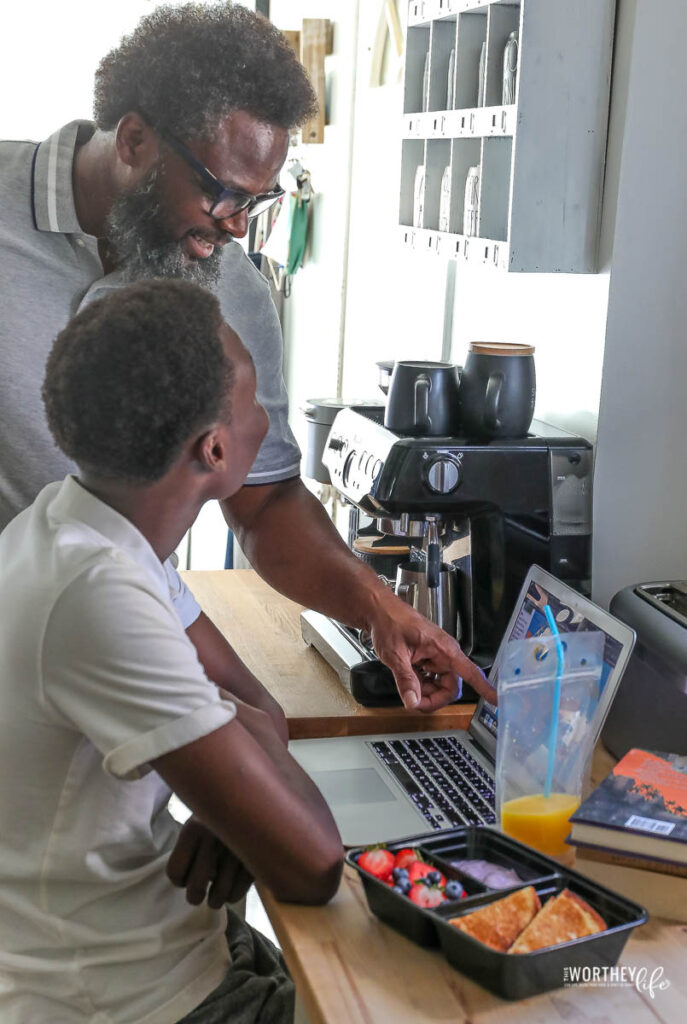 We're here to help you take some of that planning off your list by sharing these five school lunch ideas. They are great for both teens and elementary kids.
You may have many of these items already on hand. Be sure to add Florida Orange Juice to your grocery list.
We're using 100% orange juice to keep our whole family hydrated and the many nutritional benefits for our health + wellness to help us get through this unique school year.
You can learn more about those health + nutritional benefits and where to find Florida OJ by visiting their website.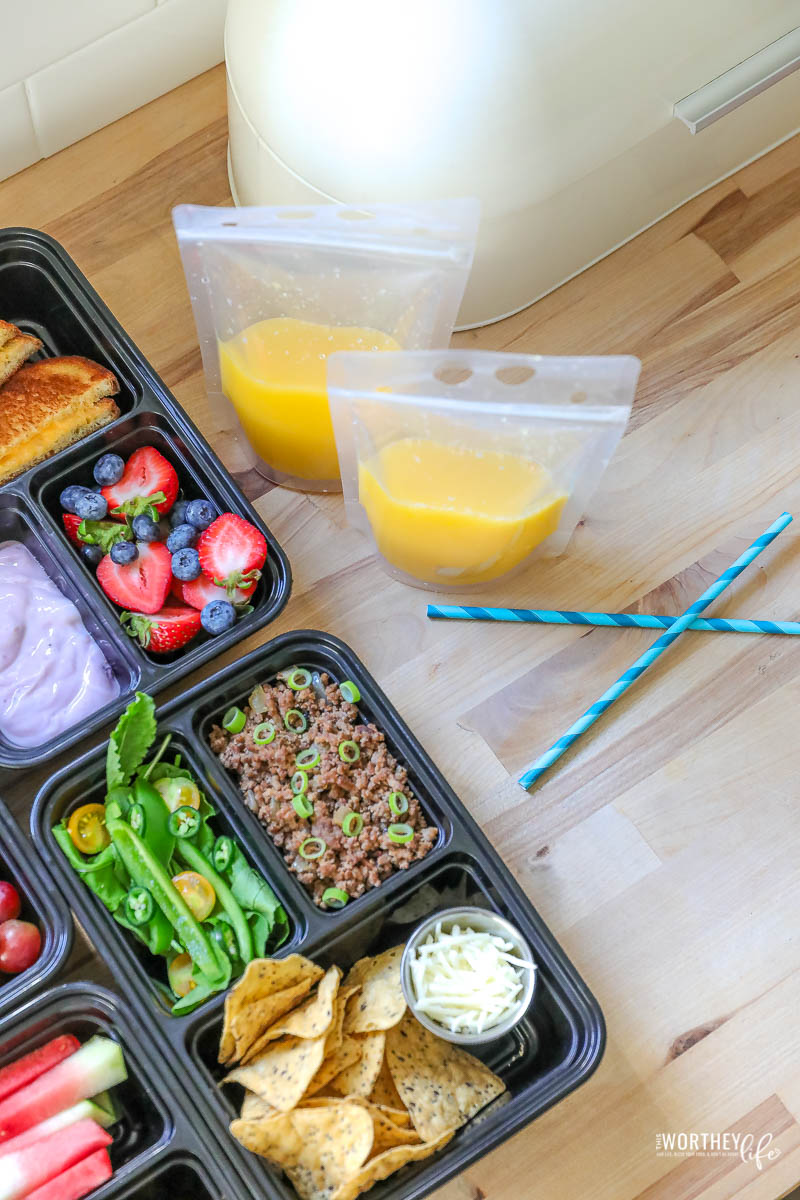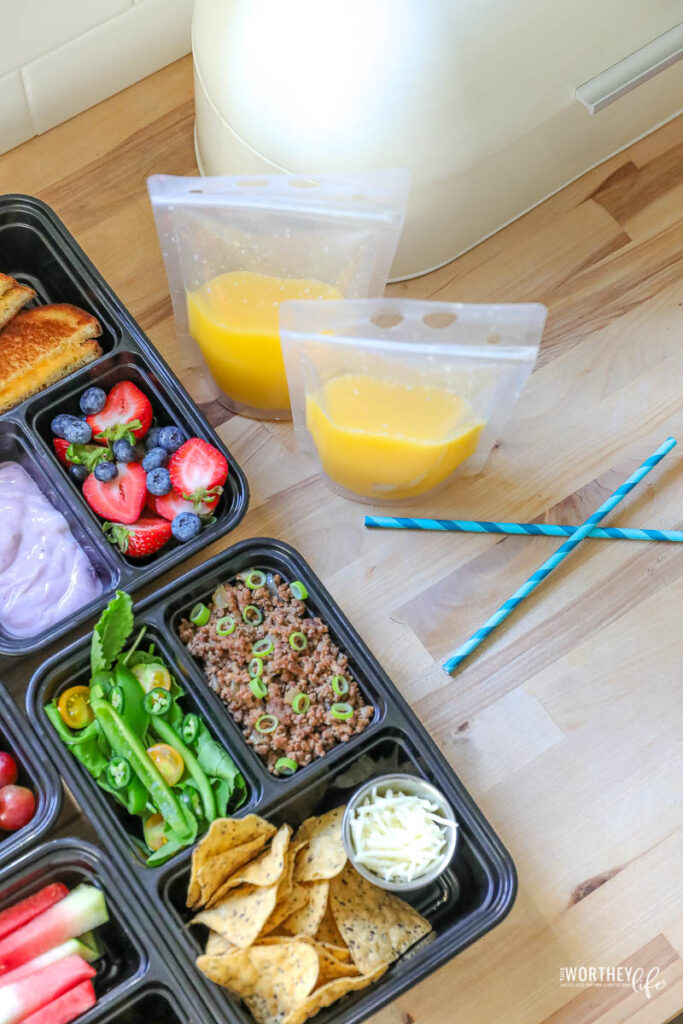 We all know this school year will be a challenge for the kids, as well as the teachers and support staff.
Find more lunch ideas below:
Lunch Box Ideas | Peanut Butter Walnut Cookie Squares
Grilled PB & J Banana Sandwich
Lunchbox Idea: Grilled Cheese with Tomato, Zucchini & Bacon Sandwich