Here is a fun way to decorate for Mardi Gras with a Give Me Beads Tree! Get decorations on how we put this Mardi Gras party idea together.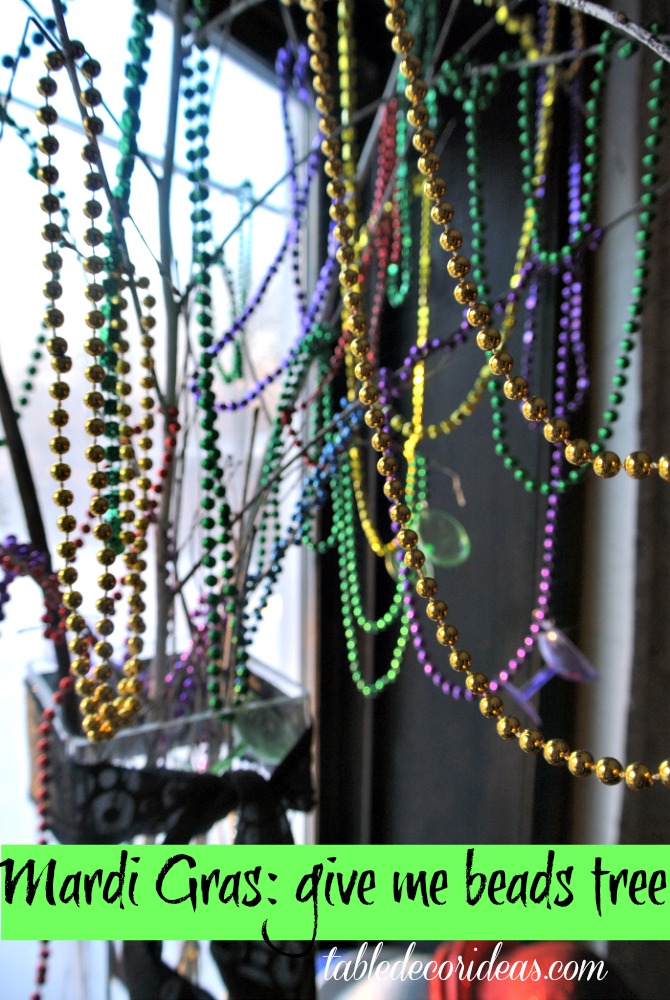 Mardi Gras Party Idea: Give Me Beads Tree
It's time to party! It's Mardi Gras time! Mardi Gras is also known as "Fat Tuesday"! Do you have any plans this year for Mardi Gras?
So where do the beads from Mardi Gras come from?
Float riders often toss out "throws" or inexpensive trinkets to the crowd, including strings of beads. These beads used to be made of glass, but today most are plastic, and the most sought-after light up with LED lights, Leathem said. Purple, green, and gold are the traditional Mardi Gras colors. The Krewe of Rex chose these colors in 1872 to honor a visiting Russian grand duke, whose house colors were purple, green, and gold, according to the website Mardi Gras New Orleans.
Later, the Rex krewe assigned meanings to each color. Purple stands for justice, green for faith, and gold for power. (source: USA Today)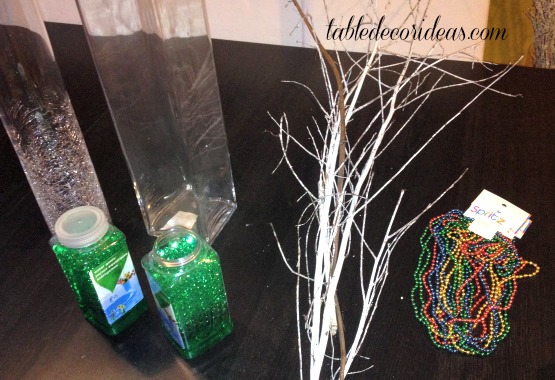 Many people also associate the many beads women wear when they flash others. If you're planning a party and you want a new creative way to hang your beads, check out this give me a bead tree!
Places to get beads for Mardi Gras
You can score some beds from the dollar store.
You can find the trees at stores like Hobby Lobby or Michaels. (or any other craft store). OR a free way to do this is to find some good branches outside.
You can find the gel water beads at the craft store.
Any vase (preferably a tall one)
Mardi Gras fake money- dollar tree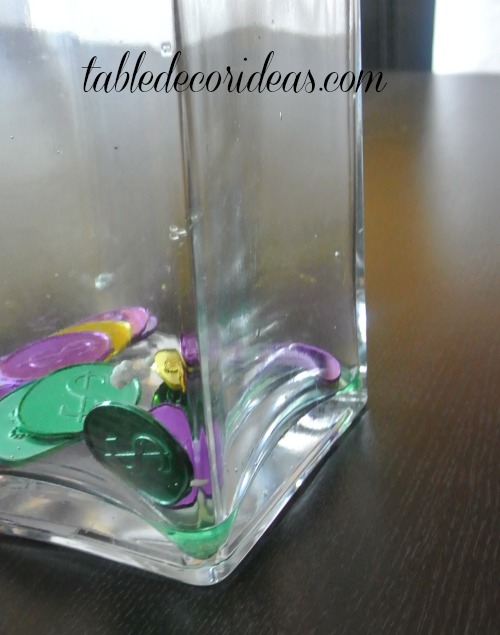 How to put together a Give Me Beads Tree
Start by putting a handful of fake Mardi Gras money in the bottom of the vase.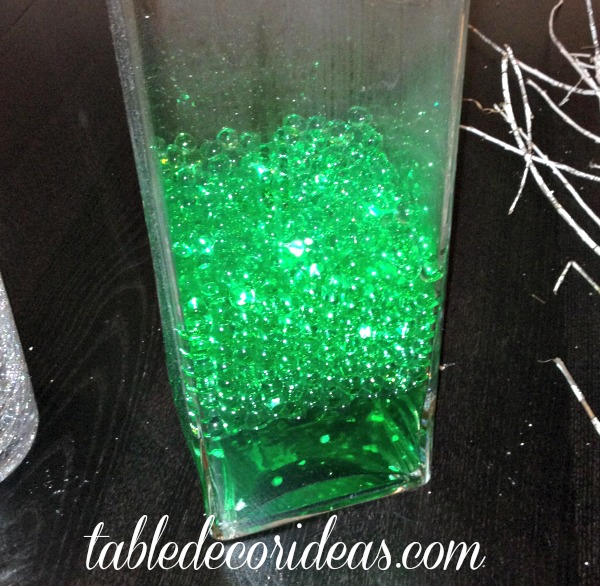 Then add the green water gel beads. (or you can pick another color, or a few colors to mix it up.) I had to go back to Michaels to get more gel beads and grabbed some multicolored ones.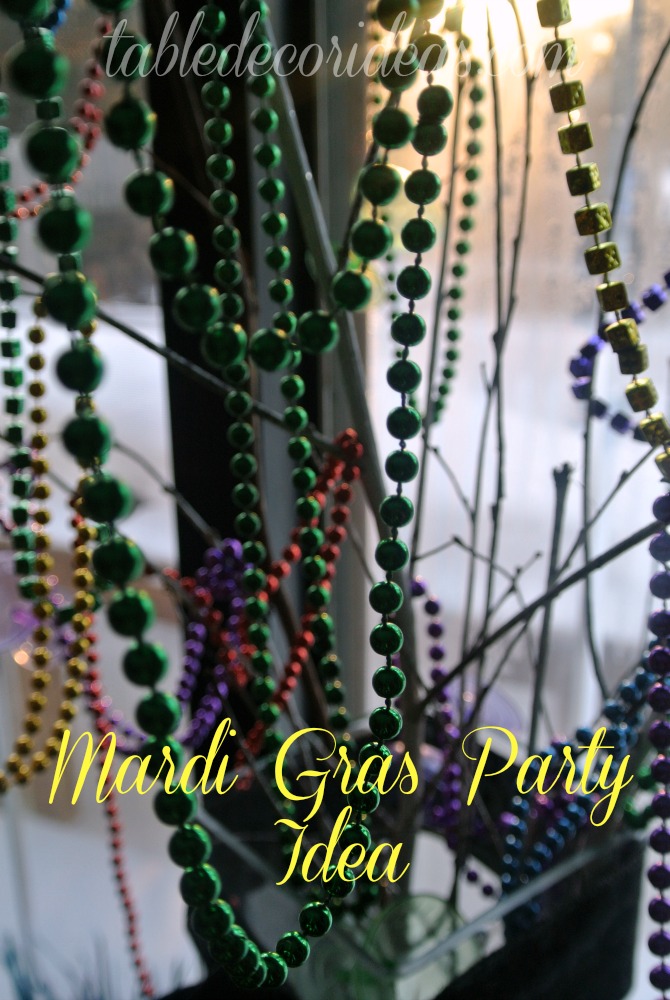 Add the branches or sticks. Then carefully drape the beads around the tree. Once finished, it will look something like this: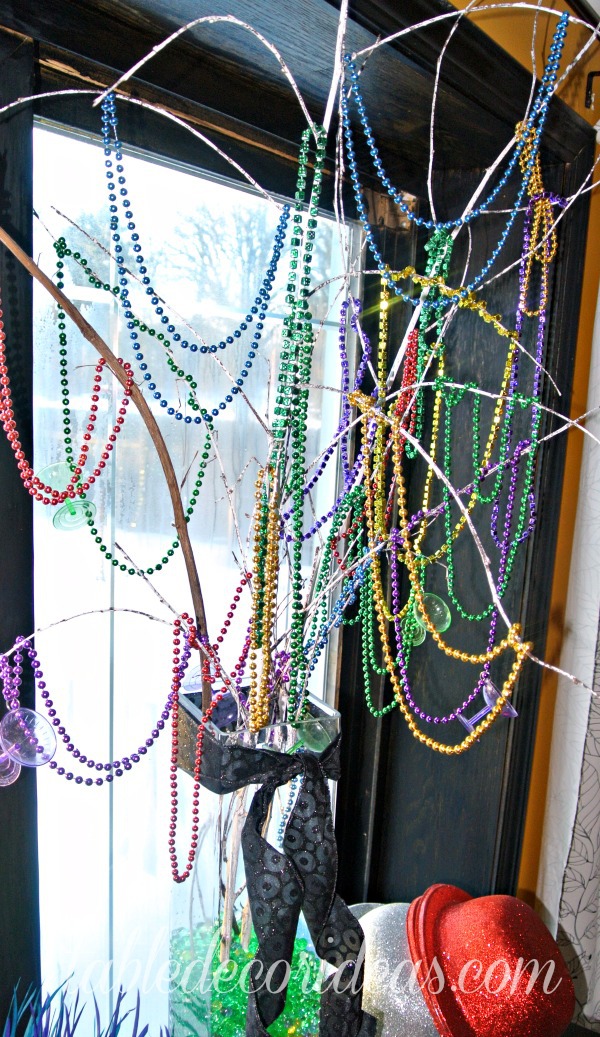 It has a funky look to it. I wasn't feeling the final product at first, but when added to the whole Mardi Gras Theme, it turned out fine!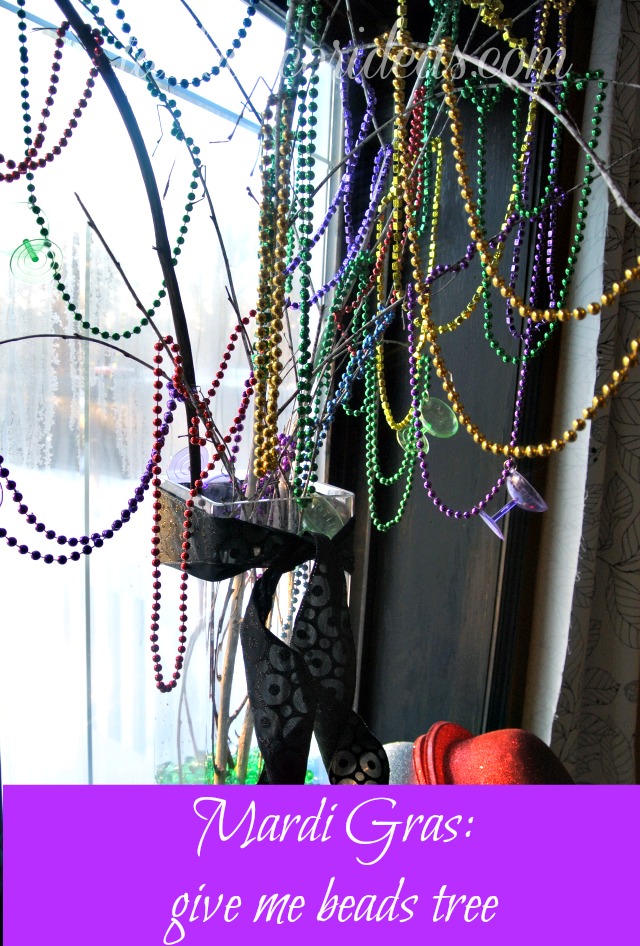 So grab your supplies and have a FUN party!
Enjoy and Happy Mardi Gras Day!
Be sure to check out this roundup of recipe ideas for Mardi Gras!