Our McGriddle copycat breakfast sandwiches are great for a quick back-to-school breakfast or weekend grab-and-go idea.
We made these sandwiches using fried eggs, savory sausage, crispy, thick-cut bacon paired with mini pancakes and brushed with maple syrup.
My son couldn't believe how good they tasted! Instant fan!
I mean, with Krusteaz, everything pancake is possible!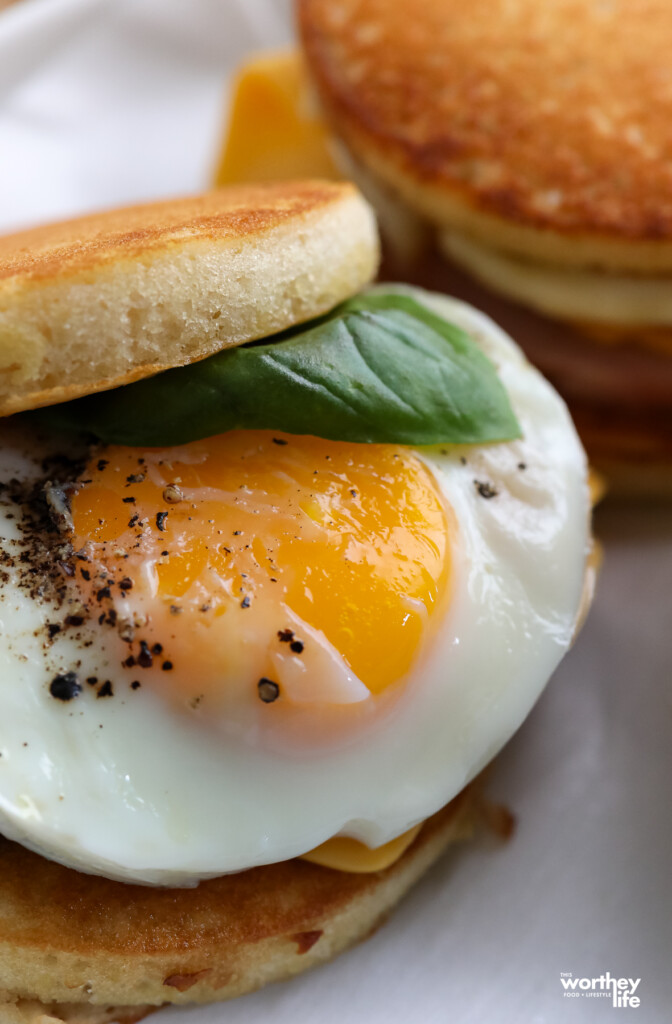 McGriddle Copycat Breakfast Sandwich
Listen. Our youngest has a thing for McGriddle breakfast sandwiches from that one place, but his pockets ain't lovin' it!
And, as a parent, I know I can make a tastier breakfast sandwich by making it homemade.
Plus, these can be made in batches and frozen so he can have them during the school week.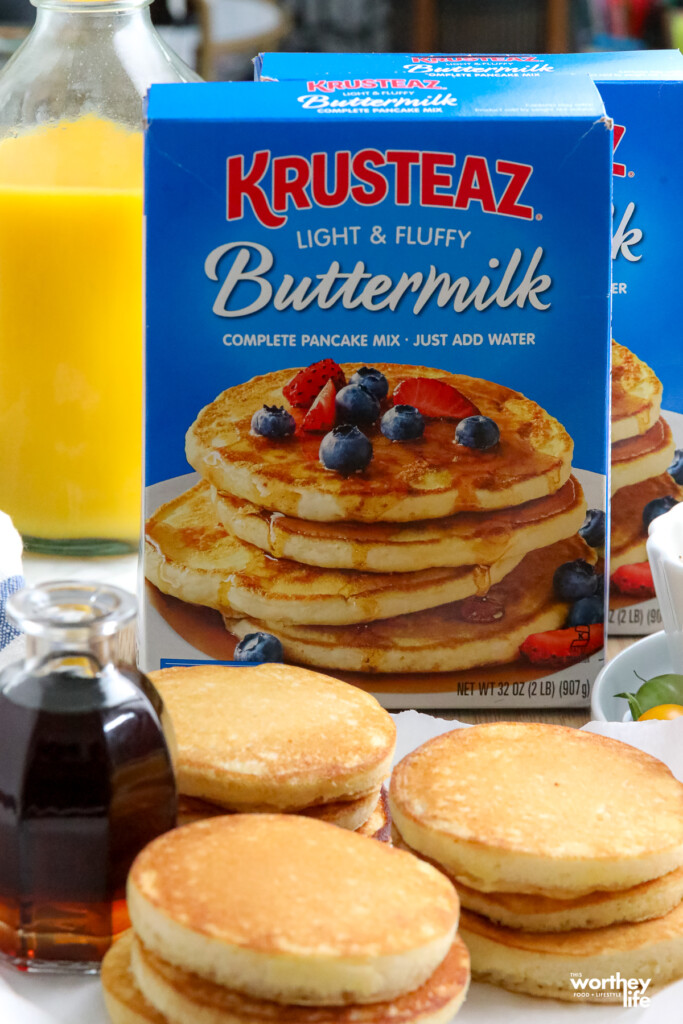 Here's What You Need
Pancake Mix. Over here, we use Krusteaz because it's easy, convenient, and makes the best pancakes.
Sausage, Canadian Bacon & Thick-Cut Bacon. Our son loves his thick-cut bacon, and we also love using breakfast sausage patties and Canadian bacon for this recipe.
Fried Eggs. I also like a good soft fried egg cooked over easy with a bit of sea salt and freshly cracked black peppercorns to taste.
Pure Maple Syrup. When making breakfast sandwiches, I love brushing them with pure maple syrup, but you can also use your favorite pancake syrup or spread on a lil' grape jelly because that's how we do it over here!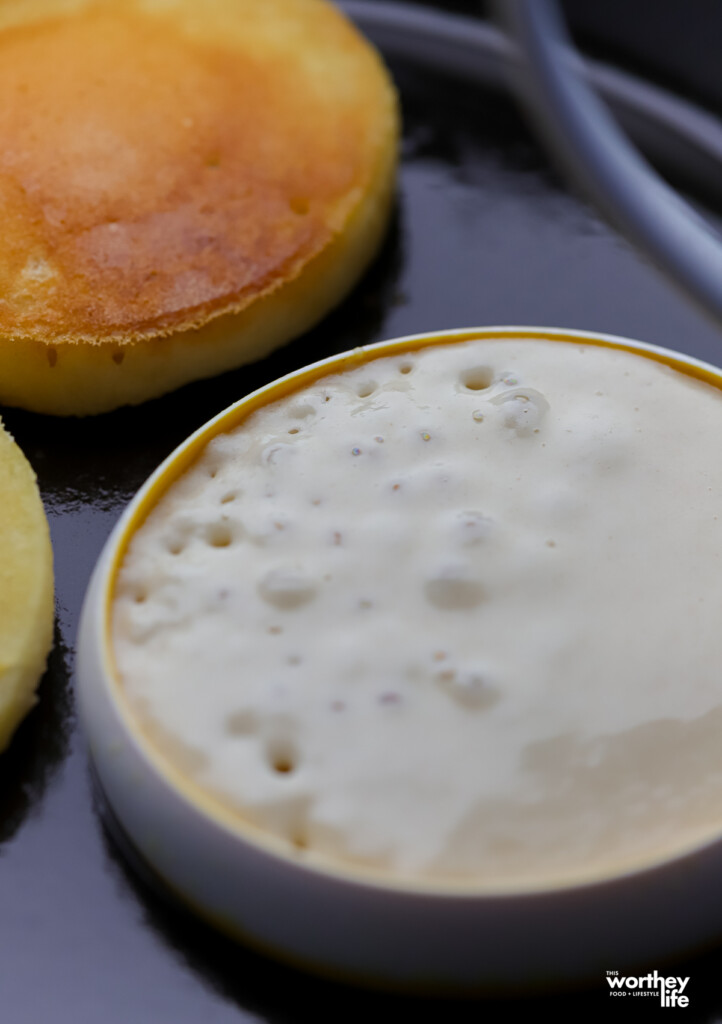 Ingredients for our McGriddle Copycat Breakfast Sandwiches
Serving size will depend on how many sandwiches you need to make
Krusteaz Pancake Buttermilk
Breakfast Sausage Patties
Canadian Bacon
Thick-Cut Bacon
Grilled Onions
Eggs
Sliced American cheese or your favorite sliced cheese like provolone, Swiss, or white cheddar
Pure Maple Syrup [ homemade syrup recipe]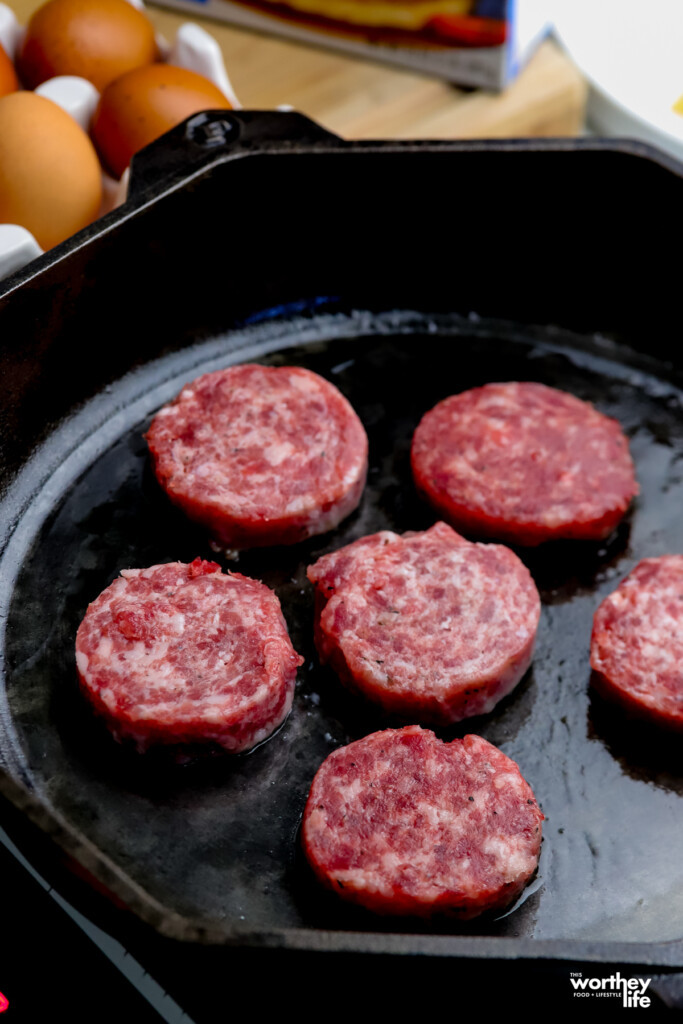 Directions for our McGriddle Copycat Breakfast Sandwiches
I make the bacon first since it takes the longest of the ingredients to make. Preheat the oven to 350°F; place the bacon on a sheet pan lined with aluminum foil, arrange the sliced bacon in a row, then place the pan on the center rack, cook for fifteen minutes, then rotate the pan and bake for an additional ten minutes or until crispy. For the pancakes, follow the package directions.
Next, make the grilled onions; adding extra virgin olive oil and a few tablespoons of butter makes grilled onions so much better. Don't forget to add sea salt and freshly cracked black peppercorns to taste.
Make fried eggs or scrabble them if that's your jam. *Note—You can also use egg fry ring silicone molds to make the eggs.
To make perfectly round mini pancakes, use those same silicone molds like these. Brush the pancakes with melted butter and warm maple or pancake syrup.
Assemble by placing a slice of cheese on a mini pancake, and follow with the eggs and bacon, brush another mini pancake with syrup, and put syrup-side down on top of the breakfast sandwich.
Serve warm.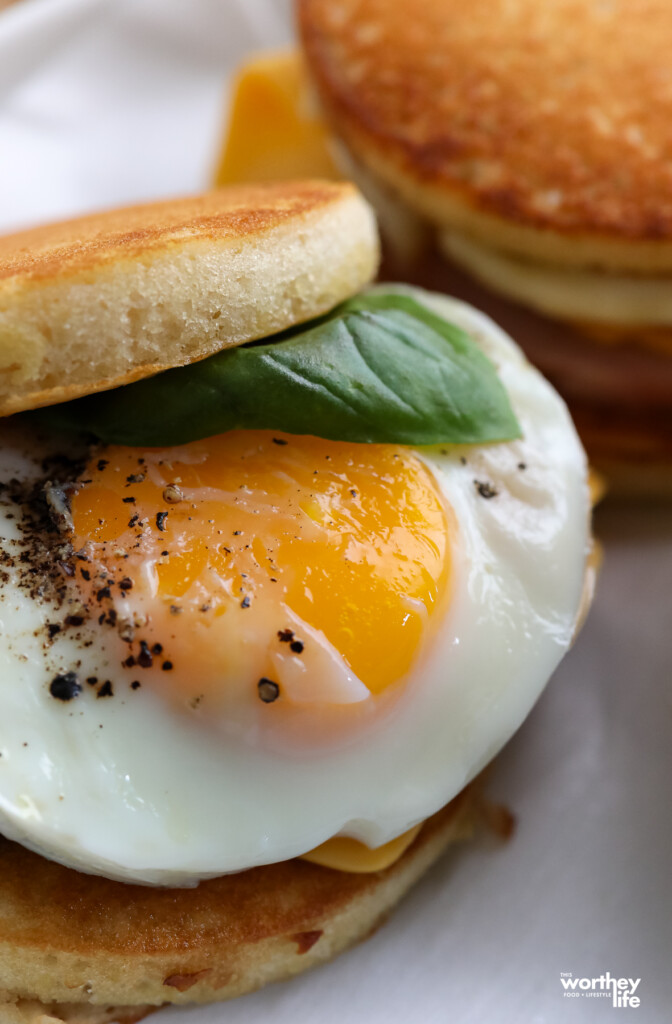 Make your scrambled eggs better!
Adding more flavor to plain and boring scrambled eggs is easy:
Cheese takes scrambled eggs to the next level. Kick it up a notch by adding flavorful cheeses like goat, blue, and gorgonzola; we're talking big, bold flavor.
And if you want to keep the flavors mild, try white cheddar, Asisago, Mozzarella, Parmesan, or Swiss cheese.
Adding your favorite salsa or a few dashes of hot sauce adds the right amount of savory flavor.
Fresh herbs are also a great way to add flavor; a bit of rosemary, thyme, sweet basil, or cilantro can work wonders!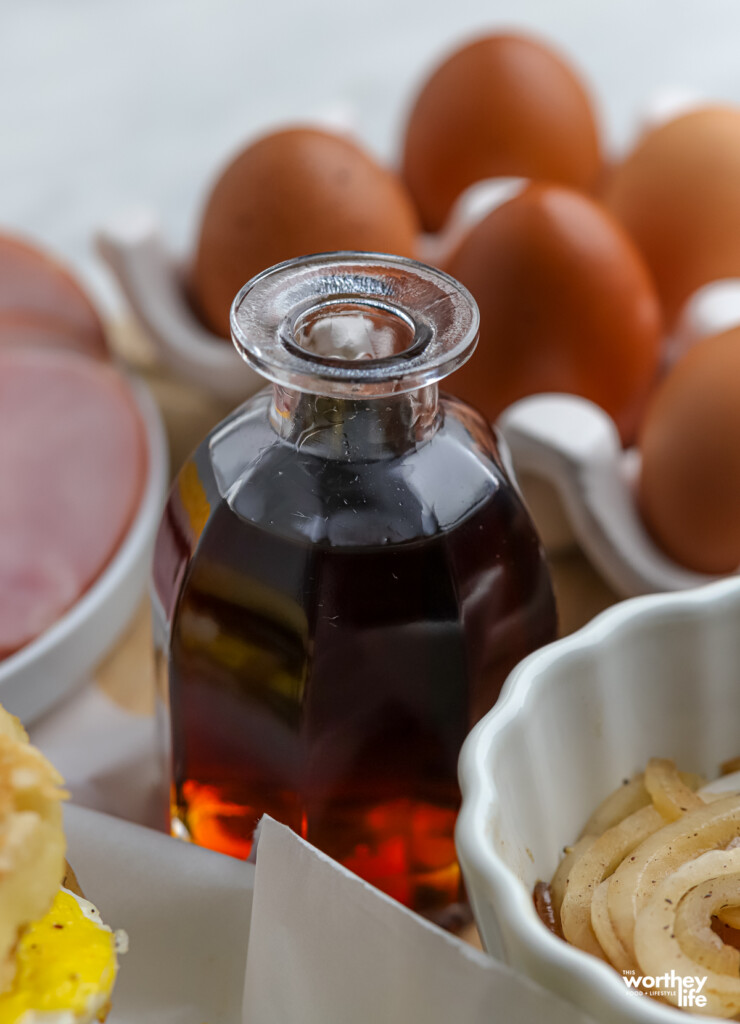 If you don't like eggs, use an egg substitute; no worries
Plant-based eggs are a suitable replacement for regular chicken eggs in this recipe.
And if you want to reduce your cholesterol intake, use only egg whites.
You can skip eggs altogether if you're not feeling eggs at all.
Replace eggs with crispy, golden brown hashbrowns.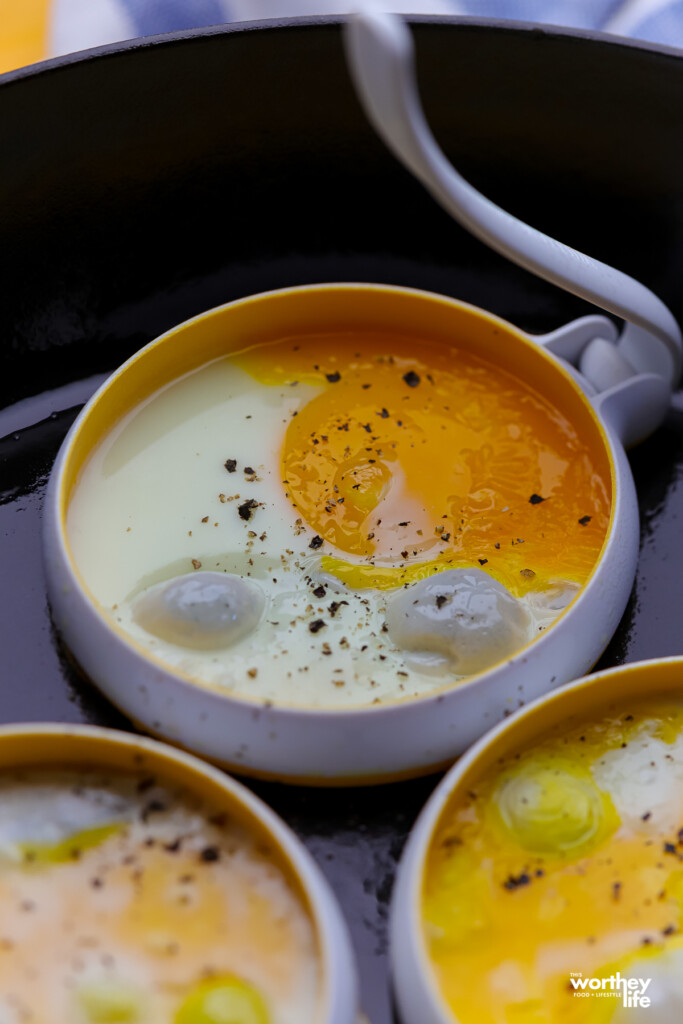 Can I make breakfast sandwiches ahead of time?
Yes, of course. Here's how to prepare breakfast sandwiches for freezer storage.
After making the breakfast sandwiches, allow the sandwiches to cool for 15-20 minutes.
Individually wrap each one with aluminum foil, parchment, freezer paper, or wax paper.
After wrapping, place the sandwiches on the baking sheet and put them in the freezer until completely frozen.
After freezing, transfer the frozen sandwiches into a large plastic zip-top bag or an air-tight freezer-safe container.
Label the freezer bag with the date.
The sandwiches will last in the freezer for up to 3 months.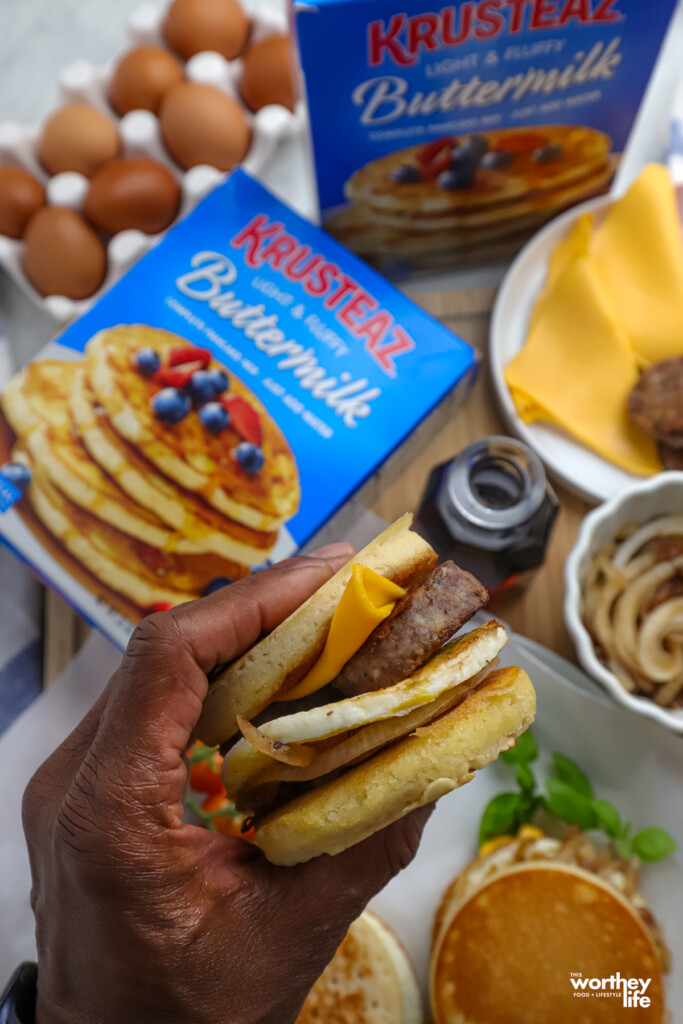 Breakfast sandwiches are a great way to add variety to your morning routine.
Our boys love them because they can grab them on the way out without missing a beat.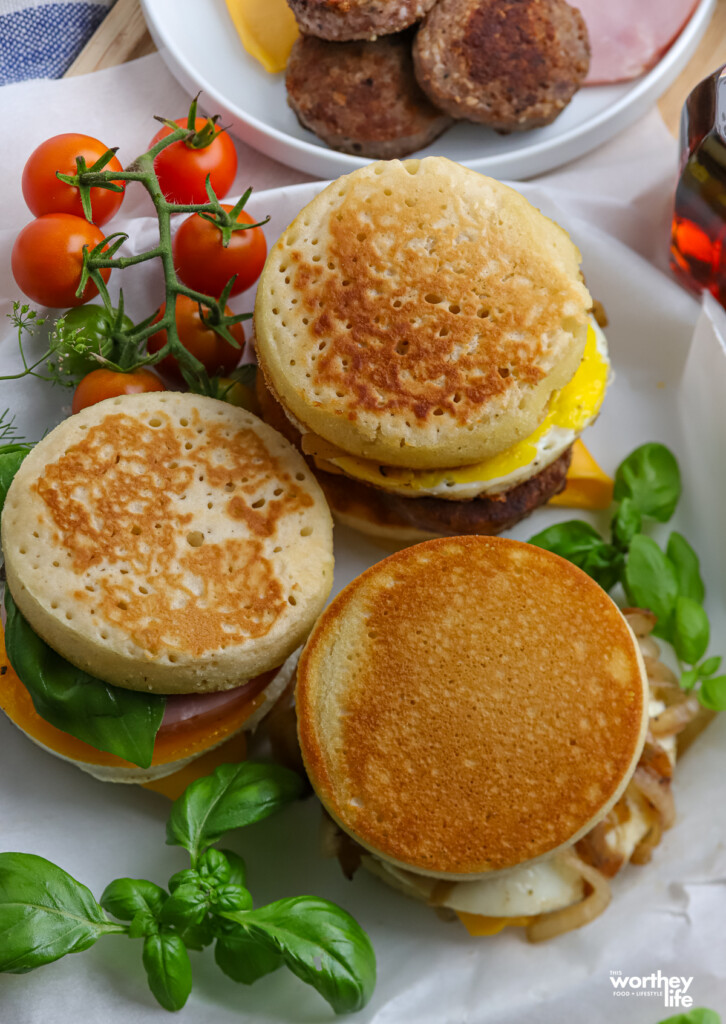 So, grab the ingredients and enjoy one of our favorite fall and winter treats.
And don't forget to grab a box of Krusteaz Light & Fluffy Buttermilk pancake mix.
And if you have any questions or want to say hello, drop us a comment below.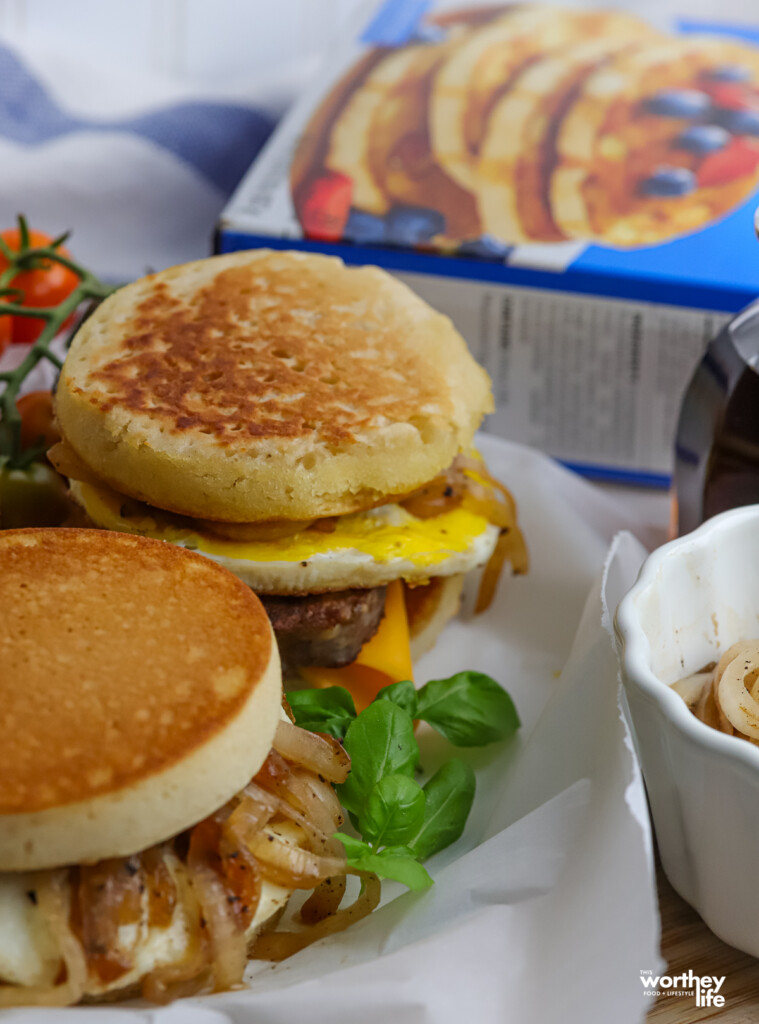 More Breakfast Recipes