Oreo spiders are classic chocolate Oreo cookies stuffed with chocolate-covered pretzel legs and spooky eyes.

How to make Oreo Spiders
Oreo spiders are the ultimate no-bake Halloween treat.
A classic chocolate Oreo cookie stuffed with chocolate-covered pretzel legs and spooktacular eyes mimics a spider.
Feel the sweet crunch of delight with this kid-friendly Halloween dessert.
A must-make for school parties, Halloween bashes, and the after-dinner dessert.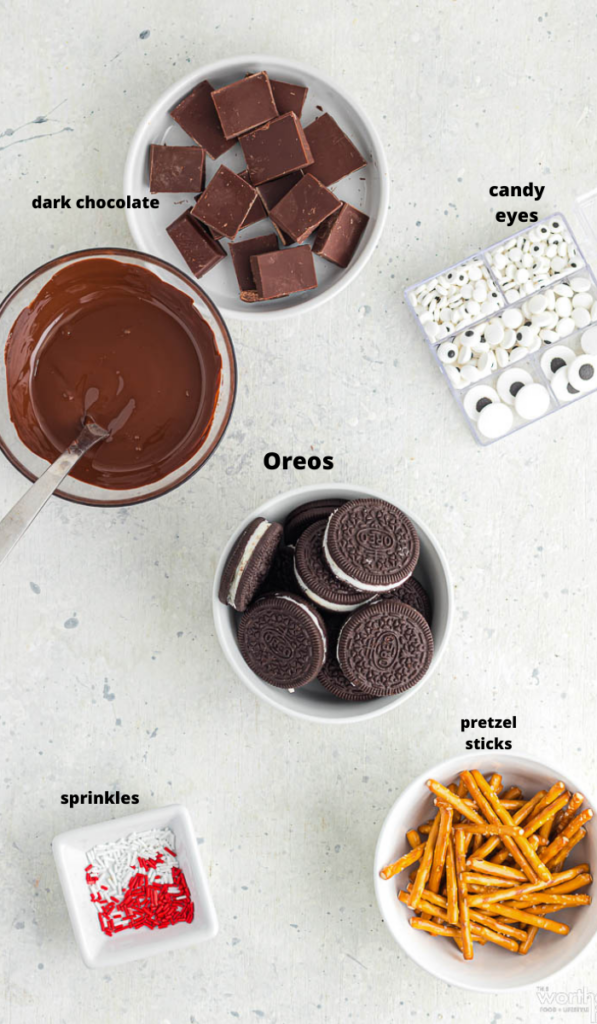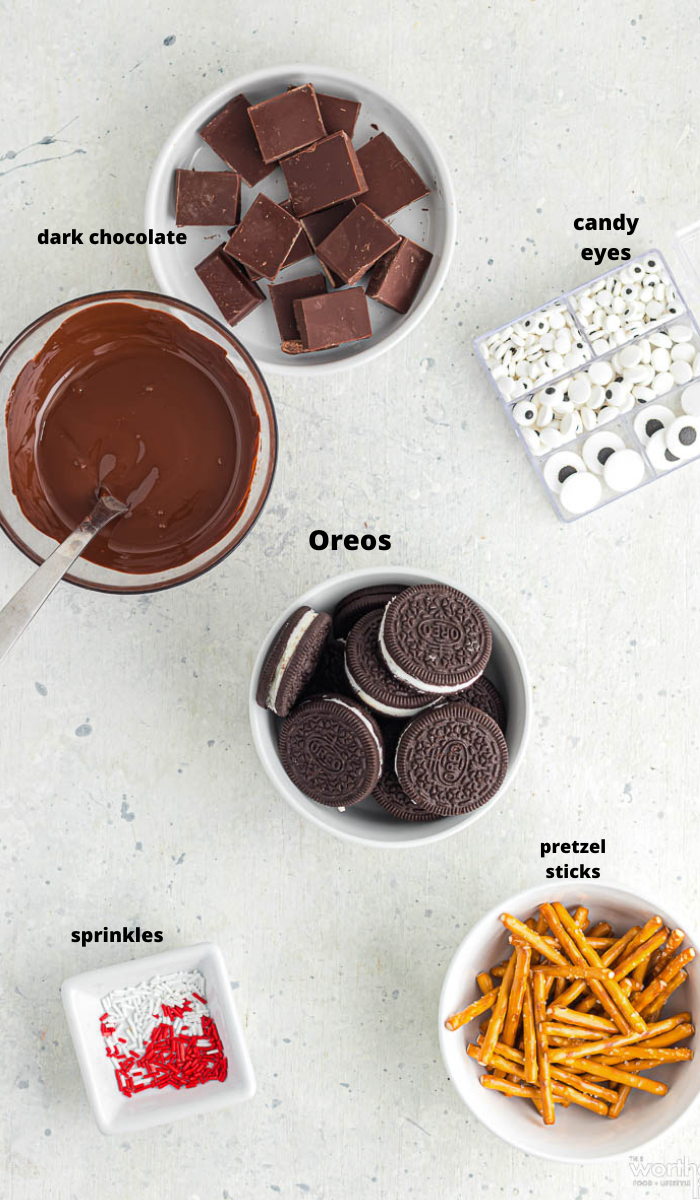 What You Will Need
Double Stuff Oreo Cookies. Here you have Double stuff Oreos; these will be the best as the cream filling helps hold the spider legs in place.
Pretzels. Stick pretzels are going to be the legs of the spiders. You will break them in half to fit for legs.
Dark Chocolate. Melt and dip your pretzels in chocolate. I used dark chocolate, but any chocolate you want works.
Candy Eyes. Find these crunchy candy eyes in the baking aisle next to the sprinkles. These are going to transform your dessert to a whole new level.
Sprinkles. I used Jimmie sprinkles as they are the perfect size to mimic the spider's fangs.
These Oreo Spiders are the perfect quick and easy treat to serve at Halloween parties for kids!
They are tons of fun to assemble and adorable.
Delicious Oreo cookies are decorated as spiders using sprinkles, candy eyes, and legs made from pretzel sticks dipped in Belgian chocolate!
Serving/Time:
Prep Time: 30 minutes Cooling Time: 30 minutes
Total Time: 60 minutes Servings: 12 Oreo Spiders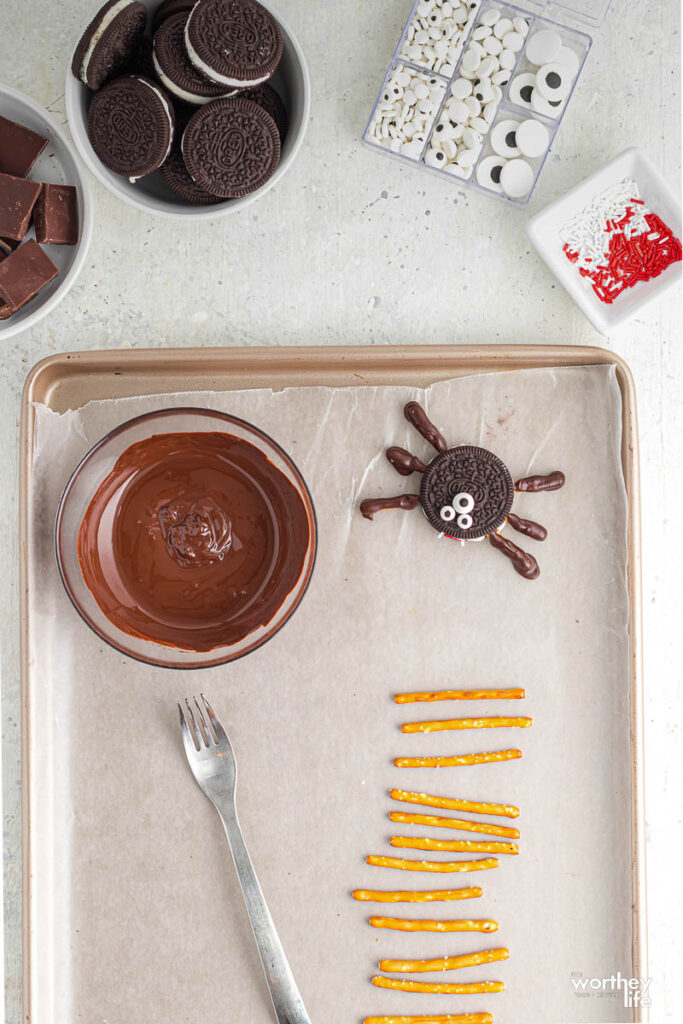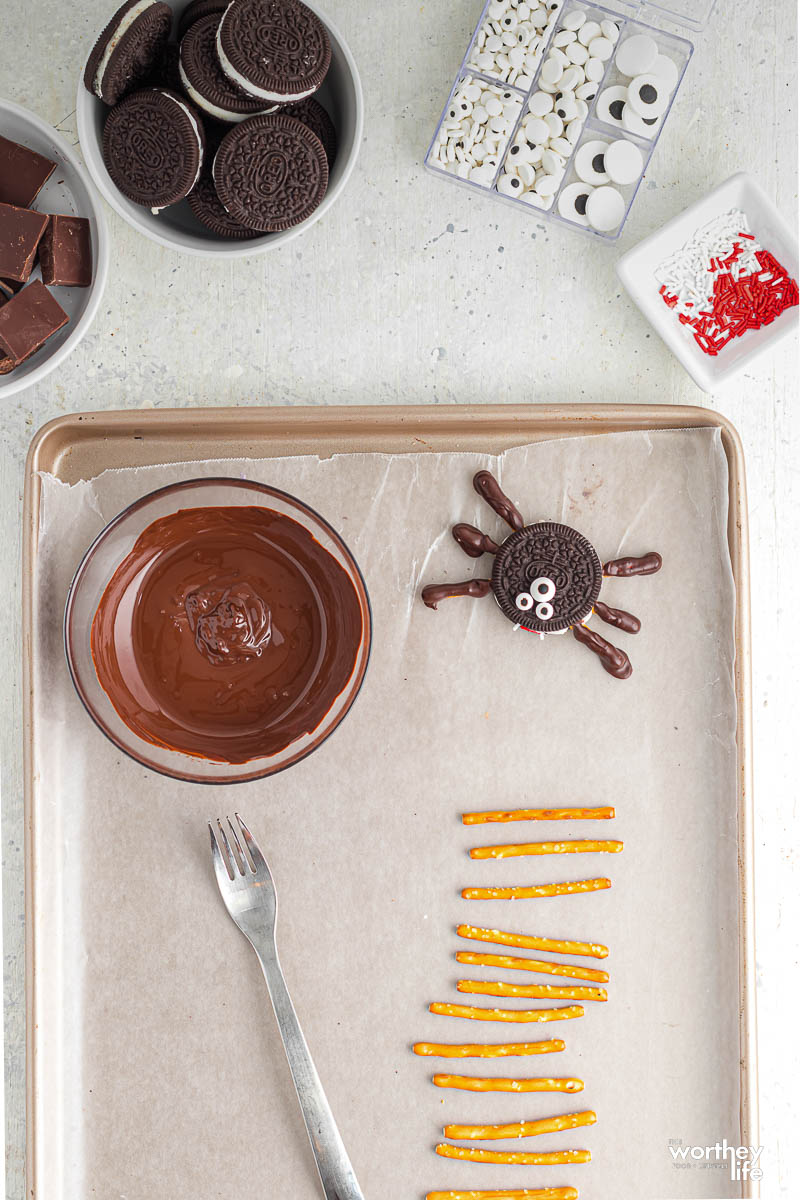 Ingredients:
12 Oreo Double Stuff Cookies
36 pretzel sticks cut in half
1⁄2 cup dark chocolate or 1⁄3 of a 10oz bar melted
Assorted candy eyes
Jimmie sprinkles in red and white
* you can substitute chocolate chips or candy melts for Belgian chocolate.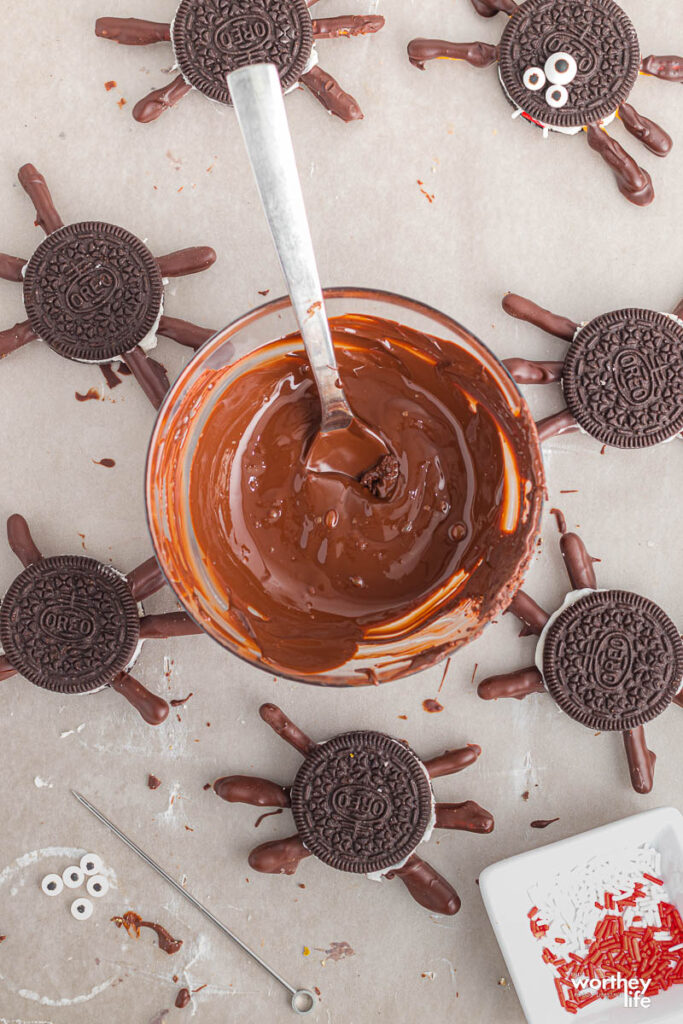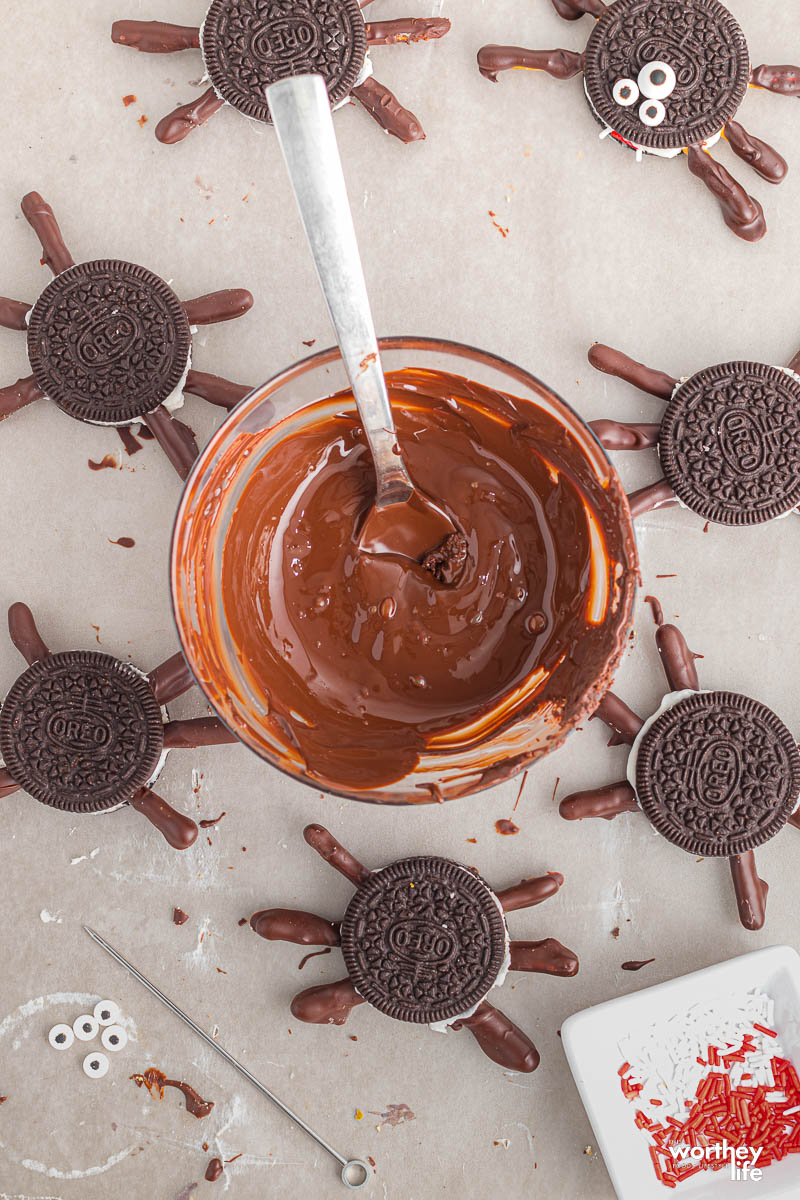 Directions for the Spider Legs:
Line a baking sheet with waxed paper.
In a medium (microwave-safe) bowl, melt dark chocolate in 20-second increments in the microwave until fully melted. Stir in between melting to ensure the chocolate does not burn.
Using a fork, dip a pretzel stick in the chocolate and allow the excess chocolate to drip back into the bowl. Then place the pretzel on the prepared baking sheet and repeat with the remaining pretzels.
Chill the pretzels in the refrigerator for about 30 minutes or until set.
To Assemble the Spider:
When the pretzels have set. Cut 3 of the sticks in half to form 6 legs.
Carefully separate a Double Stuff Oreo Cookie in half (gently twisting the cookie shells helps to loosen it). Place the cookie halves cream side up on the baking sheet. Smooth the cream with a butter knife or offset spatula if necessary.
Press 3 pretzel legs (cut side)into the cream on one side of a cookie half. Press 3 more legs into the opposite side of the cookie half. Reassemble the cookie by topping the base with the other half of the cookie. Press gently to evenly distribute the cream.
Using some melted chocolate and a toothpick or cocktail stick, attach the candy eyes.
Add a red Jimmie sprinkle to create a mouth in the cream under the top cookie. Add some white Jimmies for teeth.
Continue until all spiders are assembled.
Allow to set fully.

Expert Tips:
Double Stuff Oreos work best to keep these spider legs in place.
You can substitute candy melts or chocolate chips for Belgian chocolate.
These spiders are best eaten the day they are made. Storing them in an airtight container will produce softened and not crisp Oreos.
For a party favor, you can make them in the morning and wrap them in cellophane bags (after they have fully set). They should keep well for about a day if they last that long!
Kids will love helping to make these spiders. They can customize the eyes and teeth!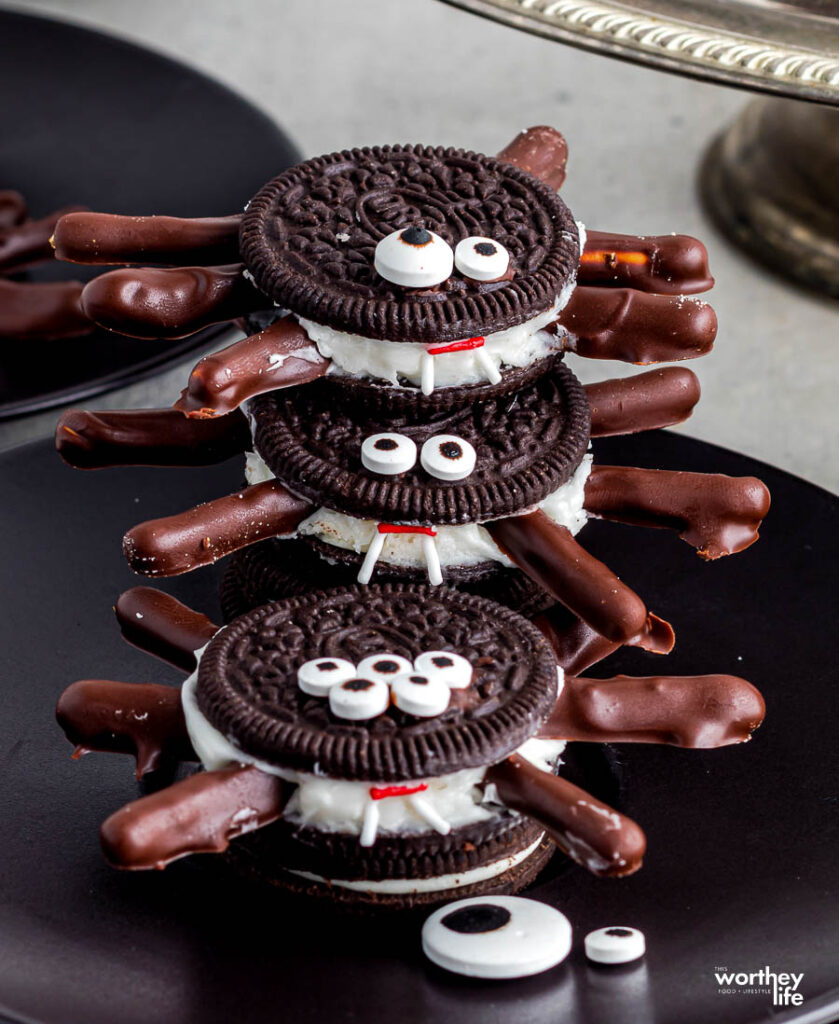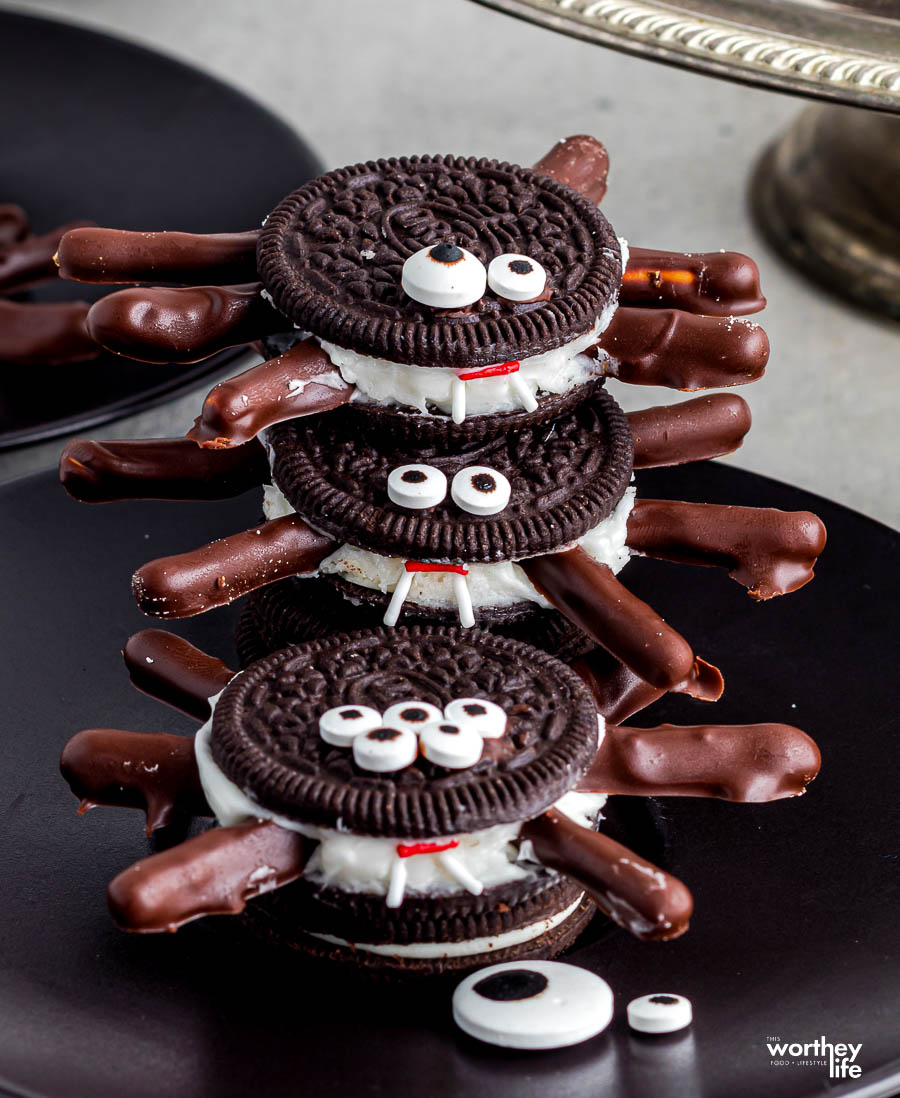 Can I use a different type of sandwich cookie?
Absolutely! Use any flavor of cookie you would like. I love the classic Oreo, but you can use any brand.
The key is that it has enough cream filling to keep legs stuck in place.
Can I make these cookies in advance?
You can make these up to two days in advance.
Store them at room temperature in an airtight container.
You will want to serve them up within the first few days.
They will start to soften up a bit the longer they sit.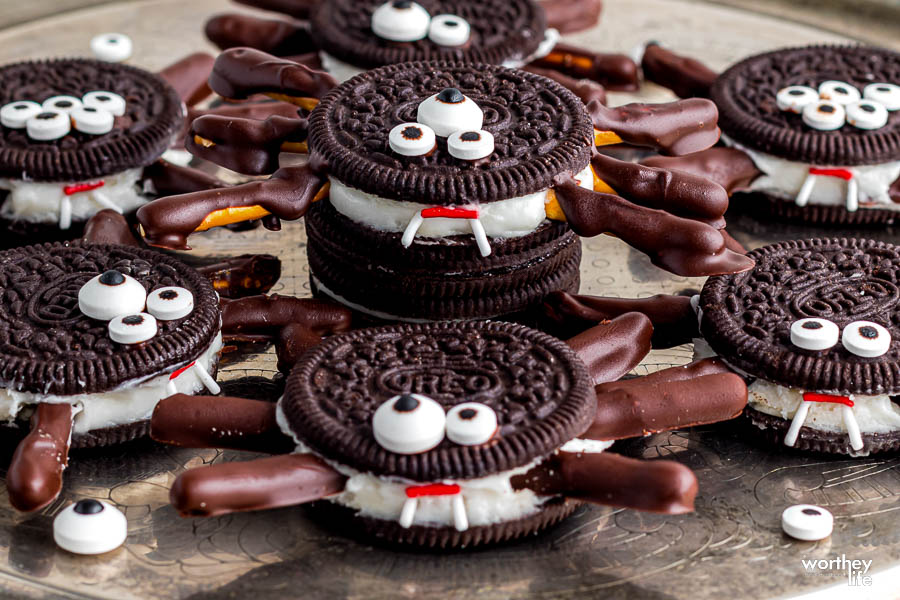 How long are these cookies good for?
These cookies will store for about 7-12 days when stored at room temperature on the counter.
Make sure no moisture gets caught in the container, or it can soften up the cookies.
Does this recipe double?
You can honestly make as many or as few of the spiders as you would like.
This is a great party food that you can whip up and create as many or as few as you would like.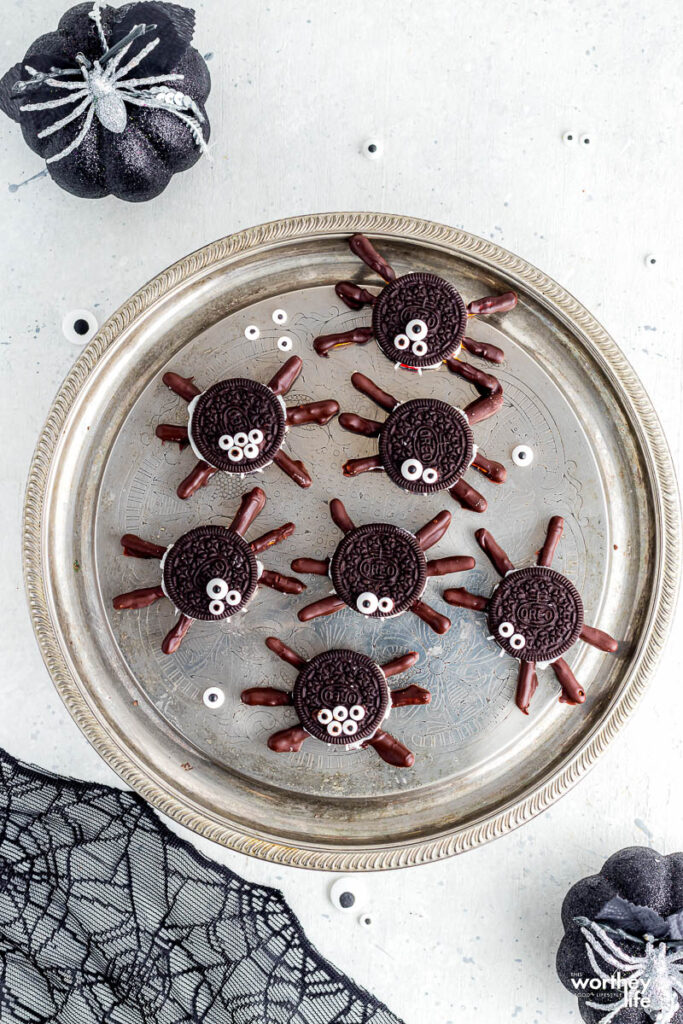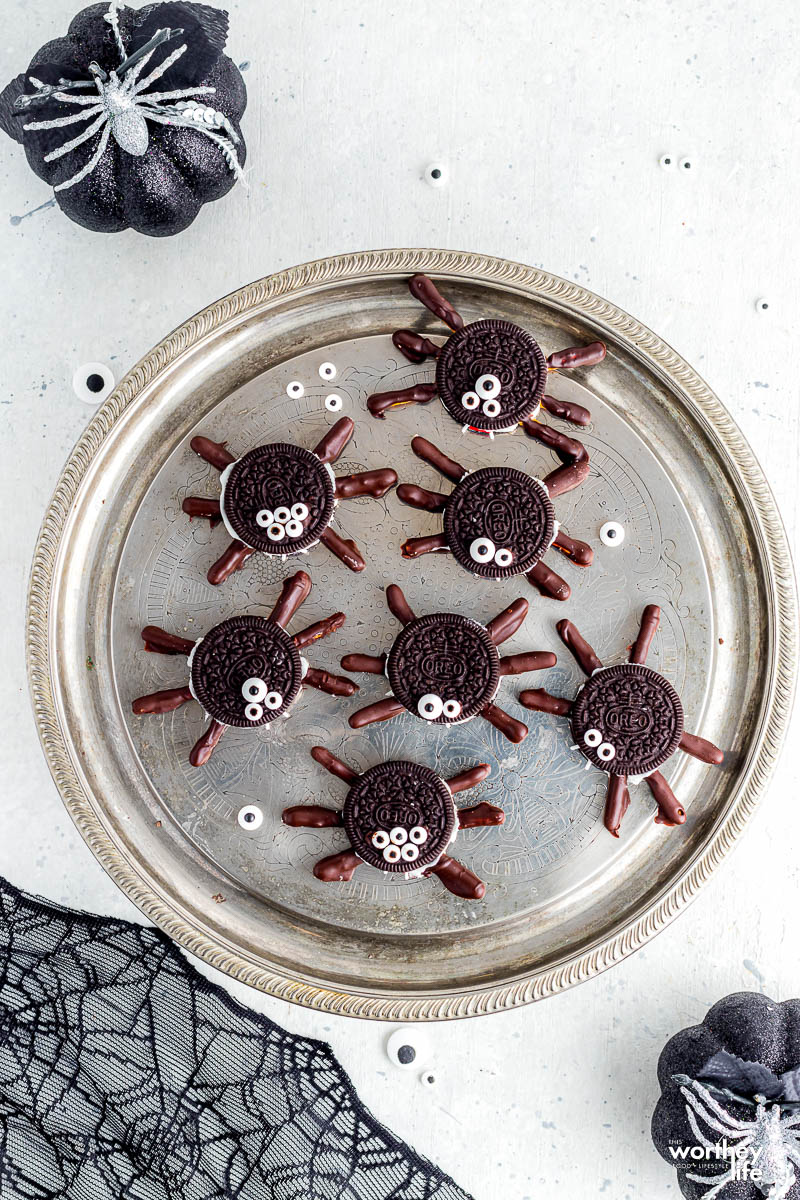 Can I use something different for spider legs?
Yes, you can use other things for the spider legs.
Use Twizzlers to pull and peel licorice or something like that.
Or you can find other candies that mimic the stick-like leg.
This treat would be great to take into the classroom or for a Halloween party.
Or, make them as you watch a few Halloween movies this weekend with the family.
Either way, it's an easy Halloween recipe to make!
More Halloween Treat Ideas: