This summer drink is bursting with the taste of sweet peach, the zing of ginger beer, and quality vodka.
Yes, indeed, we took the classic Moscow Mule and flipped the script. Our version is peachy keen and filled with ripened peaches, limes, mint, ginger beer, and a peach and ginger mixer.
Grab our recipe for a Peach Moscow Mule below, and start your weekend sipping on something sweet.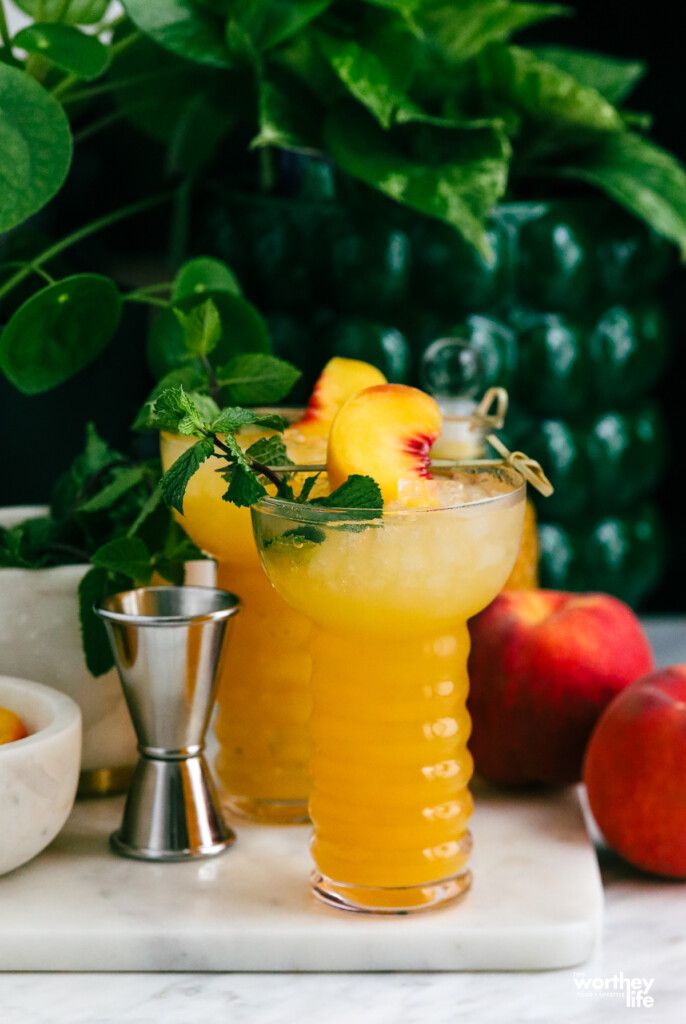 Peach Moscow Mule
We are smack dab amid a full-blown heat apocalypse, and no time is better to enjoy our Peach Moscow Mule.
I am unsure where the Moscow Mule got its name from, but I am guessing there is an exciting story to tell.
I must get my Google on and see what I can find. Be right back! Okay, I am back! That didn't take too long.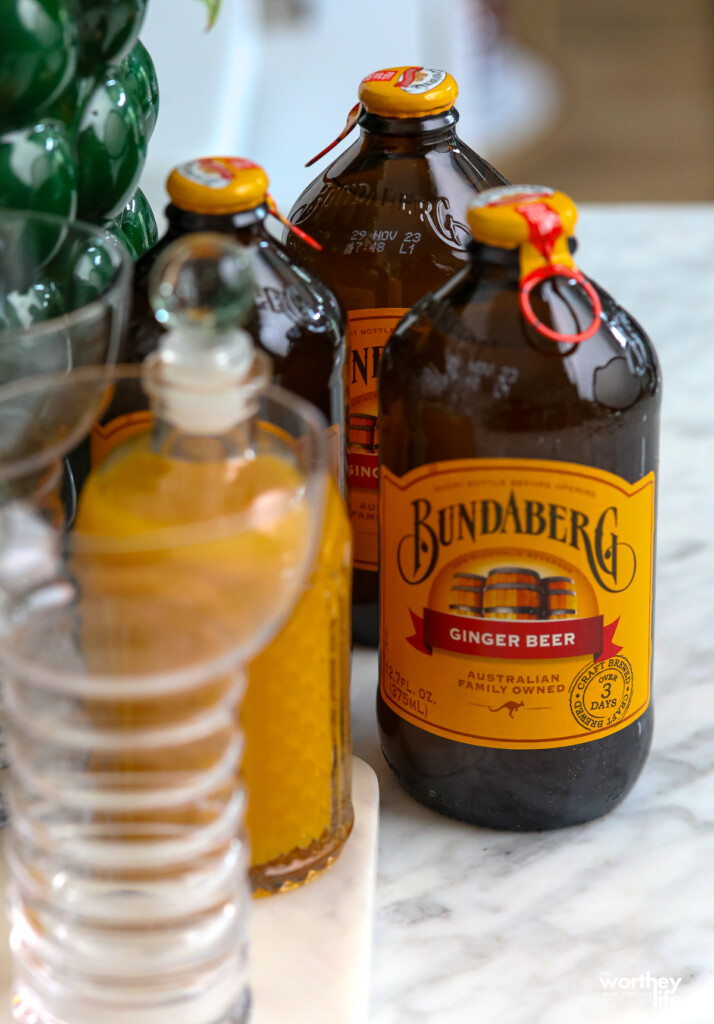 How the Moscow Mule Got Started
Here's what I found out on the Internet about the origins of the Moscow Mule. Although it seems rather convenient, here goes nothing.
Apparently, way back in the 1940s, a businessman named John G. Martin obtained the U.S. rights to the French vodka distiller Smirnoff.
However, vodka wasn't popular in the United States at the time.
Hard to imagine vodka not being popular, right? Here's where the story sounds like "a story," ready?
So, down on his luck, Mr. Martin visits the well-known west coast bar, the Cock-n-Bull in Los Angeles.
There he recants his dilemma to the bar owner, Jack Morgan. Also in attendance was a manufacturer of copper mugs.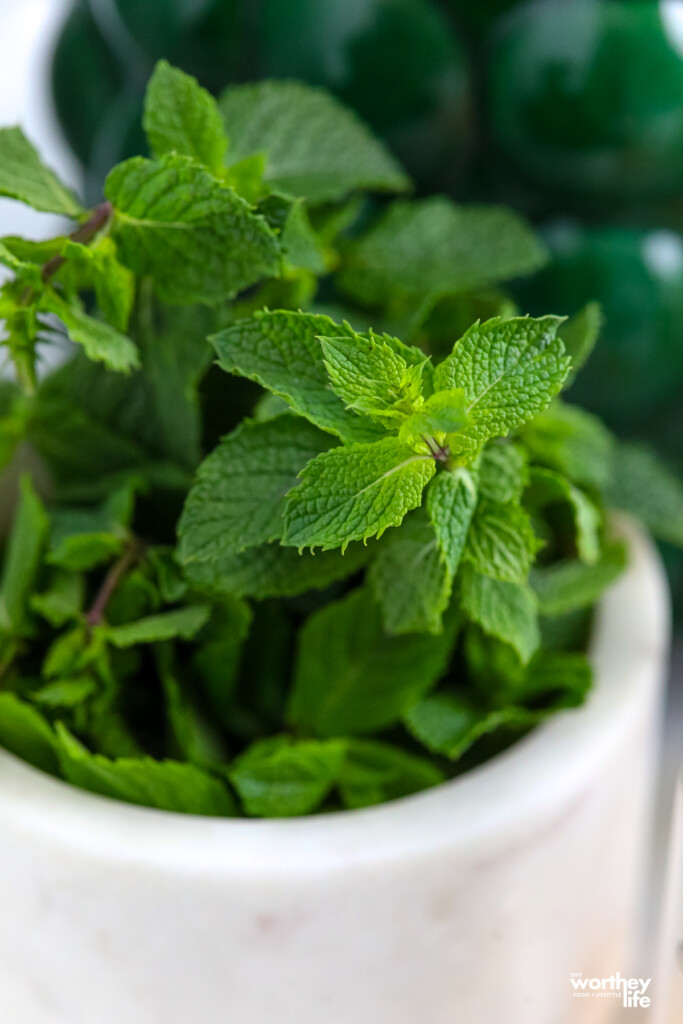 Long story short, all three men concocted a plan to benefit each of them, so the Moscow Mule was born.
Anyway, that's the story. Not sure if that's the way it all went down, but in the end, what matters is the Moscow Mule is a real thing—plus, a delicious and popular one to boot.
Here, I played around with the flavors to create a version of the Moscow Mule which features the taste of sweet ripe peaches as the star of the cocktail show.
We think it is an excellent play on the original, but you'll have to be the judge of that.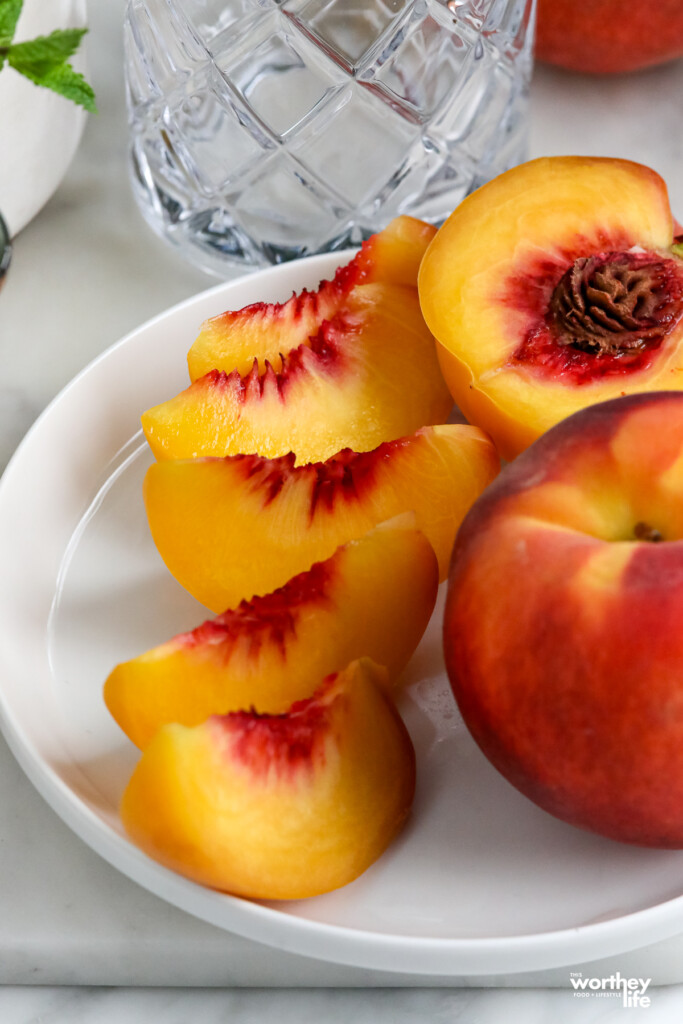 What You Need
Peach Vodka. Smooth and high-quality vodka will give this peach cocktail a refreshing taste. I love how the vodka adds a nice kick without altering the quality flavors.
Peach Nectar. I used organic peach nectar; if you can't find it, you can easily make homemade peach syrup.
Ginger Beer. Do not confuse ginger beer with ginger ale. Ginger beer is a lot spicer than regular ginger ale, and ginger beer enhances the flavor of this cocktail.
Half of a cooked peach and several fresh mint leaves. For this cocktail recipe, you will muddle mint and use a sprig to garnish your cocktail—adding a pop of color and minty flavor to this peachy Moscow mule!
Ice. Like many cocktails, ice is used as an ingredient, and the finished mixed drink is poured over fresh ice in the serving glass.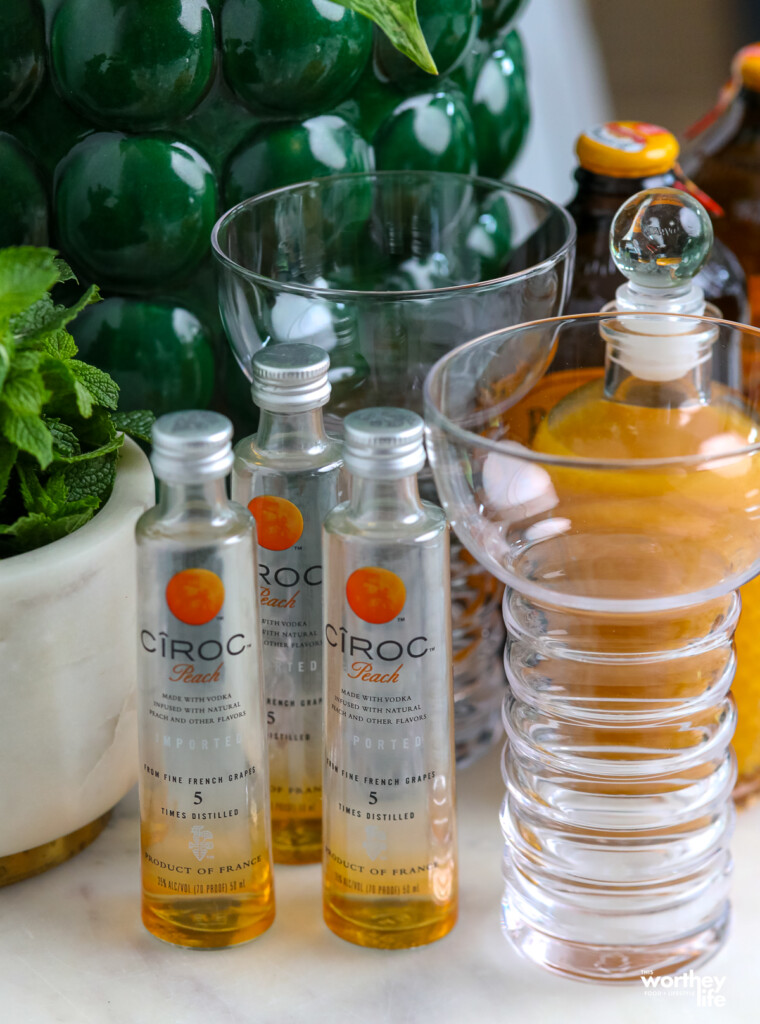 How To Make A Peach Moscow Mule
1 serving size
Ingredients:
1 1/2 ounce grey goose vodka
2 ounces peach with ginger mixer (or peach syrup)
2 1/2 ounces fever tree ginger beer
peach slices
sprigs of fresh mint
ice
Directions:
Add ice, muddled mint, half of a peach, peach-flavored vodka, peach nectar, and ginger beer into a cocktail mixing glass.
Mix vigorously for 30 seconds using a long-handled bar spoon.
Strain the mixture into a prepared copper mug (or glassware) and garnish it with a fresh mint sprig.
Serve.
Equipment: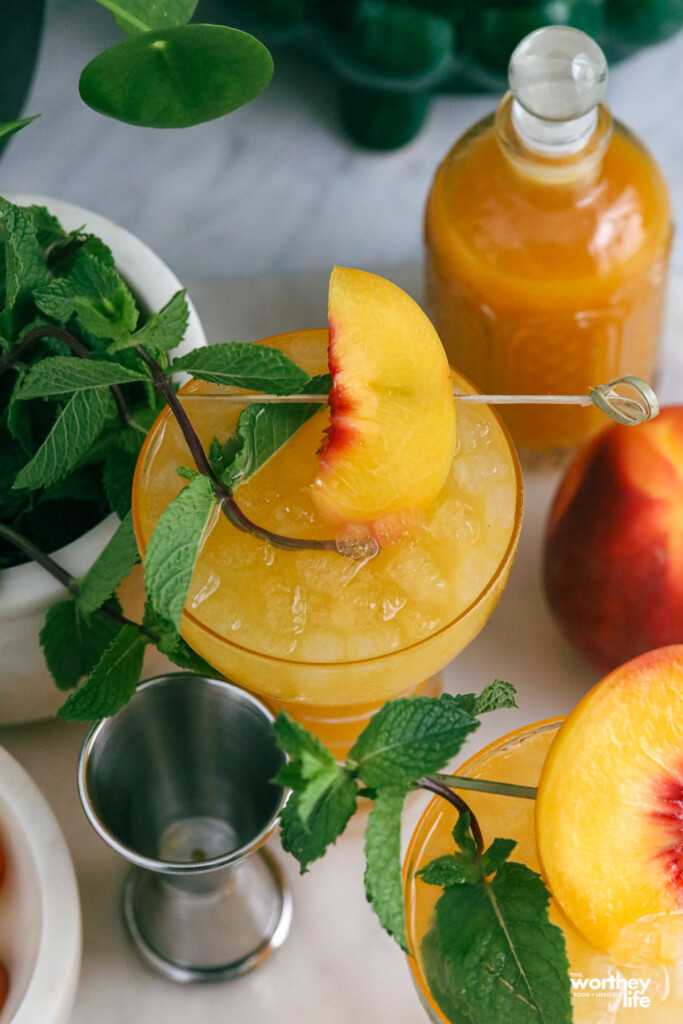 What is the difference between a Moscow Mule and an American mule?
Moscow mules are known for their vodka and ginger beer kick.
Where an American has the same ingredients, it just adds a lime splash.
Some Moscow mules have lime as well.
So essentially, they are similar.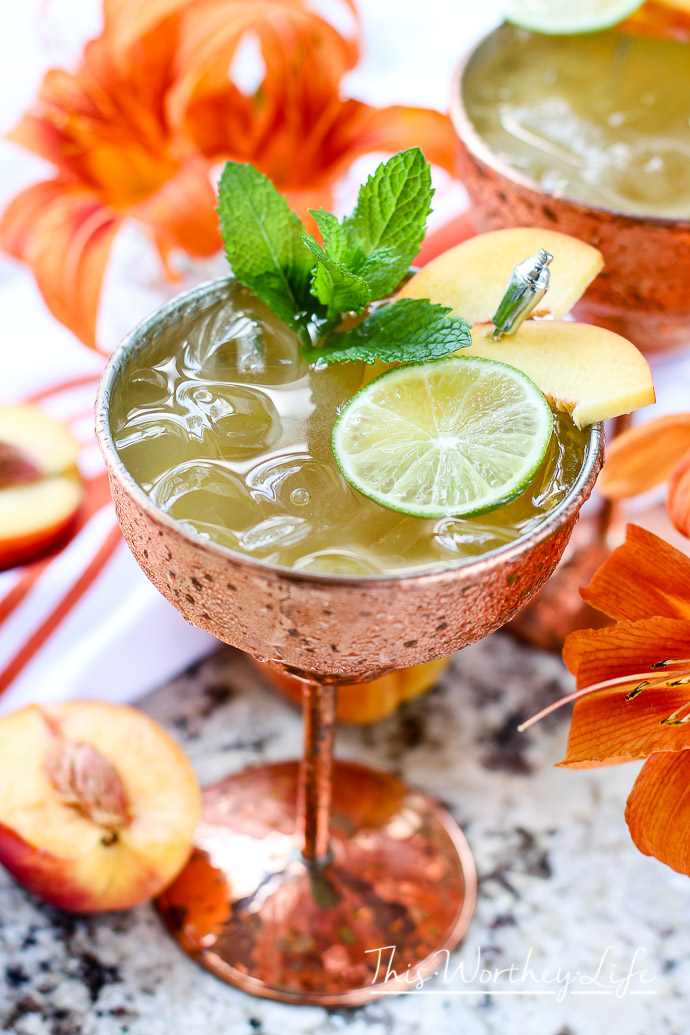 Why is a Moscow Mule always served in a copper cup?
Copper is good at conducting the drink to stay nice and chilled.
You will mix it up and then pour the ice-cold drink into the mug, which will help keep the temperature regulated longer than a glass cup.
So that way, your ice doesn't melt near as fast.
When we updated this recipe in 2023, we created this drink in this type of glassware.

What drink is similar to a Moscow mule?
Dark and Stormy's and Greyhounds are both cocktails that are found to be served in a copper mug, just like your favorite mules.
The copper cups help chill down your drinks to the ultimate level.
Now that you have the recipe let's celebrate Peach Season! Cheers!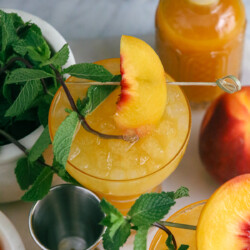 Peach Moscow Mule
This Moscow Mule Idea is just great for summer entertainment. This Peach Moscow Mule is filled with peaches, vodka, and ginger beer.
Print
Pin
Rate
Ingredients
1 1/2

ounce

vodka

2

ounces

peach with ginger mixer (or peach syrup)

2 1/2

ounces

fever tree ginger beer

peach slices

sprigs of fresh mint

ice
Instructions
Into a cocktail mixing glass, add ice, vodka, peach and ginger mixer, and ginger beer.

Mix vigorously for 30 seconds using a long-handled bar spoon.

Strain the mixture into a prepared copper mug and garnished with slices of peach, lime, and sprigs of fresh mint.

Serve.
Nutrition
Serving:
1
g
|
Calories:
98
kcal
|
Sodium:
0.4
mg
|
Potassium:
0.4
mg
Created 7/2017 | Updated 8/2023