If you're craving fruit, you must try one of these fabulous peach recipes from breakfast and lunch to dessert and drinks- you'll be in peach heaven!
39 Peach Recipes To Try This Summer
Are you looking for the best Peach Recipes out there? Look no further because we found them and rounded them in this post.
Do you have a bunch of leftover peaches or even some canned or frozen ones you want to use?
This list has it all, from breakfast waffles to salmon dinner.
We even found some fun and fruity cocktails and drinks.
There is something for everyone in this collection.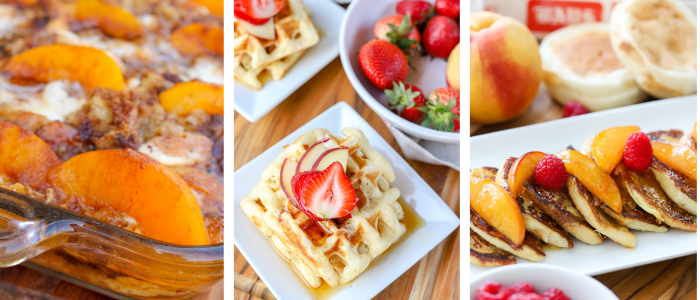 Peach Recipes For Breakfast
It's easy to grab a fresh peach as a grab-and-go breakfast idea.
But what about peaches with pancakes, waffles, french toast, and more?
You'll find a list of delicious ways to use peaches to switch up your daily breakfast routine.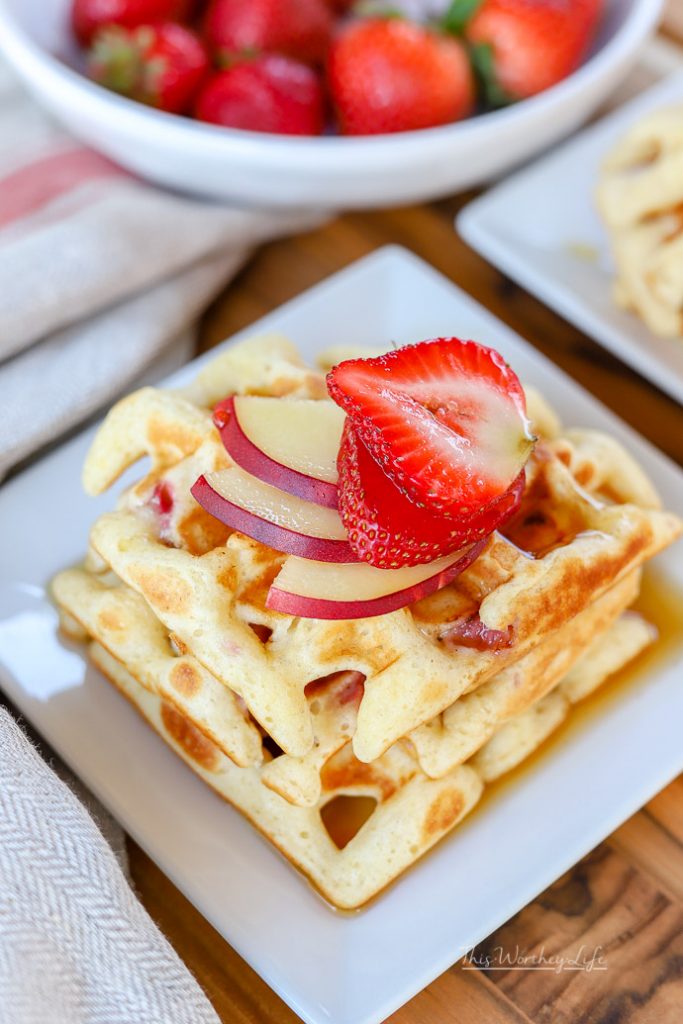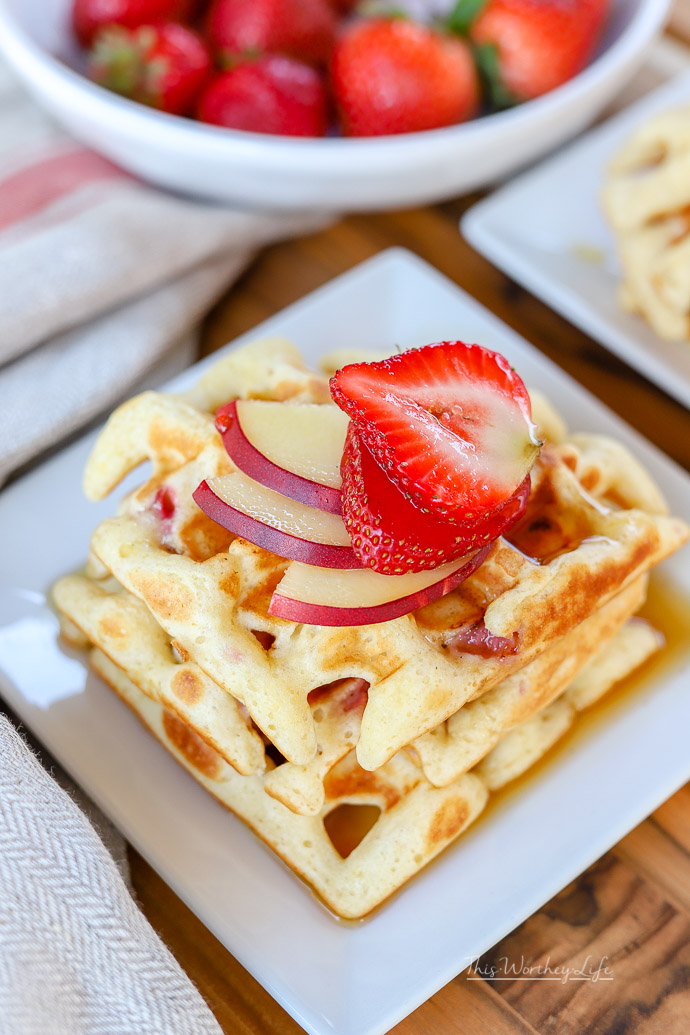 Strawberry White Peach Waffles
Strawberry White Peach Waffles will have you jumping for joy.
I bet you've never had this combination of unique flavors!
No syrup is needed, but a spoonful of coconut cream amps up the flavors.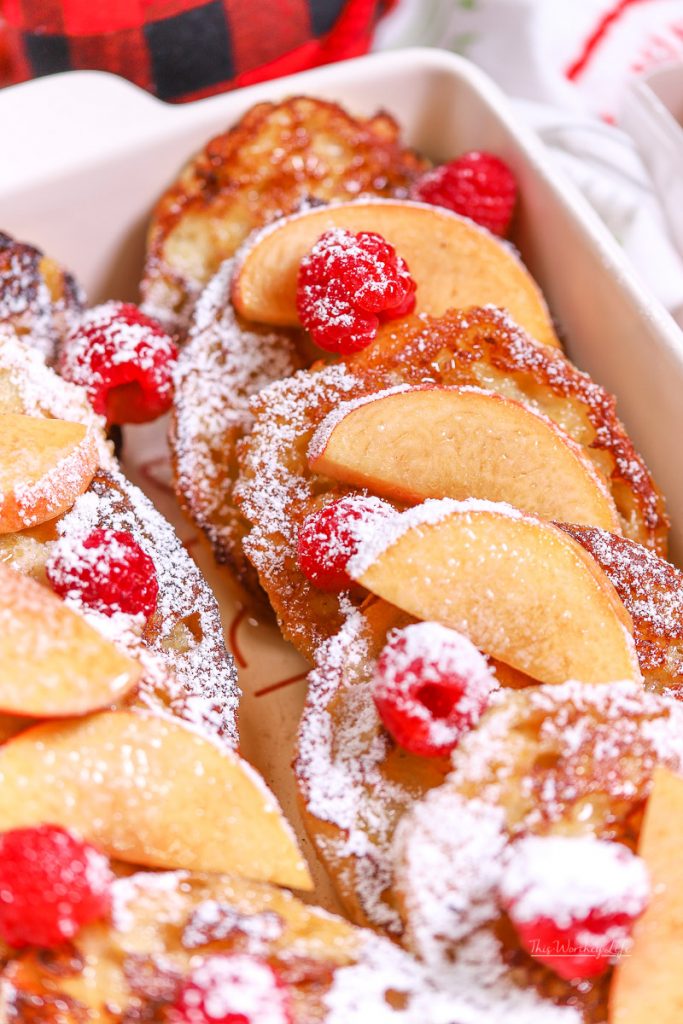 Peach recipes for Melba French Toast will automatically change your life!
It's the perfect treat for Sunday breakfast or a particular brunch party!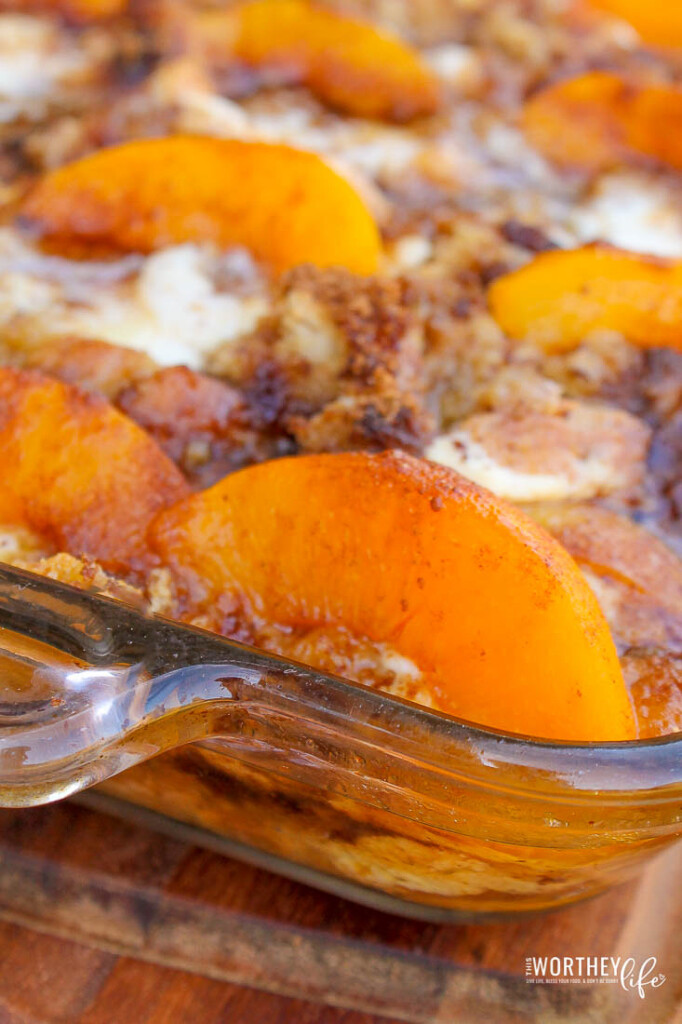 Peaches and Cream French Toast [ you can make the night before!]
Indulge in a delightful breakfast treat with our Peaches and Cream Cheese French Toast recipe.
Discover a perfect blend of rich cream cheese, luscious peaches, and golden-brown French toast that will elevate your mornings to a new level of deliciousness.
Prepare to savor this mouthwatering creation's flavors that combine sweetness and creaminess in every bite.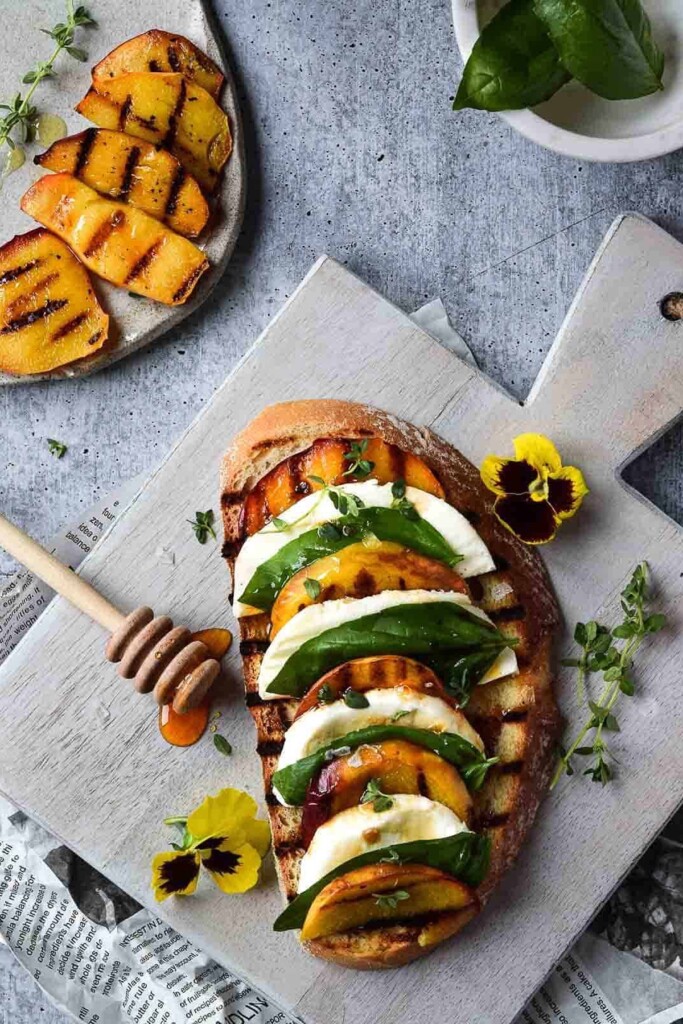 This savory recipe for Grilled Peach Caprese Toast is just how to start your day!
It's ready in a flash and offers expensive vibes despite being budget-friendly.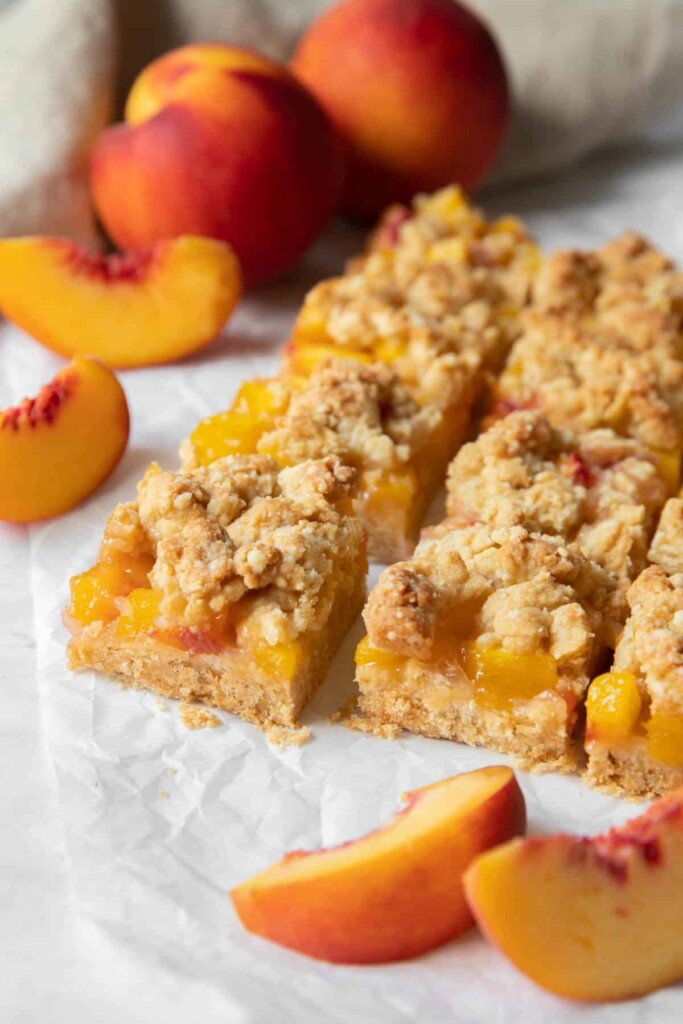 These delicious Peach Bars will have you jumping for joy first thing in the morning!
They are delicious, buttery, crisp, and packed with fresh peach flavor.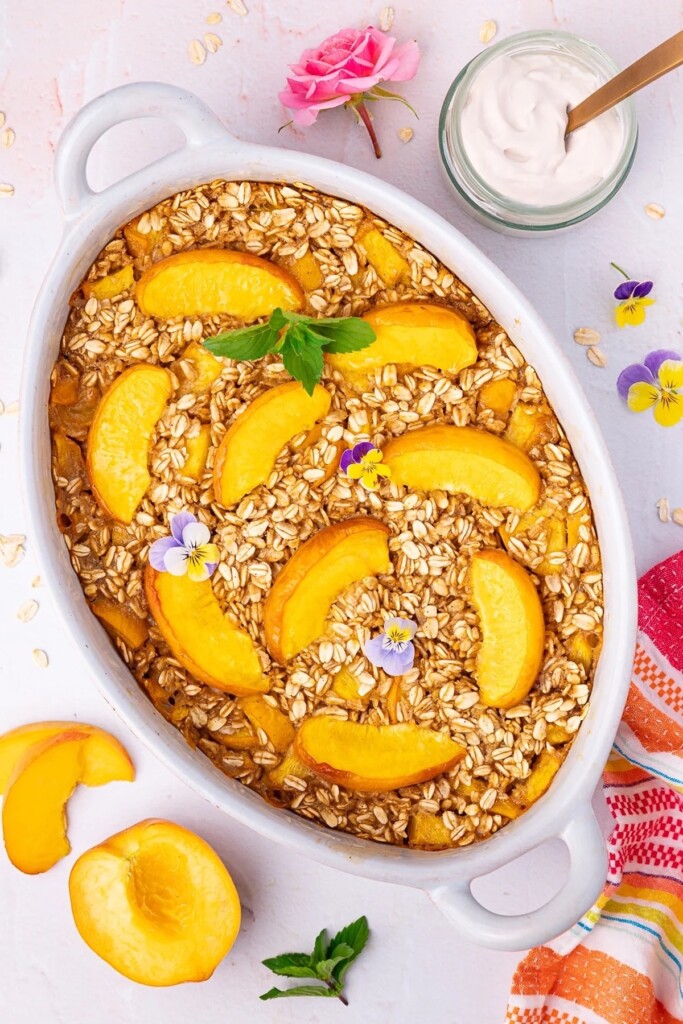 If you're looking for a nutritious Oatmeal Bake with peaches, this recipe is for you!
For the best results, use fresh peaches.
However, you can also use canned, frozen, or even nectarines.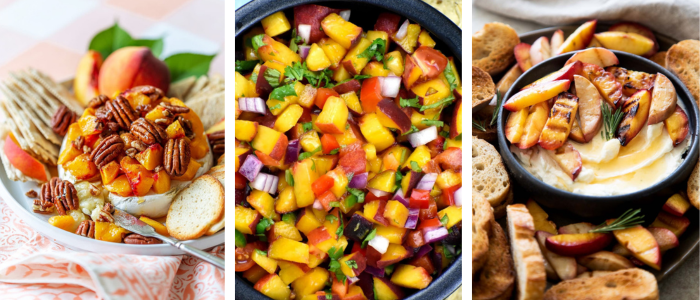 Peach Appetizer Recipes
You can use peaches as a quick snack or appetizer in many unique ways.
Here are a few ideas!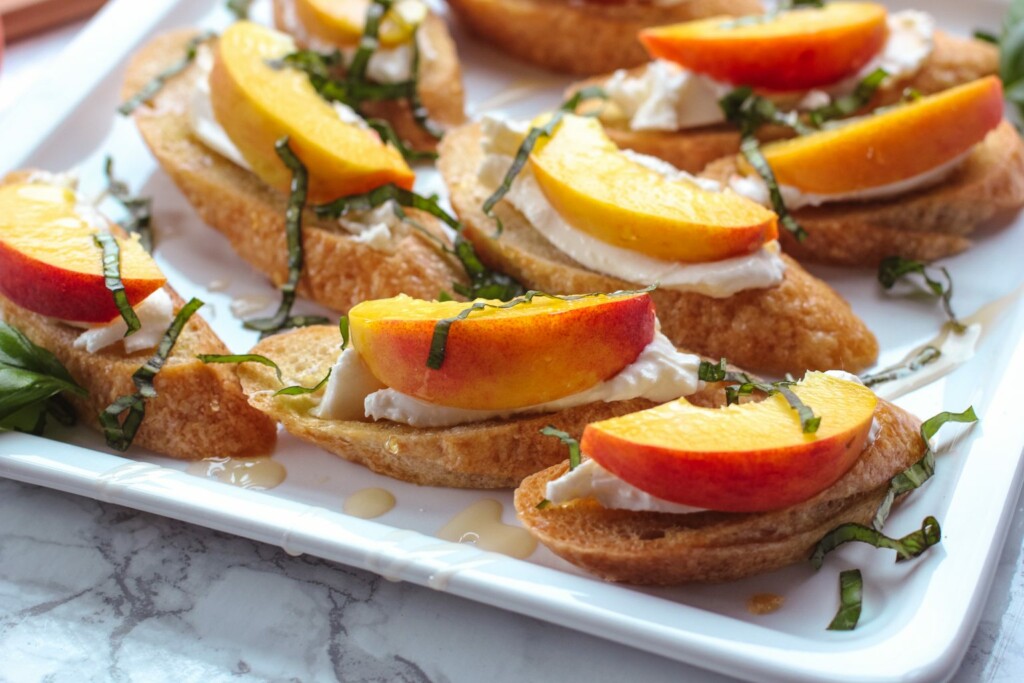 Experience the perfect appetizer – Peach and Burrata Bruschetta.
This recipe combines the natural sweetness of peaches with the creamy richness of burrata, beautifully layered on crispy bread.
Dive into an exquisite blend of flavors and textures that redefine your palate.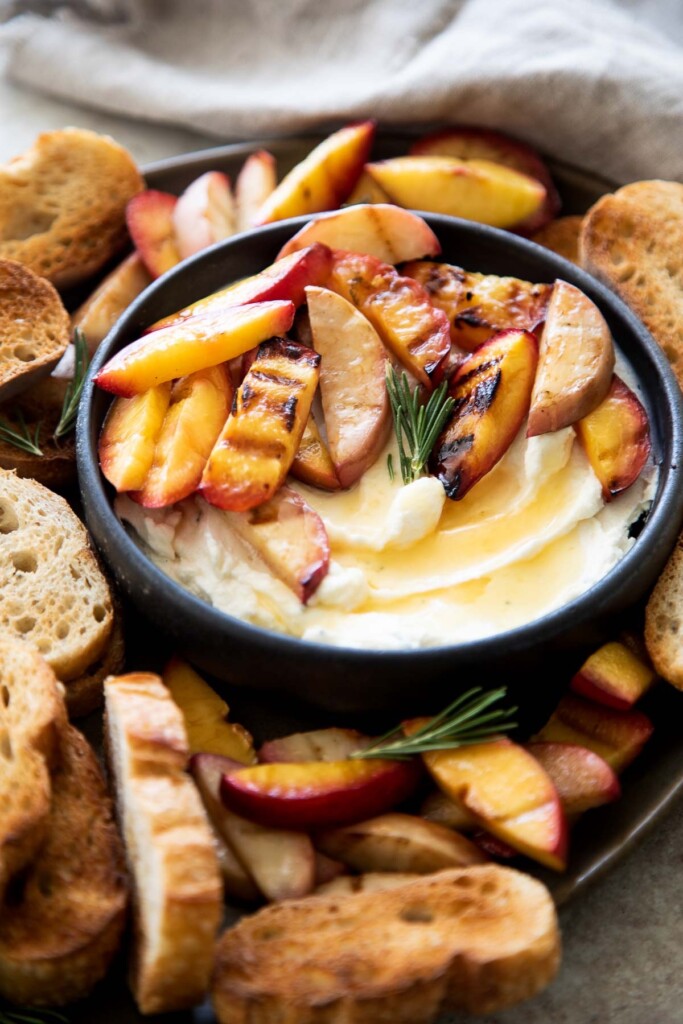 Grilled Peach Goat Cheese Appetizer
Fire-kissed peaches paired with creamy goat cheese, a drizzle of honey, and a sprinkle of thyme.
The perfect blend of flavors to elevate your next party. It's lovely any time of year.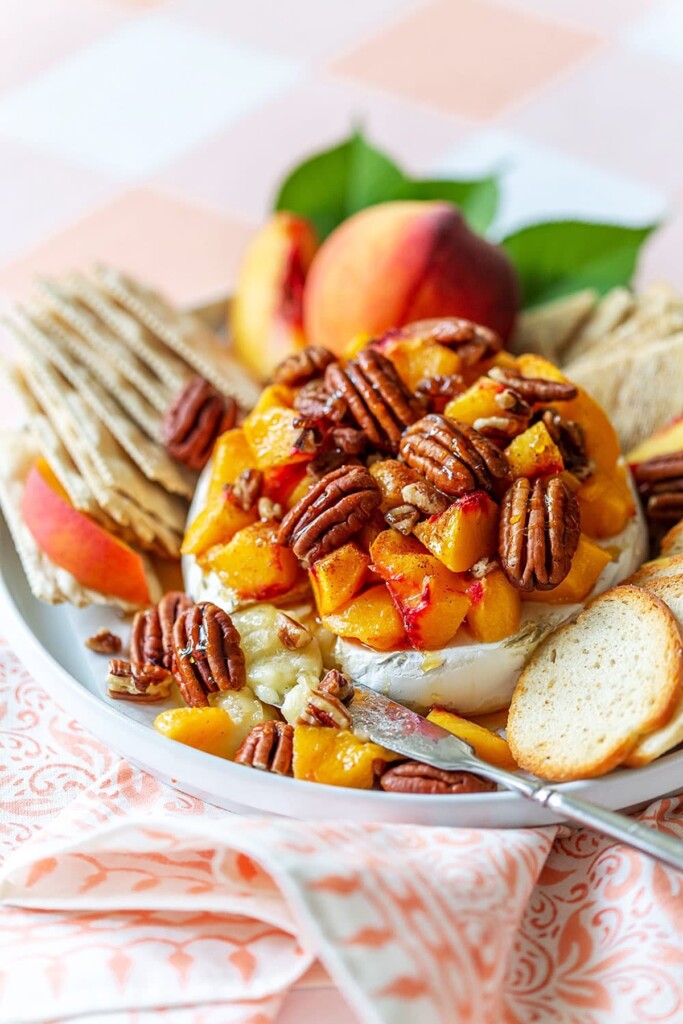 Cheese lovers rejoice because the Peach Pecan Baked Brie is here!
It is a delightful appetizer featuring a wheel of brie cheese topped with a mixture of peaches and pecans!
If you're looking for a winning snack for friends, this is a must-make!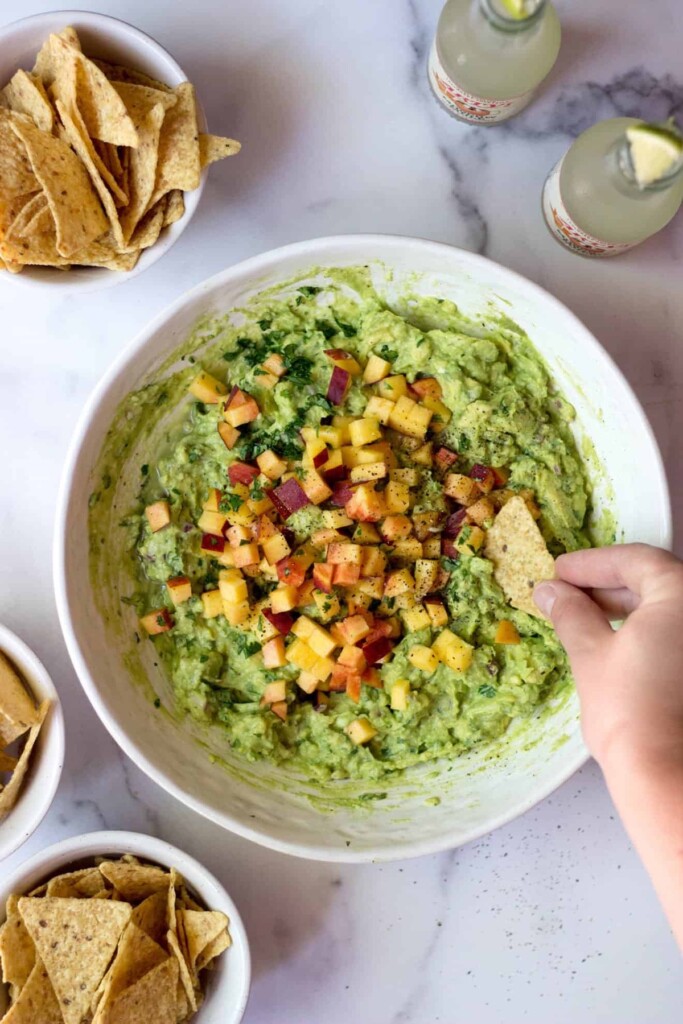 Peach recipes for guacamole will change your whole world!
Featuring your favorite guacamole classics like avocado, cilantro, lime, and onion- with sweet ripe peaches.
You'll be in heaven with every single bite.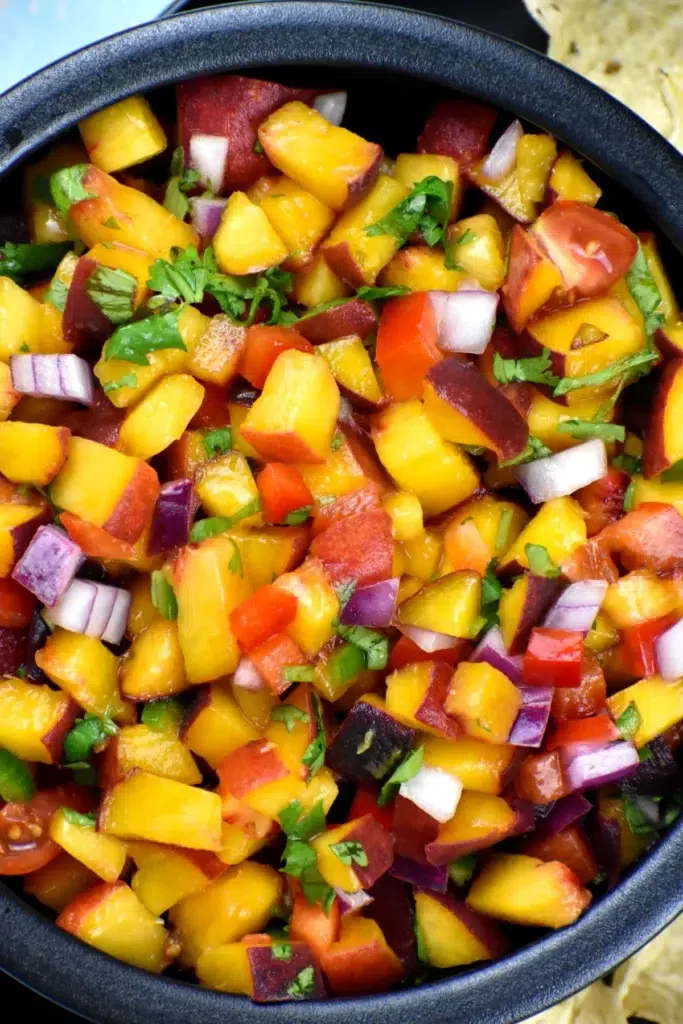 Peach salsa is a flavorful topping featuring diced peaches, onions, bell peppers, cilantro, lime juice, and seasonings.
It's a sweet and savory mix that's a fabulous topping for grilled meat, seafood, tacos, or enjoyed with tortilla chips.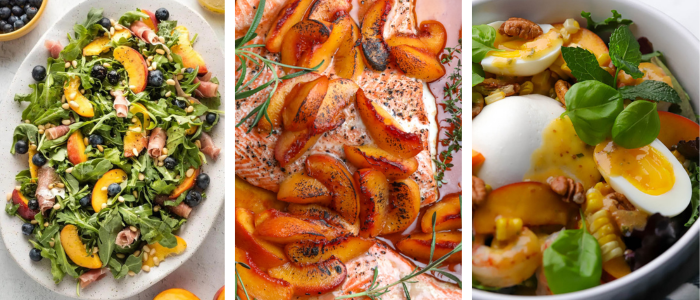 Peach Dinner + Side Ideas
Let peaches become the show's main star with these dinner and side meal ideas.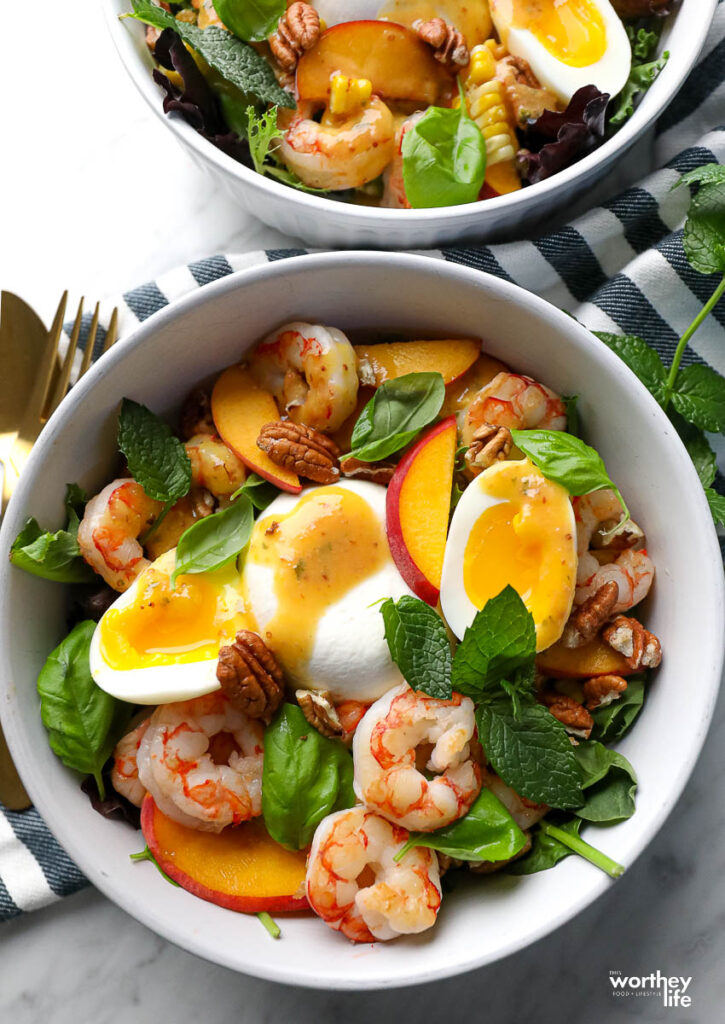 Looking for peach recipes for a salad?
The ingredients in this Peach Burrata Salad will instantly make you a fan.
Featuring hard-boiled eggs, raw pecans, and sweet corn – yum!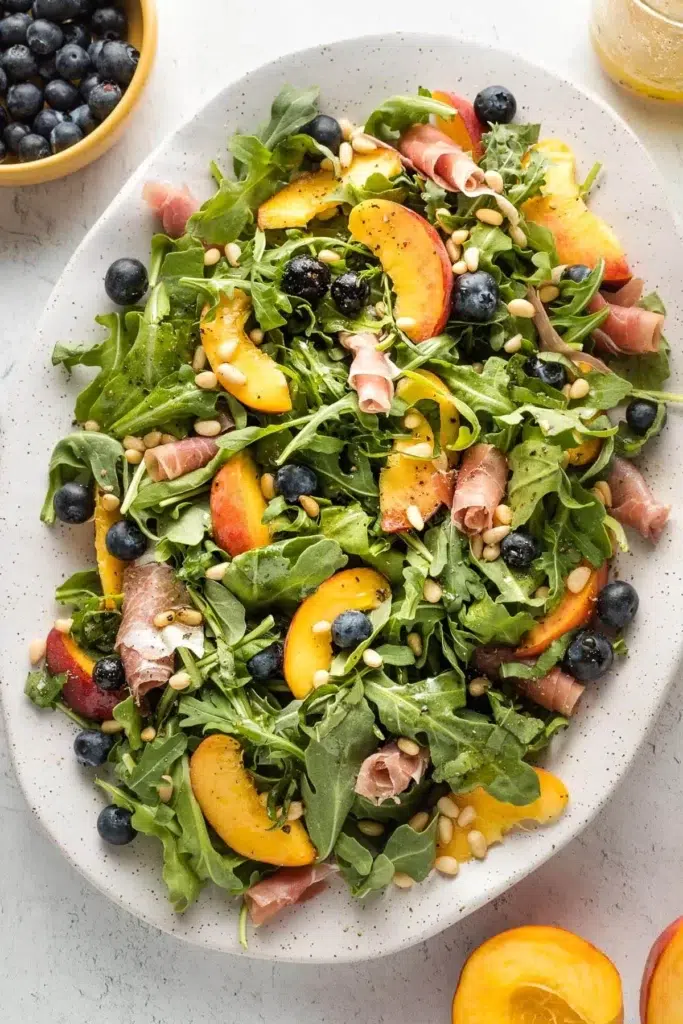 With ingredients like peaches and arugula, what's not to love about this salad?
The best part is the prosciutto- aka salty Italian ham- because it is so delicious in salads!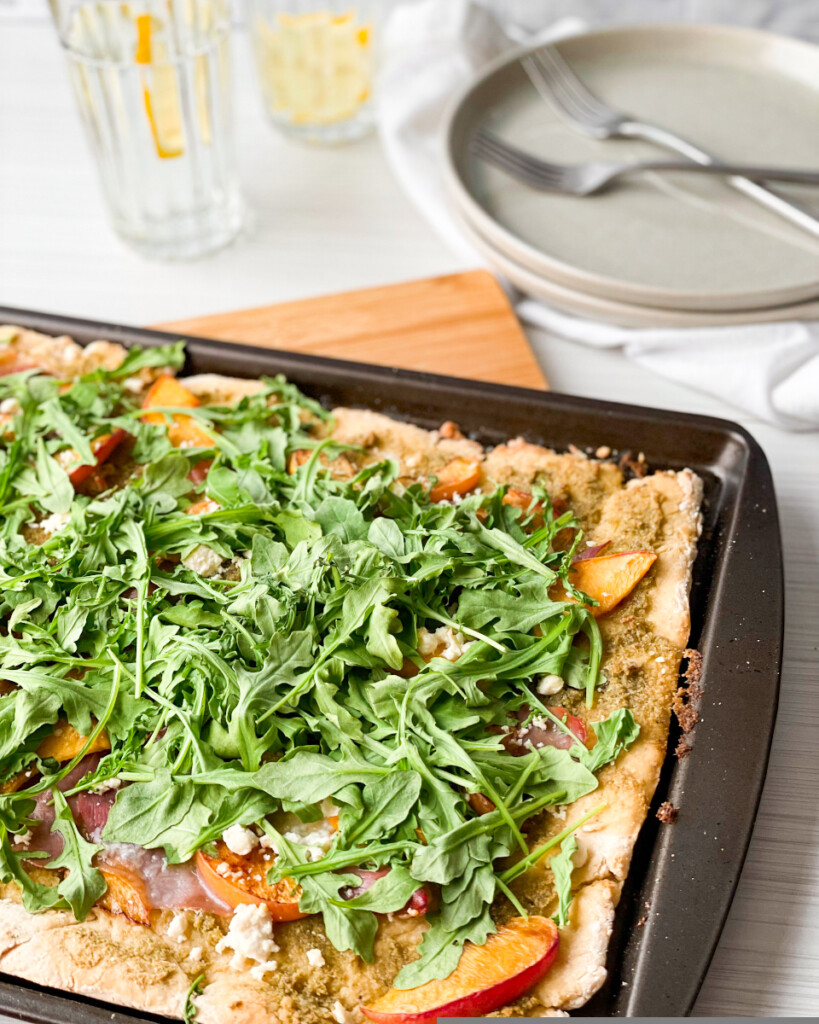 Grilled Peach and Prosciutto Pizza
Redefine pizza night with Grilled Peach and Prosciutto Pizza.
Enjoy sweet peaches, savory prosciutto, and a delectable crust for a gourmet experience at The Allergen-Free Kitchen.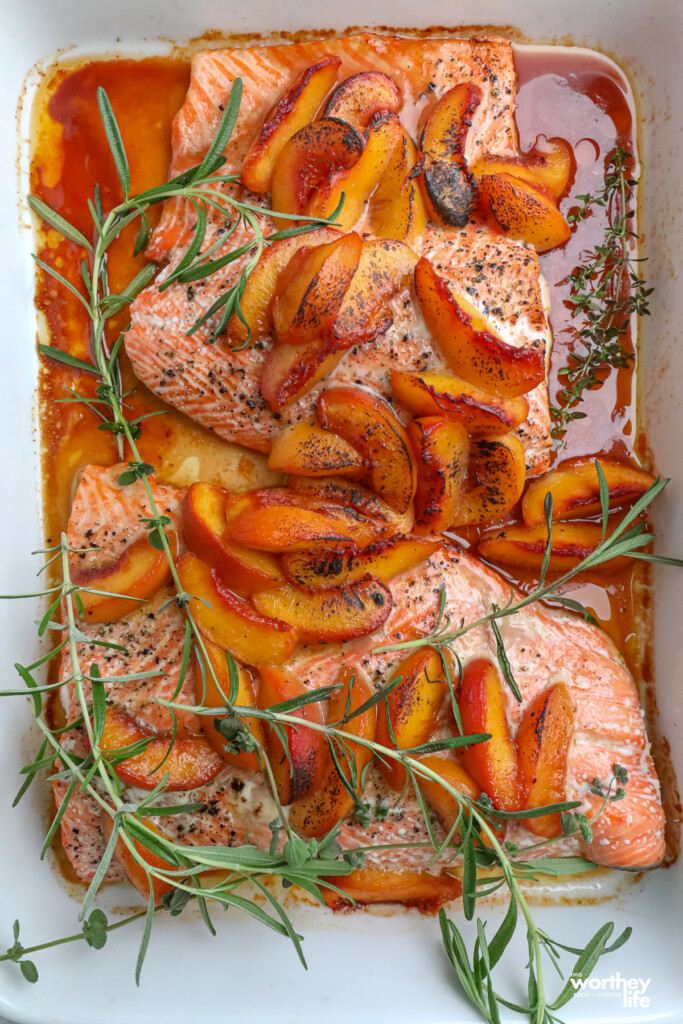 You haven't lived yet if you haven't tried the impeccable flavor combination of salmon and peach!
With flavors like fresh salmon, ripe peaches, fresh thyme, fresh oregano, brown sugar, and even rendered bacon drippings!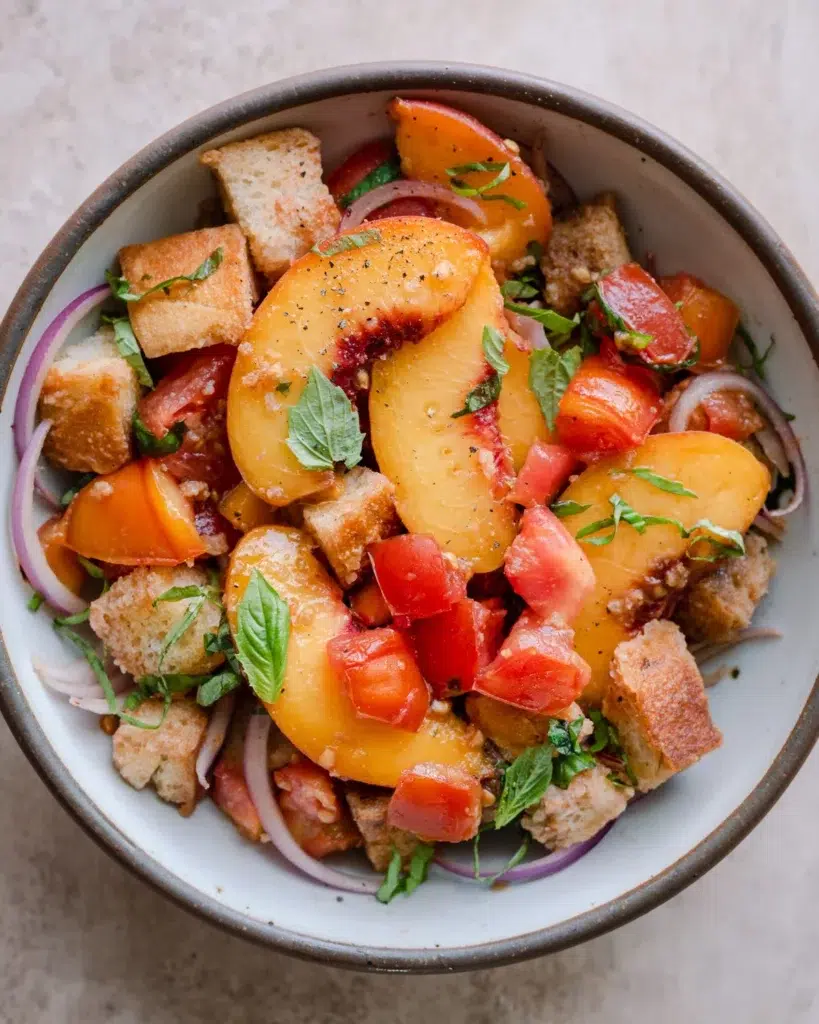 Experience the vibrant flavors of summer with our Peach Panzanella Salad recipe.
Juicy peaches, crisp vegetables, and crusty bread combine in a harmonious medley of taste and texture.
Elevate your salad game with this colorful creation celebrating the season's bounty.
A delightful balance of sweet and savory awaits in every bite.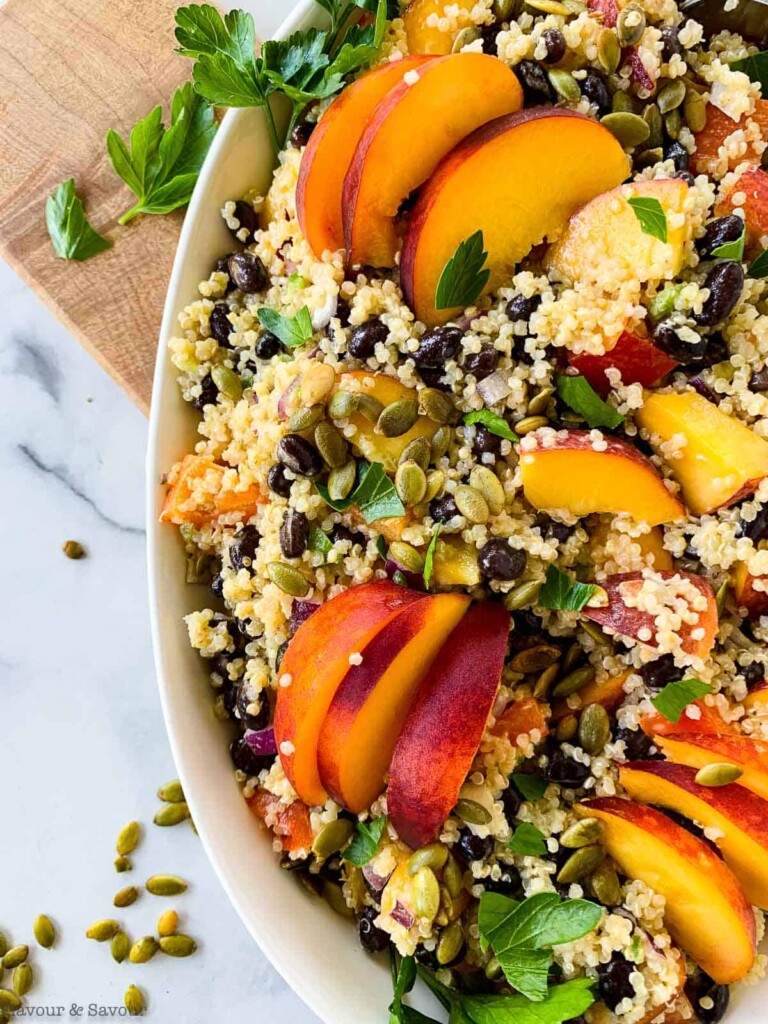 Quinoa Black Bean Salad with Peaches
Discover a new level of salad satisfaction with our Peaches and Quinoa Black Bean Salad.
This vibrant recipe harmonizes protein-packed quinoa, hearty black beans, and succulent peaches for a refreshingly nutritious delight.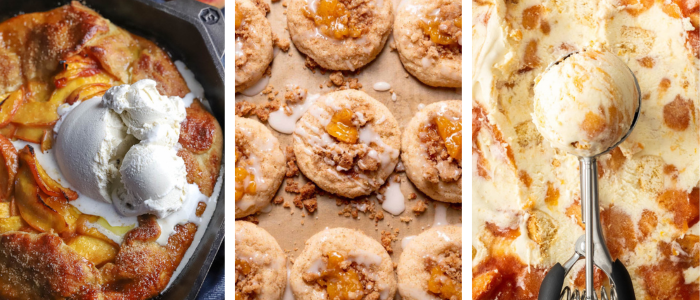 Peach Recipes For Dessert
Peach cobblers, galettes, and pies are all tried and true ways to use peaches in a dessert recipe.
But we're sharing a few more dessert ideas you may not have considered using peaches.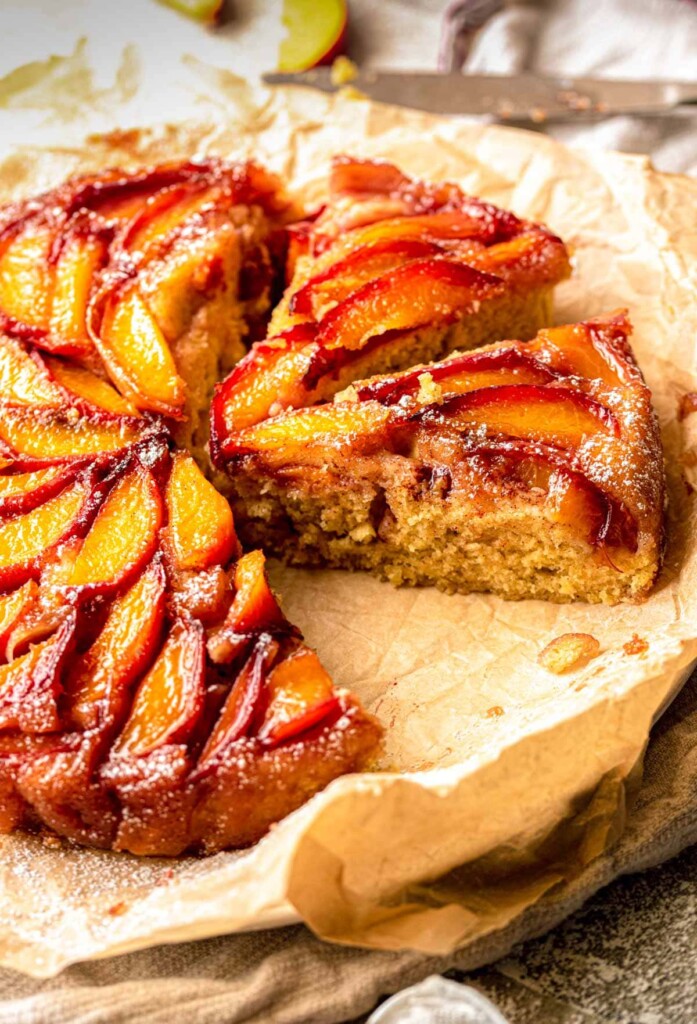 Delight in the extraordinary with our Bourbon Peach Upside-Down Cake recipe.
Experience the magic of caramelized peaches infused with a hint of bourbon, all atop a luscious cake.
Elevate your dessert game with this unique twist on a classic favorite.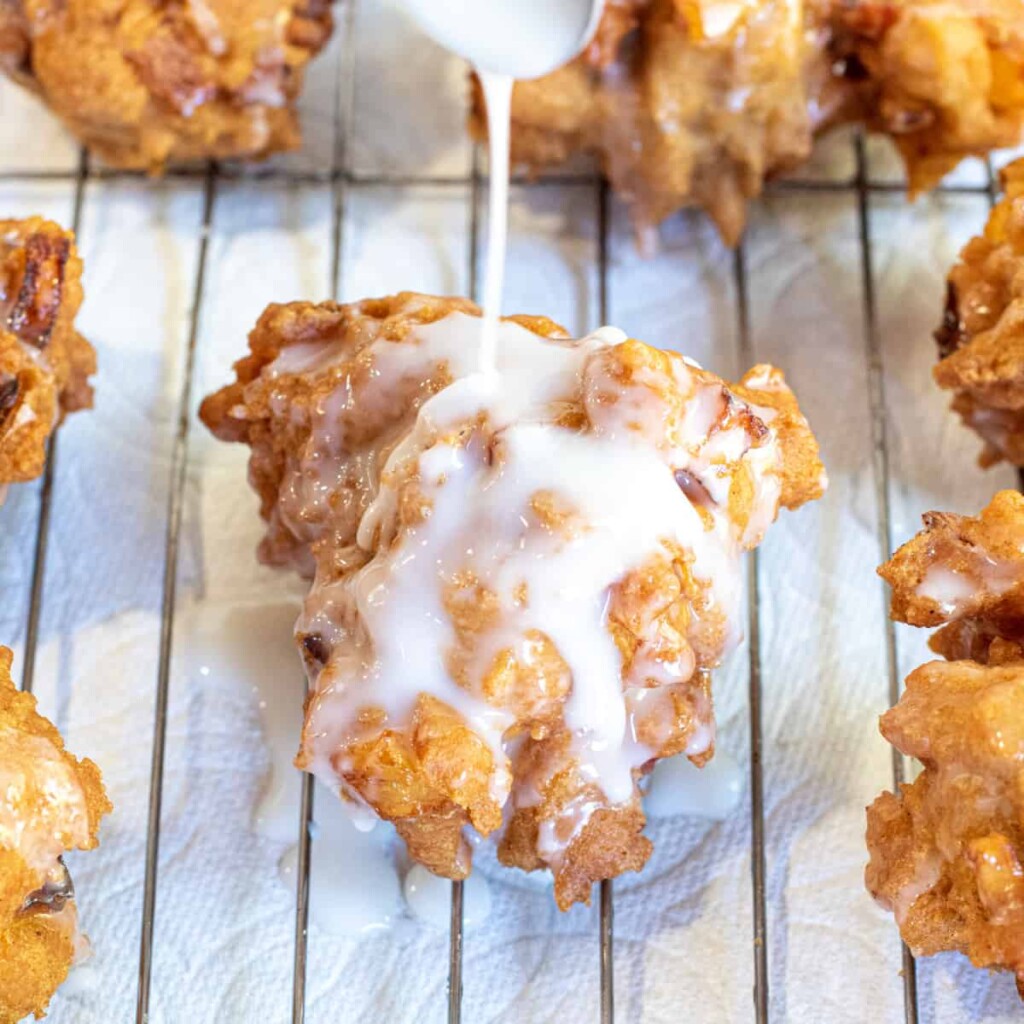 Indulge in the ultimate treat with Easy Homemade Peach Fritters.
This recipe delivers golden-brown fritters infused with juicy peaches, creating a delightful balance of crispy and fruity.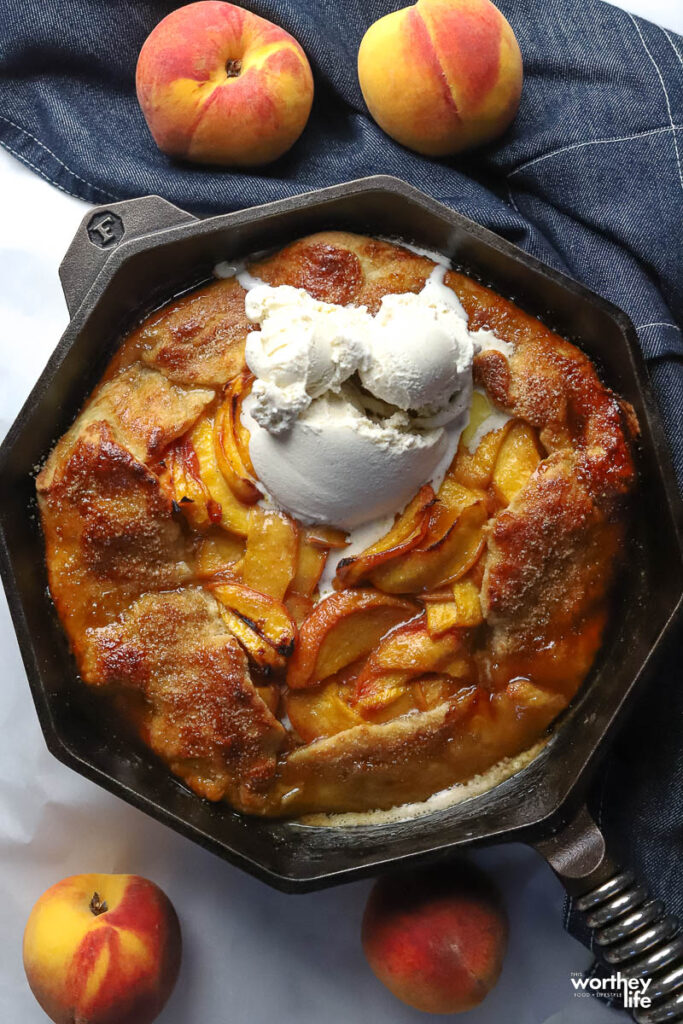 What is a Peach Galette? A Peach Galette is a rustic and free-form pastry that showcases the natural beauty of ripe peaches.
The best part is it doesn't have to be perfect looking, and it is always delicious.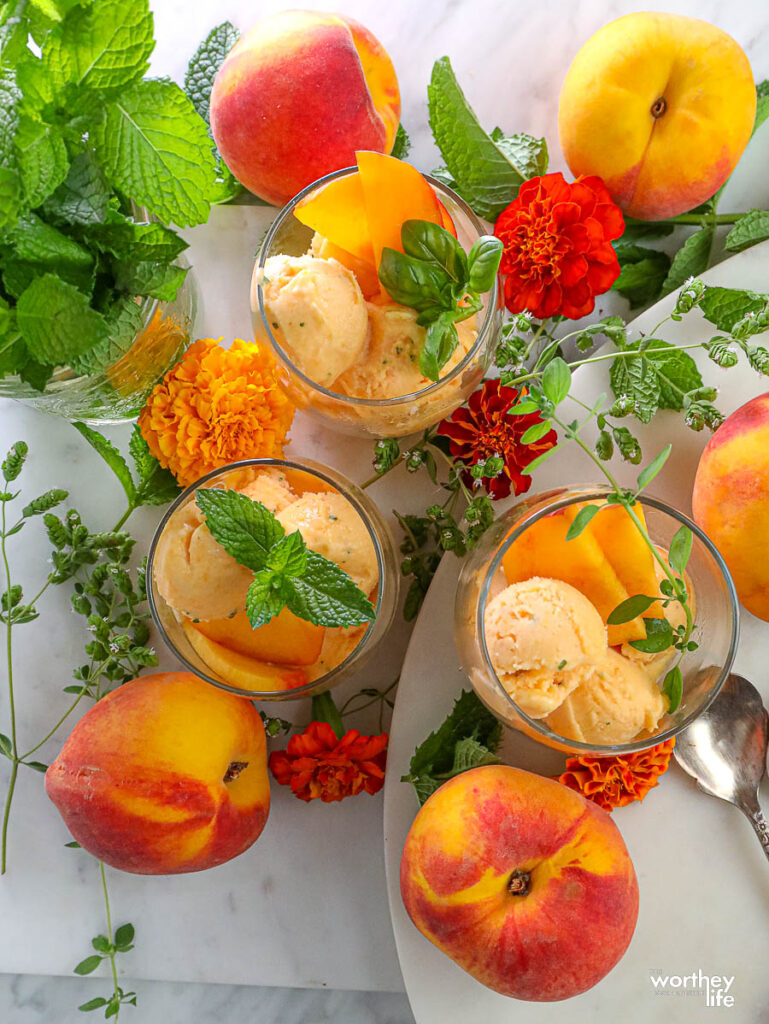 The flavor combination of peach and mint on the sorbet will have you falling head over heels in love!
Featuring sugar, honey, and lemon juice.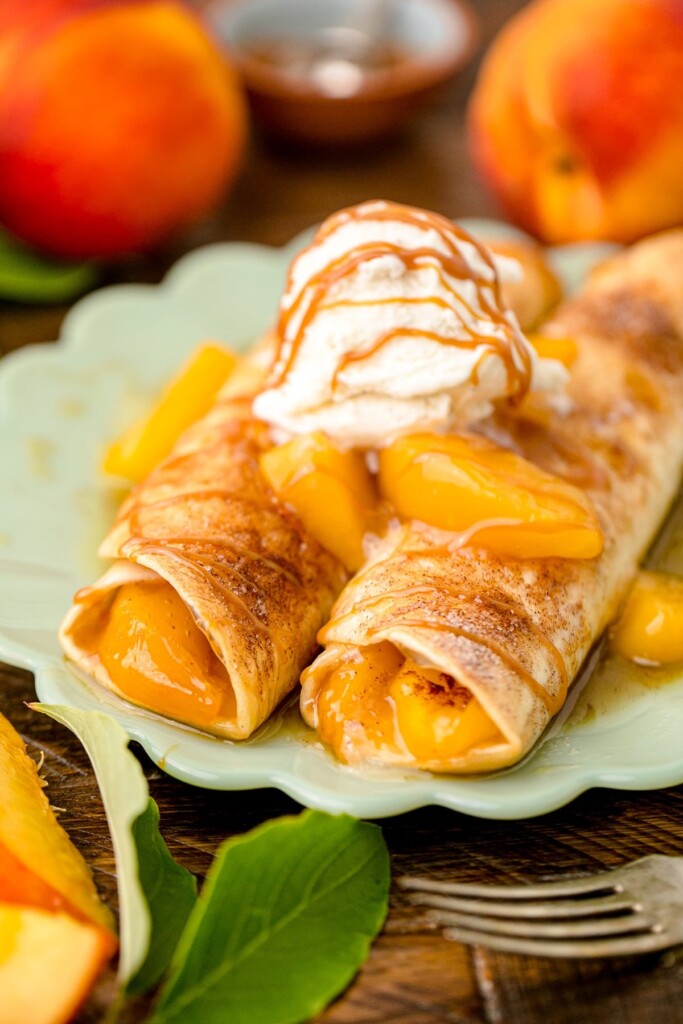 Peach Recipes for Enchiladas will instantly become your new favorite dessert.
All your favorite classic peach pie flavors are wrapped in a tight little roll-up!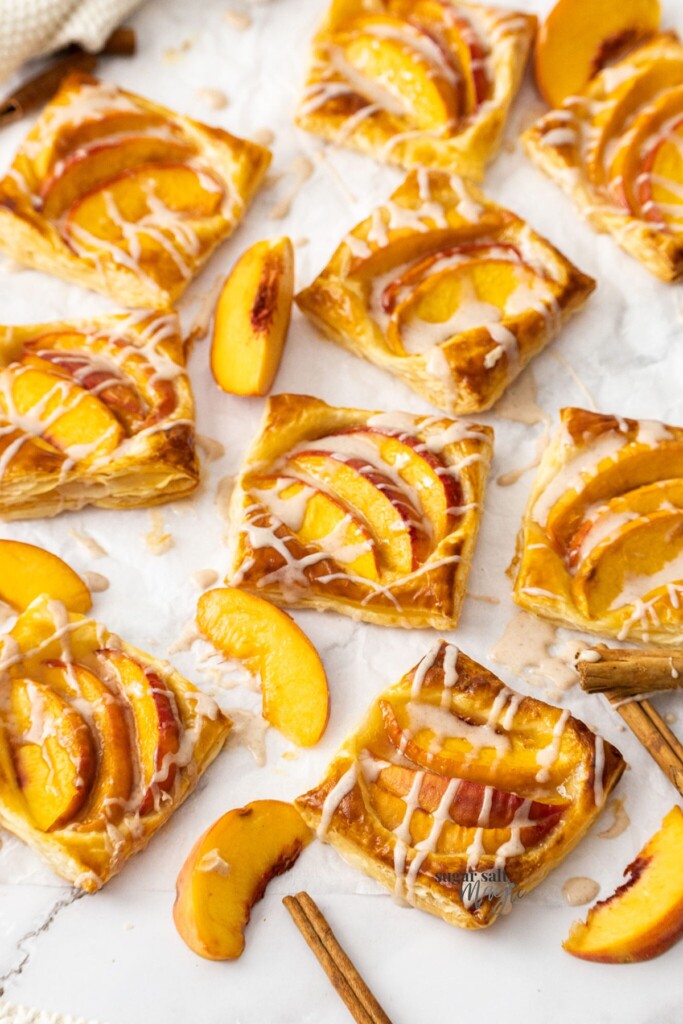 These Puff Pastry Peach Tarts are a must-try for any peach lover.
The best part is that they're fuss-free with a fabulous flavor that's not too sweet. You can use pre-made puff pastries from the store.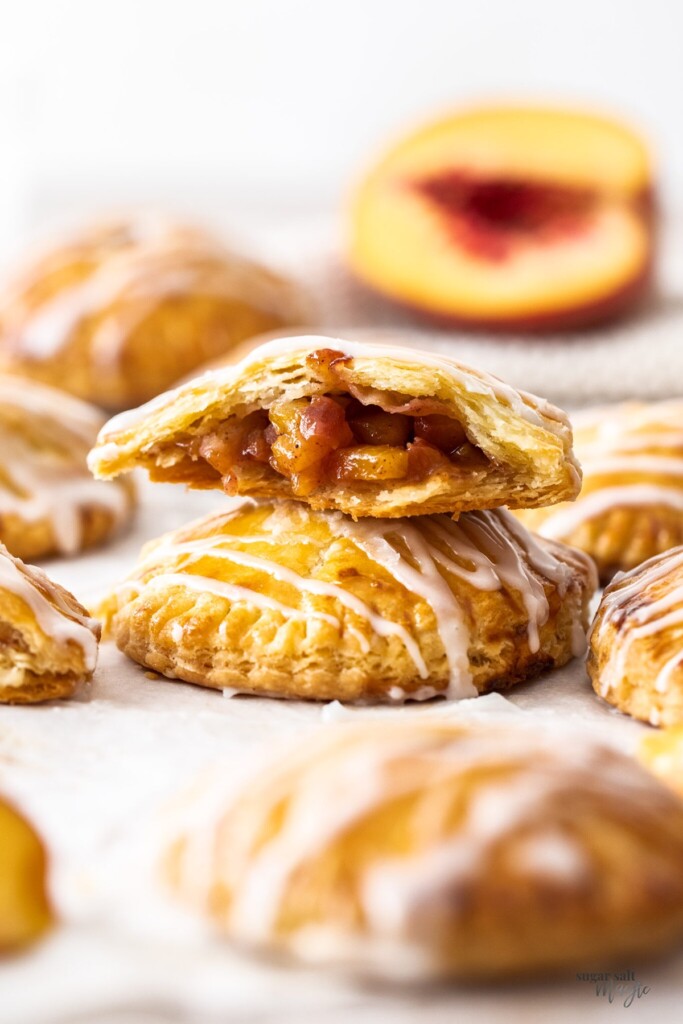 Spiced Peach Hand Pies are lovely for Fall and the holiday season.
Serving up personal-sized portions is fun and endearing.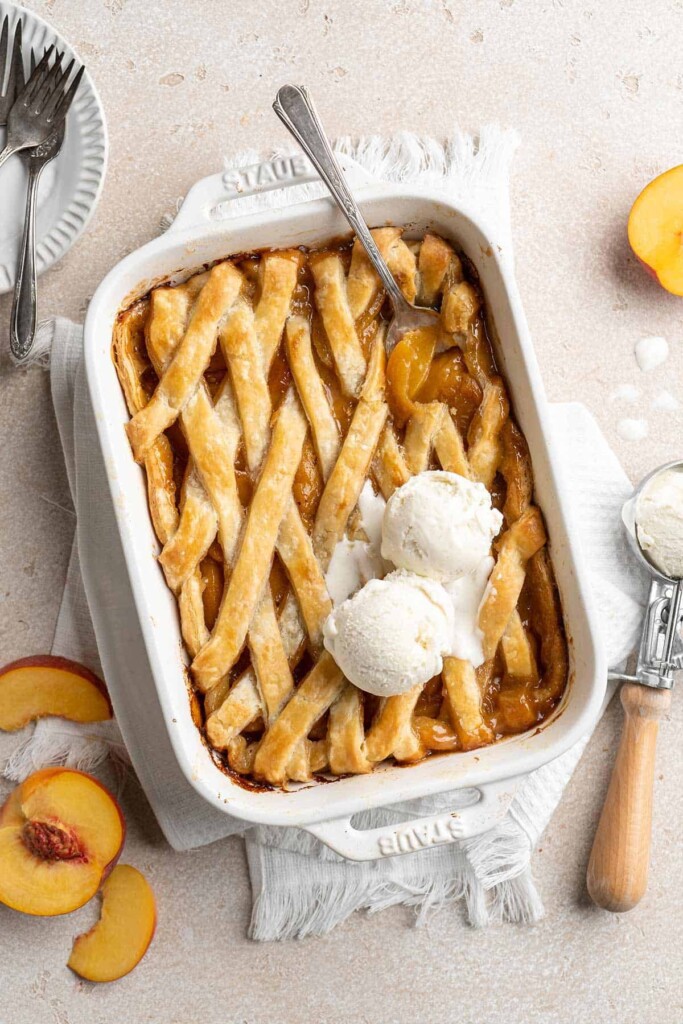 Southern peach recipes for cobbler are always the star of the show!
Diving into a slice of pure Southern comfort with this luscious Southern Peach Cobbler!
Sweet peaches, buttery crust, and a dash of nostalgia in every bite.
Indulge in the sweet warmth of summer with these Peach Cobbler Cookies.
A delightful twist on a classic favorite that's impossible to resist!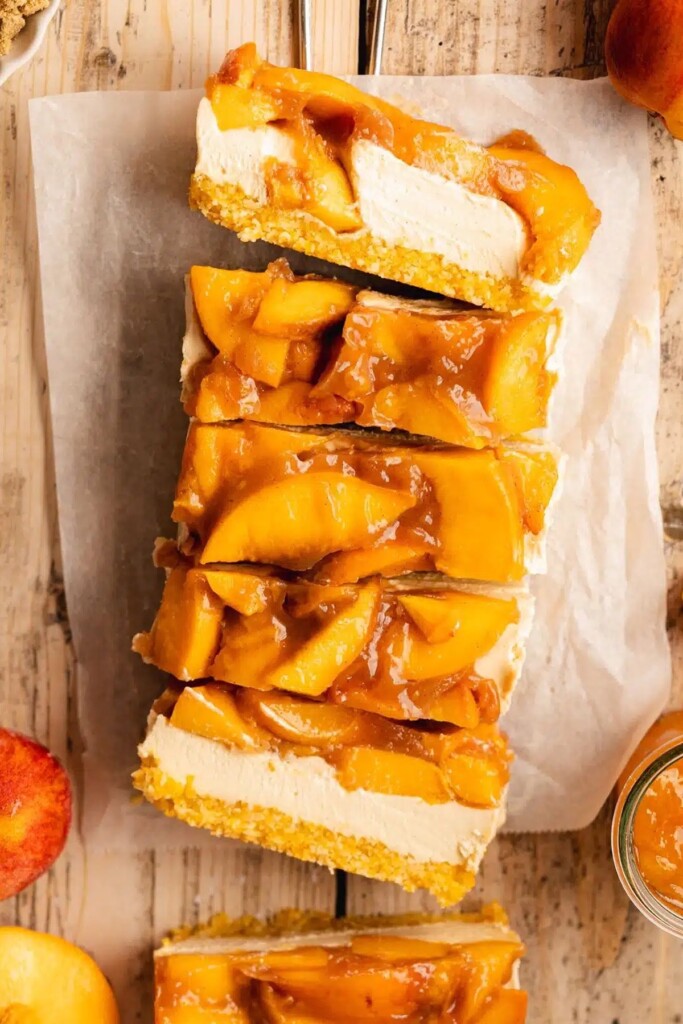 Peach cheesecake is an excellent recipe to showcase fresh peaches at a dinner party or special event!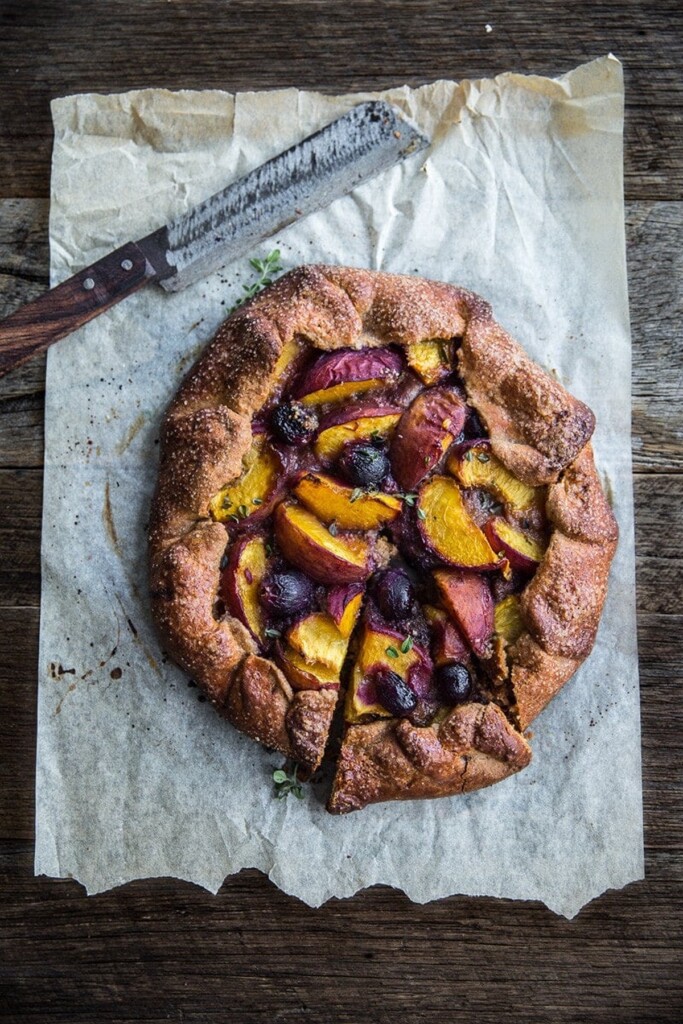 Indulge in the perfect blend of flavors with this Peach Grape & Thyme Galette.
A slice of summer heaven on a plate!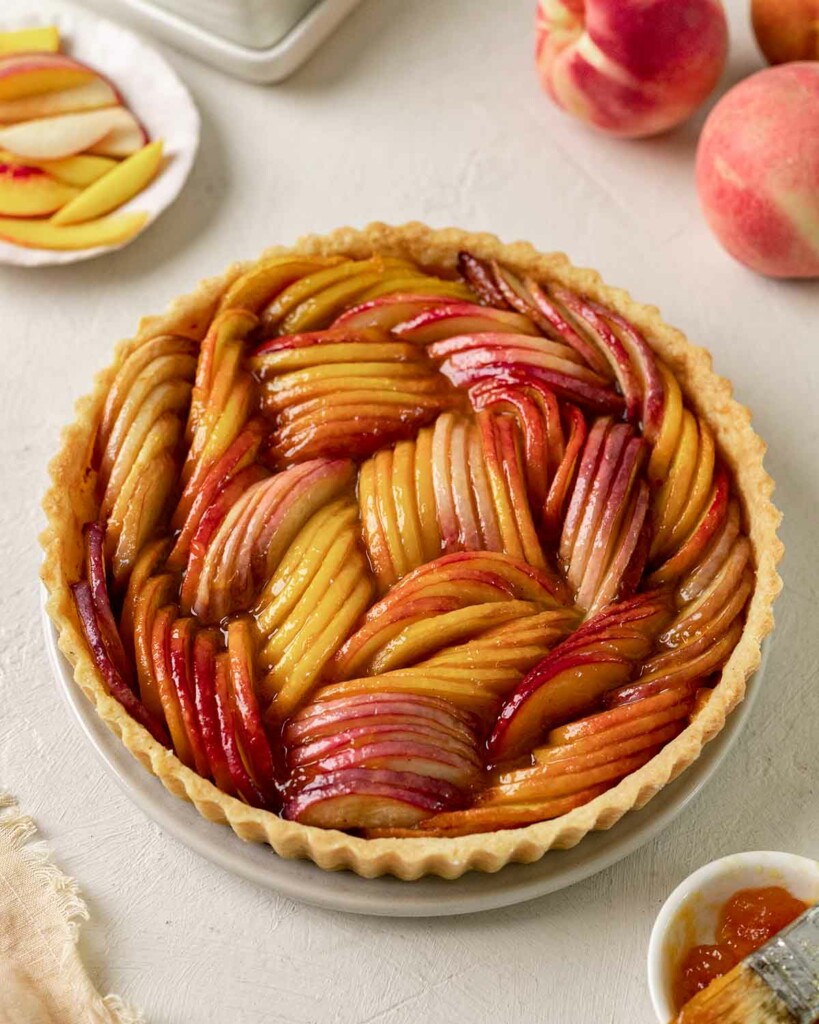 Discover pure plant-based delight with our Vegan Peach Tart recipe.
Juicy, ripe peaches rest atop a delicate, flaky crust, offering a symphony of flavors and textures that celebrate taste and compassion.
Indulge in a dessert masterpiece that's not only cruelty-free but also a feast for the eyes.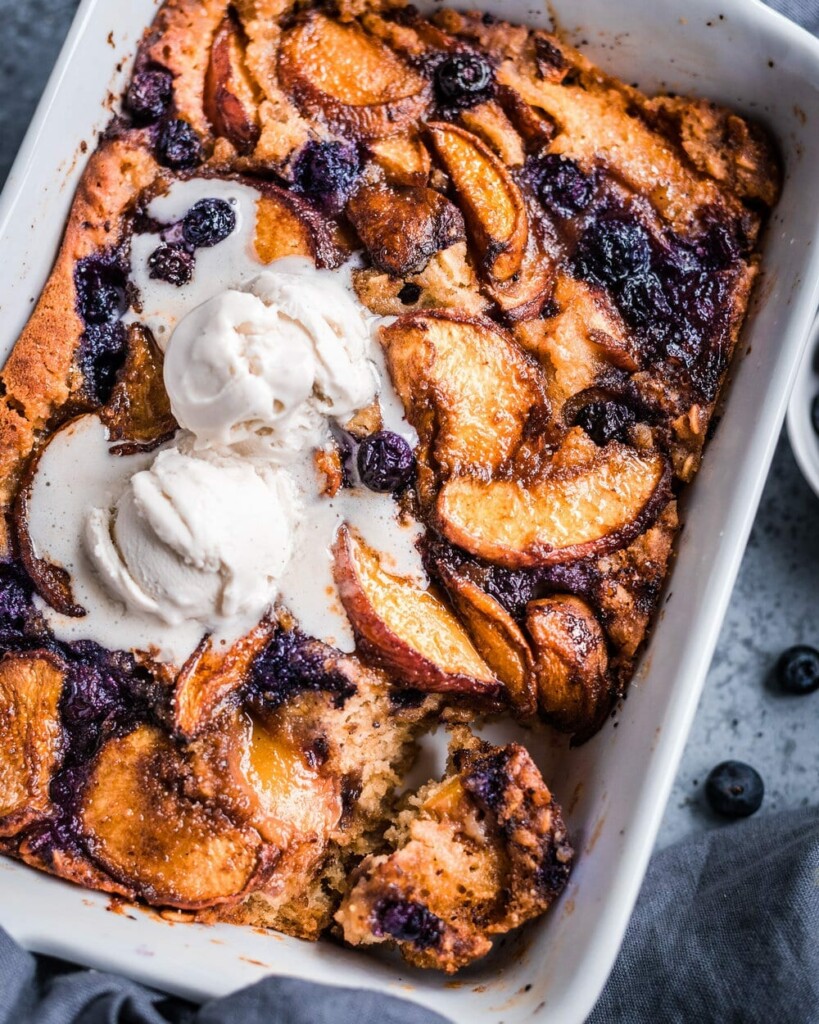 Vegan Brown Butter Peach Cobbler
Indulge in the warmth of baked peaches blanketed in a delectable brown butter-infused topping, all without any animal products.
Savor the perfect balance of sweet and buttery flavors in every bite.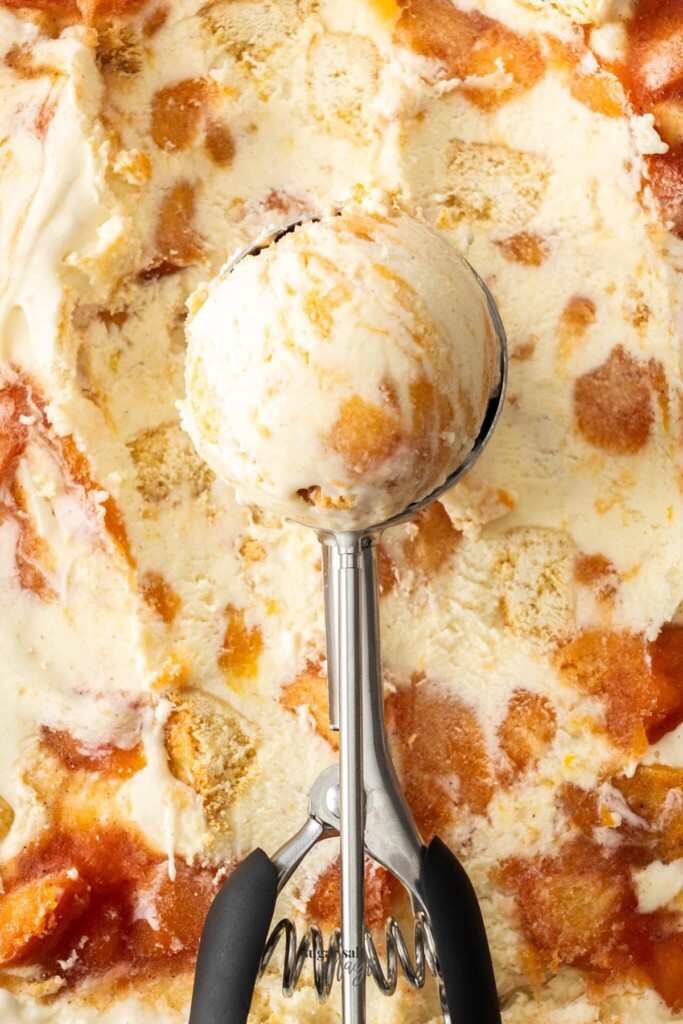 Want to make the best peach recipes?
This dessert combines the classic flavors of peach cobbler with the creamy goodness of ice cream.
It features a decadent, rich ice cream base infused with ripe peaches, cinnamon, and even pieces of peach cobbler crust and streusel mixed in.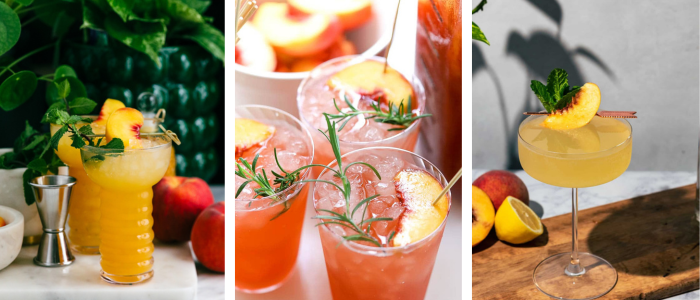 Delicious Peach Drinks
We've rounded up this list of peach recipes by sharing a few drink ideas with peaches as the star of the show.
Check them out below.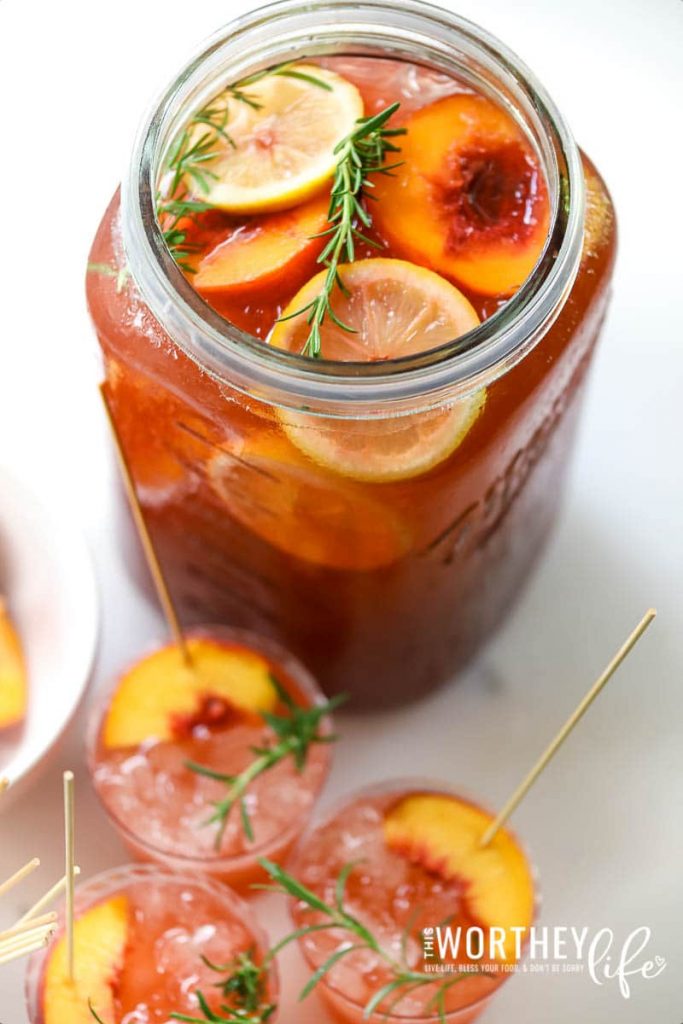 Sip into the sunshine with this delightful Peach Party Punch!
Perfectly sweet and refreshing, this vibrant concoction is the ultimate summer sip.
Get ready to raise your glasses and toast to good times!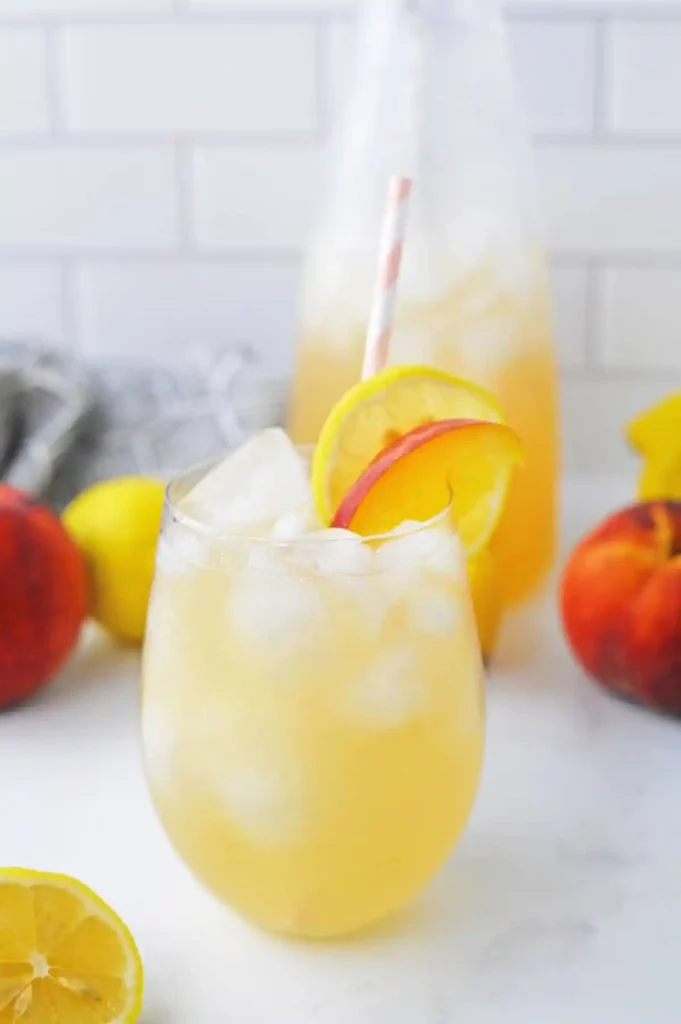 Quench your thirst with the taste of sunshine using our Homemade Peach Lemonade recipe.
Delight in the perfect blend of ripe peaches and zesty lemons, creating a refreshing and tangy beverage that embodies the essence of summer.
Whether for picnics, BBQs, or lazy afternoons, this delightful drink adds a burst of fruity goodness to your day.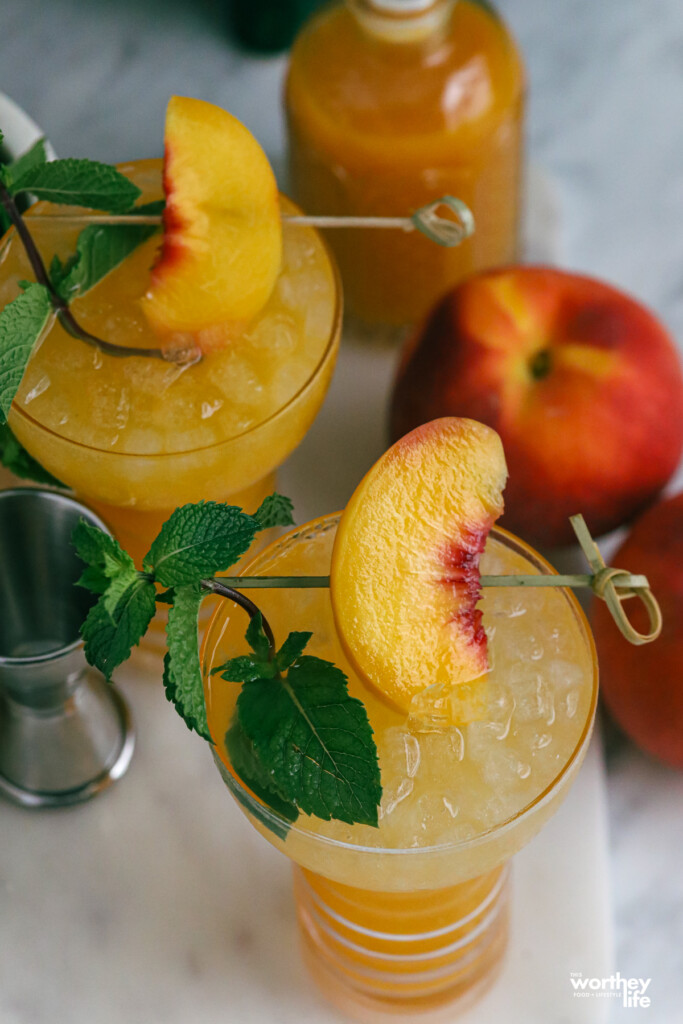 Dive into the refreshing goodness of a Peach Moscow Mule!
A twist on the classic, this delightful recipe combines the zing of ginger beer with the sweetness of ripe peaches.
Cheers to the perfect blend of flavors!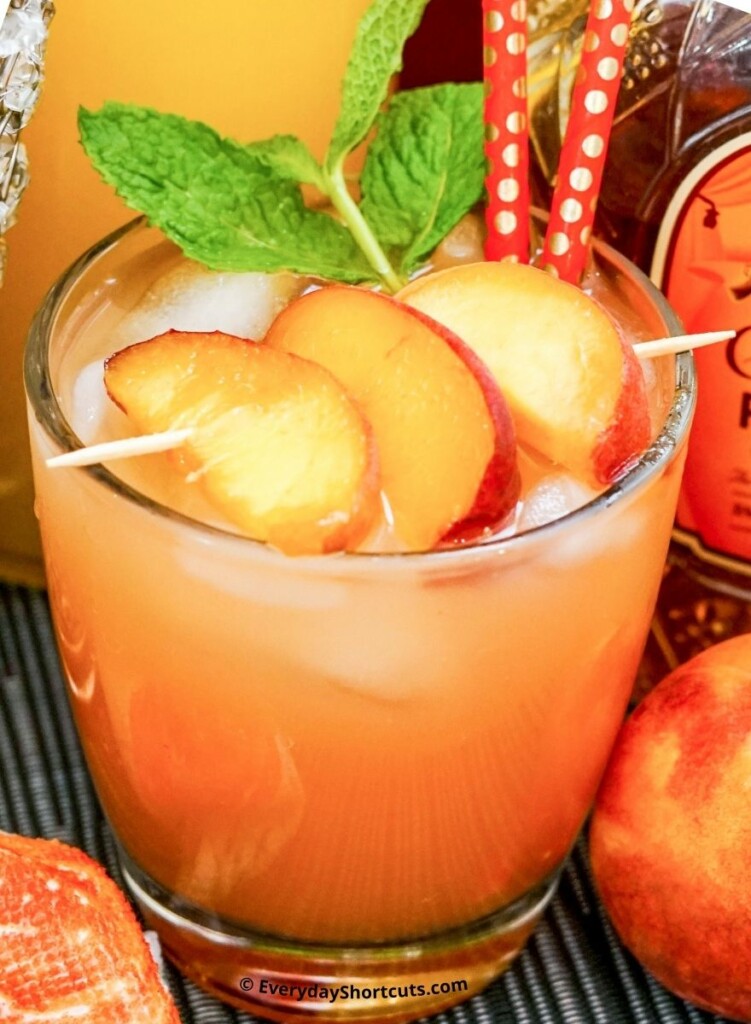 Indulge in luxury with our Royal Peach Cocktail recipe.
This exquisite blend of delicate peach flavors and premium spirits promises a regal drinking experience.
Whether celebrating a special occasion or seeking a taste of elegance, sip on this perfectly crafted cocktail.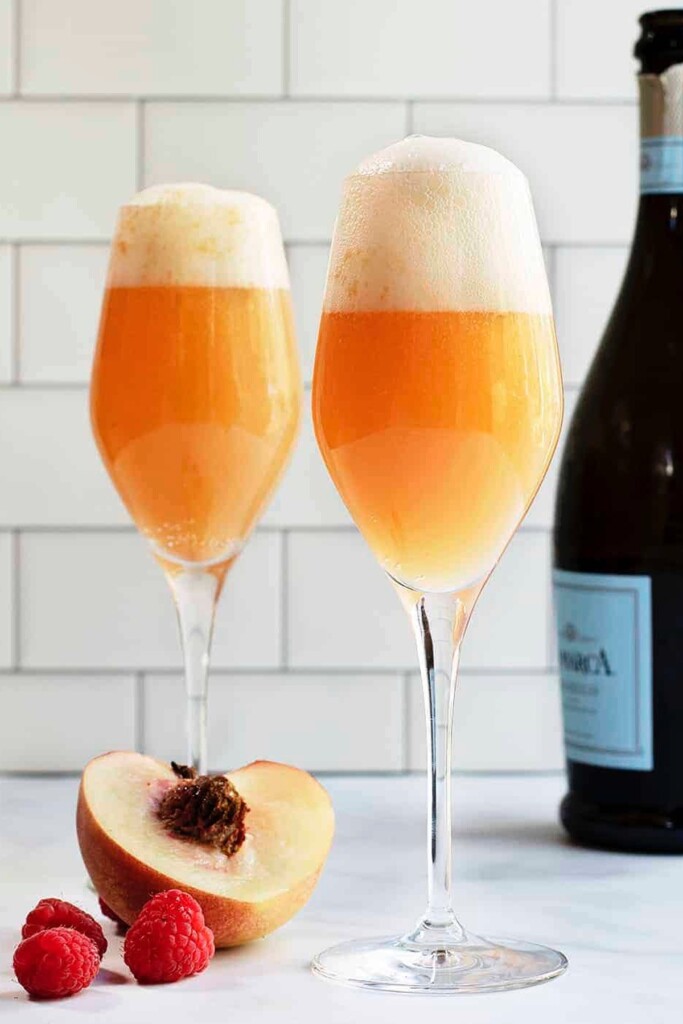 Looking for peach recipes for Bellinis?
A blend of ripe peaches and bubbly champagne, this recipe is a taste of sunshine in a glass.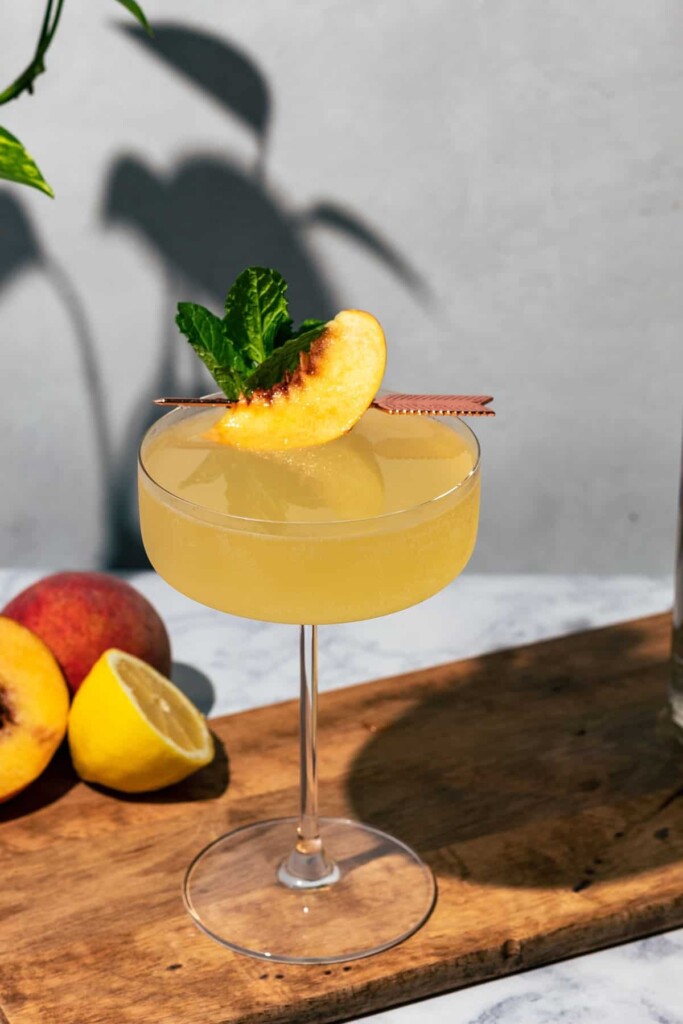 The Martini Bellini Cocktail is a refreshing, delightful twist on the classic cocktail.
It combines Prosecco (sparkling wine) with peach schnapps and peach puree.
The bubbly and fruity drink is perfect for toasting and celebrating.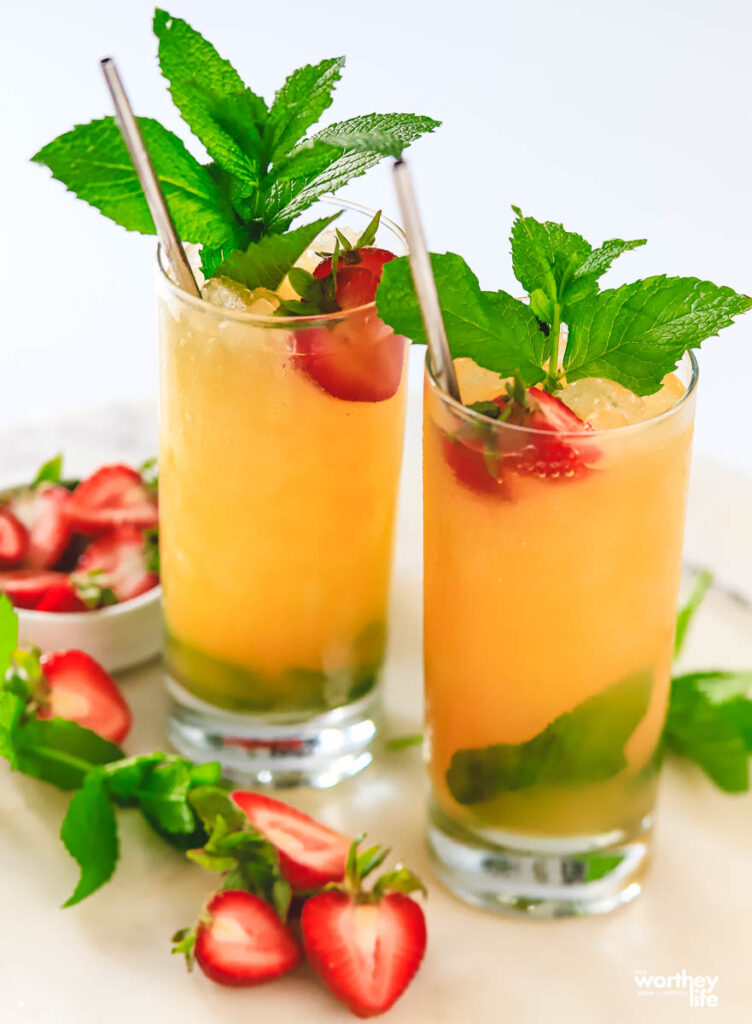 Elevate your summer vibes with our refreshing Peach Strawberry Rum Mojito recipe.
Sip on a symphony of juicy peaches, ripe strawberries, zesty lime, and a hint of rum, perfectly blended for a burst of tropical flavors.
Whether lounging by the pool or hosting a backyard party, this cocktail brings the taste of sunshine to your glass.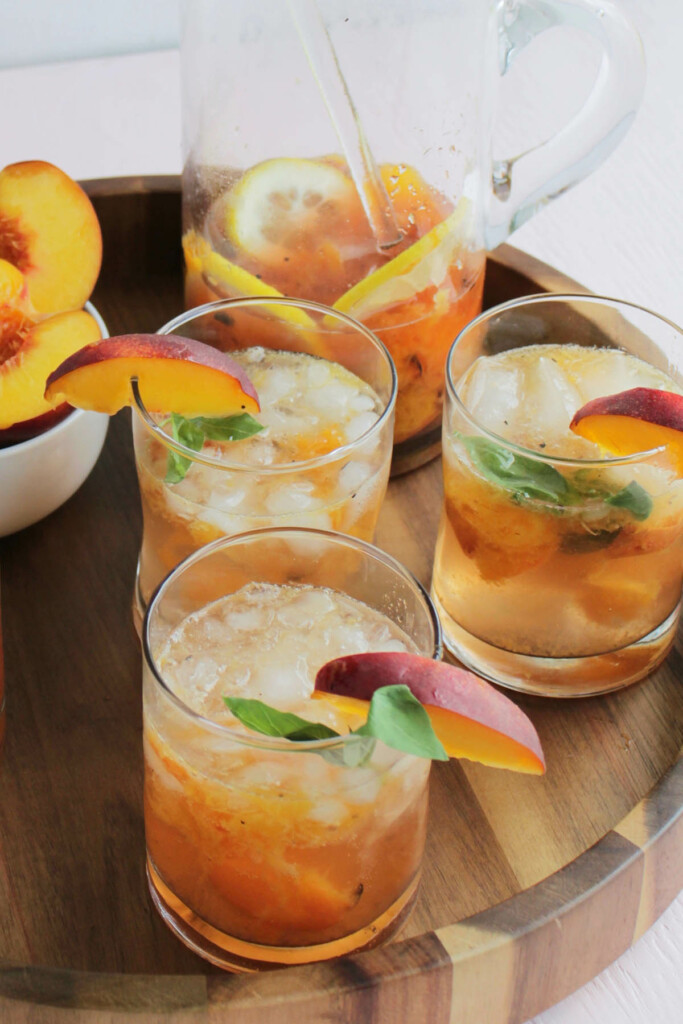 Capture summer vibes with a Grilled Peach and Lemon Rum Cocktail.
Smoky grilled peaches, zesty lemon, and a touch of rum create a refreshing drink.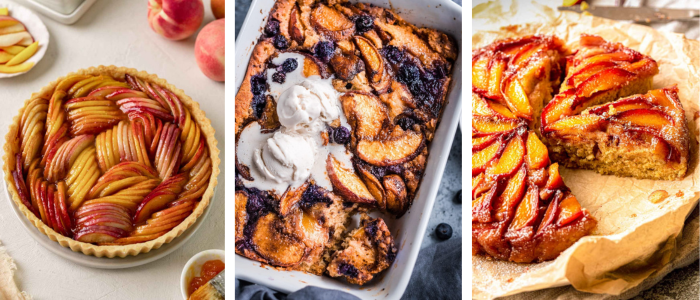 When Are Peaches In Season?
Peaches are typically in season during the late spring and summer months.
In most regions ns, peach season peaks from June to August.
However, the exact timing can vary depending on the climate and location.
It's best to check with local farmers' markets or grocery stores to get the most accurate information about when peaches are freshest and most flavorful in your area.
If you can't find any ripe peaches, buy some frozen or canned ones for now!
We hope you enjoyed this list of fabulous recipes to make with your ripe peaches! If you don't have ripe ones, grab some frozen or canned peaches.
I'm thoroughly craving peaches now!