Our Pumpkin Spice DIY Lip Scrub is one of the easiest and best homemade beauty products you will ever make.
If you are a fan of pumpkin spice smells and flavors, this will be that item you never knew you needed all your life.
It's that amazing and luxurious for your lips!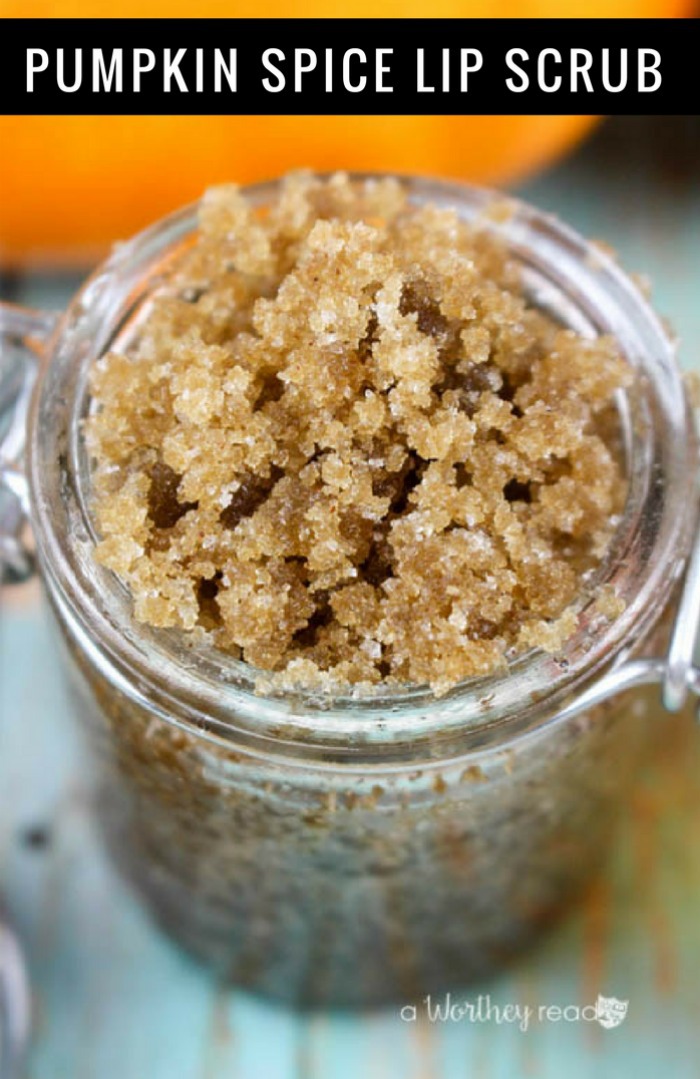 Pumpkin Pie DIY Lip Scrub
I am not a huge fan of pumpkin spice, but I love a good lip product. And since I keep all of these ingredients on hand in my house anyway, it was easy to imagine throwing these together could create a fun and great DIY lip scrub.
With cooler temperatures and the windy weather in Michigan almost always leave my lips a bit chapped, I need this on hand for pampering before moisturizing with my regular lip balm.
You can make and store this in a large lidded glass jar or put into smaller lip gloss containers to gift to your friends.
Remember, however, that the oils in this can leak out quickly and, on occasion, make it messy. So, just be careful about tossing this into your purse.
You'll want to keep it in the bathroom. It is a scrub that moisturizes, not a lip balm.
Ingredients needed to make a lip scrub:
3 Tablespoons granulated sugar
3 Tablespoons brown sugar
3 Tablespoons almond oil
1/4 teaspoon pumpkin pie spice
3 drops of Vitamin E oil
Directions on how to make Pumpkin Spice Lip Scrub
1. Whisk the sugars and pumpkin pie spice together in a small bowl.
2. Add the almond oil and stir to mix well.
3. Add the Vitamin E oil and stir to incorporate.
4. Transfer to an airtight container(s) and store for up to 3 months.
How to use homemade Pumpkin Spice Lip Scrub
1. Wet your lips with warm water and apply the pumpkin spice sugar lip scrub. Enjoy the sweet pumpkin pie aroma!
2. Gently rub your lips in a circular motion. Both sugars are great for exfoliating and the almond oil helps with moisturizing your lips.
3. Rinse with warm water and pat dry with a towel.
4. Apply your favorite lip balm.
This is a great solution, whether you want your lips to be smooth for kissing your spouse or simply enjoy a bit of at-home pampering.
This Diy Lip Scrub backs a great pumpkin spice flavor you'll love, alongside the rich moisturizing oils your lips need during the cooler seasons.
More Homemade Beauty Products: