Transform your morning coffee with this Dalgona coffee. This pumpkin spice whipped Dalgona coffee is bursting with fall flavors in each sinfully delicious sip.

Pumpkin Spice Whipped Dalgona Coffee
The fall season is just around the corner, and now we're heading into all things pumpkin, which includes the infamous pumpkin spice latte. I'm not running to sign up for everything pumpkin bucket list, but when you try this pumpkin spiced whipped coffee, you'll see why I'm sharing it. TikTok made the Dalgona Coffee go viral, a whipped coffee or, as I l like to call it, a fancy coffee drink. Since then, you will find so many variations, and I have to say this pumpkin spice coffee has won me over! It's a little different from the traditional dalgona coffee drink by adding flavors of warm fall spices, making this my new favorite drink of the season.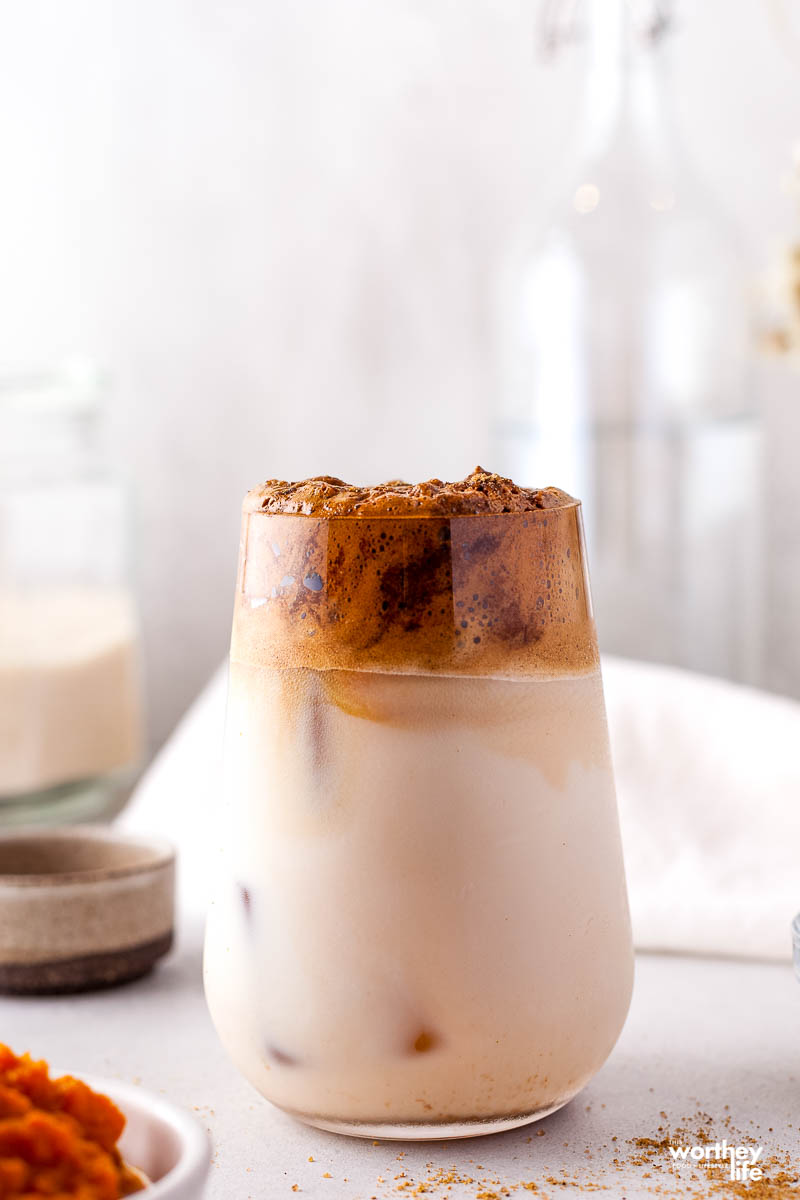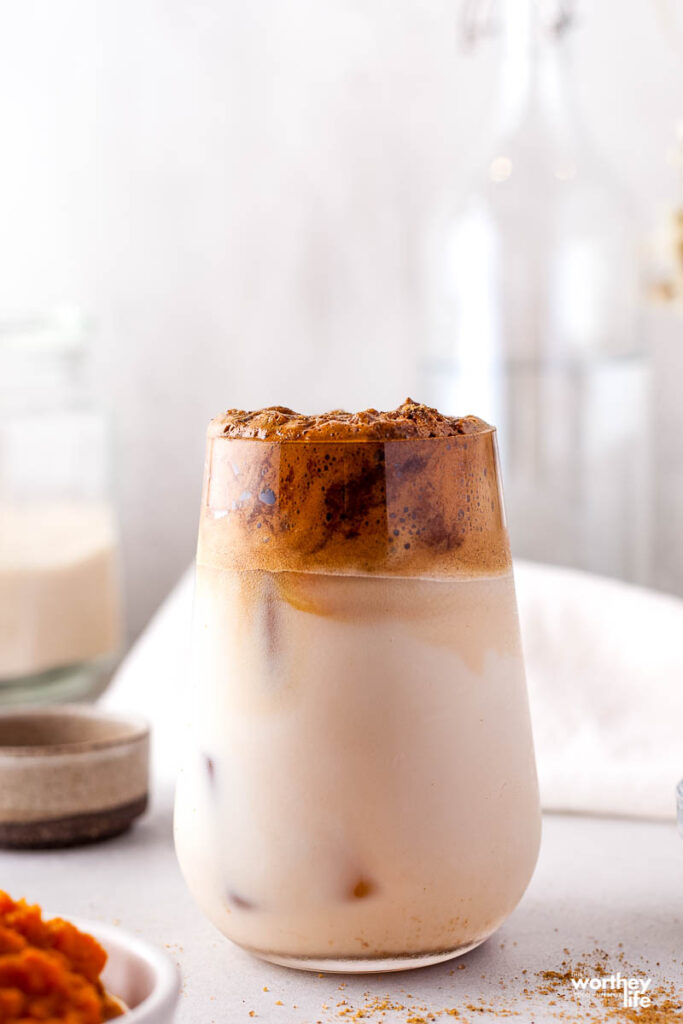 What Makes Dalgona Coffee So Irresistible
Simple ingredients
The whipped coffee topping is so rich and creamy that it melts in your mouth.
It tastes just as good, if not better than ordering from your favorite coffee shop.
Simple to make, takes just a handful of minutes.
Bursting with rich pumpkin spice flavor!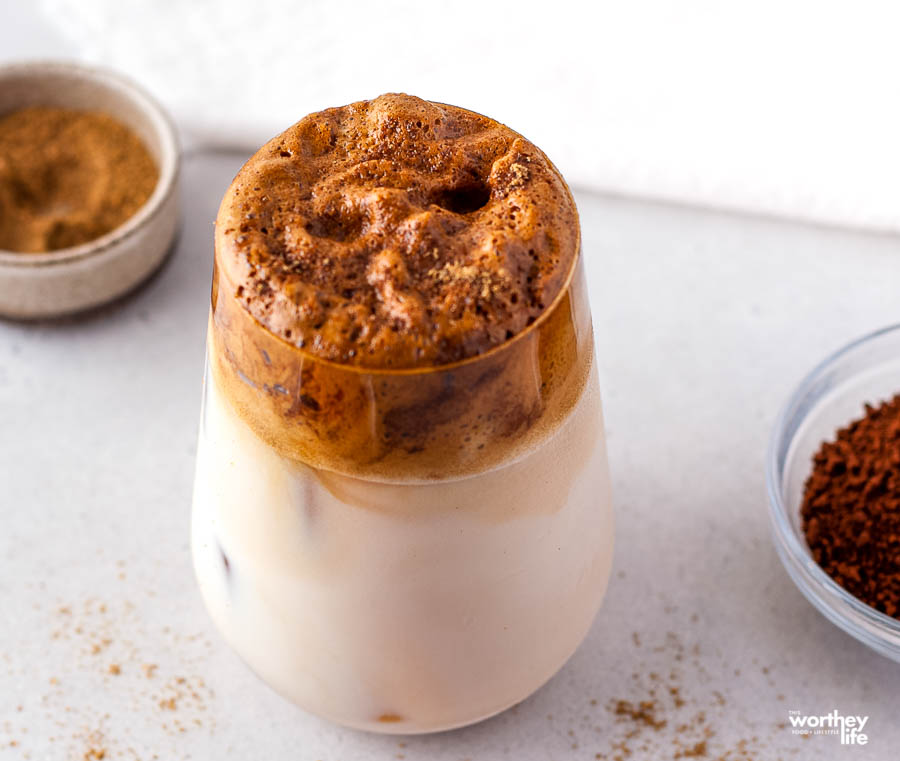 What Do I Need For This Dalgona Coffee
Instant Coffee. Reach for your favorite brand. It does need to be Instant Coffee as the granules mix up perfectly, giving the whipped coffee topping the rich flavor that makes this drink crave-worthy.
Cane Sugar. So I love how the cane sugar is a sweet twist to the drink. You can adjust the sugar to fit how sweet you would like your drink. Coconut sugar or white sugar works as well.
Boiling Water. Make sure to boil your water; this is needed to help ensure the sugar and coffee melts up perfectly, so you get that creamy topping.
Pumpkin Spice. Make up your pumpkin spice or buy a jar. Add as much or as little as you would like.
Milk. So if you need a dairy-free drink milk alternative, you can use almond milk or other plant-based dairy product such as oat milk. I find that whole milk offers the best flavor to the coffee.
Ice. This is a cold coffee drink, so make sure to grab the ice; it helps make the drink extra cold and keeps the layers separated.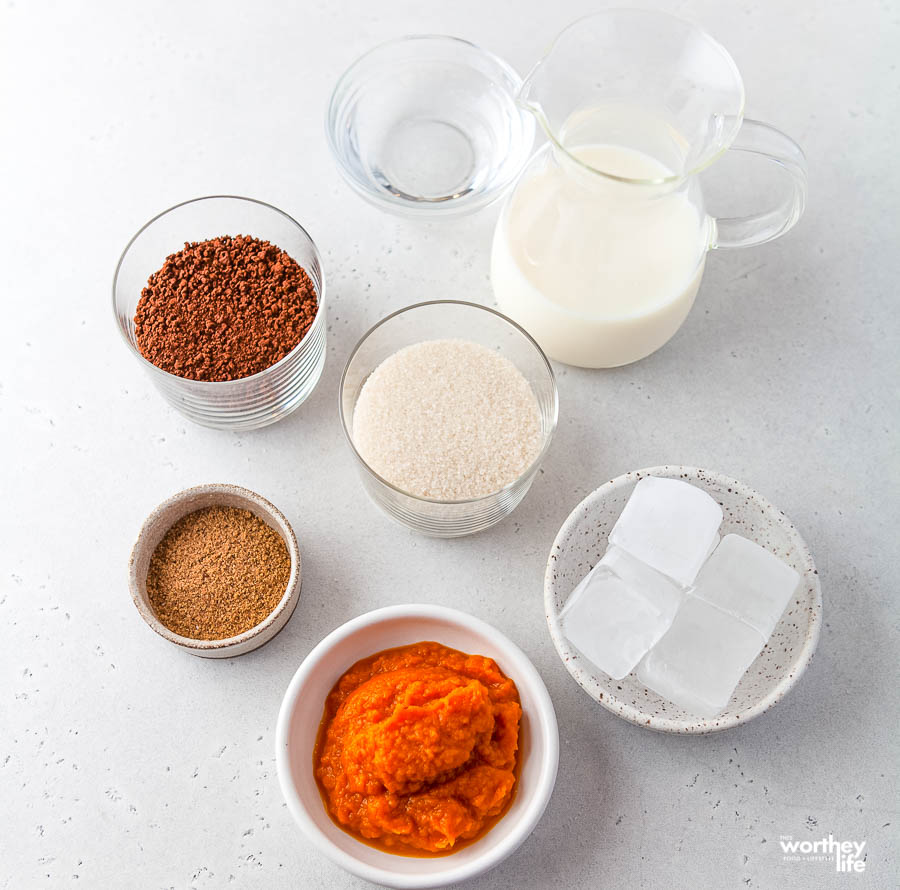 Ingredients for our Pumpkin Spice Whipped Dalgona Coffee
*makes 1 serving
2 Tablespoons instant coffee
1 1/2 Tablespoons cane sugar (coconut sugar also works)
2 Tablespoons of hot water (boiling water)
3/4 tablespoon canned pumpkin purée
1/2 teaspoon of pumpkin spice and a little more for sprinkling on top 1–2 cups of milk
Ice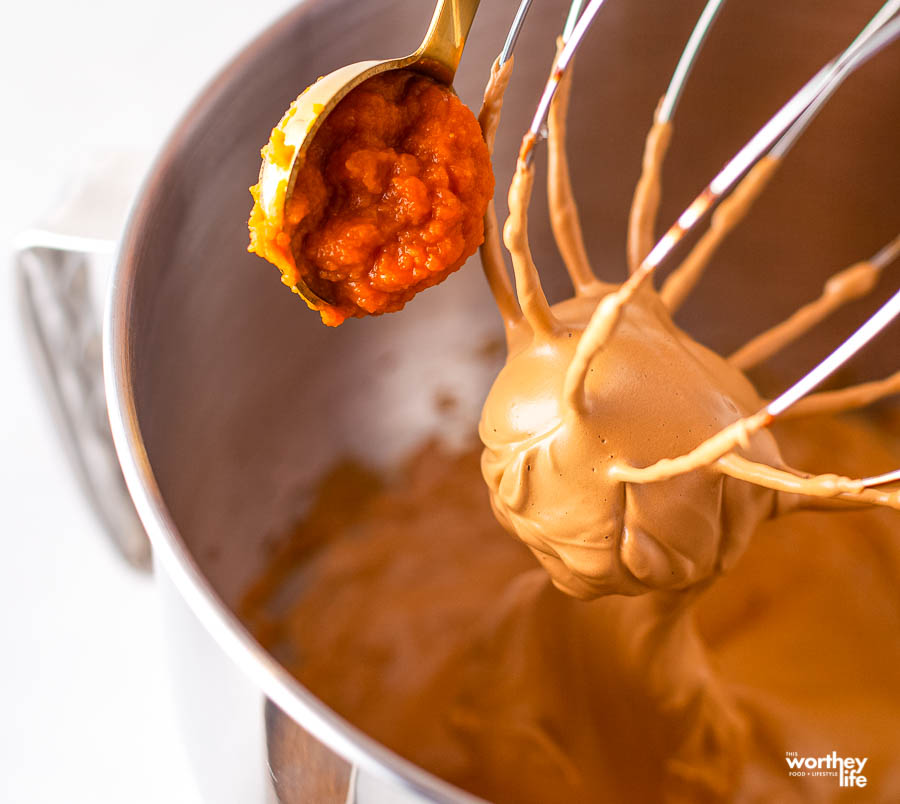 Directions:
Start by making the Dalgona whipped coffee. Whisk coffee, sugar, pumpkin spice, and boiling water together using a stand mixer, hand mixer, or electric mixer. Whisk for 2-3 minutes until foamy. Scrape down the sides of the bowl if needed. (If you use a standing mixer, I recommend doubling the recipe so the whisk reaches the mix)
Whip in the pumpkin puree but do not over mix. Just enough until the pumpkin isn't visible.
Add ice to a cup, pour the milk, and then top with the whipped pumpkin coffee mixture.
Stir and enjoy!
Optional: Sprinkle a bit of pumpkin spice (or brown sugar) on top. You can also dress it up a little with a drizzle of caramel sauce.

Is Whipped Coffee and Dalgona The Same Thing?
Whipped coffee and Dalgona are slightly different, but you will find that the names are interchanged when it refers to the TikTok whipped coffee drink that took the world by storm.
What If I Don't Have a Stand Mixer?
You can whip this up with a whisk. If you don't own a stand mixer, that is okay, a hand mixer will be just fine. It will just take a bit more time than whipping it up with the kitchen appliance.
Just whisk until it is foamy and thick. It can take 5 minutes or more to whisk it by hand.

Can I use decaf instant coffee for this Pumpkin Spice Dalgona Coffee?
Yes, go right ahead and use decaf if you don't want the caffeine boost. Both varieties of coffee will work, and you can enjoy this drink with caffeine or not.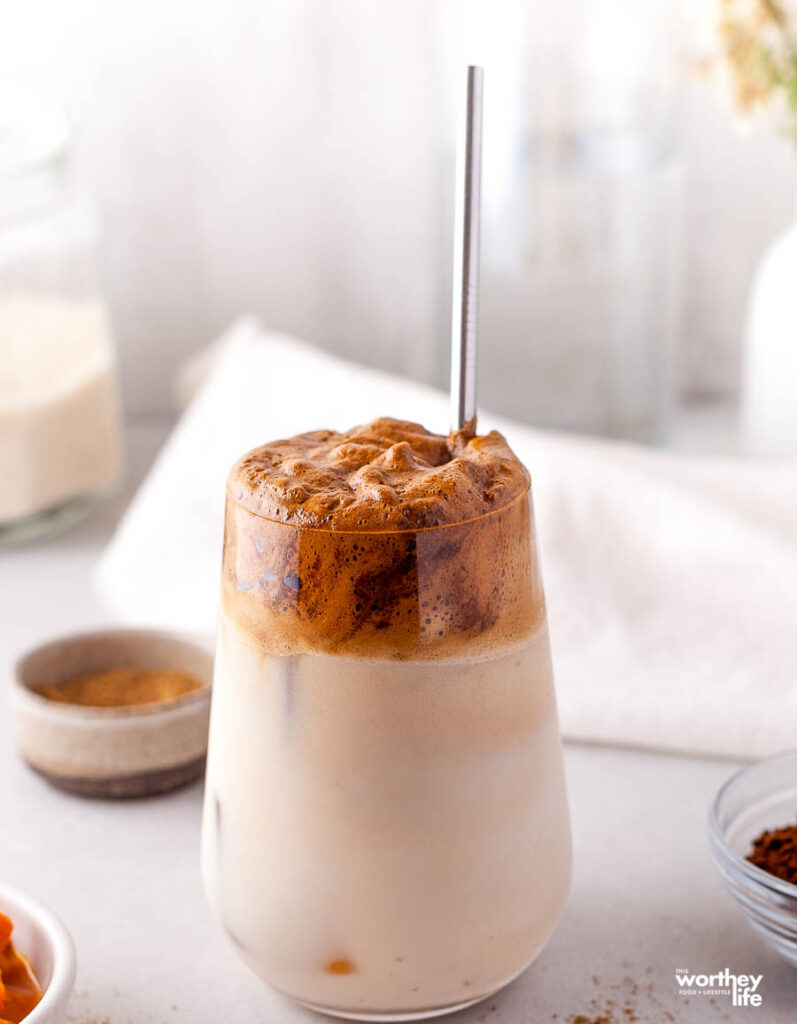 Do I have to add sugar to this Pumpkin Spice Whipped Coffee recipe?
No, you do not need to add in the sugar if you don't want to. If you would like a less sweet version, skip the sugar. I find the sugar helps to smooth out the drink, but if you are the type who enjoys less sweet coffee, leave it out. You could also use a sugar substitute for pumpkin spice flavors (like the Pumpkin Spice syrup).
Can I make this into a hot coffee instead of cold?
Go right ahead and serve this Dalgona coffee recipe up as hot if you would like. Instead of ice and cold milk, warm the milk up and then top with the whipped coffee topping.
I have enjoyed this whipped pumpkin spice coffee drink cold and hot, so feel free to try both ways and see which version you enjoy the most.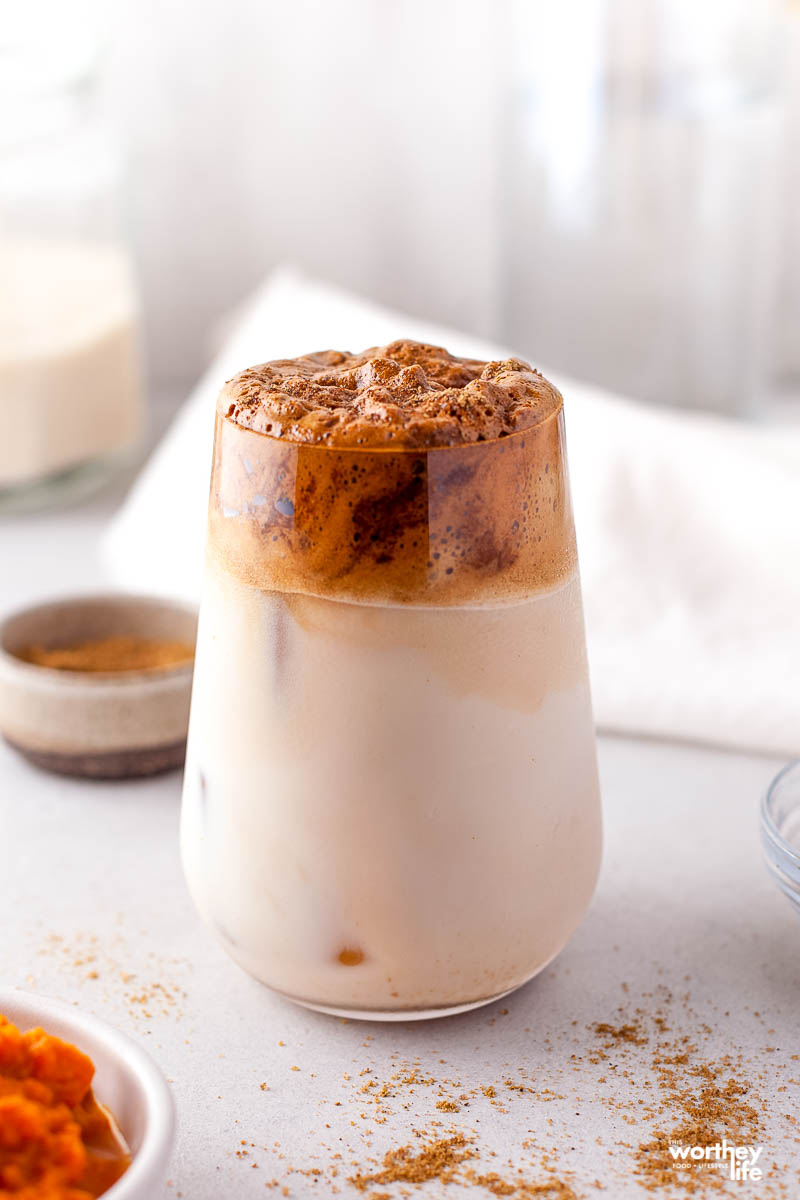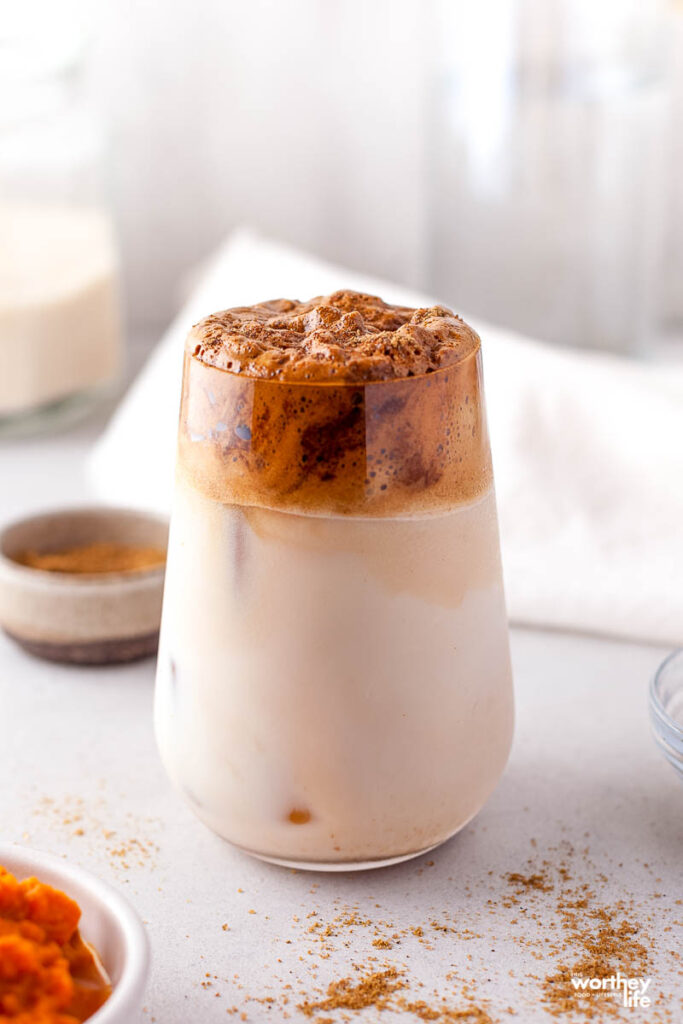 Now that you have the recipe for this coffee whip drink perfect for the fall season give this dalgona coffee trend a try. I'm not a huge pumpkin fan, but this whipped drink is a winner when you add in the warm spices of fall, plus coffee.
Find more coffee recipes below:
The Whitetail: Jamaican Rum Coffee Cocktail
Iced Gingerbread Coffee Recipe
Praline Coffee Old Fashioned Using Praline Liqueur