Love Praline Liqueur? Then try this Praline Coffee Old Fashioned whiskey cocktail recipe, which is perfect for the fall + winter season. James E. Pepper, the esteemed inventor of the Old Fashioned cocktail, is probably rolling over in his grave. Why? Well, I took a bit of liberty with his famous cocktail and but a praline twist on it that befits, in my opinion, the seasonal shift from summer into the colder months.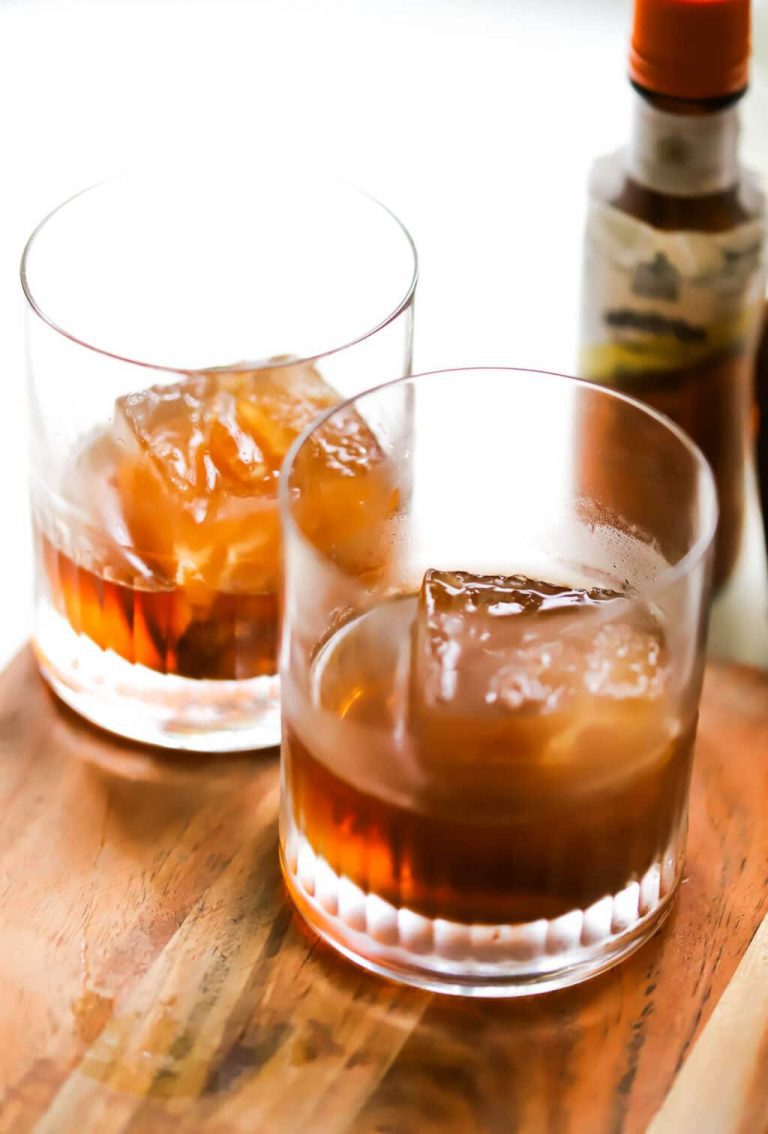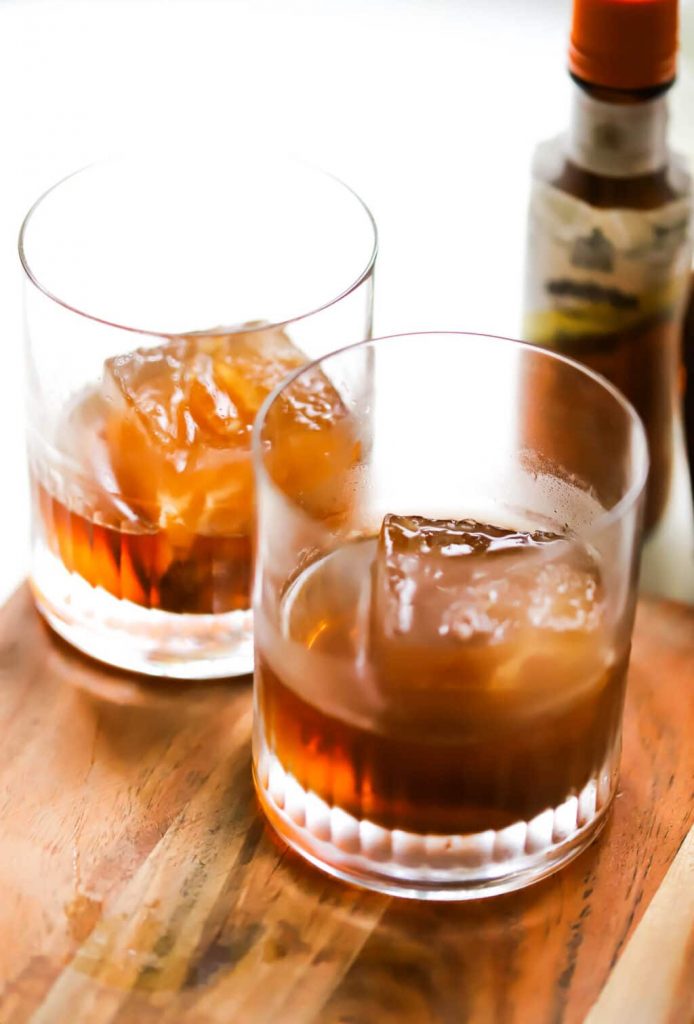 Praline Coffee Old Fashioned Using Praline Liqueur
The Old Fashioned is a famous cocktail, but that doesn't mean I shouldn't have fun with it and play around with the ingredients. And that's precisely what I did with our Praline Coffee Old Fashioned. And if you're a coffee-lover, this whiskey cocktail may be something you'd be interested in. And the praline addition gives this cocktail a subtle nutty flavor that's a perfect fit for the cooler days and months leading into the thick wool sweaters of our midwest winters. So open up your home bar and let's do this!
The Praline Coffee Old Fashioned Cocktail is a play on the original Old Fashioned with the addition of praline and white crème de cacao syrups. Grab a quality bourbon whiskey (I used Journeyman's Featherbone) and Angostura orange bitters. The big difference in this unique cocktail creation is our cocktail is then poured over a large block coffee ice cube. Not only does it look neato, but as the ice slowly melts it dilutes, the cocktail is then infused with a beautiful and refreshing coffee flavor. So go ahead and grab the ingredients because we think we got a winner over this way. If you are a lover of Old Fashioned, you'll enjoy this one. Why praline liqueur? If you ever had pralines you probably enjoyed them; they're typically made with brown sugar, rich cream, quality butter, and of course pecans and cooked in a pot overheat. When finished, pralines are similar to fudge. And a good praline syrup has notes of all of those flavors and in my opinion the rich nutty flavor signals autumn and all telltale signals that summer is behind us.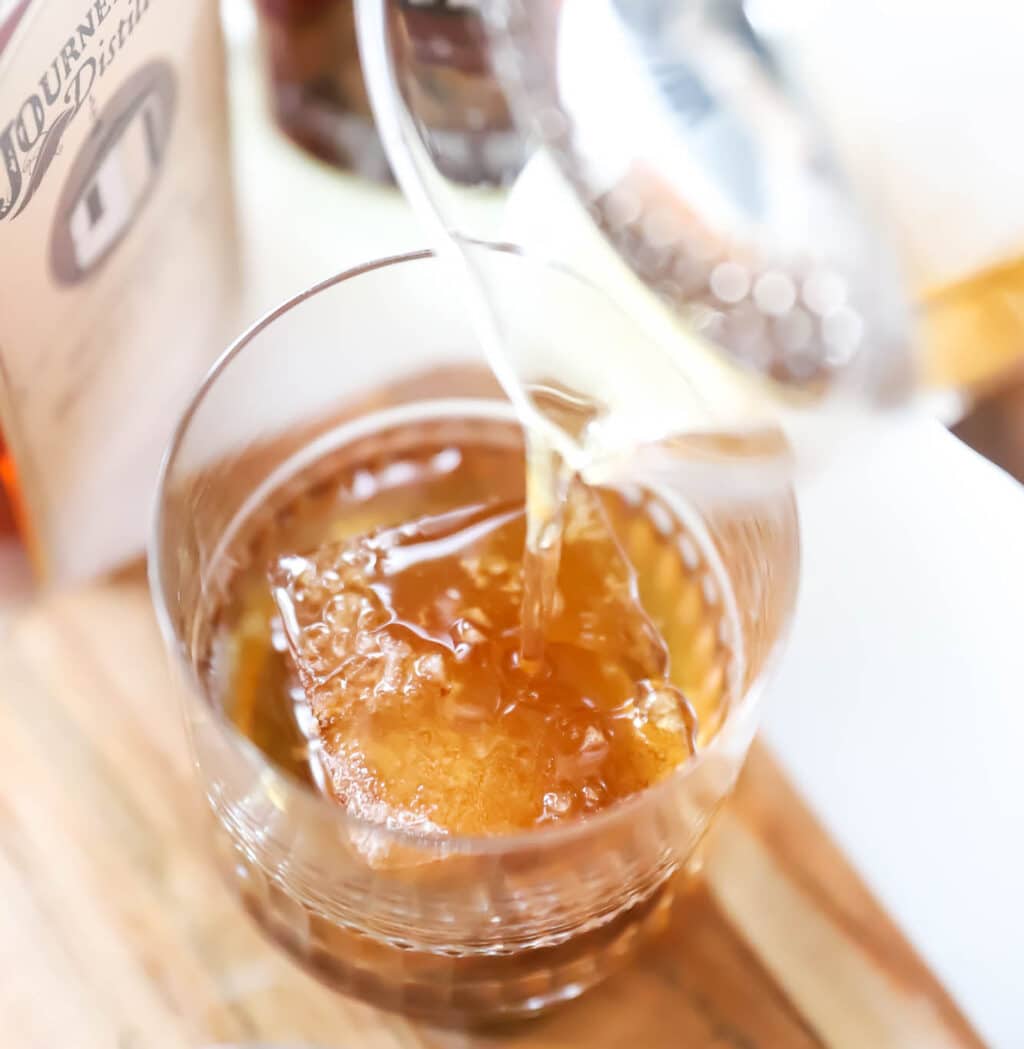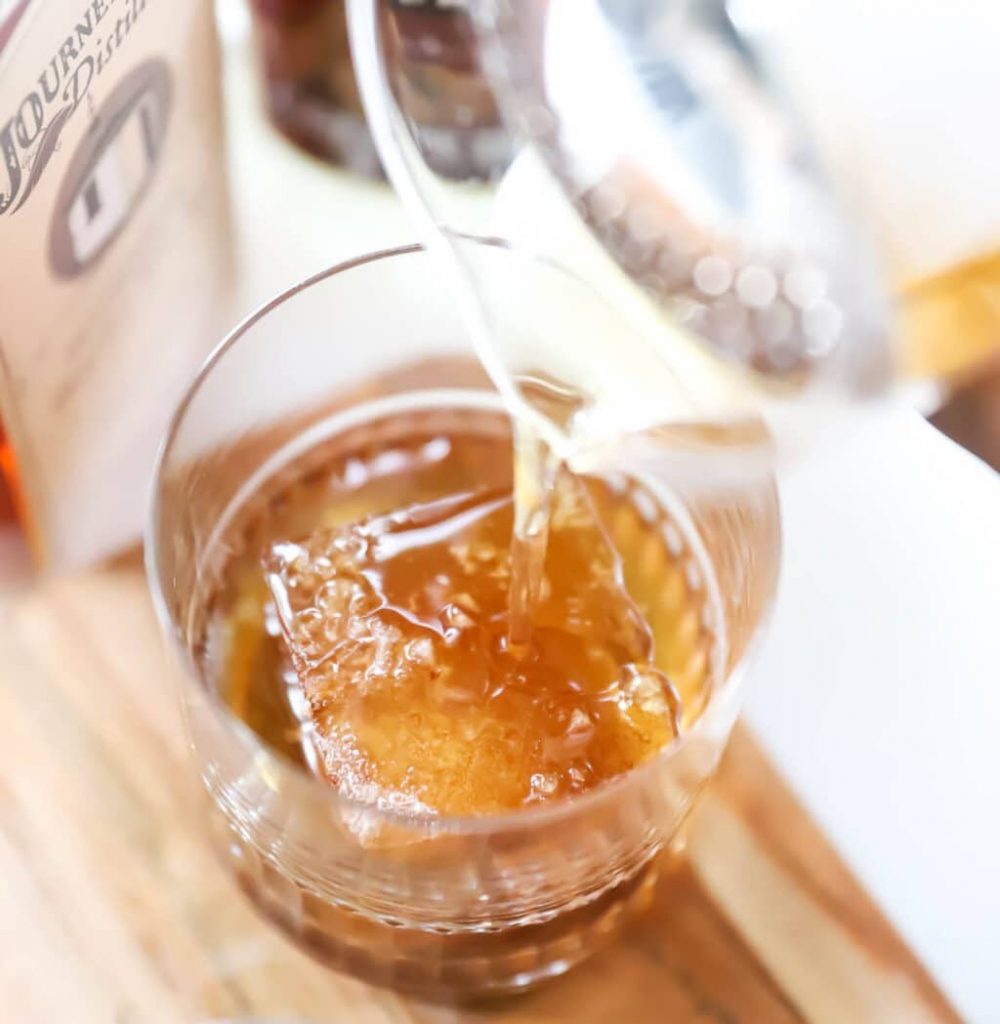 And how about the large block ice cube of frozen coffee tho? This is pure genius and because coffee is a fall and winter mainstay, okay a winter necessity. This recipe is an ideal whiskey cocktail that's a sipper best enjoyed curled up on the couch in front of a roaring fire.
Okay. My job is done. What's some of your favorite fall flavors you love to enjoy in a cocktail? Cinnamon and caramel are a couple of my favorites too and of course who wants to without the holy trinity of toasted marshmallows, chocolate, and Graham crackers? Not I! Cheers!
You Will Like This Cocktail Because:
Bourbon Based
Hints of Praline
Chocolate Notes
It's A Sippin' Cocktail
Has A Large Coffee Ice Cube
Perfect For Bonfires Paired With S'mores
"Each summer's end is choked with envelopes in which messages of hope ring out for an easy winter and a quick return to a less distant sun." -Unknown
Praline Liqueur Recipe Idea
Ingredients:
1 1/2 ounces bourbon whiskey
1/2 ounce praline liqueur
1/2 ounce crème de cacao (white or dark)
1 1/2 ounces chilled water
1 large coffee ice cube
2 dashes Angostura orange bitters
Directions:
Add all of the ingredients into a cocktail mixing glass or shaker tin with lots of ice.
Stir with a long-handled bar spoon or shake vigorously for 30 seconds.
Strain over a large block coffee ice cube.
Garnish with an orange peel (optional)
Serve.
If Praline Liqueur is your thing, check out the following recipes using this delicious liqueur:
Praline + Whiskey Pumpkin Pie Cocktail
Adult Butterbeer Recipe + Kid-Friendly Butterbeer Version
Whiskey Apple Crisp with Salted Caramel & Toasted Marshmallow