We love a good quiche, and our Breakfast Quiche with potatoes is all about keeping things simple while ensuring lots of great flavors. This recipe takes about an hour from start to finish, but it's time well-spent, and at the end, you'll have a wonderful breakfast quiche to share with friends or family, and we don't think anyone will be disappointed.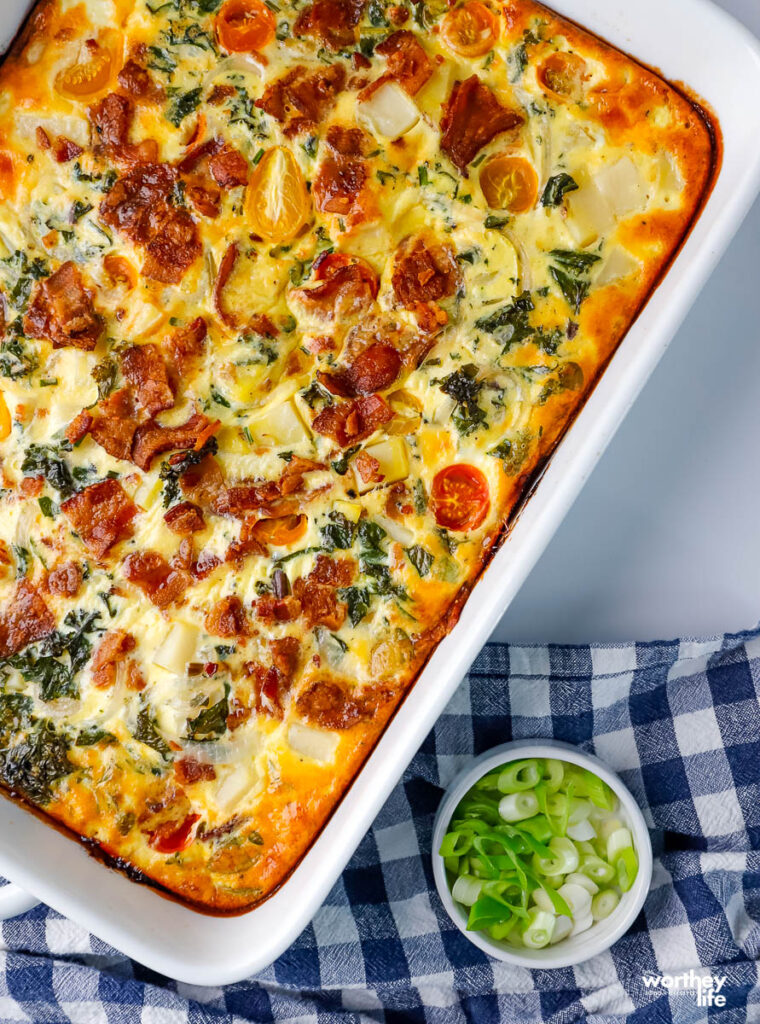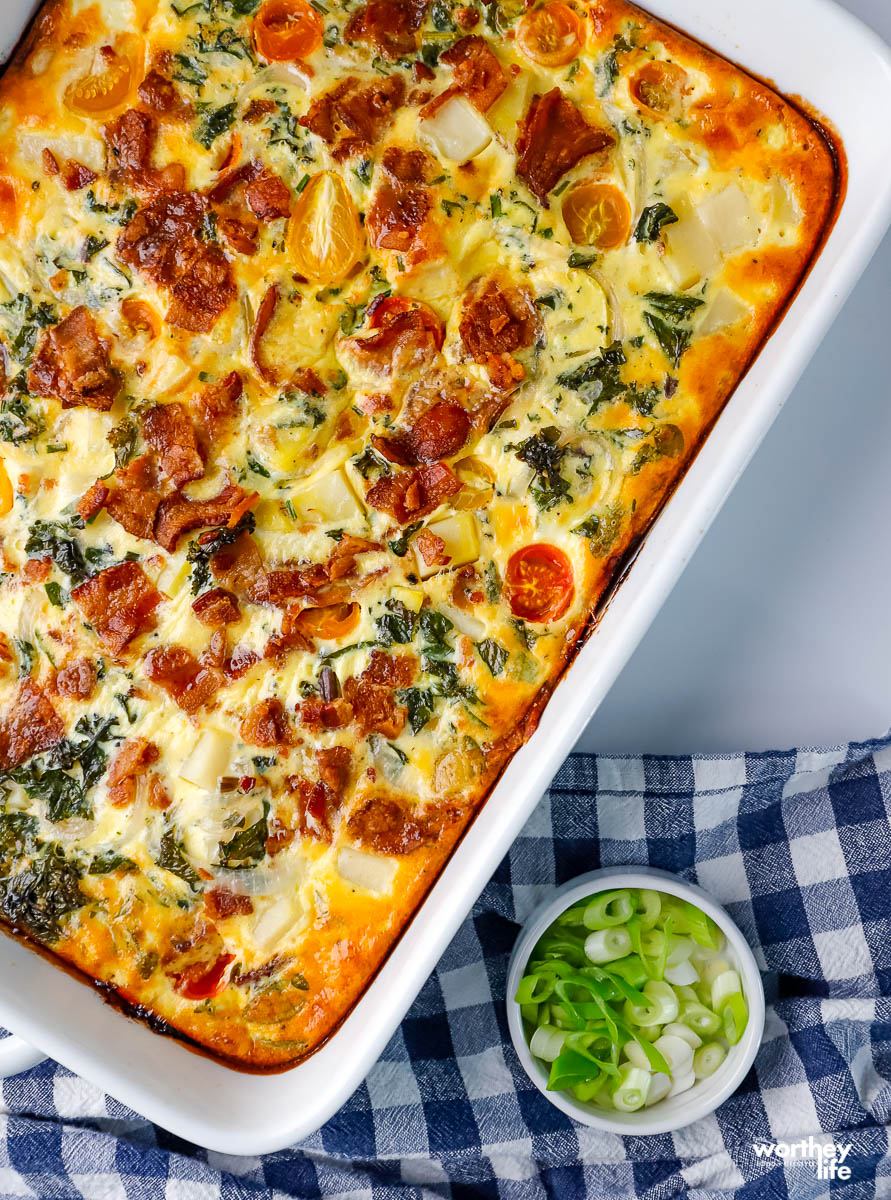 Breakfast Quiche With Potatoes
I love this breakfast quiche because it manages to be both surprisingly light but still hearty. I use potatoes to make this quiche heartier than an egg-only quiche. Plus, the potatoes add so much flavor, and the potatoes' starchiness matches perfectly with the thick-cut bacon, onions, green onions, and garlic. The chopped collard greens and kale add lots of nutrients as well as a bit of color. Overall, this is an easy and delicious quiche that's ideal for breakfast or brunch but also works as a simple to put together and legit dinner option.
Things you'll want to have on hand for this recipe:
Medium bowl or large bowl
Paper Towel
Plastic Wrap (this is a great way to have you if you want to store it in the fridge, to make the quiche the night before)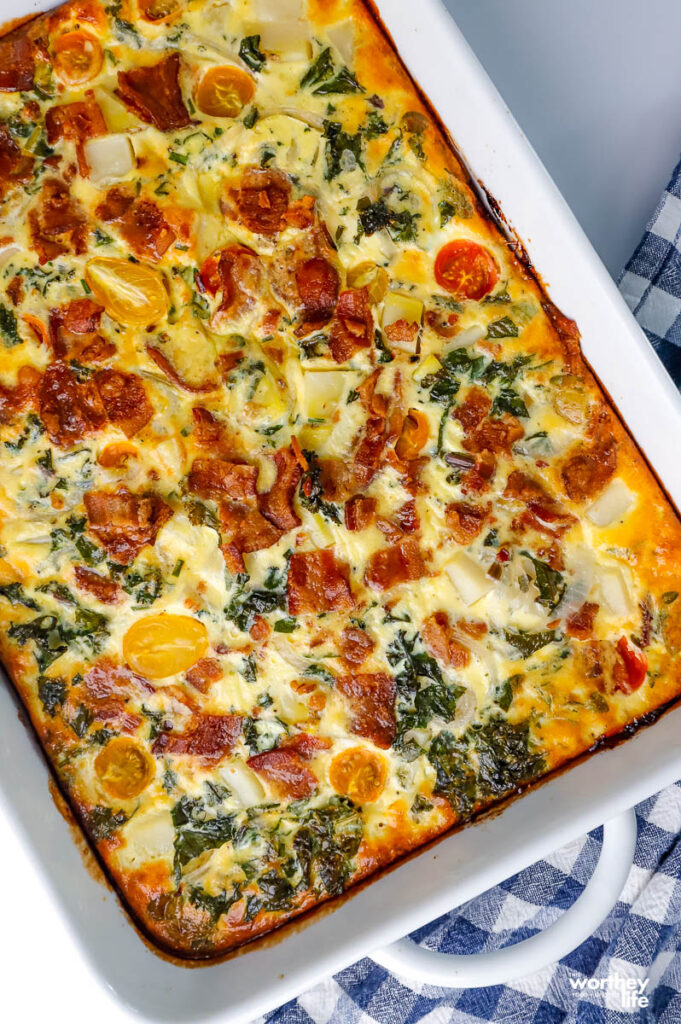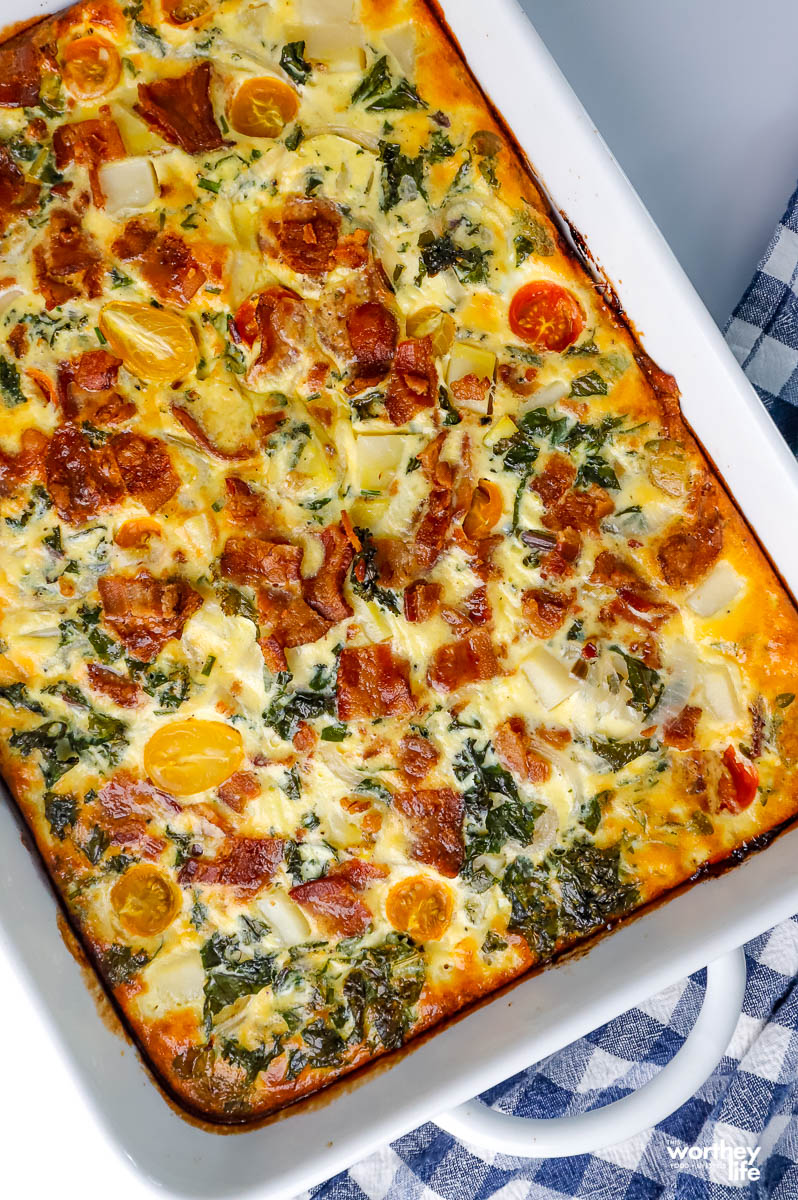 Making quiche with a crust
This is also a quiche with a crust, which I like a lot. Typically, the quiches I have had were crustless quiche, and they were good, but I think I like eating quiche with a crust over the crustless variety. Oh, and don't feel intimidated by making the dough for the crust. It's four ingredients and can be made in a food processor or a stand mixer.The dough does not need to be rolled out. After it is done and out of the stand mixer, place it on the center of a prepared baking sheet and gently press into the four corners and sides of the sheet pan, and that's it! So easy, and the crust adds a nice baked goods flavor too! You could also use refrigerated pie dough instead of making your own to save time.
Be sure to try some of our other quiche recipes:
Tater Tot Breakfast Casserole With Sausage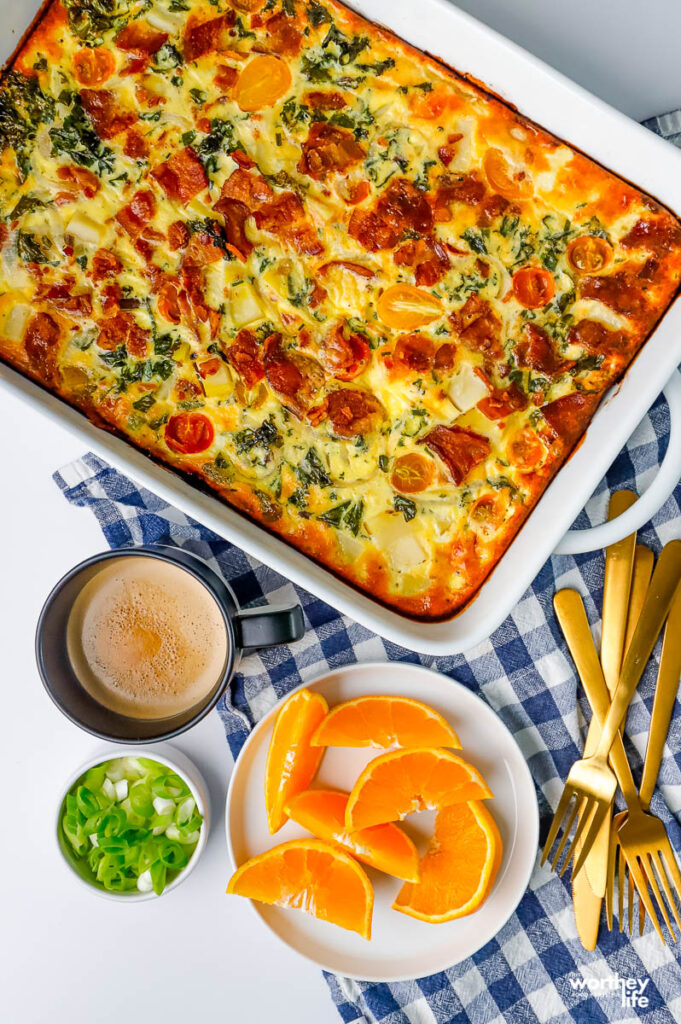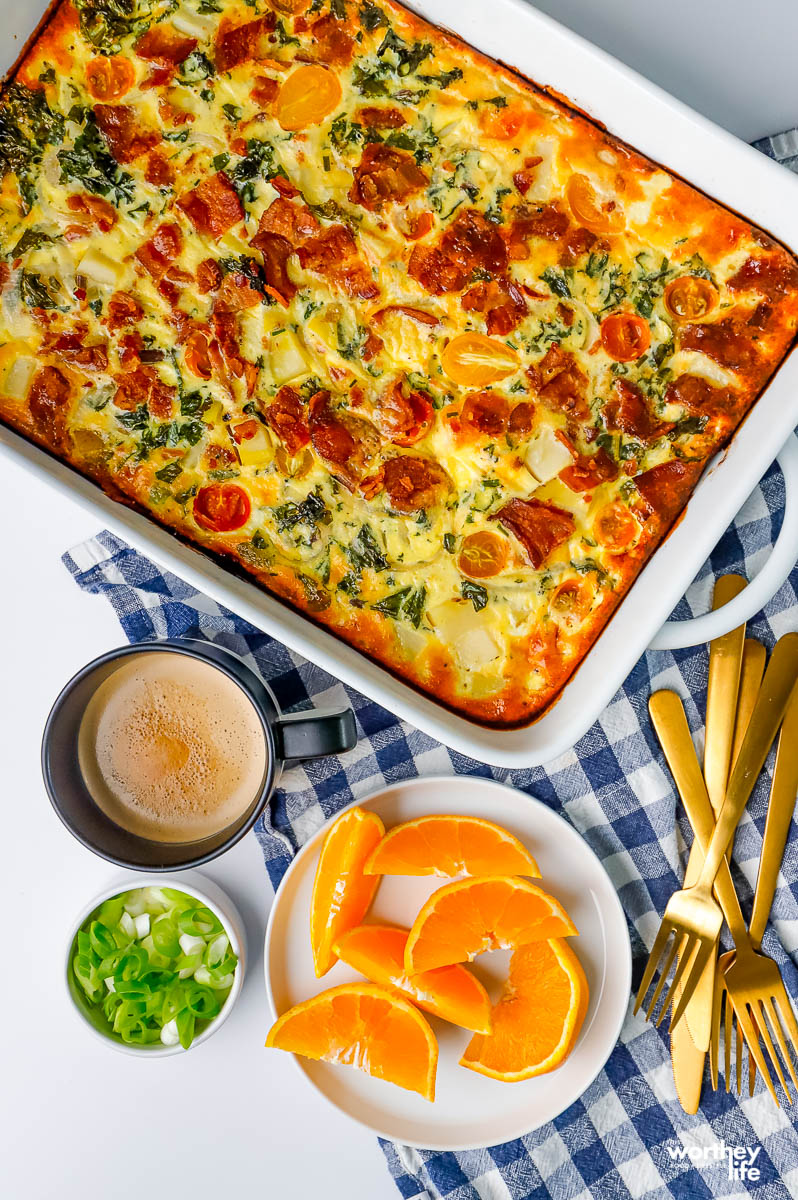 What You Will Need To Make Our Breakfast Quiche With Potatoes
For the Dough. All you need is all-purpose flour, unsalted butter, salt, and a bit of chilled water. Attach the kneading or bread hook to the stand mixer, place the large mixing bowl in place and add the flour and salt and mix on low, then begin adding the pieces of chilled unsalted butter a little at a time until all of the butter is incorporated. Next, add the chilled water a tablespoon at a time until it is all added. The kneading hook will work the dough into a ball. Remove the dough from the mixer and press it onto the entire surface of a baking sheet brushed with softened butter or canola, or olive oil.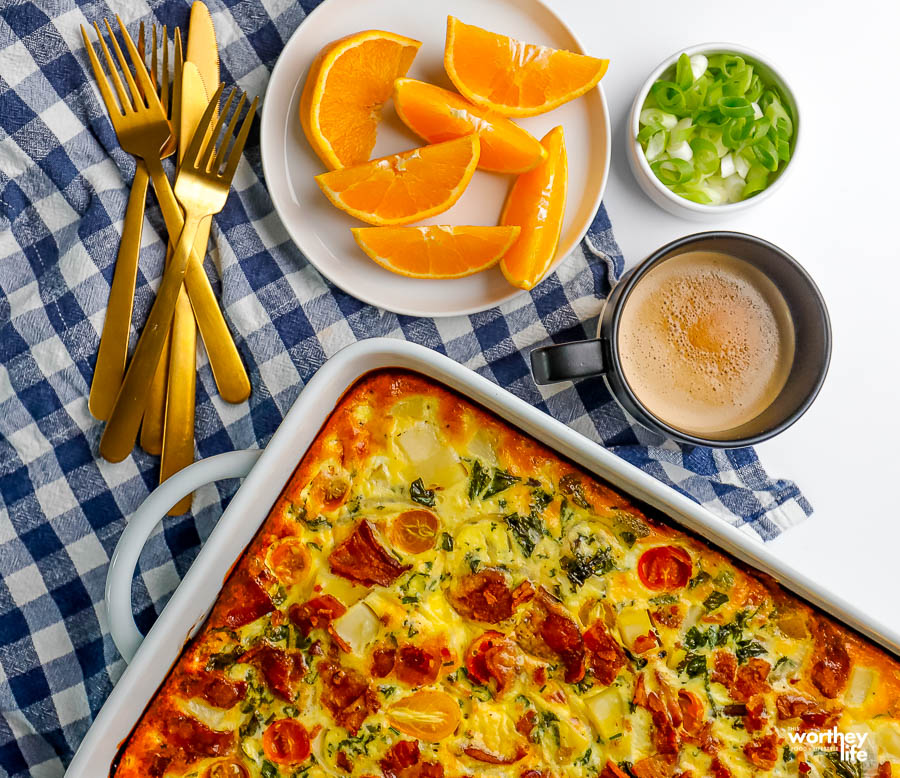 Thick-Cut Bacon. Potatoes. Onions. Garlic. Prepare the bacon in the oven, cut the potatoes into cubes, and boil until they are fork-tender. For this recipe, you can use Yukon, russet, or red potatoes.
Collard Greens. Kale. I love sneaking greens into so many dishes. I sauteed roughly chopped collard greens and Red Russian kale and added them to the quiche, and I don't regret it one tiny bit!
Eggs. Heavy Cream. Whole Milk. These three ingredients are what quiche is all about and provide a perfect medium that brings all of this recipe's delicious components together and makes it all work. When it comes to cheese, you have a lot of great options.
Parmesan Cheese. I love using Parmesan cheese in this recipe, but you can also use gouda or smoked gouda, manchego, white cheddar, sharp cheddar cheese, or a really good Asiago cheese as well.
Rosemary. Thyme. Oregano. Tomatoes. When it comes to quiche, and lots of other recipes, adding fresh herbs serve to up the ante when it comes to fresh summertime flavors. Other herbs work too, but I couldn't say not to three of my favorites. Adding a few tomatoes from our garden was a good look. Use any small variety of tomatoes you can get your hands on and make this quiche recipe one for the books!
Sea Salt. Freshly Cracked Black Peppercorns. Of course, it's a matter of taste when it comes to adding salt, but a rule of thumb when using cheese in almost any recipe, decrease the amount of salt because there's plenty of salt in the cheese you are using. Also, shy away from ground black pepper whenever you can and grind your own using a pepper mill; it makes a huge difference.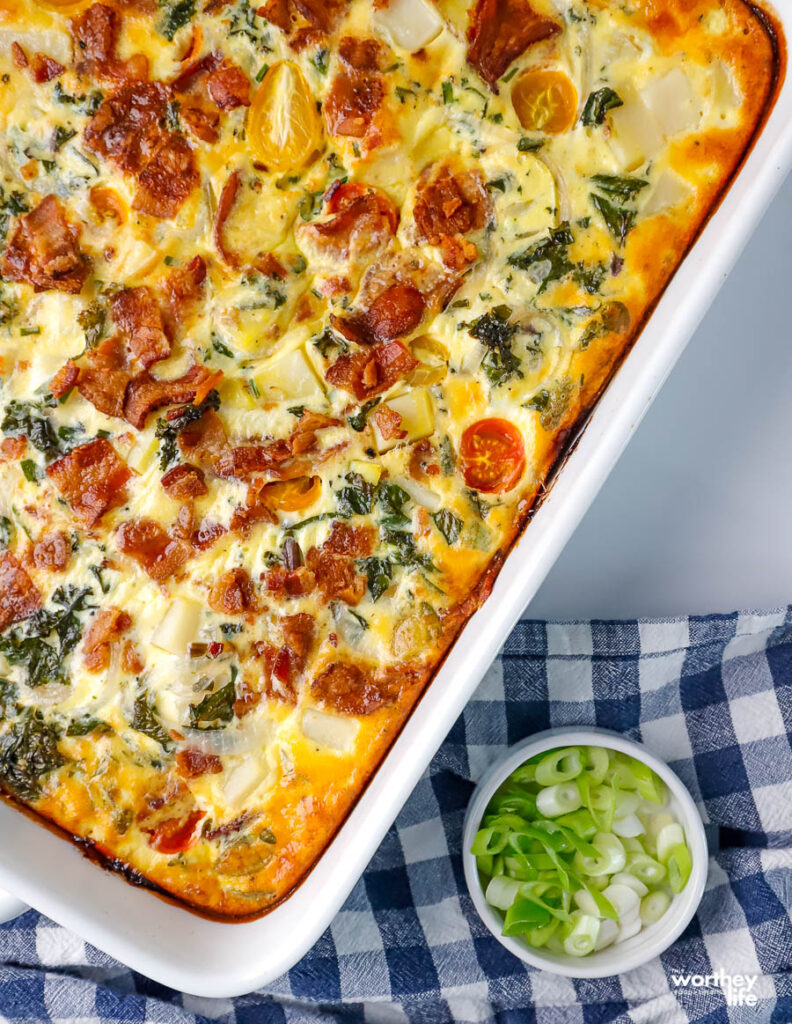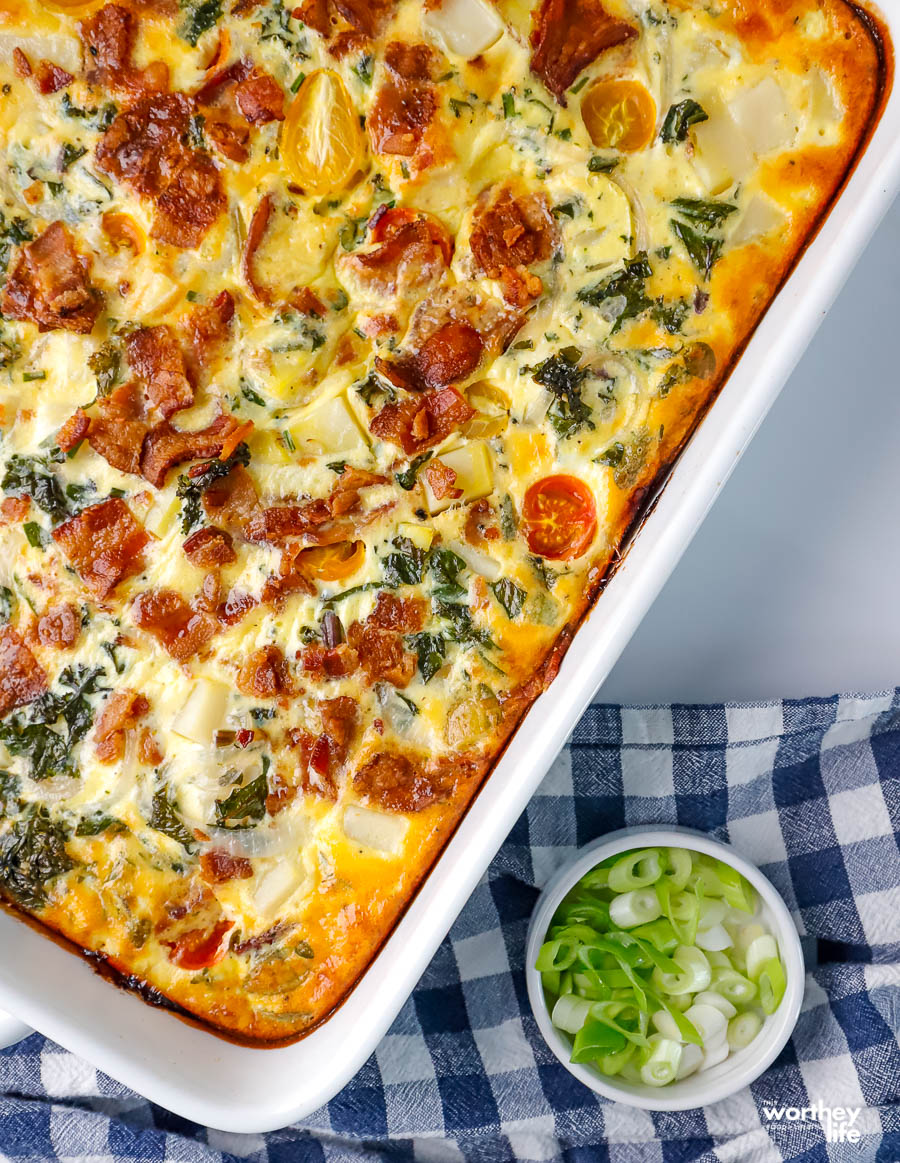 How to Bake Bacon In The Oven
Have you ever made bacon in the oven? If not, you have to try it. You will love this simple and easy way to cook bacon without all the splatters when you are pan frying it.
To make bacon in the oven, simply, preheat the oven to 350 degrees. Then place aluminum foil on a baking dish. Line out your bacon in a single row, leave 1/2 inch apart. Then bake for 20 minutes, flip bacon, and cook another 20 minutes.
Now depending on the thickness of the bacon, your cook time will vary.
Once the bacon is done, place on a paper towel plate, to help pull out all the grease.
Can I Make This Potato Quiche Without Bacon
The bacon is an ingredient that you can leave out if you want a vegetarian potato quiche. I love the richness the bacon brings, but it will still be rich in flavor without the meat. You have tons of greens, spices, and fresh herbs that will add flavor.
Can I Make This Quiche Gluten Free
I have not tried to make this gluten free, but you can reach for a gluten free flour blend to replace the all purpose flour if you would like. Give it a try if you are needing to have a gluten free option. It should convert okay, without any issues.
What Potatoes To Use For This Quiche
Yukon or Russet potatoes are best for this recipe. They hold up well so when they bake in with the other ingredients they hold their shape. Where other varieties have extra starch that is released and they can become mushy once baked.
How to Know When The Quiche Is Done
Take a toothpick and stick in the center of the quiche. You want it to come out clean of wet egg batter. The other signs it is done or close to done is that the quiche will become golden brown on top, and the edges begin to pull away from the sides of the pan.
Can I Make This Quiche In Advance
If you want you can make this a day in advance and then reheat it covered with foil in the oven. I find quiche is best served warm and fresh. But if you are short on time the day of, go ahead and make it the day ahead. Then place in a cold oven, turn on to 350, and cook until warmed all the way through.
Does This Recipe Double Well
You will find that if you want to make a larger batch reach for a larger container to bake, or do 2 of the 9×13 pans. They should both fit in the oven at the same time on the same shelf if you have a standard oven. Then bake that way. I have done this when we are feeding a crowd for the holidays.
Ingredients for our potato quiche recipe
2 1/2 cups all-purpose flour
1 tsp salt
1/3 cup chilled water
2 sticks unsalted butter cut into pieces
8 slices of crispy thick-cut bacon
2 medium Yukon gold or russet potatoes roughly peeled and diced
1 medium onion sliced
2 large garlic cloves
3 cups roughly chopped collard green
3 cups roughly chopped kale, I used red Russian
10 eggs
1 1/3 cup grated Parmesan cheese
1 cup heavy whipping cream
1 1/2 cup whole milk
2 tbsp fresh herbs, I used rosemary, thyme, and oregano
a handful of small variety cherry or grape tomatoes, sliced in half
1/2 cup of sliced green onions for serving
Directions:
Preheat oven to 350. Prepare thick-cut bacon by placing aluminum foil on a baking sheet, spacing the bacon about a half-inch apart, and placing the sheet pan on the center rack for 20 minutes. After 20 minutes, turn the back slices over and bake for 20 more minutes or until the bacon is crispy, just the way you like it. Set the bacon aside.
Place a large skillet over medium heat and add two tablespoons of olive oil. When the oil is hot, add the chopped onions, collard greens, and kale. Saute the mixture for 4-5 minutes. Spoon the vegetables into a bowl and set them aside.
Brush a low-walled 15″ x 10″ baking dish or a cooking sheet with similar dimensions , with bacon drippings or olive oil. Prepare the pastry dough and press the dough into the bottom of the baking dish or pie dish. Top the mixture with chopped thick-cut bacon, the halved cherry or grape tomatoes
While the bacon is in the oven, wash, peel, and quarter 3-4 medium golden or russet potatoes cut into one-inch cubes. Put the potatoes into a small stockpot and fill the pot with water until the potatoes are just covered. Add a tablespoon of salt, and adjust the oven temperature to medium-high heat. Cook the potatoes for 12-15 minutes or until a fork easily pierces the potatoes. Drain the potatoes and fill the pot with cold water to cool the potatoes. Once the potatoes are cool to the touch, drain off the water and set the potatoes aside.
In a mixing bowl, whisk the eggs together, then add the heavy whipping cream, whole milk, fresh herbs, sautéed vegetables, potatoes, and grated parmesan cheese.
Pour mixture into baking dish. Place the sheet into the oven and bake for 45 minutes or up to an hour. Remove the quiche from the oven, and allow it to cool for ten minutes. Serve with sliced green onions.
This recipe pairs well with hash browns. Check out our Sweet Potato Hash-Brown Omelet.
This hearty dish is not only a great way to start the day, but it also works as a weekend brunch idea. Since we're a breakfast-for-dinner type of family, quiches are on heavy rotation on our supper menu. Also, we typically like to make a big pan of quiche to enjoy leftovers the next day. Now, that you have the recipe and you have to do now is grab the ingredients and add this delicious guiche recipe to this week's menu. And as always, if you have additional questions drop us a line or two down in the comments section below. Enjoy!