Summer vacations shouldn't break the bank! I'm sharing tips on how to start saving money for vacations this summer now. There are a ton of ways to save money for your family vacation, so we're going to start with 50 Ways To Save For A Summer Vacation!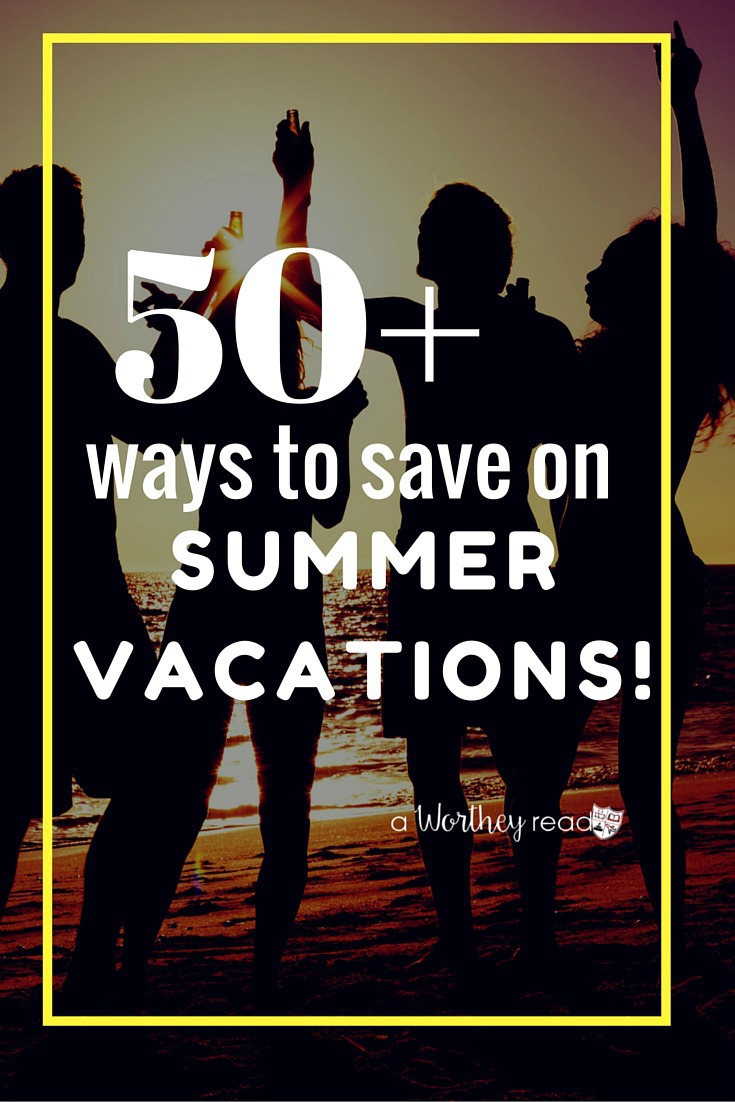 How To Start Saving Money For Vacations This Summer
It is time to start planning those summer vacations, but how are you going to pay for it? Saving up money for your family vacation might seem like a daunting task, but the truth is there are plenty of ways to save a buck here and there and watch those dollars add up. If you want to get a jump on your family vacation fund, take a look below at these 50 ways to save for your summer vacation. It is easier than you might think to save the cash you need to make your vacation dreams happen.
1. Start a change jar to collect all of your change at the end of the day. Cash it in at the end of each month and put the money into your savings.
2. Try to use at least 5-7 coupons each week when you grocery shop. Place the amount you save into your savings jar. Don't knock couponing. I have saved thousands each year by using coupons, store reward programs, and rebate apps. You can check out how to coupon and savings tips on my frugal blog!
3. Try switching from name brand to generic on 5 items you typically buy. Save the difference and watch it add up.
4. Go on a spending fast for one week. Vow to not spend a dime and see how much you can save. I did it a few years back and was interesting to see what I wasted money on, and how it was easy to save money!
5. Start turning your recyclables such as aluminum cans in for cash.
6. Head to Swagbucks where you can take surveys and earn points redeemable for PayPal cash.
7. Take clothing you no longer wear to a consignment shop and get cash for the items.
8. Take children's toys and accessories to a consignment shop such as Once Upon a Child and get cash on the spot.
9. Cut out your daily coffee or bagel run for one week, or even one month, and see what you can save. I love Starbucks, so of course, there are ways to save on your coffee run!
10. Stretch your next cut and color out by a few weeks and pocket the savings.
11. Skip the salon and do your own nails. Save the difference.
12. Enjoy one meatless dinner a week to help cut back on the weekly grocery bill.
13. Pack lunches and skip the expensive take out routine.
14. Try baking and cooking more items from scratch instead of buying expensive convenience items.
15. Skip the movie theatre on expensive on-demand rental and try Redbox or Netflix instead.
16. Switch from soda and juice to water and see the savings add up.
17. Take advantage of kids eat free nights at local eateries. You can check out the places where kids can eat for free here.
18. Cancel the gym membership for a few months and find free workout videos online. Or, find a friend to walk and jog with.
19. Turn in old video games for cash and at a local buy back shop. Get tips on 10 ways you can make cash today!
20. Sell those furniture pieces you no longer use on Craigslist.
21. Sell books you no longer read on Amazon. They accept gently used textbooks, novels, and more.
22. Sell handmade craft items such as jewelry, soap, and body scrubs on Etsy.
23. Got collectibles such as glassware, dolls, or trading cards? Liquidate them on eBay for some serious cash.
24. Sell gently used sporting goods to a local buy back shop.
25. Use Facebook garage sale pages to sell small items such as accessories, kid's toys, small electronics, home décor, and more.
26. Switch from paper to cloth and save the earth and some cash at the same time.
27. Plan your routes and shopping trips ahead so you can save on gas.
28. Use a shopper's reward card that earns you a cash discount on gas.
29. Use a shopper's club such as Costco or Sam's Club to buy in bulk.
30. Visit your favorite frugal living websites daily to learn a new trick or strategy.
31. Try a savings challenge with your spouse and see who can save the most cash in a week.
32. Enjoy free entertainment your city offers, such as concerts and plays. Live in Chicago? Check out our free things to do in Chicago, Detroit, Petoskey, and Michigan!
33. Use Groupon to buy gift cards to local eateries and stores for less.
34. Enjoy more nights in (try a game or movie night) and fewer nights out.
35. Make your own cleaning products instead of buying expensive store-bought products.
36. Get creative with leftovers so you can make multiple meals out of them.
37. Meal plan each week so you can avoid the take out habit. You can check out our recipe section to find new ideas!
38. Planning to travel? These FREE travel apps can help you save money and time!
39. Check the efficiency of your house to make sure you aren't wasting water/heat/air.
40. Grow whatever herbs and produce you can.
41. Avoid paying bills late so you don't get stuck with late fees or interest.
42. Call and negotiate your monthly rate with your cell phone carrier.
43. Call and negotiate your monthly rate with your cable carrier. I do this every six months, and I receive a discount! Trust me, it works!
44. If you have a credit card, now is the time to call and negotiate your interest.
45. If you have been paying on time, see if you can refinance your car and get a lower monthly payment.
46. Consider selling home-based business products such as Pampered Chef or Young Living oils for extra cash.
47. Vow to not buy any new clothing items until you have met your savings goal.
48. Check out thrift shops for what you need before you buy it new.
49. Find creative ways to use what you have before buying new. This means finding new uses for everyday items such crates, pallets, scrap fabric, etc.
50. Invite the kids to save. Give them each a savings jar and go over ways for them to save money and be able to contribute to the vacation fund.
Saving for your next trip can be a fun challenge that the whole family gets in on. Give these 50 ways to save money for your vacation a try.
Get more tips to help you save on your upcoming vacation below: