Add a fun twist to your holidays with the Snoop on a Stoop doll, blending Snoop Dogg's iconic style with festive cheer.
This unique collectible is perfect for fans, bringing humor and personality to your seasonal celebrations.
We're sharing where to find the official Snoop on the Stoop doll and some ideas to do with your Snoop Elf Doll.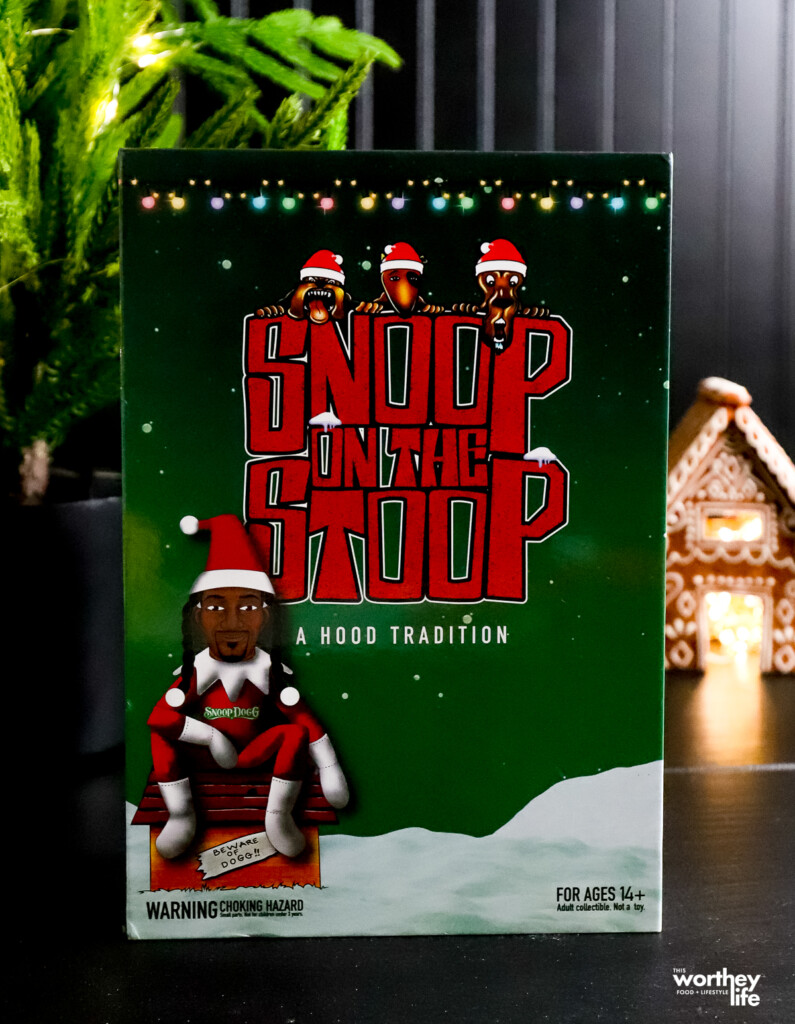 Snoop On A Stoop Doll
Move over, Elf on the Shelf, we have a new friend in town! This year, we're introducing the official Snoop On The Stoop!
If you're familiar with the Elf, this Snoop version of the wholesome Elf is a way to get creative and have fun this holiday season.
Since 2021, several Snoop on a Stoop Christmas elf doll ideas have been floating around the internet.
That same year, Calvin Cordozar Broadus Jr., otherwise known as Snoop Dogg, planned to take legal action against a company that used his image and likeness to create the original concept of Snoop on a Stoop.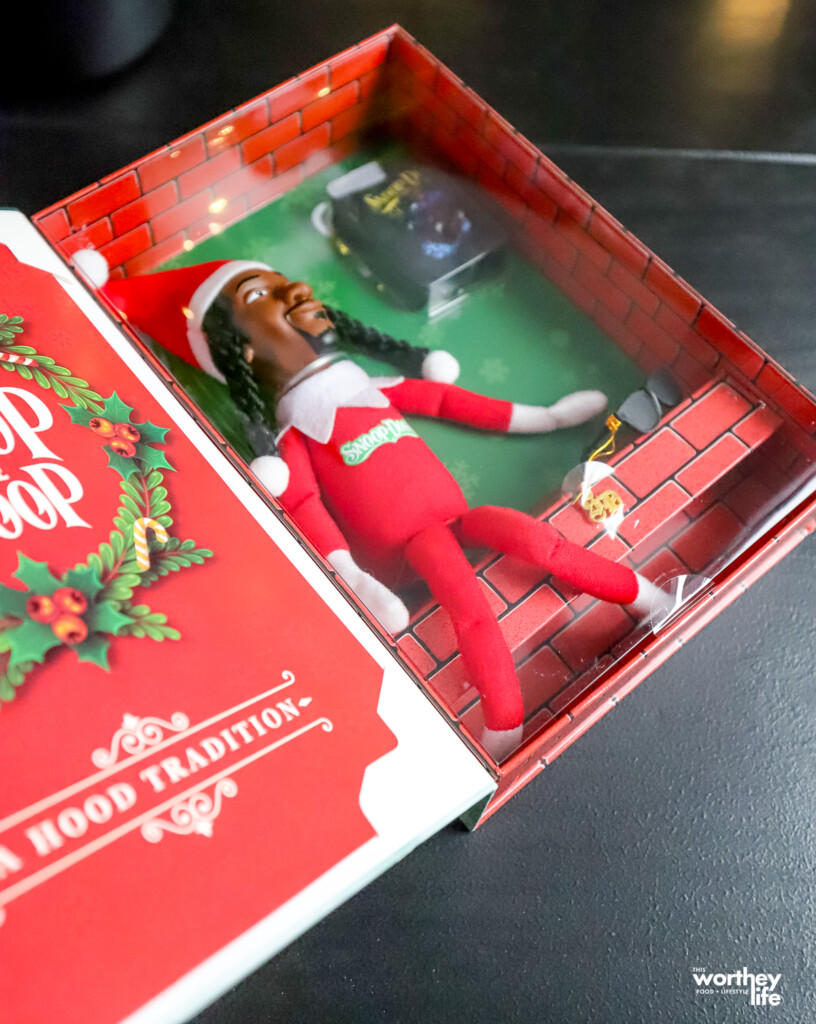 Who Originally Made Snoop on A Stoop Doll?
The original owner, Muckychris' Chris Milnes, was contacted by Snoop's lawyers regarding this plush doll featuring Snoop's likeness.
New Jersey-based retailer Milnes posted a video on his Instagram account sharing he had removed this popular toy featuring Snoop's image and likeness.
He cautioned his followers and customers about scam companies selling other versions of this Snoop Dogg Elf Doll.
"They take your money and disappear 1-2 weeks later. If you didn't get Snoop on the Stoop directly from me (or Joseph @ Out of Step Offbeat Boutique) you can be sure it's a scam."

According to the sports news site Sportskeeda, MuckyChris' Stoop Snoops were made with handmade 3D printed polymer clay heads, came with two felt uniforms (one green with black sunglasses, the other purple with gold sunglasses) and were available in two sizes, a 16-inch for $99.99 and a 32-inch for $199.99. As of this writing, Snoop on a Stoop was no longer available on MuckyChris' website. It is unclear if this is because they sold out or due to the legal threat. [ New York Post | source]
Several boutiques, Chinese-based companies, social media shops, and online retailers are selling different versions of this doll. You can even find a Snoop on the Stoop product on Amazon.
This holiday season, Walmart is selling a Snoop on a Stoop doll. It's going viral across social media (again) as people race to purchase this doll in time for some holiday fun.
If you're looking for holiday gifts for people who are Snoop Dogg fans, this may be the perfect gift to grab.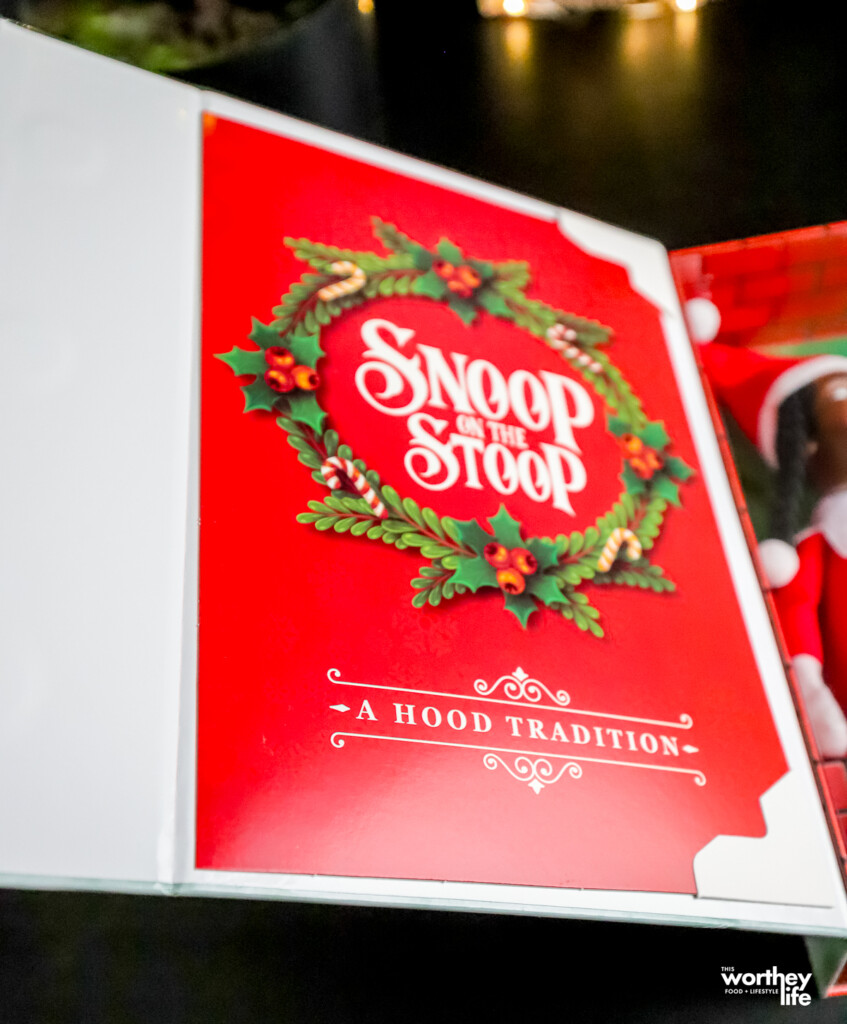 Does Snoop Dogg Own Snoop On The Stoop Doll?
Yes, Calvin Broadus (Snoop's legal name) filed for a Snoop On A Stoop trademark 5/5/2022 for dolls, plush toys, and modeled plastic toy figurines.
The official Snoop Doll is sold at Walmart and Amazon.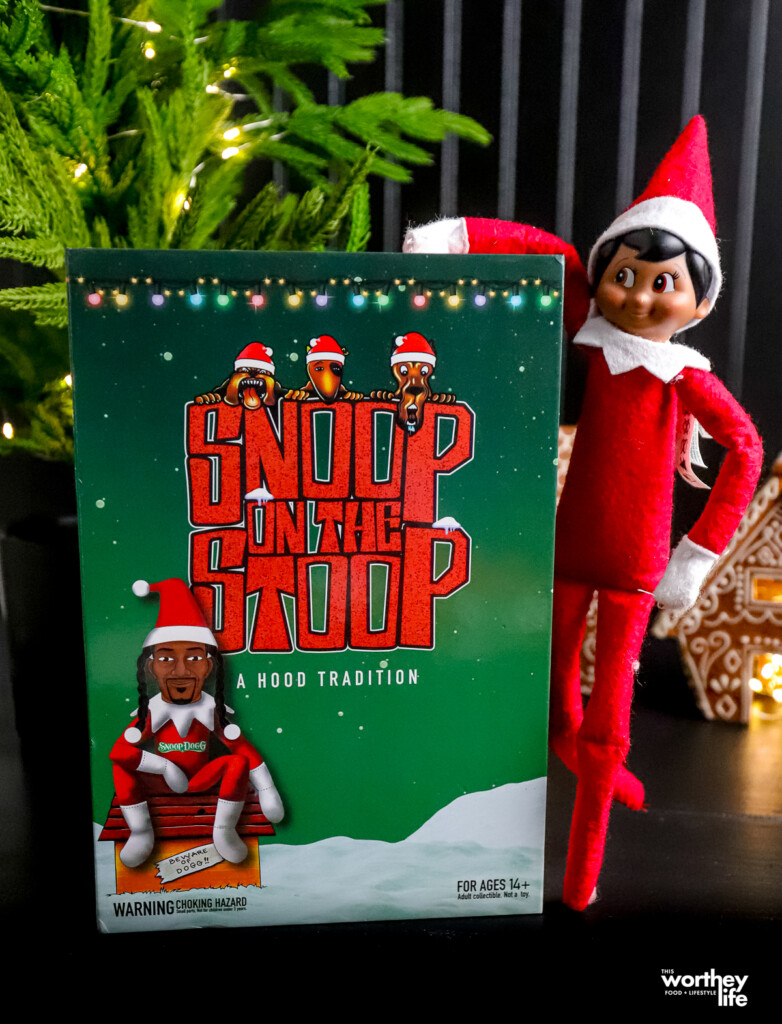 Where Can I Buy A Stoop On The Snoop Christmas Doll?
Several places are selling this plush doll, but be careful not to buy from scam company websites.
You're best bet would be to buy a Snoop doll at Walmart. Walmart carries the official doll in-store and online.
What comes in the box?
The Snoop Dogg plush can be maneuvered to hold multiple positions, including sitting upright.
Snoop on the Stoop also comes with a festive card to send a special message or to be used on display. Snoop would surely bring joy and laughter to any household this season.
Flexible 12″ mini–Snoop Dogg plush with vinyl head
Holiday outfit, including elf hat
It comes with additional accessories such as a chain, black sunglasses, and a mini t-shirt with Snoop Dogg graphics.
Collectible holiday gift box
Holiday card
You can also find versions of the Snoop doll on Amazon, including the official Snoop Doll.
This site has laid claim to be the official place to buy a Snoop Doll- and they offer three different varieties, as well as a Martha Stewart plush doll.
Snoop On The Stoop Ideas
As we get ready to celebrate the season, if you're looking for fun shenanigans for your Snoop doll, check out some of these Snoop on Stoop ideas we found on the Internet.
And if you have an Elf on the Shelf, it's double the fun!
These ideas are pretty cheeky and ideal for adults.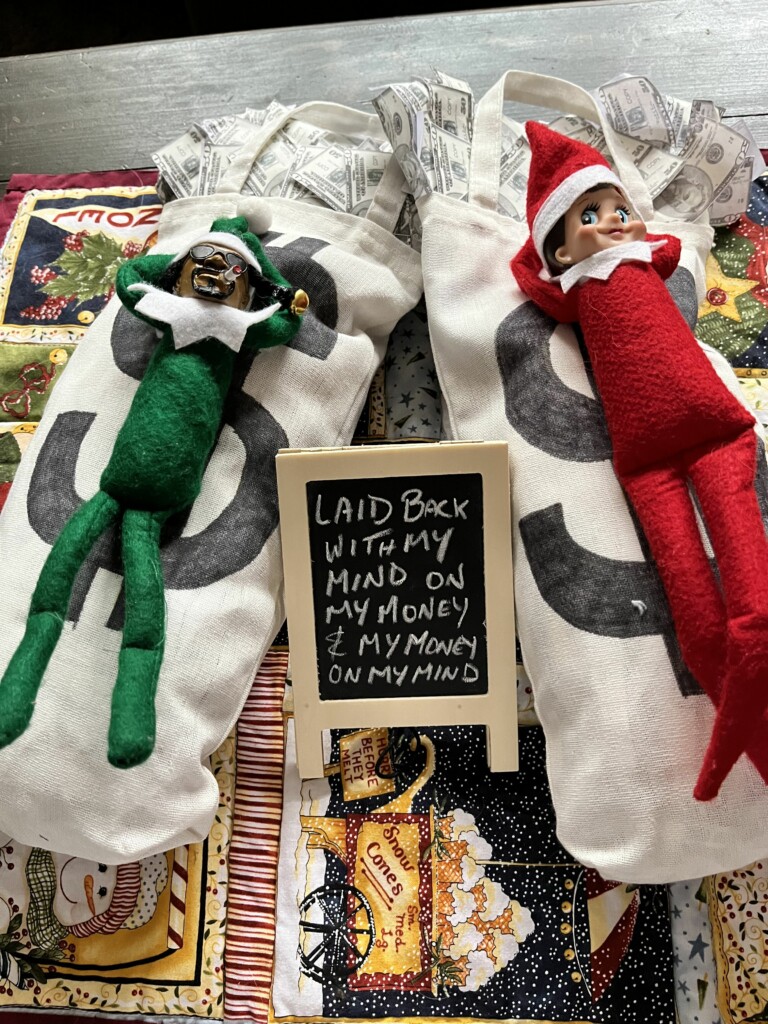 Snoop and Elfie: Laid back with my mind on my money and my money on my mind!
Image credit: https://www.pinterest.com/pin/1900024837329650/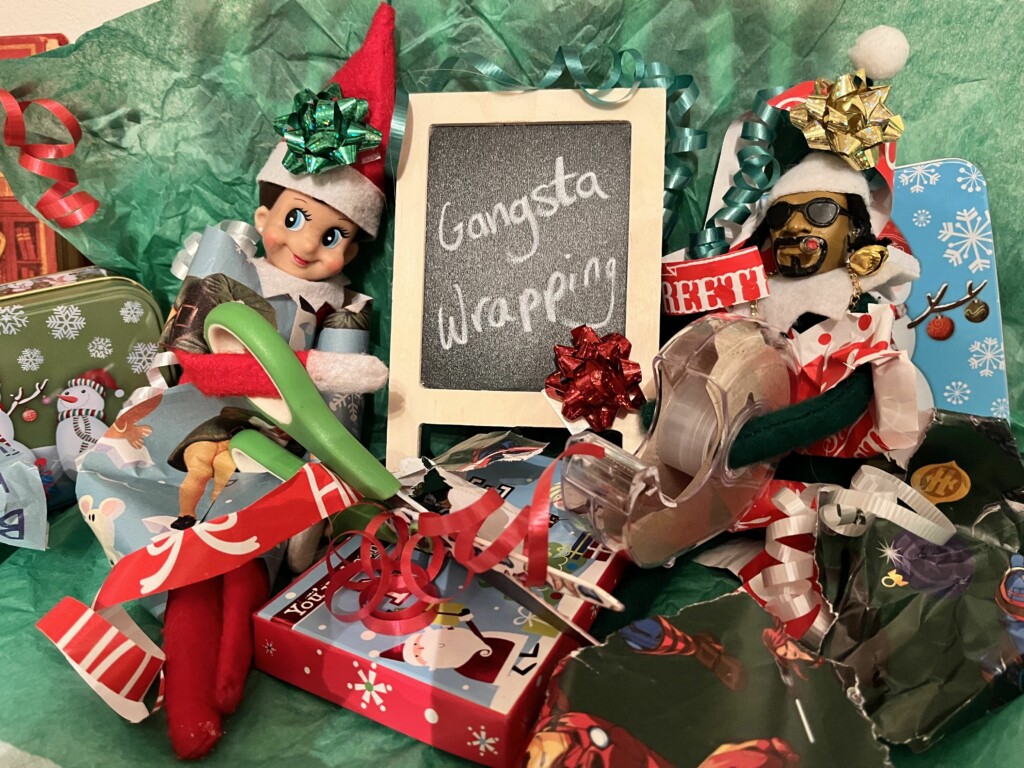 Snoop and Elf are wrapping presents together – Gansta Wrapping!

Snoop, Elf, and Barbies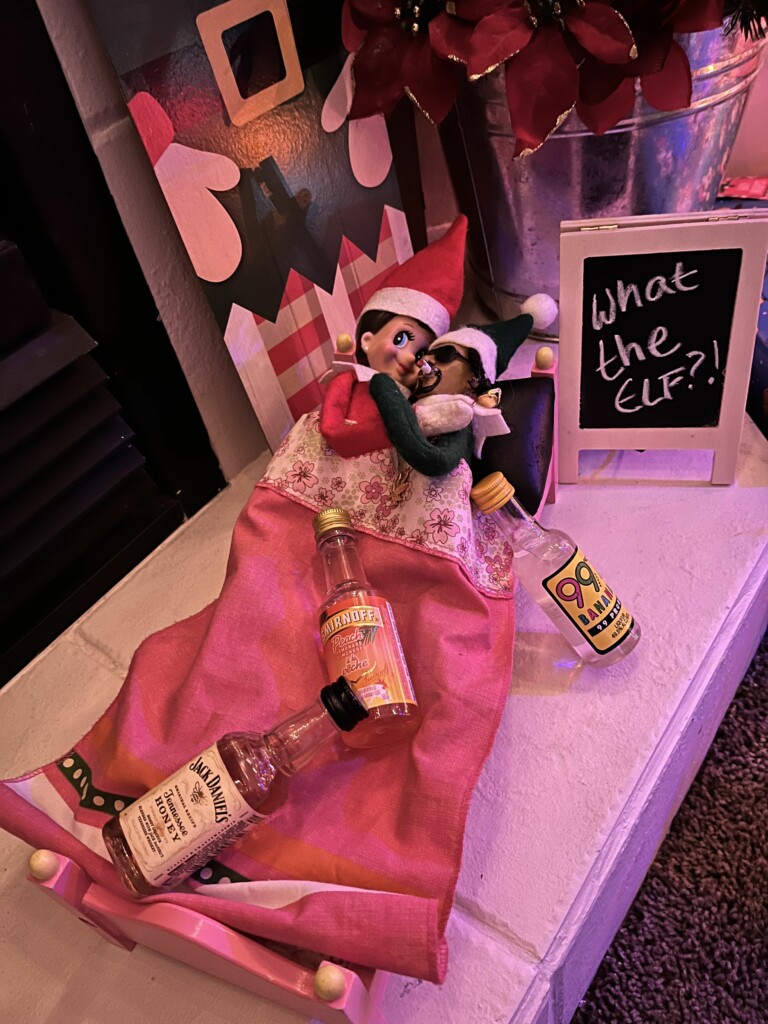 Snoop and Elf had a little too much to drink- What The Elf?
Image Credit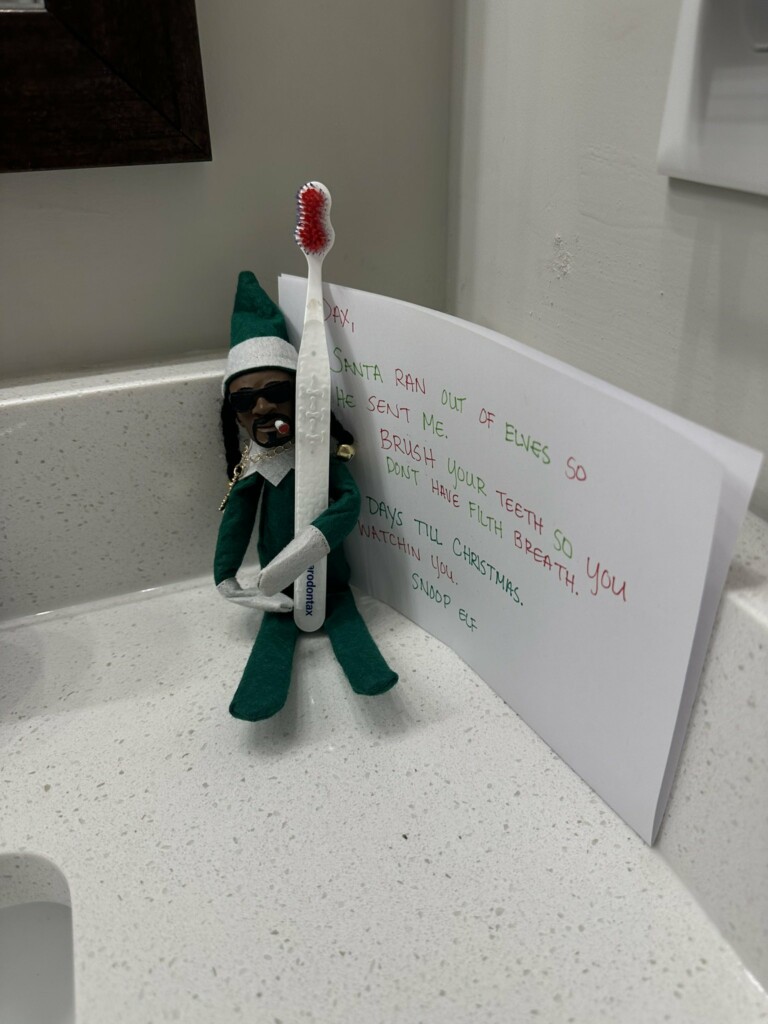 Santa ran out of Elves, so you're getting a Snoop doll this year.

Elf and Snoop sipping on gin & juice.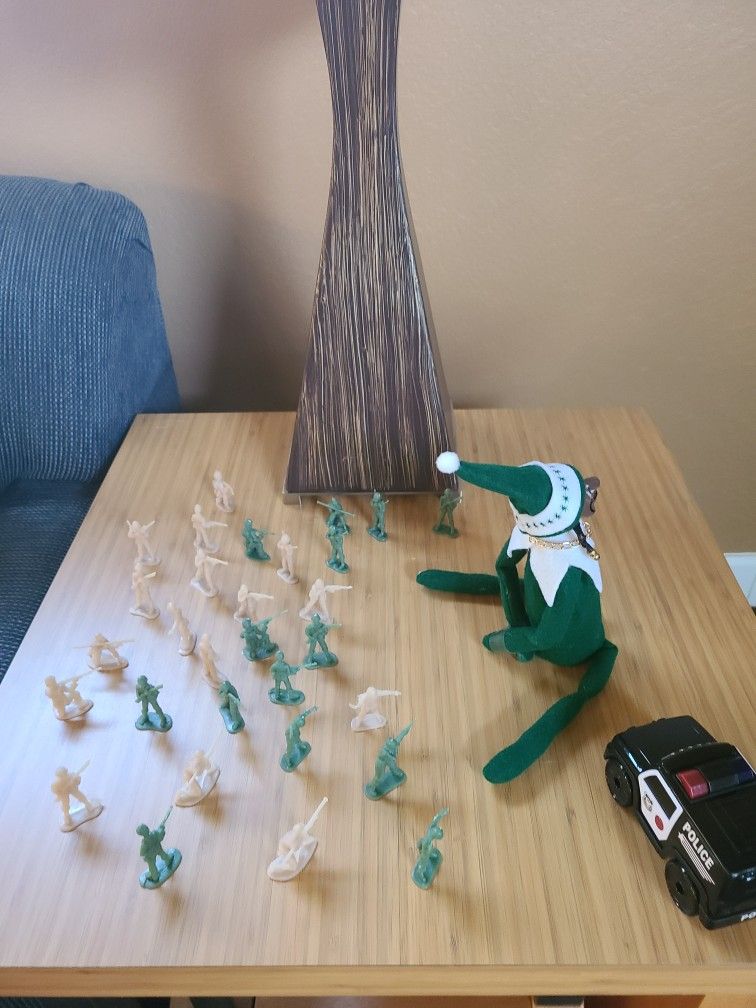 Snoop gets arrested by the Army guys.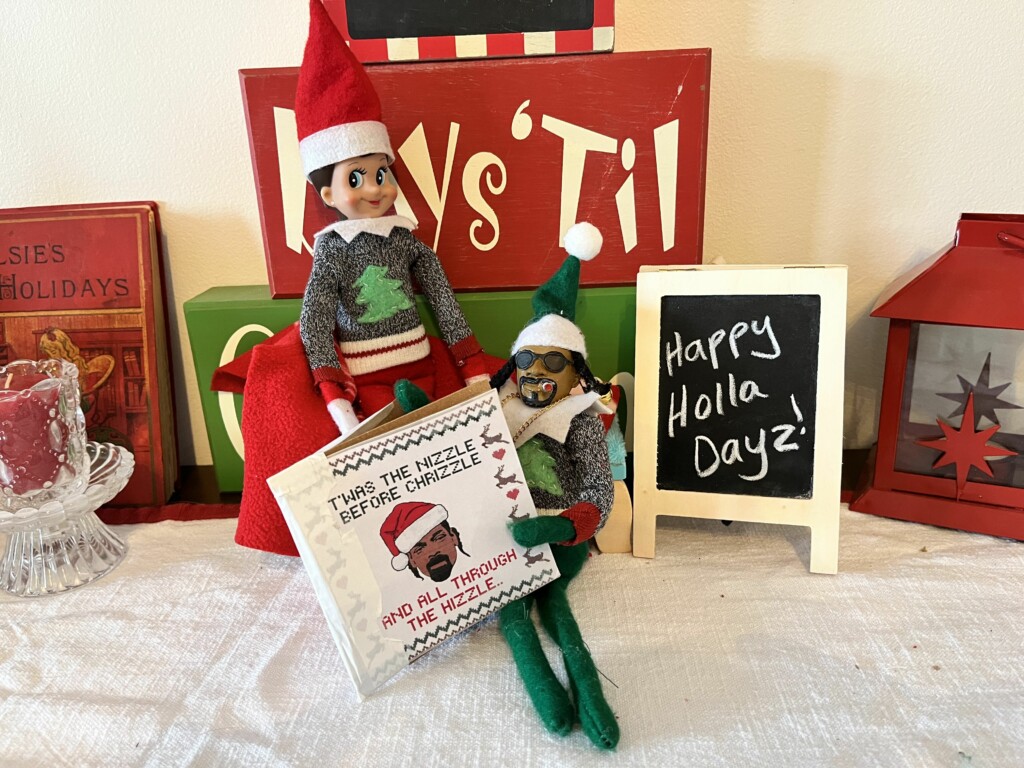 Snoop and Elf reading Twas The Nizzle Before Chrizzle.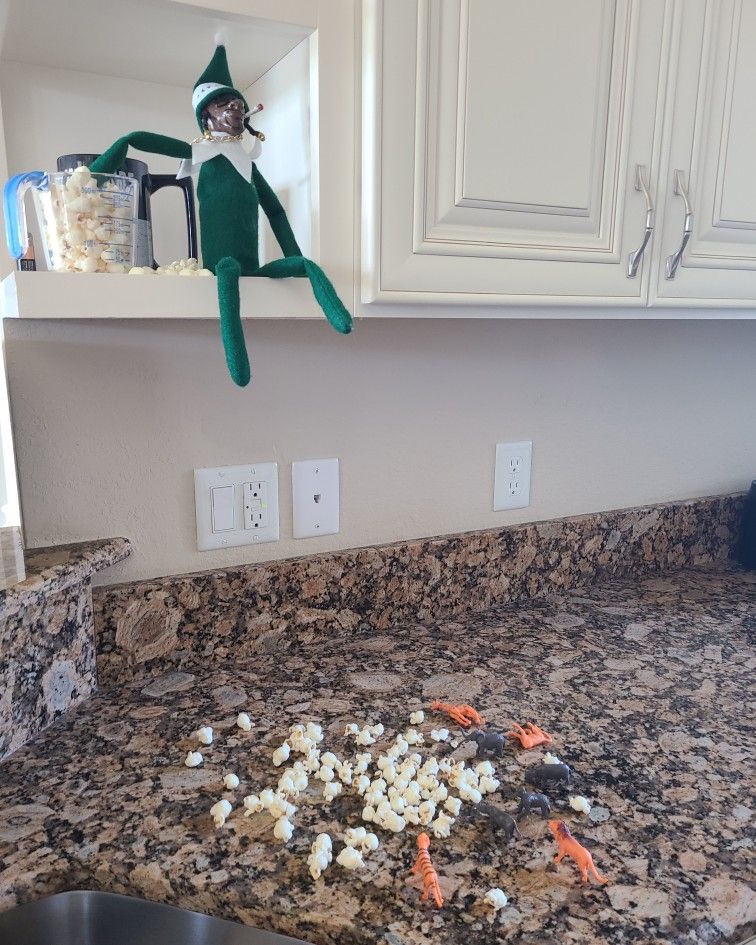 Snoop feeding the animals at the Zoo.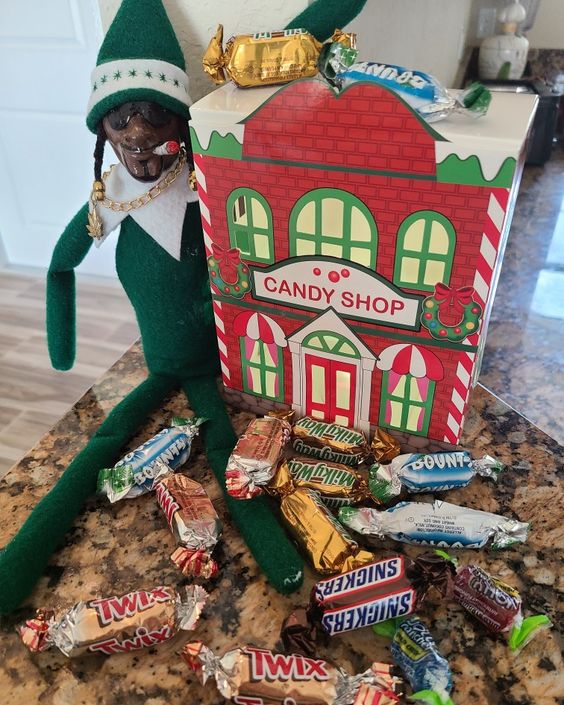 "I'll take you to the candy shop" – Snoop on a stoop idea.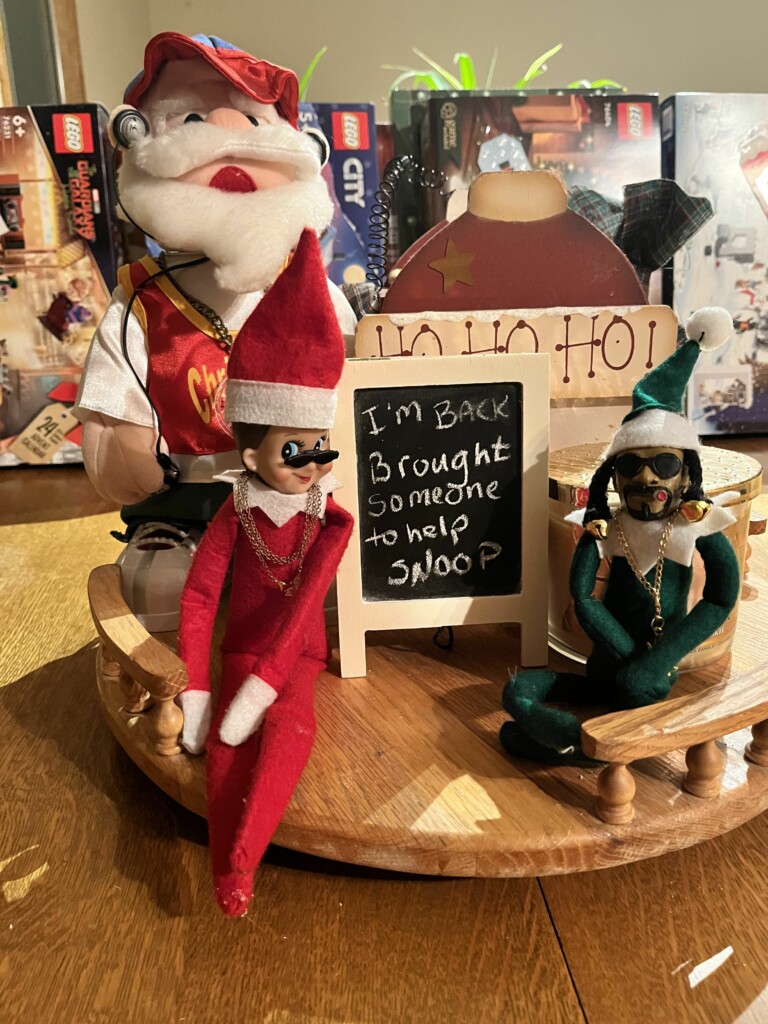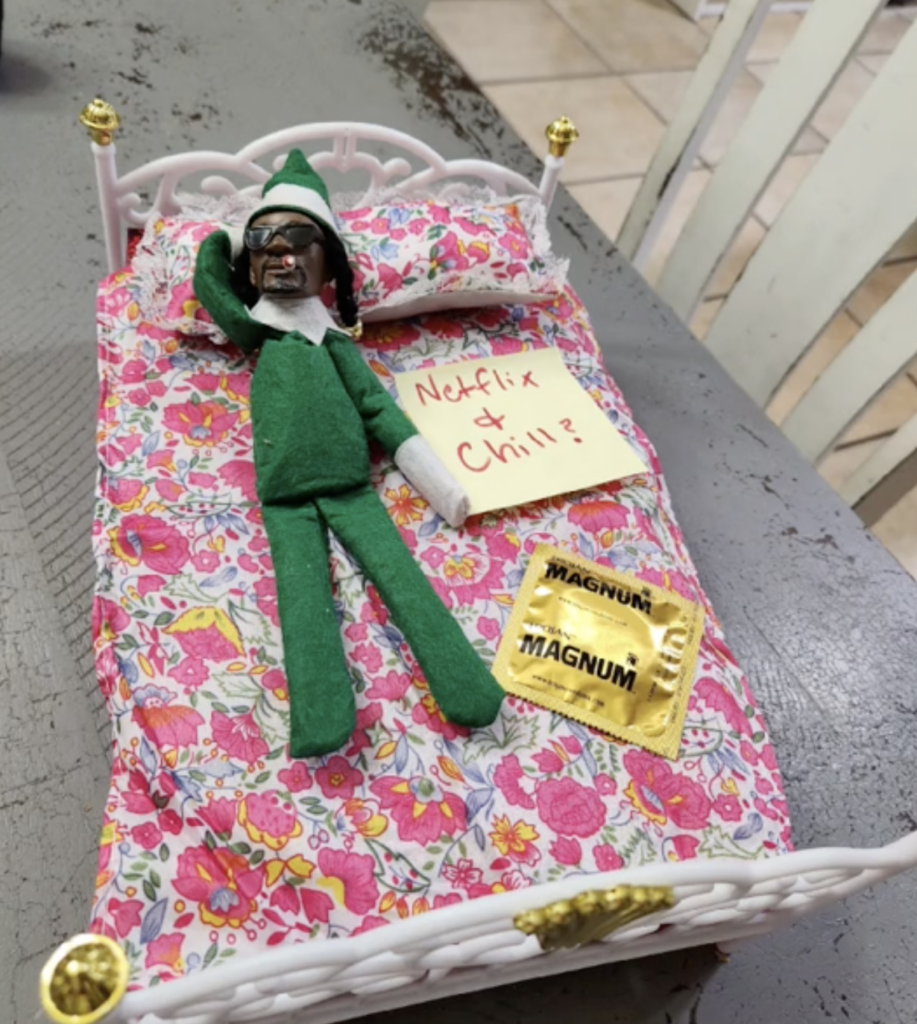 Snoop's version of Netflix & Chill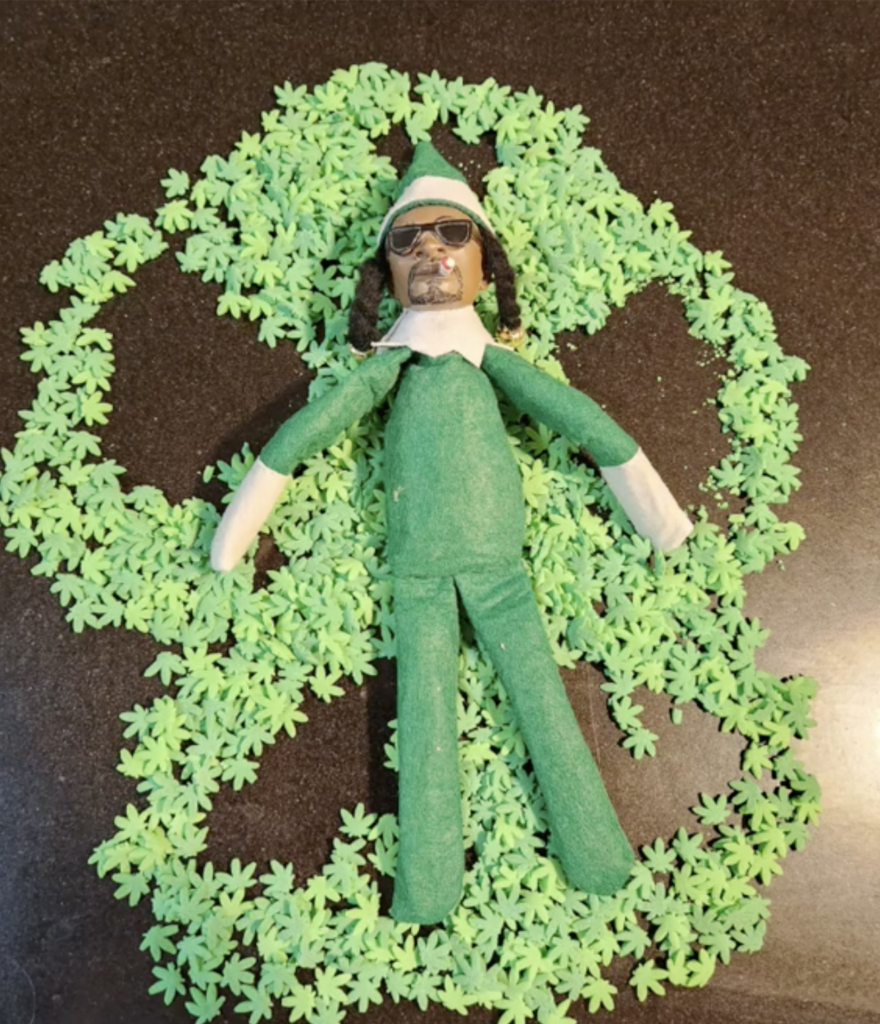 W e e d Angel Snoop
Check out these adult Elf on the Shelf ideas:
Naughty Elf on the Shelf Ideas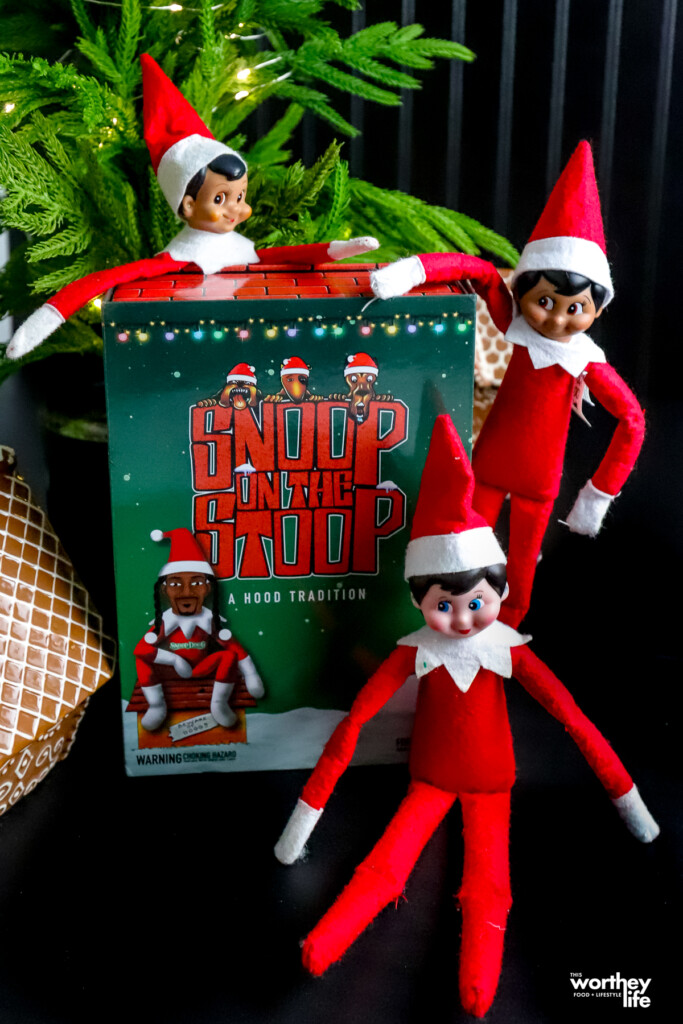 Here are a few more Snoop Stoop ideas:
You could take Snoop references and make note cards to place them by your Snoop Shelf Doll.
Here are some of the well-known ones:
"Drop it like it's hot."
"Fo shizzle, my nizzle."
"Ain't no fun, if the homies can't have none."
"Laid back, with my mind on my money and my money on my mind."
"I'm Snoop Doggy Dogg, and I'm the craziest."
"You've got to always be able to reinvent yourself and stay on top of what you're doing."
"Bow wow wow, yippie yo, yippie yay"
Read these tips on how to clean your doll.
Kid-Friendly Snoop on a Stoop Ideas
A lot of the Snoop doll ideas will be geared toward adults.
However, if you want to switch up your Elf on the Shelf content to something else, here are some family-friendly ideas to do with your Snoop plush doll.
[ stay tuned- we plan to share some printable ideas and more soon!]
Christmas Tree Helper:

Place Snoop beside the Christmas tree, appearing to help decorate with miniature ornaments or lights.

Gift Guardian:

Position Snoop on top of a pile of gifts as if he's guarding them until Christmas morning.

Cookie Thief:

Set up a scene where Snoop is caught sneaking cookies from the holiday cookie jar.

Stocking Stuffer:

Tuck Snoop into a large Christmas stocking, with only his head peeking out.

Holiday Reading:

Have Snoop sitting with a small holiday-themed book as if reading a Christmas story.

Snowball Fight:

Create a mini snowball fight scene with cotton balls and place Snoop amid the action.

Ugly Sweater Party:

Dress Snoop in a tiny ugly Christmas sweater for a festive touch.

Christmas Caroler:

Pose Snoop next to a miniature microphone or music stand as if he's singing Christmas carols.

Hot Cocoa Companion:

Set Snoop next to a mug of hot cocoa, complete with a mini marshmallow.

Gingerbread House Architect:

Place Snoop near a gingerbread house with tiny construction tools.

Mistletoe Mischief:

Hang Snoop under the mistletoe, ready for holiday fun.

Elf Workshop Helper:

Set up a small workshop scene where Snoop is helping elves build toys.

Reindeer Wrangler:

Pose Snoop with a miniature reindeer as if he's helping to prepare Santa's sleigh.

Sleigh Driver:

Put Snoop in a miniature sleigh, ready to deliver gifts.

Holiday Movie Night:

Set up a scene where Snoop watches a classic holiday movie on a mini TV.

Christmas Light Inspector:

Pose Snoop tangling with a string of small Christmas lights.

Wrapping Assistant:

Place Snoop amidst wrapping paper and ribbons as if he's helping to wrap gifts.

Advent Calendar Companion:

Move Snoop daily to a different part of an advent calendar.

Winter Wonderland:

Create a snowy scene with Snoop building a mini snowman

New Year's Eve Countdown: Dress Snoop in a tiny party hat beside a small clock, counting down to the New Year.
We're working on creating some fun, easy Snoop on a Stoop ideas you can do this holiday season, so be sure to check the blog in the upcoming weeks!
Happy Holla Dayz!