Our fun Chocolate Snowmen Winter Board has so many goodies you'll have a hard time concentrating on anything else. And the Chocolate Snowmen Shots are filled to the brim with white chocolate liqueur and a mix of ALL the delicious adult drinkable things. If creamy, silky, and pepperminty is your jam, this is the cocktail for you this holiday season. Cheers!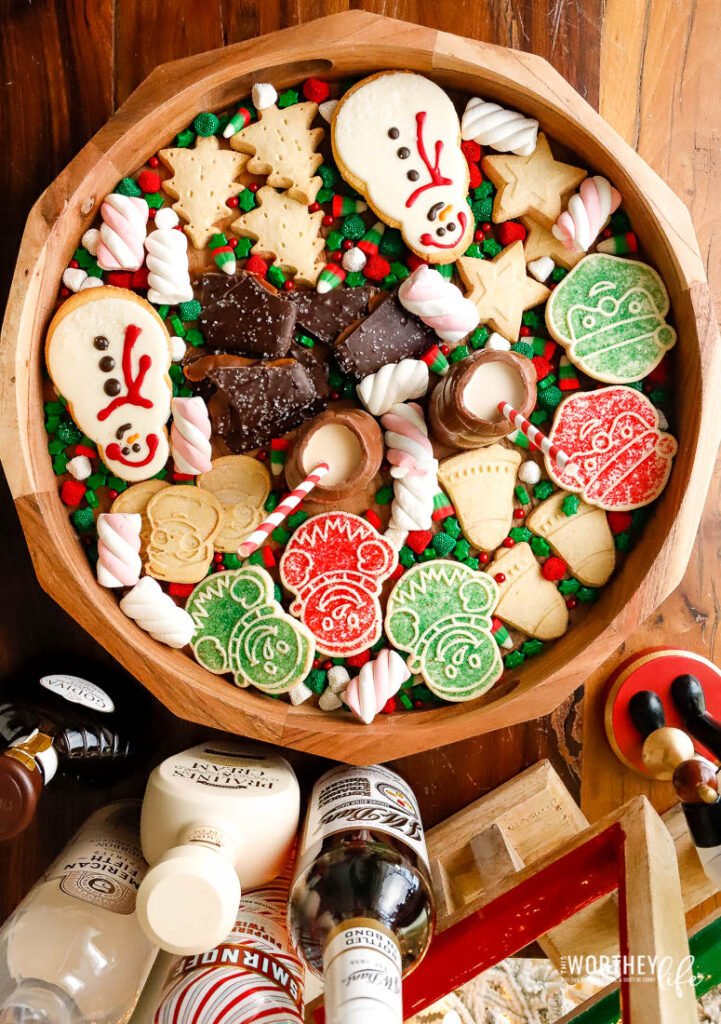 Chocolate Snowman Winter Board
When I think of winter treats, I love to eat sweets like holiday cookies, luxurious candies, and chocolate or peppermint bark, so many goodies come to mind. And when it comes to holiday drinks, anything with peppermint is an excellent choice for sure. But how about your snowman cocktail and holiday cookie game? We happen to think cocktails and cookies aren't mutually exclusive. The right cookie served with an equally good cookie can make you feel all warm and fuzzy inside. Who doesn't want that?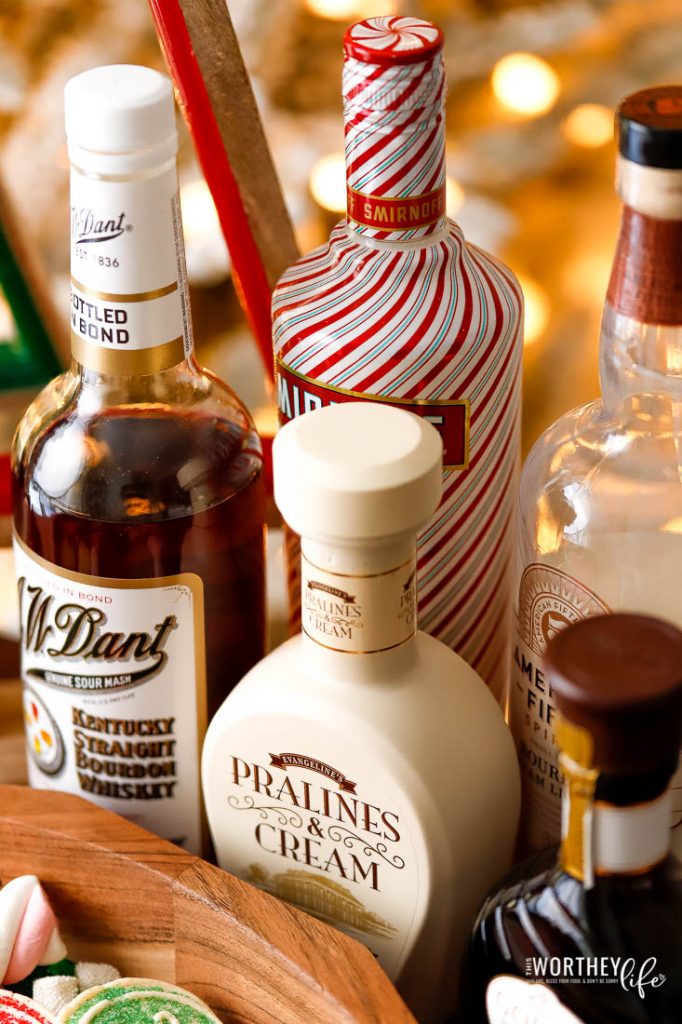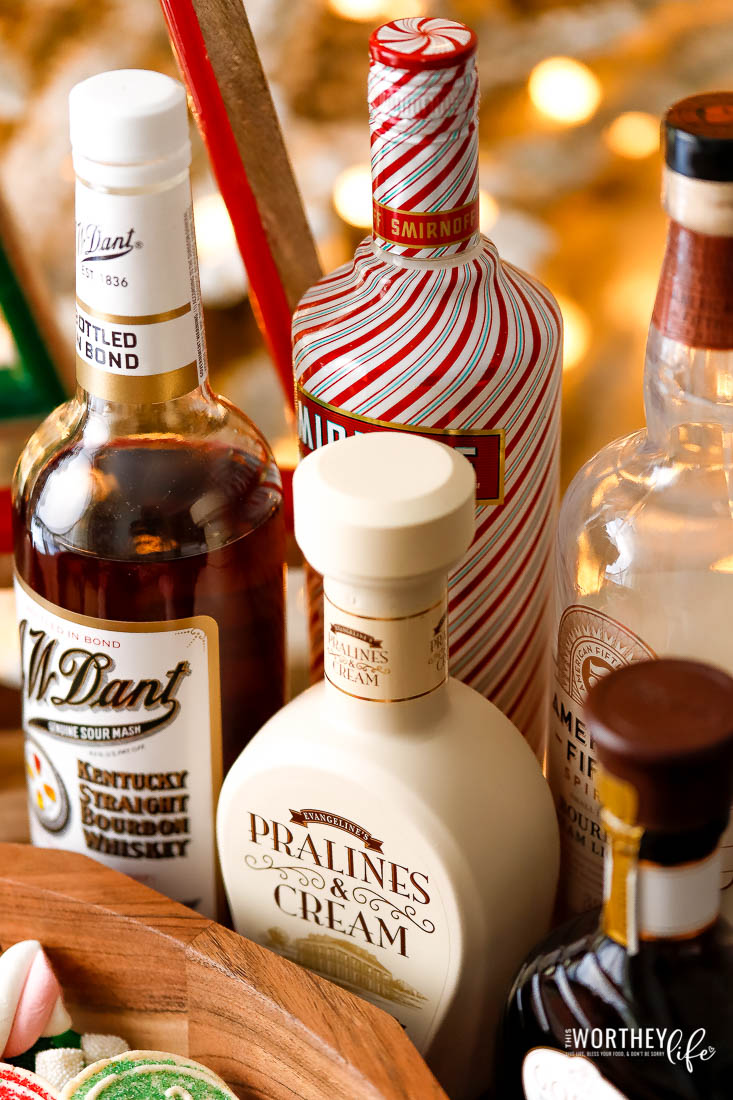 On the contrary, delicious cookies pair surprisingly well with certain cocktails. For instance, our Chocolate Snowmen Shots are filled with a delightful mix of bourbon cream liqueur, Godiva white chocolate liqueur, peppermint-flavored vodka or bourbon, praline liqueur, all of this goodness made even better with a healthy pour of eggnog. With a cookie in hand and our Chocolate Snowman Shot in the other, how you gonna be a Grinch this holiday season? With our Chocolate Snowman Winter Board being a Scrooge isn't going to be an option either.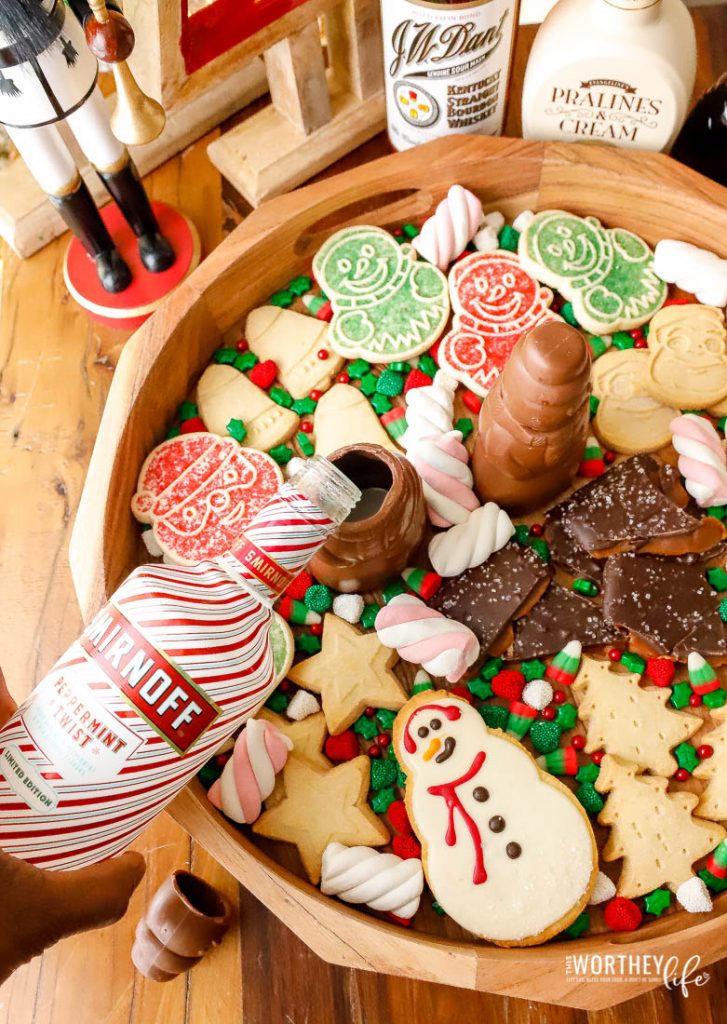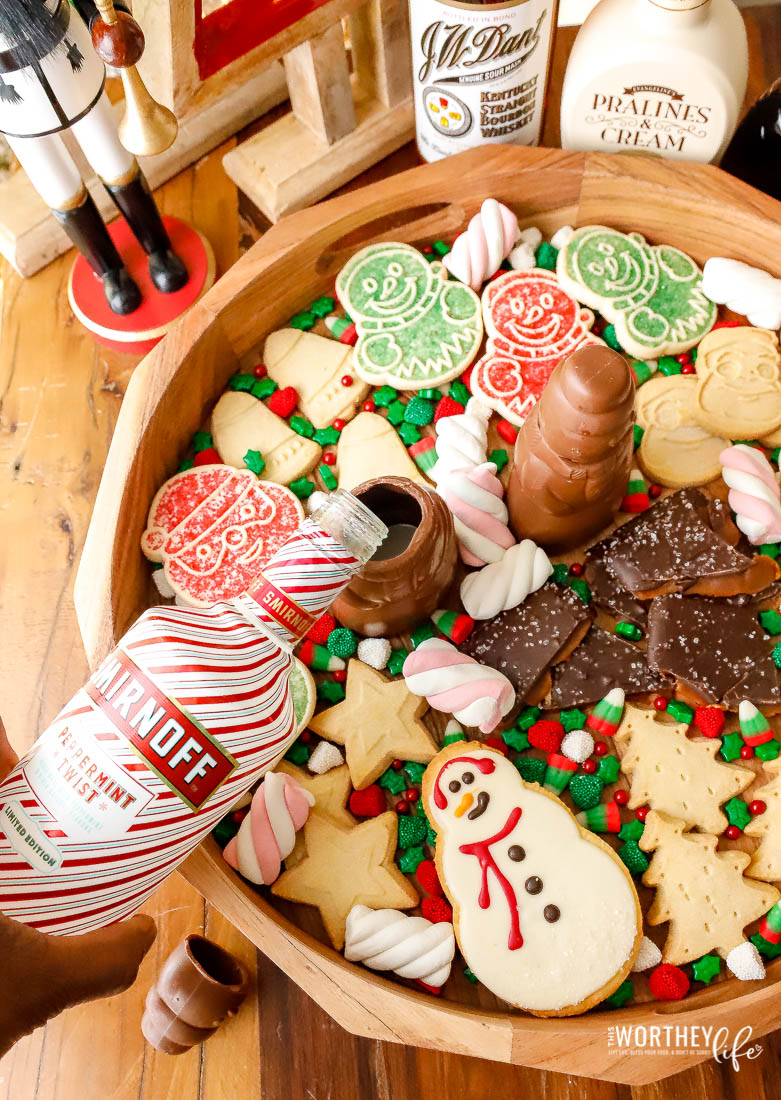 Of course, topping your Chocolate Snowman with a little more peppermint vodka is never a bad thing, right?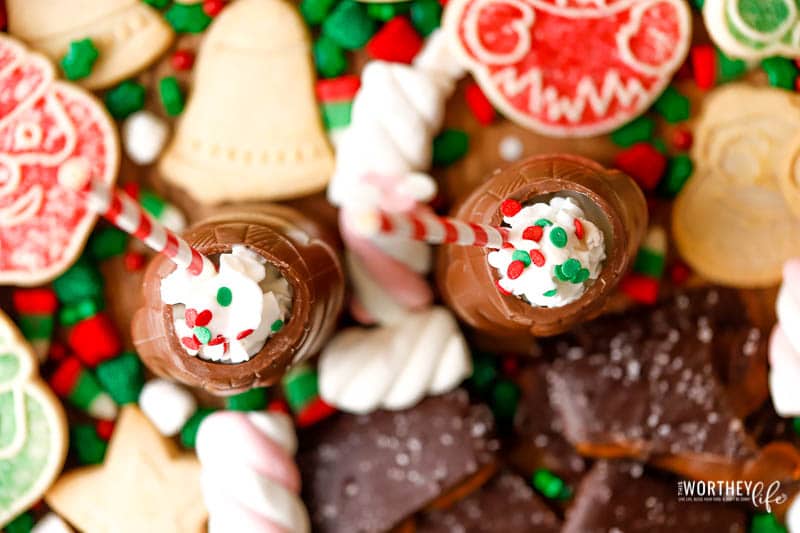 A finishing touch of whipped cream and holiday-colored sprinkles make this festive cocktail perfect for spreading holiday cheer!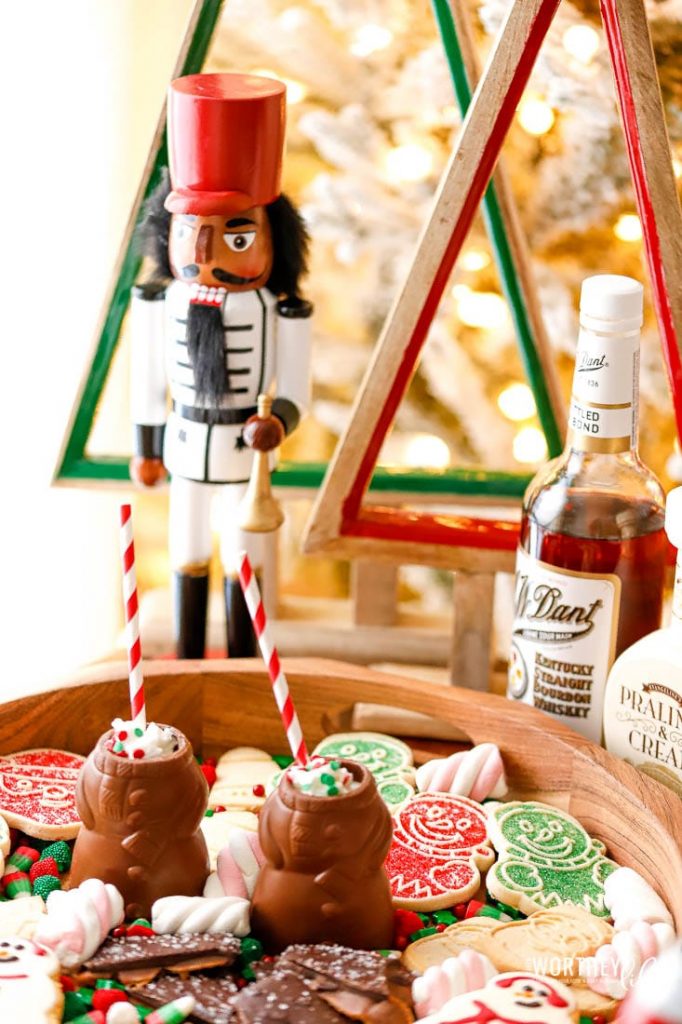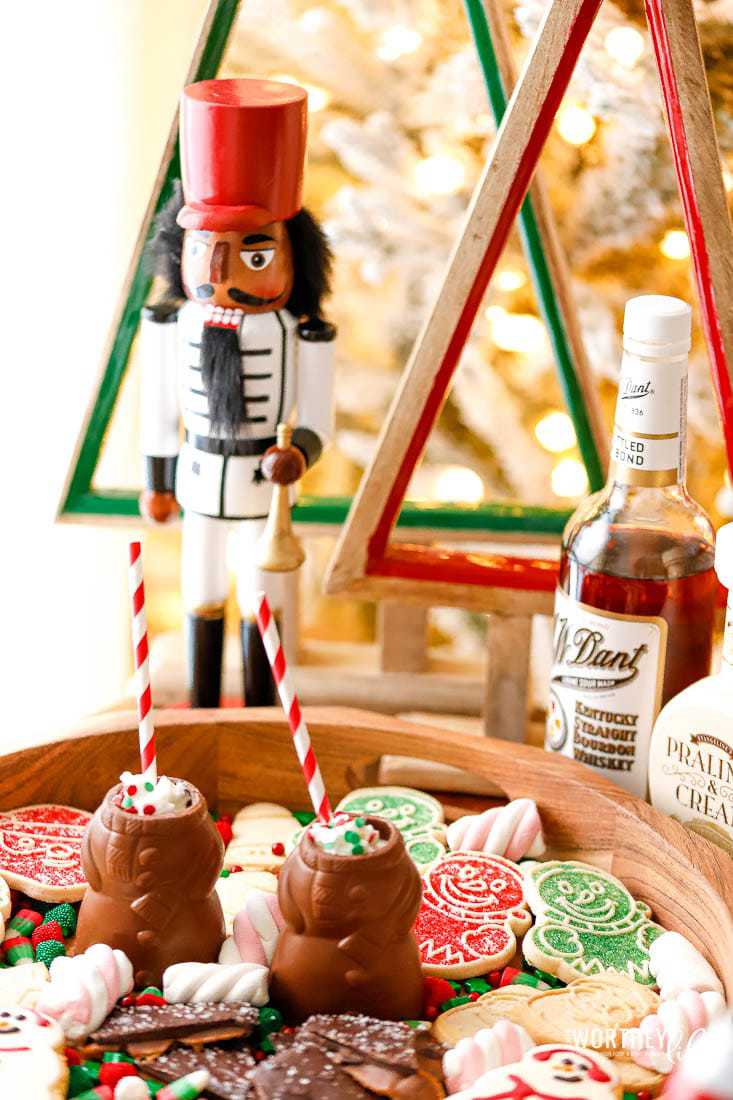 What You Will Need To Make Our Chocolate Snowman Shots
Chocolate Snowmen. The Mrs. found chocolate snowmen at a local store; unwrap them then off with their heads using a heated knife blade.
Bourbon Cream Liqueur. Since discovering bourbon cream liqueur several years ago it's been one my favorite ways to drink bourbon. Grab some, you won't be disappointed.
Praline Liqueur. If you never had praline liqueur, you are definitely in for a treat. It has a sweet, nutty taste profile that adds another layer of yummy flavor you will love.
Godiva White Chocolate Liqueur. The name Godiva is synonymous with rich chocolate flavor, and you won't be disappointed with this little white chocolate number.
Peppermint Vodka. If you're going to enjoy a spot of peppermint vodka it's going to be during the holidays. And the adding Smirnoff peppermint vodka plus it has a cool scratch and sniff bottle.
Bourbon Whiskey. Okay. You guys know about my love for just about anything bourbon related and even though there are two ways (peppermint or bourbon) to make this holiday cocktail you already know my preference.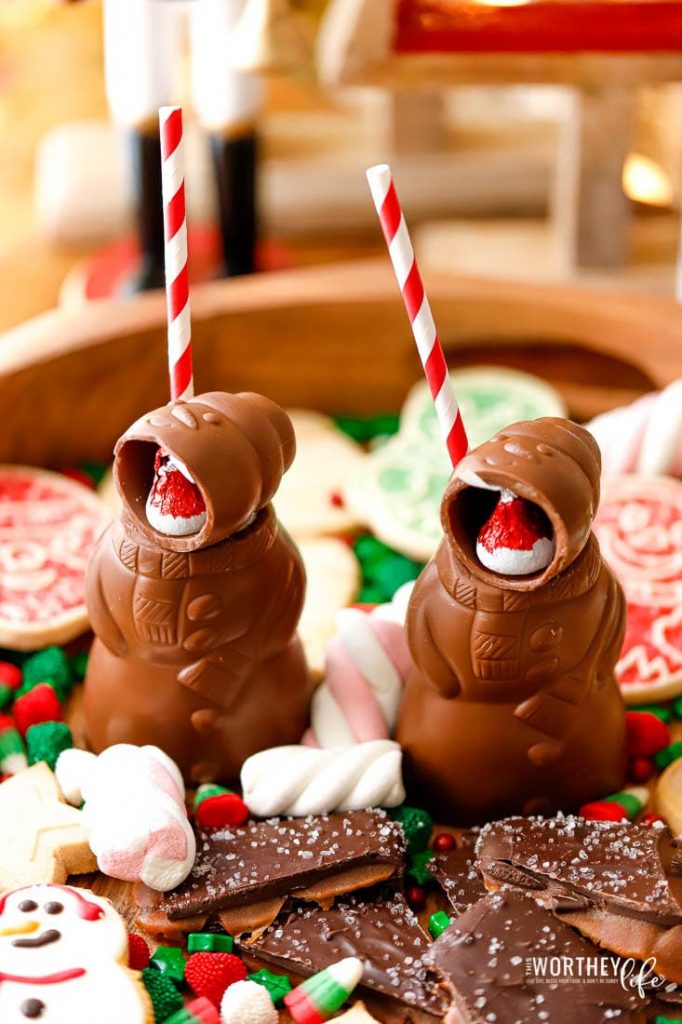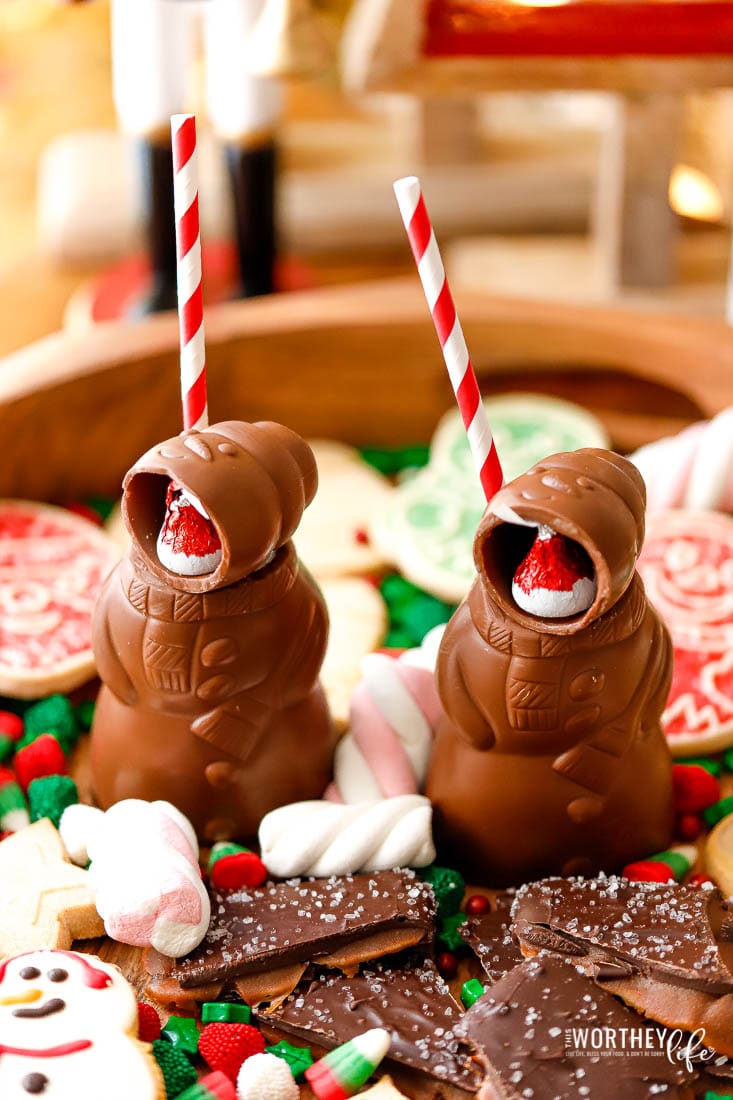 How To Make Chocolate Snowman Shots Made With White Chocolate Liqueur
Five servings
Ingredients:
1/3 cup praline liqueur
1/2 cup Godiva white chocolate liqueur
1/2 cup peppermint vodka or straight bourbon whiskey
1 cup bourbon cream liqueur
2 cups egg nog
Directions:
Mix the ingredients in a cocktail pitcher and chill in the fridge, which can be made a day ahead.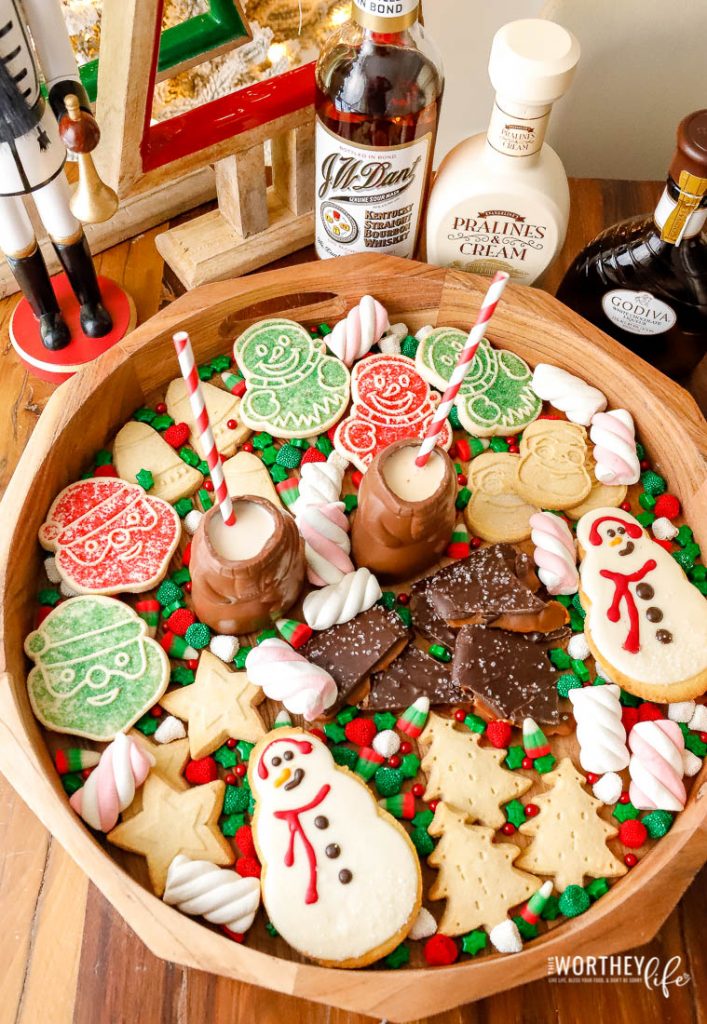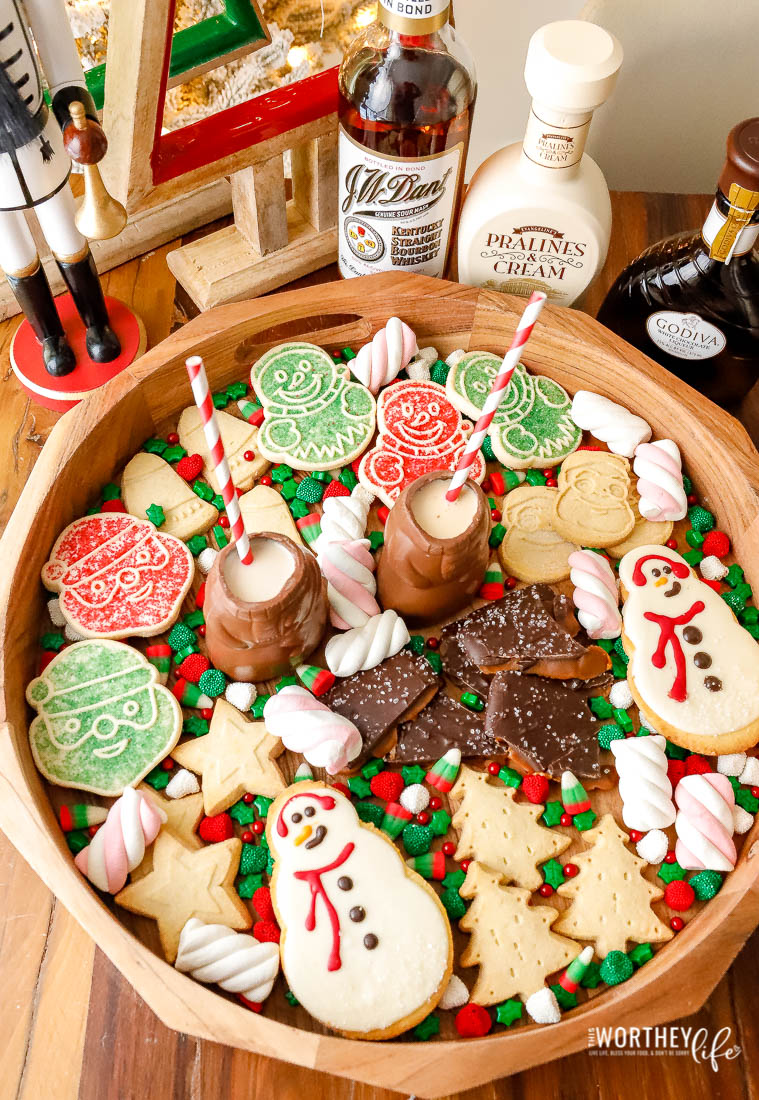 You Will Love This Holiday Chocolate Snowman Board Because:
Fun
Seasonal
Yummy
Perfect For The Holidays
Can Be Customized To Your Specific Likes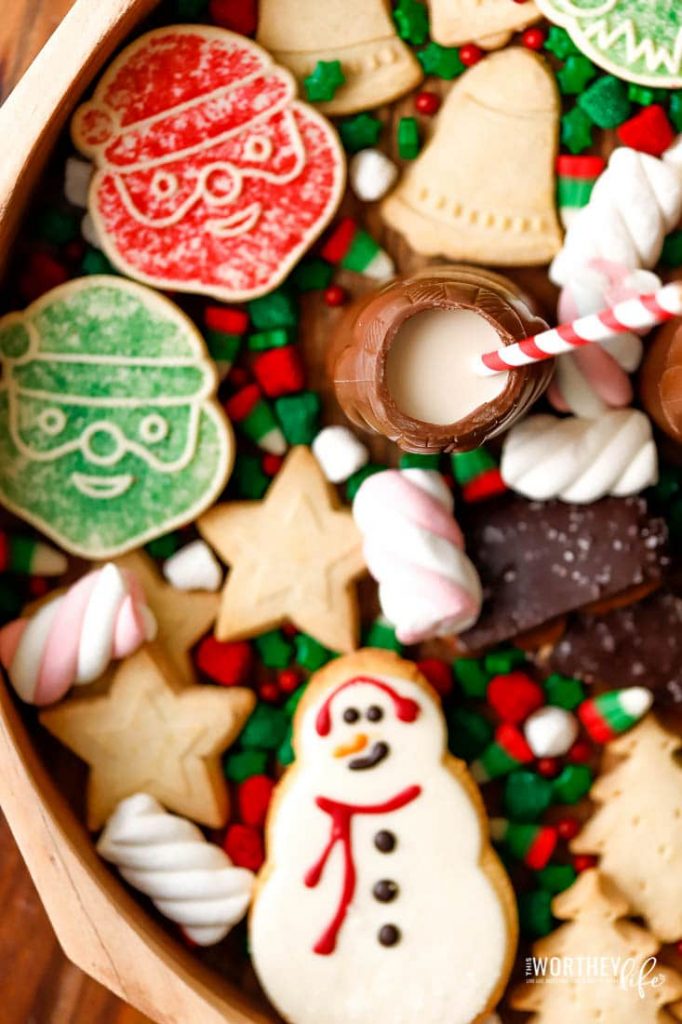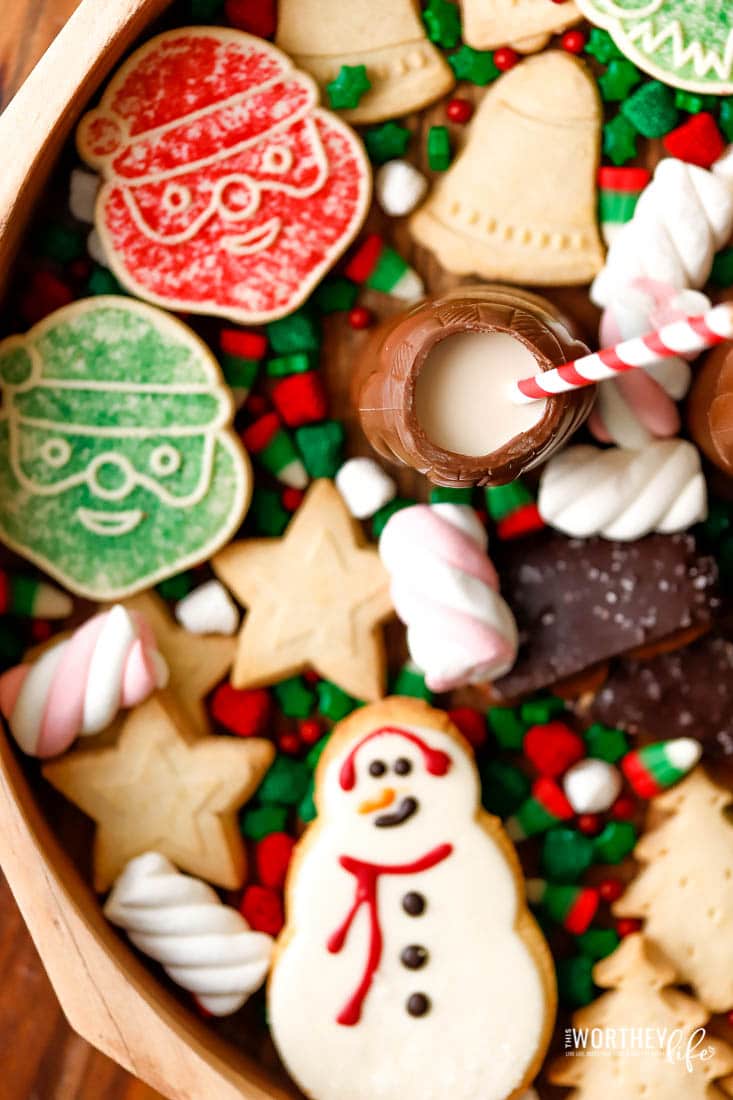 To Make Our Snowman Holiday Board You Will Need:
Walkers Shortbread Festive Shapes Cookies {Home Goods}
FAO Scheetz Jingle Bell Mix
FAO Scheetz North Pole Marshmallow Twists
Salted Caramel Dark Chocolate Bark
Celebrate Your Inner Elf: Elf Pillows
Snowman Cookies {picked up from Starbuck's}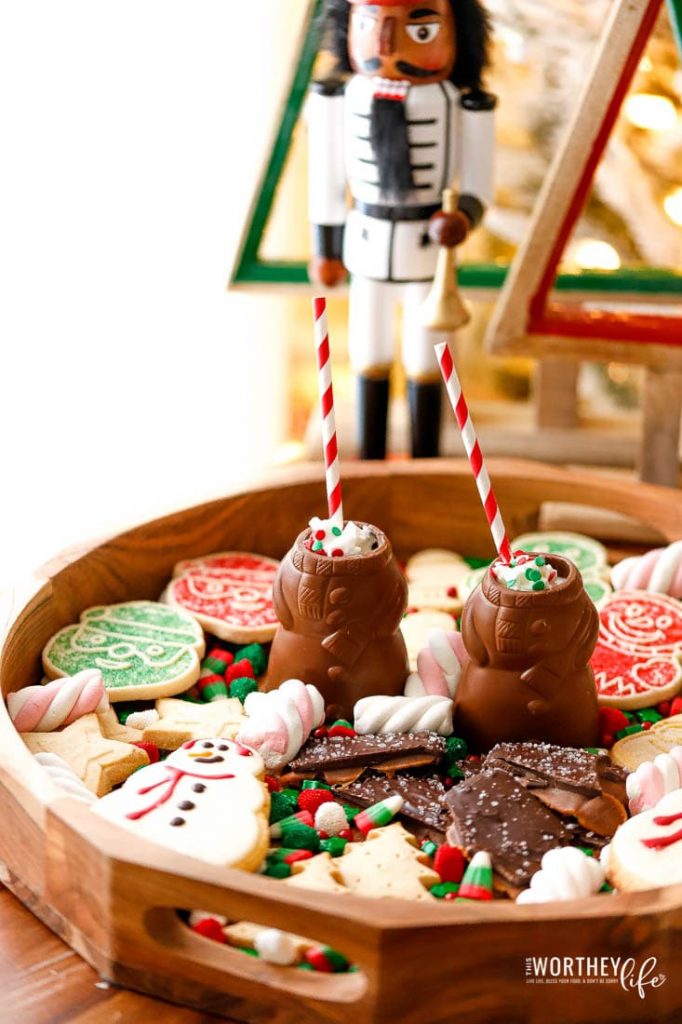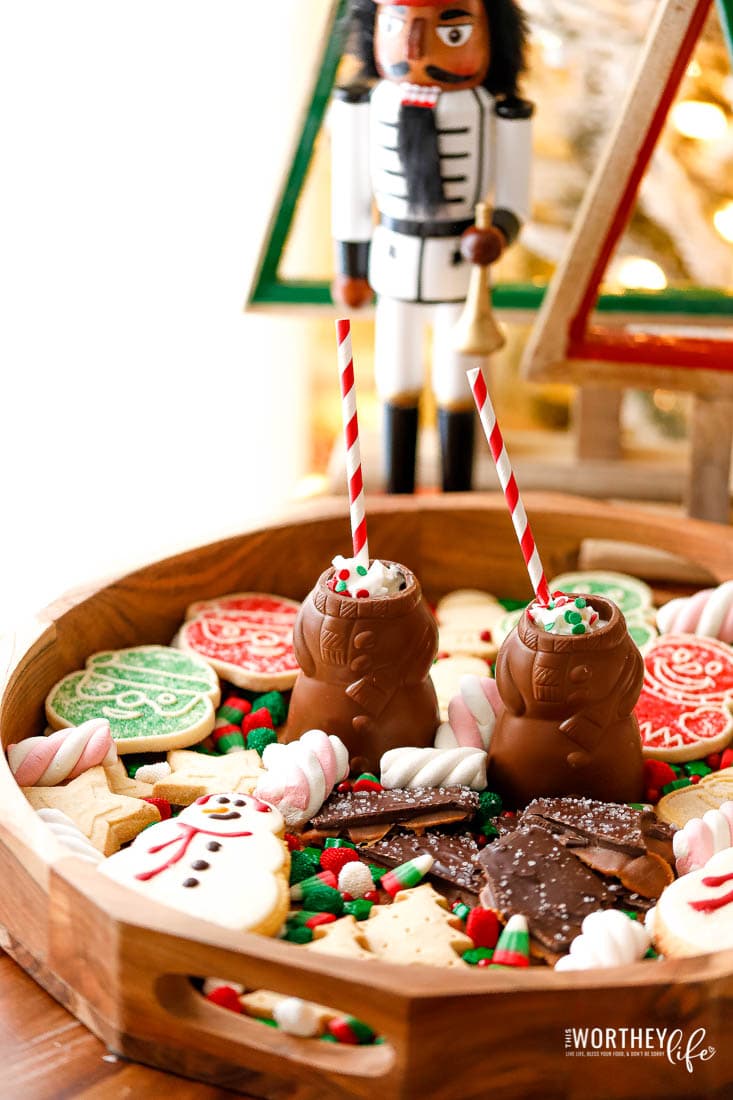 Christmas holiday boards are fun to make and easy to put together. We've created quite a few holiday boards you can check out:
Peppermint White Hot Chocolate Recipe + Peppermint Board
Christmas Hot Chocolate Charcuterie Board