Christmas candy boards are super popular. We're showing you how easy it is to put this Peppermint White Hot Chocolate Board together.
Serving up our peppermint overload board is highly recommended during the holidays, along with warm steaming mugs of white hot chocolate.
It's an indulgence best shared with fellow peppermint-everything-loving friends. Cheers!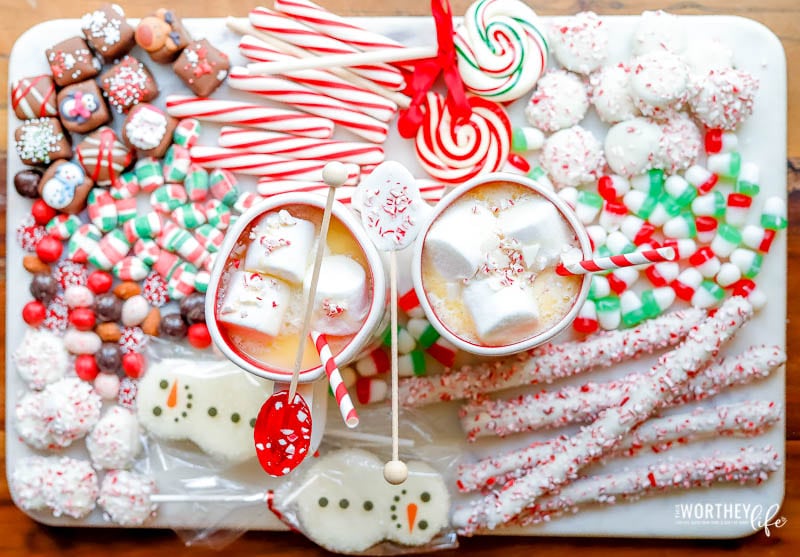 Peppermint White Hot Chocolate Recipe + Peppermint Board
Drinking hot chocolate is pretty much a foregone conclusion during the winter months.
Here in the Midwest, you're not doing winter right if there's no hot chocolate in your mug.
But, you don't have to drink the same milk or hot chocolate. We are here to tell you that you got options.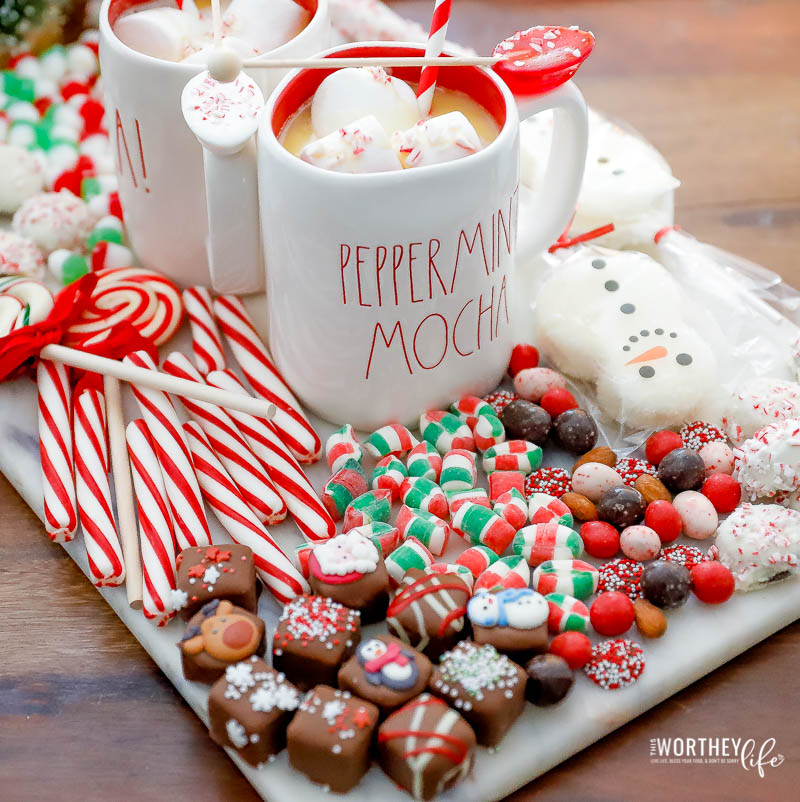 And when you serve up our Peppermint White Hot Chocolate with our Peppermint-themed Board, you may forget about your worries, if only for a little while.
And that's so okay since the holidays are all about living and sharing in the moment and indulging in good cheer!
Be sure to check out:
Christmas Hot Chocolate Charcuterie Board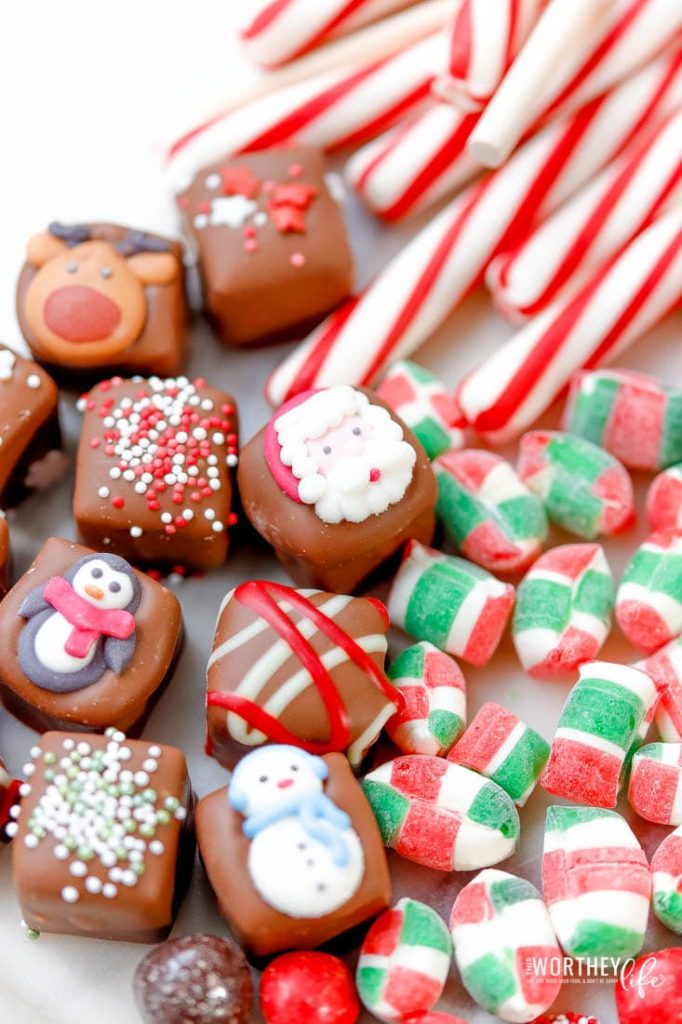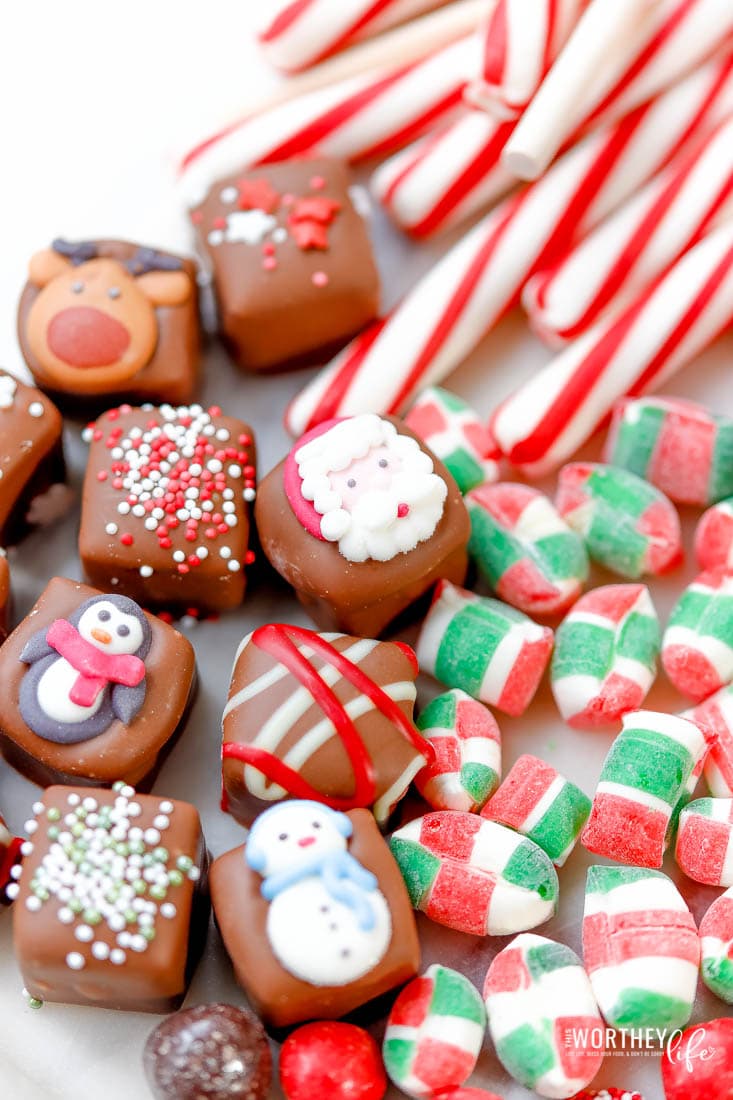 Adding bits of chewy chocolate-covered caramel pieces and other festive treats is a great way to make your hot chocolate board super festive and unique. And good too, it's a whole lot of good!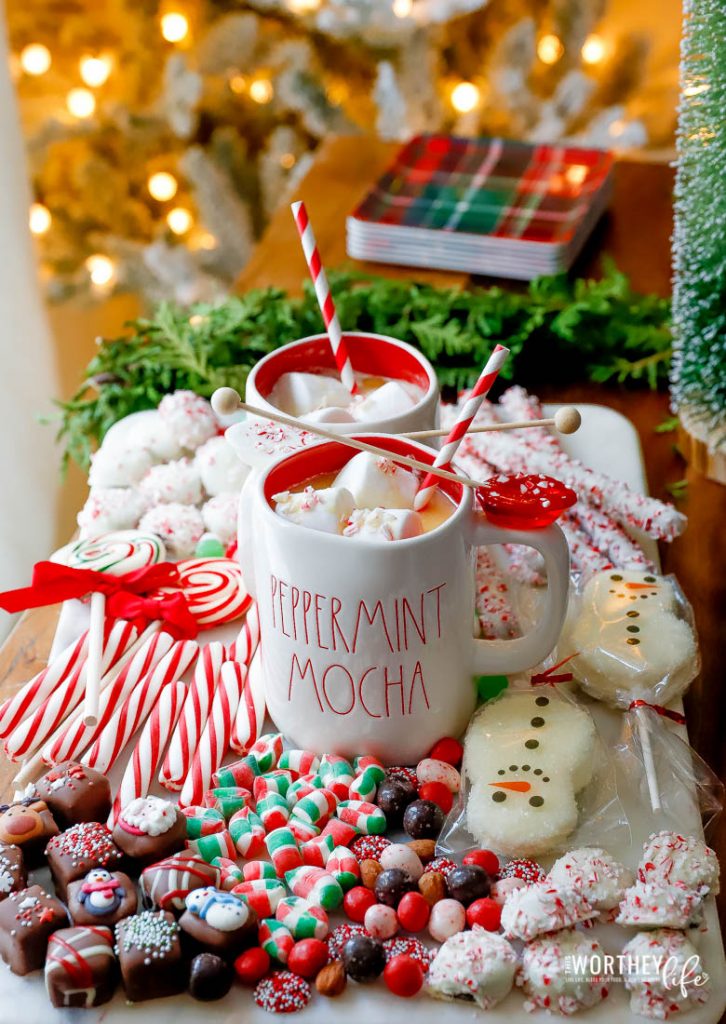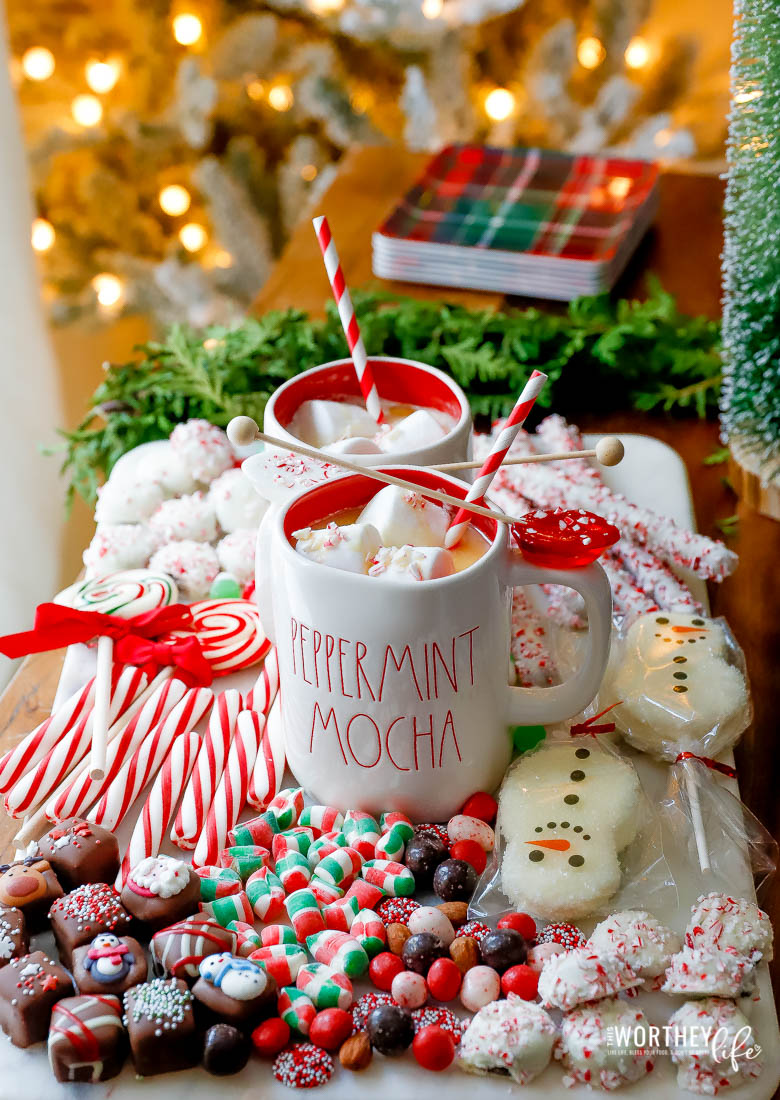 You Will Like Our Board Because
Fun
Festive
Whimsical
Great For Entertaining
It has Lots Of Peppermint & Chocolate Goodies
Is A Great Way To Serve Hot Chocolate To Your Friends & Family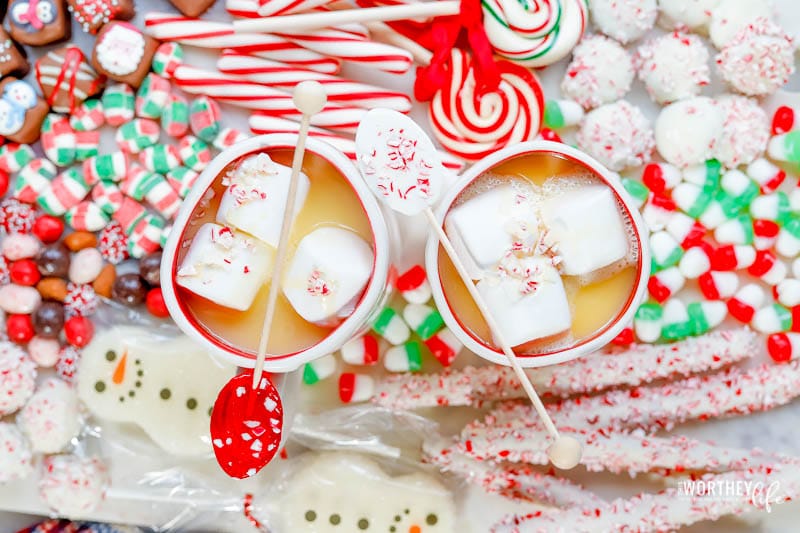 What You Will Need
Milk. Almost any kind of milk will do when it comes to hot chocolate. So go ahead and heat whole cow's milk or plant-based milk like almond, oat, soy, or cashew milk.
Heavy Cream. Of course, heavy cream is 100% optional, but if you love rich and super creamy hot chocolate, heavy cream is the way to go.
White Chocolate. I used and highly recommend chocolate chips for this decadent white hot chocolate, and it turned out pretty good.
Pure Vanilla Extract. Want to take your next white hot chocolate to the next level? Add a little bit of pure vanilla extract or scrap the paste from a vanilla bean pod. We're talking about something wonderful!
Crushed Candy Cane: Adding crushed candy cane to the rim of the mug you're serving the hot chocolate is an easy and whimsical way to add a bit of much-needed holiday spirit.
Now grab the hot chocolate recipe below and an assortment of your favorite peppermint goodies to finish creating your Peppermint White Hot Chocolate Board.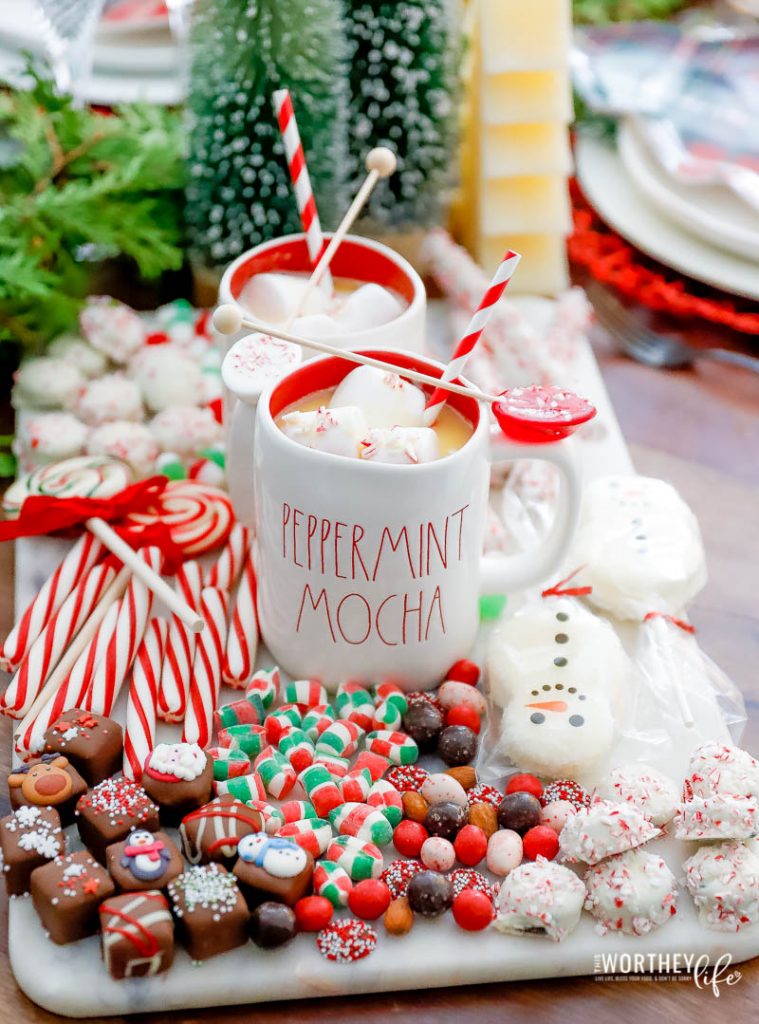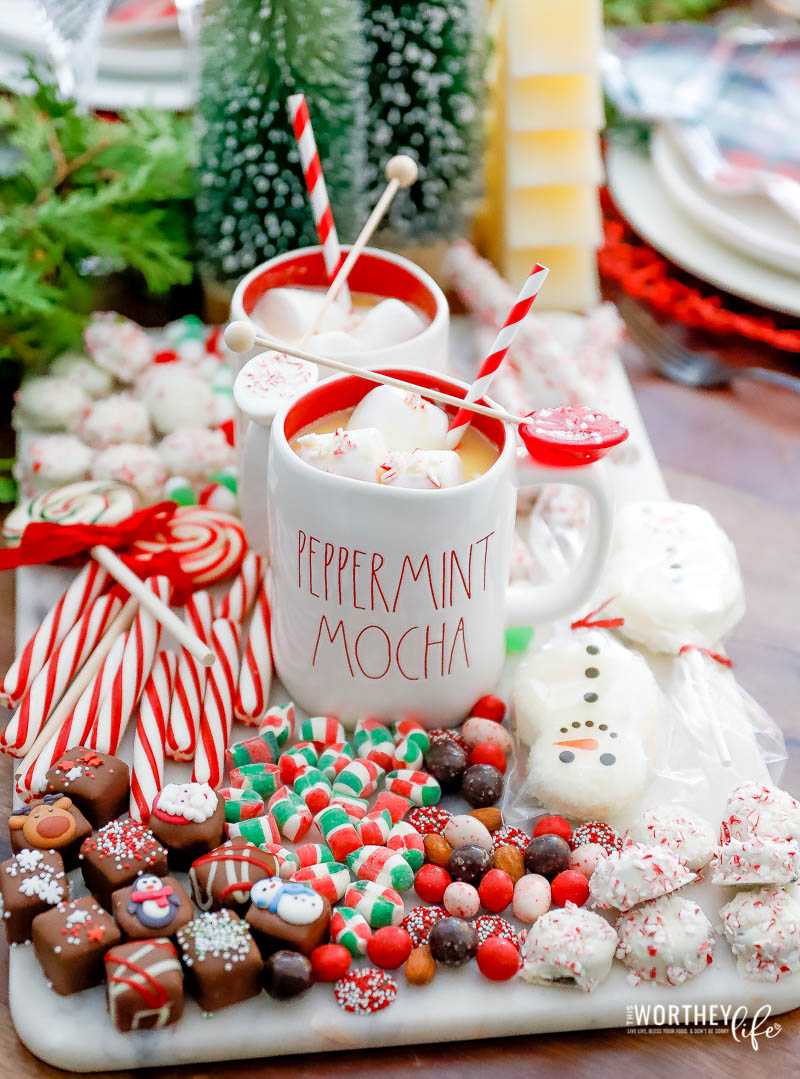 Peppermint White Hot Chocolate Recipe
Ingredients:
3 cups whole milk
1 cup heavy cream
1 cup white chocolate morsels
1 tablespoon pure vanilla extract
2 tablespoons crushed peppermint candy cane for rim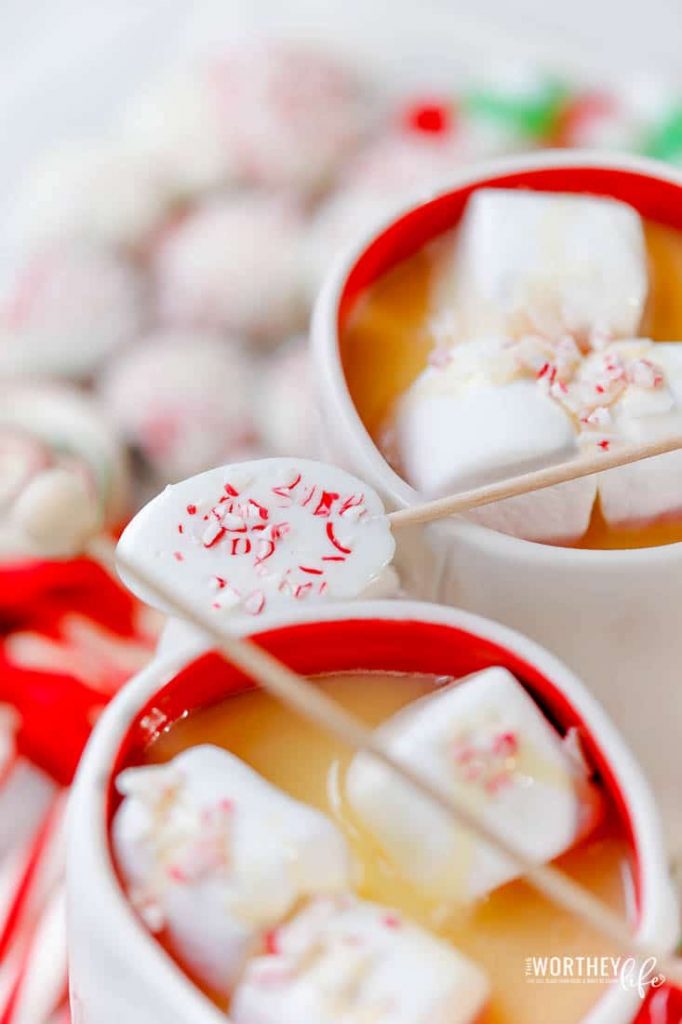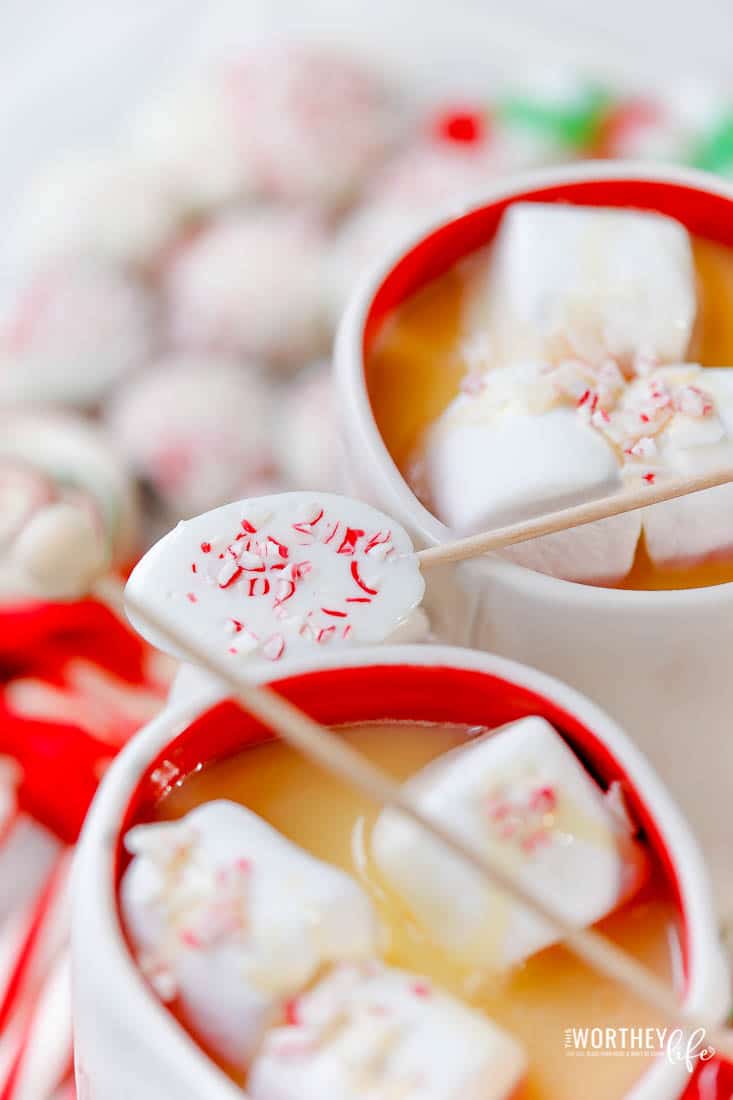 Directions:
Place a stock pot over med-low heat.
Add the whole milk and heavy cream. Allow the milk to steam but not boil.
Whisk in the white chocolate chips and stir until the white chocolate has melted into the milk and heavy cream.
Pour in the pure vanilla extract and continue to whisk.
Fill the mug with White Hot Chocolate in festive mugs with a peppermint rim. Smear the mug's rim with a bit of simple syrup and dredge it through the crushed peppermint candy cane pieces.
Serve.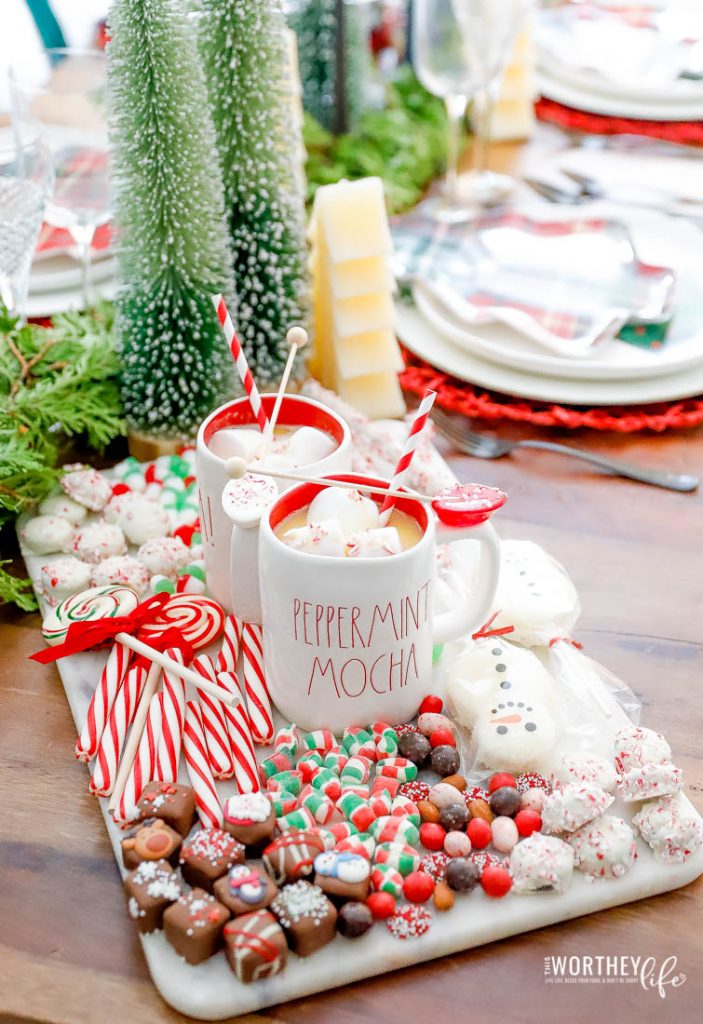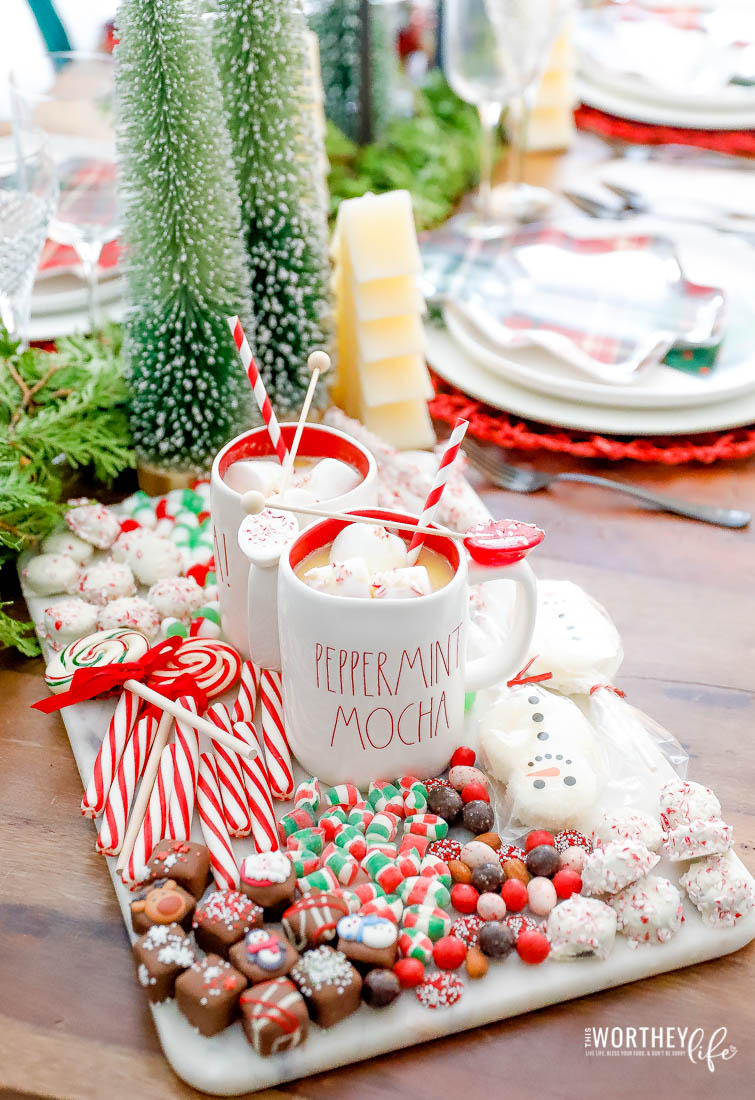 What type of candy to add to a Christmas candy board
You can add any candy to your peppermint board.
However, if you want the details on the exact types of candy we used and where we've listed them below.
Home Goods
Melville Hand Crafted Hard Candy Peppermint Spoons
Melville Hand Crafted Marshmallow Snowman Toppers
Linden Lady Chocolates Luxury Icon Selection
Gotta B Sweet Chocolatey Peppermint Sandwich Cookies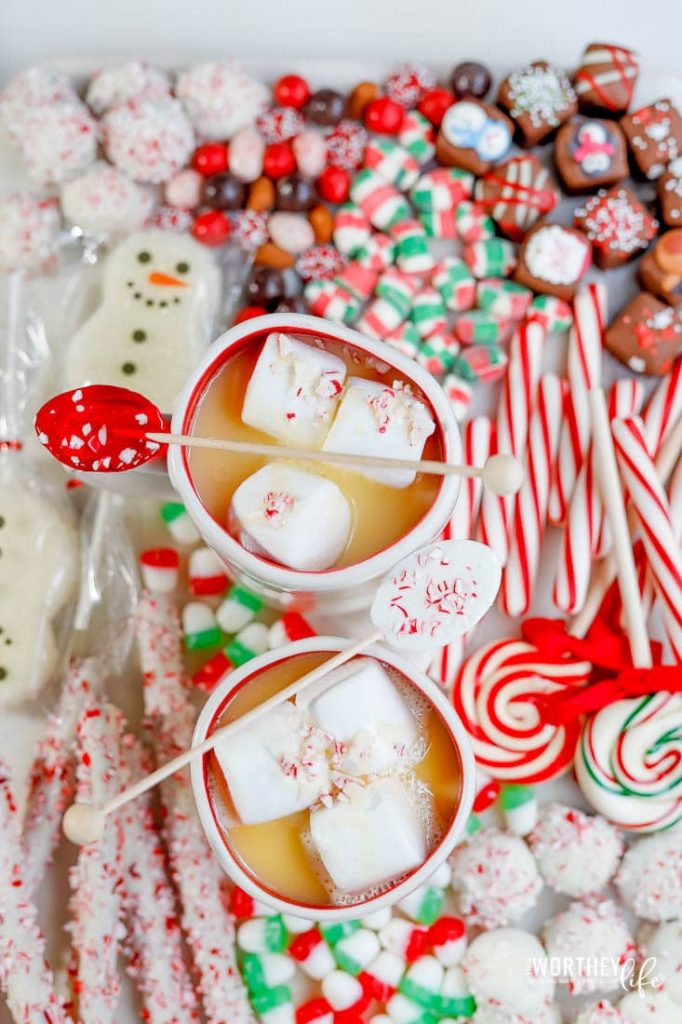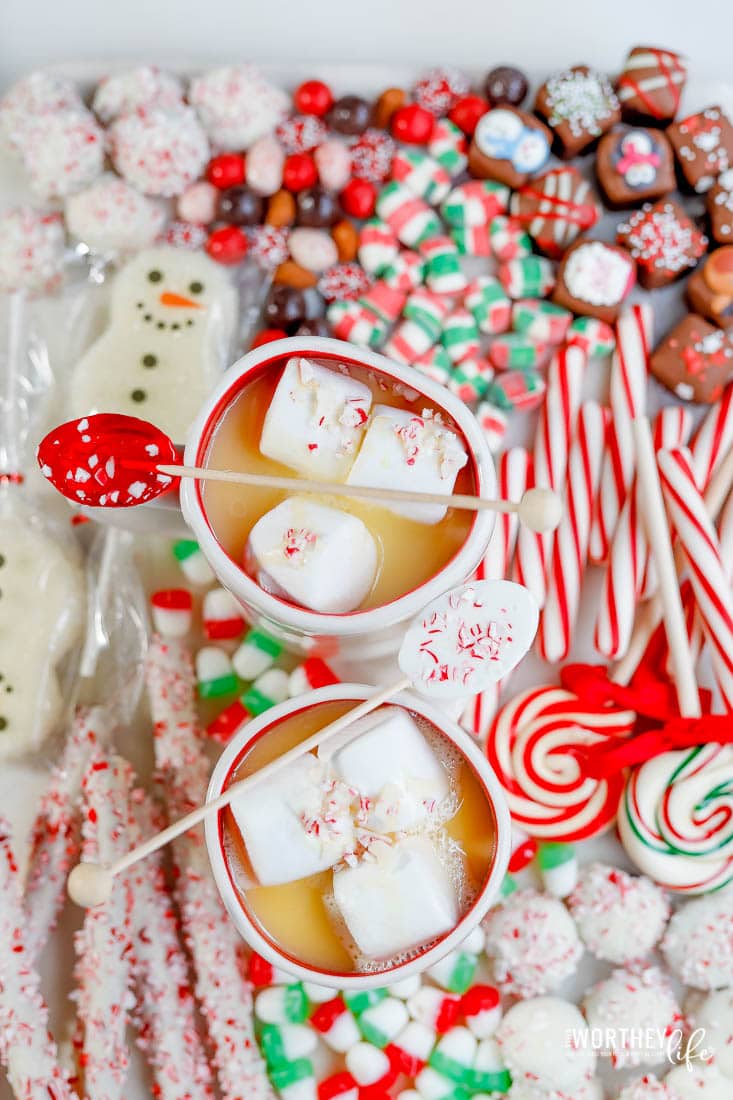 Target
Wondershop Candy Cane Indulgent Snack Mix
Wondershop Red & Green Juju Gummy Candy
Wondershop Peppermint Lollipop
Wondershop Classic Candies
Bobs Sweet Stripes Peppermint Stir Sticks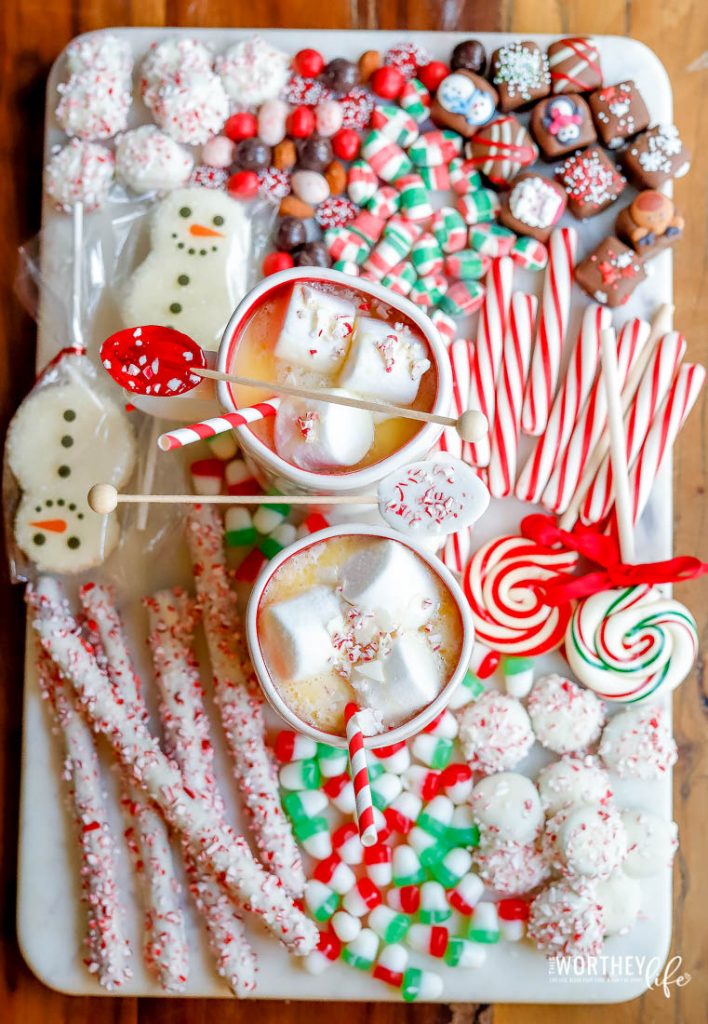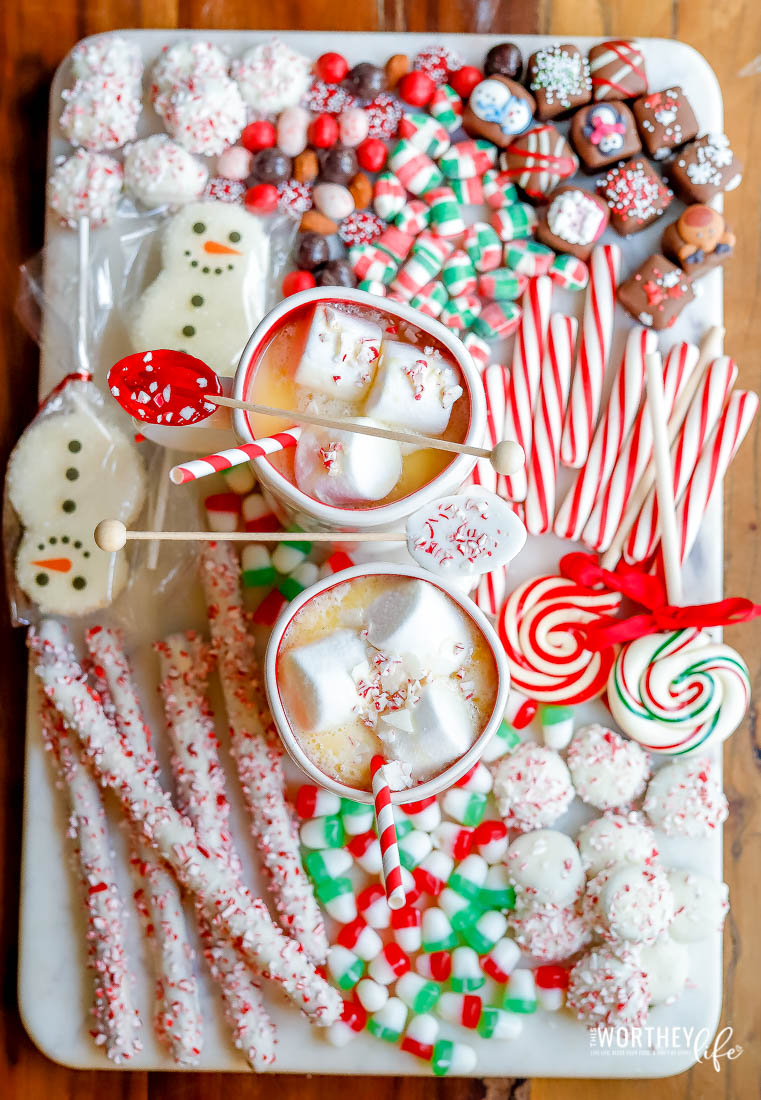 There are so many festive ways to put a Christmas candy board together!
From hot chocolate board ideas to one with mostly peppermint on it.
However, if you decide to style it, have fun, and keep it full of treats, you and your guests will enjoy it!
Find more Christmas recipes below:
Chocolate Peppermint Bundt Cake
Peppermint Cookie Recipes With Hershey Kisses
11 Kid-Friendly Holiday Drinks To Try This Year
Loaded Oatmeal Raisin Cookies Recipe