I love exploring new cities and places to have a girlfriend getaway.  I recently took a trip to Grapevine, Texas on a getaway tour. This amazing little city in the heart of Texas is right next to Dallas and Fort Worth, but has a life all its own.  It's perfect for a quick getaway to relax, unwind, and just be yourself.
Things To Do In Grapevine, TX
When you think of cities in Texas, you probably think of Dallas, Austin, Houston, and maybe even El Paso. But, I bet you didn't think of Grapevine.
Neither did I.
I heard about a travel conference called Travel Media Showcase happening in Grapevine Texas, so I registered to go. Before the conference, I had the opportunity to go on a Girlfriend Getaway. I wasn't really sure WHAT to expect from a little town called Grapevine right next door to a big city. I did a girlfriend getaway trip to Dallas earlier this year, and we had a blast.
I went into my Grapevine experience with little expectations. I mean, what could a little city right next to a BIG city really offer me?
Well, I'm here to say I was pleasantly surprised and my expectations were blown out of the water.
Let me share with you why…
Grapevine, TX has a wonderful history that is rich in Native American culture, and obviously, a love of wine and grapes.In 1843, General Sam Houston negotiated the Treaty of Peace and Friendship on Grapevine soil with ten Native American nations.  A year later, this little town turned city was formed and named for the wild grapes that grew in the area.  The combination of location to waters, wild grapes, and the influx of culture in nearby Dallas and Fort Worth have revitalized a small town that became a great piece of American history.
In the last 40-50 years, Grapevine, TX has steadily grown as the population of the nearby cities has grown.  The result is a thriving town full of food culture, relaxing spas, tourist attractions, and a wonderful suburban environment many choose to call home.
There are so many things you can do in Grapevine, I'm going to share a few with you below:
Foodies rejoice! Even though it's a small town, Grapevine has great food spots all over the city. With over 200 restaurants to choose from, you will never grow bored of eating at the same place twice. If anything, you will have a hard time selecting where to eat each day, and even frequently the same restaurant more than once.
During our few days in Grapevine, we tried several restaurants. Out of all the spots we tried, Winewood Grill was by far my favorite.
Here's why:
First, their appetizers did not disappoint. Since I was among other girlfriends who love to eat, we tried a little bit of everything.
Their Tenderloin Bruschetta is the perfect appetizer to leave you with a small taste of what you're about to expect from Winewood Grill. It's a toasted baguette with cherry tomato jam, basil pesto, arugula and grated parmesan.
Next, I HAD to try their Calamari (love, love, love fried squid!!) Their calamari was made differently than any other Calamari appetizers I've had. It's calamari strips lightly fried, served with chipotle ranch and housemade marinara sauce. The sauces are something you may find at any restaurant, but the way they lightly fried the calamari made all the difference in the world.
Next, (yes, we're still on appetizers!!) we had to try their cheese board! It's a Chef's choice of local and international cheeses.
Now, for the main event, I decided to go with a rack of lambs. Best choice I could have made that night. It was a New Zealand Rack of Lamb encrusted with fresh herbs, served over fingerling potatoes and brussel sprouts sauteed with white wine and garlic.  I could have eaten about three servings of that lamb. It was juicy and tender and packed with a ton of flavor.
For dessert, we ordered every single dessert on the menu and passed the plates around to share. This is a great way to try many things on the menu without coming out waddling like a cow (lol).  We had a flight of delicious and decadent desserts, such as Creme Brulee, Brookie, Key Lime Pie, Chocolate Gnache, Three Layer Lemon Cake, Red Velvet Cake, and Opera Cake. The Chocolate Gnache and Opera Cake were two of my favorite.
Part of going on a girlfriend's getaway is finding the best places to eat in that area. Some of the other restaurants we tried were:
Farina's- Great spaghetti pizza!
Main Street Bistro & Bakery– they have delicious pastries and coffee! On the weekends this place is always packed as people frequent this Bistro for their gourmet cuisine from France and Europe.
Chill– We stopped there for an early lunch. It reminds me of your local American Bar & Grill. I had their steak fajitas.
Dino's Steak and Claw House– more delicious desserts, appetizers, and even their butter looks amazing! I tried Crab Cubes. It's somewhat like crab cakes, except they look more like squares vs. circles. The cubes are made with Maryland lump crab meat, honey Dijon sauce & chill apple compote.
And just in case you don't believe me, here's a photo of their decadent butter:
Shop till you drop. One of the must-have things on any girlfriend itinerary is shopping. Not only do you have a variety of shops all along Main street, but they are also home to a HUGE shopping mall, Grapevine Mills. Grapevine Mills is one of the largest retail shopping destinations in North Texas, featuring a ton of places to shop, dine, and entertainment. They also have a LEGOLAND Discovery Center and a SEA Life Aquarium (similar to the one here in Michigan).
When you shop on Main Street, not only are you shopping and buying local, but it's listed on the National Register of Historic Places. You will find over 80 locally owned shops, winery tasting rooms, restaurants, art galleries and jewelry stores along Main street in Downtown Grapevine.
Visit multiple wineries.  One of the best things about this city is that over the last several years, it has become a wine lover's dream. Grapevine is home to the Texas Wine Industry, and Texas is the 5th largest wine producing state in the country. Not only are there a multitude of wineries in the area to check out, there are many that offer free tastings or at a minimum, special packages for tours and tastings.  If you love a bit of vino, this is a great place to relax, unwind, and taste new rich blends. A great way to explore and learn about the wineries in the Grapevine area is to do a Wine Tour.
As part of our Grapevine Wine Tour, we made stops at Farina's, Homestead Winery and Sloan and Williams. Farina's is also a restaurant, and an excellent place to go and try their Spaghetti Pizza (it was amazing!!!)
You can find more information about the Grapevine Tours, including packages and other wineries in the area by going to their website.
Relax near Grapevine Lake.  No matter what time of year you visit one of the best things to do in Grapevine, TX is to visit the lake.  In warmer months you can enjoy all manner of water sports, fishing, and swimming.  When the temperatures drop, it is a great location for a beautiful walk, picnic, or a serene place to read a book and unwind after a long day.
Grapevine Vintage Railroad.  If riding a train is something you've always wanted to do, Grapevine Vintage Railroad is a fun trip from the small town straight to the heart of the Fort Worth Stockyards.  Even if cattle and ranching aren't of interest, the history and culture of Texas displayed in this area is well worth the fun and a short ride on the vintage railroad.
As part of the Travel Media Showcase, we had the pleasure of taking a ride on one of Grapevine's  train cars and it was a blast!
Another fun idea to do with your girlfriends (at home or in Grapevine) is a Painting with a Twist class. We took a PWAT class and made a Texas Cowboy boot (naturally, of course). We had our paintings shipped home via Fedex (so you don't have to worry about taking this on the plane).
I had a pleasant stay at the Courtyard/TownePlace Suites by Marriott, which is conveniently located by restaurants, shopping malls, and activities.
There are many things to do in Grapevine, TX that are ideal for a quick girlfriend getaway. Whether you are looking for a fun historical look at the region, or you simply want a few days of being pampered, this is a great location in the heart of Texas to satisfy your needs. Be sure to stop by the local CVB Grapevine office for additional resources, and you can also search online. Their staff is very helpful in giving great tips and resources on planning your Grapevine Getaway.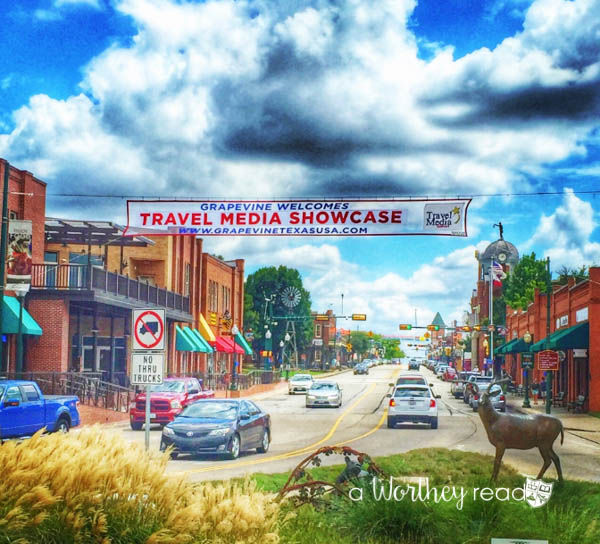 Overall, I have been impressed by my stay in Grapevine. From the food, to mingling with the locals, Grapevine was full of pleasant surprises. Although it is a small town, it has the feeling of home.
If home is where the heart is, then Grapevine definitely has my heart!