The new installment of the Thor films opens up in theaters November 3rd. I'm sharing my reasons why Thor Ragnarok delivers as being the best Marvel film to date!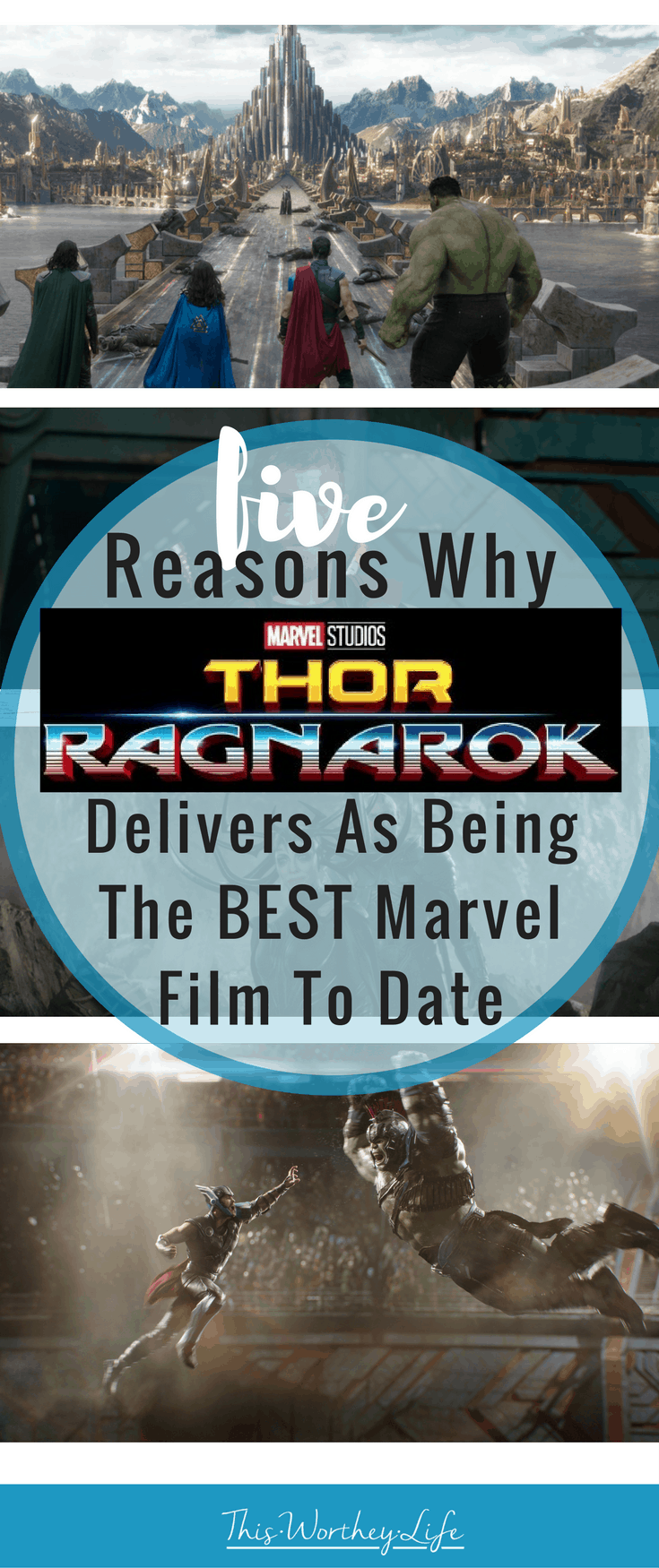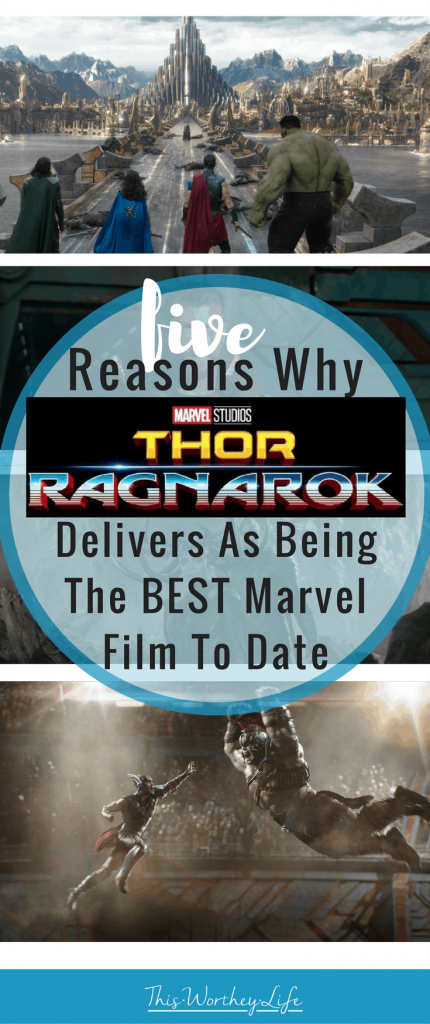 5 Reasons Why Ragnarok Delivers As Being The BEST Marvel Film To Date
I didn't grow up reading the Marvel comics, but that hasn't stopped me from appreciating all of the awesomeness and creativity that goes into each Marvel film. My husband did grow up reading the Marvel comics, and I usually lean on him to point out the differences from the comic books and the motion picture movies.
I recently came from the Thor Ragnarok premiere, where I walked the Red Carpet, along with some other fun stuff. (So far, I've posted about my interview with some of the cast from ABC's comedy show, The Mayor. And more to come!).
I'm still tripping about all of the CRAZY and awesome things that happen in this new sequel, Thor Ragnarok. I promise I'm not sharing any spoilers. I want you, my reader to be just as surprised and shocked as I was when I screened it last week!
But, I am going to share with you some things to expect and what I thought about the film. After you see it, come back and let's compare notes!
It's different
First, this sequel is WAY different from the other Thor movies. Yes, it's jam-packed with action, action, and more action. In Thor Ragnarok, the movie opens up with Thor (Chris Hemsworth) faced a sticky situation. He's trapped on the other side of the universe without his hammer. He is given information about how Ragnarok will destroy his home and his people. With the threat of Hela, played by Cate Blanchett, unexpectedly released from captivity, Thor must figure out a way to save Asgard, his sibling struggles with Loki (Tom Hiddleston), and how to fight without his mighty hammer, Mjolnir.
Yes, that's no surprise on Hela destroying his hammer, as seen in a few trailers dropped by Marvel. Thor is shocked by Hela's power, and quickly discovers he is no match for this awesomely, powerful villainous.
Kevin Feige, the Producer, explains, "With a third Thor adventure, we wanted to do something very, very different from 'Thor: The Dark World,' with new characters, new villains and new locations for this new adventure. We love surprising audiences with how the tone of a franchise can change."
Thor Ragnarok is serious business! I mean considering Thor's been thrown in chains, Asgard is teetering on utter destruction, and some Goth chick named Hela has a death wish for just about everyone, is waging havoc in this film. So, at least in premise, all seems rather daunting on a majorly galactic scale. But maybe that's why this particular film has so many awesome moments. Maybe director Taika Waititi is telling us, "When the chips are down put on a happy face." Don't get me wrong, this IS a bona-fide action film bar none, yet you'll find yourself laughing to along the way. The writing was light and witty, and some of the lines coming out of the actor's mouths were ad-libbed. It's edgy, fun, filled with action, and a ton of great eye-candy.
Comedy Comes Naturally
In Thor Ragnarok, you will laugh and then laugh some more. With Waititi directing this movie, as well as playing the clueless, but ready-to-be-a-leader, Korg, he wanted to create his own blueprint of a Thor movie.
Thor finds himself on the planet of Sakaar. Sakaar is overseen by The Grandmaster, Jeff Goldblum. Goldblum's character fits him. He's colorful, funny, offbeat, and weird. When you put that all together you get Jeff Goldblum. You will laugh at his funny jokes, and the side-eye banter from two of his top warriors, Valkyrie (Tessa Thompson) and Topaz (Rachel House).
Thor meets up his "friend from work" Hulk (Mark Ruffalo), which is already trending as one of the most popular lines in the movie!
This is one of my favorite scenes in Thor Ragnarok. The Grandmaster captures Thor, and promises him if he can win the fight, he can leave. Thor is thrown into the gladiator ring, and as soon as the gate opens, he sees the Hulk! Thor is like, "YESSSS! Loki, look who it is! We know each other, he's a friend from work!" I'm not going to tell you how the scene ends, but the outcome comes to a surprise to many but not to true Marvel geeks like my husband! This is truly an epic battle scene and once you witness you'll understand why.
With ad-libbing, a lot of one-liners, and lines that just come out naturally, Waititi wants the audience to leave the theater with smiles on their faces.
Eye-Candy For Days
Girl Power Is Here To Slay
Thor Ragnarok brings us new characters to know and love. And not only new characters, but two strong and beautiful women, Tessa Thompson and Cate Blanchett.
Although Hela plays the first lead female villain in the Marvel Cinema Universe, she's not your average villain. She's saucy, beautiful, strong, and a ton of character flaws. Hela also is struggling with her own identity, with a ton of layers, trying to find her place, and most importantly, reclaim something that was hers.
You will find yourself quietly rooting for her while wearing a "Go Thor" t-shirt.
Another new character appearing in this sequel is Valkyrie. Tessa Thompson plays the heck out of this role; a warrior fighter, strong, and also stunningly beautiful, she lives on the planet Sakaar drinking away her past. She is able to go toe-to-toe with Thor, and eventually joins up with him and Hulk to save Asgard. "The Valkyrior are these incredibly powerful female warriors in the Marvel comics," Feige explains about Thompson's character. "Here, we meet one who's fallen on hard times on Sakaar. We wanted to pair Thor with a new hero, with somebody who could be his equal throughout the adventure. That's why we decided to bring Valkyrie, another great character from the comics, into the movie."
New Characters, More Action
We're introduced to several new characters in Thor Ragnarok. Skurge (Karl Urban), Korg (Taiki Waititi), and Topaz (Rachel House), are new. You are not given a lot of back history about these characters, but you quickly grow to love them, root for them, and go on the journey with them as they successfully work their way into being remembered.
Idris Elba returns as Heimdall, one of Asgard's fiercest warriors. Of course, I'm always glad to see him on-screen, and he has a bigger role in his last on-screen appearance in MCU (I'm little sad about this).
Heimdall becomes the heroic force in saving the people of Asgard when Hela invades and takes over. He is able to get the people out and goes from just being the gatekeeper to Asgard, but a warrior who saves the people. As noted throughout the film, Asgard is not a place, it's the people.
Hulk is given a bigger role in Thor Ragnarok. And as many have mentioned, it was close to a stand-alone Hulk movie. Although you will leave with questions. Such as, how did Hulk get there? And will there be another stand-alone Hulk movie? Be sure to stay tuned to my interview with Kevin Feige for more on that.
To Sum It All Up
I LOVED Thor Ragnarok. And it's my favorite out of all the Thor films. From the moment the movie opens up, you're given suspense and comedy. There are moments where you want to cry, sit in shock, laugh, shocked again, laugh some more, and cheering on for Thor, Hulk, Hela, Valkyrie, Heimdall, Korg, man, even Loki! And although the movie is named Thor Ragnarok, Thor is not the only main character nor hero. He may be the cover of the movie, but it was the #noname team that helped pull this movie altogether.
Plan to see Thor Ragnarok in theaters, November 3rd, 2017. And come back and let me know what you think!
Follow along on social media using #ThorRagnarok #ThorRagnarokEvent
Facebook | Twitter | Instagram
This trailer is the perfect teaser to show you the roller coaster ride you're about to take in a few weeks!
Thank you, Disney for hosting me on this all-expense paid press trip to the #ThorRagnarokEvent and other Disney press events. However, you will always be reading 100% of my own thoughts, squeals, and opinions!