Are you looking for a thoughtful and romantic gift idea for Valentine's Day? This Valentine's Mixtape Personalized Card is the best!
Not only does it show your loved one that you took time and effort, but it's an easy way to make something unique and personalized at the same time!
Be sure to check out my Valentine's Day Chocolate Covered Oreos for a homemade sweet treat idea to pair with this card.

Valentine's Mixtape Personalized Card
Think back to the days of dating. Mixtapes totally used to be a thing. The younger generation will never live through the life of recording songs off the radio or trying to press record while skipping out on the commercials.
Now they have Spotify, Apple, and all the other instant music sites that give any and every song asap, without issue. (Don't get me wrong – I love it as well!)
It's safe to say making a mixtape now is a tad bit easier than it used to be, but it still does take time and effort.
If you love to show your feelings and emotions through songs, this is what this mixtape card is all about.
You can write out the songs you love to share with your Valentine.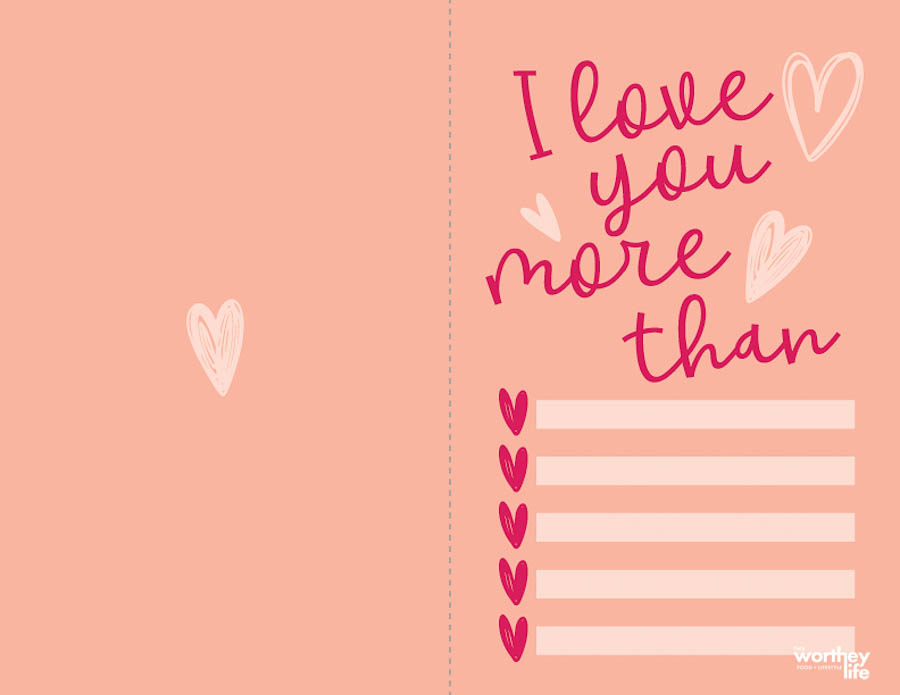 Fun Songs To Add To Your Mixtape Card
Since this is a Valentine's Day card, romantic songs are always a good idea. And if you and your loved one have a "song" that is about your lives together, add it to the list!
You can also add the first song you heard when you first met, the first song you ever danced to, the song played on your wedding day, or a list of songs you introduced to them showing how you really feel.
It's fun to change it up and surprise them as well!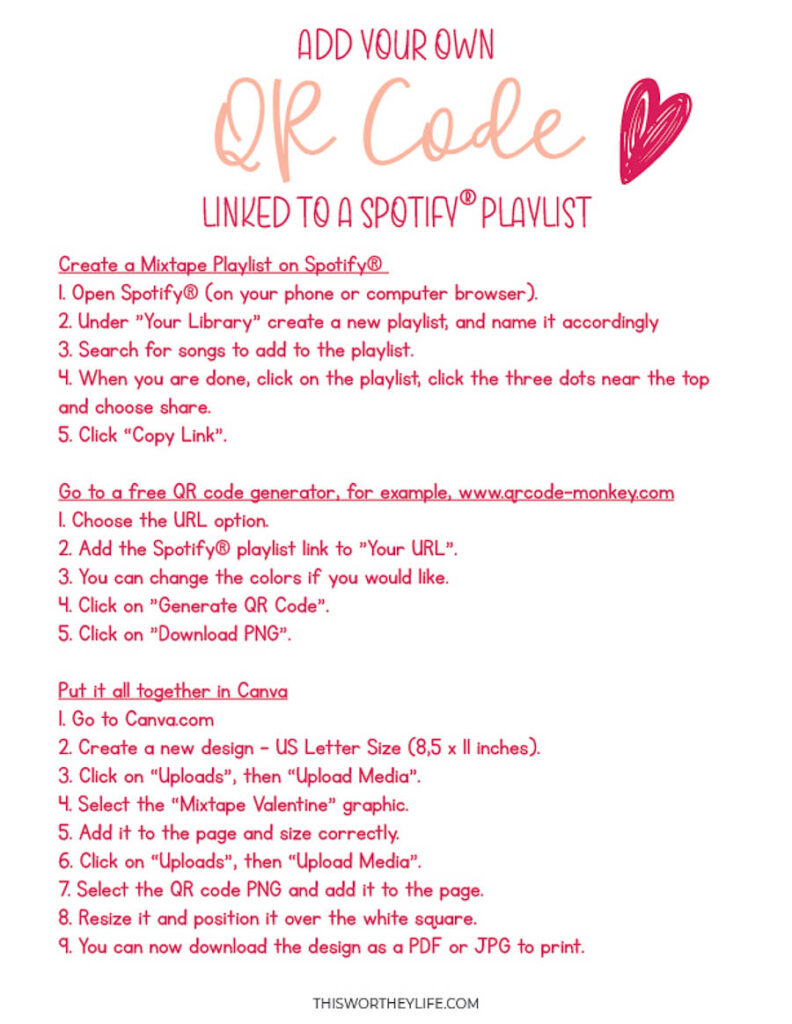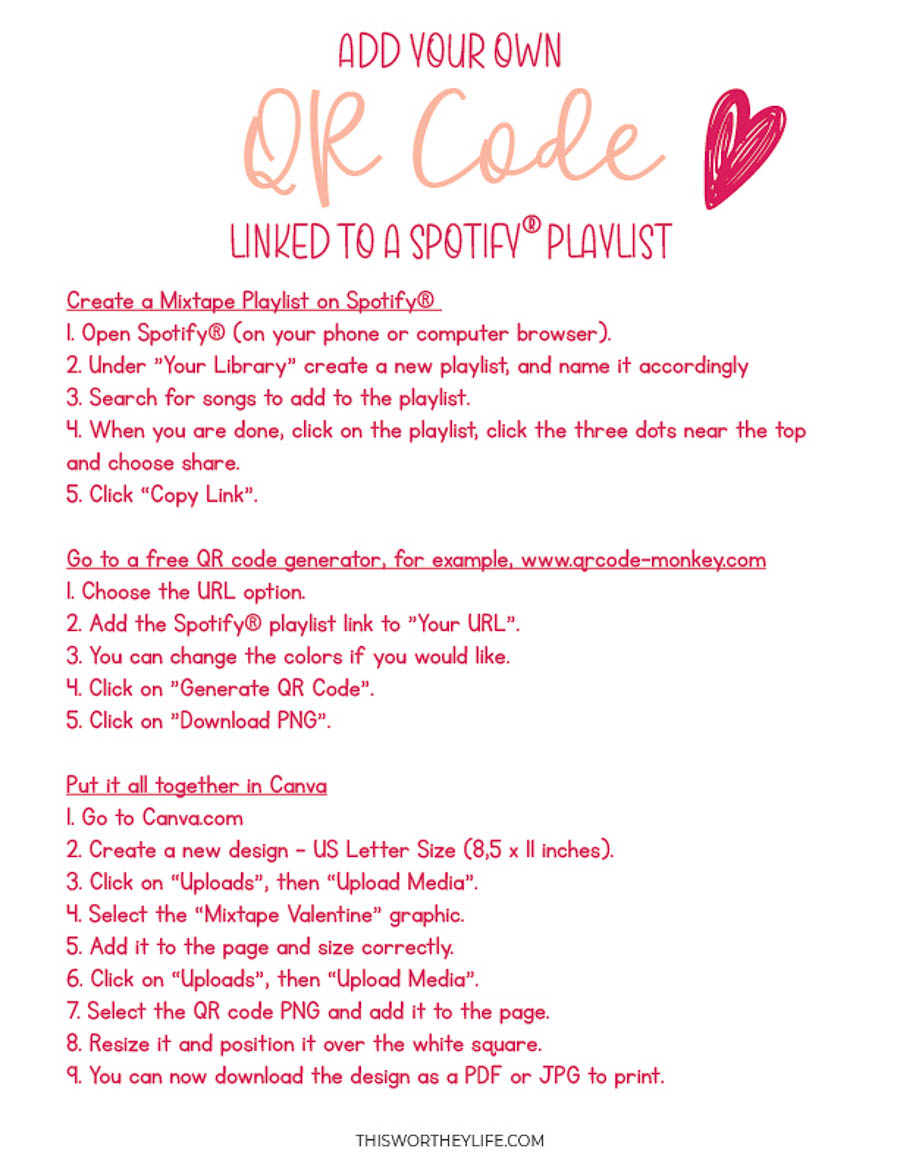 How to add a QR code to your Spotify Playlist
And don't worry, I've included steps on how to add your own code for Spotify so it's easy for them to click over and listen.
Before you start, be sure to download this free mixtape printable with the graphic.
Create a playlist on Spotify.
Under "your library" create a new playlist, and give it a name.
Search for the songs you want to add to your playlist.
Once you're done, click on the playlist (click the three dots near the top) and choose share.
Click Copy Link.
Go to a free QR code generator website. Choose the URL option.
Add your Spotify playlist link to "your URL". You have the option of changing the colors.
Click on "Generate QR Code."
Click on "Download PNG."
Then go to Canva.com (or PicMonkey or another photo editing app).
Create a new design- US Letter Size.
Click on uploads, then upload media and select the Mixtape Valentine graphic (this one linked here).
Add it to the page and size correctly.
Click on uploads then upload media. Select the QR code PNG and add it to the page.
Resize it and position it over the white square.
You can now download the design as a PDF or JPG to print. And that's it.

Grab the Free Valentines Mixtape Card
Don't forget to grab the free card for Valentine's Day here! It's fast and simple to do and shows that you put thought and energy into the gift.
They're going to love hearing some of the songs that have made an impact on your relationship with them!
More Valentine's Day Fun