We have hit the ground running for a weekend getaway or even a week long vacation on many occasions feeling great with no idea one of us was harboring an illness. Knowing What To Pack In Your Travel First Aid Kit can actually be one of the most important parts of traveling.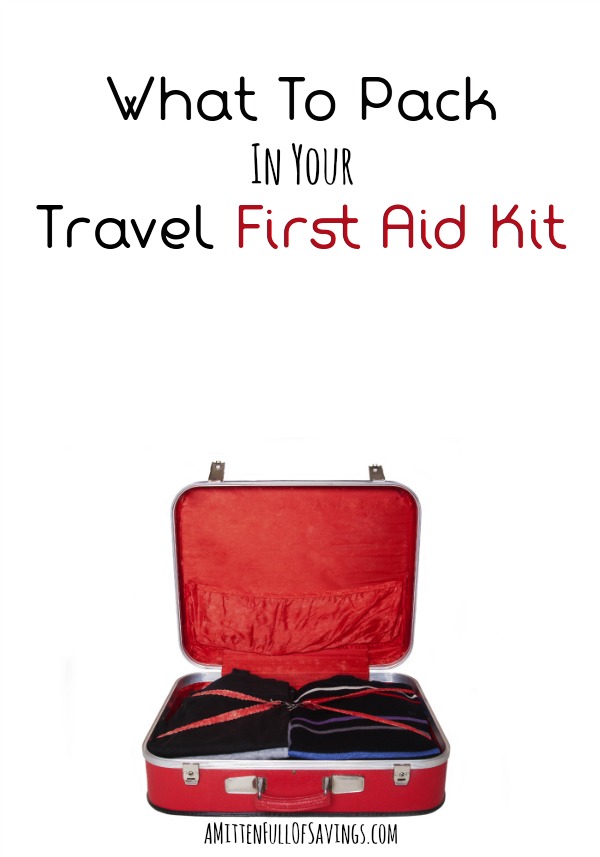 What To Pack In Your Travel First Aid Kit
This is one of those things that we all say we will do, but how many of us actually plan for it? Having been caught on the road, in a hotel or even on a plane feeling under the weather before, I realized how important it was to create a standard list of things that might be needed.
Pack your daily medications and a spare prescription. This is the part of the list that varies from person to person and family to family. Some people may only take one thing, like birth control or blood pressure medication. Others may take several routine medications. This will even include things like kids medications for allergies, asthma or the dreaded Epi-pen. Nobody wants to think about needing these things, but they are important.
Pack medication in original bottle or packaging – leave the prescription label on medication. This is because you want that information should you need it in an emergency.

Pack a spare prescription should something happen and you lose your RX or stay longer than expected.

Pack a list with all medication names, dosage and the physician prescribing as well as pharmacy it was purchased at on it. This will help should you need to go to the hospital or give this information to medical personnel.
Pack for the unexpected. This doesn't mean bring everything from your medicine cabinet. It does, however, mean you may want to include things like antacid, anti-nausea medication, anti-diarrheal medication, anti-inflammatory, and anti-histamines. All of these are easy to find in small trial sized packages to add into your carry on bag or luggage. If you are traveling by car, you can just as easily grab your regular bottle and add to a tub or bag that is easy to access at any time. Sure, you can grab these things on the road, but it is a lot easier to stop and grab out of your trunk fast then have to wait for several miles for the next gas station.
Don't forget the feminine hygiene products. This one is something that a lot of women leave at home if they don't think their monthly visitor is going to arrive while on vacation. Let's face it, ladies, Aunt Flo shows up at the darnedest times. A small baggie with a 1-2 day supply is all you need. It can fit into your purse, backpack, glove box or carry on, and is there for that emergency, "Oh my!" moment. Trust me when I say it is better safe than sorry. Nobody likes getting caught stranded and having to traipse through a drug store in their bathing suit for these items.
Alternate birth control. This is something that many people don't think to pack. Just as mentioned above in the prescription needs, you may want another backup plan on hand. Pills get lost, and other products may break, not work or get left behind. A simple box of alternate birth control can save your romantic getaway weekend from being a frustrating getaway weekend.
Basic first aid items. Create your own, or grab a ready made kit. Items like band aids, antibiotic cream, gauze and paper tape are what would be in mine, alongside the other items mentioned when I talk about packing for the unexpected. Depending on your method of travel, you may not want to bring a lot, but you can manage to pack a few of what you need in a small quart sized bag and tuck into your luggage fairly easily.
We have flown. We have driven. We have even taken cruises. While a lot of these items are fairly easy to grab no matter where you are at, they can be very costly and inconvenient. Designate a specific part of your luggage to house these items, and keep them up to date for any road trip or quick getaway you make. It is better to be safe than sorry. Nobody wants their second honeymoon ruined because somebody forgot the all important pills at home. This list of what to pack in your travel first aid kit is a great start for any family on the road.
Get a FREE Travel First-Aid Kit Checklist printable to create your own travel kit!
Be sure to grab your 85 Piece Commuter First Aid Kit and have it ready for your next adventure!

Has this happened to you? Have you been somewhere STUCK without a first aid kit, emergency supplies, etc? If so, leave me a comment below and let me know!
Get more travel tips below:
DIY Travel First-Aid Checklist
Travel Tips For Staying Healthy On The Road
Tips On How To Travel in Style With JustFab
Tips For Packing For Travel With Kids