Did you know that there is a ton of stuff you can freeze? Here are 10 Things You Didn't Know You Could Freeze.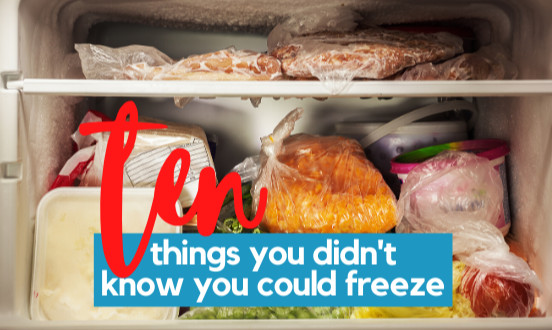 You can add these awesome ingredients to your stockpile list when on sale.
Sometimes it's tough to pass up a great deal on perishable items.
Now you don't have to for these items.
Grab them on sale, prepare, and freeze them in quality freezer bags or use your vacuum seal storage bags.
10 Things You Didn't Know You Could Freeze
Cheese: Cheese freezes wonderfully, but you must do a bit of prep first to make it easier to use once it thaws.
Bags of shredded cheese are fairly easy to freeze and thaw in the refrigerator with little to no problems.
Blocks of cheese are easy to freeze, but shredding after thawed can sometimes be tough as it may crumble.
It is best to shred in advance or prepare to use blocks of cheese only for slicing or chunks. Cheese slices for sandwiches should be separated with wax paper, so they peel apart easily after thawing.
Eggs: Raw eggs can be frozen when cracked out of the shell and put into containers, bags, or ice-cube trays.
Cooked eggs freeze easily but may be harder to reheat without overheating and making them rubbery.
If you cook eggs and then freeze them, remember to slowly and carefully reheat so you don't overheat and dry them out or make them like rubber.
Rice: Rice is a great product to cook in large batches and freeze. Reheating requires a little extra liquid and a few minutes in the microwave.
This is perfect for adding to casseroles or making last-minute fried rice for your family on a busy night.
Tomatoes: Many people know you can easily can tomatoes and tomato sauces, but freezing them is also a great way to preserve them for future use.
They don't thaw well for sandwiches, but you can slice and dice then freeze them to go in stews, soups, chili, and more.
You can also go ahead and puree sauces, cook them down into paste or create salsa to freeze.
Muffins: Homemade or store-bought muffins and other baked goods like bread, cakes, rolls, and even pancakes or waffles are all great items to toss into the freezer for easy grab-and-go meals or to add to your next family meal.
Herbs: Herbs can be chopped or crushed and added to clarified butter, oil, or water and frozen in ice-cube trays to make it easy to toss into recipes later down the road. Herbs are definitely one of our favorite things you didn't know you could freeze.
Mashed Potatoes: You already know that hash browns and French fries are easy to freeze, but you can also make large batches of mashed potatoes and scoop them into portion-sized containers to freeze.
When reheating, add a bit of milk and butter to ensure they are nice, flavorful, and fluffy.
Sandwiches: Crustless peanut butter and jelly sandwiches are always popular in the freezer, but you can do the same with everything from tuna salad to your favorite turkey and swiss.
Sandwiches are best when things like lettuce, tomato, and condiments are left off until ready to serve. You can easily add luncheon meat, cheese, and bread and store them appropriately in the freezer for future use.
Pro-tip: Use a Foodsaver to freeze your food safely.
Milk: Milk is a great item to grab on sale and freeze. Make sure you mark the bottle with the date you put it in the freezer so you have a good idea of the sell-by date of how long it will be good for once thawed.
Typically use within the first 7 days after thawing is best.
Chips: I bet you never imagined you could actually put chips, crackers, or snack items of that nature into the freezer for storage, but you can!
It helps them to last longer, and it has been said that chips are even better straight out of the freezer since they stay crisp and the flavors seem to pop a bit more.
These are some great things you didn't know you could freeze.
Next time we share an amazing deal on some of these items, don't hesitate to buy a large amount to add to your freezer.
Other Frugal Tips to check out: