The fridge is a place that should be cleaned out weekly! Here are 7 Hacks for Cleaning and Organizing your Fridge and Freezer.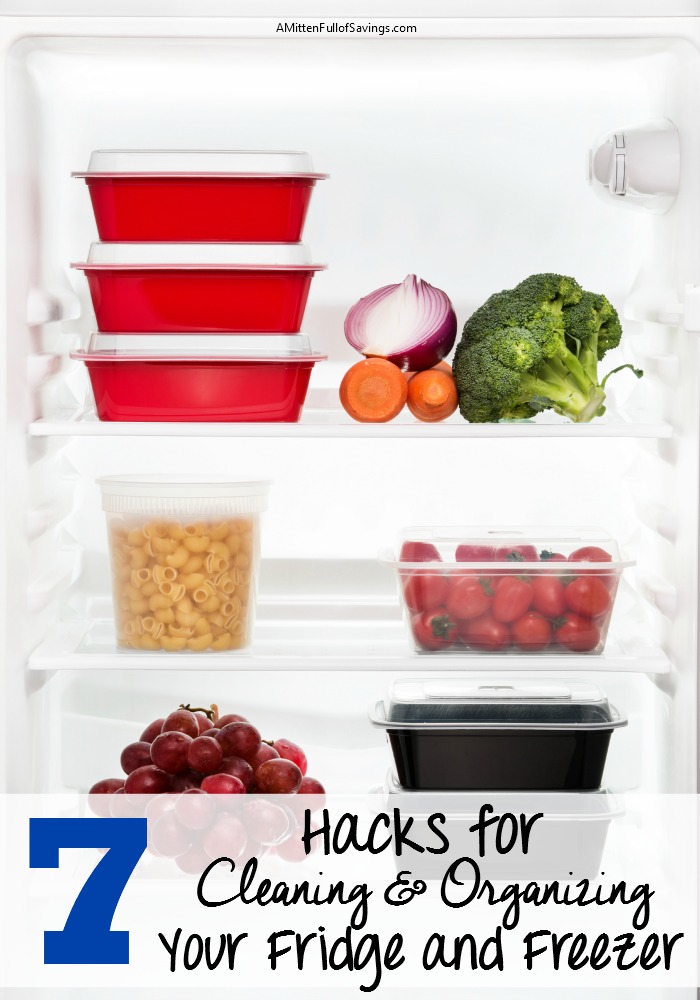 The fridge and freezer is not a place most people think even to organize. After all, isn't there a constant stream of foods being rotated? You already know what you have, right?
The simple answer for most people is often "No." This is why many people find they waste more food than they know.
For me, this is an area that I try to tackle once per week. It's easy for food and leftovers to pile up in the fridge. And it can even start to stink after a while. #gross
You must get your fridge and freezer organized in order to save money.
Here are some tips for doing just that.
7 Hacks for Cleaning and Organizing your Fridge and freezer
First, start with your fridge and take everything out. Throw out anything bad and do a complete deep clean. Make sure to look at your condiments, too.
They are often forgotten about for a long time. Most condiments are only good, opened, for 3-6 months. Vinegar-based condiments can go as long as 9-12 months. Do the same clean-out for your freezer. Toss out anything that is freezer burnt.
Now that you are starting with a clean slate, here are some hacks for keeping it organized:
Use binder clips to hang bags of frozen vegetables and fruit from your wire shelves in your freezer. It will keep them handy and prevent them from getting lost in your freezer.
Use labels to keep things in their spots. If you use baskets, label them, so everyone knows where things belong.
If it makes it easier, use color-coded boxes for things. This makes it easy for anyone to put the groceries away.
Try a lazy Susan in your fridge for often-used condiments. This makes them easy to reach without taking up too much room in your fridge.
Keep a running list of items in your fridge and freezer. This way, you know when you are about to run out of something and know what you have before you go to the store, so you don't buy duplicates. This also helps you meal plan as well!
Use Crystal Light containers for things like cut-up carrots and celery sticks, boiled eggs, and even string cheese sticks. These are easy to clean and see through (once you remove the labels), so you know exactly what is in them.
Keep your fridge and freezer smelling clean with some activated charcoal. You can buy it at pet stores in the fish section.
Great resources to check out before you go:
Did you know there are some must-have gadgets you need for your kitchen? Yes! Check them out below:
What are some ways you keep your fridge and freezer clean and organized? I would love to know in the comments!