Don't let a messy kitchen stop you from cooking! Get organized with our easy kitchen hacks!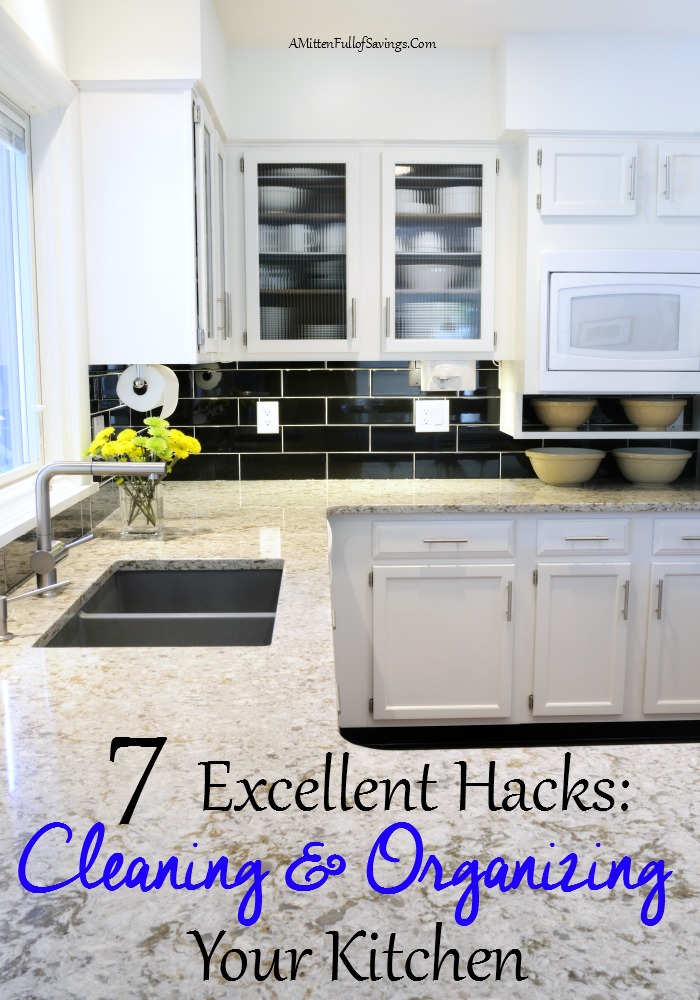 Besides the bathroom, the kitchen is one of those areas of the house that tends to get messy very quickly.
If you are anything like me, just making a snack can leave a mess, especially if a child makes that snack.
On top of the messes and crumbs, there is the task of keeping everything organized and out of the complete chaos zone.
To help you stay on top of it all, here are seven Kitchen Hacks, as we love to call them!
7 Excellent Hacks for Cleaning and Organizing your Kitchen
Steam clean your microwave with vinegar and lemon juice. This hack takes the work out of cleaning your microwave, and all of it's cooked on spills and grease.
All you need is 1 cup of distilled white vinegar, the juice from one lemon, and 1/2 cup of water. Place the liquids in a glass microwave-safe bowl and "cook" for a few minutes.
When your timer goes off, allow it to sit without opening the door. Your mess should wipe right out without having to scrub. If it doesn't, repeat as needed.
Make 50-cent soft scrub for your sinks. A soft scrub abrasive cleaner can be great for cleaning your sinks, but it can be expensive. Instead, make this 50-cent natural soft scrub, and your sinks will shine better.
Related: Dishwash Hacks
Use an over-the-door shoe holder under your sinks and in your pantry for organization. You can buy clear shoe organizers with pockets online for less than $10.
These make excellent organizational tools for under your sink (cut to size) for your cleaners, sponges, and wipes while freeing up space under the sink and keeping everything handy.
You can also use them in your pantry for single-size snacks, seasonings, and even hot cocoa mix. Throw out the boxes these things come in, and you have so much more space!
Store spices in old medicine bottles. If you buy spices in bulk to save money, store them in old prescription bottles. Just make sure you wash them well and sanitize them.
Get rid of fruit flies, naturally. If you have a fruit fly problem, get rid of them naturally with a small bowl filled with apple cider vinegar. They will gravitate towards it and drown; in just a day or two, they will be gone.
Related: Dawn Dish Soap Hacks
Get rid of fridge and freezer odor with activated charcoal. If you have charcoal briquettes and odors in your fridge that won't go away, just place a bowl full of charcoal in there, and overnight, the smell will be gone.
Keep storage container lids easy to find and fit with plate dividers. You can buy plate dividers that allow you to place the lids of your plastic or glass storage containers in them and keep them from getting lost, and easy to find the right size.
What are some ways you organize and clean your kitchen? Let me know in the comments!
Find more resources for your home:
Be sure to check out my hacks on your Kitchen-Aid.
New Year- Refresh With 9 Essential Home Cleaning Hacks
23 Best Laundry Hacks Every Mom Needs To Know
9 Cleaning and Organizing Hacks for your Laundry Room
Kitchen Hacks: 6 Frosting Tips Every Baker Should Know
7 Amazing Tips for Cleaning and Organizing Kids Rooms