Hacks are life-savers. Here's a few ways you can use your dishwasher (besides washing dishes) to save you time and money! 12 Dishwasher Hacks You Need To Try!

12 Dishwasher Hacks You Need To Try!
I'm sure you are used to loading your dishwasher with cups, plates, and silverware, but what if I told you there are many other ways you can put your dishwasher to use as well? The truth is your dishwasher is capable of helping you with so much more. Take a look below at 12 dishwasher hacks, perfect for making your cleaning jobs quicker and easier.
1. Take the STANK out of sporting equipment. Knee pads and guards, mouth guards, and other pieces of sporting equipment can start to stink after a while. Toss them in the dishwasher for a good wash and disinfecting and they will be like new. Plus, the stink will be gone.
2. Clean the children's toys. Plastic children's toys can be tossed in the dishwasher for a quick disinfecting treatment. You want to be sure to wash plastic toys only, as metal may rust. This is especially perfect for cleaning beach toys after a day at the beach.
3. Wash light switch covers. After being turned off and on hundreds of times, light switch covers can become filthy. Pop them off and toss them in the dishwasher for a quick clean. They will look good as new! Just avoid placing the hardware in the dishwasher as it could get tossed around and lost.
4. Wash light covers. Light covers and light globes can get covered with dust and dirt and look dingy in no time. Remove these glass covers and place them in the dishwasher so they can get looking like new again. This is an excellent way to remove even the thickest layer of grime.
5. Clean tools. Are your yard tools looking a little rough? Yard tools and other hand tools can be tossed in the dishwasher to get clean. Just be sure to remove them and dry them right away, as prolonged exposure to moisture can cause them to rust.
6. Prep your flower pots. Want to get your flower pots ready for planting? Toss old and dirty pots into the dishwasher so they are clean and ready. This will also help disinfect them, which keeps the plants and soil healthier.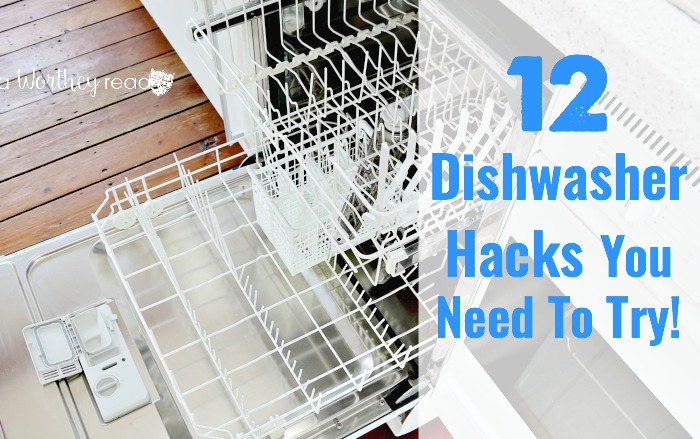 7. Wash boots and Crocs. Toss rubber shoes into the dishwasher for a quick clean. You don't want to use a high heat, but a gentle cycle will do the trick.
8. Fresh art supplies. You can wash your art brushes, paint bowls, placemats, and other art supplies right in the dishwasher. Just rinse them prior and toss them in the dishwasher!
9. Dog toys. Dogs need their toys cleaned too! Toss those plastic chew toys and balls into the dishwasher to help clean away the grime and remove germs. Doing this a few times a year can make the toys last longer.
10. Picture frame inserts.Toss the glass inserts from your picture frames into the dishwasher to get them sparkling clean. This is particularly useful if a thick layer of dust and dirt has built up on the surface.
11. Clean refrigerator trays. Remove refrigerator shelves and drawers and place them in the dishwasher for a deep clean. This is great to do a few times of year when you want to deep-clean your kitchen and get your fridge better organized. And while you're cleaning out the fridge and getting rid of the clutter, take a look at this list for inspiration on ways to get rid of clutter!
12. Make outdoor art shine. Outdoor art, planters, yard stakes, globes, yard décor, and other glass garden décor pieces can all be tossed into the dishwasher for a quick clean. This is wonderful to do in the spring when you are getting your garden together and want a fresh start. You can even toss in bird feeders.
Are you ready to put your dishwasher to use? Give these awesome 12 dishwasher hacks a try today and see how valuable this appliance can be.
Love Hacks? Be sure to check out some of these other life-saving hacks: