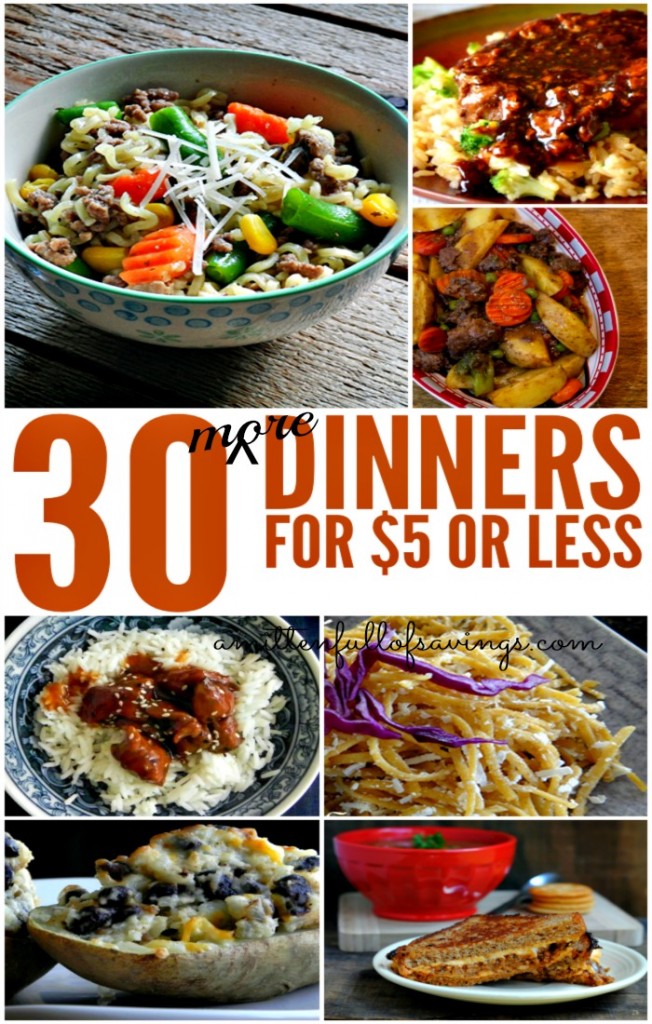 30 More $5 Dinners Your Family Will Love
When you have growing kids that constantly want to eat you out of house and home, you have to find ways to get creative on dinner ideas. When my kids were little it was easy to fix toddler plates on the cheap. Now I have two teens and a soon-about-to-be-tween, I am always looking for ways to stretch our food budget.
The meals that I have listed below can be made under for under $5 bucks. Quite a few of these recipes call for meat, such as beef. Beef can be more on the expensive side, but I have found deals at my local farmer's market, using zaycon.com, buying in bulk or splitting a cow. These are all great ways to save on meat. So something to keep in mind.
We also have a garden, which allows me to score most of my veggies for free. When I don't pull from our garden and during the winter time, I use my local farmer's market (such as Horrocks or Fresh Thyme) to find specials.
I also shop for items when they are on sale or in season. I live in the Mid-West, so $5 bucks can go a long way here. However, if you're in California, New York or another area where the prices are higher you will have to adjust your budget accordingly.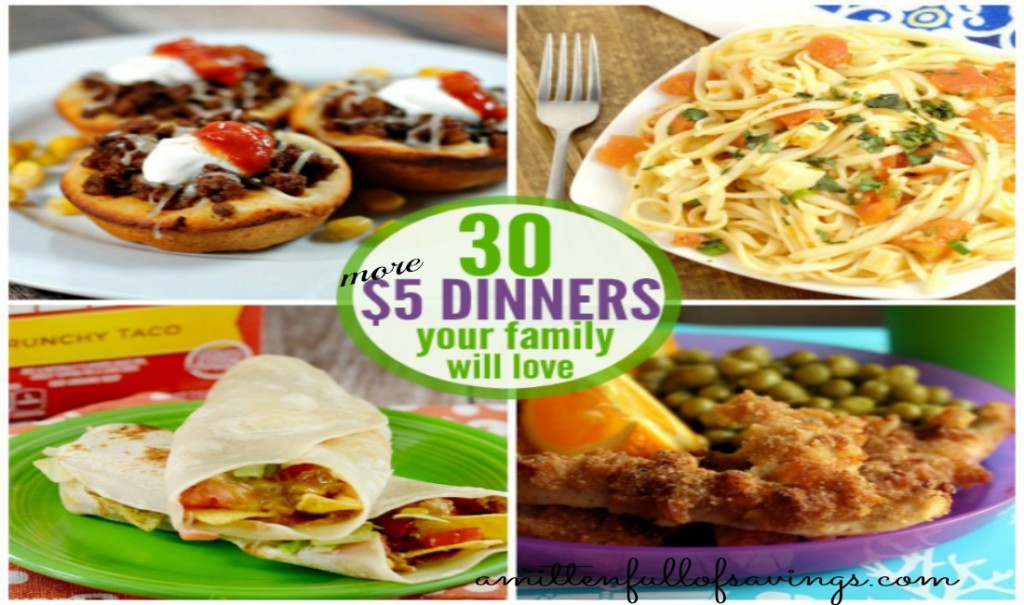 I put together this roundup of 30 Dinners under $5 bucks to hopefully help you get recipe ideas that will help stretch your food budget. If you enjoy these ideas, be sure to check out my first 35  Dinners under $5 bucks popular post as well!
30 More $5 Dinners Your Family Will Love
1. Taco Cups | Source: A Mitten Full of Savings
2. Sesame Chicken | Source: Feeding Big
3. Crock Pot Asian Pork Chops | Source: Wife Mom Geek
4. Easy Bruschetta Linguine | Source: The Gracious Wife
5. Sloppy Joe Sliders | Source: A Mitten Full of Savings
6. Ramen Noodle Casserole Beef Skillet | Source: Amanda's Cookin'
7. Black Beans and Rice | Source: Hello Little Home
8. Crunchy Beef and Bean Burritos | Source: Bubbly Nature Creations
9. Cheap and Easy Foil Dinner (Beef and Veggies) | Source: Hip and Simple
10. One Dish Chili Mac | Source: $5 Dinners
11. Copycat Old Spaghetti Factory Spaghetti with Browned Butter and Mizithra Cheese | Source: The Thrifty Couple
12. Turkey and Bacon Lettuce Wraps | Source: Tastes of Lizzy T's
13. Potato Chip Chicken Strips | Source: Parenting Chaos
14. Sweet Potato and Chickpea Burgers | Source: Frugal Living Mom
15. Hawaiian Grilled Cheese Sandwiches | Source: The Gracious Wife
16. Tex Mex Twice-Baked Potatoes | Source: Feeding Big
17. Easy Spinach Ricotta Pasta | Source: Budget Bytes
18. Buffalo Grilled Chicken Lettuce Wraps | Source: Mom Endeavors
19. 30-Minute Corn Black Bean Chili | Source: Living Well Spending Less
20. Penne Parma Rosa | Source: The Gracious Wife
21. Ranch BLT Lettuce Wraps | Source: Krystal's Kitsch
22. Fish Tacos with Cumin Lime Slaw | Source: Budget Bytes
23. Sloppy Joe Grilled Cheese Sandwiches | Source: Tammilee Tips
24. Rachel Ray Cowboy Chili | Source: The Thrifty Couple
25. Tuna Salad Lettuce Wraps | Source: The Tiptoe Fairy
26. Crock Pot Ranch Chicken | Source: Penny Pincher Jenny
27. Healthy Baked Chicken Tenders | Source: So Says Sarah
28. Turkey Corn Chili | Source: Wife Mom Geek
29. Garlicky Beef and Bean Stir Fry | Source: Feeding Big
30. BBQ Beef Stuffed Potatoes | Source: Budget Bytes