Have fun this year with these Elf on the Shelf Mischievous Ideas for kids! Here's 7 fun Naughty Elf on the Shelf Ideas that are PG-rated for the kids! They're fun and harmless ways to bring a smile to your child's face this Christmas with the Elf.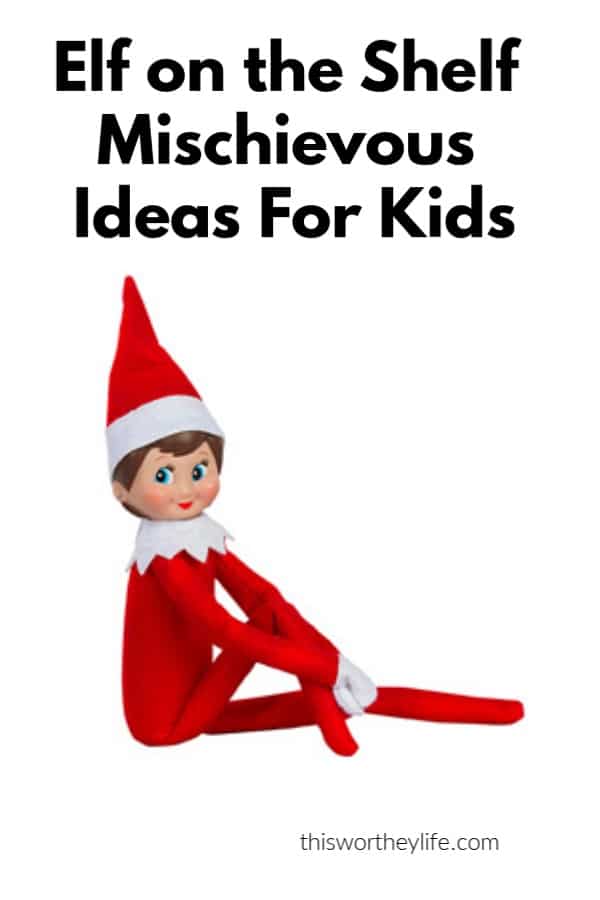 Elf on the Shelf Mischievous Ideas For Kids
We are back again with more Elf On The Shelf Ideas that are sure to leave your kids giggling this year! There are tons of more adult-themed tricks these little Elves do – but we are sticking with just the not so nice but kid-friendly type here! From messing up things to using supplies to build their own swings, these Elf On The Shelf Ideas are sure to have your kids in fits of giggles!
Pro-Tip: Be sure to check out 27 Creative & Best Elf On The Shelf Ideas.
Fun Elf on the Shelf Ideas For Kids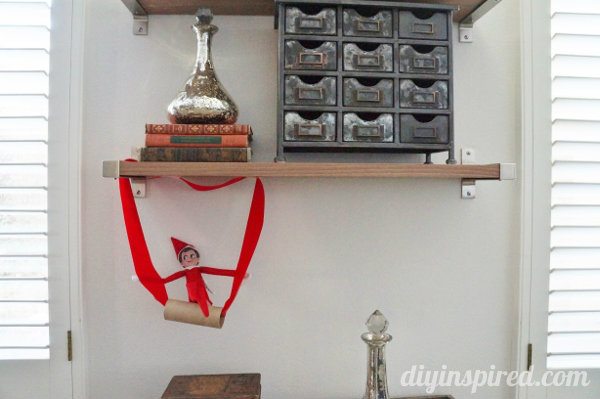 This Elf made his own swing to watch the happenings in the house! He dug an empty toilet paper roll out of the garbage and stole some ribbon from mom's craft room to put this together. Hiding out and swinging from the shelves gives him a great viewpoint. Credit: DIY Inspired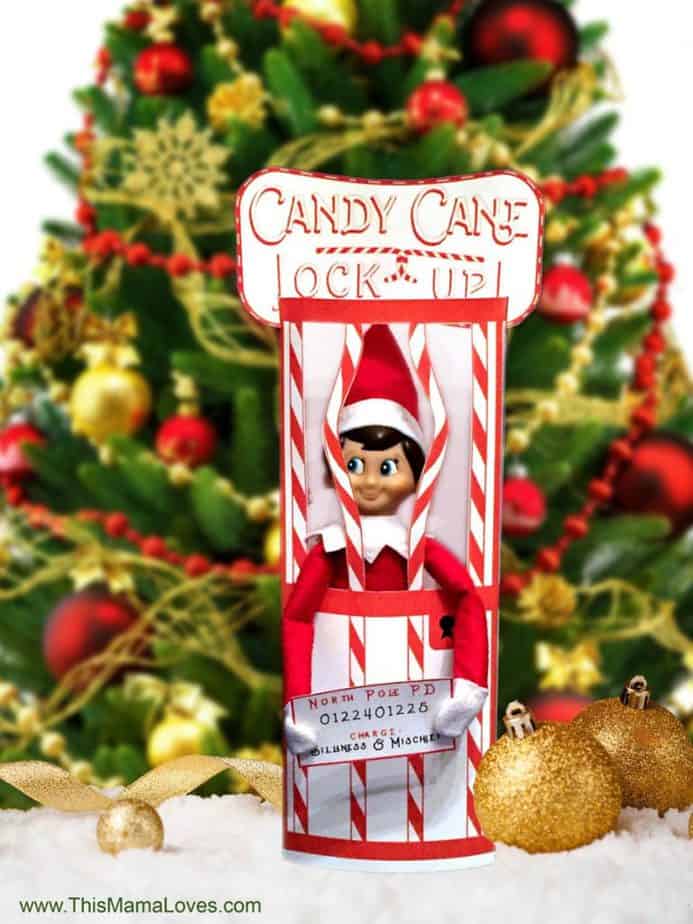 Elfie has been busy! He needed some extra cash to buy presents for his girlfriend Barbie, so he opened up this kissing booth! Let's hope Barbie doesn't catch wind of this! He'll be in the dog house for sure! This also comes with a free printable. Credit: This Mama Loves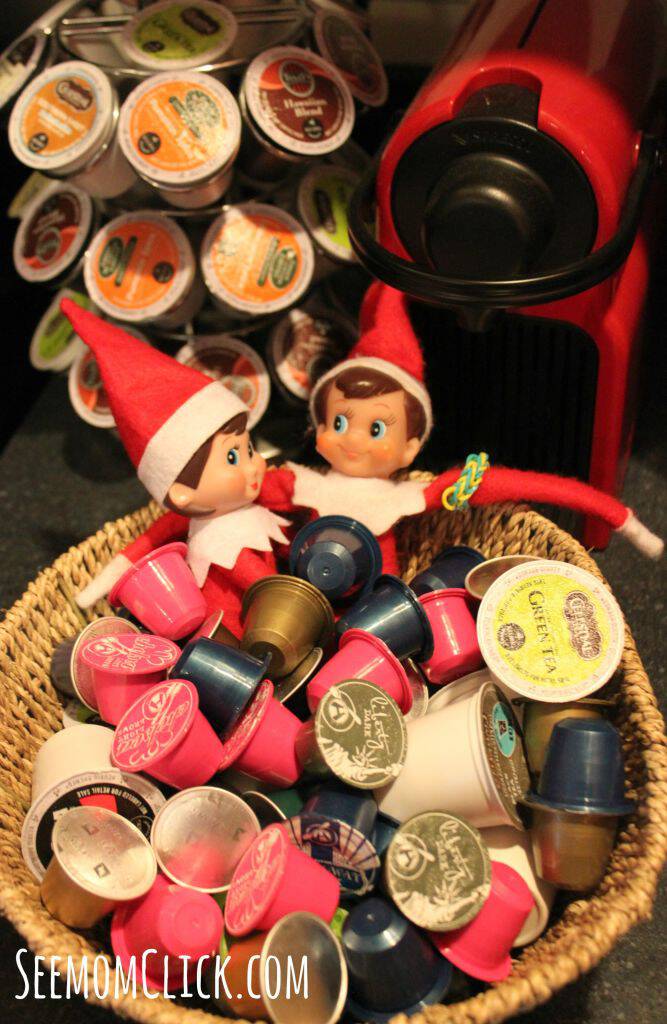 When you have two Elves in one house, sometimes you wake up to find them passed out in the coffee bin after a night of cuddling! These two Elfie's had a special night out in the K-Cups and creamer. Oops! They forgot to go back to their respective homes after their hot coffee date! Credit: See Mom Click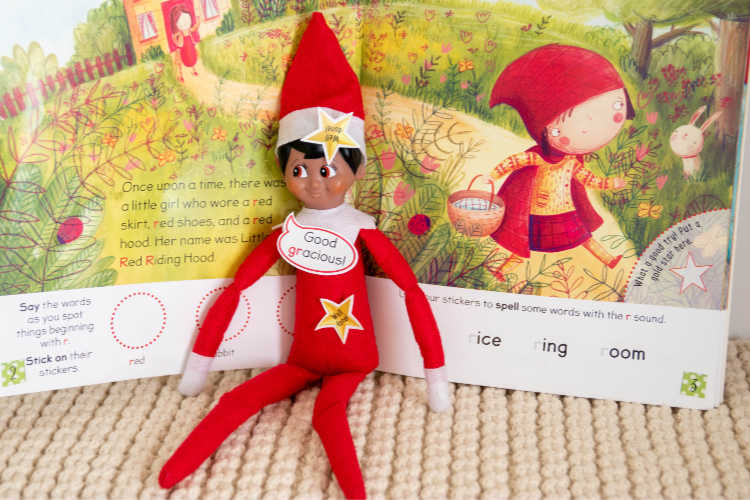 The kids are gonna be angry this time! Elfie not only got into their sticker collection, but he also took a bunch and used them! Oh no! He's gonna be in time out for stealing their stickers for sure! Credit: Kids Are A Trip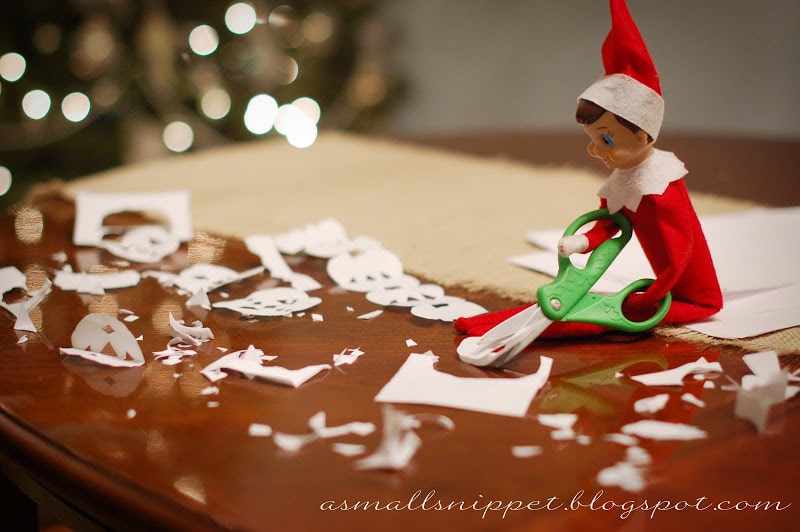 Elfie loves crafting, but this time he didn't ask for help! He made a mess trying to make a ton of snowflakes with moms crafting scissors! Credit: A Small Snippet
Some Elfie's are just little jokers. They love having fun with their owners, and this one took the magic marker to the family portraits! Just make sure your Elfie uses a marker that will wash off easily later! Credit: Stockpiling Moms
Elfie got into the cupboards and decided to use Mom's salt for some fun snow angels! I sure hope she doesn't need that to bake for Christmas! Credit: This Mama Loves
If your Elf On The Shelf tends to be a bit more naughty than nice, these are some great ideas to get you through until Christmas arrives and he or she heads back home to the North Pole!
Join in on the Elf Fun with so many ideas posted below:
Elf On The Shelf Return Ideas – 20+ Ideas!
Elf on the Shelf Welcome Letter Printable
Best Elf on The Shelf Ideas found on Instagram
Do you know what to say to your kids when you forgot to move the Elf? I've got you covered with 15 clever things to say when you forgot to move the Elf!
Did you forget to move your Elf on the Shelf? Here are 10 Quick Last Minute ideas to try!