Make gourmet Air Fryer Cornish Hens with a lemon butter glaze for dinner or a holiday dinner.
Our quick recipe ensures tender, flavor-packed hens perfect for any occasion, combining the ease of air frying with the zest of lemon and the richness of butter.

Air Fryer Cornish Hens Recipe
Cornish hens are always a good choice for the holidays.
Our Air Fryer Cornish Hens are ready in about 30 minutes.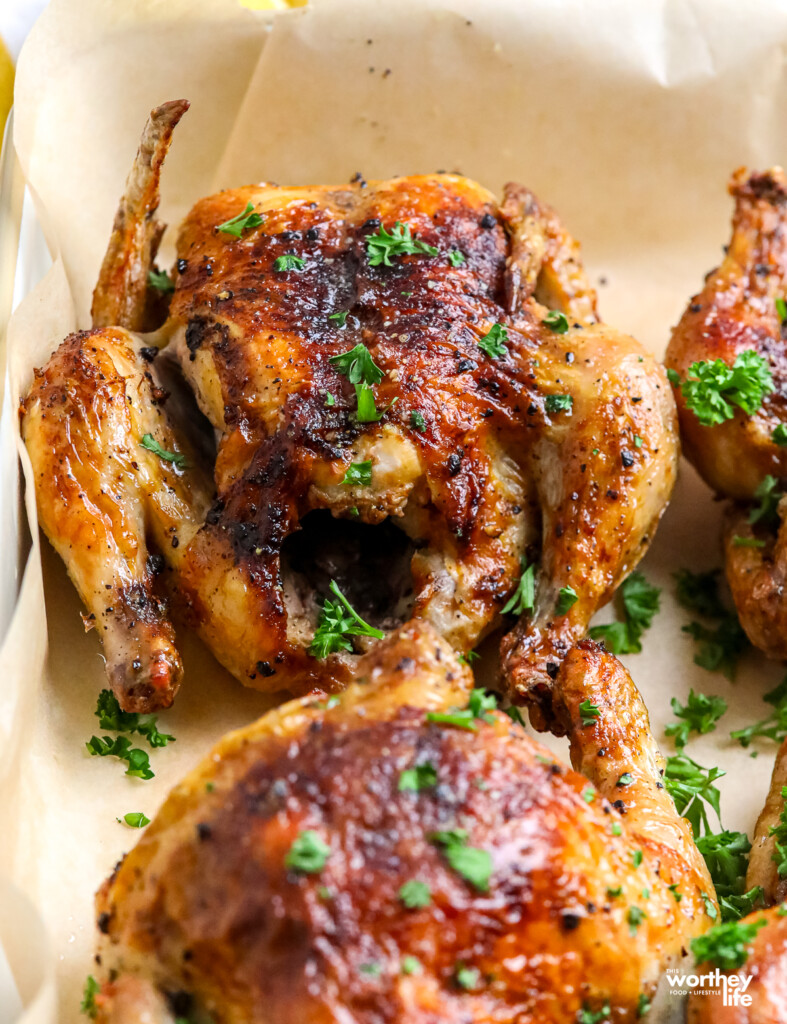 What are Cornish Hens?
Cornish hens are a breed of small, young chickens.
They can be either male or female and are a hybrid chicken breed.
Try these Cornish Hens recipes:

I used a lemon pepper butter baste, and the flavor is incredible.
And because they're prepared in an air fryer, they're a healthier option.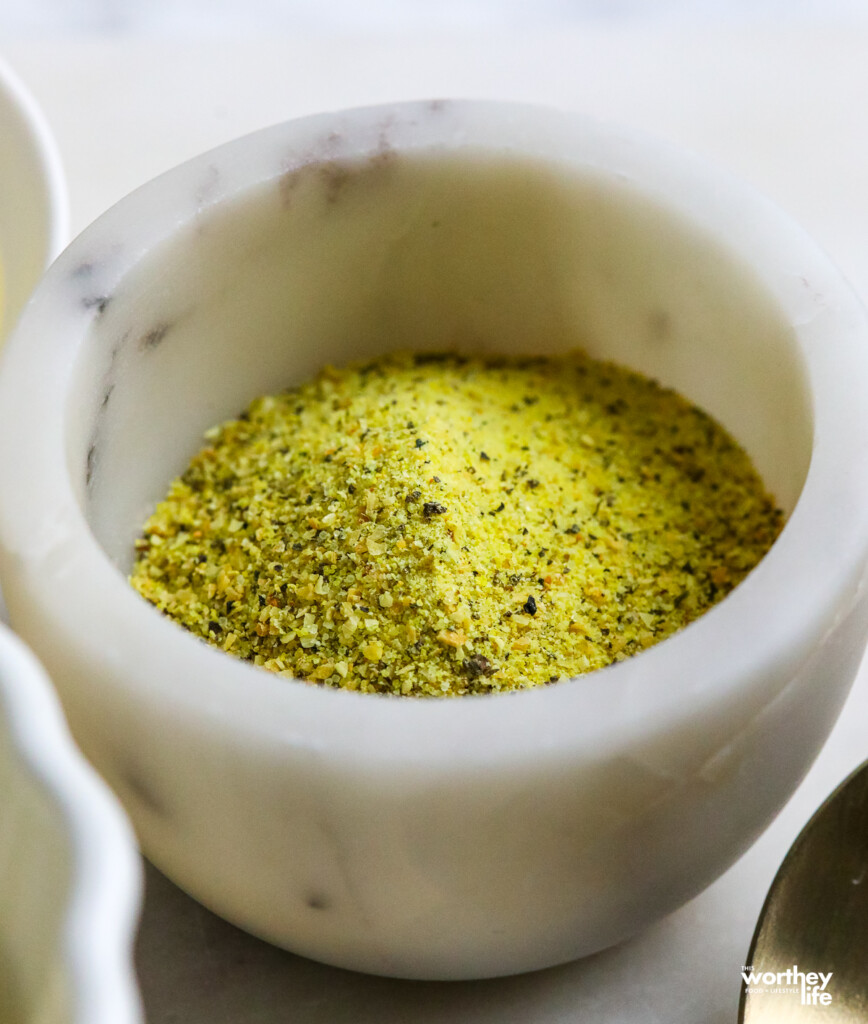 Here's What You Will Need
Tyson Cornish Hens. We've used Tyson Cornish Hens for years; they are always perfectly perfect.
Unsalted Butter. If you can spring for a good quality butter, you will be rewarded with an even better-tasting Cornish hen.
Canola Oil. Adding a high-smoke oil like canola to melted butter is a great way to achieve a rich butter flavor and allows you to cook meat at higher temperatures.
Lemon Pepper Seasoning. It's no secret that the tang of lemon and black pepper works well on chicken; it is also true with Cornish hens, and the melted butter is next level.
Sea Salt. Freshly Cracked Black Peppercorns. Good salt is necessary to ensure you get the best taste in poultry. I highly recommend Maldon sea salt. Oh, and there's also a smoked version too! The same goes for freshly cracked peppercorns. Also, not all whole peppercorns are created equal. Try Tellicherry black peppercorn, and you will thank me later.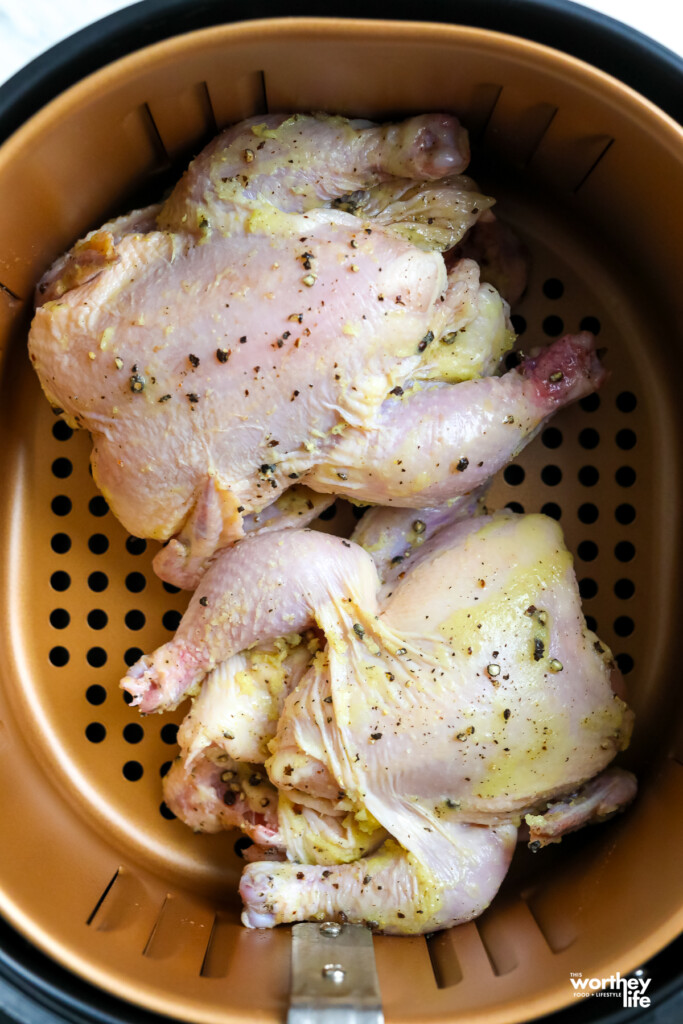 Ingredients:
Serving: 4-8 (if you cut the Cornish Hens in half, you can feed up to 8)
4 Tyson Cornish Hens
1 stick unsalted butter
1 tbsp canola oil or neutral high-smoke point oil
1 tbsp = 1 tsp lemon pepper seasoning
2 tbsp freshly squeezed lemon juice
sea salt to taste
fresh curly parsley for garnish

Directions for Making Cornish Hens in the Air Fryer
Preheat the air fryer to 400 degrees for 8-10 minutes.
Remove the hens from their packaging, drain out water, and pat dry the skin using a paper towel.
Place a stick of unsalted butter in a small bowl and add a tablespoon of canola oil; place the bowl into a microwave and heat on high until the butter is melted. Remove the bowl.
Add the lemon pepper seasoning, lemon juice, and sea salt, and stir to combine.
Generously add salt and freshly cracked black peppercorns.
Coat the Cornish hens with the lemon, pepper, and butter mixture using a small brush.
Place two Cornish hens in an air fryer basket and cook for 30 minutes. Open the basket, turn the hens over, and cook them for 15 minutes. Check for doneness using an instant-read thermometer; the internal temp should be 165 degrees.
If your oven has an air fryer setting, adjust the temperature to 400 degrees. Brush a large cooking sheet with two tablespoons of canola oil, and place the hens on the pan 2-3 inches apart. Place the cooking sheet on the middle rack and cook for 30 minutes. Open the oven, turn the hens over, close the door, and cook for an additional 15 minutes.
Since Cornish hens can often range between 1 to 2 pounds, cook the smaller one-pound hen for around 35 minutes and the larger two-pound hens for 40 minutes. Regardless of size, after 35 minutes of cooking, use an instant-read thermometer to check the temperature; when you get a 165-degree internal temp, the hen is finished cooking. Insert the thermometer into the thickest part of the breast, away from the bone, to get an accurate reading.
Remove the hens from the air fryer and allow them to rest for 10 minutes.
Garnish the Cornish hens with freshly minced parsley.
Serve whole or cut them in half.

How long does it take to thaw Cornish hens?
Generally, add 30 minutes of thawing time for every pound when thawing Cornish hens.
So, a two-pound hen should take roughly 4 hours to thaw.
Make sure the water remains cold, change it when it reaches room temperature, place the hens in a large bowl, and then place the bowl into the fridge.
I usually let the hens thaw overnight in the fridge.
How long will cooked Cornish hens last in the fridge?
Properly stored cooked Cornish hens last up to three days in the fridge.

What type of Air Fryer to use for cooking Cornish Hens?
Cornish hens are miniature chickens, but they still require a decent amount of space for even cooking.
Look for an air fryer with at least 5 to 6 quarts to comfortably accommodate one hen.
If you plan to cook two hens at once, you might need a larger size, such as 8 quarts or more.
Here's an Air Fryer we recommend for cooking Cornish Hens.
Depending on your oven type, it may have an air fryer setting, like on our Samsung Bespoke.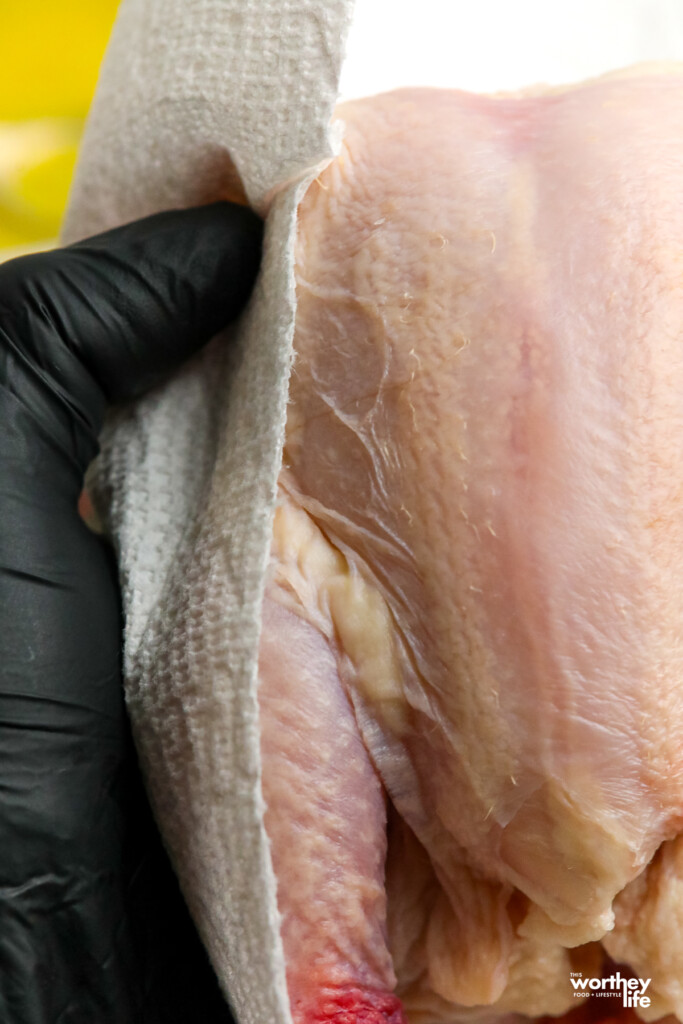 Can I freeze cooked Cornish hens?
Absolutely. Fully cooked Cornish hens should be at room temperature before wrapping with plastic wrap, then wrap them again using aluminum foil.
A Cornish hen will last in the freezer for up to a month.

Our easy Air Fryer Cornish Hens recipe is perfect for Sunday dinner or a holiday dinner idea.
And if you have any questions or want to say hello, drop us a comment below.