Ya'll gotta try our Spicy Baja Fish Tacos!
They're made with beer-battered deep-fried cod, tangy red cabbage, sweet pineapple, crisp radish, and fiery jalapeños.
Plus, it's topped with our Zesty Spicy Lime Sauce made with El Yucateco Hot Sauce, the #1 habanero sauce in the U.S.
This is a sponsored post with El Yucateco. #HotSauceSummer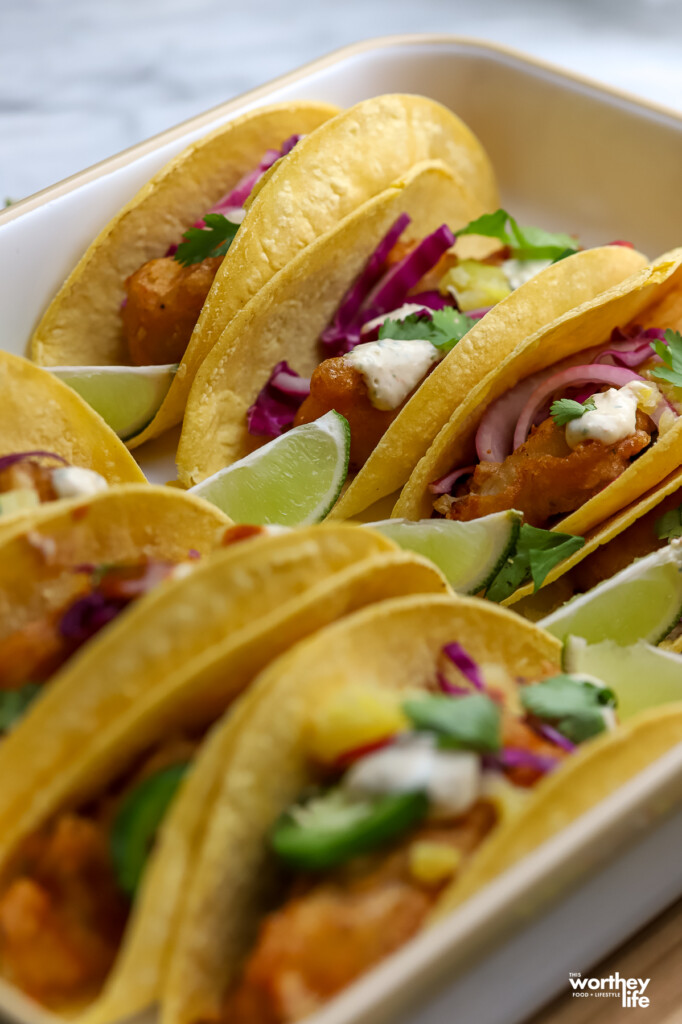 Spicy Baja Fish Tacos Recipe
If you like tacos, you will love our Spicy Baja Tacos.
First, they are made with deep-fried Mexican beer-battered cod, then served with crushed pineapple and shredded red cabbage.
And, of course, there's cilantro, sliced radishes, and fresh jalapeño peppers.
My favorite thing about this whole situation is the perfectly fried cod.
These fish tacos are too good, but I think the El Yucateco Hot Sauce may have something to do with it!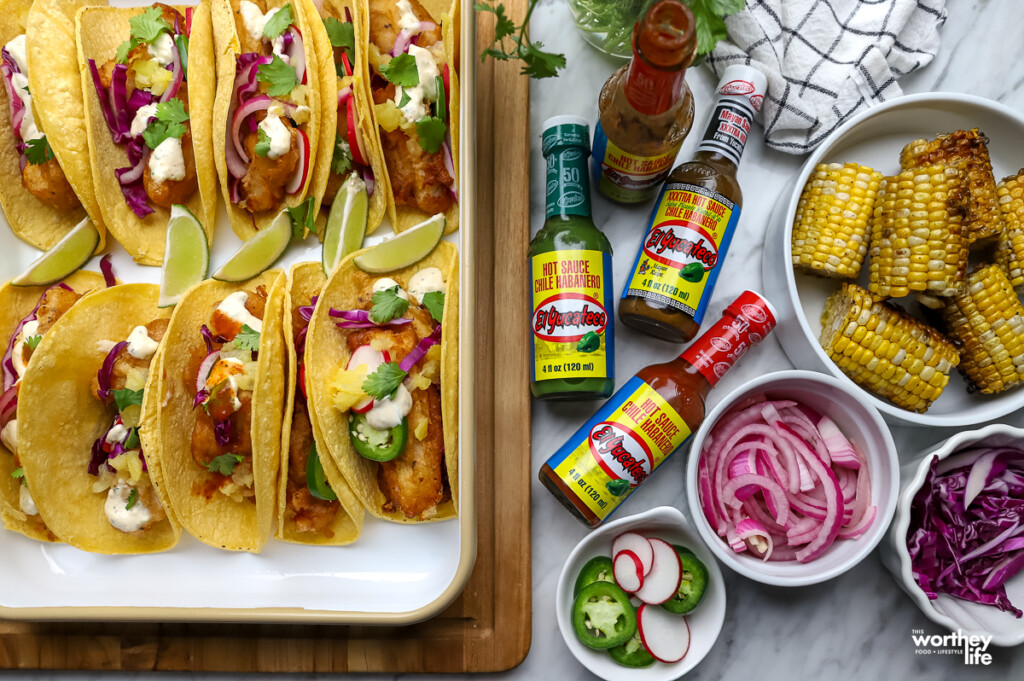 What You Will Need
Fresh Cod. This is my go-to fish for making fish tacos because it's budget-friendly and easy to find at your local grocery store. Cod is a white flaky fish, and I love the flavor. Also, Mahi Mahi and catfish are good options too. For this recipe, I used just under two pounds (1.77 lbs) of fresh cod, and it made enough fish for twelve (12) tacos for a family of five.
Red Cabbage & Crushed Pineapple. For this recipe, cabbage replaces lettuce, and I added the crushed pineapple as an ode to my favorite kind of taco, el pastor tacos. The red cabbage added a nice crunch, and the pineapple sweetened the deal.
Radish & Jalapeño Peppers. Adding thin slices of fresh radish and jalapeños adds flavor, crunch, and spice. Plus, we love the color of the radish and the peppers because they make our fish tacos look even more appetizing!
Zesty Spice Lime Sauce made with El Yucateco Hot Sauce. You'll already know how I feel about my El Yucateco hot sauce; it's not just Mexican hot sauce but everyone's hot sauce! The heat is there, but the flavor will keep you returning for more. My favorite is the red Hot Sauce Chile Habanero, but check out their other flavors as well:
El Yucateco Green

El Yucateco Caribbean

El Yucateco Black Label Reserve

El Yucateco XXXtra Hot Kutbil-Ik
There's also a Jalapeño Hot Sauce and a Chipotle Hot Sauce.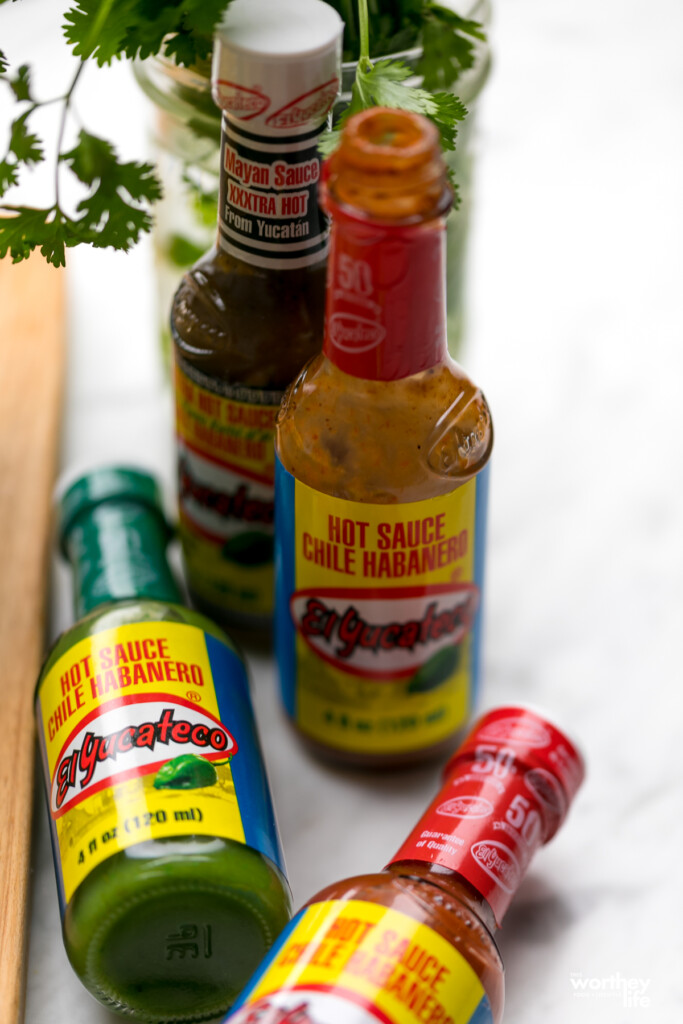 A little bit about El Yucateco
It all started in Yucatán, Mexico. It all began in 1968 with a small family-run business.
It all started with Mr. Priamo J. Gamboa and his take on what and how a hot sauce should taste.
These are truly hot sauces, but I love them because they aren't just about the heat; there are layers of earthy flavor, and that's the difference.
You can taste the fiery habanero, but you also taste the soul of the sauces, and when I pair these sauces with good food, it's a revelation of taste.
These sauces elevate everything!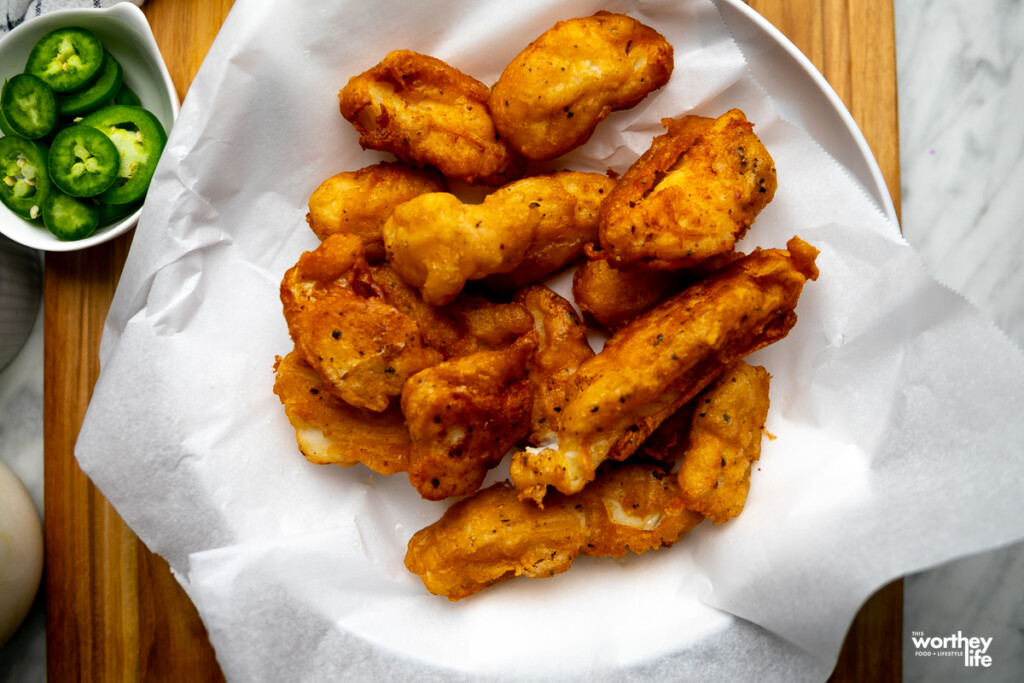 How to make Spicy Baja Fish Tacos
10-12 Servings
Ingredients:
Cod- I used 1.77 pounds of fresh cod, cut the cod into 2-3 inch pieces
* Note: For Baja fish tacos, some popular varieties of fish include cod, Mahi Mahi, and catfish
Tortillas
Traditionally, fish tacos are served on corn tortillas, but you can use flour or your favorite tortilla.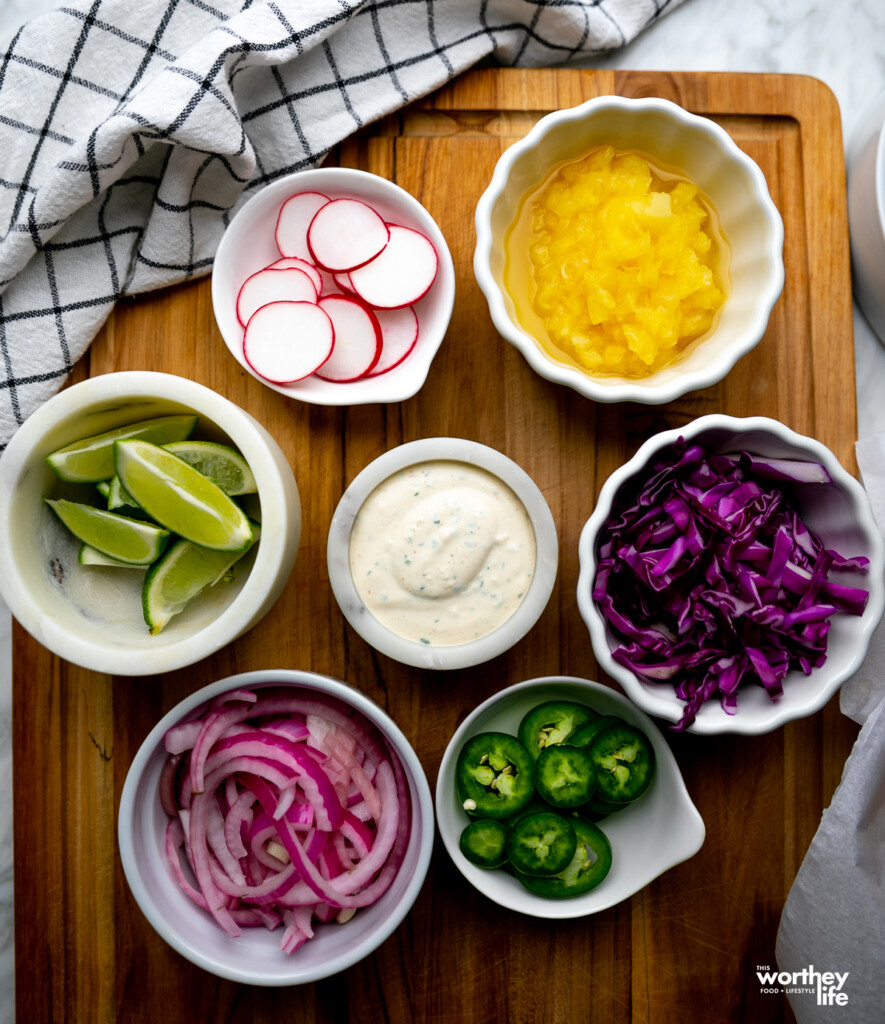 Prep the toppings
Shred the red cabbage and slice the radishes and jalapenos; you can roughly chop the cilantro or pull apart the leaves using your fingers.
Beer Batter Ingredients:
1 cup of all-purpose flour
1 tsp baking powder
1 tsp kosher or sea salt
1 tsp chili lime seasoning
1/2 tsp ground chipotle seasoning
1/2 tsp freshly cracked black peppercorns
1 1/3 cup Mexican beer
12 corn tortillas
For frying
I used canola for 3-4 cups of oil, but you can also use vegetable, corn, or peanut oil.
I used a cast iron skillet, but you can also use an air fryer or bake them in the oven.
Preheat the oil to 350-400 degrees.
Do not crowd the skillet; make sure there are 2-3 inches between each piece of fish when frying.
Directions:
Add the all-purpose flour, baking powder, salt, chili lime seasoning, chipotle seasoning, and freshly cracked black peppercorns into a bowl.
Mix the flour thoroughly and add the Mexican beer.
Whisk until the consistency is smooth and not too thick or runny.
Place the beer batter into the fridge to chill for 30 minutes.
Add the oil to the skillet and preheat the oil to 350-400 degrees.
Dredge pieces of the into the beer batter and gently add them to the hot oil.
Allow the fish to fry for 3-4 minutes per side.
Remove the fried fish using a slotted spoon or a pair of tongs.
Place the cooked fried on parchment paper or paper towel.
To Serve
Arrange fish on a corn tortilla and top with shredded red cabbage, crushed pineapple, thin slices of radish, and jalapenos
Add a bit of chopped cilantro and drizzle with our Zesty Spicy Lime Sauce made with El Yucateco hot sauce.

Recipe for Zesty Lime Sauce
3/4 cup mayo
1/2 cup sour cream
2 large cloves of garlic, minced
juice one lime
zest one lime
pinch of salt
1 tbsp El Yucateco hot sauce
2-3 tbsp fresh cilantro leaves
Directions:
Into a food processor, add the mayo, sour cream, minced garlic, lime zest and lime juice, salt, cilantro, and one heaping tablespoon of El Yucateco hot sauce and pulse until smooth.

Can I make the beer batter ahead of time?
Yes, you can make the beer batter 24 hours before; you may need to add a tablespoon or two of beer to loosen the batter.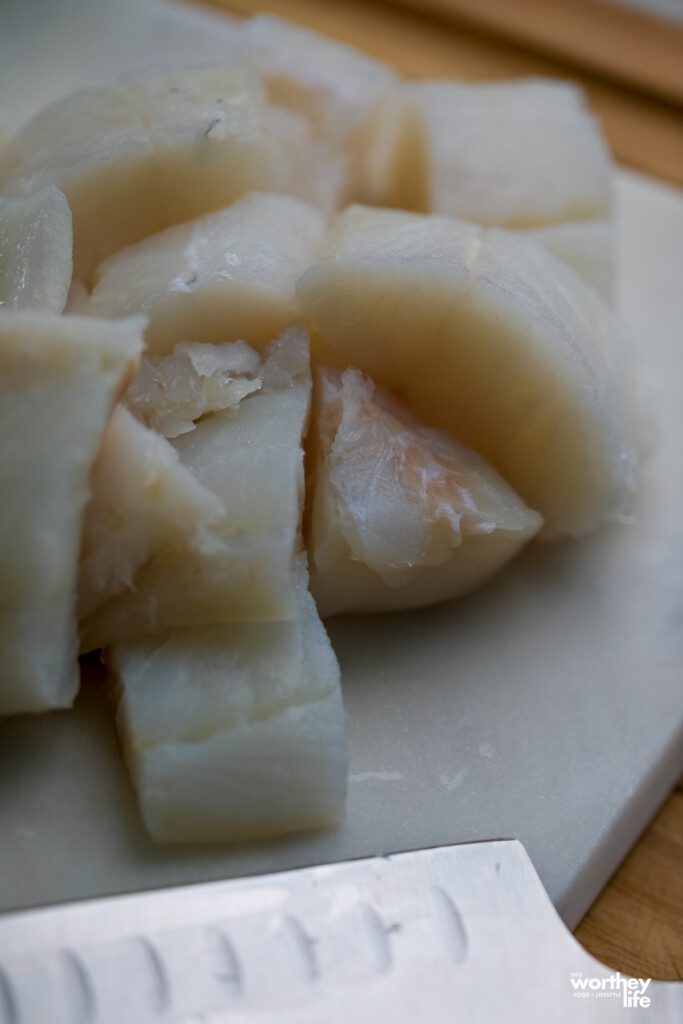 What is the best fish to use to make baja fish tacos?
I love using cod, but other popular types of fish for this recipe are:
halibut
tilapia
catfish
sea bass
red snapper
Mahi Mahi
grouper
How long will battered fish keep in the fridge?
Cooked fish can last in the refrigerator for three to four days.
Is it possible to freeze battered fish?
Of course, allow the fish to cook for no more than twenty minutes, then store the fish in an air-tight container or vacuum seal bag.
Store in the fridge for as long as three months.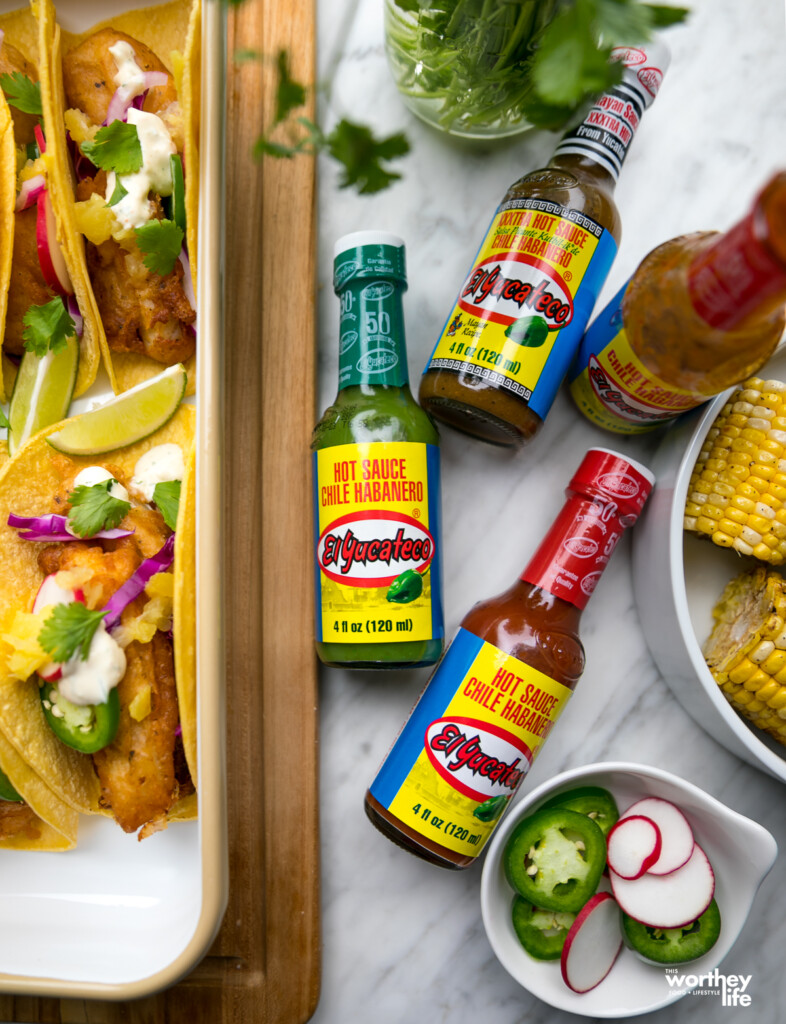 So, give our Spicy Baja Fish Taco recipe featuring El Yucateco Hot Sauce a try!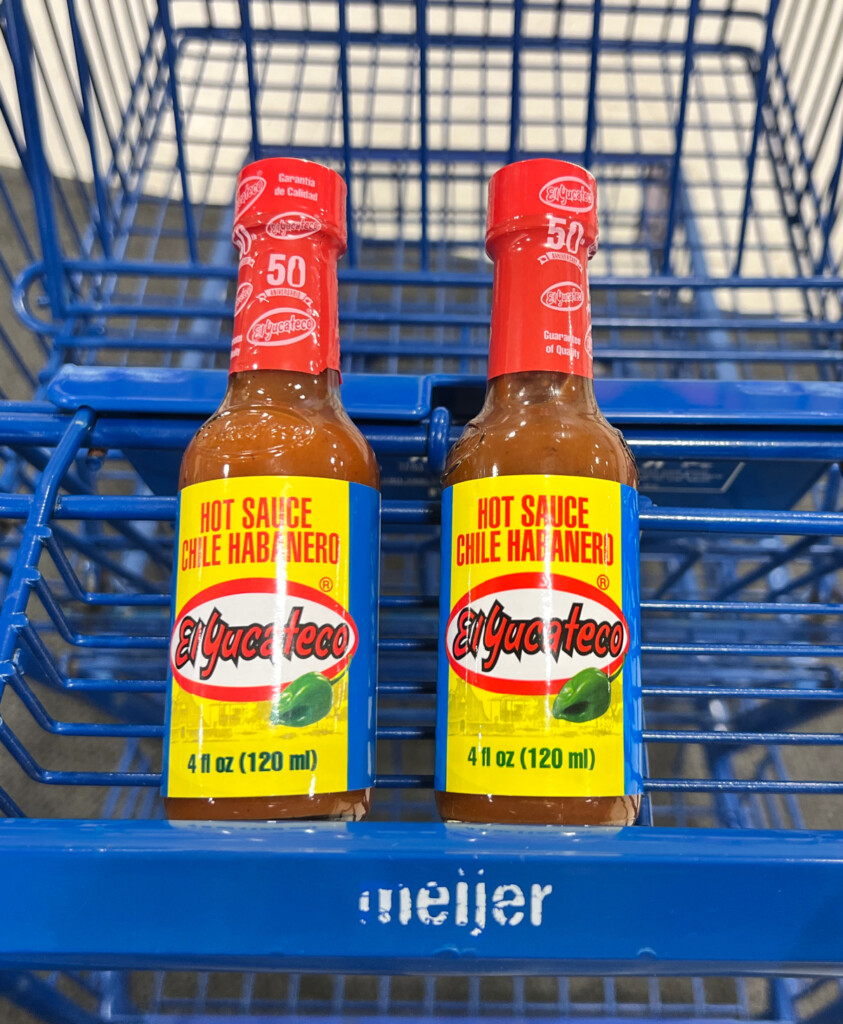 You can find El Yucateco products at your local Meijer grocery store. You can learn more about El Yucateco products by visiting their website.
And if you love them, drop us a line in the comment section!