Marvel's Black Panther DVD is now available. Plan a Black Panther movie watch party with our ideas. Or, if you're looking for ideas for a Black Panther themed birthday party, we've got you covered with treats, crafts, kid-drinks, and cocktail ideas. And be sure to grab your copy of the DVD, now available on Blu-ray and digital.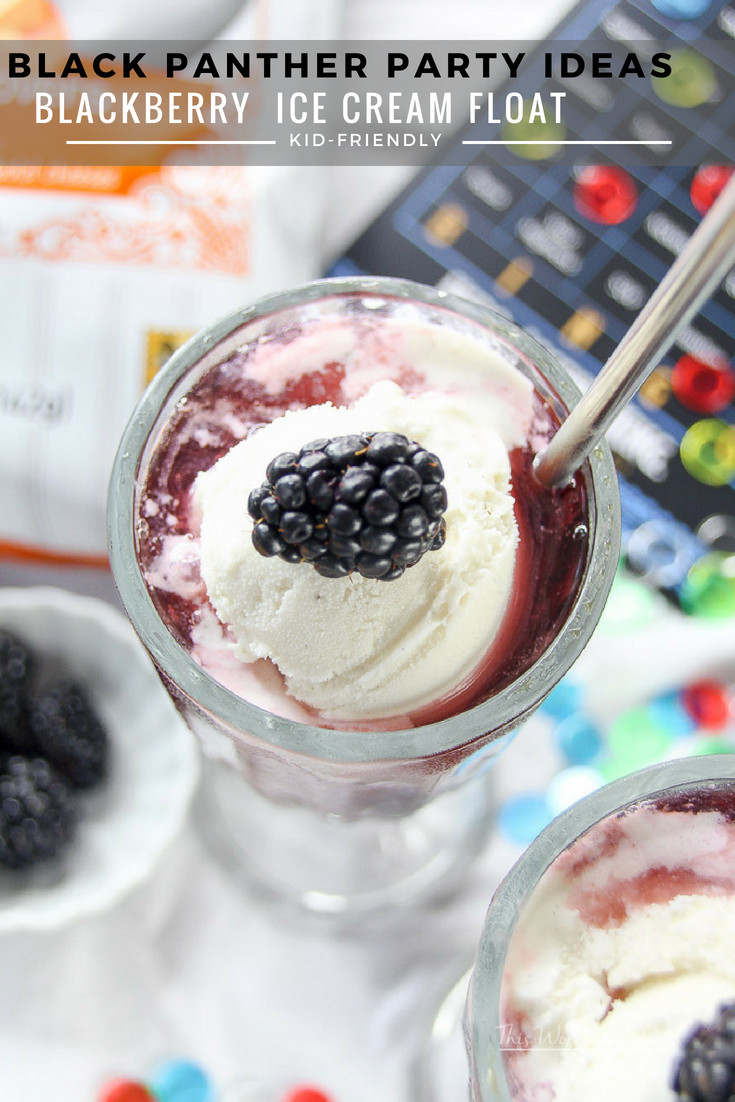 Black Panther Movie Party Ideas | BlackBerry Slush Ice Cream Float
The excitement is still going strong for Black Panther. This film has shattered so many glass ceilings; it's been incredible to watch and be a part of this fascinating journey. And now, we have the release of the Black Panther DVD! The digital release happened on May 8th, and the DVD came out on the 15th of May.
Have you purchased your copy yet? If not, you can order it here.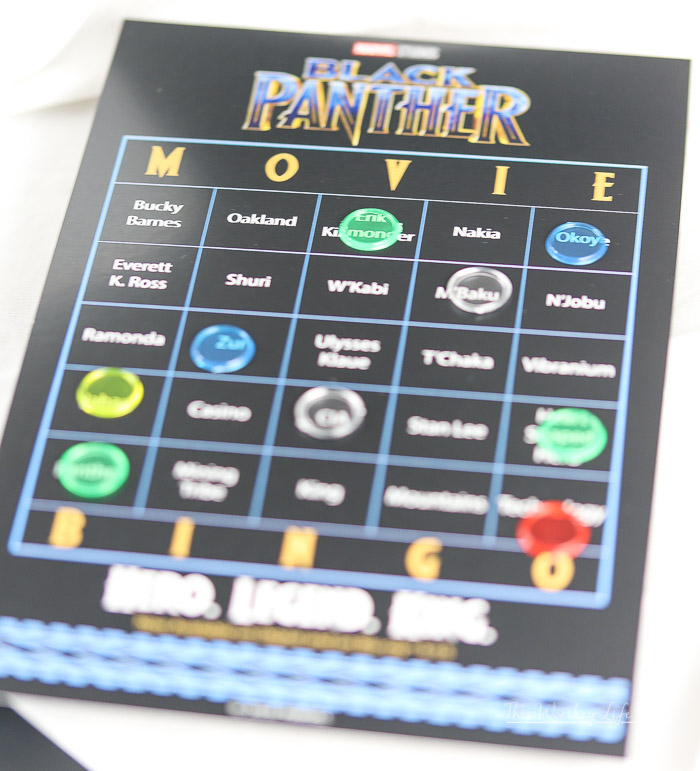 With the anticipation and excitement for the DVD release, Disney sent us a Black Panther movie kit!
It included:
popcorn
Black Panther paper products and napkins
Black Panther bingo
and of course, a copy of the Black Panther DVD/Blu-ray
You can download a free copy of the Black Panther bingo game => BlackPanther_BingoSet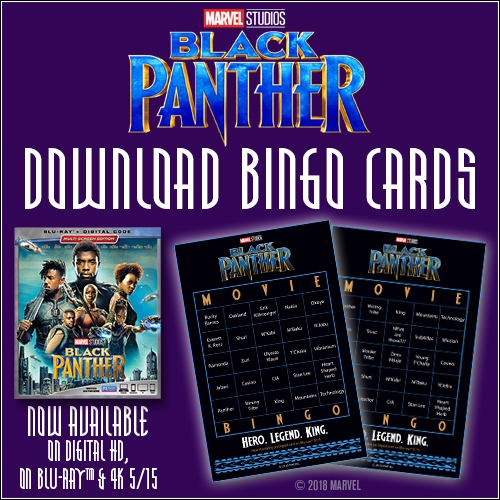 We've shared quite a few Black Panther cocktail ideas the last few months; from the Heart-Shaped Herb, the Vibranium, the Chilling Mist, and our most popular one, Hey Auntie.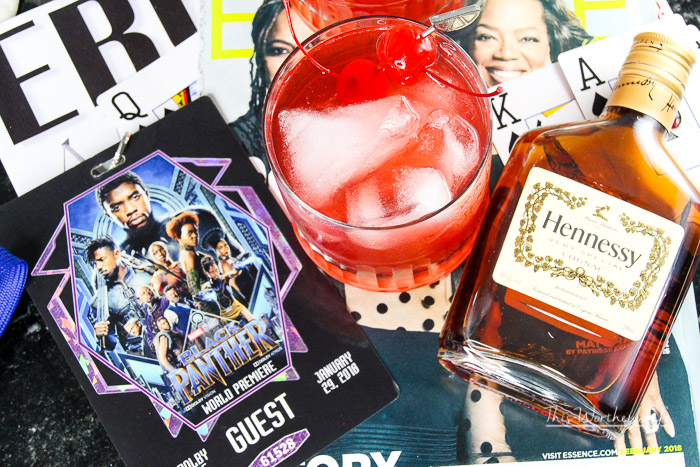 And while those are delicious and perfect for an adult Black Panther movie watch party, we wanted to create a kid-friendly Black Panther drink. And of course, all three boys tried it and gave this Blackberry float a thumbs up!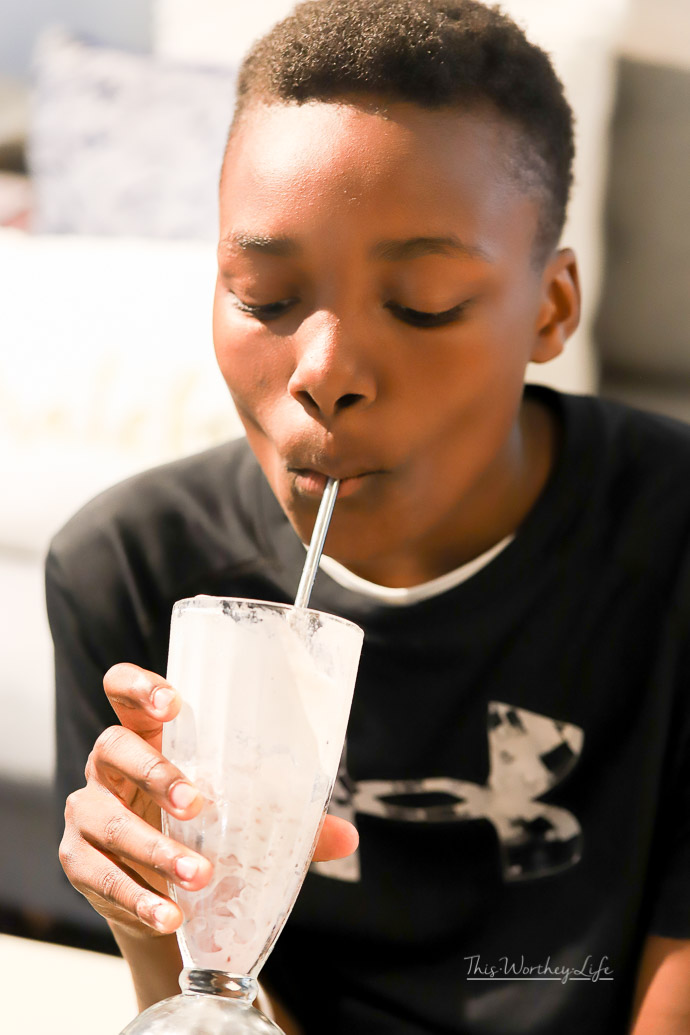 The Black Panther character also had a big role in Marvel's recent movie, Infinity War. You can find Black Panther merchandise everywhere, and I'm sure a lot of birthday parties will have a Black Panther theme this summer.
Black Panther Party Ideas
My friend Natasha has an Avengers Watch Party, full of ideas on how to host your own party.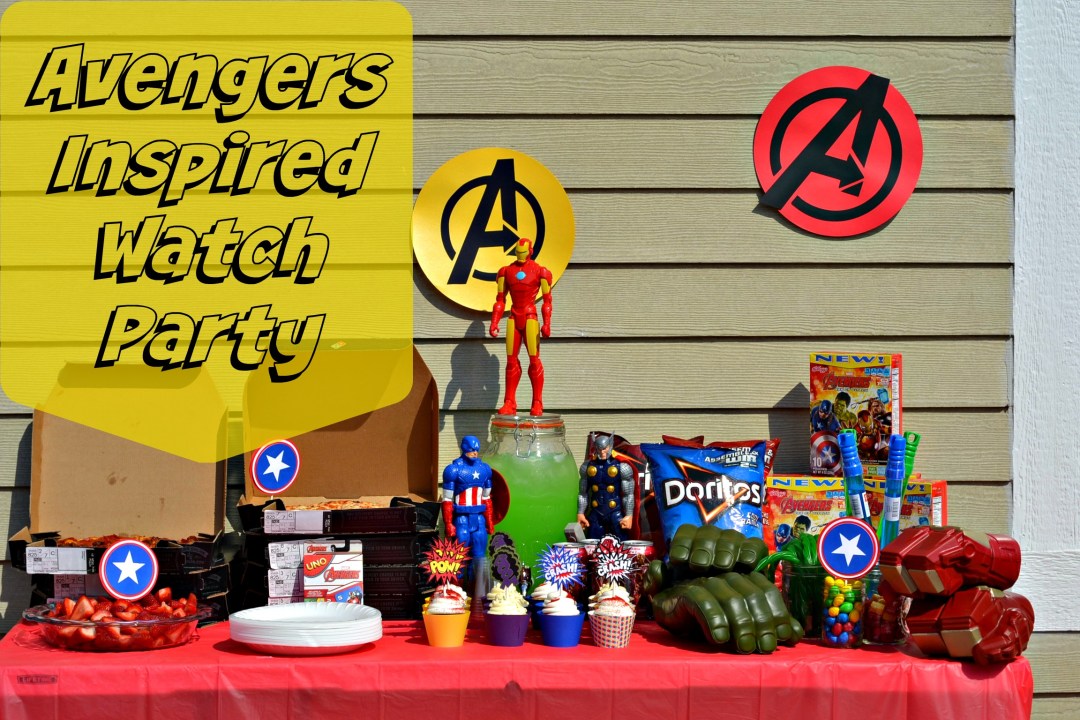 Allison of Everyday Shortcuts made these ADORABLE Vibranium cupcakes! They are soo cute!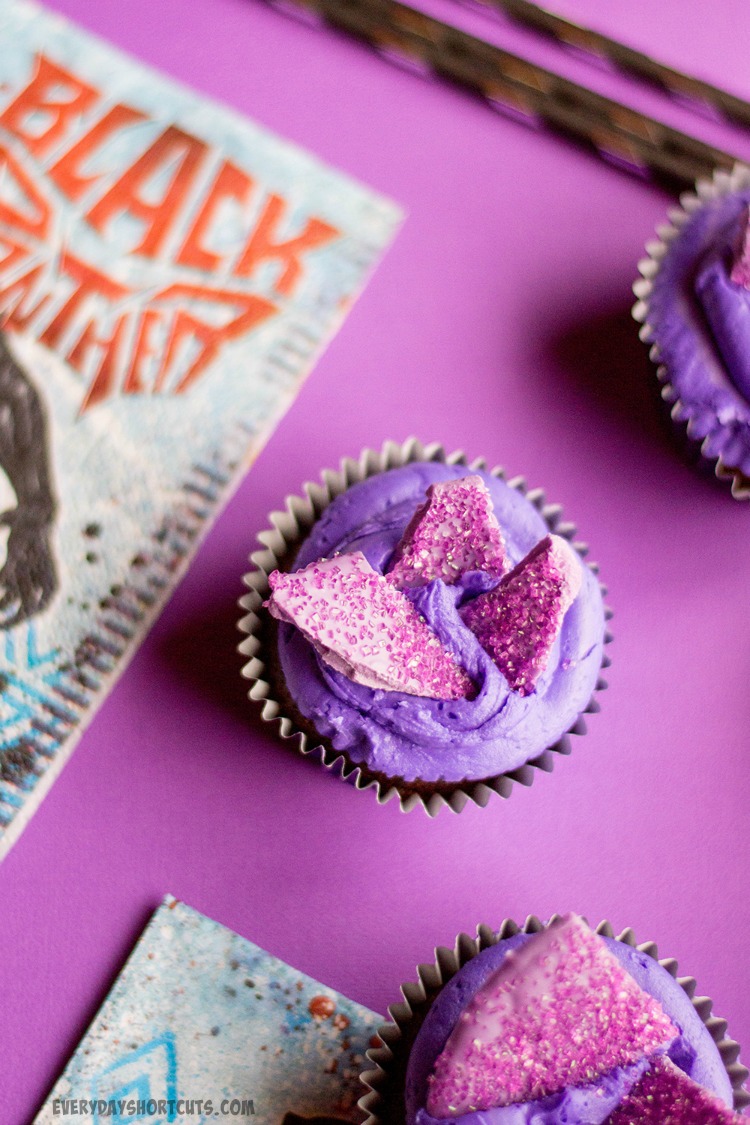 Kira of The Afropolitan Mom has some pretty cool Black Panther cookies that look easy to make.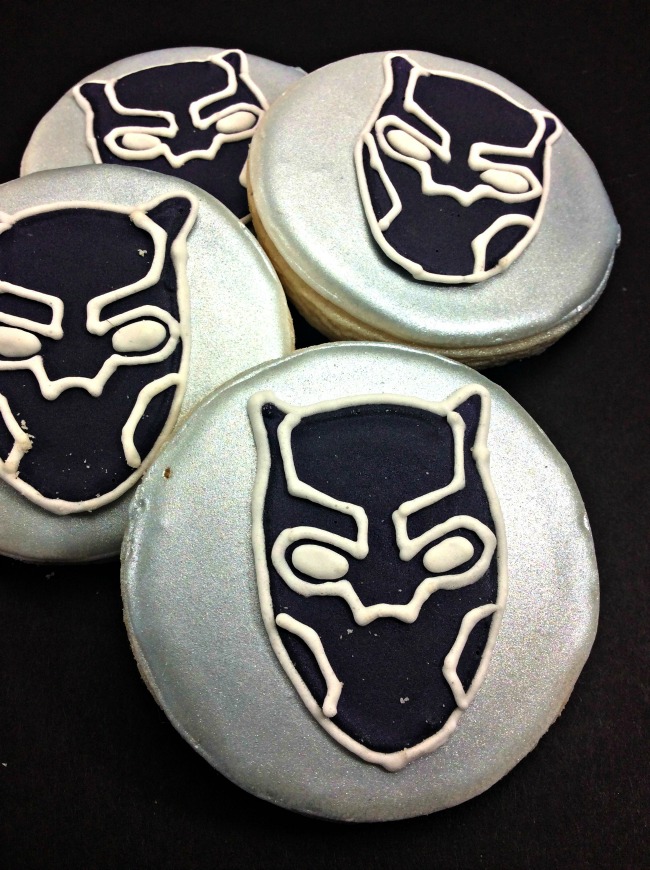 Ari of Love, Peace, and Tiny Feet created some fun Black Panther styled Oreos!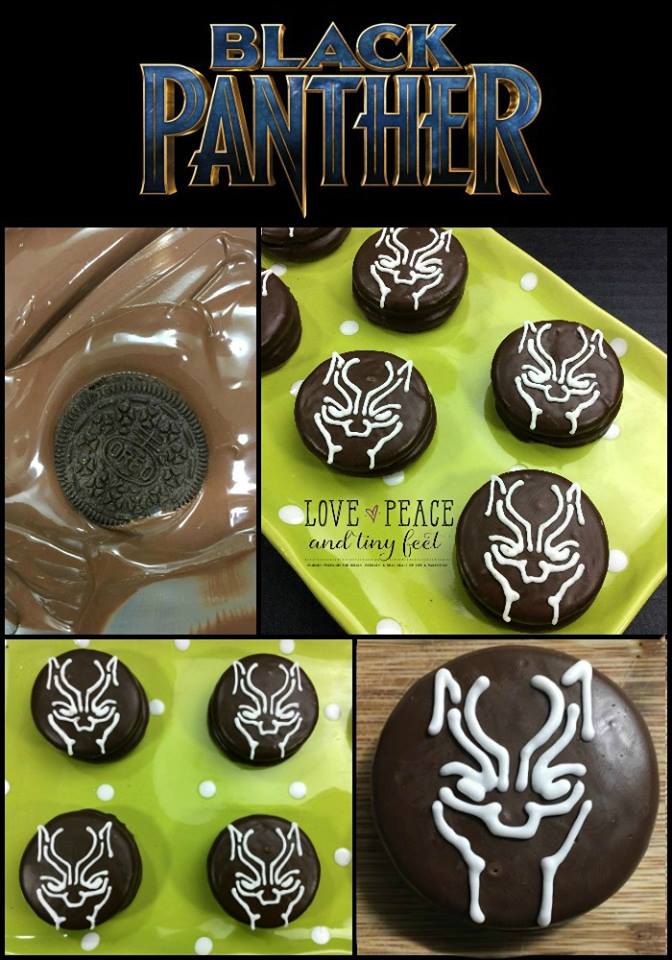 Amy of As The Bunny Hops created super fun Black Panther snack cups to hold all of your treats! Great idea!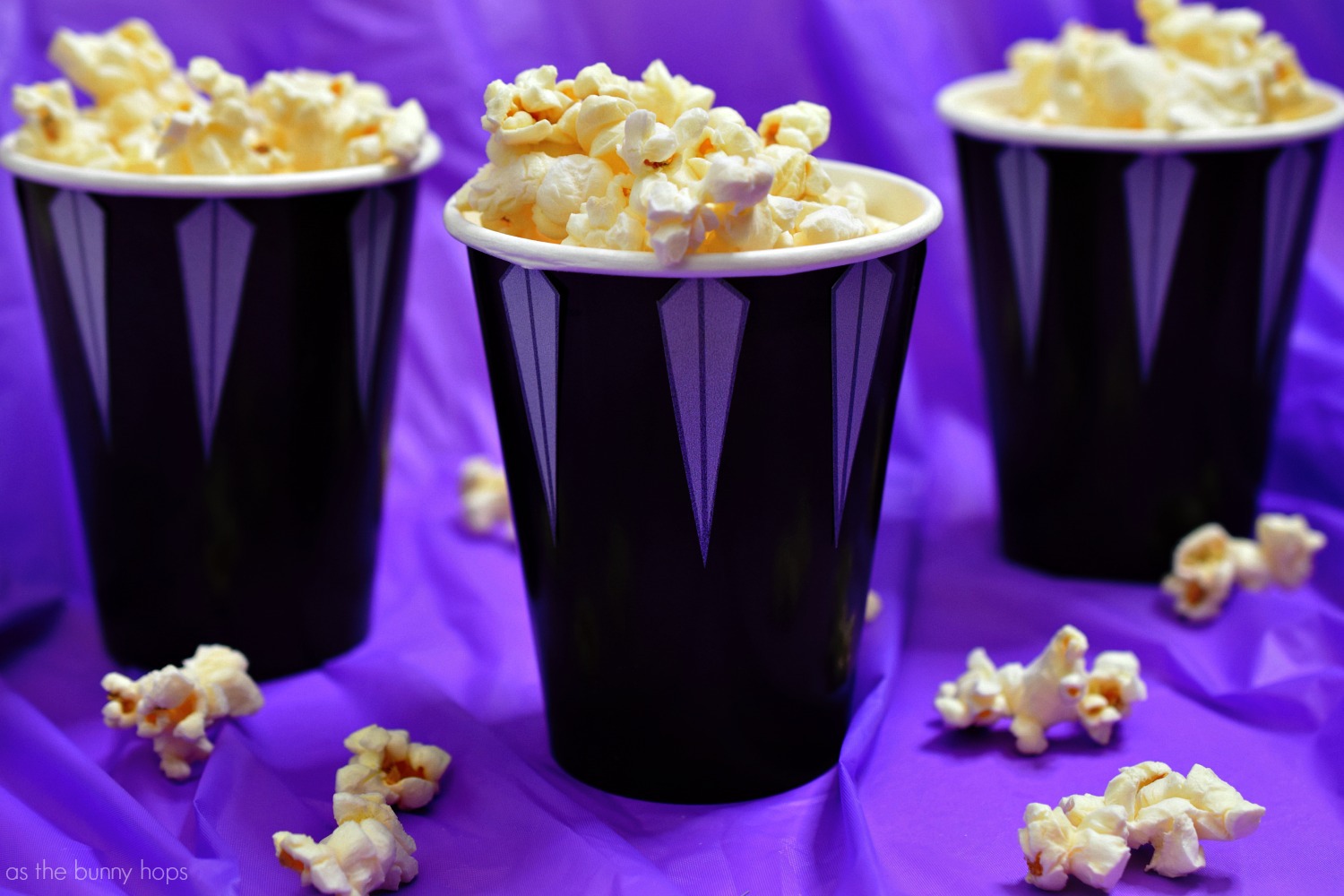 And check out these adorable Black Panther Rice Krispie treats made by Kimberly of A Night Owl Blog!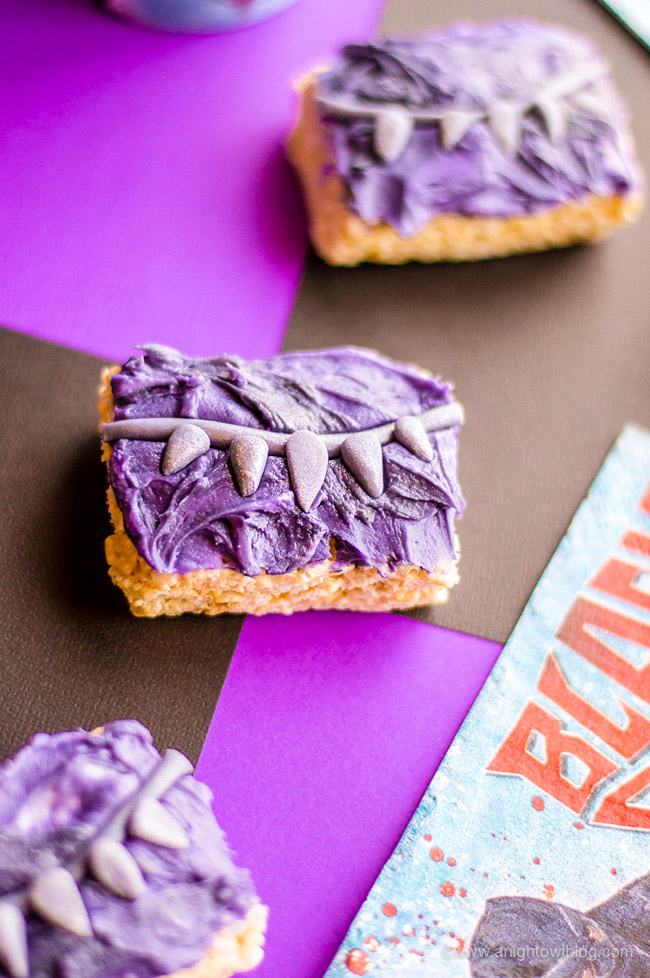 With hot weather on the way and moms looking for easy ideas, our blackberry slush ice-cream float is the perfect option. It's quick to make, with just four ingredients, and will quickly cool all the kids (and adults down) with the ice and ice-cream.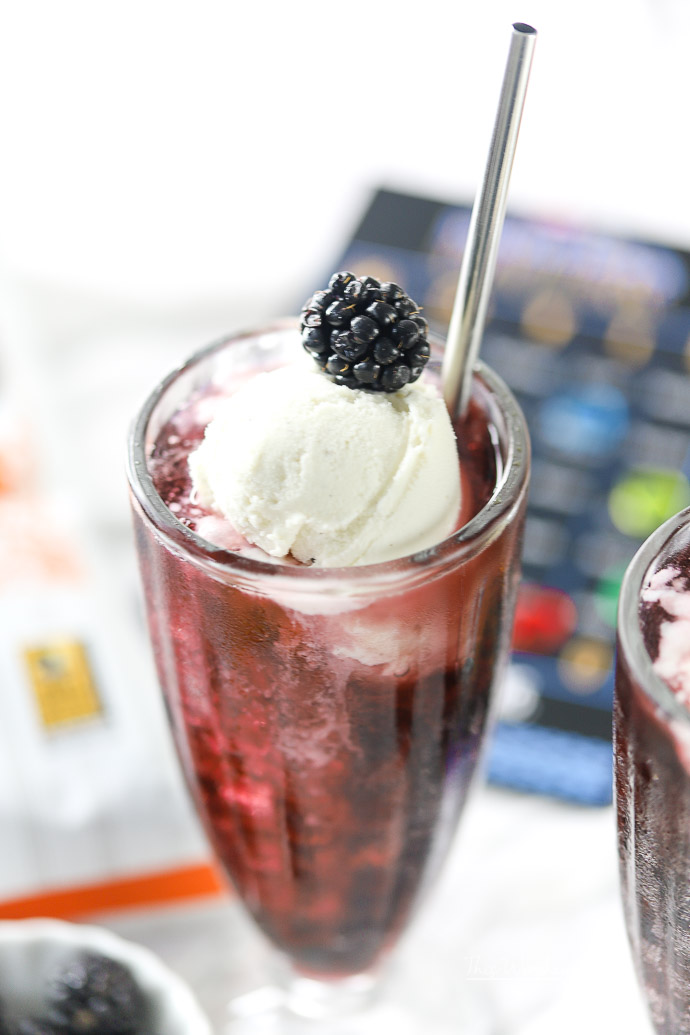 How to make a Blackberry Slush Ice-Cream Float
Ingredients:
12 ounces blackberry soda
2 cups slush ice
2 cups vanilla ice cream
1 tablespoon blackberry simple syrup
Equipment:
Blender
Parfait Glass
Straws
Directions:
Pour 2-3 cups of ice into a blender and pulse until the resembles the ice used to make a slush.
Fill a serving glass 3/4 full with slush ice.
Drizzle the blackberry simple syrup over the ice.
Fill the glass 3/4 full with blackberry soda.
Add two heaping scoops of vanilla ice cream.
Add a drinking straw. Serve.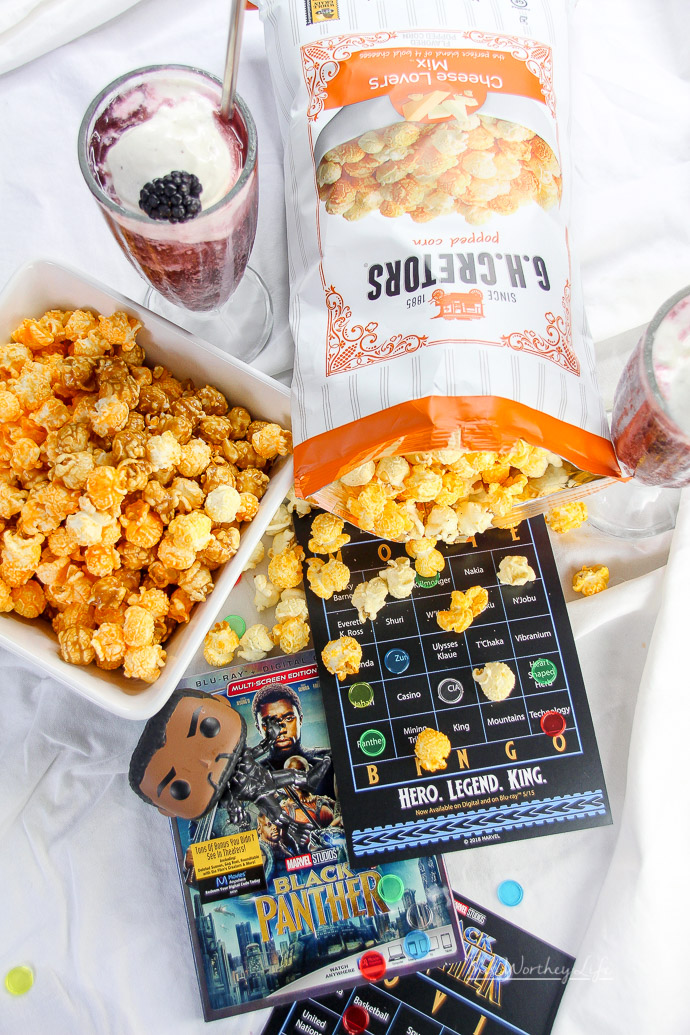 And don't forget your popcorn! We love G.H. Cretors® Popped Corn, so we've grabbed a few bags and poured them into bowls for our movie watch party.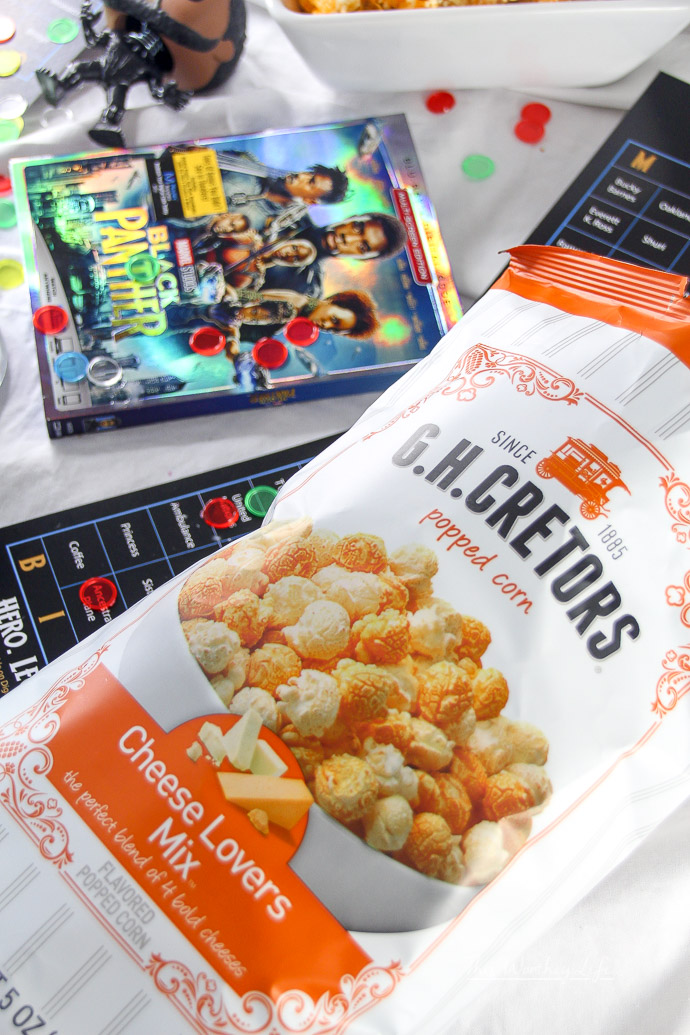 The cheese lovers flavor and the mix are two of our favorite varieties. If you want to take your movie watch party up a notch, get ideas on creating the ultimate popcorn bar and a movie night party bar.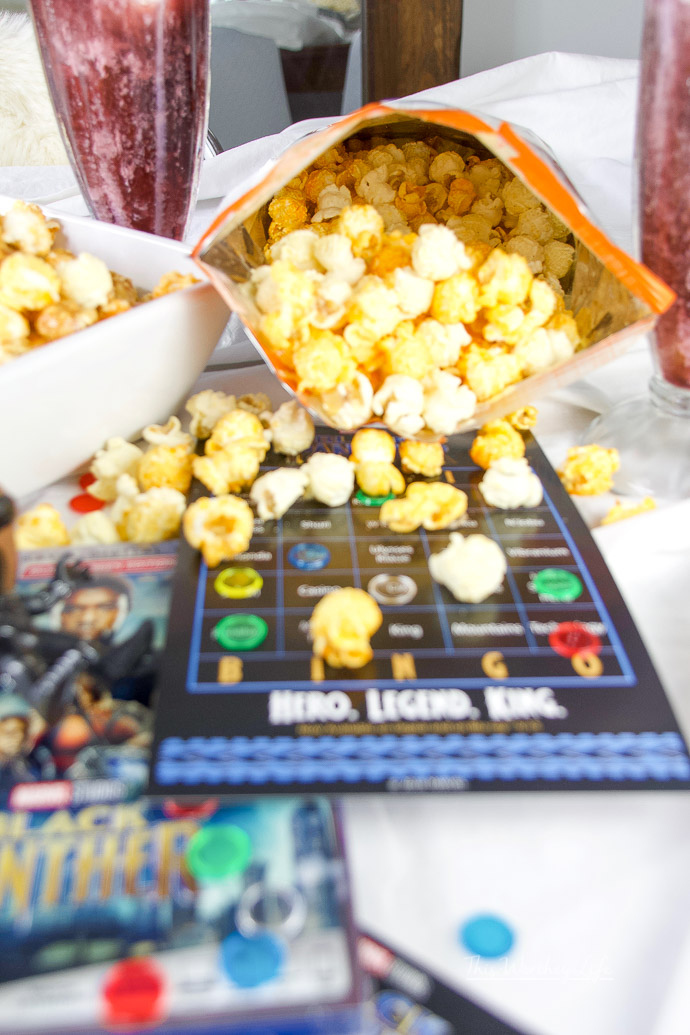 What is Black Panther movie about?
Marvel Studios' "Black Panther" follows T'Challa who, after the death of his father, the King of Wakanda, returns home to the isolated, technologically advanced African nation to succeed to the throne and take his rightful place as king. But when a powerful old enemy reappears, T'Challa's mettle as king—and Black Panther—is tested when he is drawn into a formidable conflict that puts the fate of Wakanda and the entire world at risk. Faced with treachery and danger, the young king must rally his allies and release the full power of Black Panther to defeat his foes and secure the safety of his people and their way of life.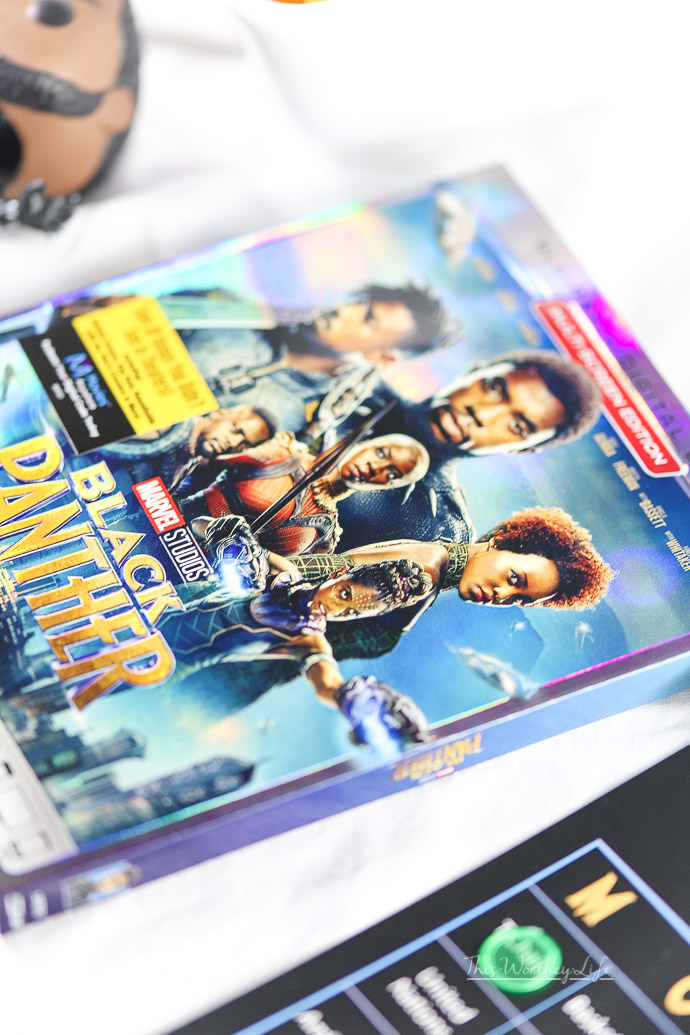 Bonus Material included in Black Panther
Blu-ray:
Director's Intro
From Page to Screen: A Roundtable Discussion – Delve into the film's making
Crowning of a New King – Explore the world of "Black Panther" in all its color and complexity
The Warriors Within – Get to know Wakanda's women and the actors who portray them
The Hidden Kingdom Revealed – Wakanda's diverse people
Wakanda Revealed: Exploring the Technology
Deleted Scenes
U.N. Meet and Greet
Okoye And W'Kabi Discuss the Future of Wakanda
T'Challa Remembers His Father
Voices from the Past
Gag Reel
Exclusive Sneak Peek at "Ant-Man and The Wasp"
Marvel Studios the First Ten Years: Connecting the Universe
Director's Commentary
Digital Exclusives:
In World Wakanda Tourism Ads
Come to Wakanda "Before"
Come to Wakanda "After"
Black Panther is packaged in several ways to ensure fans get the most out of their in-home viewing experience. The Multiscreen Edition (formerly the Blu-ray Combo Pack) includes Blu-ray, and a Digital Copy, giving viewers the flexibility to watch the film on different devices. Those with 4K Ultra HD capability may opt for a 4K UHD Collector's Edition, including 4K Ultra HD disc with Dolby Vision and Dolby Atmos, Blu-ray disc, and a digital copy (where available). Dolby Vision delivers greater brightness and contrast, as well as a fuller palette of rich colors. Dolby Atmos places and moves audio anywhere in the room, including overhead. Together on 4K Ultra HD Blu-ray disc, viewers will fully experience the sights and sounds of Wakanda.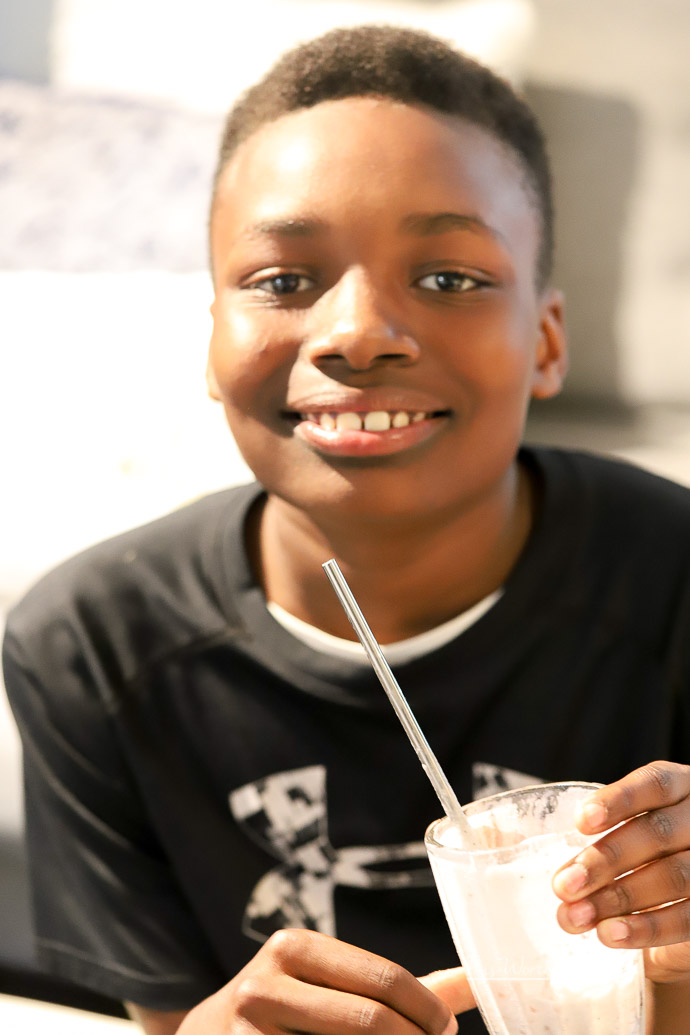 We've got our popcorn, blackberry slush, throw blanket, and our Black Panther DVD. We're ready! How about you?