Blackberry Bourbon Tea Cocktail
My Blackberry Bourbon Tea Cocktail is a journey into the world of bourbon whiskey. My exploration into the world of bourbon whiskey has been fraught with a whole lot of discovery and excitement. And along the way, over a few years now, I have enough sense learned that bourbon whiskey is a very BIG deal. There are so many great bourbons to choose from and at varying price points that spam from affordable to mortgage the house.  And, as with most things money spent doesn't always guarantee superior quality. As a matter of practicality, my range falls into the $30 – $40 range and that's not a bad place to be because there are some great bourbons to be had without losing and arm and a leg. Okay, okay on to the cocktail recipe, right? For the Blackberry Bourbon Tea Cocktail, my goal was to insert a bit of whimsy and sweetness into how most people think about bourbon. Bourbon is for the most part seen as a serious man's drink. Similar to the world of scotch, which is a distant cousin and precursor to bourbon. Bourbon is an American spirits creation mostly perfected by immigrants hailing from Ireland and Scotland. Most of the old school bourbon distilleries hail from Kentucky, thus the term Kentucky bourbon. But anyway I digress yet again. Another interesting component to this cocktail is the specially brewed tea. I love tea and so I thought, why the hell not? I also like the lightness of the tea as it  weaved an interesting and floral tapestry against the robust soul of the bourbon. Fleshed out with a bit of homemade blackberry simple syrup, whole blackberries and crushed ice and we got ourselves a serious contender for the best cocktail of the summer. You will find the cocktail recipe down below.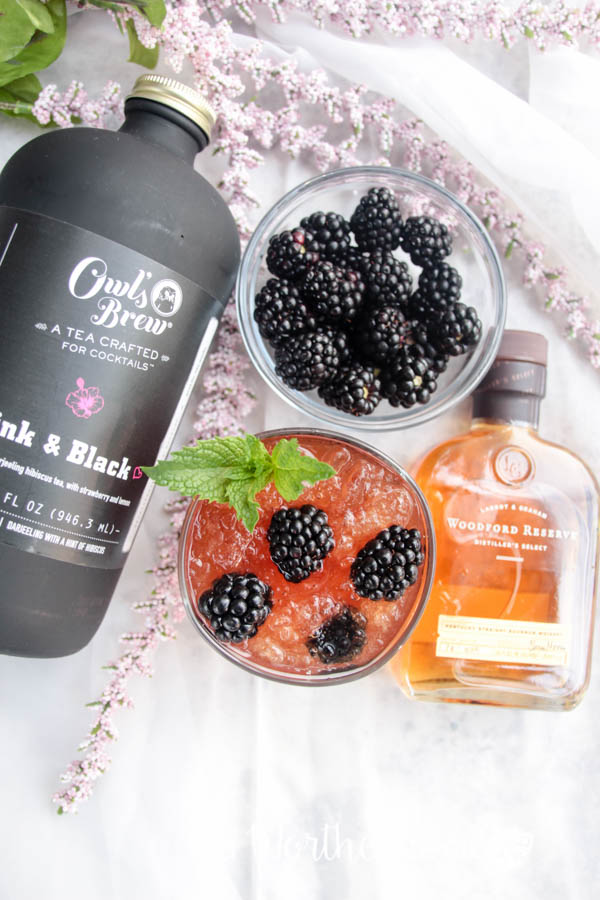 Ingredients:
0.5 Blackberry Simple Syrup
1.5 ounces Woodford Bourbon
3 ounces Owl's Brew Tea
6 Fresh Blackberries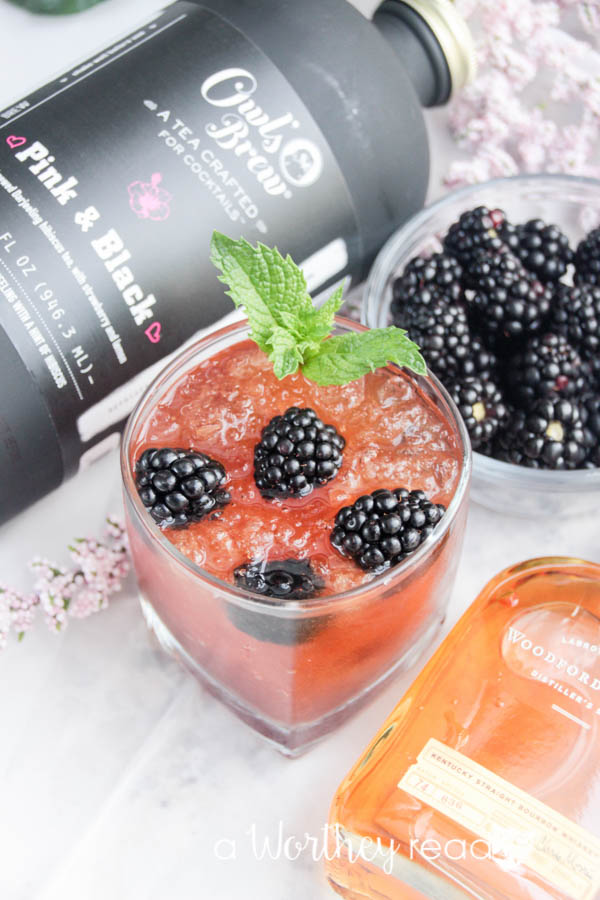 Directions:
In a cocktail shaker add blackberry syrup, bourbon, and tea. Top with ice cubes.
Secure the lid on the cocktail shaker and shake until your arms fall off. That's 30 seconds worth of shaking.
Strain into standard rocks glass filled with crushed ice.
Garnish with a few blackberries and a sprig of fresh mint.
Serve.
Drink responsibly, and never drink and drive