Want an eggnog recipe that doesn't require eggs? Try our Boozy Bourbon Eggnog inspired by Cousin Eddie from National Lampoon's Christmas Vacation.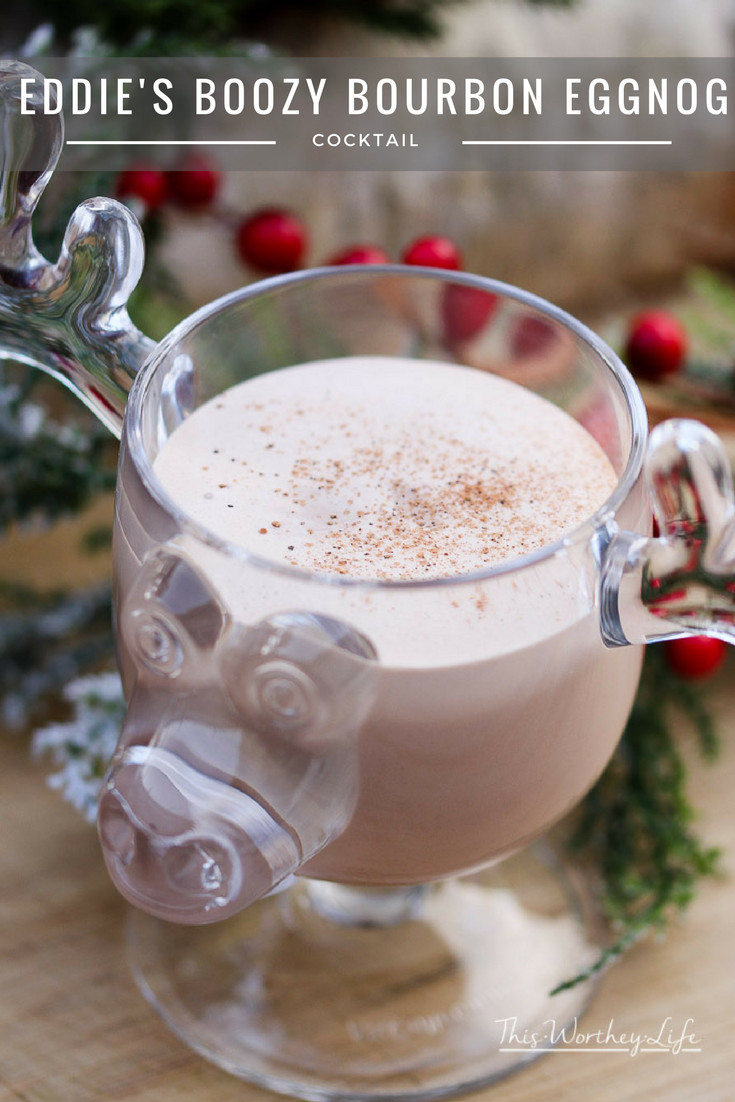 Cousin Eddie's Boozy Bourbon Eggnog
Who hasn't watched the National Lampoon's Christmas Vacation movie? It is one of our favorite holiday movies! And let's face it, we all have a cousin "Eddie" or two hanging from the limbs of our family tree. You know, that certain family member that requires a little bit of liquid therapy to get through the holiday season.
Other Eggnog recipes to try:
Mint Chocolate Chip Eggnog Punch
Bourbon Eggnog With White Chocolate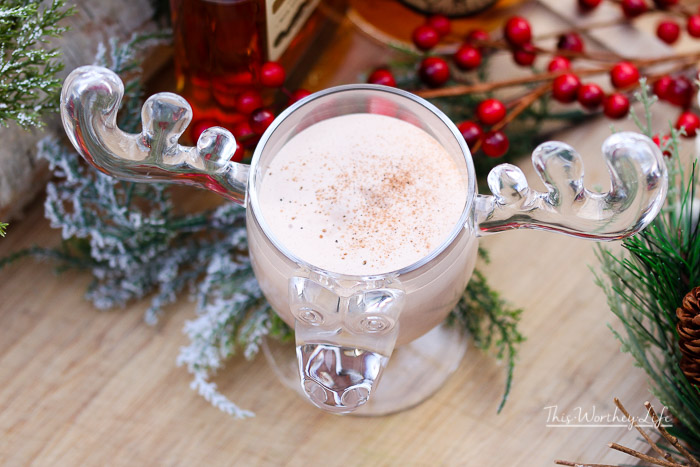 Throughout the movie, we see Clark and cousin Eddie drinking eggnog from festive Moose Mug and I am pretty there is something a little extra in the Griswold recipe. Because you have to do extra when you have cousins like Eddie. "Can I refill your eggnog? Get you something to eat, drive you into the middle of nowhere, and leave you for dead?" — Clark Griswold
Here are some of our favorite Christmas Vacation Movie quotes:
Cousin Eddie:

You serious Clark?

Todd:

Hey Griswold! Where do you think you're gonna put a tree that big?

Clark W. Griswold Jr.:

Bend over and I'll show you!

Clark W. Griswold Jr.:

"Where do you think you're going? Nobody's leaving. Nobody's walking out on this fun, old-fashioned family Christmas. No, no. We're all in this together. This is a full-blown, four-alarm holiday emergency here. We're gonna press on, and we're gonna have the hap, hap, happiest Christmas since Bing Crosby tap-danced with Danny fucking Kaye. And when Santa squeezes his fat white ass down that chimney tonight, he's gonna find the jolliest bunch of assholes this side of the nuthouse."

Clark W. Griswold Jr.:

[to Rusty] Maybe you'd oughta go up there and check-

Rusty Griswold:

(interrupting) Whoa, geez! Look at the time. I gotta get to bed. And brush my teeth, feed the hog, do the laundry, wash the car, still got some homework to do…

Cousin Eddie:

(to the neighbor) Merry Christmas! Shitter was full!
Clark Griswold: "If I woke up tomorrow with my head sewn to the carpet, I wouldn't be more surprised."
Uncle Lewis: "You couldn't hear a dump truck driving through a nitroglycerin plant."
Ellen Griswold: "I'm sorry, this is our family's first kidnapping."
Cousin Eddie: "If that thing had nine lives, she just spent 'em all."
Clark Griswold: "We're gonna have the hap- hap- happiest Christmas."
Aunt Bethany: "Hello everybody!"

Cousin Eddie

: "Don't go puttin' none of that stuff on my sled, Clark. You know that metal plate in my head? I had to have it replaced, cause every time Catherine revved up the microwave I'd piss my pants and forget who I was for a half-hour or so. So over at the VA, they had to replace it with plastic. It ain't as strong so I don't know if I should go sailin down no hill with nothing between the ground and my brains but a piece of government plastic."

Clark Griswold

: "You really think it matters, Eddie?"
Clark Griswold: "It's a one-year membership to the Jelly of the Month Club."Cousin Eddie: "Clark, that's the gift that keeps on giving the whole year."

Margo

: "And why is the carpet all wet, *Todd*?"

Todd

: "I don't *know*, Margo!"
Uncle Lewis: "It was an ugly tree anyway."
Cousin Eddie: "I don't know about the cat, but *I* sure am enjoying it."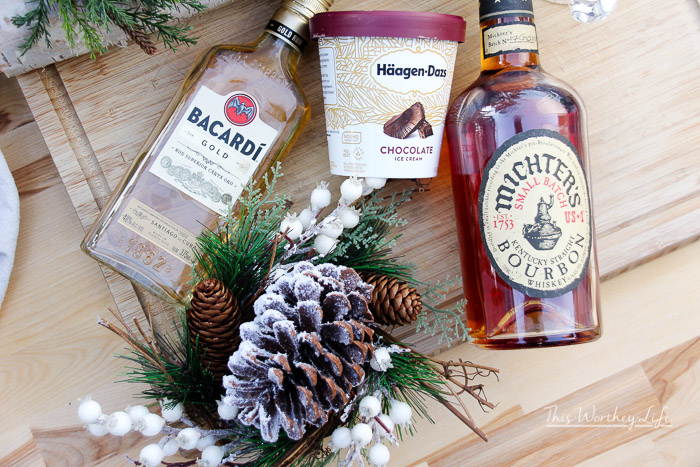 For our version of spiked eggnog, we add the dual forces of good bourbon and golden rum. We passed on making the traditional eggnog recipe with eggs, because who likes drinking raw eggs when you can have ice-cream?
Yes, our eggnog recipe skips out on eggs and goes right for the ice-cream. And I have to say, oh baby I like it. As you can probably tell, I am not a fan of regular eggnog- never have, never will. But let me make it my way, and I'm adding ice-cream with my bourbon.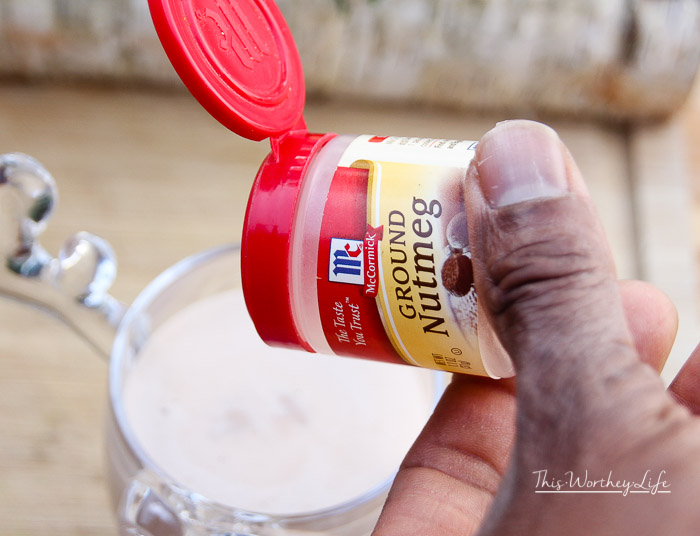 How to make Eddie's Boozy Bourbon Eggnog
Ingredients:
1-ounce bourbon whiskey
2 1/2 scoops of chocolate ice cream
1/2 ounce golden rum
1/4 teaspoon pure vanilla extract
pinch nutmeg
pinch cinnamon
Directions:
Add all of the ingredients into a Mason-style jar and screw on the lid tight, shake until the ice cream melts and pour into a serving glass. We selected the Moose Mug just like Clark and Cousin Eddie used. Sprinkle a bit of nutmeg on top and serve.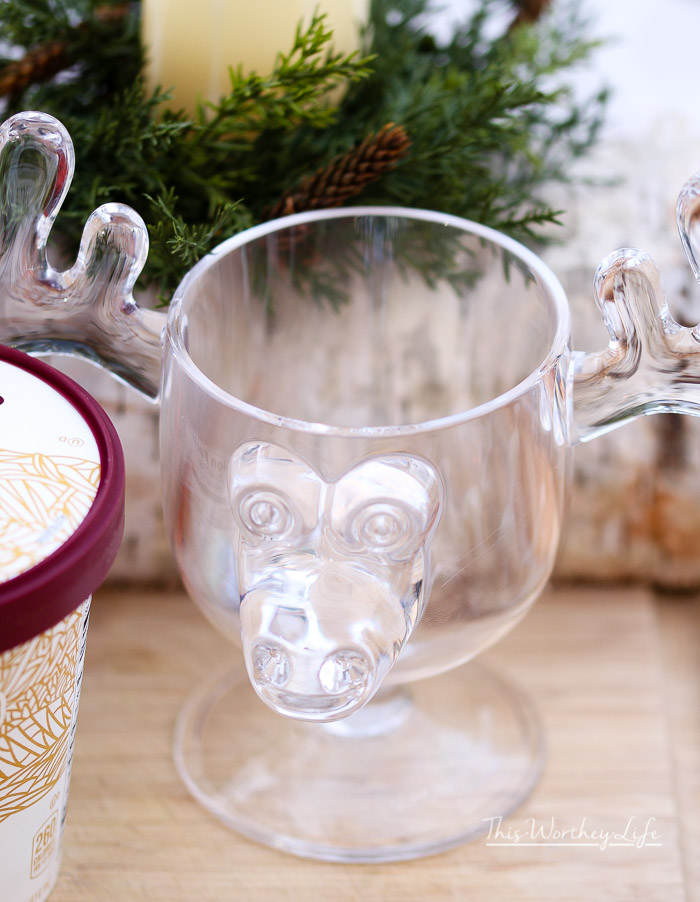 Equipment:
Officially Licensed National Lampoons Christmas Vacation Glass Moose Mug – SINGLE Mug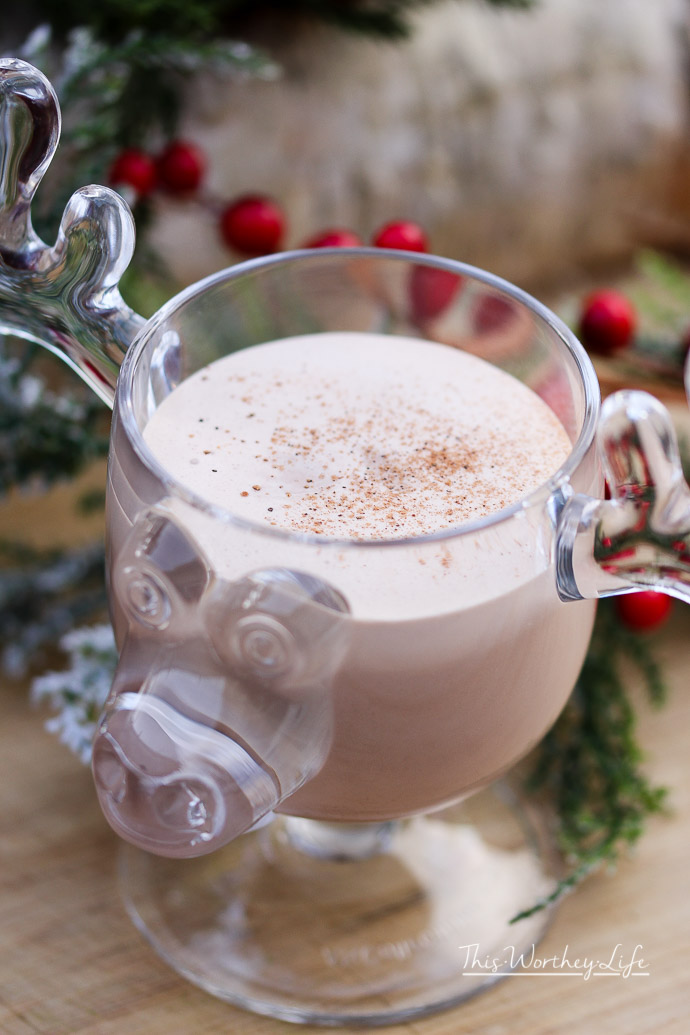 Even Elfie enjoys our boozy bourbon eggnog. Find more naughty and slightly inappropriate Elf on the Shelf ideas by going here.