As you prep for your camping trip this year, be sure you have all the essentials you need, including the best camping apps to use this year. Yes, you can take a little technology with you to ensure you have the best camping trip!
8 of the Best Camping Apps To Use This Year
Camping is all about roughing it, and we've enjoyed our recent SUV camping trips in the Sorento. But let's get real about the fact that there are modern conveniences that can make our camping trips more enjoyable, safer, and efficient!
From the obvious to the fun, below you will find 8 of the best camping apps to use for camping so you can make your next camp out the most memorable one ever!

1. Flashlight- Yes, most smartphones already have flashlights on them, but the Flashlight app illuminates your entire screen, making the light even brighter and more practical. This is a great app to have if you don't have a very bright light, or just need some extra light as you hike to the bathroom.

2. My Nature Animal Tracks- Let's add this app to the "for fun" column. If you are doing any hiking or exploring on your next camping trip, this app can help you identify any of the paw prints you might encounter. Is it a bird? A raccoon? A bear? This app will help you find out what exactly is lurking in the woods nearby.

3. Accuweather-It is always nice to know what kind of weather you can expect while camping. Accuweather is easy to navigate and can give you a clear picture of the weather you can look forward to. This app is also smart to have so you can keep your eye on any severe weather headed your way. Trust me, camping in the rain is NO fun.

4. GoSky Watch- This app is fun to have even when you aren't camping. On a clear night, it is fun to look up at the stars and find planets and constellations. The GoSky app can help you locate those special stars and find the constellations quickly and easily.

5. KnotBehind-Here is another app to add to the "just for fun" list. Chances are you won't need to get too fancy with knot making while on your trip, but it is fun to experiment still and learn this craft. KnotBehind can show you how to tie all sorts of knots like a pro; even the Boy Scouts would be proud!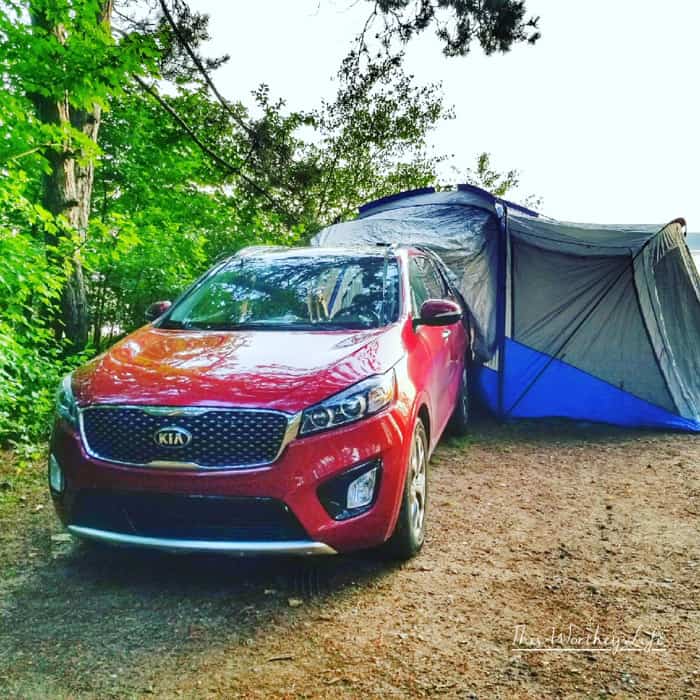 6. Camping Manual- The nice thing about this app is it is designed for the less experienced camper. It has everything from packing lists, gives meal suggestions, can help with the tent set up, and can even help with what clothing you should wear. If you are a caping novice, this app is like taking a camping pro along to guide you.

7. AllTrails- Are you ready to hit the trails? Grab some water and trail mix then give AllTrails a try. It has all of the hiking routes in the country. If you want some advice from someone who has completed that trail, you can even head to the reviews for some real and honest feedback. This way, you can avoid trails that may be too hard and skip the ones that may be too easy.

8. National Parks Field Guide- What fun is it to explore if you have no idea what you are looking at while out in Mother Nature? This app will help you identify plants, flowers, birds, animals, and other creatures you may find. This can be helpful when trying to avoid anything harmful, or even poisonous.

So pack a tent, your sleeping bag, and then download these camping apps. These are some of the best camping apps to accompany you on your next trip, helping you stay safe, informed, and entertained.
You can also find additional camping resources to help make your trip enjoyable, such as our camping bucket list of fun things to do. As well as our camping food list and camping kitchen essentials; you don't want to be caught out in the wilderness without your necessary gear.
Share and pin it for later: