This post was sponsored by Better Than Bouillon as part of an Influencer Activation for Influence Central and all opinions expressed in my post are my own. Love to make gumbo, but want an easier recipe? Try our easy chicken gumbo made in the instant pot. This recipe cuts down on the time but doesn't lack in flavor. Grab this gumbo recipe down below!

How To Make Chicken Gumbo in the Instant Pot | Easy Chicken & Andouille Sausage Gumbo Recipe
When I think of gumbo, I think of all the work that goes into making a savory and delicious gumbo. Yes, the final result is amazing, but is it worth all of the effort and steps?
Well, we've come up with an easy chicken gumbo recipe and it doesn't require a lot of work. The most important thing about gumbo is getting the flavor just right, and it all begins with making a solid roux. A good roux is the foundation of any good gumbo recipe.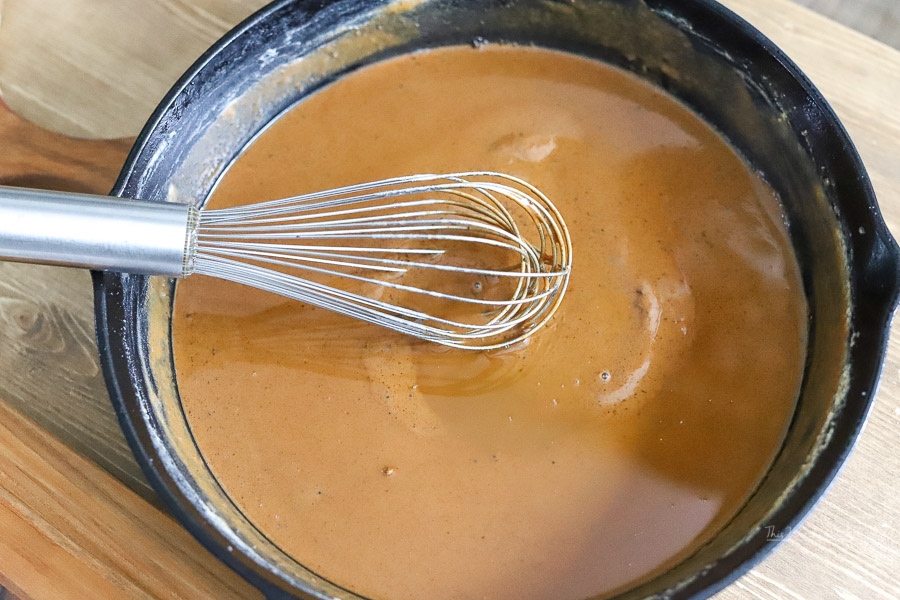 Derrick has perfected his roux recipe over the years, and he's sharing the recipe on how to make the perfect roux down below.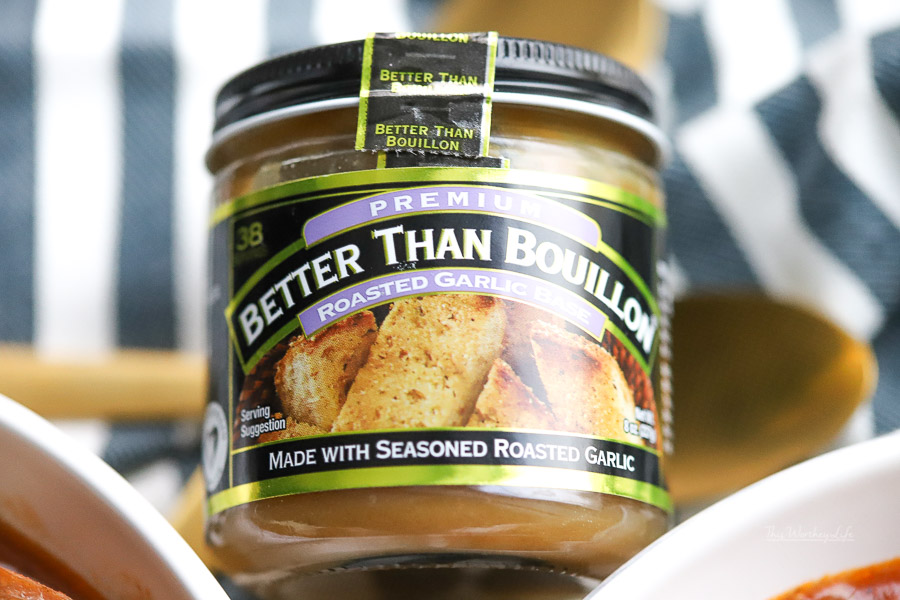 A key ingredient that really adds a ton of flavor to our gumbo is the Better Than Bouillon Roasted Garlic Base.
Better Than Bullion offers a variety of flavors, including organic, vegetarian and reduced sodium choices. One thing I really like about using this roasted garlic base in our gumbo is the instant flavor it added, taking our instant pot gumbo recipe to another level.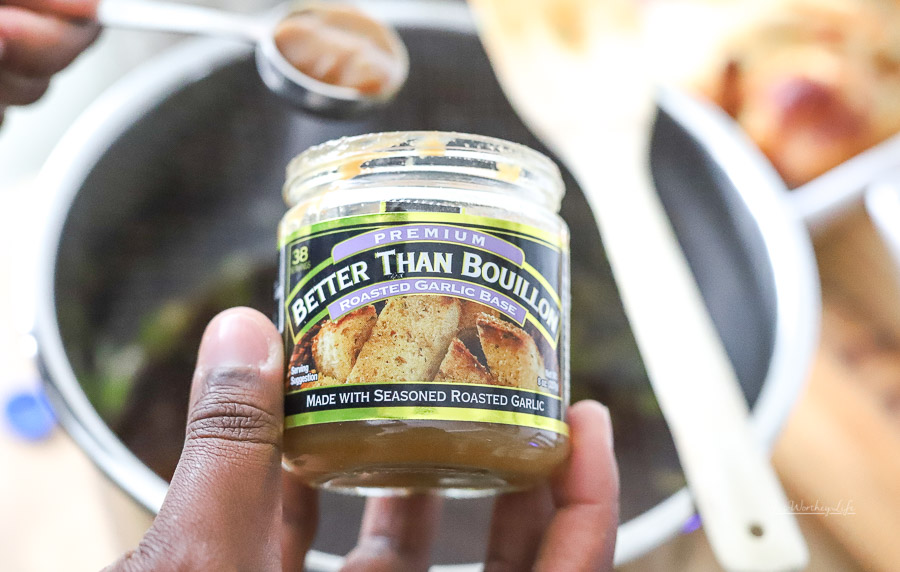 Plus, I can use it to enhance the flavor of soups, stews, casseroles, and marinades. If you're looking for a quick way to add flavor into almost any recipe, consider picking up a few jars of Better Than Bullion at your local grocery store. You'll be glad you did.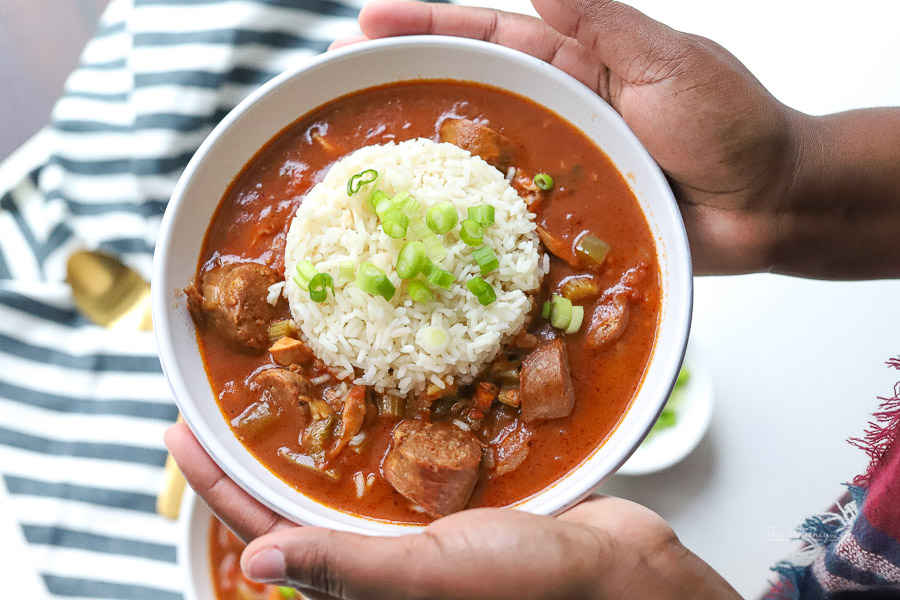 Another way we cut down on time is using a Rotisserie chicken picked up at our local grocery store. This cut down on cooking time because you don't have to cook it. Just remove the chicken and shred it, then simply add it to the gumbo. Yes, it's that easy.

How to make gumbo in the instant pot
*Note this recipe was made in an 8 quart Instant Pot
*The roux was made in a cast iron skillet then added to the ingredients in the Instant Pot
*I used deboned a Rotisserie chicken and removed the skin, then shredded the meat and added the chicken to the gumbo recipe.
Ingredients:
1 stick unsalted butter
1/4 cup bacon drippings
2 tablespoons olive oil
1 1/3 cup all-purpose flour
1 sweet onion, chopped
1 red bell pepper, chopped
1 green bell pepper, chopped
1 cup carrots, chopped
1 1/2 cups celery with leaves, chopped
3 cloves garlic, minced
2 pounds of andouille sausage, sliced
2 pounds Rotisserie chicken, chopped
2 32 ounce containers of unsalted chicken stock
1 tablespoon Old Bay seasoning
2 tablespoons Cajun seasoning
2 teaspoon Tony Chachere's Gumbo File seasoning
2 tablespoon Worcestershire
2 tablespoon white wine vinegar
1 tablespoon Tabasco sauce
1 can 28 ounce crushed tomatoes
6 ounces tomato sauce
3 tablespoons of Better Than Bouillon Roasted Garlic Base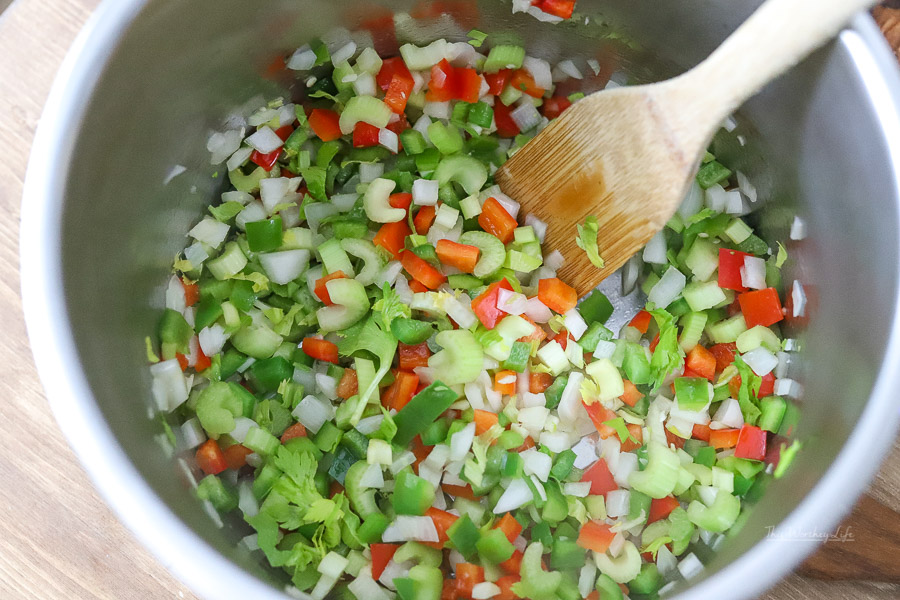 Directions:
In a large cast iron skillet over med-high heat add olive oil, when the oil is hot add bacon, cook the bacon until it is crispy, place the bacon on a platter lined with paper towels. Add the sliced Andouille sausage to the skillet and cook until cooked through and browned. Remove the sausage and reserve one-third cup bacon drippings for the roux and save the bacon as an additional topping for the gumbo when the gumbo is finished.
Into the skillet add one stick of unsalted butter and bacon drippings over med-high heat, when the butter is melted, and the mixture of butter and bacon drippings is hot, adjust the heat to medium-low and little by little begin adding one cup of the flour, constantly stir the mixture with a wire whisk. Continue to whisk until the mixture is smooth and without lumps. Keep stirring until the mixture becomes deep red-brown mahogany color, then remove from direct heat, set aside.
Into an Instant Pot add two tablespoons of extra virgin olive oil, adjust the setting to saute, when the oil hot add the onions and cook for five minutes, then add the garlic, celery, red and green peppers, and carrots. Continue to saute for an additional five minutes.
Add chicken stock, Worcestershire sauce, Better Than Bouillon Roasted Garlic Base, Tabasco sauce, white wine vinegar, Old Bay seasoning, Cajun File seasoning, sea salt, and freshly cracked peppercorns to taste. Continue to stir until all of the ingredients are incorporated.
Transfer a cup and a half of the mixture in the Instant Pot into the roux and stir until smooth. Then pour the roux mixture into the Instant Pot.
Add the crushed tomatoes and tomato sauce, stir the mixture until well mixed.
Add the Rotisserie shredded chicken meat and Andouille sausage to the mixture, select the Soup setting, secure the Instant Pot lid and lock into place, and cook for thirty minutes.
After the timer has expired, vent the Instant Pot and remove the lid.
Serve the gumbo over rice, and the crispy bacon pieces and green onion as optional toppings. (get the recipe on how to cook rice in the Instant Pot)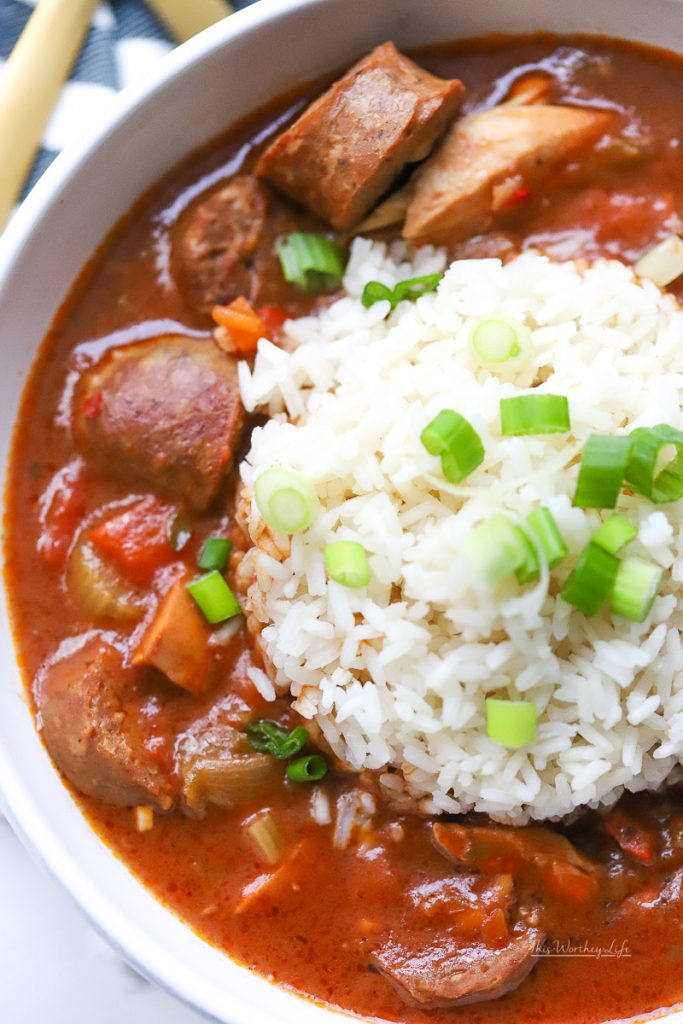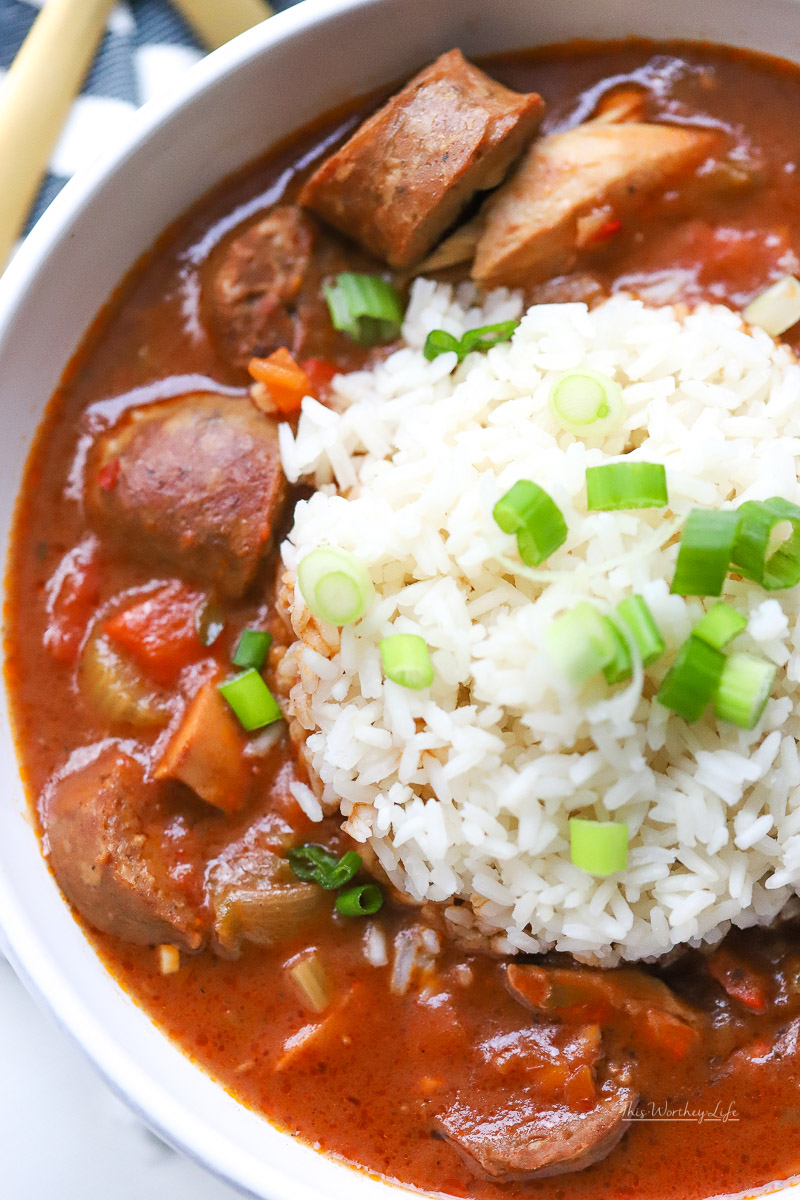 Oh, and you know how some bullion cubes expire quickly and have a gritty taste to them? Well, you don't have to worry about that when you use a quality ingredient like Better Than Bullion products, which is another thing I love and keep this as a staple in our pantry.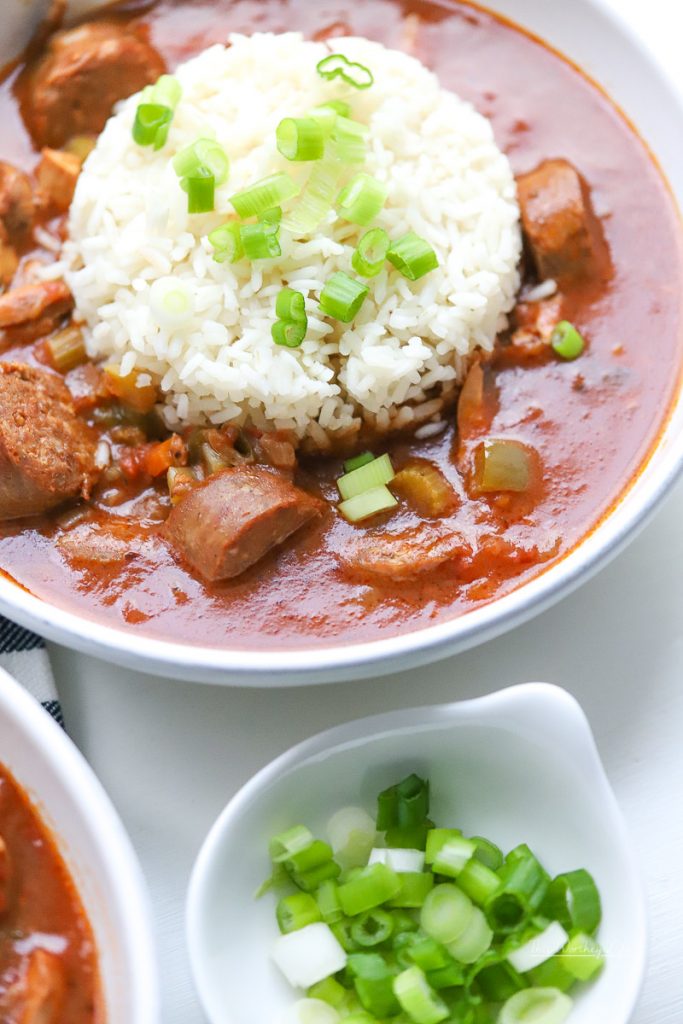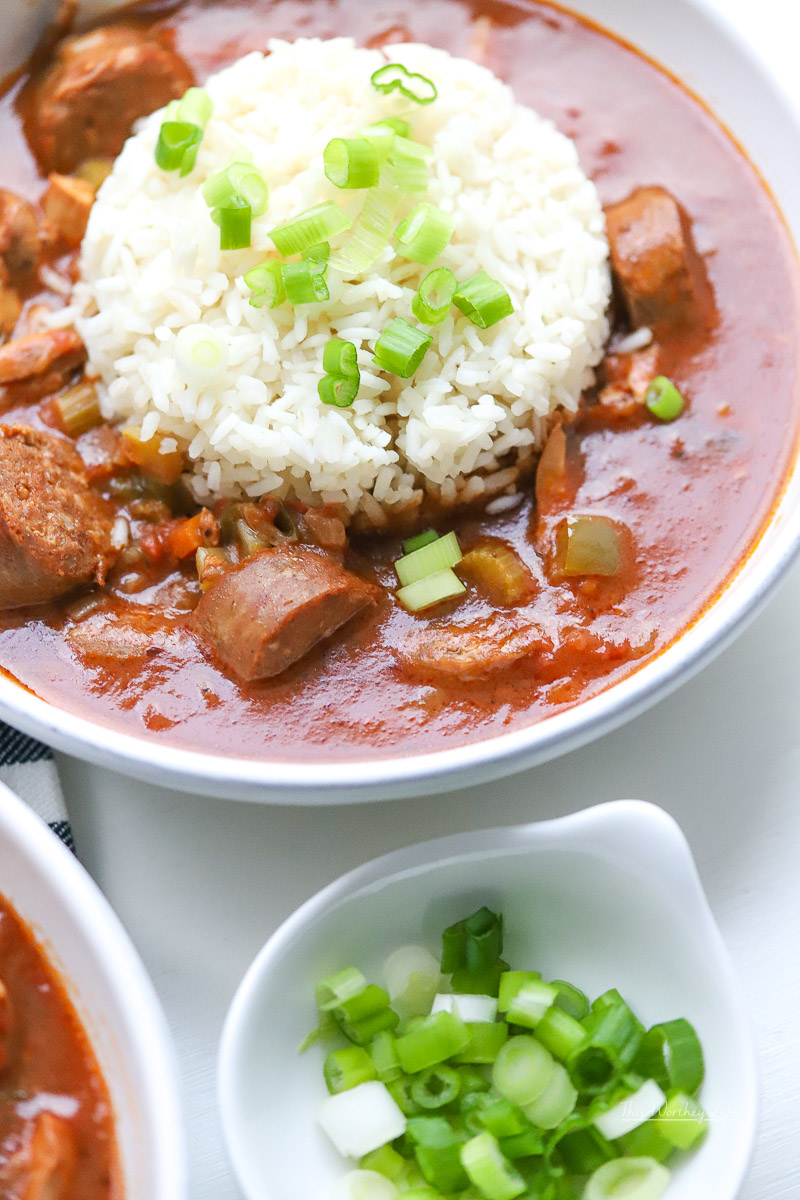 Here is a list of their products, offered in four categories:
Premium Flavors: Chicken, Beef, Vegetable, Roasted Garlic, Chili, Clam, Fish, Ham, Lobster, Mushroom and Turkey
Organic: Roasted Chicken, Mushroom, Turkey, Beef and Vegetable
Vegetarian: Vegetable, Roasted Garlic, Organic Vegetable, Vegetarian No Beef Base, Vegetarian No Chicken Base
Reduced Sodium: Reduced Sodium Beef, Reduced Sodium Chicken, Reduced Sodium Vegetable
Now it's your turn to give them a try by entering this fun giveaway going on now until November 5th, 2018.
Nine people will win a $50 Visa Gift Card, and one lucky winner will get a Better Than Bullion Variety Gift Pack-includes flavors of Chicken, Vegetable, Chili, Beef, and Garlic.
Enter down below! Good luck! I-C will randomly select winners from all program entries and will facilitate fulfillment of the winning prizes 9 winners.
Better Than Bouillon Sweepstakes