Are you looking for coffee mug vinyl ideas and an easy way to make your own coffee mug using vinyl and a Cricut? Well, I'm sharing how I made this DIY Rae Dunn Inspired Decal for my coffee mug.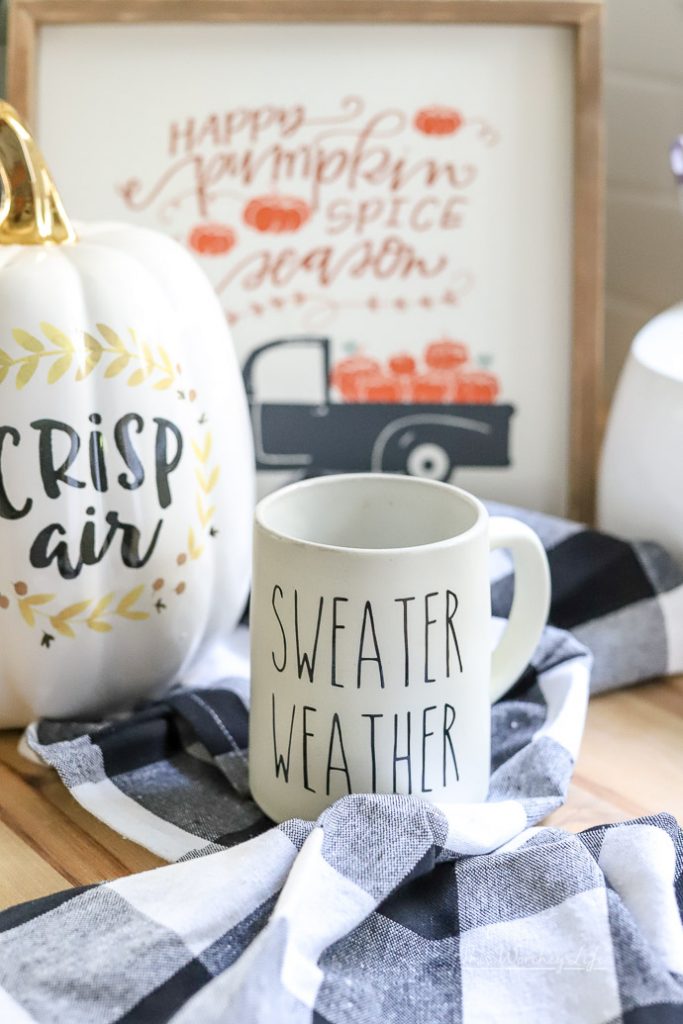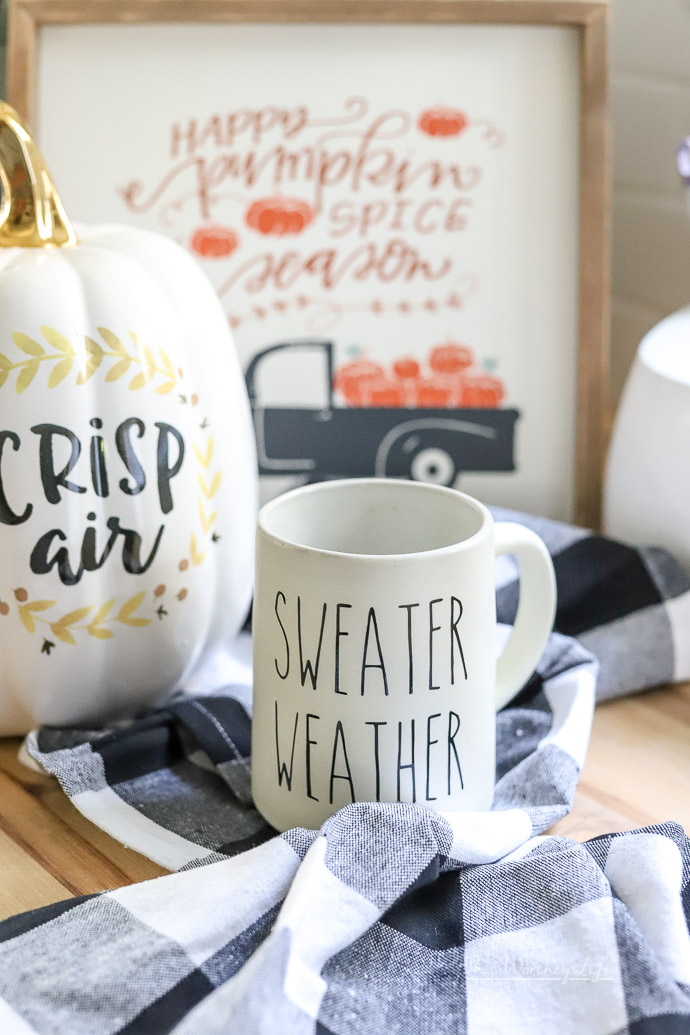 Coffee Mug Vinyl Ideas | DIY Rae Dunn Inspired Decal Coffee Mugs
I love coffee. And I love a good coffee mug. A few years ago I stumbled upon some fun mugs created by Rae Dunn and Magenta.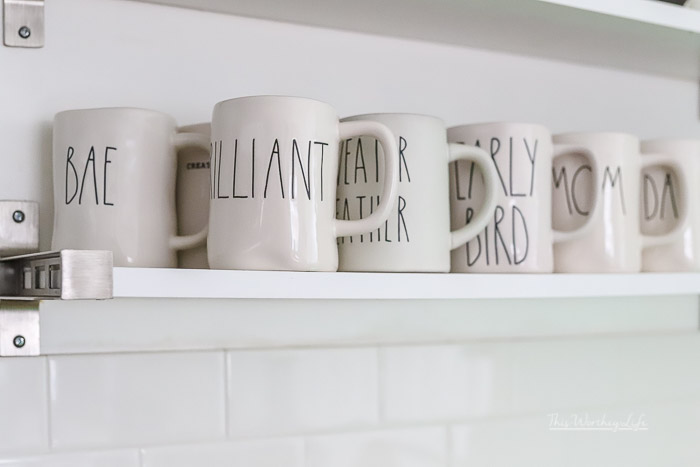 From the first time I laid my eyes on that creamy color with dimples and imperfections, I was in love. I've been a fan of wearing t-shirts with fun sayings on them and collecting coffee mugs with statements on how I feel for the longest.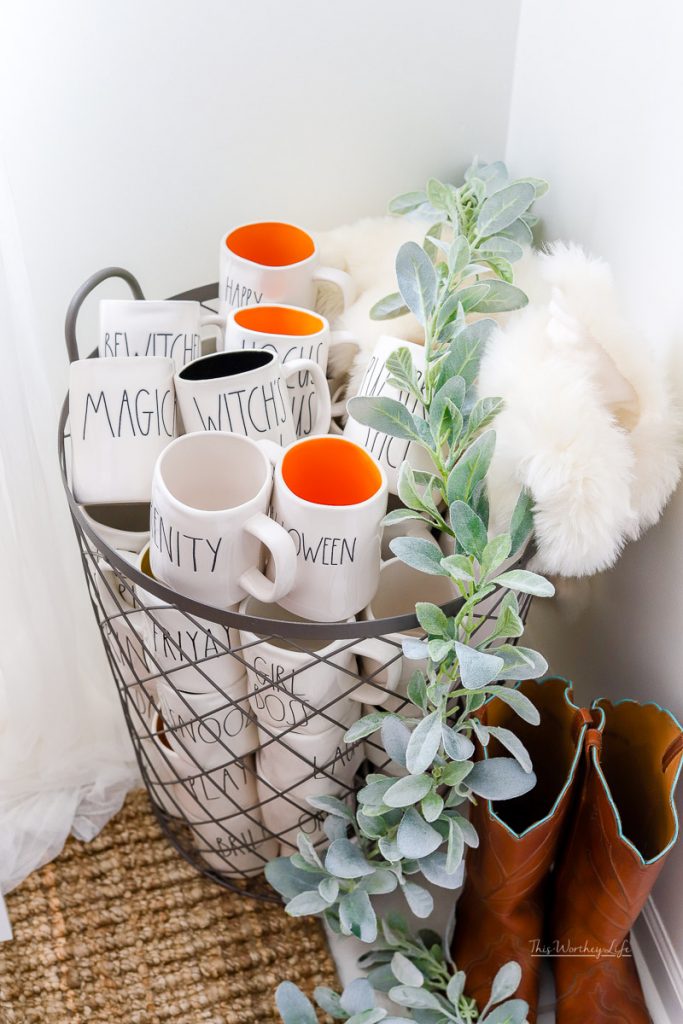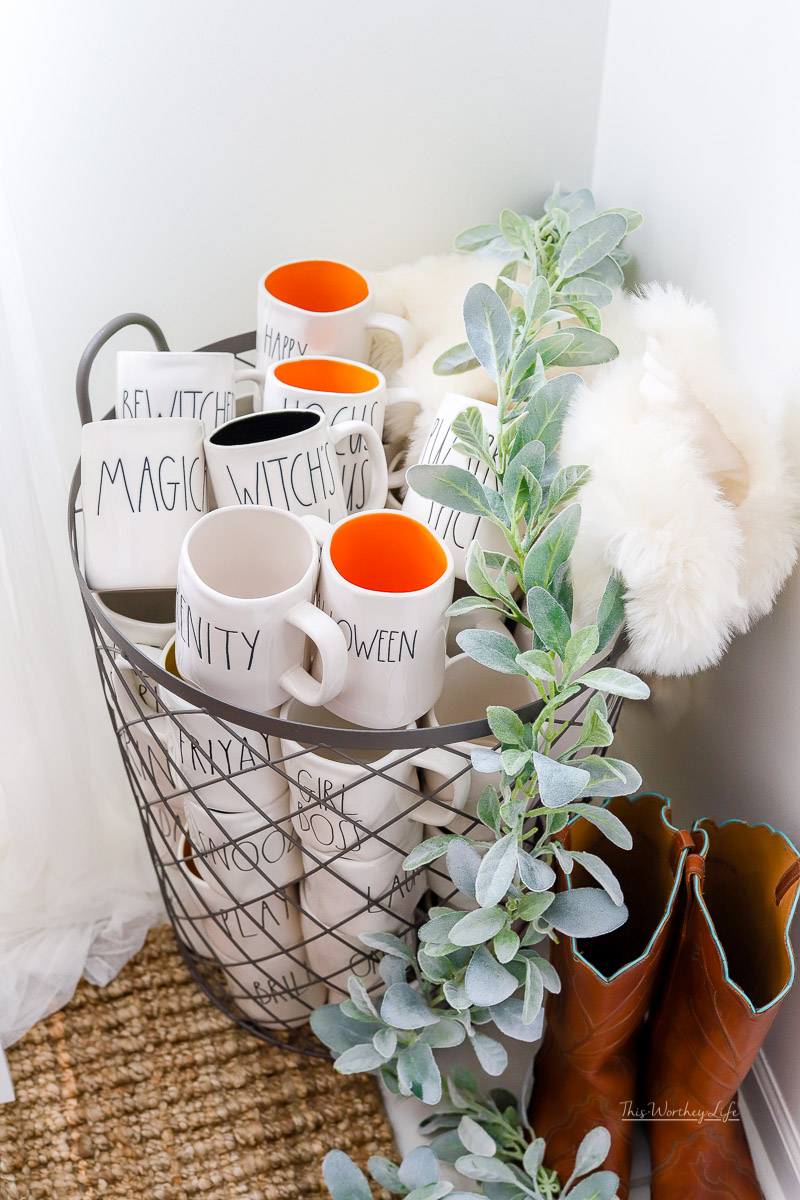 The Rae Dunn Craze
The Rae Dunn line of coffee mugs is gold. However, in the last few months, I've made the mistake of joining Rae Dunn groups on Facebook, hashtags, and profiles on Instagram. I realized my little addiction was a huge popularity thing.
Ha! Who would have thought this is such a big deal?! A piece of cheap pottery retail at $5.99 can go for $100 or more on some of these sites and places like eBay from upsellers. People are fighting in the stores over a piece of pottery.
Yes, it's pretty. But at the end of the day, what's the point of losing your morals and integrity for something that will one day have no value?
DIY ideas on making decals for Rae Dunn coffee mugs
Once I realized how popular this was, addicting and time-consuming it can be to hunt for pieces, I had to come up with another solution.
So, after some research, I figured out how I could just make my own inspired Rae Dunn coffee mugs.
After coming back and forth on sizes, what font to use, I finally figured out how to create my own coffee mugs using my Cricut.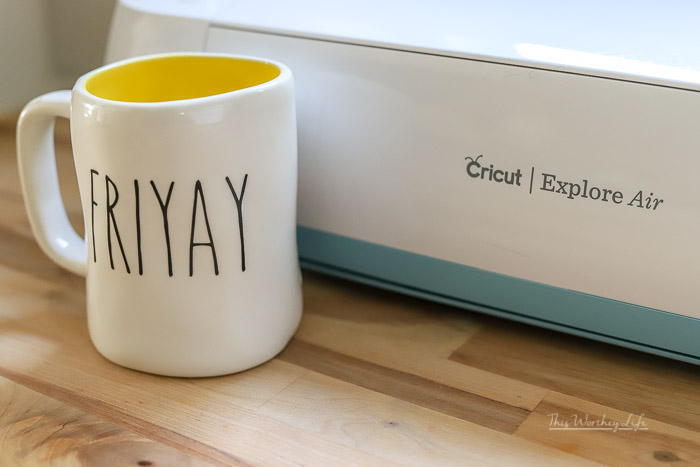 Coffee Mug Vinyl Ideas
Here's the first one. I've been looking for a Rae Dunn Friyay mug. I haven't found it (yet), so I decided to make this coffee mug with my Cricut. I just flipped the back of one of my other Rae Dunn coffee mugs. I've been asked what is the best Cricut for t-shirts and coffee mugs, and I highly recommend the Cricut Explorer Air.

Materials needed to make your own mugs with vinyl and a Cricut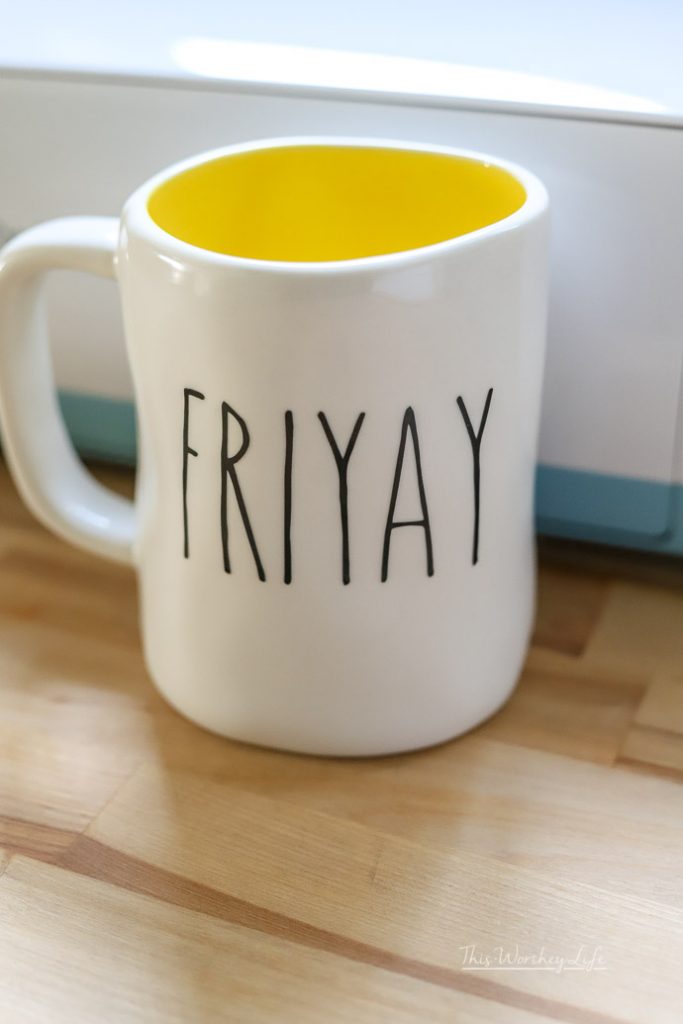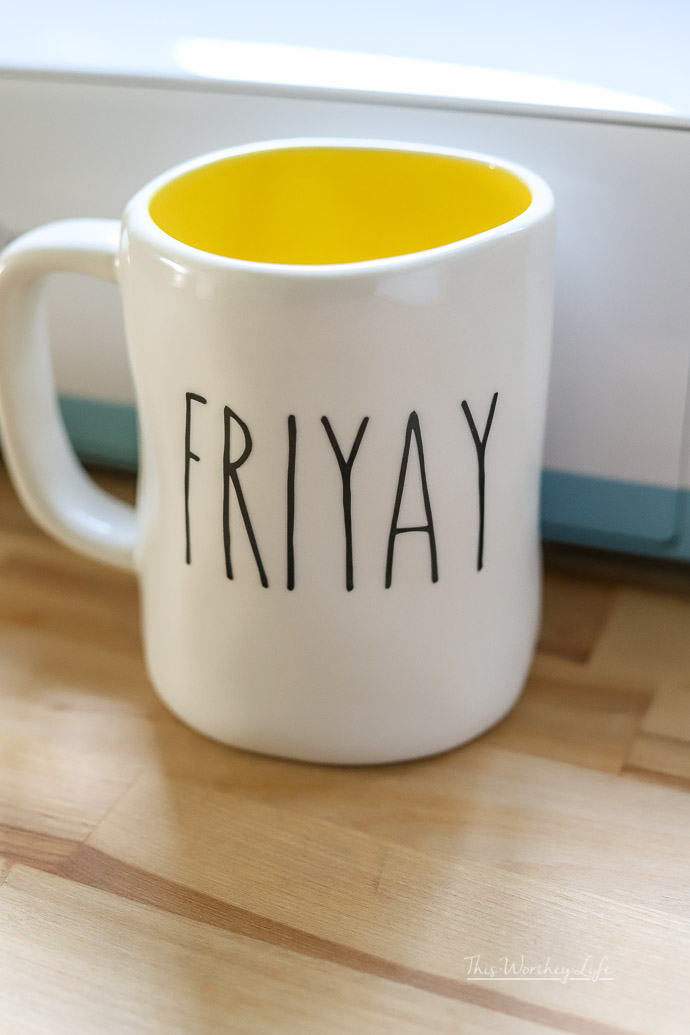 FRIYAY Rae Dunn inspired coffee mug decal using a Cricut
Here are the specs you will need to create this decal using your Cricut. (It may be similar for a Silhouette machine).
Width: 2.76
Height: 1.6
Font size: 115.6
Font: The Skinny
Letter Space: 0.4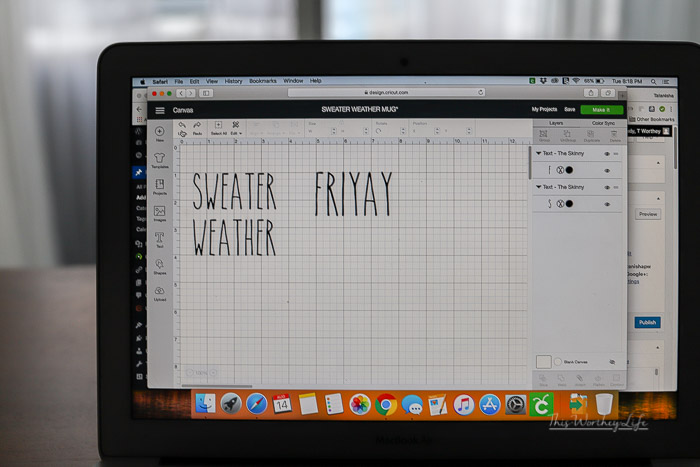 How to put vinyl on a coffee mug with a Cricut
You will need to download the Rae Dunn inspired font. For this coffee mug, I used The Skinny font; you can download it here for FREE.
Once you have downloaded the font on to your computer and tablet, you will need to add the font to your computer.
Depending on the type of computer (Mac/Windows) you can learn how to upload the font to your computer by reading this.
Then open up the Cricut Design Space and start a new project.
On the left hand of the screen, click on the text icon.
Then at the top of the template, click on the font menu. From there, click on system and search for The Skinny Font. If you installed it correctly to your computer or tablet, it should come up right away. Click on The Skinny Font.
Next, type in what you want your coffee mug in the Rae Dunn inspired font to say: FRIYAY
After you have your word/quote/statement, then arrange the font size based on the specs I listed above. Now, if you're writing more than one phrase, like SWEATER WEATHER or something else, then you will need to adjust your font size. (see below for the specs for SWEATER WEATHER)
Follow the instructions in the Design Space to cut the quote out of vinyl.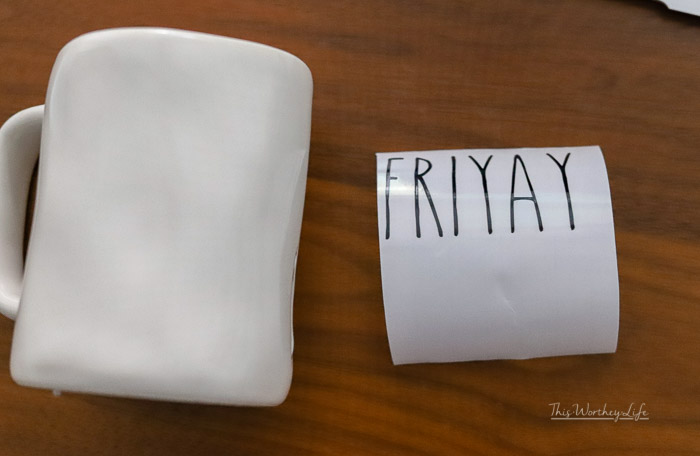 How to put vinyl on a coffee mug
Peel the vinyl off (keep it all intact) the mat.
Using the Weeder tool, carefully weed the word. This is where you need to be very careful, so take your time.
Once you have completed this, carefully pull the front of vinyl off. You want to make sure the letters stay on the back of the vinyl.
After this step, take a piece of transfer tape and peel off the back of the tape. Take the front of the tape (the sticky part), and place it across the word. *tip- I cut the pieces of vinyl and tape down and took off excess paper. This helped make it easier to work the transfer tape and vinyl.
Press the vinyl onto the coffee mug, starting in the center and move outward.
Peel the transfer tape away from the vinyl at a 45-degree angle.
Line up the word on the mug and use a scraper (or credit card) to make sure the vinyl is stuck on.
Remove the transfer tape.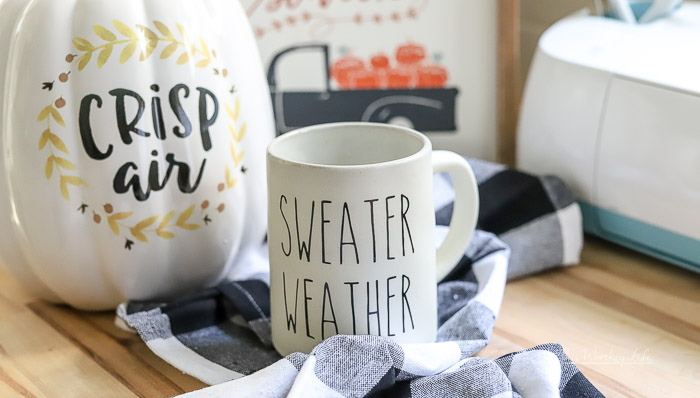 Sweater Weather Rae Dunn DIY Inspired Mug
Specs:
Width: 3.029
Height: 3
Font Size: 94.68
Font: The Skinny
Letter Space: 0.4
Line Space 0.9
Follow the same directions listed above to make the Sweater Weather decal.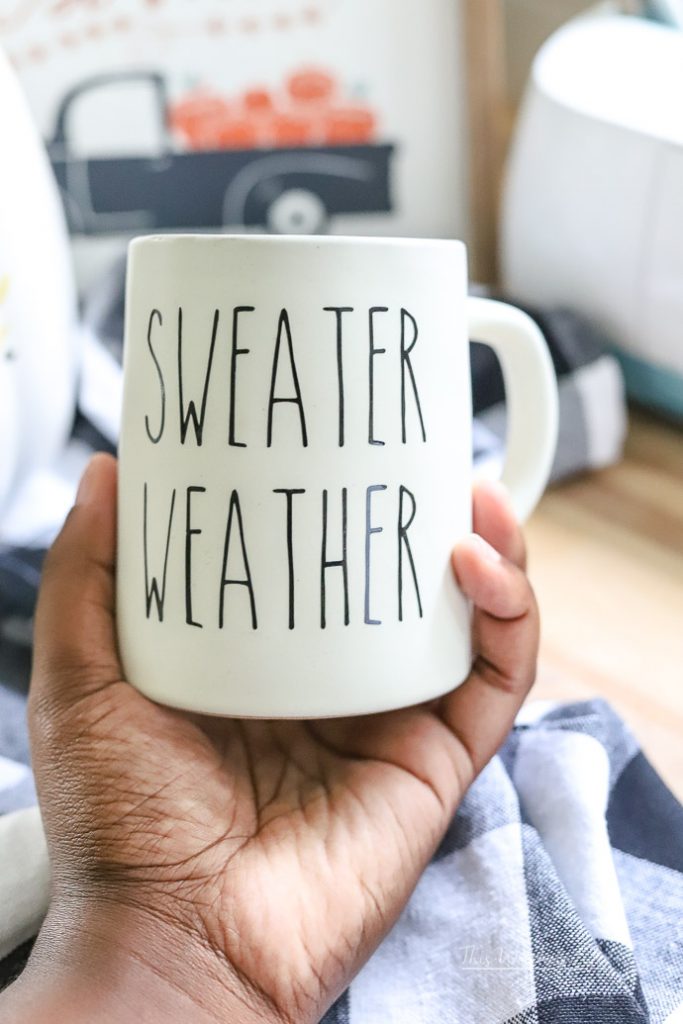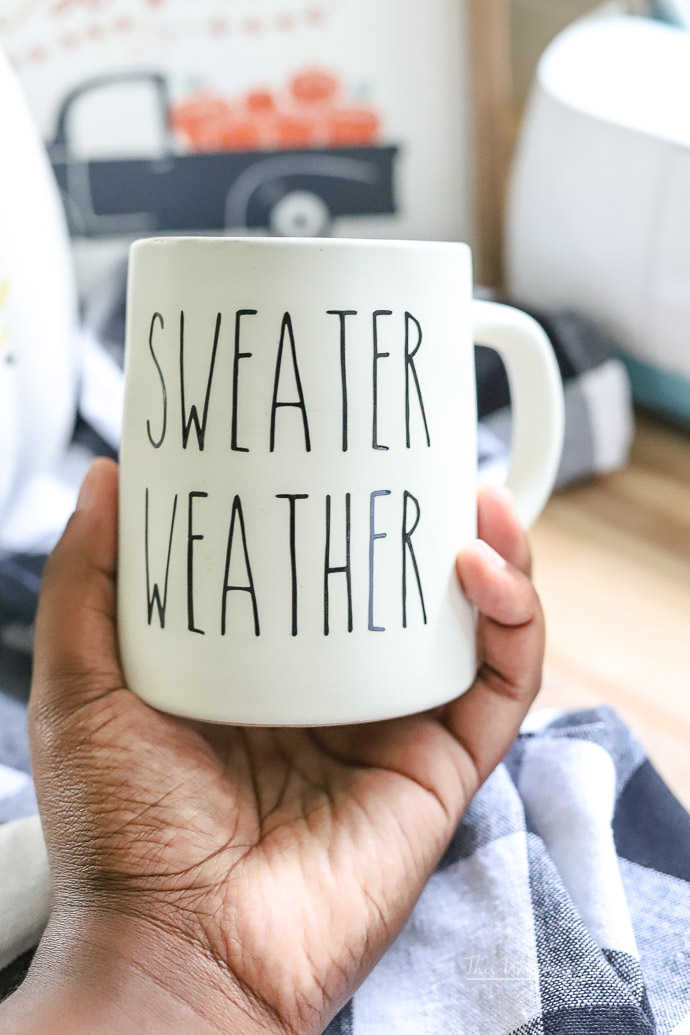 I love how this vinyl decal inspired by the Rae Dunn font turned out. Using Chip and Joanna Gaines' Hearth + Hand ceramic mug is the closest thing I've found to a copy of the Rae Dunn mug.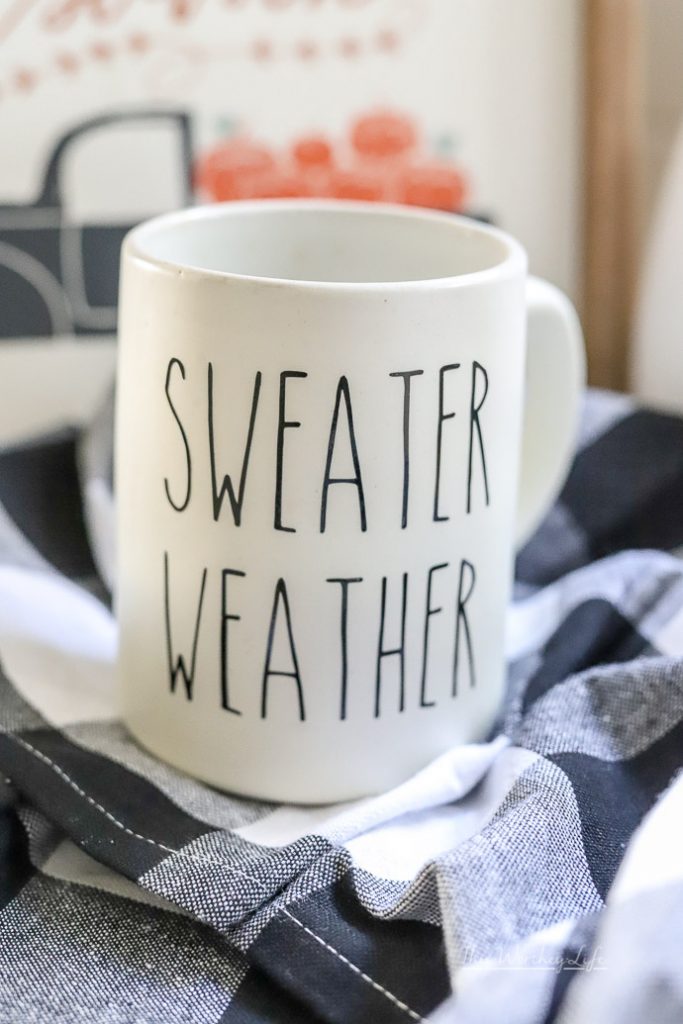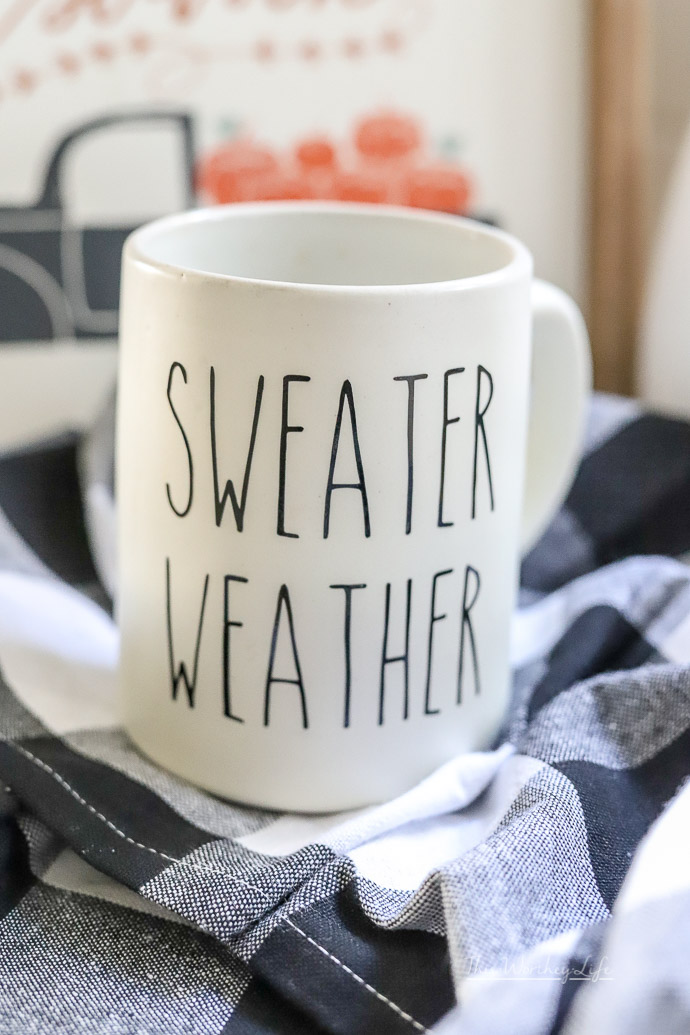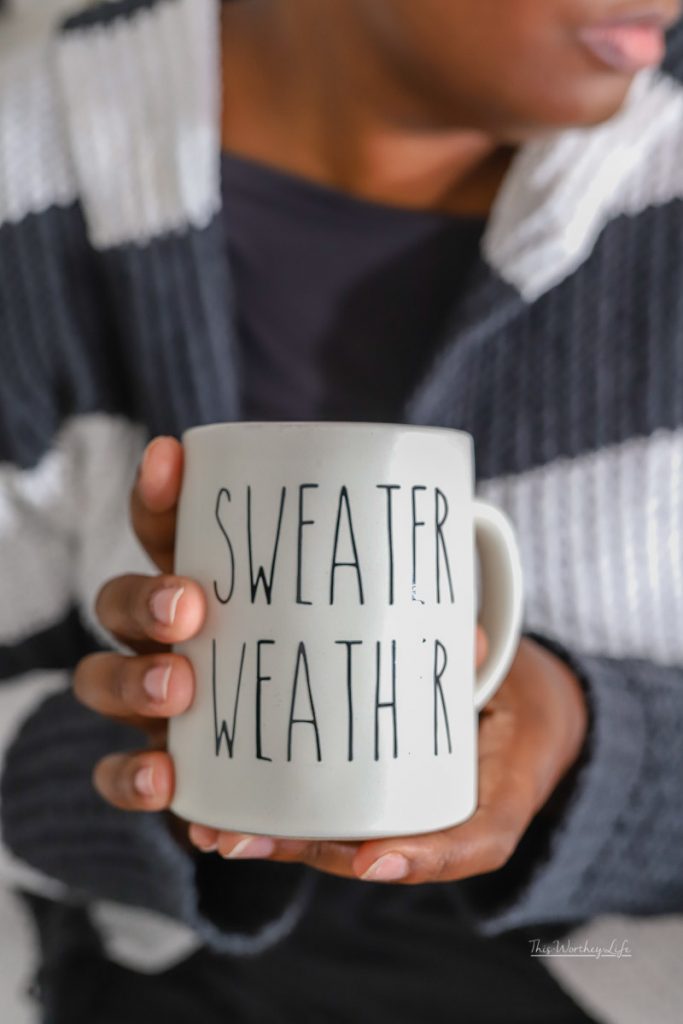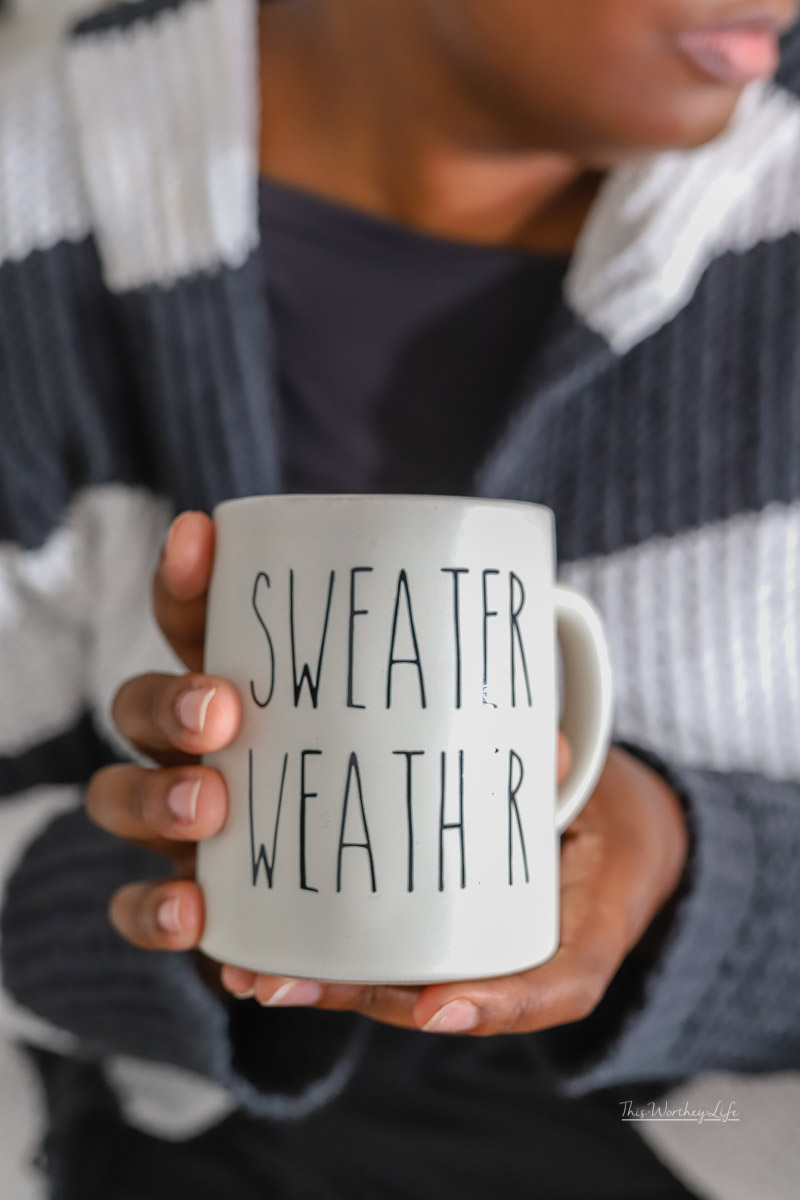 Feel free to check out my other projects using a Cricut
{and stay tuned for a new mug idea using a different Rae Dunn inspired font!}
Scrabble Letter Tiles – A DIY Cricut Project
DIY Bloom Where You Are Planted Mason Jar Project