If you need some ideas on how to celebrate Earth Day, check out this list of 11 ways for your family to unplug and connect on Earth Day. Plus free Earth Day activity printables.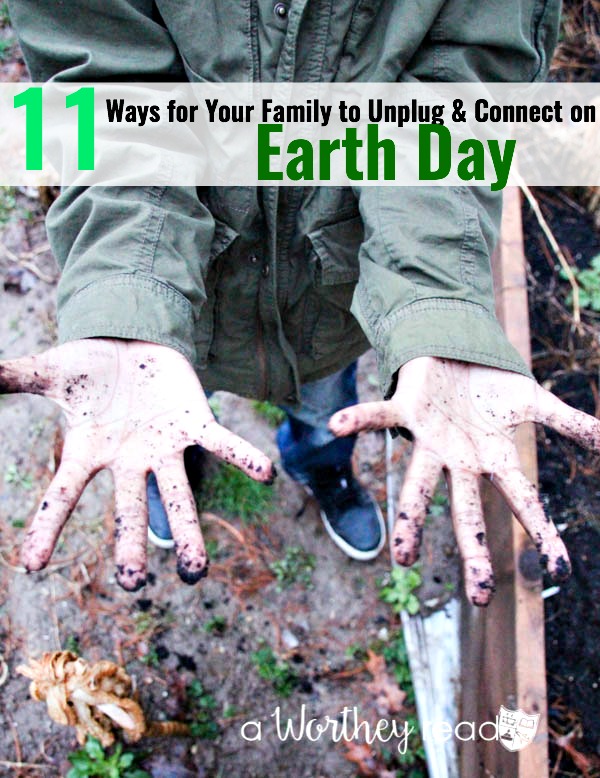 How to Celebrate Earth Day | Free Earth Day Printables
As a mom of three techy boys, I do my best to find the means to get them to unplug from all of their gadgets. I can't fault them for wanting the latest tech product; I created this monster as a gadget geek myself. However, over the past few years, I've been intentional about getting the whole family to unplug and spend time with each other. In today's ever-growing society, it's easy to get caught up in the social media buzz, video games, computer gadgets, movies, TV, etc. I believe each of these things has a place, but it's all about having a balance. And with the ever-changing climate, we must model and teach our children about taking care of our Earth.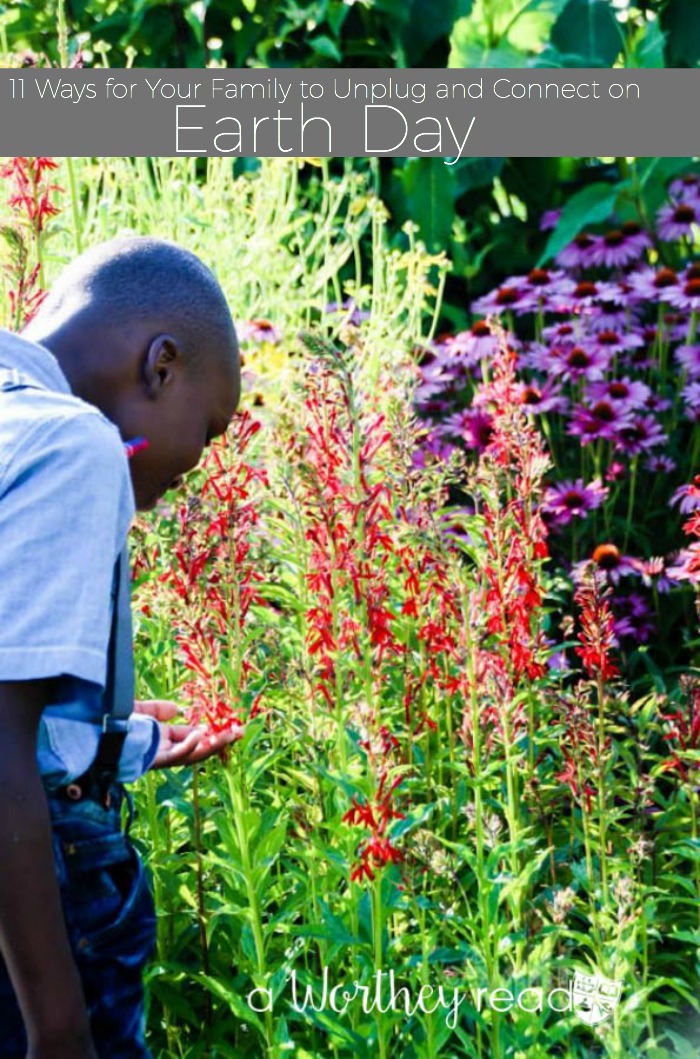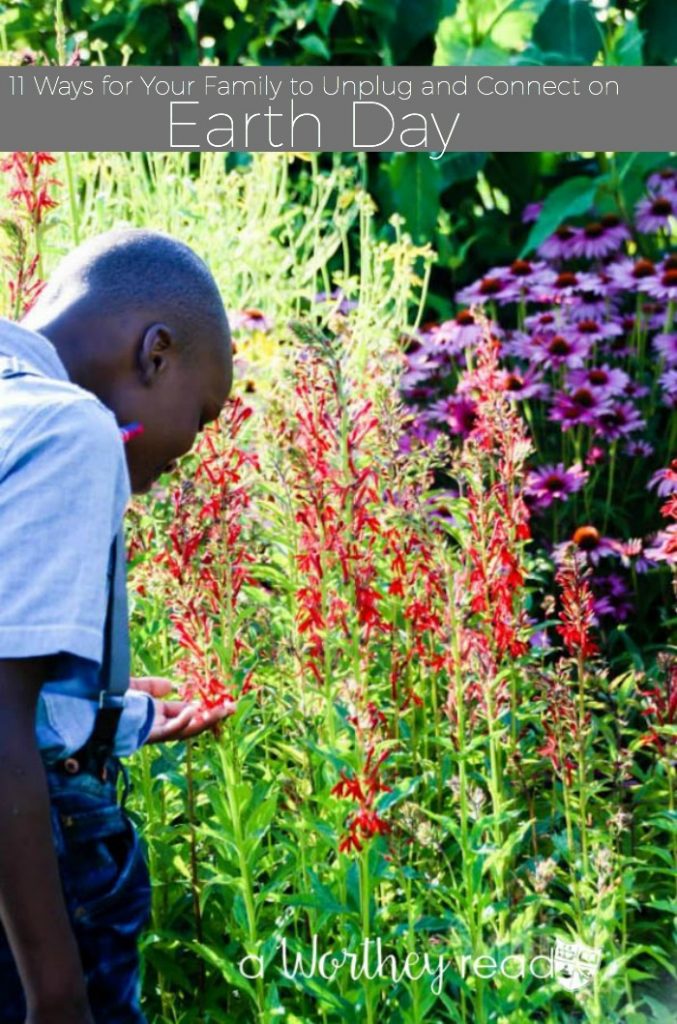 Teaching your kids to respect and care for the earth should be a year-round thing, but Earth Day is a great way to focus and reset for the upcoming year. It's easy to sit and watch a movie about Earth Day, but I've learned children thoroughly understand when they get to put their lessons into action. Teach them through books, but even more importantly through hands-on experiences and reconnect as a family as you unplug from technology and learn to give back to the earth. I'm sharing a few ways you can combine serious projects with fun snacks and activities to keep little ones engaged and interested.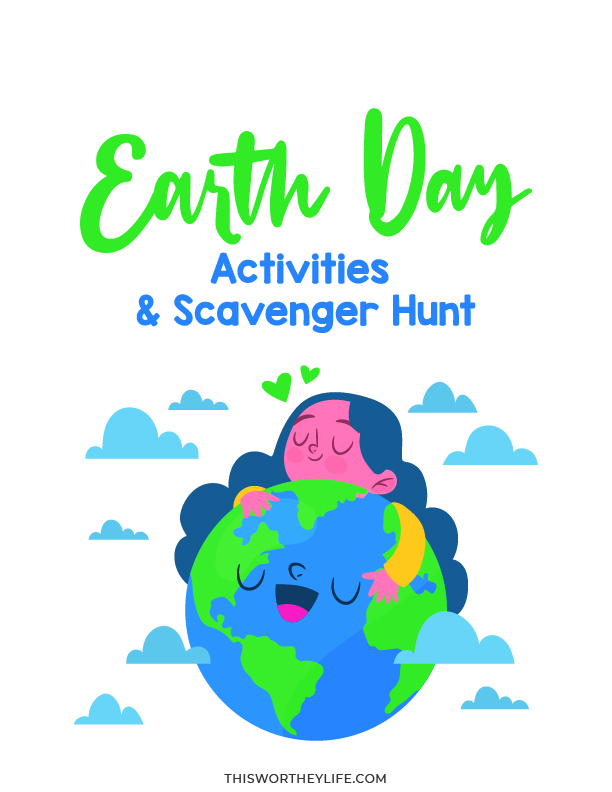 Ways to Celebrate Earth Day!
1. Plant a tree. Plant a new tree or multiple in your yard to celebrate Earth Day and beautify your space. You can also plant a tree or a whole grove in US National Forest in someone's honor for $9.99- a great gift idea for family and friends. We are considering doing in honor of my Mom (who passed away in 2014) and Derrick's Mom (who passed away in 2015).
2. Set Up a recycling station. If you are not already recycling, locate your local recycling facility or program. Use their approved containers or set up your containers to sort recyclable aluminum, paper, and plastic are a great start. Keep them in the garage, shed, or on your pantry floor. Let the kids make and color fun labels for each.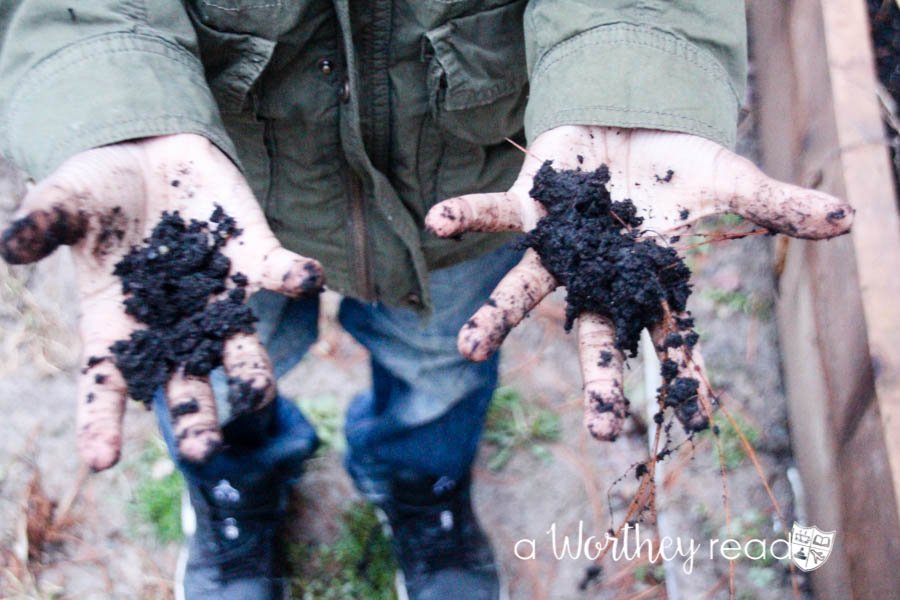 3. Start composting. Composting is a great way to reduce your kitchen waste and create a healthy and free soil additive for your garden or container plants. Set a bowl or use a compost canister on your counter to transfer several times per week to the outdoor composter. You can see what is okay to compost here. This is something we are going to do this year as a family. We have talked about starting a compost for a few years now, and it just hasn't happened. But since I want to teach my kids about reusing and reducing waste, this is the perfect time for them to learn!
4. Start a Garden. We're going on our fourth year of having a garden. Derrick typically handles getting the garden going each year, while the rest of us work with him to help maintain it. We are waiting for planting season here in Michigan before we can get started. Depending on where you live, this could be an excellent way to celebrate Earth Day. Last year, our garden produced so much kale and greens, we were giving it away to whoever wanted to come over and pick a bunch.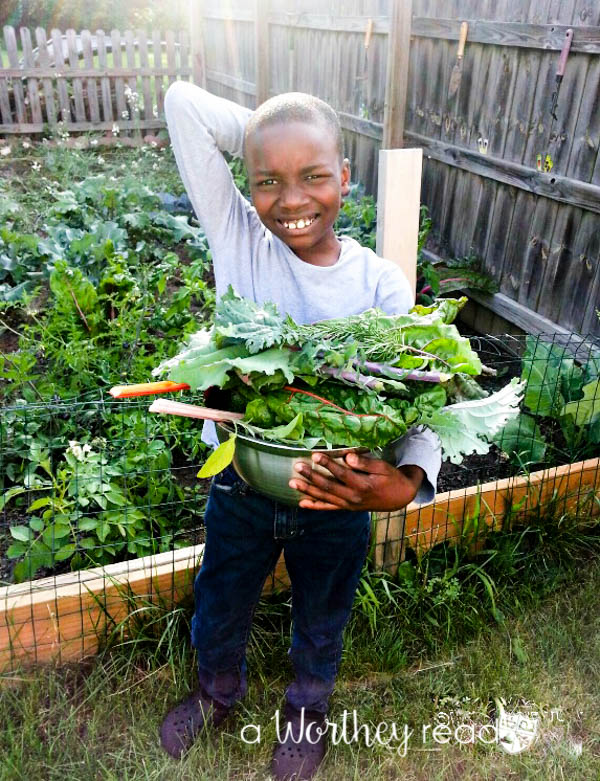 5. Clean up the park/beach. Many organizations set up Earth Day cleanups at beaches, parks, roadsides, and other locations. Gather your family and friends to pitch in together to clean up in your neighborhood or a local beach. Earlier last week, we drove away from a store, and Ziah commented on how much trash was lying on the ground. He also talked about all of the garbage from their school and how people should not litter. I challenged him to get a few friends together and pick up trash at lunchtime or after school.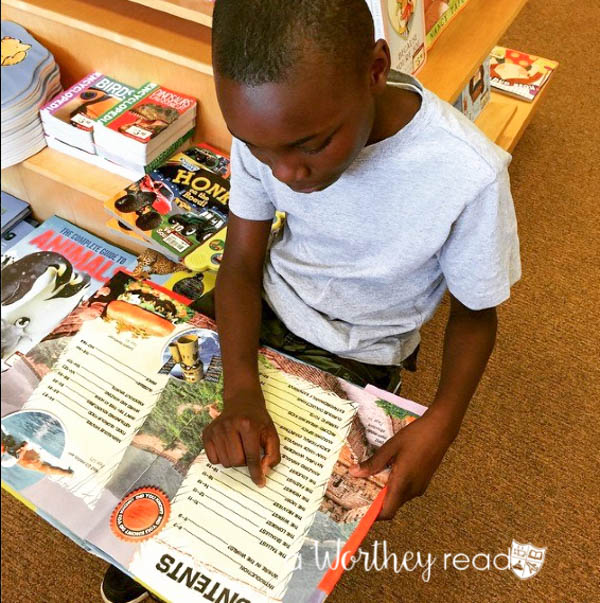 6. Read some books on Earth Day. Check out a few books on caring for the Earth to teach, and set an excellent example for your children. This gets younger children interested and excited about Earth Day. Here are a few of our favorite go-to books about the Earth: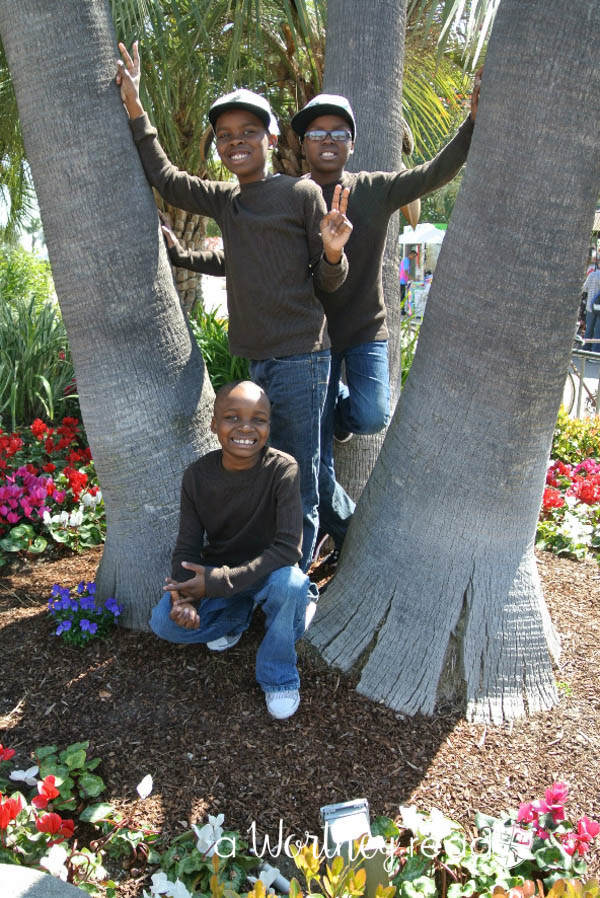 7. Organize an Earth Day block party. Extend the knowledge outside your family and get the entire neighborhood involved. Make invitations (on recycled paper, of course) and bring everyone together to celebrate and brainstorm all the ways you can make a difference in the community and the earth as a whole.
8. Walk whenever you can instead of drive. Show your kids how to reduce your carbon footprint and be kinder to the earth by walking or riding your bikes whenever possible instead of driving. Go as a family and make it a bonding experience.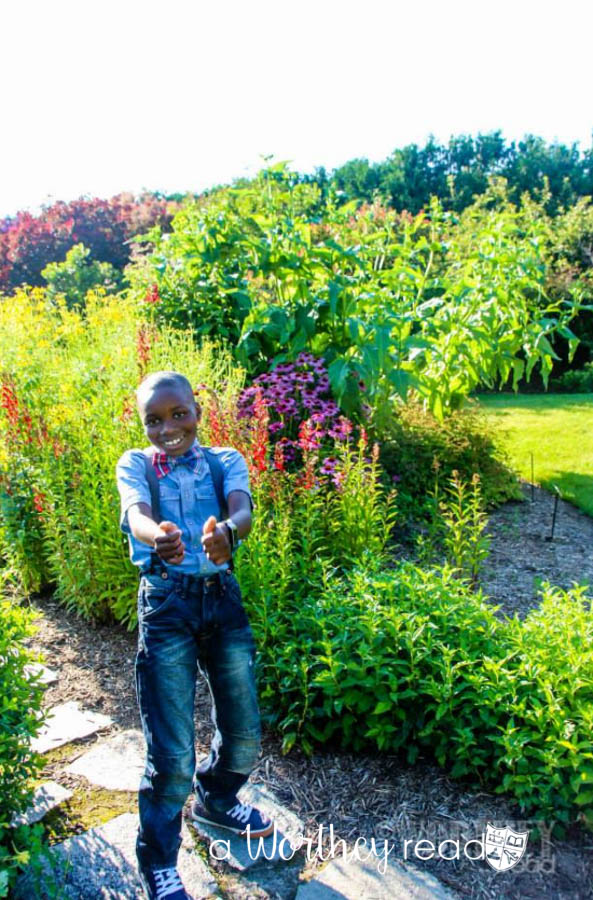 9. Celebrate with Earth Day snacks. Enjoy Earth-themed snacks with your family: blue and green earth cupcakes or cookies, dirt and worms pudding, or maybe even something you have grown with your hands. Visit the organic farmers market to choose some fresh fruits and veggies.
10. Research ways to reduce waste. As a family, research ways to reduce, reuse, and recycle. Vow to turn off the water while brushing your teeth, turn off lights when not needed, walk instead of drive, volunteer to clean up local parks, and plant trees. Learn how to lessen your carbon footprint and work together towards it as a family.
11. Clean out. Find out what products in your home are harmful to you and your family as well as the environment. Commit to replacing them with natural alternatives cleaners, body products, air fresheners, etc. Be sure to dispose of them properly.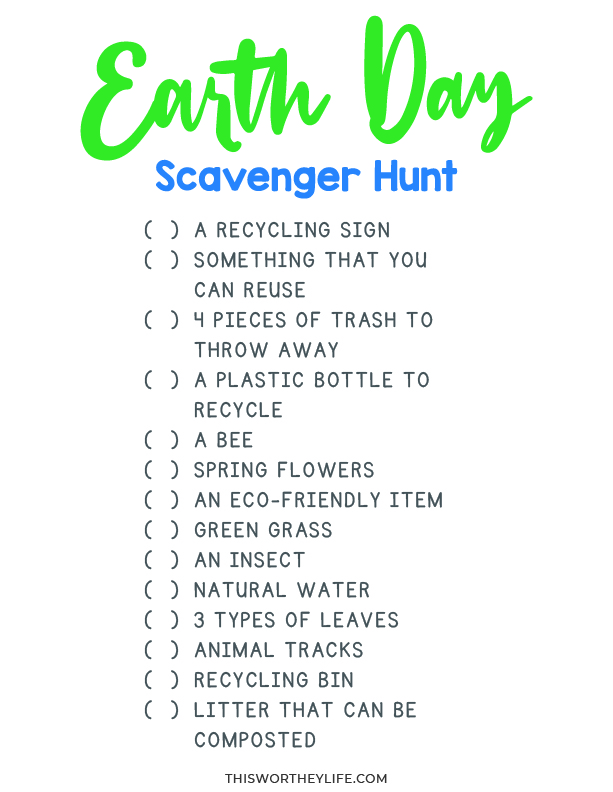 12. Celebrate with these free Earth Day activity printables. Here is a fun family activity to do together on Earth Day. Use our free Earth Day packet and print out these printables to use on Earth Day.
Earth Day bucket list
Do you need some suggestions on what to do for Earth Day? Print out this bucket list of Earth Day activities to use on April 22nd!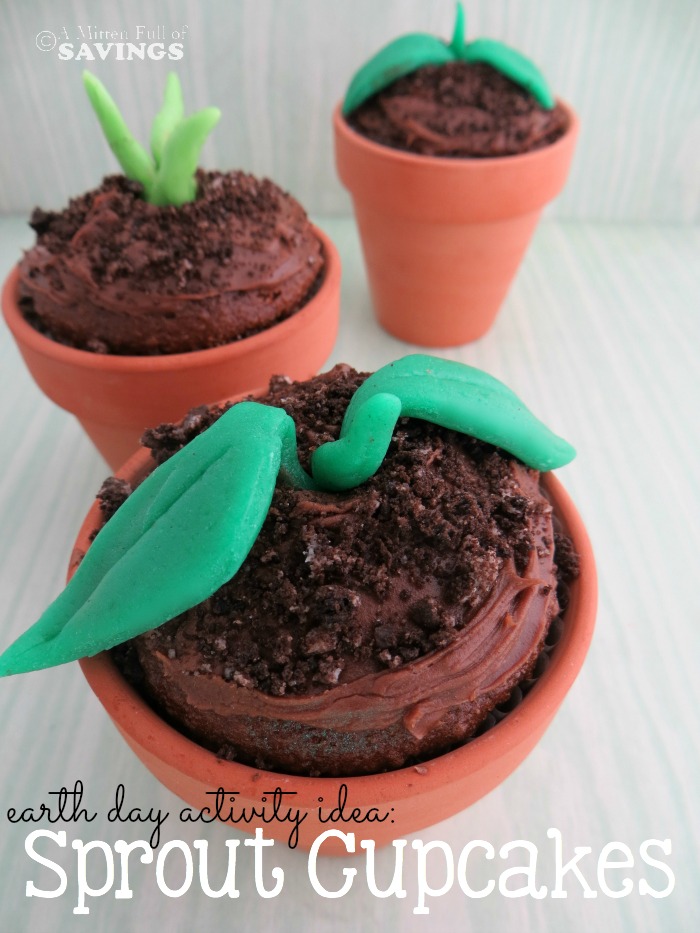 Sprout Cupcakes: Fun Earth Day Edible Activity
Here is another fun activity and way to celebrate Earth Day with your family. Plus, it's a treat everyone can enjoy together!
Yields: 24 cupcakes
Ready in 60 minutes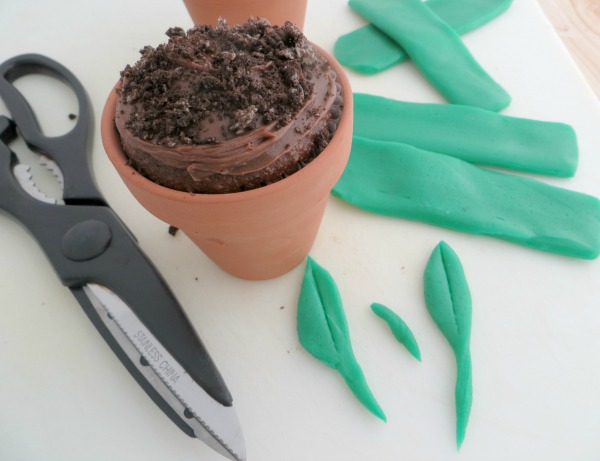 Ingredients:
1 box chocolate cake (plus required ingredients)
1 container chocolate frosting
1 package chocolate sandwich cookies
Green taffy
Additional Materials: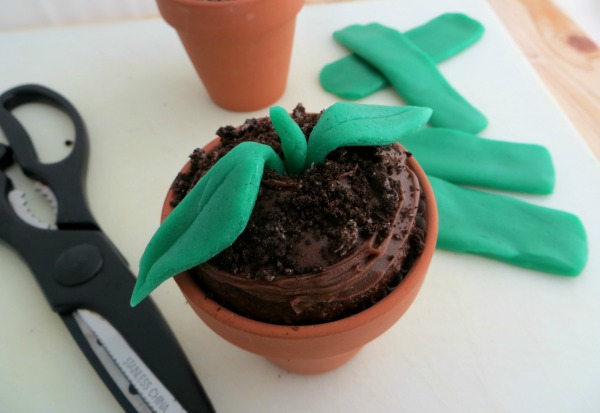 Directions:
1. Prepare cupcakes as directed on box. Allow to completely cool.
2. Place chocolate cookies in a large resealable bag and use a rolling pin to crush.
3. If using terra-cotta clay pots, place one cupcake (still in the liner) inside of each pot, and then continue with the following steps.
4. Spread a layer of chocolate frosting on each cupcake. Sprinkle crushed Oreos on top to create the appearance of dirt.
5. Using kitchen scissors or a sharp knife, cut out leaves and sprouts from the taffy. Place a sprout in the center of each cupcake.
Note: The terra-cotta clay pots shown in the final photo are 3 for $1 at Dollar Tree.
These are all great ways to unplug and celebrate Earth Day together as a family. However, don't let it just be a once-in-a-year activity. Come together as a family and decide which activity you will continue to do every day (or as often as possible). For us, it will be starting a compost, and of course, getting our garden going! Most importantly, take the time to spend together as a family. Even if it means just going out for a bike ride, a walk through your local community Garden, or pitching a tent in the backyard and stargazing, unplug and connect!