Summer is in full swing, and we're enjoying hanging out in our backyard. We started collecting outdoor games we could play together as a family. We're sharing some of our best backyard family games everyone will love.

15 Best Backyard Family Games Everyone Will Love
I'll be the first to tell you how much I love summertime–the longer days, the endless outdoor entertainment possibilities, getting fresh herbs and +veggies from the garden, and enjoying our outdoor space, known as The W.
One of the things I don't care to do all summer long is the constant trips to the grocery store.
With three teen boys at home all summer, we go through a lot of food.
And since they've been home since last March (thanks to the pandemic), I'm always looking for fun things we can do as a family.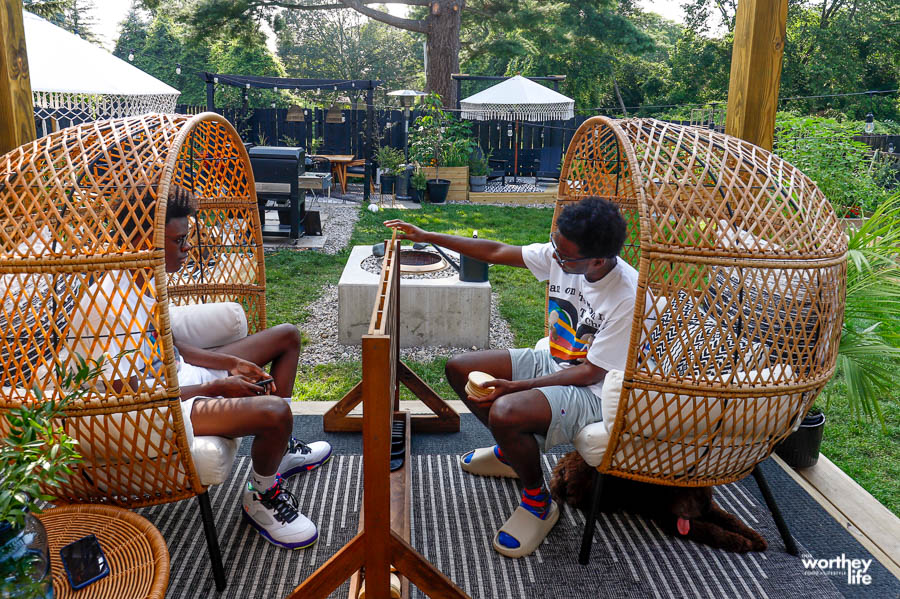 That's why I created a Summer Bucket List for Teens, and you can modify it for children of all ages.
Today, I'd like to hone in on one way for everyone to get that 90 minutes of outdoor play each day, and the whole family can get involved.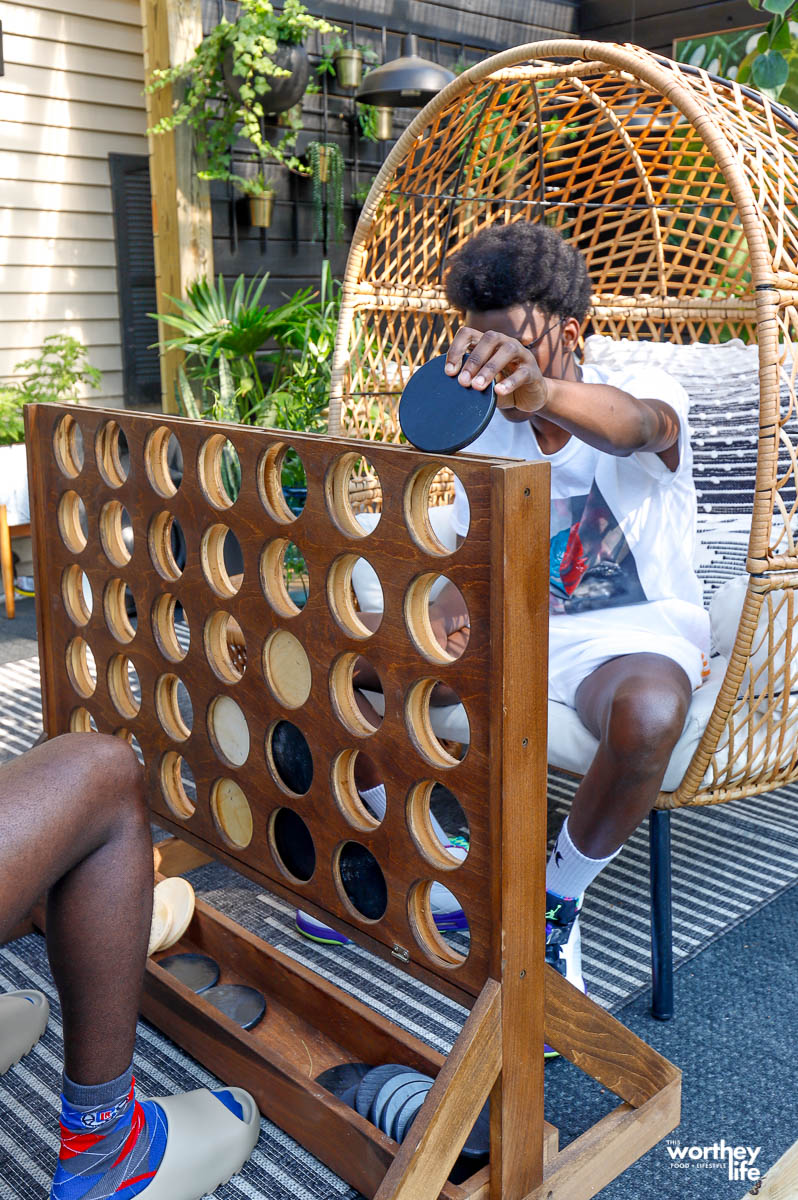 Whether you're traveling to new places, camping in the great outdoors, or making the most of your staycation, outdoor games are a great way to bring the whole family together.
I've gathered up the Best Backyard Family Games Everyone Will Love.
They're sure to generate fun, laughter, and of course, the ultimate bragging rights.
I don't know about your house, but everything is a competition in this house.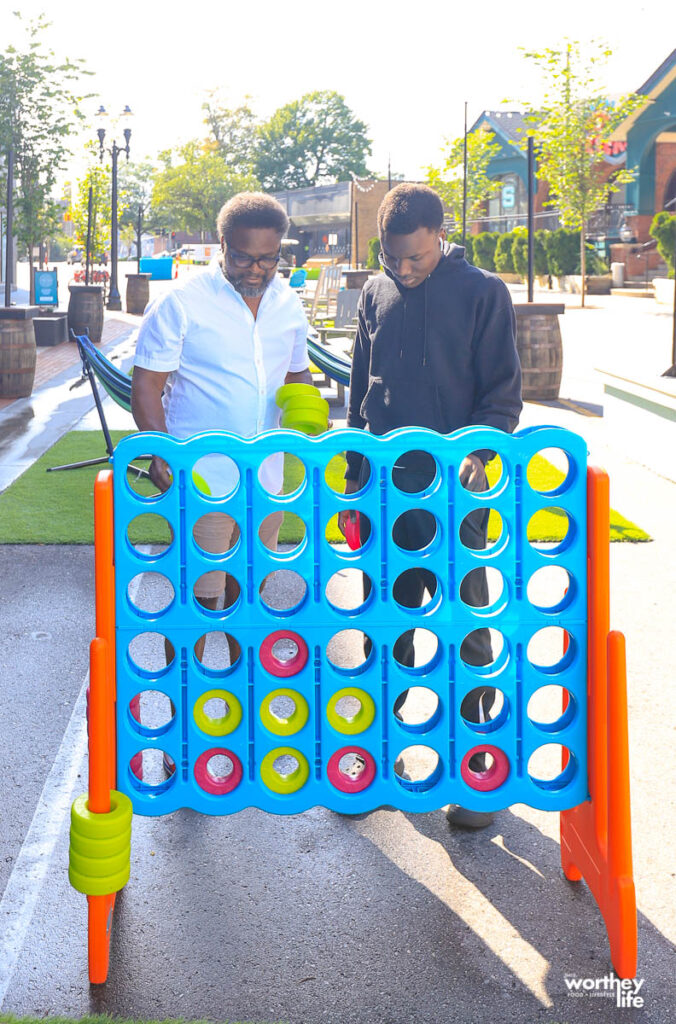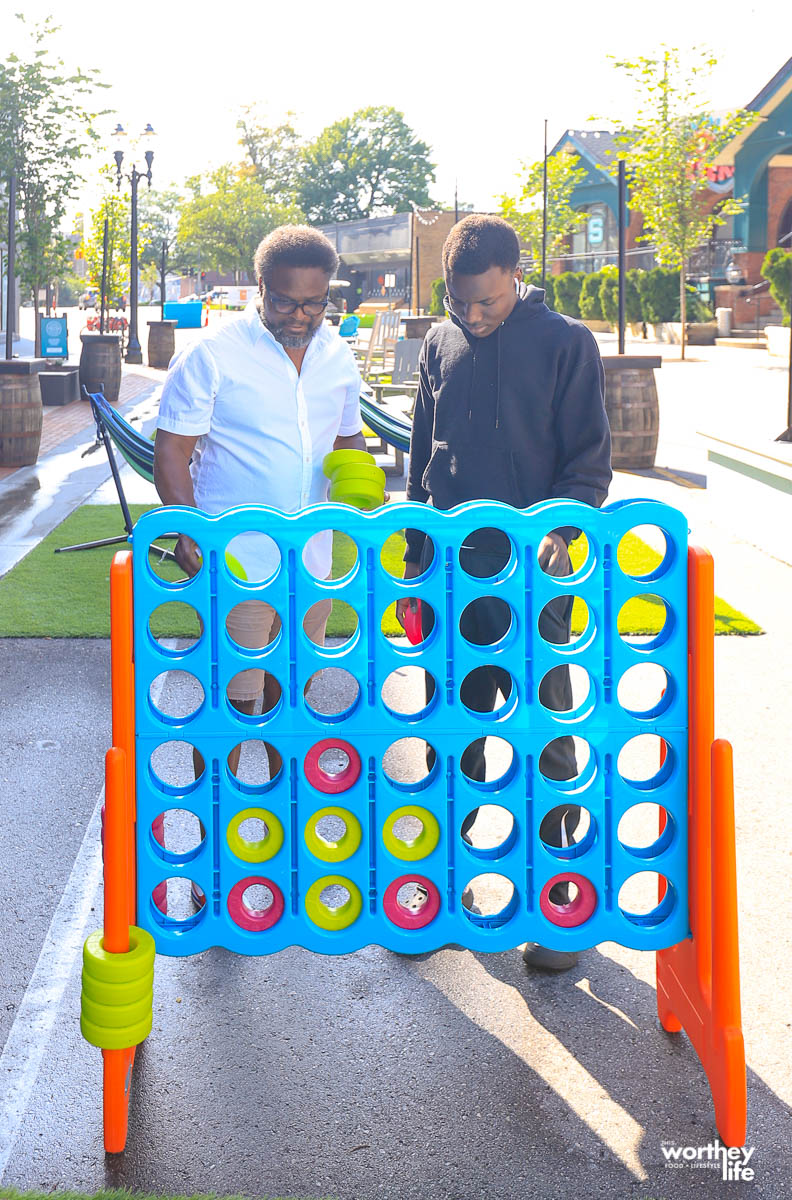 Best Backyard Family Games–What to Look For
There are several factors to consider if you're looking for the best outdoor family games.
You want to ensure everyone has fun, not just older or younger family members. From experience, as long as everyone isn't too competitive, any yard game will be a blast.
Age Range
If you have several children who span a wide age range, try selecting several yard games that everyone can play. Toddlers and younger kids have a shorter attention span, so they may be able to play a part of a multi-round game before wandering off to another activity.
Number of Players
Many outdoor games are for 4 or more players, but it's best to check and make sure you're choosing something that involves everyone.
Of course, you can always play in rounds, or you can switch out players on teams.
Available Space
Regardless of the outdoor games for kids and families, you decide on, it's wise to be aware of how much space you need to play them.
For example, if you live in a residential area with close neighbors, a yard game like dodgeball or kickball may result in a broken window (and a very grumpy neighbor!).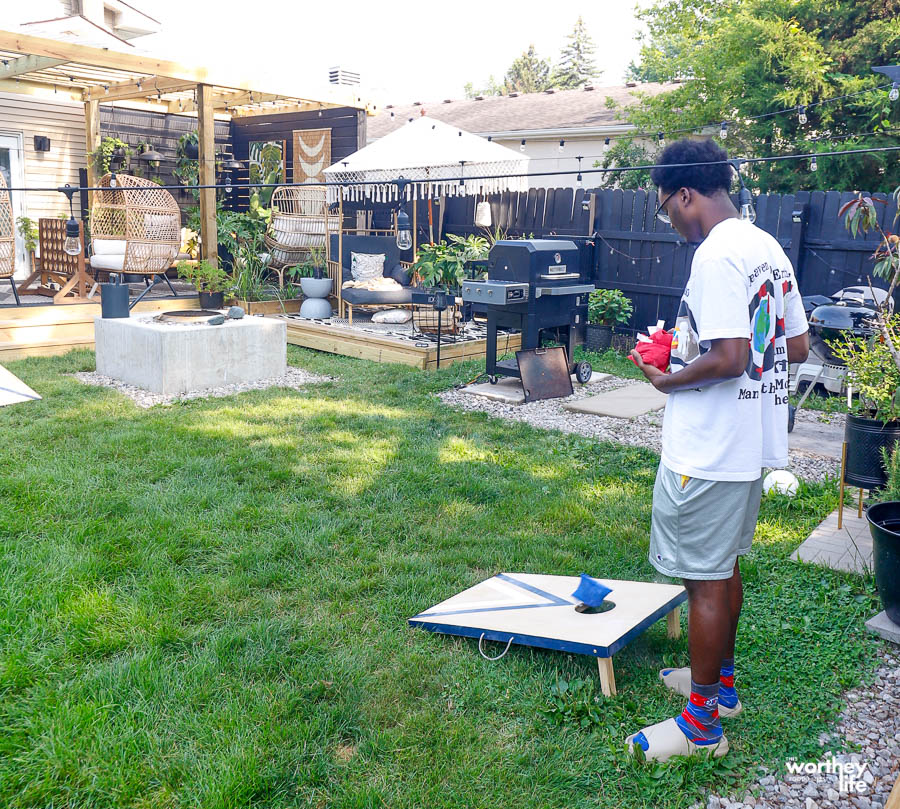 Best Backyard Games Everyone Will Love
I like many of these outdoor family games because you can use existing items in your home or find inexpensive supplies at your local dollar store.
I always enjoy DIY projects, but there are also some great commercial games out there that your family is sure to love.
Minimum Age: 12+
Number of Players: 2-4
This volleyball-style outdoor family game is perfect for any outdoor setting, including the beach and campsites.
The goal is to hit the ball into the net; each team only has 3 hits. The first team to 21 points wins!
Minimum Age: 5+
Number of Players: 2 or more
Setting up a Nerf obstacle course is a breeze with these easy DIY targets, and the best part is, there is no danger of broken windows next door!
All you need for the targets are glue, medium and large party plates, cardstock, and a few other basic items. Then, create a point system and hold a Nerf shooting competition!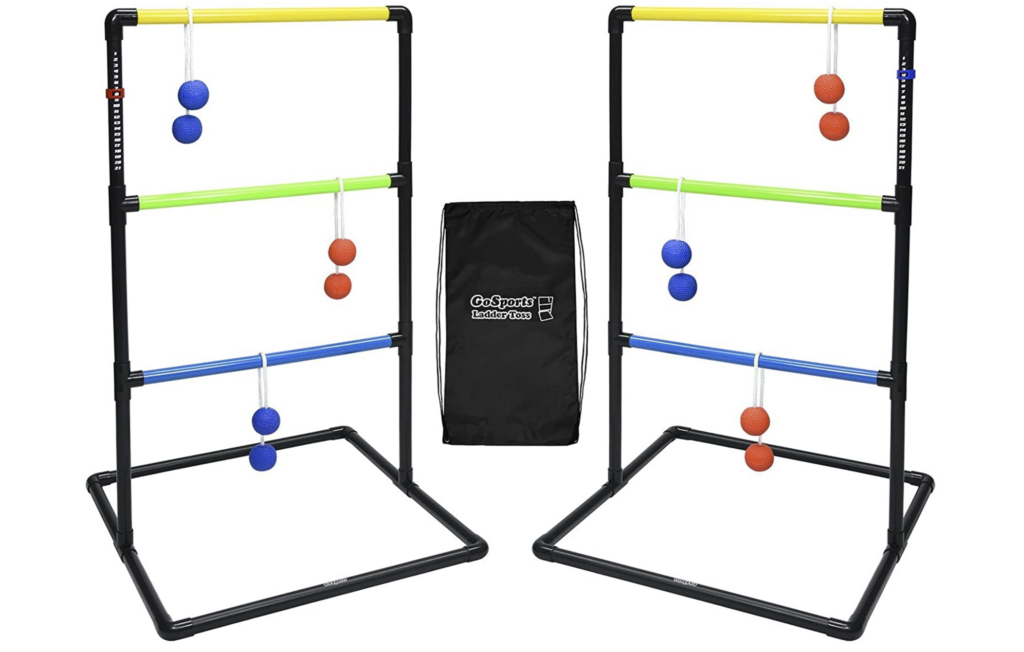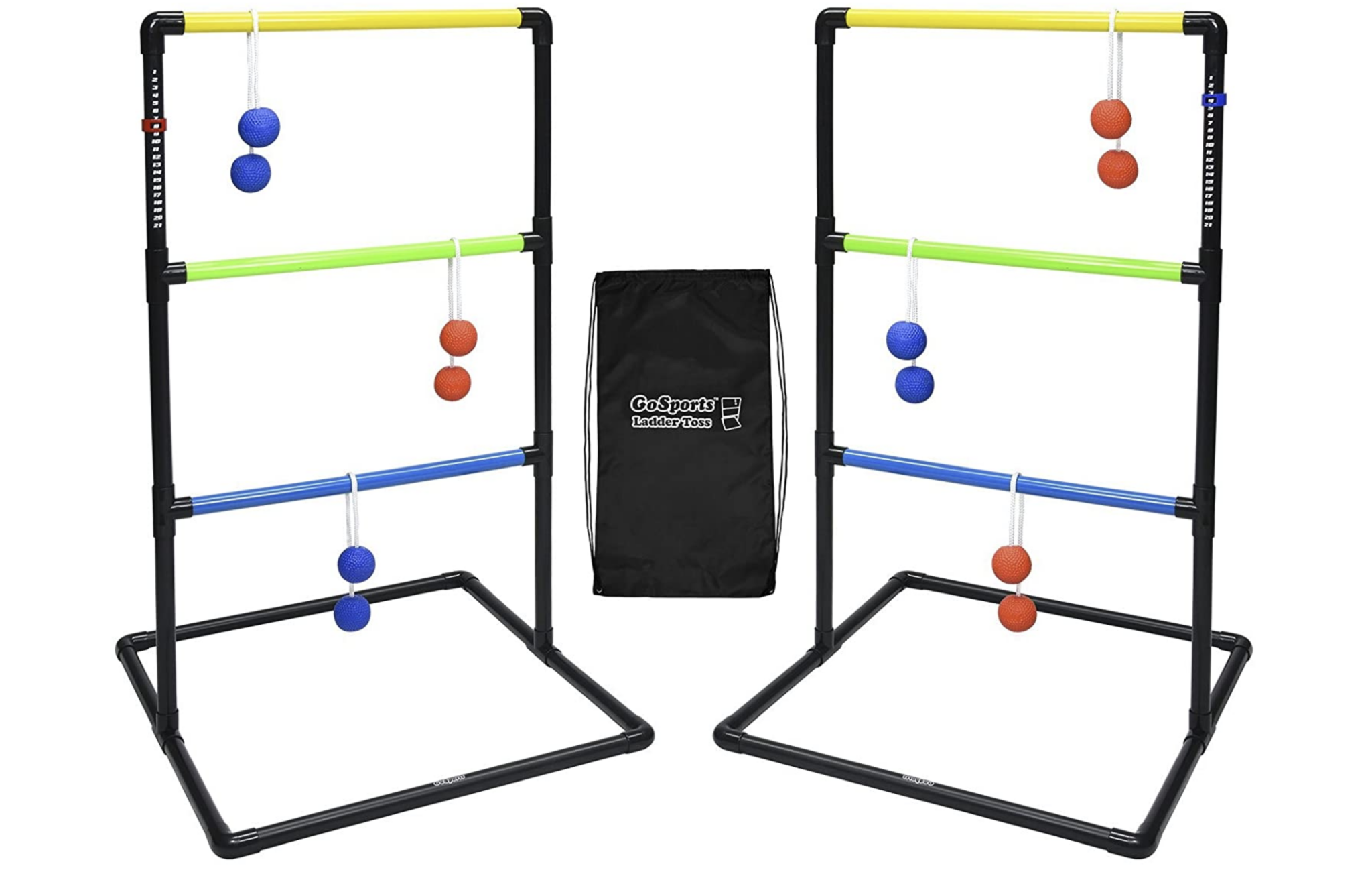 Minimum Age: 4+
Number of Players: 2-4
Ladder Toss is one of my favorite outdoor family games because the rules are simple and easy to understand, and almost everyone can play. The parts are also durable enough to withstand wear and tear from my boys, which is saying something!
Assembly takes under 5 minutes, and you can quickly take everything down to put in a handy carrying case.
Minimum Age: 2+
Number of Players: 2 or more
I can get behind a backyard water game that's both engaging and eco-friendly! All you need are several non-abrasive sponges and some twine, and you're on your way to a sponge water bomb battle! This is the perfect game for cooling off on a hot summer's day.
Play water bomb dodgeball or any number of other variations.
Minimum Age: 4+
Number of Players: 2-4
Horseshoes are the quintessential backyard game, and it doesn't take much space to play, making it perfect for smaller areas. You could buy your own horseshoe game or create this personalized version to add some flair to your next round of yard games.
Might I suggest favorite sports teams' colors to up the competitive edge?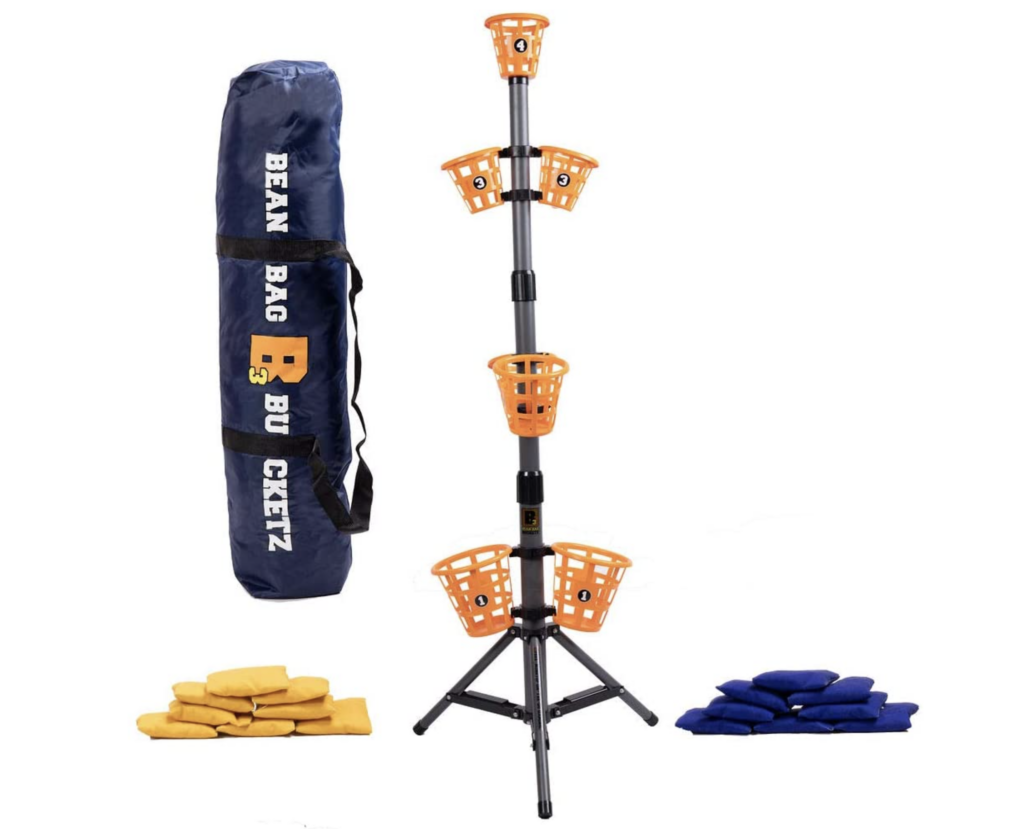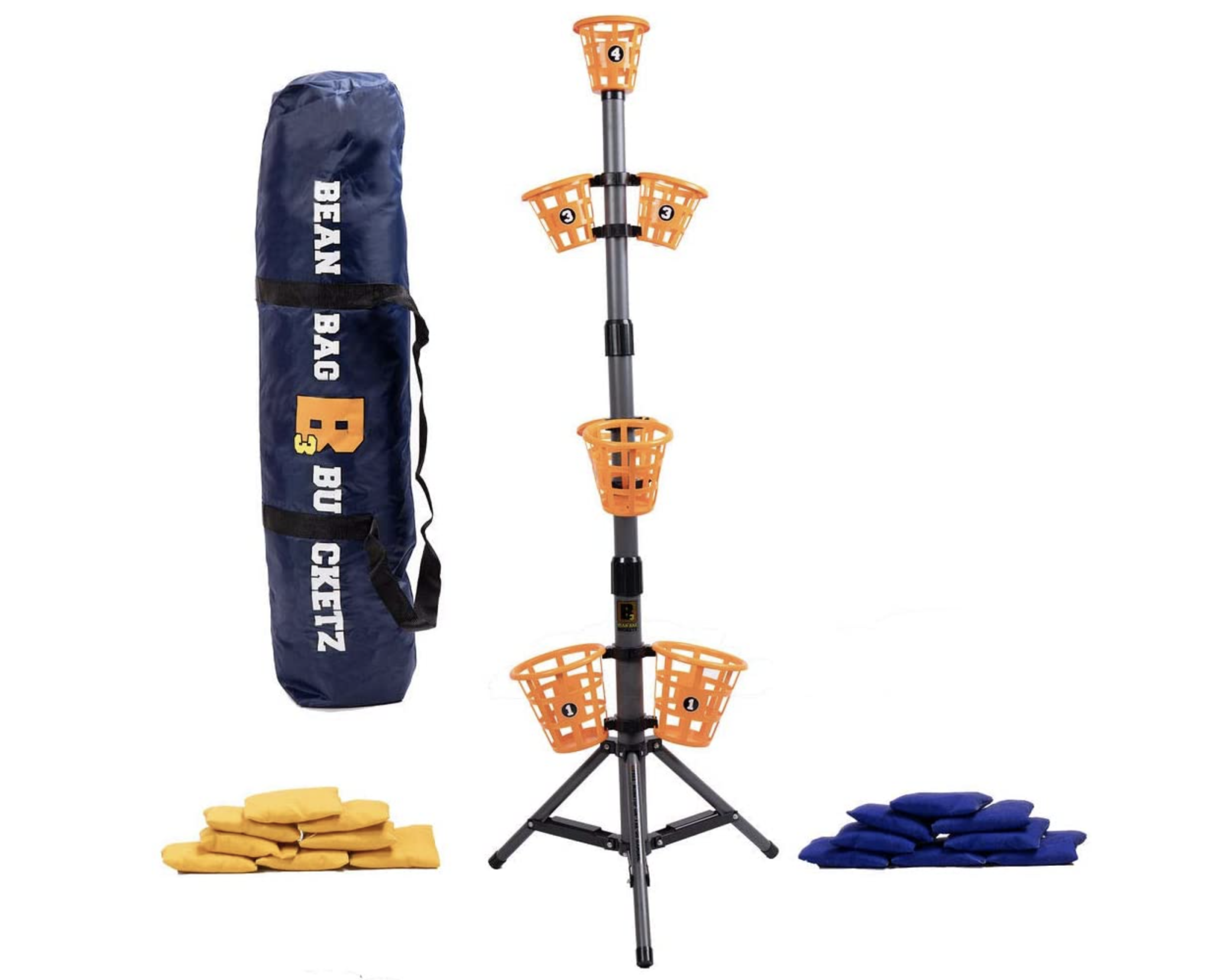 Minimum Age: 8+
Number of Players: 2 to 16
I love the idea of this combination of washers, corn hole, and Disc golf, and the wide range of players means it's ideal for larger gatherings of family and friends.
Each bucketz is worth a different number of points, and the first team to 21 points, wins.
Minimum Age: 4+
Number of Players: 2 or more
Dust off those Nerf guns and gather as many foam darts as possible from underneath the couch, behind the bed, etc.
This outdoor game for the family is an engineering challenge and a way to spend hours outside.
Grab some wood palettes from local industrial areas or farm stores like Tractor Supply. Most of the time, all you need to do is ask.
You can also find cheap palettes for sale on platforms like Facebook Marketplace.
Minimum Age: 4+
Number of Players: 2 or more
You'll be amazed at how inexpensive this outdoor game for kids is to make, and it's an excellent way for children to burn off their energy!
This traditional game has a bit of a twist–Each person or team selects to be Xs or Os, and they have to race back and forth to claim their spot on the board.
I've never seen a better way to use an old tarp and some foam board.
You can also check out this travel tic-tac-toe game idea.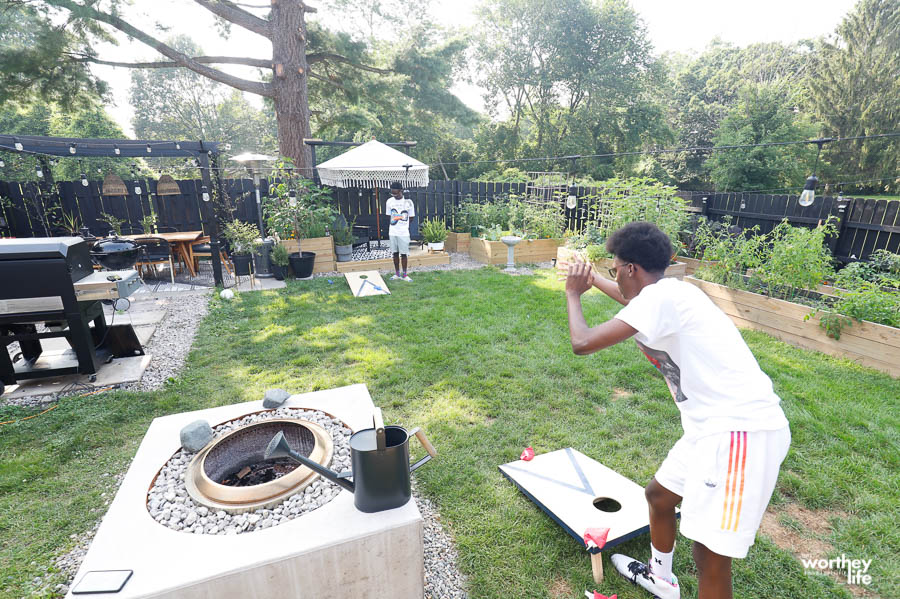 Minimum Age: 5+
Number of Players: 2-6
Our family is a huge fan of Cornhole, especially during the summer and fall.
You can pack this yard game up in its carrying case and take it with you almost anywhere, and the bean bags are durable and weather-resistant.
This is also a go-to game for our cookouts and game nights; almost anyone can play.
Minimum Age: 3+
Number of Players: 2-6
As the name suggests, this backyard family game is anything but serious. You can take Flarts anywhere, and your entire family will love throwing the inflatable lawn darts at the oversized board.
Make sure you stake down the mat, or you'll get more exercise than you bargained for on a windy day.
Minimum Age: 3+
Number of Players: 2 or more
Create your own game of outdoor Twister with some sidewalk chalk and the help of your kids.
I will say that if your younger children are drawing the circles, things may begin to get a little crazy-looking.
Choose a family member to call out a color at random, and keep going until there's only one player left standing.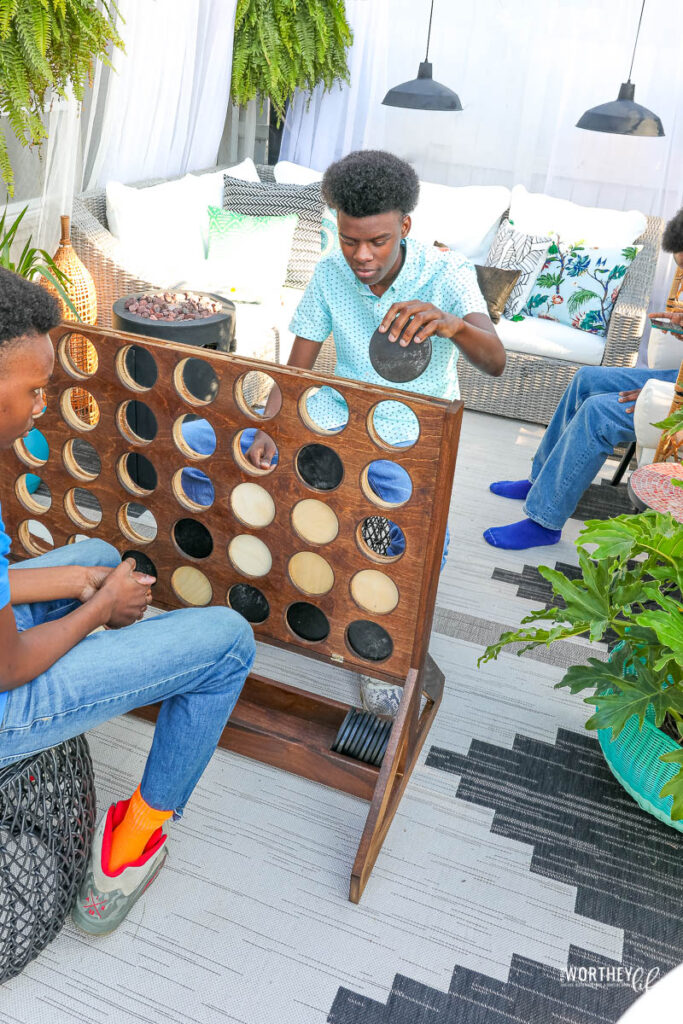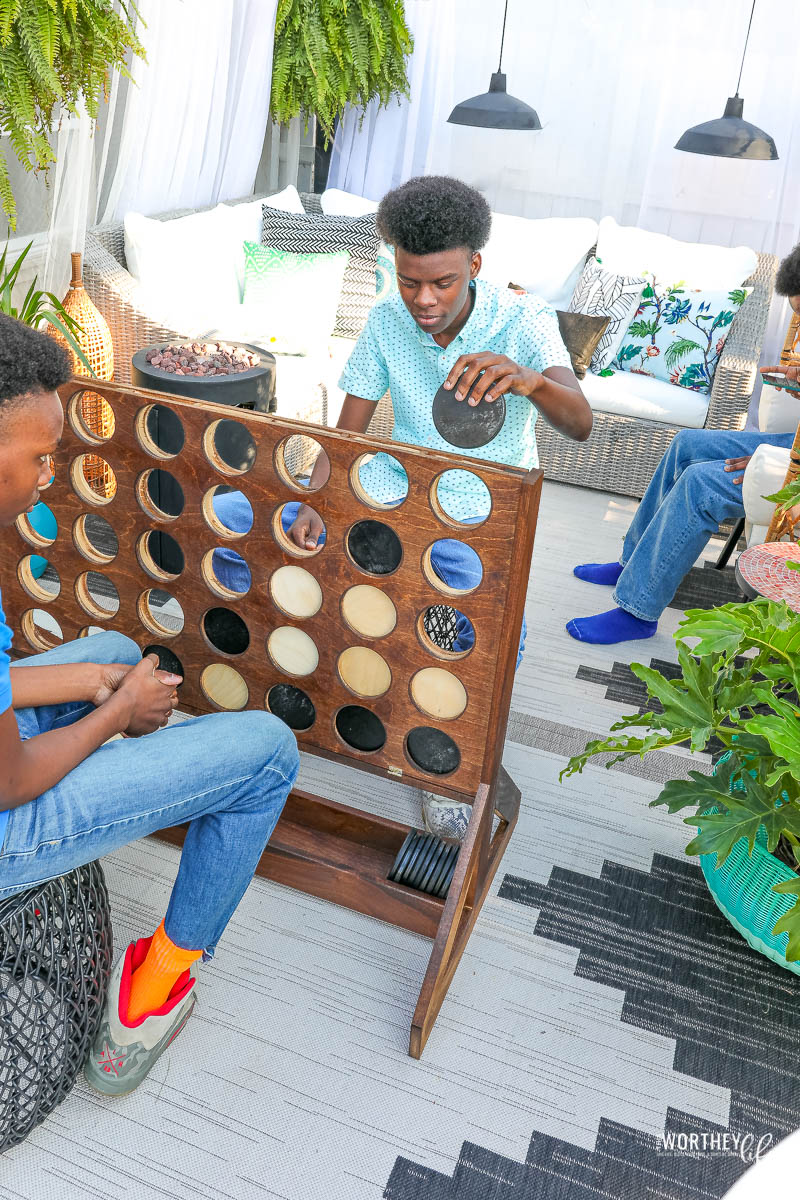 Minimum Age: 12+
Number of Players: 2
If you're searching for backyard games that older children can play independently, I highly recommend this Jumbo 4 in a Row board.
We've greatly enjoyed one of our own, and it's a fun addition to shaded areas like your patio or porch.
Also, kids are challenged to use strategy and critical thinking to win.
Minimum Age: 2+
Number of Players: 2 or more
I'm sure you can guess the object of this game, but I'll give you the rundown just in case. To create your own water balloon pinata course, you'll need water balloons (shocking, I know!), durable string or twine, and a stick. You could make two lines of balloons, and the person who pops them all the soonest wins. This is the perfect outdoor summer game for kids and adults alike.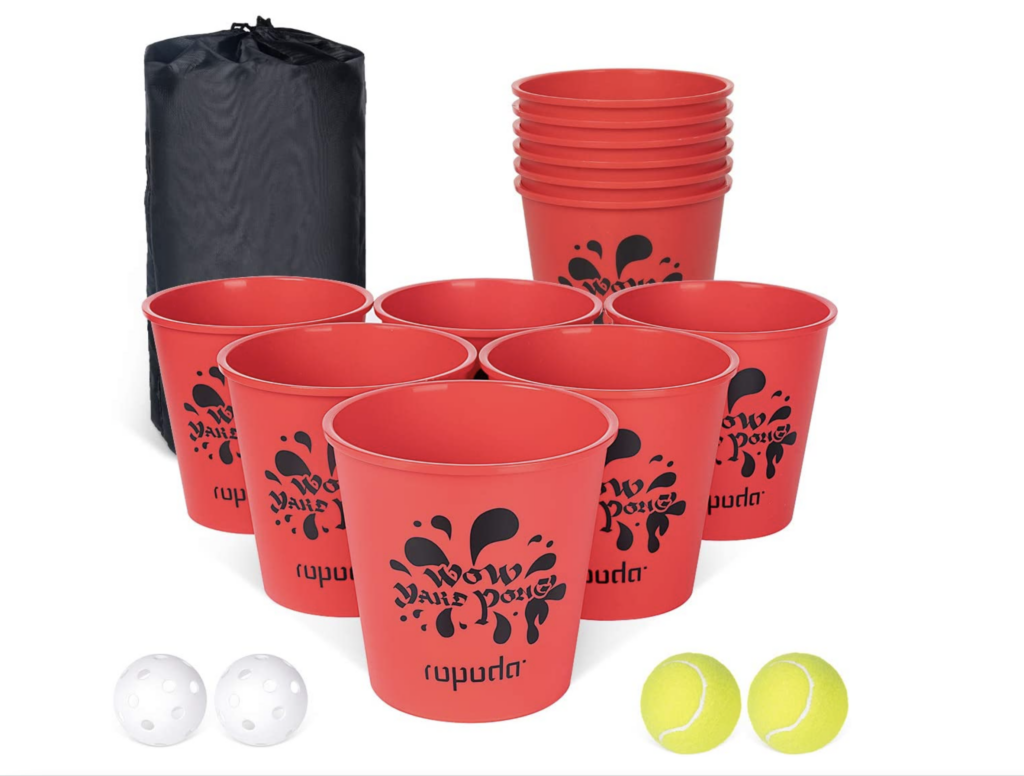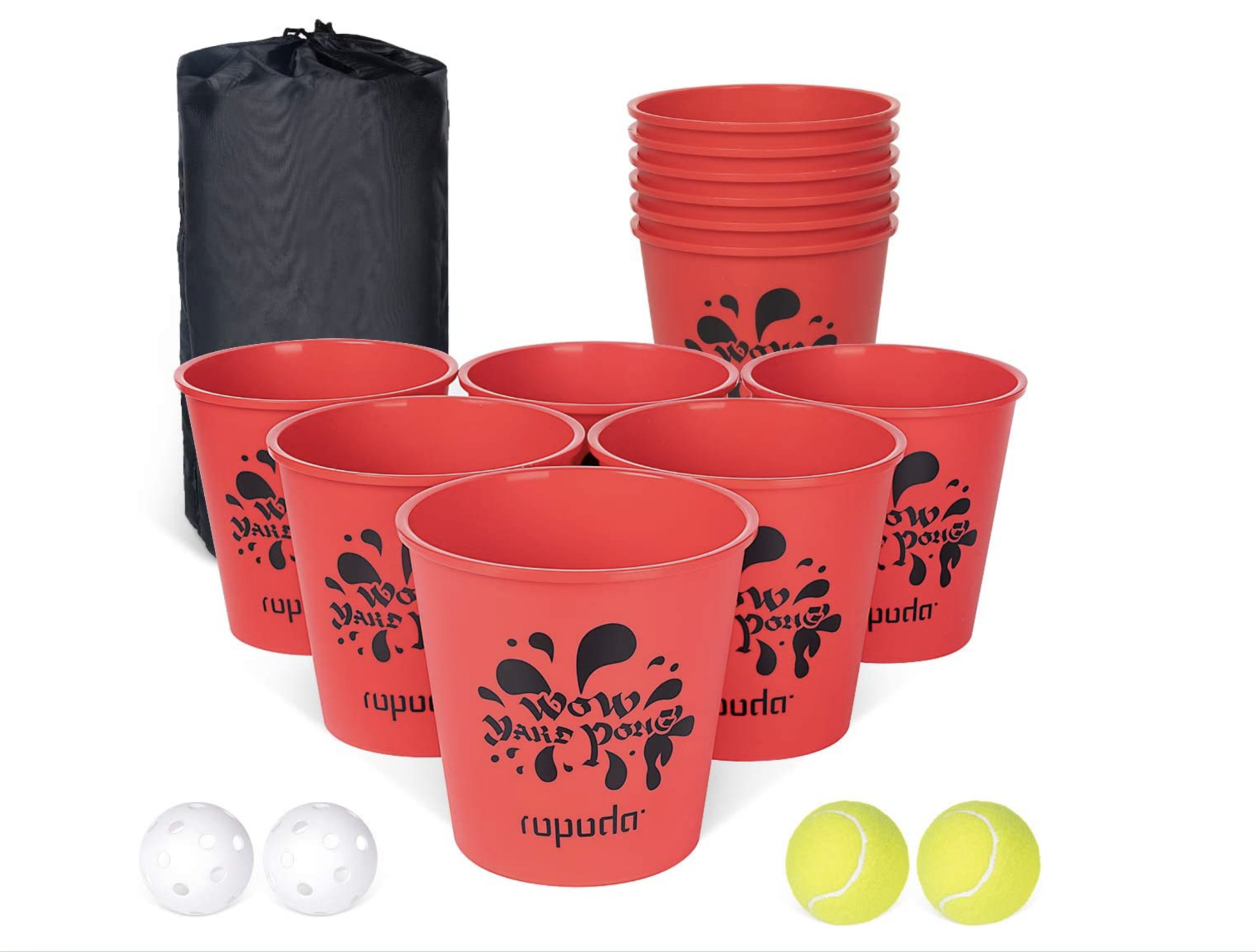 Minimum Age: 3+
Number of Players: 2-6
This is one of the best backyard games for families because it's versatile enough for a wide range of ages.
Although this game is reminiscent of those bygone college years, it's as family-friendly as you want to make it.
The buckets are sturdy and durable, and the game comes with two different types of balls to make things more interesting.
Minimum Age: 4+
Number of Players: 4 or more
You may find yourself transported back to summer camp with this hilarious outdoor family game. For those who have never played, Giants, Wizard, Elves is a more extreme version of rock, paper, scissors.
The game is played in rounds, and each team must decide which character they will be. The winning team captures the most players from the losing team.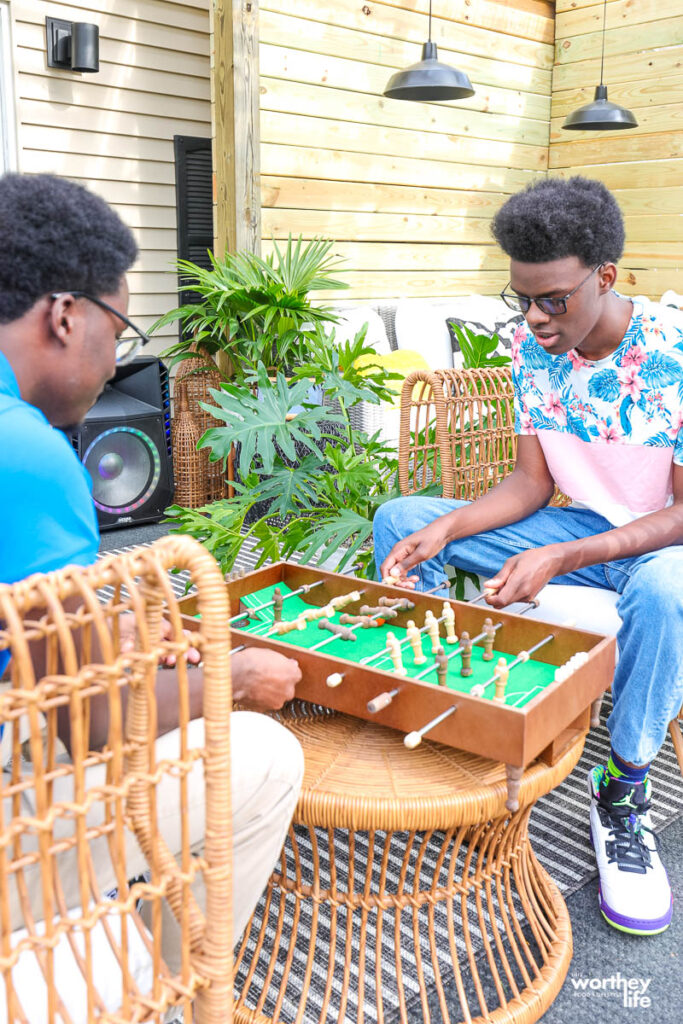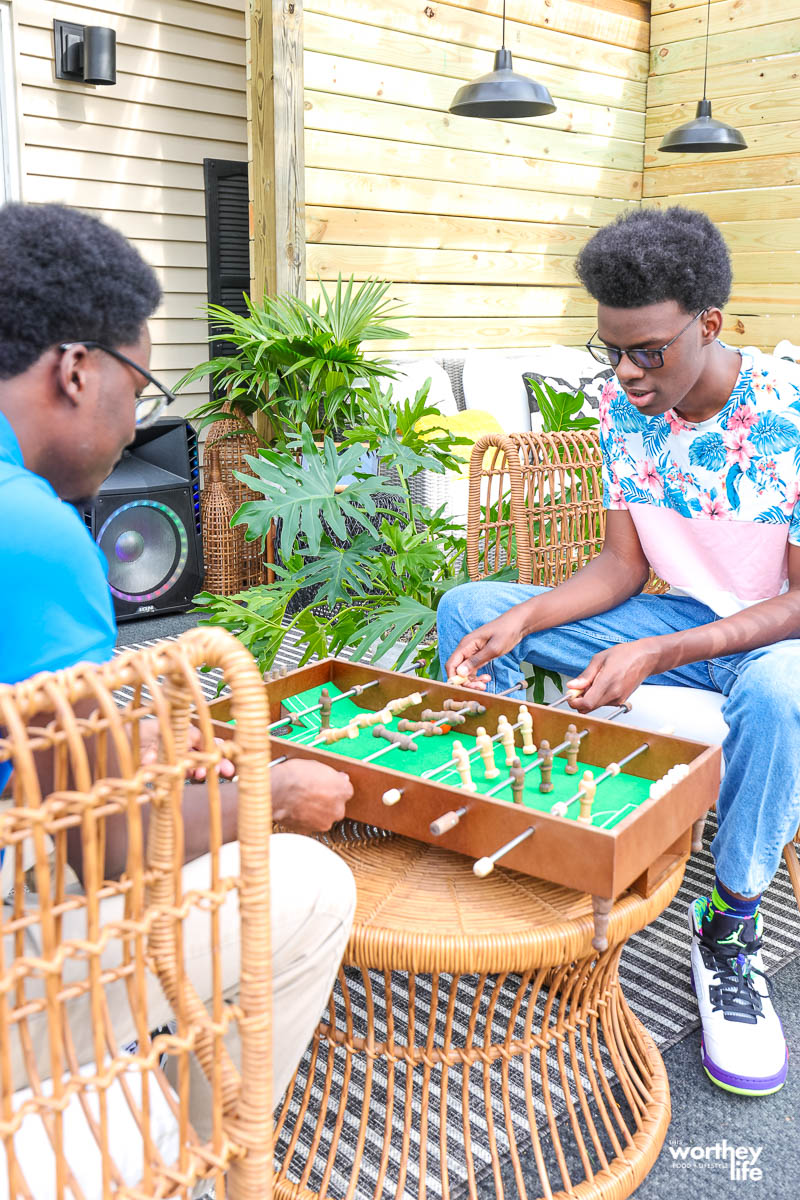 Another game our boys love to play is foosball. This is not just an outdoor game but one our boys enjoy. Plus, I love that it is small and easy to store.
There are so many fun games to play with your family or for summer party + entertaining ideas.
Check out these tips + resources for summer ideas below!
Summer Party Food Ideas For A Crowd
How To Create A Outdoor Movie Theater | Everything You Need To Know
Rain Cloud in a Jar ~Parenting Chaos
Making Terrariums with Betta Fish ~We Know Stuff
DIY How to Make Sponge Bombs ~Stockpiling Moms
5 Night Games Using Glow Sticks ~Premeditated Leftovers
Homemade Super Bubble Recipe ~Grocery Shop for FREE!!
200 Free Summer Activities for Kids ~The Jenny Evolution
How to Tie Dye T-Shirts with Sugar ~Stockpiling Moms
DIY Pool Cards ~Parenting Chaos
Pet Rock Tic-Tac-Toe ~One Creative Mommy