Planning a dinner party outside and need some ideas? Check out this Elegant Outside Table Decor Idea; a backyard Dinner Party.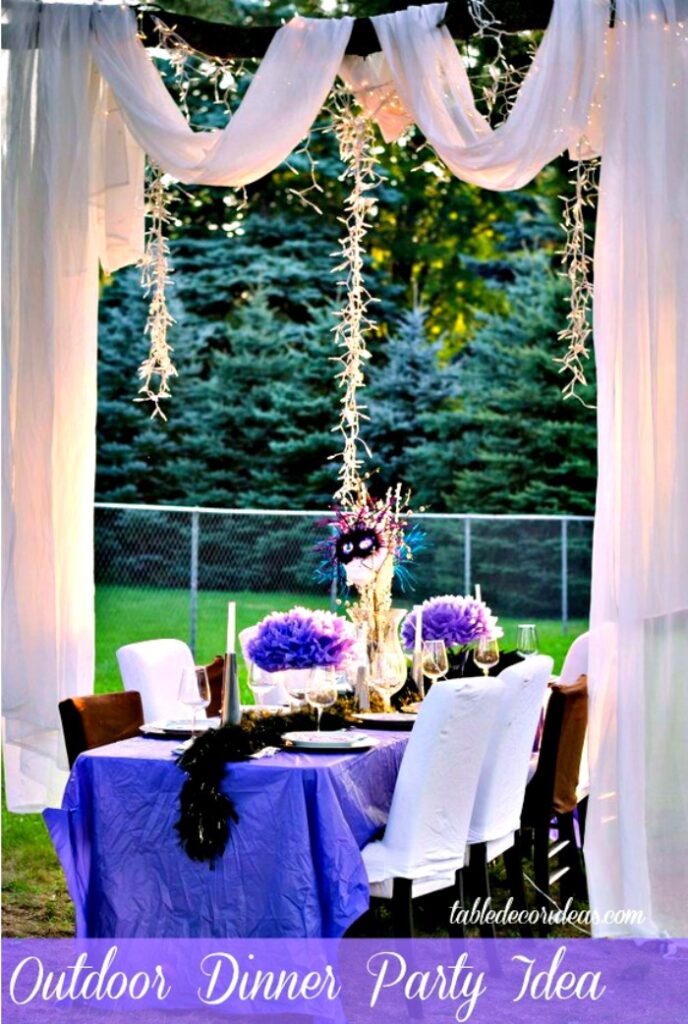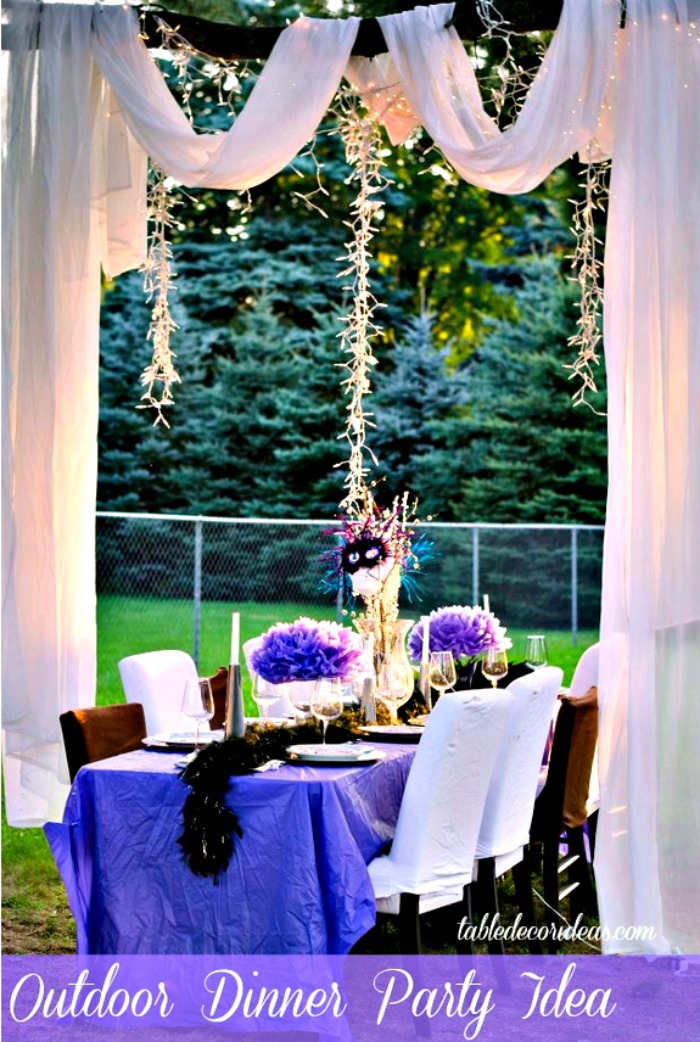 Elegant Outside Table Decor Idea- Dinner Party
Last summer, I had the pleasure of hosting a Mom's Night out for my Moms with children on the Autism spectrum group. This is a group of moms that don't always have the time to set aside for themselves, so I wanted to come up with something special that would beat just the ordinary get-together.
This idea started forming when I took a stroll around my property. Could I make an outdoor dining table? (Side note: We recently built a DIY Wood Pallets Dining Table, but this was before that).
I was able to put together craft tables. I brought my white dining room chairs outside (purchased at Ikea) along with our brown fold-able chairs (Scored at Goodwill for $15 bucks for a set of 4).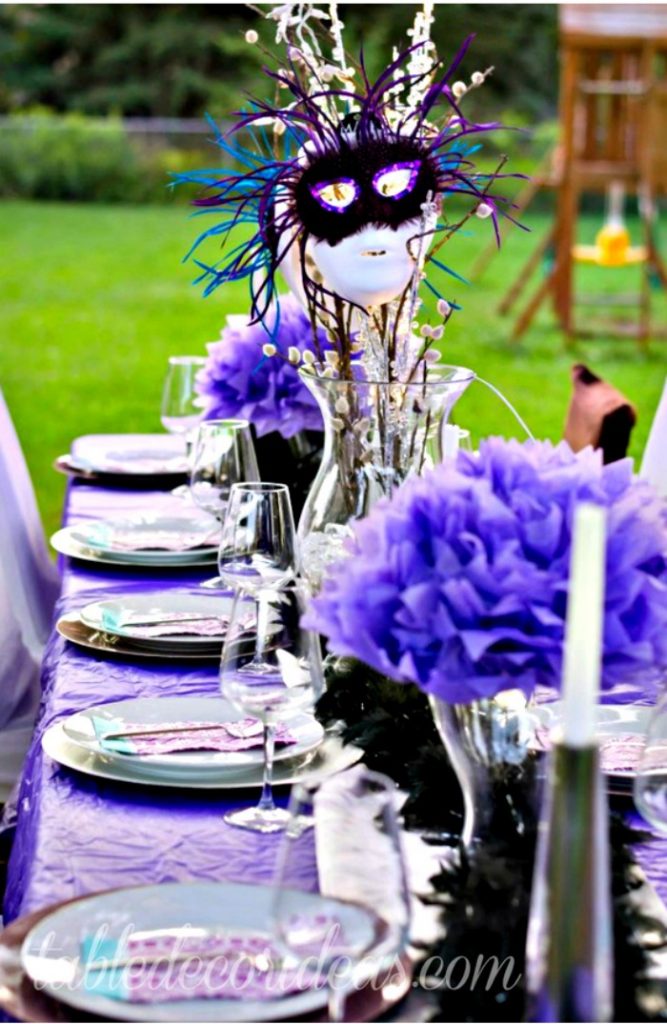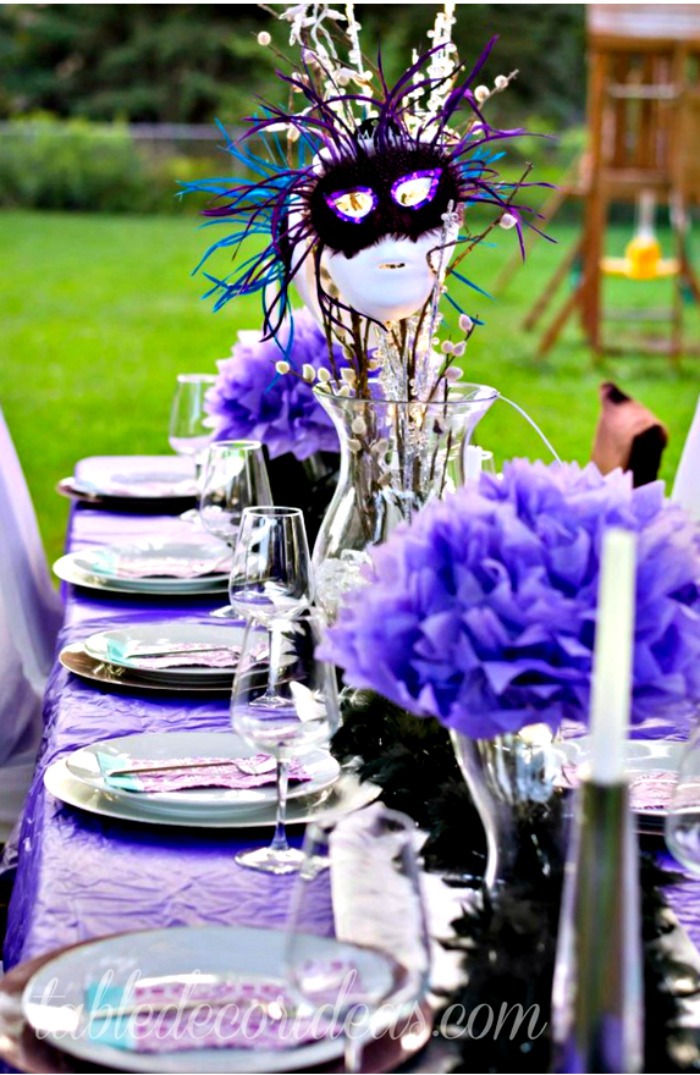 A purple plastic tablecloth was put down over the table tables. I used a simple grey silk piece of fabric as the runner for the middle of the table. I added a black boa as well to break up with purple. I also added a simple wine glass with paper striped napkins.
I added two clear vases and placed a large paper purple flower on top. The plates are white with a silver lining placed on top of a purple charger. ( I found these pretty cheap at my local Michael's store for under $1.00)
I also added two silver candle holders to help bring elegance to this party!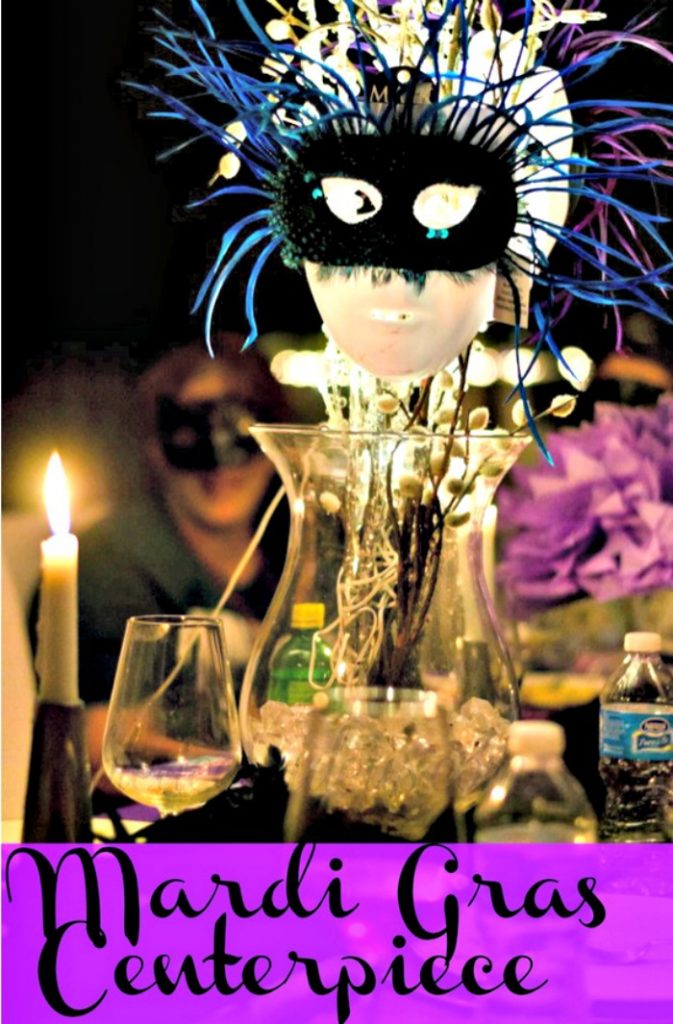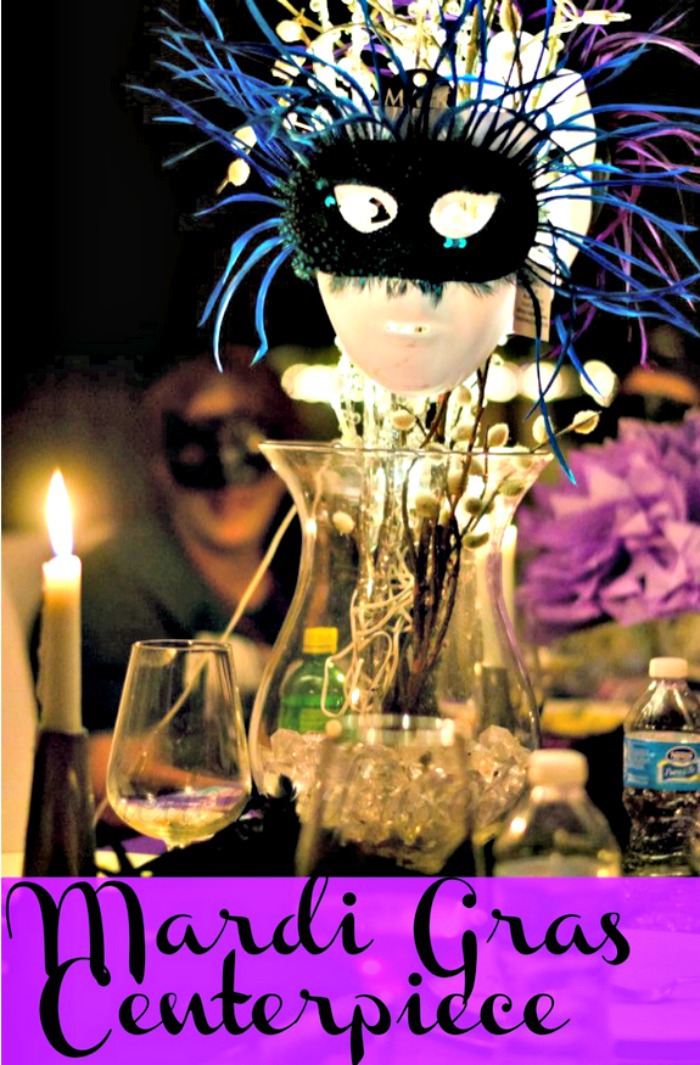 We had a Mardi Gras theme party. Everyone came with a mask they either made or purchased. At the end of the night, we had a contest on who had the best mask.
To help tie in the Mardi Gras theme on the table, I picked up blank faces and placed Mardi Gras mask around them. I added large crystal beads, long willow steam, and crystal beaded lights.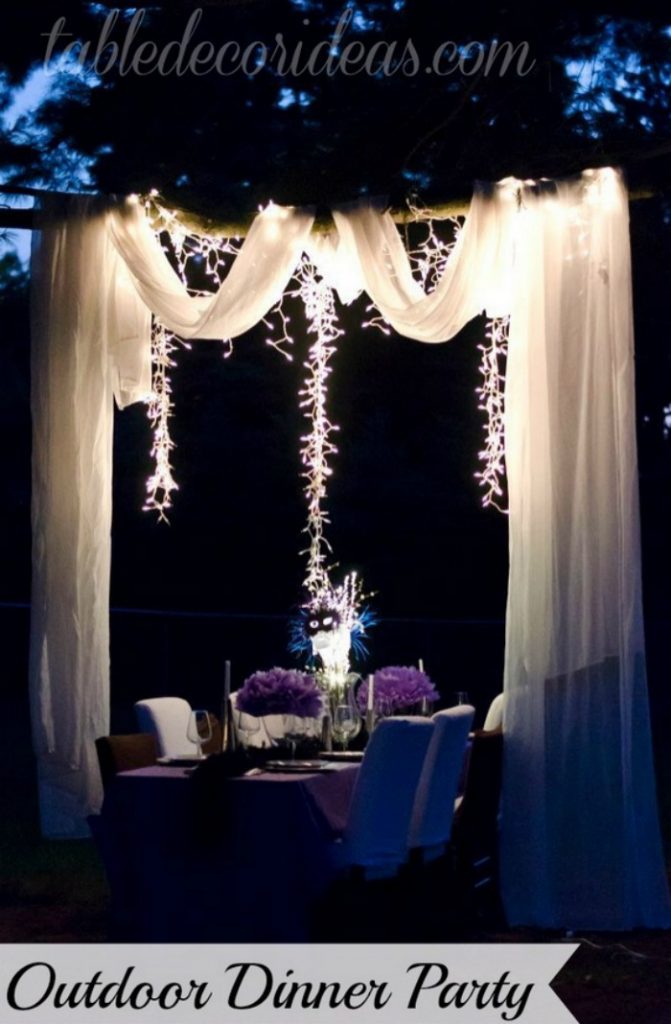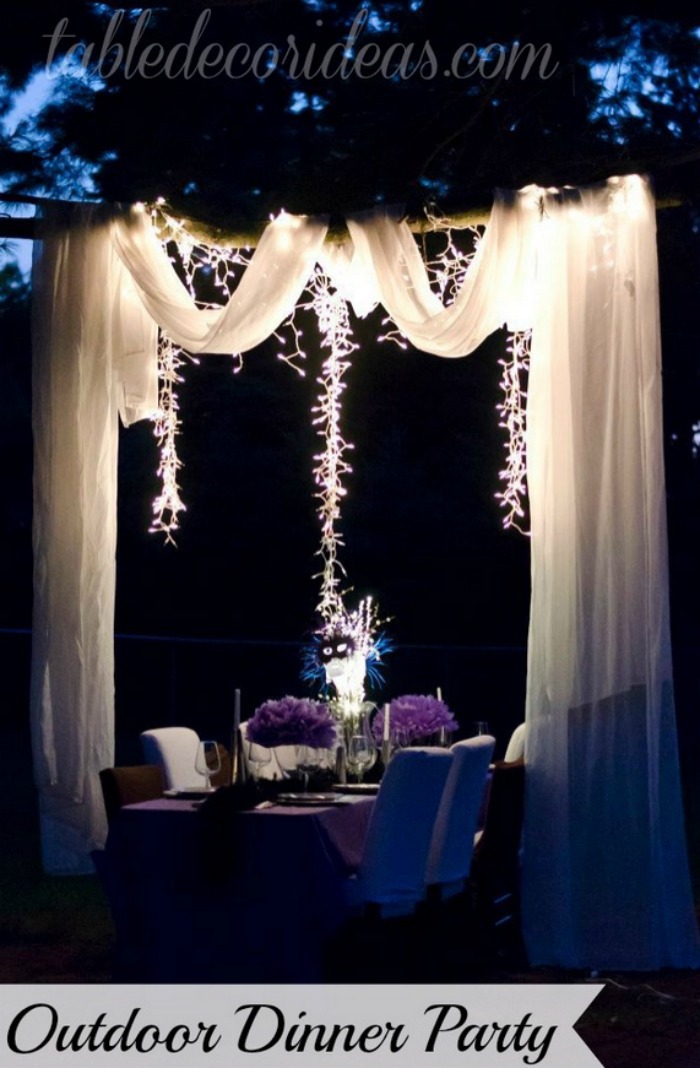 At night it gave off an exquisite look. I used long White Elegance Window Sheers and draped them in the trees. I added the Christmas icicle lights and wrapped them around the tree limbs and woven in the Sheers. I was going for a "chandelier" look that would raise this party from just a back yard party to an elegant dinner party!
One of my friends is a photographer and took the beautiful pictures displayed above! You can find more of her work (and even purchase for Artwork here- Holly Stanley Photographer)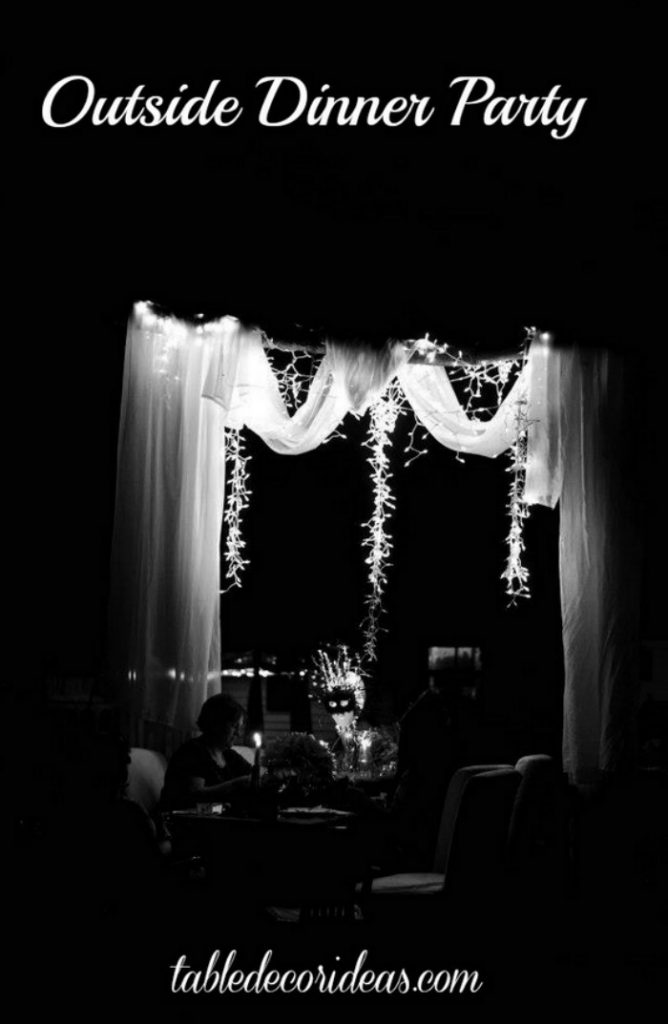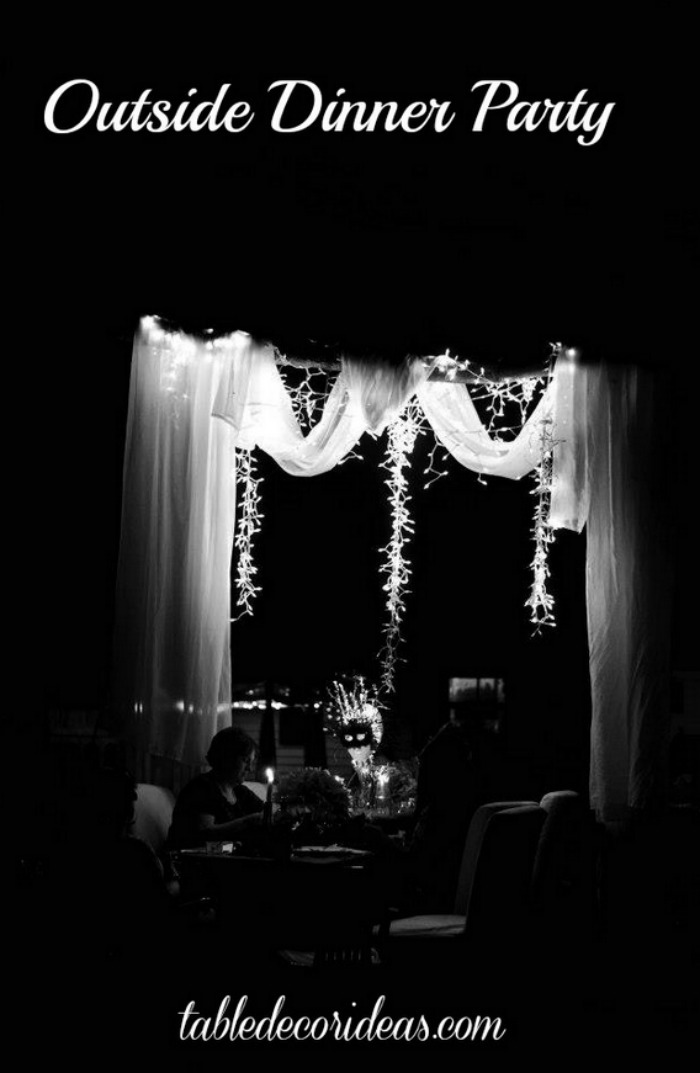 This event was a lot of fun. It was also fun planning a simple yet elegant design. What's your favorite part of this elegant outside table decor idea?
Find more tablescape ideas below:
Christmas Tablescape Idea for Two | Rae Dunn Christmas Decor
Elegant Easter Tablescape {Spring Party Idea}
Elegant Outside Picnic Party Idea {Boho Inspired Party for Coachella}